10 product-led growth principles
The product-led growth business model creates tons of opportunity but capturing its potential requires boldness and contrarian thinking.
If we were to trace the origins of the product-led growth (PLG) business model, we'd start our tour in Sydney, Australia. Many consider Atlassian, founded in 2002, to be the first cloud company to pioneer a PLG business model. Its founders believed that a friction-free, product-led distribution process was the way to accelerate adoption of new technology, especially amongst developers. So steadfast was their resolve to make the PLG approach work that Atlassian famously employed no salespeople for the first decade of existence and when a major Wall Street bank threatened to take their business elsewhere without an enterprise sales discount, the company famously told them they'd be welcome to return anytime (spoiler: they never left).
While this approach to software distribution was revolutionary a decade ago, PLG is no longer an obscure phenomenon. Time and time again, top CEOs have attributed their scale and success to a bottoms-up strategy and many multi-billion dollar public and private enterprises such as Shopify, Twilio, and Canva have been built on the foundations of PLG. In fact, the cumulative market capitalization of PLG companies has increased more than 100x over the past seven years. Similar to other public software companies, public PLG companies have not been immune to the severe drubbing cloud stocks have taken over the first 2.5 months of 2022 and this drastically impacted cumulative market capitalization. However, it's significant to note that despite the recent public market turmoil, many PLG leaders still trade at a meaningful premium compared to other high growth software companies—as of mid-March 2022, PLG leaders such as Snowflake, Datadog, and Bill.com still command current revenue multiples of over 25x after the "SaaSacre" even though the median revenue multiple that BVP Nasdaq Emerging Cloud companies are trading at has fallen to under 10x.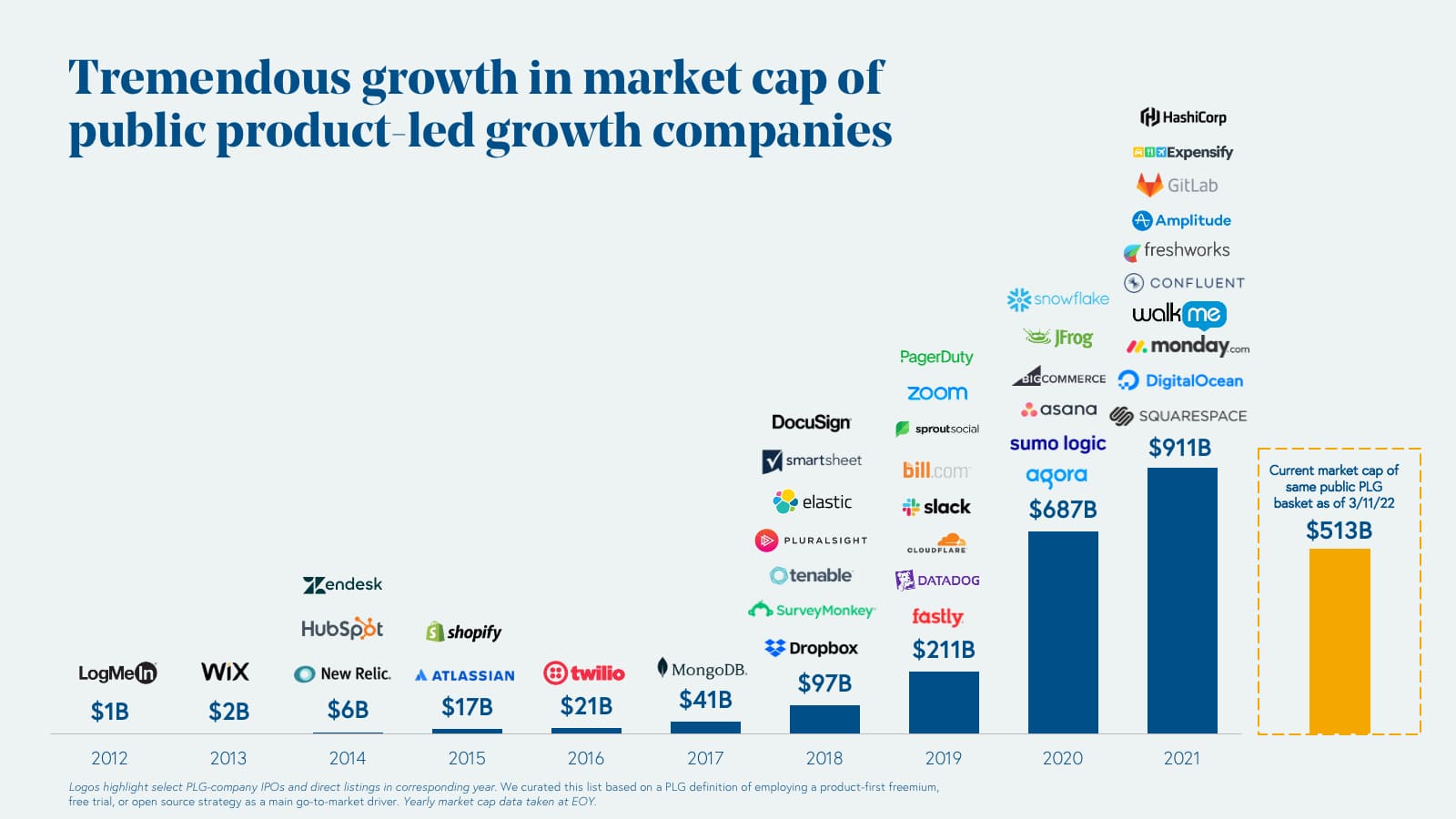 While PLG has proven to be particularly effective in the developer economy, this strategy has gained momentum in many other categories, including collaboration tools and customer engagement software. PLG has become even more popular in recent years thanks to tailwinds like the rise of remote workforces and infrastructure advances that allow democratization that benefits individual agents. We at Bessemer have been tracking this democratization of development trend for the past 13 years since we noticed a unique distribution dynamic at Twilio and invested in the company's seed round in 2009.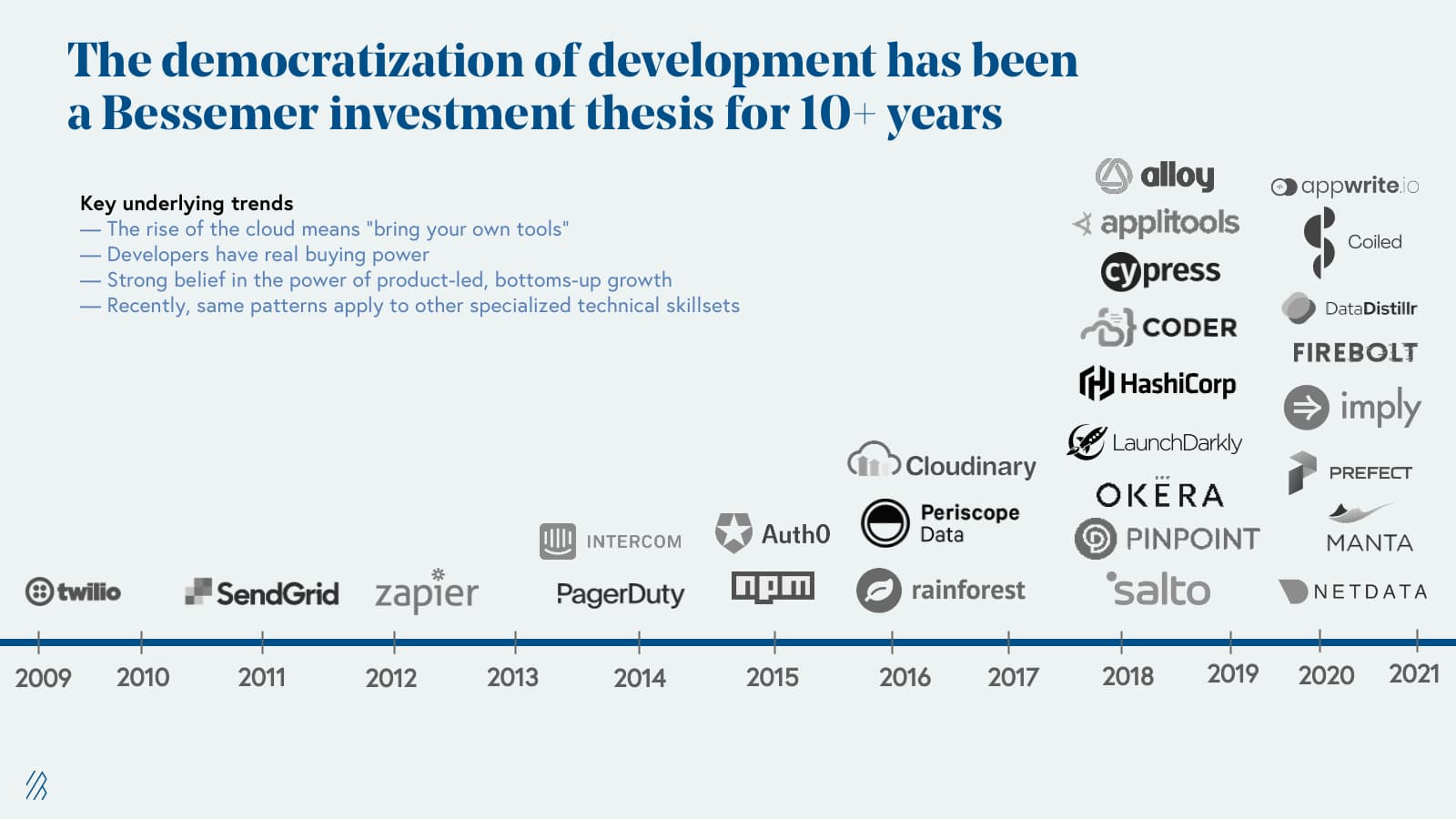 Throughout the years, we've doubled down on our conviction in this phenomenon in many of our developer platform investments. As a result, we included an explicit "law" in the first version of our Eight Laws for Developer Platforms: Democratizing development emboldens non-developers and pays dividends in terms of shortening the cycles of growth through software adoption. Plus, widening the aperture of who can derive value from a given platform creates new avenues for possible expansion as nontechnical teams and users are now in scope as well.
At Bessemer, we've witnessed many of our portfolio companies begin from humble PLG roots and scale to $100 million ARR and beyond within a few years. Inspired by the highest-performing PLG companies in the cloud economy, we've distilled 10 key principles for harnessing this powerful go-to-market strategy to build an enduring business. 
Each of the best practice examples we cover in this article are companies from Bessemer's portfolio. We chose to highlight these companies because we are most familiar with the evolution of these organizations and how they incorporate each of these PLG principles, not because we think they are the only embodiment of each principle; we certainly recognize that the list of PLG role models is long and growing by the day!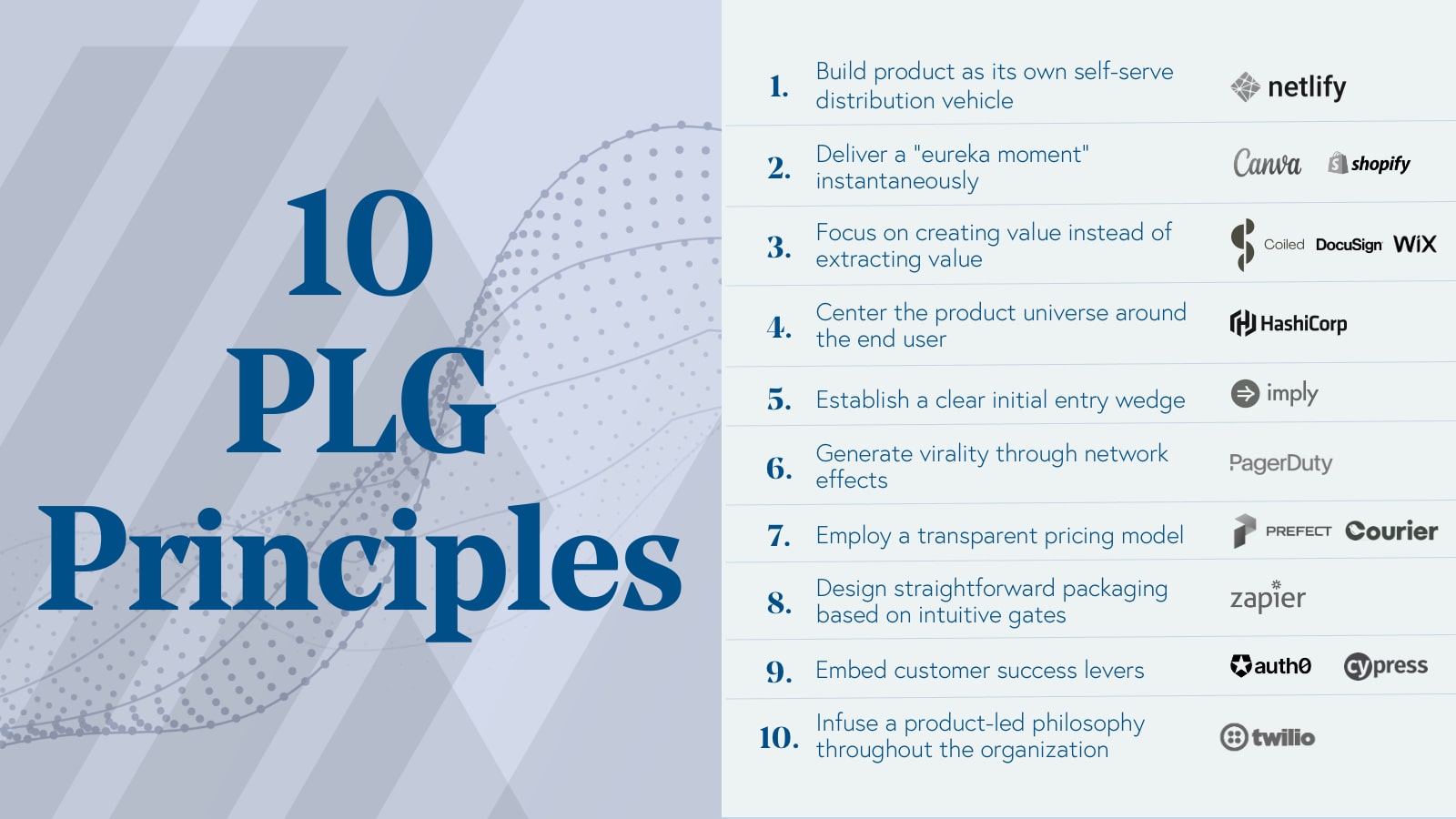 1. Build product as its own self-serve distribution vehicle
Successful PLG companies understand that the best product is set up to sell itself without additional intervention. These companies build their product primarily as its own stand-alone distribution vehicle that can drive customer adoption, retention, and expansion—all without human touch. The magic happens inside the product itself!
A role model here is Netlify. The company's product platform, used globally by millions of developers to create, deploy, and scale modern web projects, was designed to embody this self-service ethos: 
Adoption: The Netlify team built levers within their product that enable new users to implement the solution on their own, including the ability to import existing projects from Git with a single click, as well as pre-made templates for easy onboarding.
Retention: Netlify provides quick-start pop-up guides to aid with customer success, onboarding, and engagement. These guides are all embedded into workflows within the platform.
Expansion: Netlify encourages end users to deepen usage by installing readily available plugins to extend functionality, or by purchasing premium upgrades directly from the platform. They can do this all independently without needing to leave the platform or engage with a representative.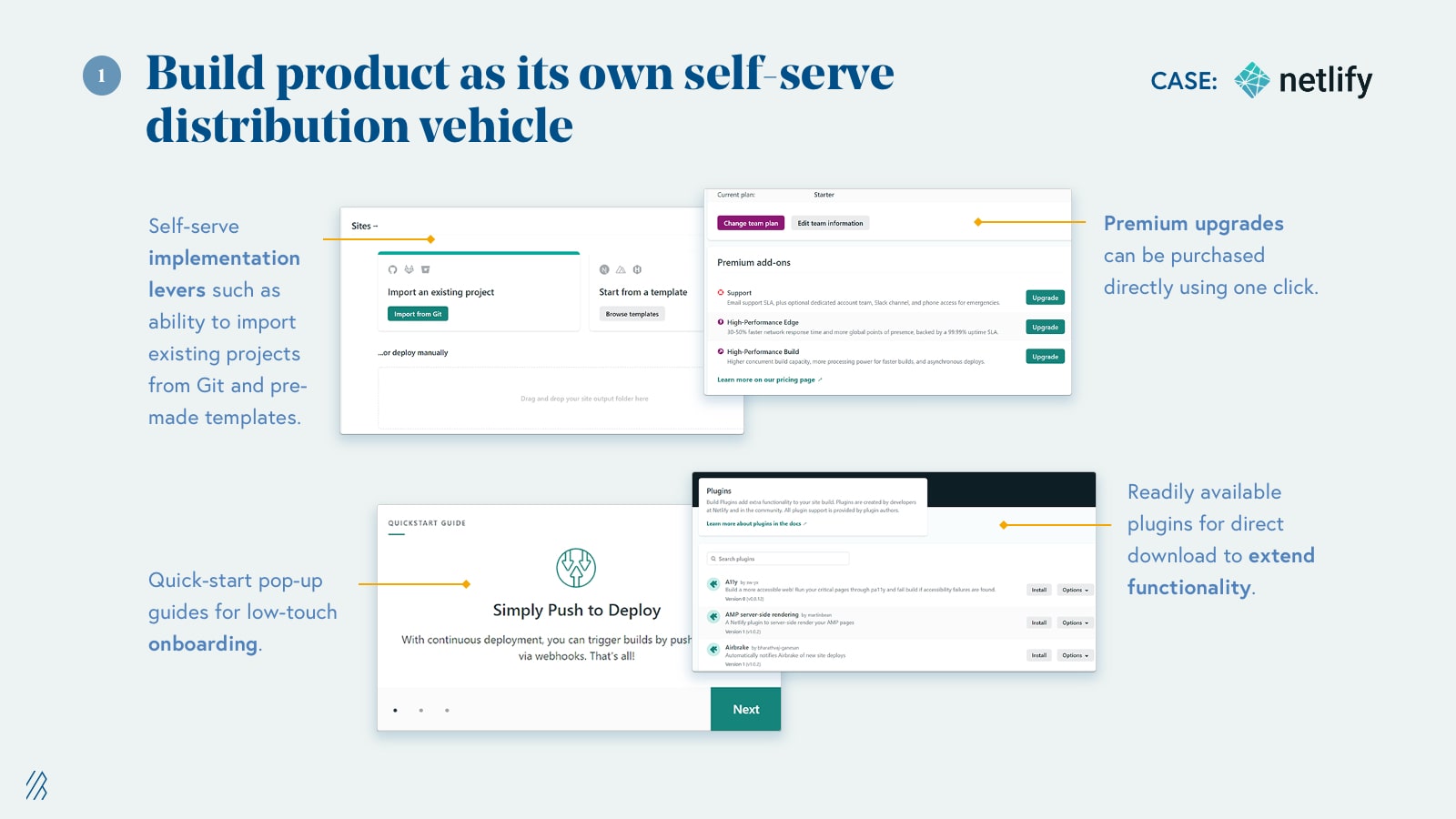 2. Deliver a eureka moment instantaneously
Leading PLG companies know it's essential to delight the user as soon as possible. The best products can deliver an epiphany about the value of the product without unnecessary friction. There is no need for lengthy onboarding processes involving complex sign-up forms or demos with promises. Instead PLG companies allow users to try out the product right away to experience its benefits directly so that time-to-value is near immediate. 
Canva is an exemplary model of this principle. Creators can begin designing with Canva's drag-and-drop platform from any device in seconds. It's a simple one-step sign-up process that only requires an email address or a Google, Facebook, or Apple account. Similarly, Shopify allows users to create a store on its platform with just one click by providing an email address and store name—credit card information is not required.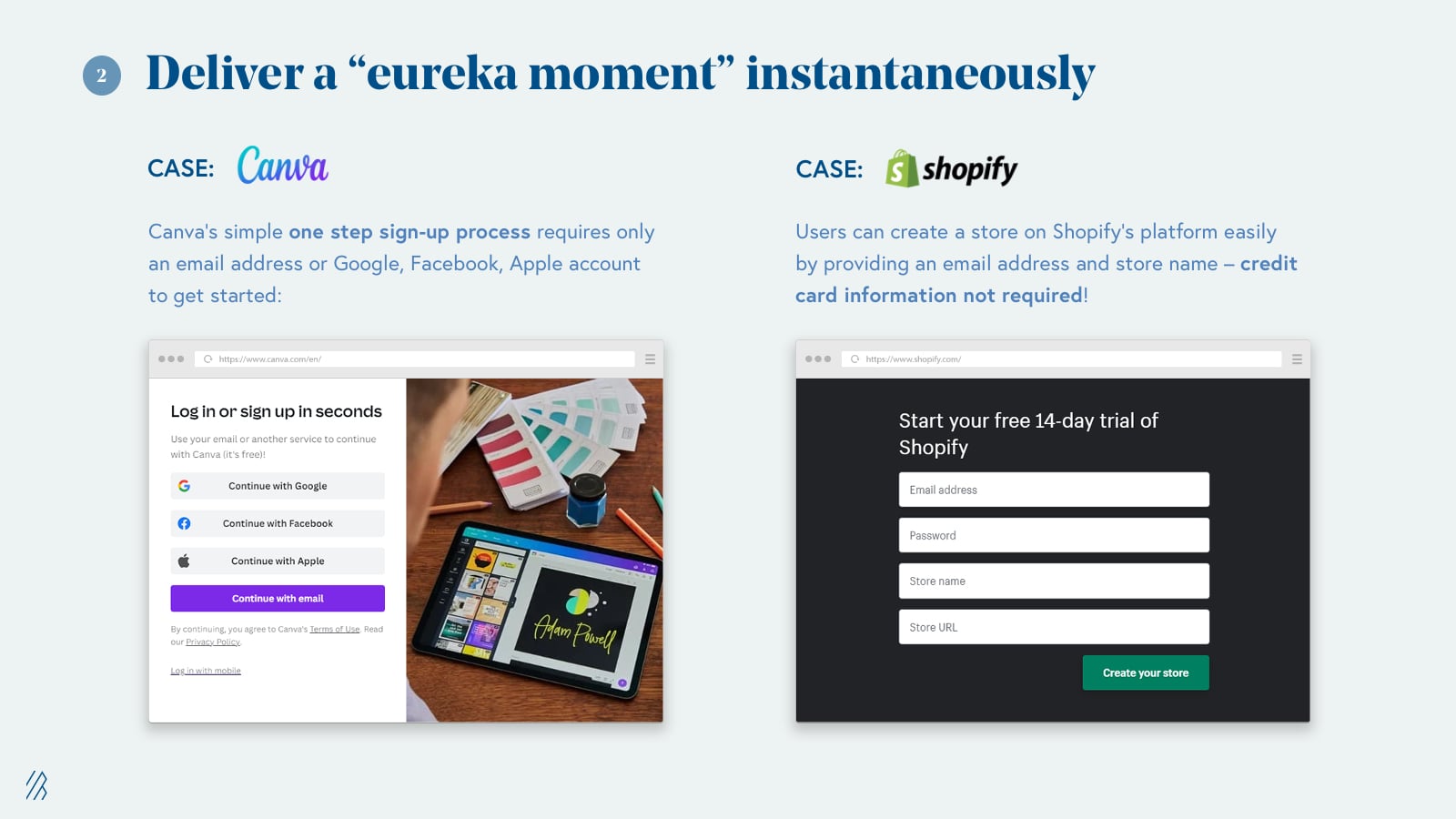 3. Focus on creating value instead of extracting value 
The best PLG companies have unwavering confidence in the value of their product. This enables them to democratize access by giving the product away for free before getting paid. The "try it before you buy it" method is undeniably alluring for customers;  they experience the value firsthand without any risk and eventually become engaged, loyal users. 
There are many different strategies PLG companies use to provide value without a paywall, such as:
A freemium model (e.g. Wix)
A limited-time free trial (e.g. DocuSign)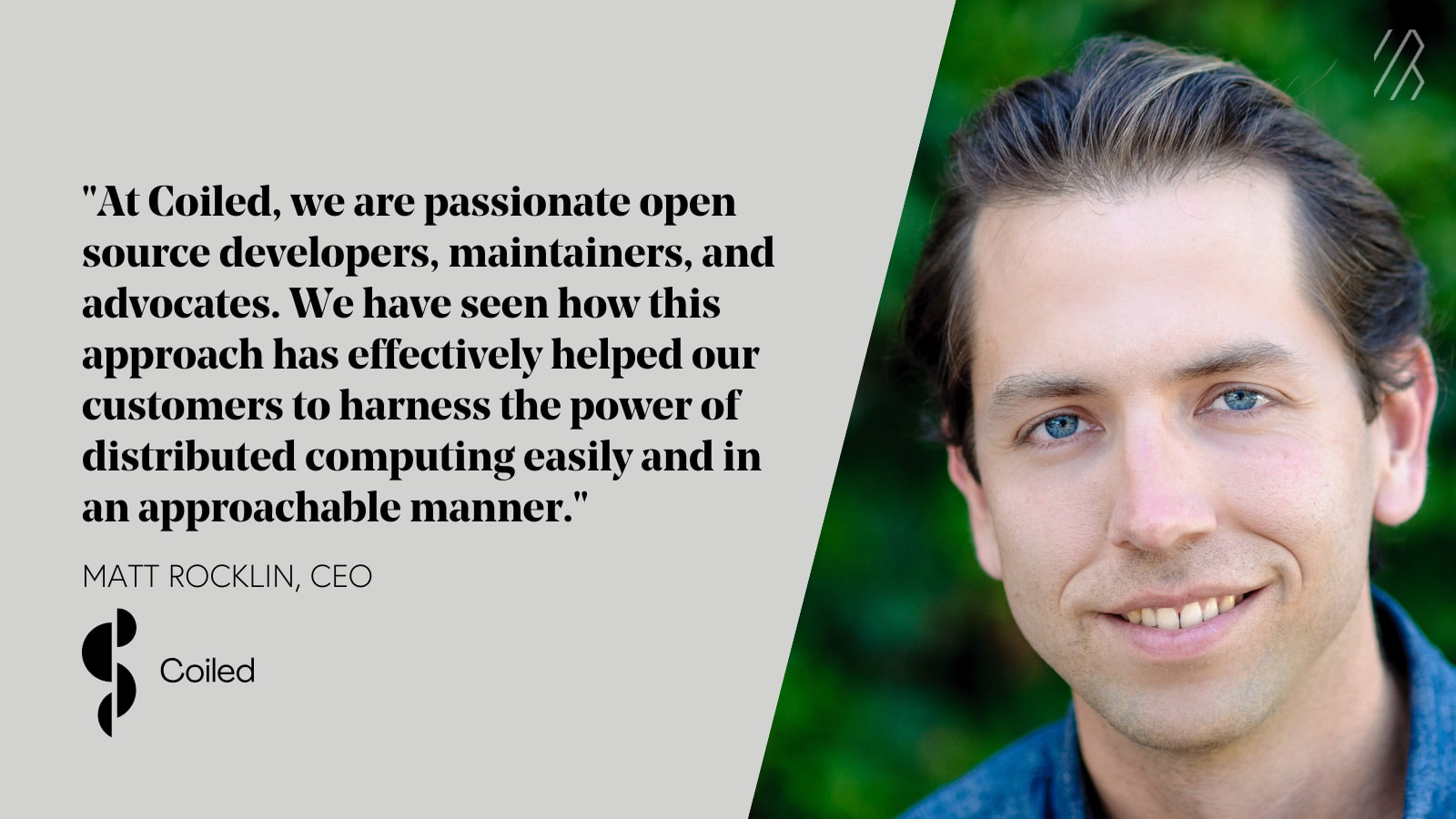 4. Center the product universe on the end user 
Successful PLG requires a relentless focus on the end user experience, since these individuals are the "top of the funnel." These users will eventually act as front-line champions because their authentic evangelism drives further adoption and sales within and outside their organizations. The most effective PLG companies honor "user-centricity" by building communities centered on end-users and prioritizing their experience in product development.
HashiCorp, a leader in infrastructure automation for multi-cloud environments, exemplifies this best practice. Since its inception, HashiCorp recognized the power held by its end users in unlocking viral adoption and ultimately opening the door to enterprise accounts. Winning the hearts and minds of developers was a top priority and HashiCorp did so through initiatives such as organizing developer conferences and establishing a developer relations division to focus on community engagement. These efforts proved to be extremely successful, with HashiCorp's annual HashiConf garnering attendance in the tens of thousands annually, and HashiCorp's products being downloaded approximately 100 million times in fiscal 2021.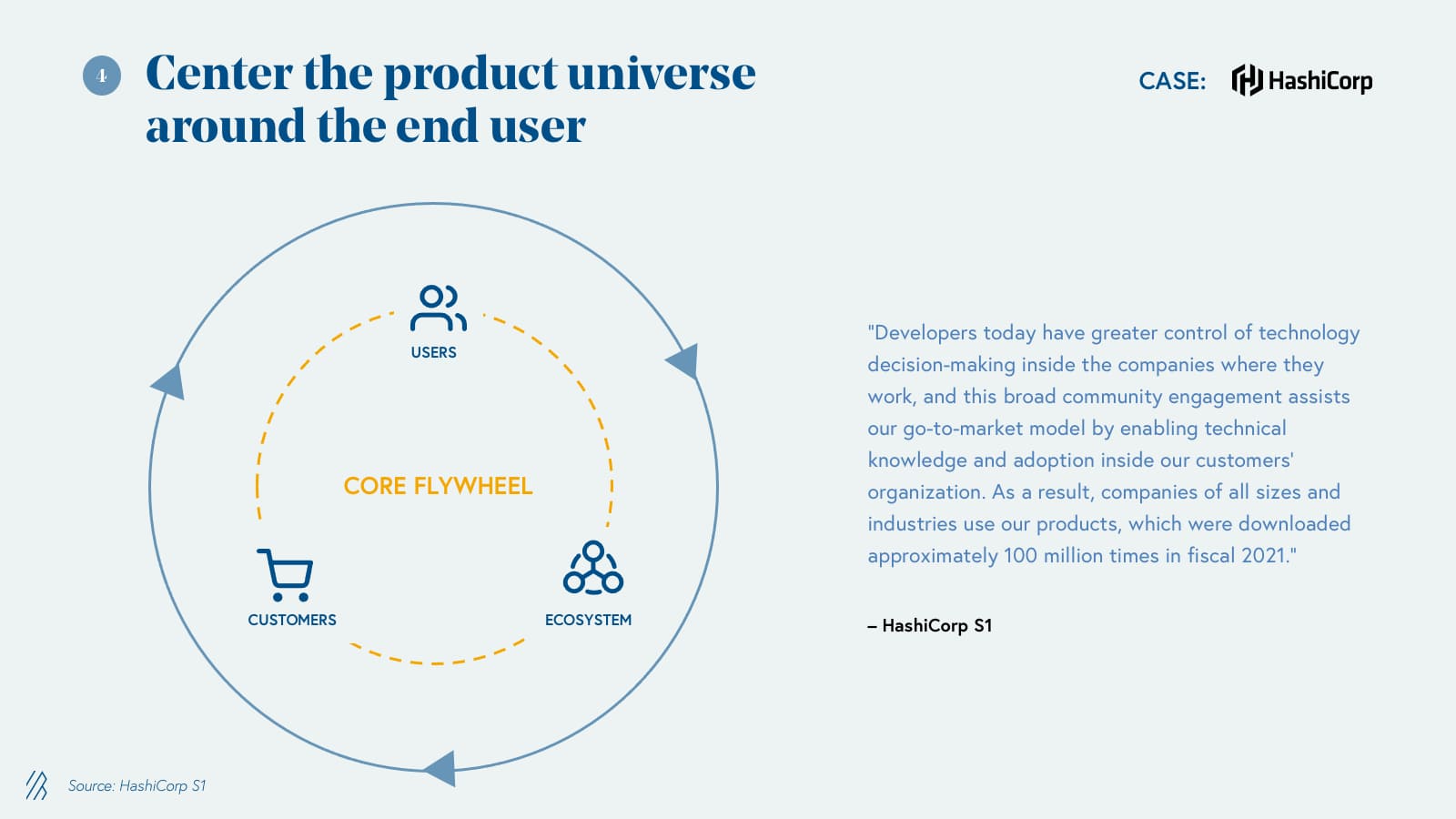 HashiCorp also demonstrated deep respect for the opinions of the developer community. The team closely listened to product feedback from grassroots channels, including its open-source community, and continually improved the developer experience and UI/UX of its platform accordingly. To stay accountable to this goal of earning developer love, the company diligently monitored and tracked product metrics like user engagement as leading indicators ahead of financial metrics.
5. Establish a clear initial entry wedge 
Since PLG involves limited to no sales rep intervention to sell a product's value proposition, companies need to ensure that their initial targeted use case and solution narrative is simple and precise, enabling end users to easily grasp what problem the product solves. To achieve product-market fit, users need to be able to adopt a solution with minimal education, dialogue, or support.
Imply is a prime example of how to put this guiding principle into practice. Founded by the creators of Apache Druid, Imply's real-time database for analytics applications is built on top of Druid, a powerful open source database that is used by developers to build end-user facing analytics applications that are rich, interactive, and deliver insights from both real-time streaming data and historical batch data.
While Imply's real-time database could be applied to solve different needs, the team understood they needed one clear entry wedge to reduce friction and encourage adoption. The team centered their messaging not on real-time analytics broadly, but instead specifically on developers and architects that are building modern analytics applications. The team further distinguished between applications that are internally-facing (such as Salesforce.com building an observability platform for internal engineers, product managers and customer service reps) vs. externally-facing (such as Atlassian building customer-facing product-usage analytics for users of their Confluence wiki service). This strategy of aligning clear messaging to its target audience and pairing this with a powerful product experience proved to be an effective way to activate new cohorts of users and establish Imply's market leadership.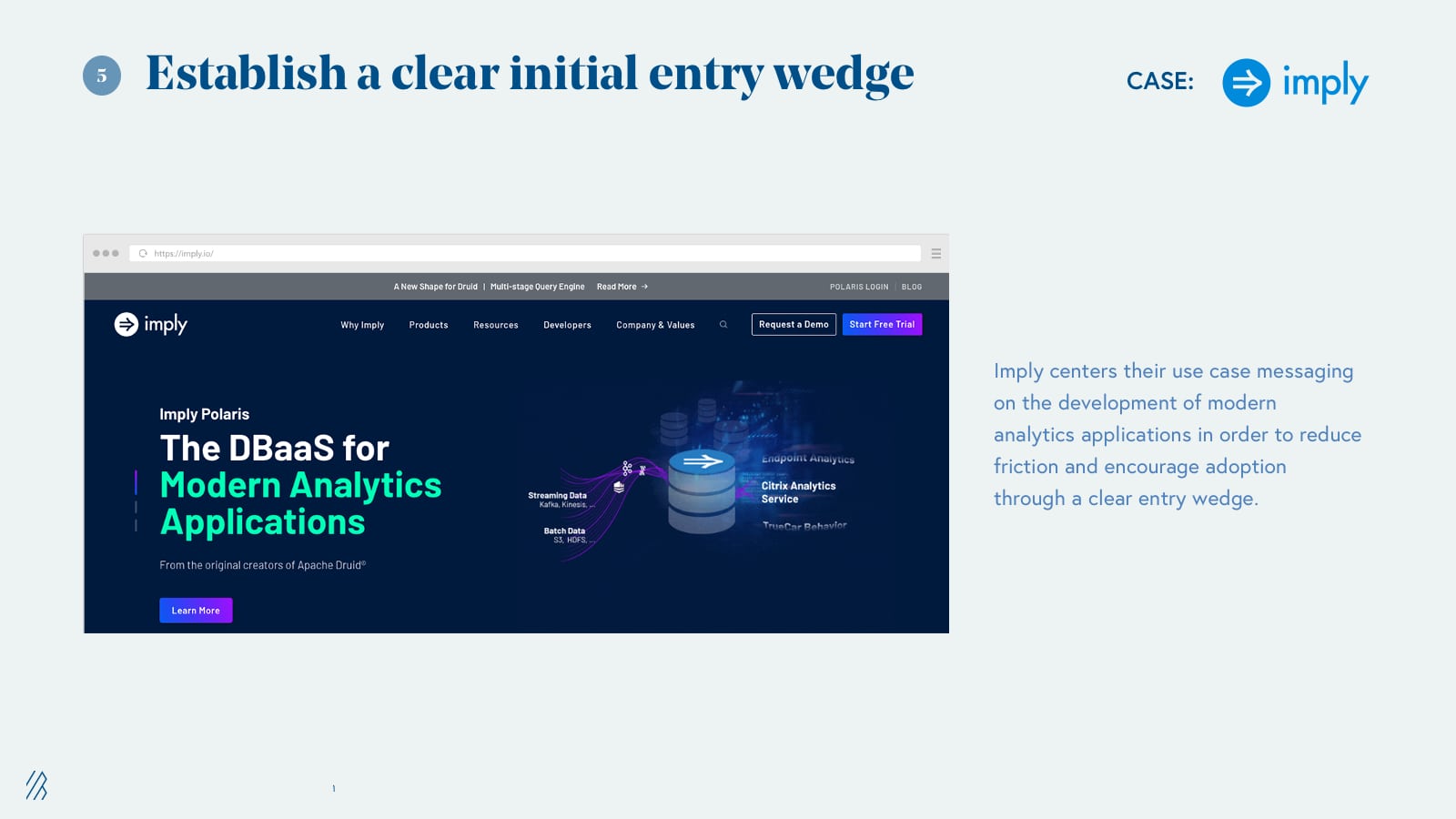 6. Generate virality through network effects 
Without elaborate marketing campaigns or large sales teams, PLG businesses rely on user evangelism to drive awareness and adoption. However, the best PLG companies recognize end-user advocacy does not simply mean relying on word-of-mouth or referrals. Instead, these businesses build their product purposefully to harness network effects stemming from their initial champion's adoption. 
PagerDuty illustrates how to develop product architecture that amplifies initial adoption. The IT incident management platform was naturally built to maximize network effects and pull in adjacent business units to become a source of truth for an entire organization's alerts, notifications, and data collection. Much like how consumers get more value from social platforms as their number of connections increases over time, PagerDuty's end-users also benefit from a larger pool of users. The more teams that go live on PagerDuty, the more value accrues for the teams that are already live on the system. Dispatches, after all, are only as useful as the people who are on the platform so everyone can get the right alert at just the right moment. 
Sparking this flywheel not only provides more value to individual users, but it also generates revenue and higher rates of net dollar retention for the overall organization over time. At the time of IPO, PagerDuty's net dollar retention rate was 139%, with net dollar retention rate consistently exceeding 130% for historical cohorts. This surpassed even our "best" benchmarks in Bessemer's good, better, best framework for enterprise net dollar retention. 
7. Employ a transparent pricing model
PLG companies strive to deliver solutions without the need for human intervention, and pricing is no exception. Pricing models should be clear and straightforward to reduce friction during the purchasing process. End users should be able to understand and predict their total spend against budget without needing to conduct additional research or having to discuss with a sales representative. 
Often, PLG companies peg their pricing to a unit of value. Usage-based pricing models have been fashionable within SaaS and developer-oriented technologies, but this form of pricing is an especially good complement to a PLG strategy—not only because of its complexity, but also because individual end-users can enter at a low cost entry-point and then scale up later.
Prefect, which provides a workflow management system for data teams, is a role model here. The company uses a simple, success-based pricing model that reduces complexity and friction for end-users purchasing their solution. Pricing is based on successful task runs each month, and users never pay for retries or failures.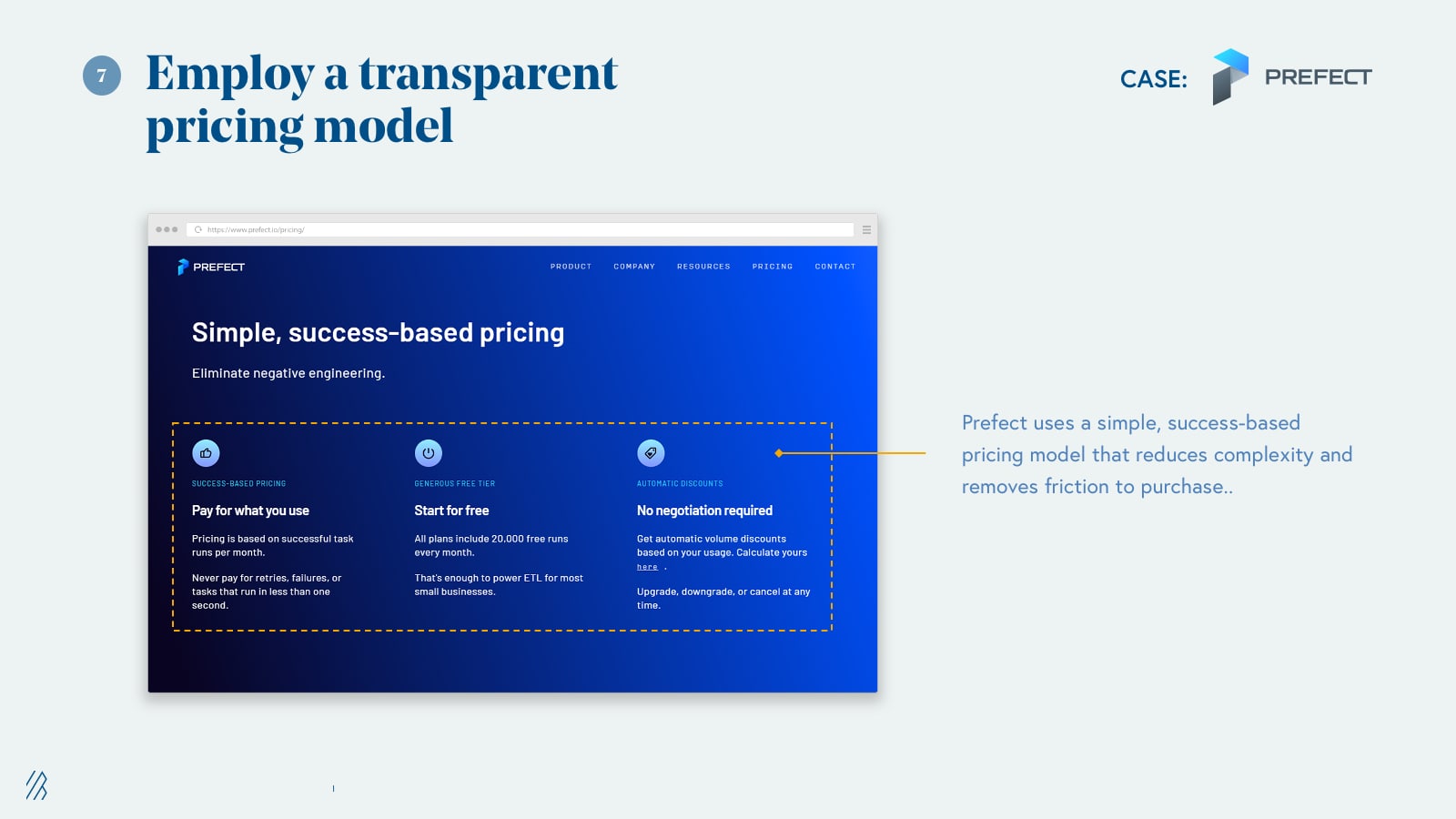 As PLG companies mature and layer on enterprise sales as a complement to their bottoms-up momentum, they will inevitably evolve their pricing plans to accommodate the nuances of enterprise purchasing. This includes allowing for enterprise discounting practices and the ability to negotiate custom commitment terms. Even through this transition, the best PLG companies stay true to simplicity by making plans transparent and easy to grok.
Take multi-channel notification platform Courier's experience as an example. In the early days, the company used a classic usage-only model based on number of messages, but the company later evolved its pricing plans after receiving feedback from larger customers who wanted more flexibility. The team shifted to a hybrid model blending usage-based pricing with traditional SaaS "Good-Better-Best" plans while ensuring that pricing still remained understandable. Courier's CEO and founder Troy Goode's best advice is: "Keep it simple—do your best to resist unnecessary complexity. Your customers will thank you."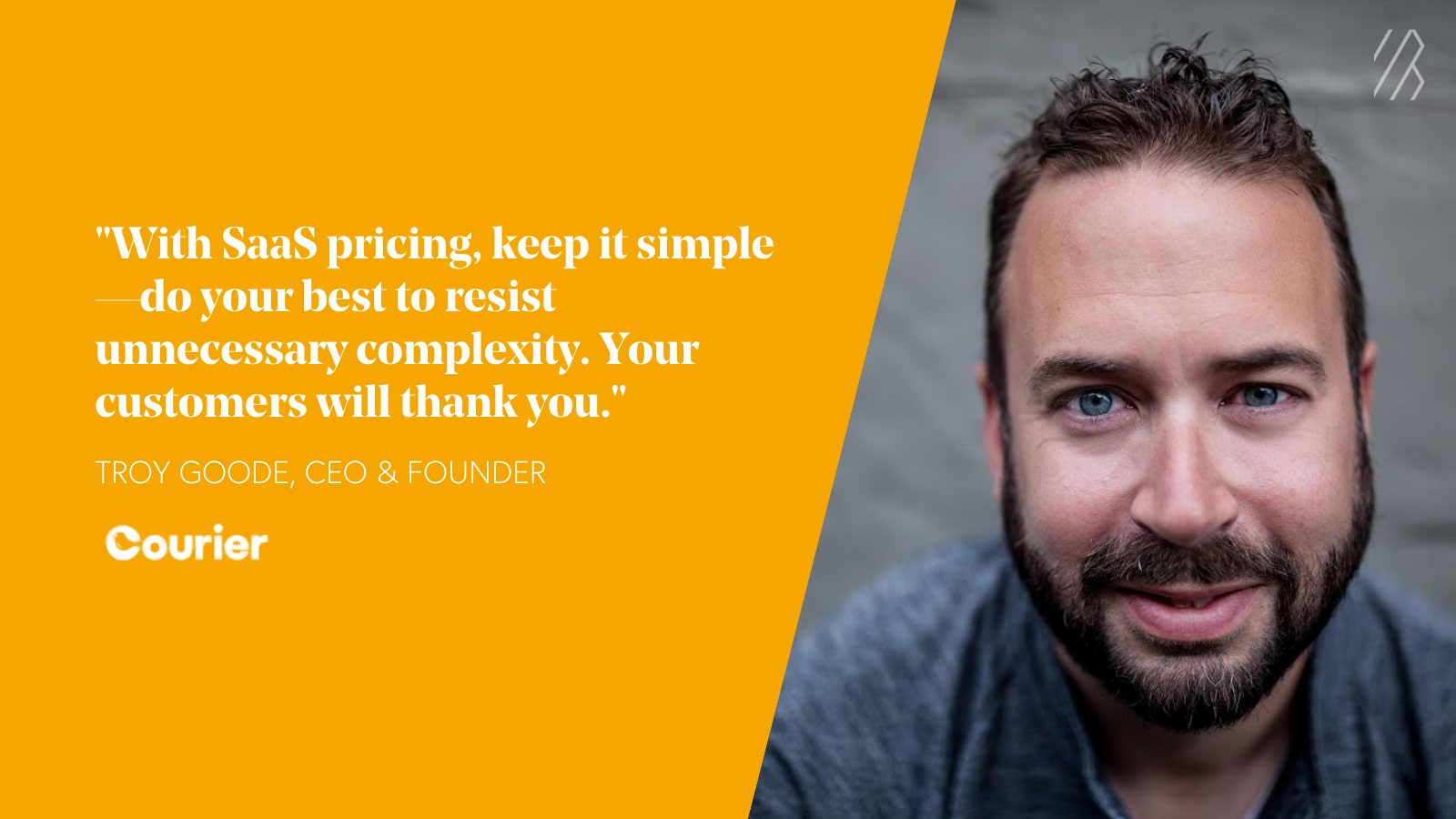 8. Design straightforward packaging based on intuitive gates
Mirroring Principle 7 on pricing, successful PLG companies ensure that packaging is well-structured so it is crystal clear what users receive in each plan. Users can then decide  on their own to pick the bundle that works best for their needs.
For example, workflow automation leader Zapier meticulously designed the various "bundles" of premium features. Zapier's packages are structured using thoughtful gates that articulate a cohesive and intuitive narrative for each user archetype based on their unique needs as they progress through the customer journey. Zapier's packages are tiered based on key units of value that are easily gated—number of "zaps" and update time. In addition, with each higher tier Zapier offers more features and benefits for teams that require more complicated and extensive workplace automation.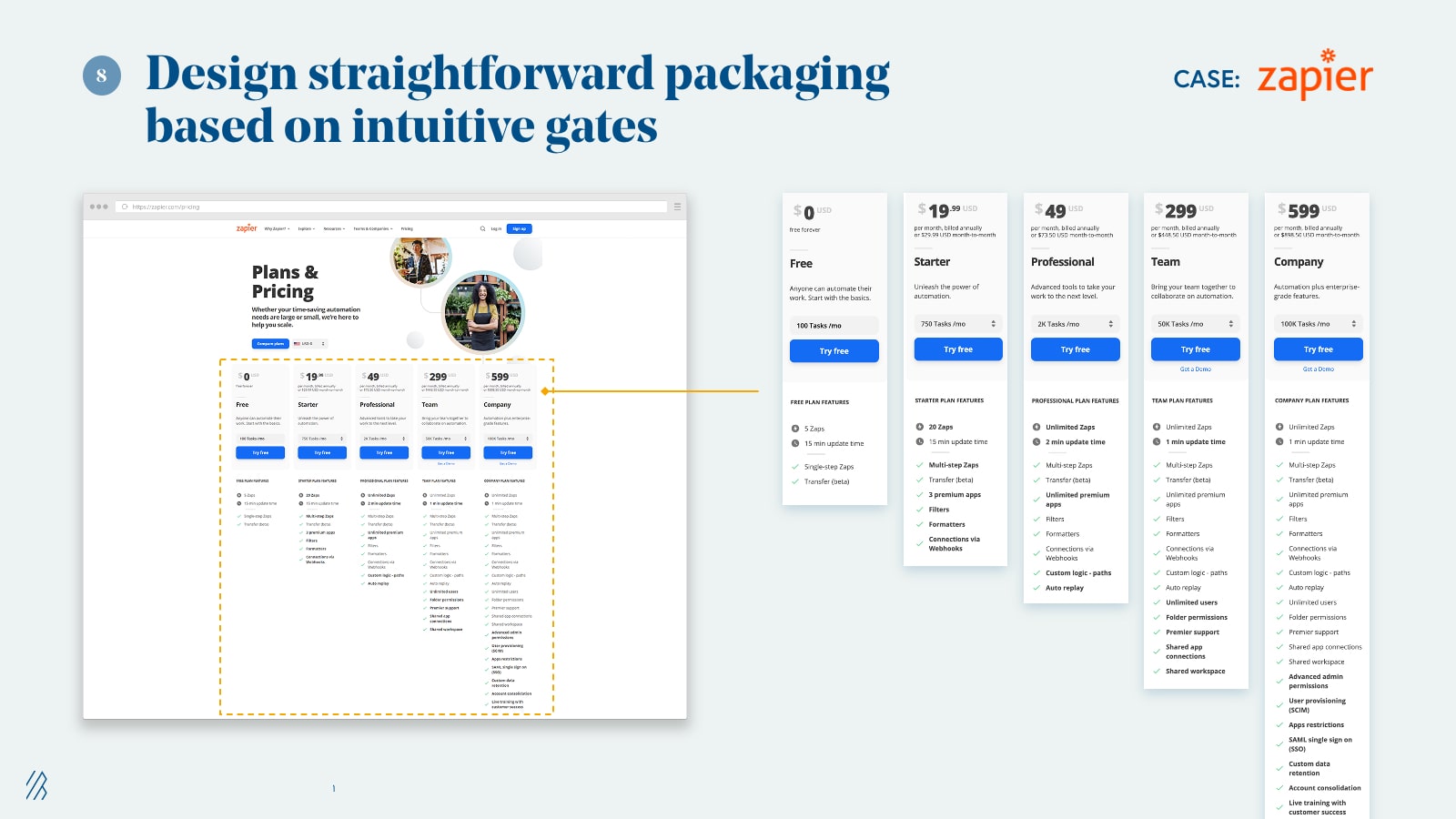 9. Embed customer success levers  
A self-serve ethos is crucial to all aspects of a strong PLG business—from product features to pricing and packaging to customer success, which is no exception. Before building out large customer success teams, savvy PLG leaders look first to embed self-serve customer success levers in the product and user journey so that users have the right tools and feel empowered to help themselves when troubleshooting is required.
A stellar example of this principle is Auth0 with its strong culture of documentation. Auth0 is a developer-centric adaptable authentication and authorization platform. Since inception, the company's incredibly deep and comprehensive library of technical documentation has been a competitive advantage. For instance, Auth0 provides detailed code samples that automatically integrate with user keys, so users can copy and paste snippets directly into an app to get up and running quickly on their own without needing onboarding assistance. In fact, Auth0's documentation was consistently cited as a key reason for developers choosing and sticking with their platform.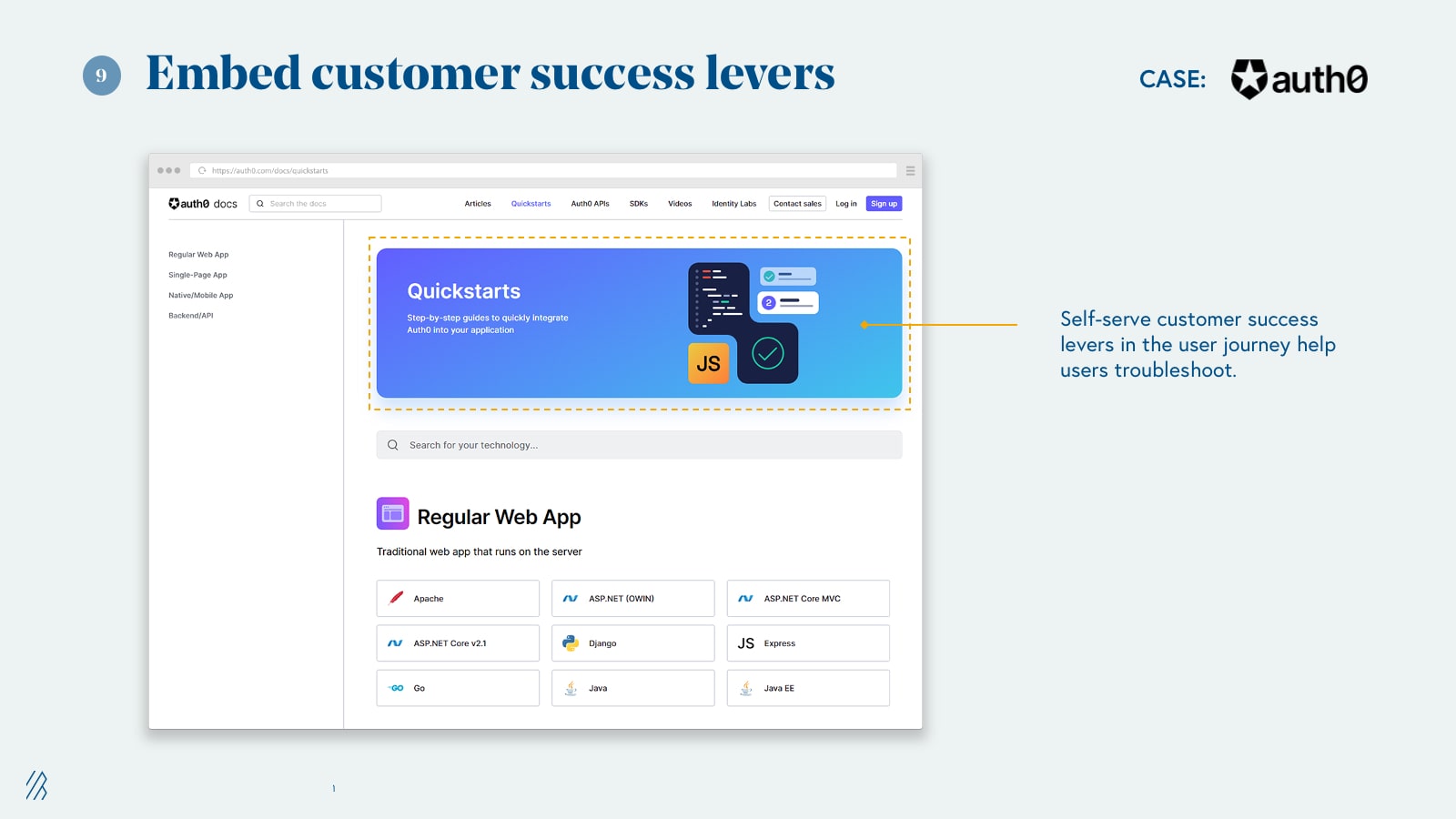 Beyond documentation and content creation, we have also seen other PLG companies such as Javascript testing framework Cypress succeed in achieving a strong self-serve customer success process by creating thriving digital communities so users can connect with other enthusiastic peers to get support, contribute to forum discussions, and keep updated on new developments. These digital groups can be developed through various channels including Tribe, Discord, Slack, and Github.
10. Infuse a product-led philosophy throughout the organization
Ultimately, a high-performing PLG motion revolves around the product, but requires coherence across all facets of the business. Everyone in an organization—including sales and marketing, design, finance, customer support, product, and engineering—should be "bought-in" philosophically and working cross-functionally to build programs that deepen product usage and engagement over time. 
Cloud communications giant Twilio embodies how alignment across a company leads to unparalleled growth. Twilio's developer-first, product-centric philosophy permeated throughout the company and guided actions from different divisions including its sales team. For instance, sales representatives were "evangelist(s) of the product, but with a quota." They worked hand-in-hand with the product team to stay close to end-users and provide feedback to improve the developer experience, rather than trying to influence the roadmap unnaturally to appeal to procurers at large enterprises. The sales team would employ clear heuristics to triage product-qualified leads and compensation structure was also aligned with a PLG strategy. Reps are rewarded with a long-term view to the ultimate value of the account in mind and are tracked against the initial sale and any forecasted expansion (e.g. estimated to include expected pay-as-you-go revenue like the amount of voice minutes on Twilio.)
PLG is more than a GTM strategy  
PLG leaders such as Auth0, Canva, HashiCorp, Imply, Twilio, and others have demonstrated that the PLG approach is not exclusively a go-to-market strategy—in many ways, it's a complete business strategy where product is the fundamental driver, piloting decisions and actions throughout an organization.   
While these iconic PLG companies make it look easy, getting a bottoms-up strategy right is a lot harder than it may seem. After getting a solid PLG foundation in place with these 10 core principles, we encourage founders to explore additional tactical resources on this topic to guide execution while scaling, including understanding how to navigate PLG commercialization friction points and how to layer on enterprise sales to a bottoms-up motion. 
It's not unusual for us to witness PLG companies repeatedly outperforming the "Rule of 40" as they commonly exhibit accelerated growth paired with unparalleled capital efficiency. Just as the cloud business model revolutionized the software industry more than two decades ago, we believe the PLG approach is a powerful accelerant that will help startups gain more traction faster than ever before. As the cloud economy expands in terms of vertical, segment, and geography, we're confident the PLG approach will drive new levels of product innovation and commercial success at a much faster rate throughout a founder's building journey.
How is your business leveraging product-led growth techniques? We'd love to hear from you! Reach out on Twitter (@NextBigTeng, @ethankurz, @BessemerVP) to connect.