Mindbody
To: BVP Group
From: Jeremy Levine, Sarah Tavel, and Brian Feinstein
Date: July 2, 2010
Re: Mindbody Investment Recommendation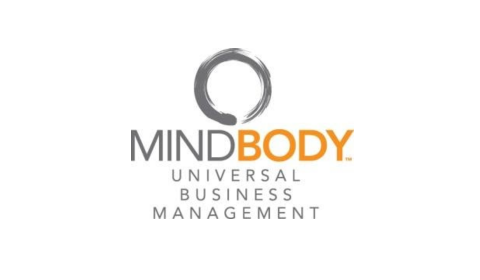 Summary
We expect to sign a term sheet to invest in MindBody, a San Luis Obispo, CA based provider of a SaaS appointment scheduling and business management suite for fitness centers, yoga/pilates studios, spas, salons and other similar establishments. We are investing $8m in an $11m preferred round at $42m pre and will own 16.3% of the company after the redemption of some early angel investors.
Mindbody launched its SaaS application in 2003 and has become the clear leader in the fitness market with over 8,500 clients, $867k in MRR and $1m in monthly revenues (as of May 31). We are impressed with Mindbody's position as the de facto standard in the yoga and pilates market (with over 30% share in both). It has gradually expanded into other verticals, including fitness centers, martial arts studios, dance studios, spas, and salons. At 4x annualized MRR, we believe $42m pre is a reasonable valuation given the company's growth characteristics, market potential and nominal operating burn ($120-150k per month).
Mindbody has demonstrated strong financial performance to date with a recurring revenue base and low churn. The company has grown from $4.4m in recurring revenue in 2008 to $6.8m in 2009 and is currently growing at a 60% CAGR, on plan to reach $11.4 in 2010. The company has acquired customers through a capital-efficient telesales effort, with a gross profit customer acquisition payback of ~13 months. Annual gross churn is ~11%, which is particularly impressive in light of the relatively short natural lifespan of its customers. Assuming the current metrics hold constant, MindBody has an attractive 3.4x lifetime return on customer acquisition spend, and we believe MindBody will continue to improve those metrics over time by expanding the range of services offered to existing customers.
Market Size Potential (the big issue)
The primary focus of our due diligence (and the main feedback that emerged from the BVP partnership meeting following MindBody's presentation last month) is the company's ability to penetrate the salon and spa markets. The company is clearly winning in yoga and pilates, but with 30% penetration already, there is not as much room for growth. To reach $50m+ in annual revenues, MindBody needs to broaden its target customer verticals.
As shown in the chart below, 40% of Mindbody's customers are yoga and pilates studios. Another 33% of customers are represented by various types of fitness centers. The remaining ~25% consist of newer verticals such as spas, salons, and wellness facilities. Mindbody's customer footprint is concentrated in the US (50% in the Northeast and California), with about 10% of customers from overseas. The customer base is highly fragmented— with no single Mindbody client representing more than 2% of revenues and only four clients accounting for more than 1% revenues.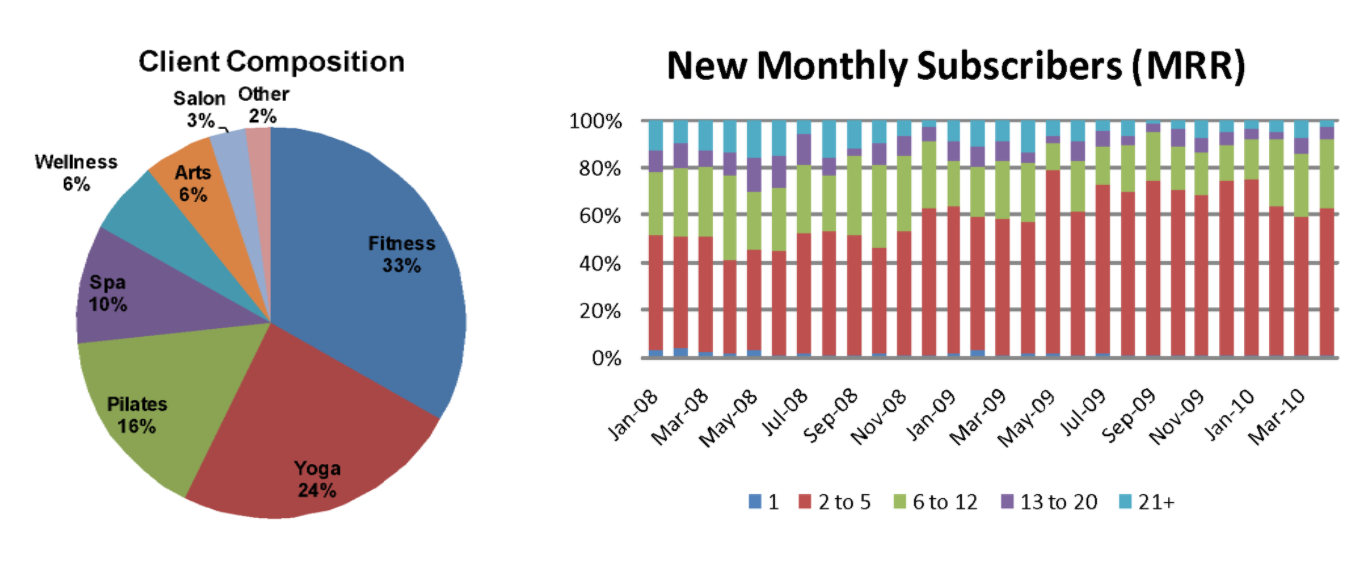 Today, 70% of Mindbody customer additions are new businesses or existing businesses with no software solution. Mindbody believes that it is acquiring more new customers each month than any of its competitors. Given the inherent switching costs associated with leaving existing on-premise vendors, we expect Mindbody's customer base additions to continue to skew toward greenfield opportunities.
As evident from the table below, reaching $50m in annual recurring revenues will require meaningful penetration of the salon/spa market where MindBody has only begun to add customers.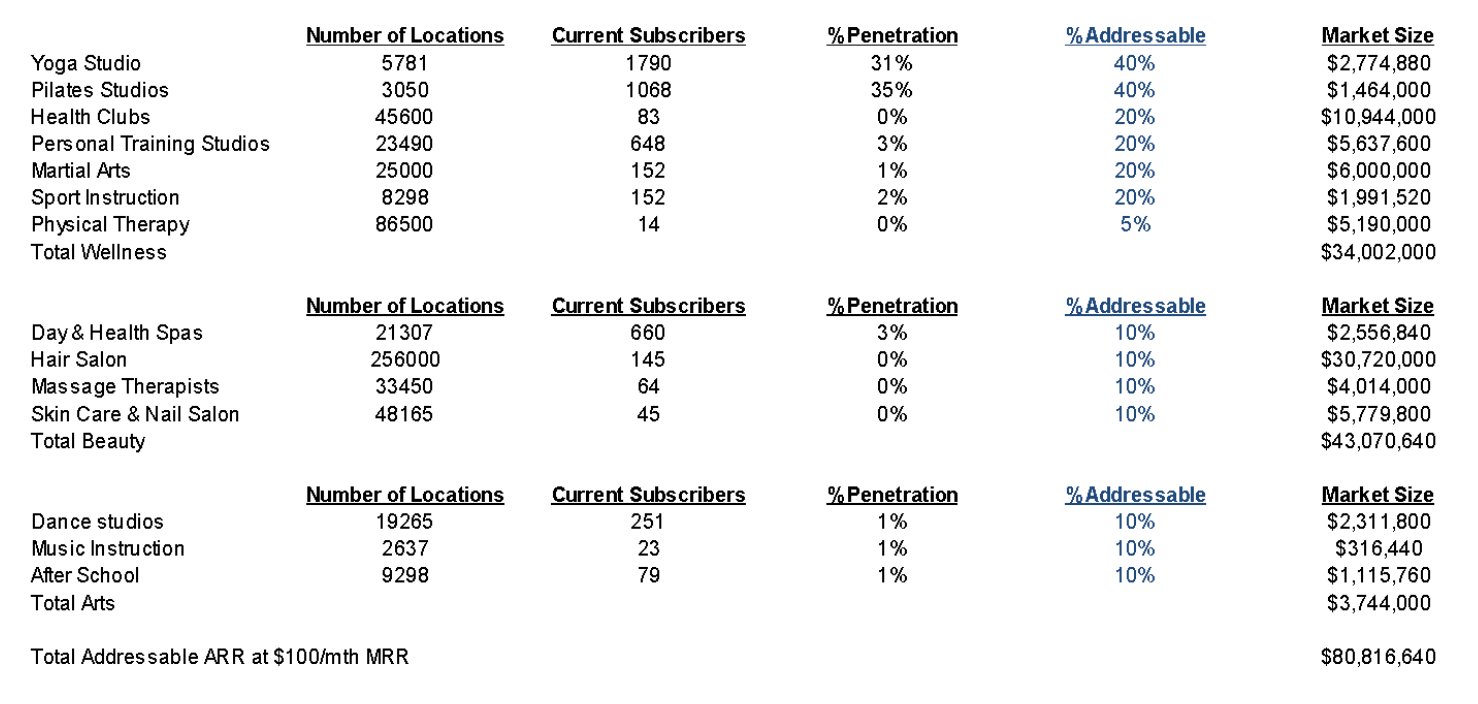 If MindBody can achieve 10% share in salon/spa (compared to its current 30% share in yoga/pilates), we estimate the company can reach ~$80m in ARR over the next ~5 years at its current $100/month average MRR per client. We also believe ARPU and margin per account will grow as Mindbody increases its payment processing penetration and starts to drive traffic from its newly-launched consumer-facing offering.
Our due diligence efforts to better understand the market dynamics in the salon/spa verticals suggest they are ripe for a SaaS solution. We are less confident in Mindbody's ability to penetrate those markets cost effectively, but we believe that after continued investment in product enhancements tailored to spa and salon customers, MindBody has a reasonable chance to win big and steal share from the incumbents which sell on-premise solutions. Through the first five months of the year, MindBody added 367 salon and spa customers, which represents 18% of the company's new customer additions in 2010 and a doubling of its customers in those verticals.
In summary, we are optimistic that MindBody will achieve meaningful traction in the salon and spa markets, which is critical for growth. If we are wrong, however, we expect the business to stall in the $20-30m annual recurring revenue range, at which point we have two options.
The first option would be to encourage management to run the business for dividends. Without the need to invest in customer acquisition beyond churn replacement, the company's monthly marketing expenses would drop by about 80%. Customer acquisition marketing represents more than 50% of total monthly expenses today, so the result of such a drop is a business with 25%+ operating margins. Therefore, we believe the company should generate $6-7m of annual operating profit and with a total preference stack of less than $20m, and we should be able to eke out a moderate 1.5x return.
The second option is to pursue a trade sale. Today, Saas businesses trade at anywhere from 2-6x ARR, and even at the low end of the range, we would expect roughly a 2x return. There is a limited universe of potential buyers with a clear strategic fit, but we would include publicly-traded companies like Opentable and Netsuite among them.
Product Overview
Mindbody is a SaaS suite that allows business owners to handle all aspects of operating a wellness or beauty facility, including yoga/pilates studios, fitness centers, spas, and salons. Pricing ranges from $29/mth for a single professional facility to $155/mth for facilities with 20+ professionals, with an average price of $75/mth per client.
Gyms and spas use Mindbody to host consumer-facing and mobile websites— allowing consumers to register for appointments and make purchases online. The software helps business owners manage internal operations, such as scheduling staff, setting appointments, preparing payroll statements, tracking customers, and monitoring sales activity. In addition, the product offers the ability to handle retail sales and process payments/subscriptions.
Mindbody offers three core advantages over its competitors. First, Mindbody gives a client operating with paper and pencil a way to manage his business more efficiently and increase revenues through online bookings. Second, at an average of $75/mth, Mindbody offers a comprehensive set of features at a competitive price point. Third, as one of the few SaaS vendors in the market, Mindbody's delivery model appeals to clients who want to host a consumer-facing website, eliminate IT issues, and operate their business from home.
The product is comprehensive and functional. It is also admittedly underwhelming and dated in its user experience. Our sense is that Mindbody's product is successful due to weak competition. Most of Mindbody's competitors are on-premise incumbents founded in the mid-1990s that lack the advantages of SaaS. The handful of SaaS competitors are poorly capitalized and sub-scale. For this reason, Mindbody has grown to be the only SaaS offering with 200+ customers in the fitness, salon, and spa markets. Based on our conversations with the team, we believe they understand the usability/interface challenges with their product and are committed to investing to improve them.
Mindbody's core software accounts for about 70% of total recurring revenues. About 30% of Mindbody subscribers and 70% of new subscribers process payments through Mindbody. This accounts for about 20% of recurring revenues and generates about $25/mth in additional MRR (bringing the total MRR per subscriber to about $100/mth). Mindbody recently became a registered ISO, which should further increase payment processing margins. In addition to software and payment processing, another 10% of recurring revenues come from sale of third-party products (e.g. ConstantContact) and premium support services.
Mindbody's product roadmap is focused on three core initiatives. First, the company is enhancing the core SaaS product with features specifically geared for the salon market. Second, the company plans to introduce Mindbody Finder— an OpenTable-like booking tool that aggregates the available appointment inventory across all MindBody customers in a convenient interface for consumers. Third, the company plans to aggregate and publish benchmarking data for each of its verticals (Mindbody Research) to enhance the value of the product for business owners and drive press interest.
Unit Economics
Customer Acquisition - Mindbody employs an efficient marketing-driven telesales model. The company relies heavily on SEM, outbound cold calling, and tradeshows to drive leads. It subsequently converts those leads by phone with an inside sales team. At a blended customer acquisition cost of ~$1,100, Mindbody typically has a 13-15 month gross profit customer payback period. Mindbody relies on a telesales team of 21 reps. As the company has grown its sales team from 14 to 21 in a span of a year, salesforce productivity has remained stable.
SEM and cold calling account for ~75% of total customers acquired, which we believe makes Mindbody's customer acquisition strategy highly scalable. The company's sales and marketing performance has been relatively stable as customer acquisition has grown. Between Q1 2008 and Q1 2010, its SEM and cold calling expenses more than tripled (from $90k to $294k). In this same period, cost per subscriber remained relatively constant at $400-600 per subscriber for cold calling and $200-$400 for SEM.

Churn – Over the past year, Mindbody has experienced 11% annualized churn and 2% net churn (net of upsells). With the exception of 3Q and 4Q 2009, churn by cohort has been relatively consistent. About half of churned customers leave due to problems associated with the product and the remaining half go out of business or have some sort of exogenous problem. In light of this ~5% annual natural attrition, we've been impressed with Mindbody's 11% annual gross churn.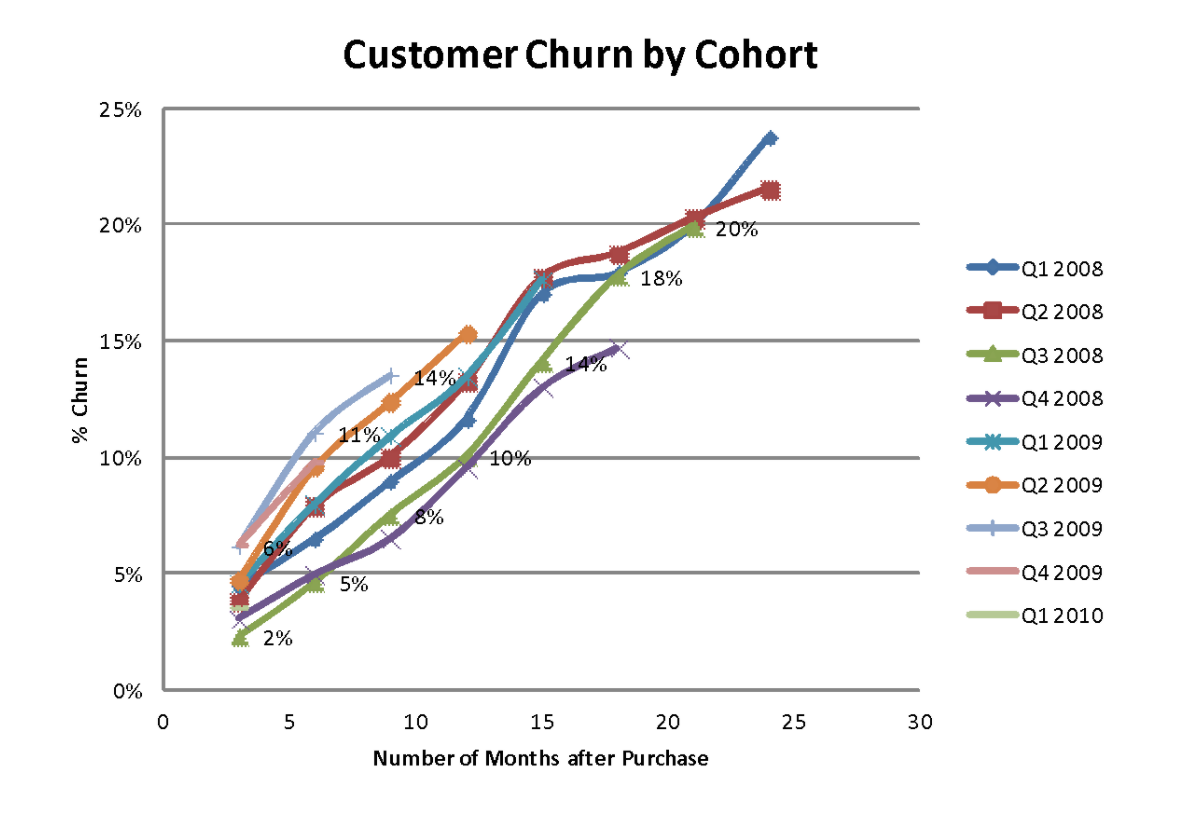 CLTV – At a blended customer acquisition cost of ~$1,100, ARPU of ~$100, 80% gross margins, an estimated 7 year customer lifetime, and simple assumptions surrounding renewals and SG&A, Mindbody is able to generate about a 3.4x return on invested capital (45% IRR), and we expect that to improve as MindBody extracts more revenues from its customers through new services like payment processing.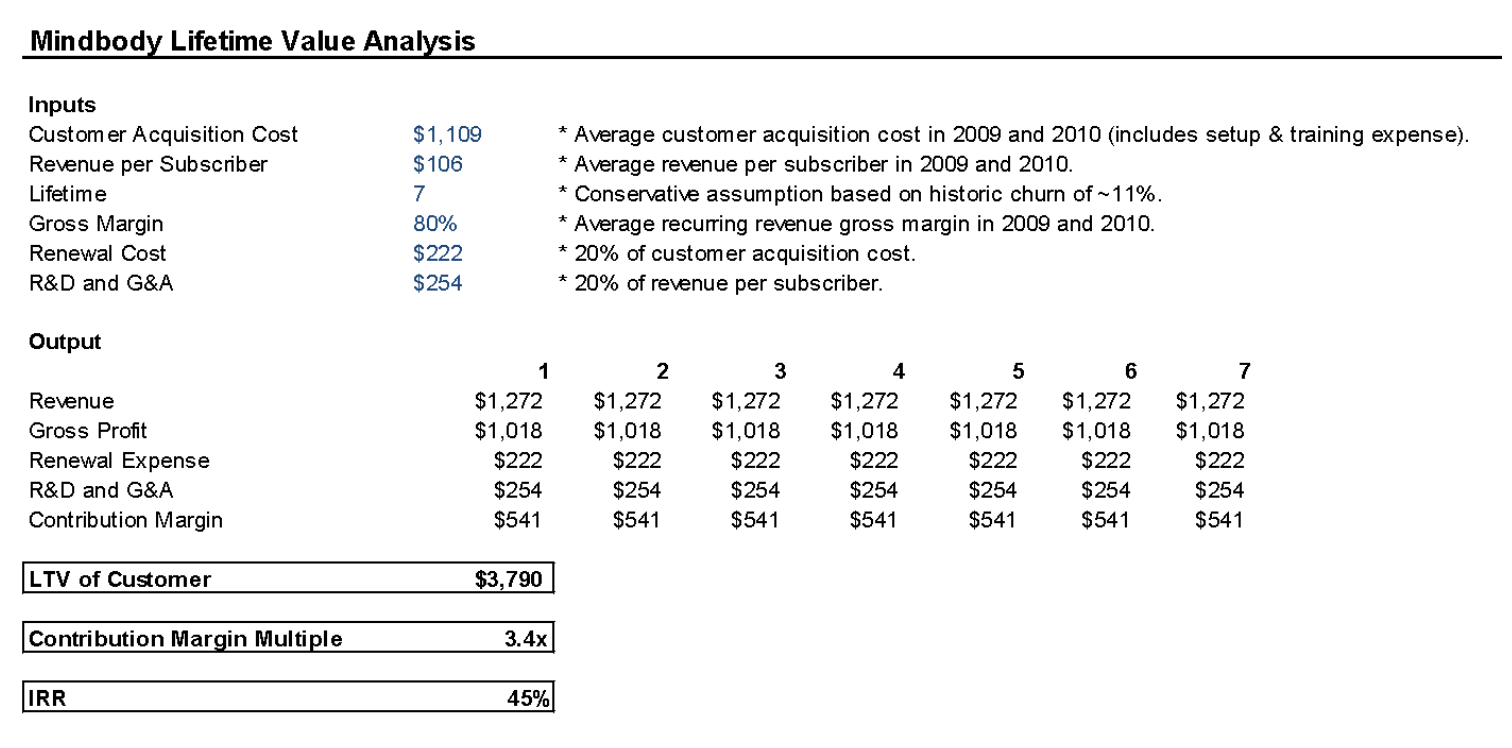 Financial Performance
Since January 2008, Mindbody has grown recurring revenues at a 56% CAGR. Growth slowed in 2009 due to the economic environment and MindBody fought the tough economic environment by waiving new customer set up fees, which dropped total revenue growth to 35% while recurring revenues grew 55%. In the past quarter, the total revenue growth rate has accelerated to a 60% CAGR and the company is on plan to hit its 2010 target of $11.4m in recurring revenues.

We view non-recurring revenues as immaterial, consisting mainly of low-margin products like hardware sales (e.g. credit card/membership card reader) and training fees. The non-recurring revenues bring the company's blended gross margin down 69%, while recurring revenue gross margins are about 80%.
The company is currently burning $250k-$300k per month, driven primarily by investment in sales and marketing. Without sales and marketing expense, the company would be operating at 20% EBITDA margins. The company expects to reach CFBE in mid-2011 and we expect this $7.5m contribution to the balance sheet to provide plenty of cushion and allow for tuck-in acquisitions.
We think the company has put together a reasonable bottoms-up plan driven by growth in sales and marketing expense. The plan calls for ~50% annual growth over the next few years, reaching $100m in rev in 2015. Our financial projections call for a more conservative $70m in 2015, although both models are very much dependent on the company's ability to maintain its unit economics as it expands into new verticals.
Competitive Landscape
Mindbody faces a number of competitors in each of its verticals. We believe that there are more than 60 companies, but according to industry surveys, no company has more than 6% share of the market. Moreover, Mindbody is one of the only well-funded companies with a SaaS offering. Given the company's dominance in the fitness market, we've limited this section to the handful of competitors that we believe are best positioned to compete with Mindbody in the spa and salon verticals:
Harms Software (Millenium Software): __Harms Software was founded in 1987 and is estimated to have 12,000 installations. By all accounts, Harms Software is the company to beat in the salon vertical. The company claims to handle over $1B in annual revenue on behalf of its clients. They've won numerous awards including being voted "Favorite Software" by both the American Spa Magazine and American Salon Magazine. Customers include all Paul Mitchell Salons, Aveda salons, Macy's, Nordstrom, Sally Hershberger and others. Mindbody claims that the company is struggling and that executives from Harms have been speaking to Mindbody about executive positions at Mindbody. We're skeptical because despite our best efforts to get in touch with the company, the CEO responded that they were not in need of cash nor interested in an investment.
ShortCuts: ShortCuts is a desktop software suite for the salon and spa verticals. The company is headquartered in Brisbane, Australia and was founded in 1993 and claims to have over 10,000 installations. We hear they have 100 employees. The product has deep functionality that is custom tailored to each vertical.
SpaFinder / SpaBooker: The founder of Autobytel, Pete Ellis started SpaFinder as an online retail destination to buy salon and spa gift cards. The SpaFinder site hit a ceiling at ~$50m in revenue and the team has created a SaaS solution for spas and salons. Though quite early with ~$100k in MRR, the product is a slicker and more usable version of Mindbody's product suite.
Risks
Will MindBody be able to replicate its success in the salon vertical? Mindbody has had significant success in the yoga and pilates verticals and has seen strong traction in other areas of fitness. However, much of the company's future growth is expected to come from its penetration of new markets— specifically salons. Although Mindbody's early traction in salons is promising, it's too early to tell whether Mindbody will be able to replicate its success in the salon vertical. If Mindbody is not able to penetrate the salon vertical, either organically or by acquiring smaller competitors in the space, its addressable market will be handicapped.
We focused our due diligence efforts on better understanding this key risk and came away with the following conclusions:
The addressable market in the salon vertical represents a $30m+ ARR opportunity. We learned that the salon market is divided into salons where stylists operate on company payroll and take a percentage of their service fee, and salons where stylists rent a booth from the salon owner but act as a single proprietor. Because booth renters act independently, they have less need for the management capabilities in Mindbody's software solution and lack the budget for IT purchases. That said, Mindbody has a mobile product offering coming out soon that we believe will be a good fit for the scheduling needs of booth renters.
Early data suggests that Mindbody's salon customers have higher than average CAC and churn. However, these metrics are consistent with the sales learning and brand recognition curve associated with Mindbody's historic entry into a new market. Moreover, these figures may be imprecise given the relatively small sample size of ~150 salon customers. Importantly, the metrics have been moving in the right direction.
As discussed in the competition section, we've learned that no incumbent salon software company has a dominant position in the market. This leads us to believe that Mindbody is well positioned to enter with a disruptive SaaS offering.
Will the team be able to scale? We've been impressed by the Mindbody team's focus on SaaS metrics, their historic financial performance, and their level-headed approach to the business. With that in mind, they don't have any prior successes under their belt, so it is difficult to know how they will scale.
Will Mindbody be able to rise above the competitive noise? Mindbody dominates the yoga and pilates verticals, but is a relative newcomer in other verticals. Although Mindbody has one of the few SaaS applications, it does not enjoy the same brand recognition outside its core verticals. As previously noted, the competitive landscape across the other verticals is quite fragmented, though there are a couple notable competitors in salons that enjoy relative brand recognition. When Mindbody first launched in the yoga and pilates verticals, the competitive dynamics were similar, and Mindbody was able to rise above the noise to become the standard in the yoga and pilates space with 30%+ market share. Part of the bet we're making is that Mindbody will be able to repeat their previous success despite the competitive landscape.
Will we be able to exit? Given the specialized nature of this product, there are very few strategic buyers. If we are unable to achieve requisite scale for an IPO, we may be forced to sell to a financial buyer.
Will Mindbody Finder see consumer traction? Mindbody intends to partner with local review sites like Yelp to power a health and beauty bookings engine. Part of our upside case is predicated on consumer adoption of this type of service and Mindbody's ability to manage a consumer-facing business.
Team
We've grown increasingly impressed with Rick and Bob as we've gotten to know them. They've taken a highly analytical approach to managing their business— monitoring the core metrics of their SaaS business on an ongoing basis. They've also proven capable of building a scalable sales and marketing funnel— with SEM, outbound cold calling, and inside sales driving an efficient customer acquisition process.
Rick Stollmeyer (based in San Luis Obispo) – Rick strikes us as a competent CEO and a strong spokesperson for the business. He founded Mindbody as a consulting shop for the yoga industry in 1998 after serving as an officer in the Navy. He launched Mindbody as an independent SaaS solution in 2003 and has led the business in partnership with Bob Murphy since that time.
Bob Murphy (based in East Hampton, NY) – Bob is the current CFO and CSMO (Chief Sales and Marketing Office). He is a metrics-driven and detail oriented leader. He intends to step down from the CFO role to focus on sales and marketing once the current VP of Finance has been fully groomed to take over the role.
We have had limited interactions with other team members and do not believe there are other "VP level" executives in the company. We intend to spend more time with all of the senior managers as part of our final due diligence.
Deal
Mindbody has raised $8.4m to date from individuals and Catalyst Investors, a NY growth equity firm. The company's most recent financing was a $5.6m investment from Catalyst in March 2009. The company also has a $400k LOC from a regional bank and has signed a term sheet with SVB for $2m in venture debt.
The company has historically taken a cautious approach to fundraising and only raised capital on an as-needed basis. When we first approached Rick and Bob, the company was not actively seeking funding but recognized the opportunity to accelerate growth. The early largely friends and family investors have also expressed interest in selling part of their stake, representing 7.7% of the total shares outstanding.
We have an opportunity to lead an $11m round at a $42m valuation (4x current ARR, ~3.6x 2010E ARR and ~3.2x 2010E total revenues). We will invest $8m for 16.3% ownership (after redemption of some current shareholders and a small option refresh) and Catalyst would take the remaining $3m. We expect $3.5m of the round would be used to redeem existing shares at discounts ranging from 10% to 17.5%. The remaining $7.5m would be used to fund company growth, primarily through sales and marketing expansion and small tuck-in acquisitions. There will be a 4.5% unallocated option pool available at closing.
We believe the price and terms are quite reasonable.
Scenario Analysis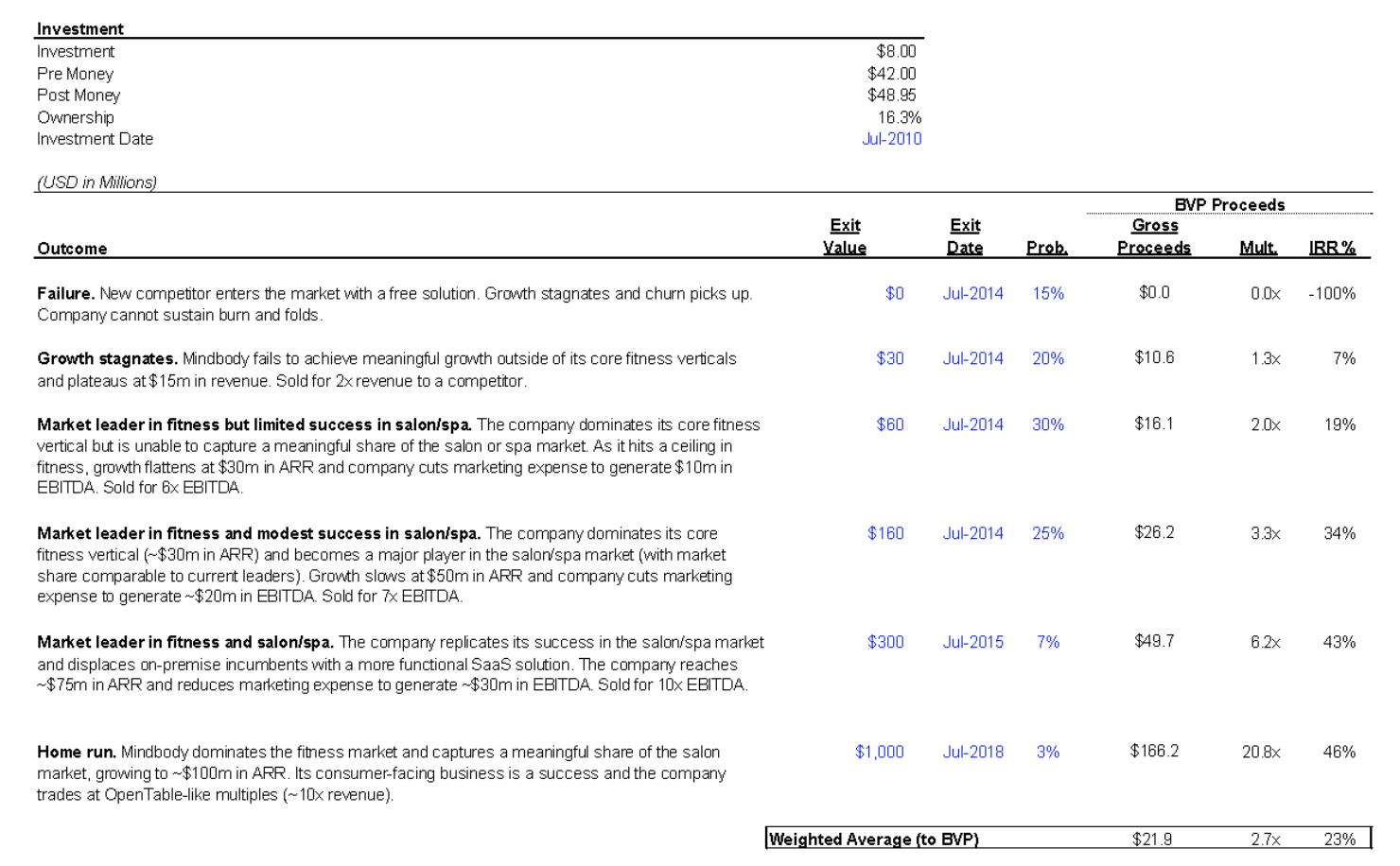 Conclusion
We have been impressed by Mindbody's execution and performance to date, and are excited by the opportunity to invest in a SaaS business that we believe could come to dominate the health and wellness space. The relative maturity of the business, when combined with the agreed deal terms, provides us with attractive mid-range returns, and if Mindbody can replicate its yoga/pilates success in new markets, we could reasonably realize a 5-10x gain.
Appendix: Company Financial Plan