Twitch
To: BVP Group
From: David Cowan, Ethan Kurzweil, Sunil Nagaraj, and Mackey Craven
Date: July 7, 2012
Re: Twitch Series B IR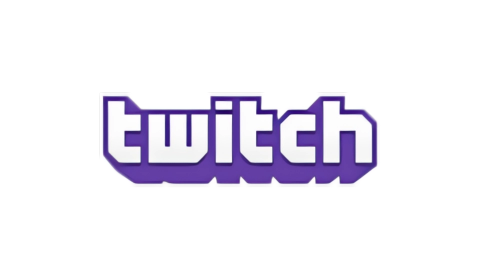 Recommendation
We recommend that BVP invest $13 million in Twitch.tv (fka Justin.TV) at $53 million pre-money to own 18.3% of the Company.
Mackey's data-driven sourcing efforts gave us an early indicator of the company's growth, positioning us to lead the Series B ahead of any peer firms. The inside venture firm Alsop Louie is scrambling to get capital from LP's to make a follow on investment, but they can likely not invest more than $1 or $2 million more in the business. Still, we are competing against another firm which has agreed to a $90 million pre-money valuation (although fortunately the Company sees no other value from that investor).
Since Twitch.tv presented to BVP three weeks ago, we have been selling hard against the other proposal, pitching BVP's value, and we think we have a deal, but it's still shaky. During that time, we have nearly completed our due diligence on the opportunity, while the Company has made impressive progress with strategic partners like Tencent, EA, Activision, and Take Two.
It is important to note that we would be investing in the Justin.tv corporate entity which includes both Twitch.tv and Justin.tv. The company plans to immediately sell the Justin.tv asset, so any proceeds from that sale would accrue to our investment. Justin.tv generates $4m per year in cash flow but is declining – both in viewership and revenue. Management is confident that they can sell the asset for $10m-$20m with some but not all of the cash up-front and are in late stage negotiations with one buyer about such a transaction.
Summary
Twitch began in January 2011 as a "skunkworks" project within Justin.tv, a user-generated live streaming video platform, and by the end of 2011 was the sole focus of the company. Since then, Twitch has grown viewership at an average of 9.6% month over month to 18m monthly uniques watching nearly 4B minutes of live gaming. Earlier this year, Twitch began to monetize these viewers through advertising (primarily mid-roll video), subscriptions to specific streams, PPV, and paid HD.
Twitch enables gamers to stream live sessions over the internet and monetize their viewers through revenue sharing agreements. Over 150k gamers stream content on Twitch each month despite the need to install complicated software, and in the case of console gamers, hack together ~$200 of 3rd party hardware. Approximately 1,700 streamers consistently have 300 or more viewers, and 15 of the top gamers often draw tens of thousands of viewers. However, even the largest streamer represents less than 1% of the total viewership in any given month. As a result, Twitch's revenue is highly distributed across the streaming community.
We agree with the Twitch team that the path to long-term sustainable growth is by making it as easy as possible to engage new streamers. To that end, they are focused on integrating with games for direct content and data feeds. Gamers can see how others have navigated the level, or how they used a virtual good on sale, thereby driving usage and sales. Gamers can also easily share their experience to e-sports viewers, or to their twitter and Facebook friends, driving viral awareness of the game. Integration with games would also enable virtual goods marketing and monetizing VOD content on Youtube (or directly through the twitch.tv site).
The company will need to scale its infrastructure given several large publisher integrations already in the pipeline. We are excited by the fact that Twitch is creating a fundamental shift in how games are consumed by turning gameplay into media experiences. That said, creating a new market comes with many inherent risks including the fact that the market size has yet to be defined. In addition, Twitch faces potential competition from other streaming video platforms and game publishers if they decide to build Twitch functionality into their games. We have become increasingly comfortable with these risks after focusing our diligence efforts on vetting proxies for market size and growth, and after receiving positive endorsements from game publishers and other ecosystem players (e.g., YouTube – a competitor!) of the company's team and strategy.
Company History
The company was originally founded as Justin.tv in 2006 by Emmett Shear, Justin Kan, Michael Seibel, and Kyle Vogt. An early participant in the YCombinator program, Justin.tv allowed consumers to stream live video from their webcams to the Justin.tv destination site. The resulting user-generated live video content proved to be very difficult to monetize due to the poor production quality and inherently low-brow UGC, unpredictable content. In January 2011, the company started two "skunkworks" projects in an attempt to pivot to a better business. CEO Michael Siebel launched Justin.tv mobile and CTO Emmett Shear launched Justin.tv gaming. Surprisingly, both showed early signs of success and the respective teams wanted to continue to pursue the opportunities they each were working on. As a result, the company spun out Justin.tv mobile as Socialcam earlier this year (a strong competitor to our BVP seed investment Viddy, led by former justin.tv CEO Michael Siebel) and Justin.tv gaming was renamed Twitch.tv and became the sole focus of the remaining company. At the same time, founder Justin Kan left the company to launch a new startup in the TaskRabbit/Zaarly local marketplace space called Exec. The fourth co-founder Kyle Vogt continues to run Justin.tv as a division of Twitch.
Re-branding the company Twitch, Emmett began to re-orchestrate the company to focus exclusively on streaming live gaming content, replacing 2/3rd of the team. Today, 48 of the 50 employees at the company work directly on Twitch or the underlying streaming video platform built for the original business, while Kyle Vogt and one other employee maintain the Justin.tv destination site. As it turns out, Twitch was already in the process of selling the Justin.tv asset when we first approached them, but that transaction will not close before our proposed investment. After selling Justin.tv, both sites will continue to operate on shared infrastructure and Twitch will likely be compensated slightly above cost for providing the infrastructure to support Justin.tv. While we originally believed that the Justin.tv sale would not generate much cash, the company is now redlining a final agreement that would bring in $10m-20m with at least some of the payment upfront. This is one of the key reasons for management's increased negotiating leverage and interest in the company – as they could theoretically forgo fundraising altogether and run the company off of the proceeds from selling Justin.tv.
Value Proposition
It is helpful to think of Twitch as a marketplace where gamers use the IP of publishers as "raw materials" to make content that viewers want to consume, and charge those viewers through advertising, subscriptions, PPV, and paid HD. Like many marketplace businesses, Twitch creates value for all constituents by allowing them to transact in a low friction environment and handles all monetization on their behalf. As a result, the company is able to capture the majority of the transaction value. CBS Interactive sells advertising on Twitch's behalf with 60% of the inventory sold as premium "e-sports content" generating $35-$40 CPMs and the remaining 40% on private exchanges with $8-$9 CPMs. It shares half of this revenue with Twitch. Eventually Twitch may build a direct advertising sales team but for now they are happy with CBS' representation as they package it with GameSpot and other premium gaming content and are in the process of further segmenting the private exchange content so portions of it can be sold as premium. CBS' involvement is extremely helpful to Twitch in that they are able to ensure that the inventory stays solidly in the "premium" bucket – enabling them to generate 4-5x the CPMs of remnant. Of course this is also a key risk as it's unclear what the value of the inventory would be on a standalone basis. We have become increasingly comfortable with this risk as they grow their audience size to become a top 5 gaming destination and one of the top two sites for gaming video – of increasing interest to brand advertisers.
The key reason that Twitch is able to capture so much of the value created on the site is that gamers see the revenue they generate by streaming as purely incremental. A streamer's primary purpose for purchasing and playing a game is enjoyment. Twitch allows a portion of that purchase, and in some cases orders of magnitude more, to be recouped by simply sharing the experience online. Even beyond compensation, there are very strong social motivations to share content and experiences, especially when competition is involved. This is actually more important than the revenue share for hardcore gamers who seek recognition from their peers.
While our intuition from the worlds of music, film, television, and most other traditional media would suggest that publishers try to curtail consumers streaming content, game publishers have actually embraced Twitch and the live streaming community. The key reason for this is that games can be consumed both as a participant and a viewer, whereas traditional media generally has only one modality. This means that unlike traditional media, most games can be shared without cannibalizing the revenue the publisher derives from direct use. In fact, because indirect consumption in gaming also exposes individuals to the product, it's essentially free social marketing for game developers and publishers.
Since this effect strengthens the community around a game and therefore the lifetime value of the title, especially now that virtual goods are becoming a standard monetization technique, we believe publishers value streaming communities quite highly. Our initial diligence calls validated this claim and after speaking with the top brass at EA, Ubisoft, Riot Games, Activision (call pending) and other publishers, we are now even more convinced as publishers are shifting an increasing portion of their advertising and marketing dollars online. Furthermore, they view Twitch's product as an authentic and effective way to draw in new users and re-engage existing users, which is important given the free-to-play nature of most new games since the industry has shifted in this direction over the past five years. Many developers have now built spectator and theater modes into their games so users can view the environment from a different user's perspective or from a controllable "free floating" camera during the game. While this often allows gamers to view sessions from inside the game directly rather than on Twitch, the net result is higher impact Twitch streams for that game because of the added production capabilities (different camera angles, 3rd party commentary, etc.). A related concern was that the game developers may create their own Twitch-like site to view gameplay for their own game, but over the course of our diligence conversations we have become comfortable that this will not happen in any meaningful way given game developers' inability to build engaging web presences or communities, a fact they readily admit. (Check out Blizzard's World of Warcraft site: http://us.battle.net/wow/en/ - built on circa 1998 web technology.)
Twitch is in discussions with all of the largest hardcore gaming publishers including Activision/Blizzard, EA, Ubisoft, and even mobile publishers like ng:moco to integrate the ability to stream to Twitch directly into their games without third-party software or hardware as is required today. The first of these integrations with a small Swedish game developer Paradox was announced two weeks ago at E3 and that game should be live later this year. They have also informed us that an integration with one of the largest game franchises in history on Xbox is already underway. The Twitch technology (a "broadcast to Twitch" in-game button and corresponding SDK) can be fully integrated into a title in a day – assuming the publisher has built some sort of spectator or theatre mode into the game. Many of these publishers have never integrated third-party software into their games previously, so this level of traction is particularly noteworthy, and has only accelerated in the past several months. Several large publishers we have spoken with have confirmed their current integrations of the Twitch SDK and their eagerness to incorporate it into more of their game portfolios. They view Twitch as complimentary to their own efforts to engage with their audiences – not competitive – and want to make it as easy as possible to push their content out into the Twitch community.
In addition to simplifying broadcasting, this level of integration allows gamers to automatically share additional metadata such as their virtual goods inventory, weapons used, level achieved, location, etc along with the stream. This metadata could be used to index the video streams more intelligently, so that viewers can learn what the best players are using and in what fashion. The team believes that there are potential revenue opportunities around driving additional virtual goods sales and improving gamer education, however these additional business models are purely speculative at this stage. The company also allows publishers to integrate a "view mode" SDK into their games so that players can watch and learn from other players directly in the game without going to twitch.tv on the web. One such integration is live today – with Tribes Ascend, a first-person shooter gamer from Hi-Rez Studios.
Market
Twitch's value proposition for streamers and publishers, and therefore its business model, are predicated on the idea that there is demand for viewing live digital gaming content. It's obvious from global human interest in sporting events that there can be a large audience for watching games, especially when a portion of that audience has played and/or enjoyed the game. The relevant question for Twitch is whether there is a large enough audience for viewing live digital game content to support a valuable media business around what is being termed "eSports." Since this is an emerging category in the US, there are no incumbents to directly measure the size of the opportunity or how monetizable that viewership will be at scale. We are encouraged by the explosion of live eSports events in Asia, such as: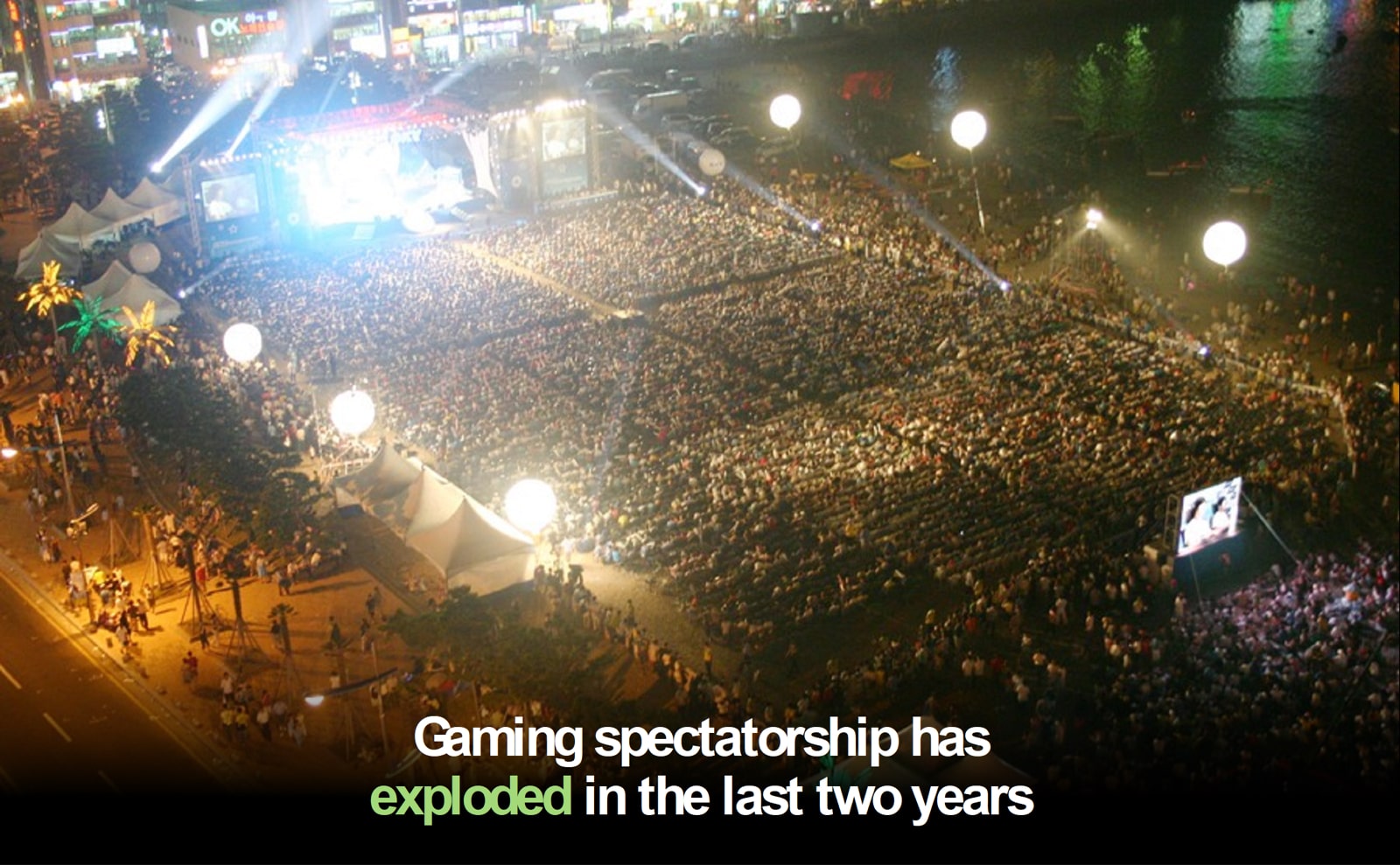 The image above is the equivalent of half-time at a StarCraft II tournament in South Korea. South Korea has been an early adopter of eSports with dedicated cable channels devoted to it. Events like this at a smaller scale are being held around the world with increasing frequency. In fact, eSports leagues on Twitch are beginning to see television audience sizes. This is not surprising when one considers that the 30m players in the Call of Duty community outnumber US residents who played football, basketball, baseball, tennis or golf in the past year. The fact that a single hardcore gaming franchise outnumbers some of the most popular and commercialized US sports in terms of direct engagement is a hopeful sign that latent demand may exist for viewing live game content (just as real demand exists for viewing live sports).
Another encouraging sign is that video on demand (VOD) viewership for streaming game content is 7x the size of the live market at 250m monthly uniques. This space also has a clear leader, YouTube, where gaming is the largest category after music. The majority of YouTube's gaming content comes from its second largest network after VEVO, Machinima, which grew 3x last year and has reached 175m monthly uniques. The scale and growth rate of Machinima's VOD viewership through YouTube suggests a large latent demand for gaming content. Machinima does not have its own video platform and has to syndicate its video through Youtube and other partners. While they would like to compete in live, YouTube does not currently have the platform capabilities to enable this in gaming, and their own gaming business development team indicated to us that they are unlikely to catch up quickly enough.
While the biggest risk to this investment remains market size, we have talked to several experts in the space who confirmed our belief that there exists a large, latent audience for this type of content. One Paramount executive with a gaming background compared Twitch to a regional sports network like NESN or YES and felt that Twitch could grow to equivalent audience and revenue size.
Concurrent Viewers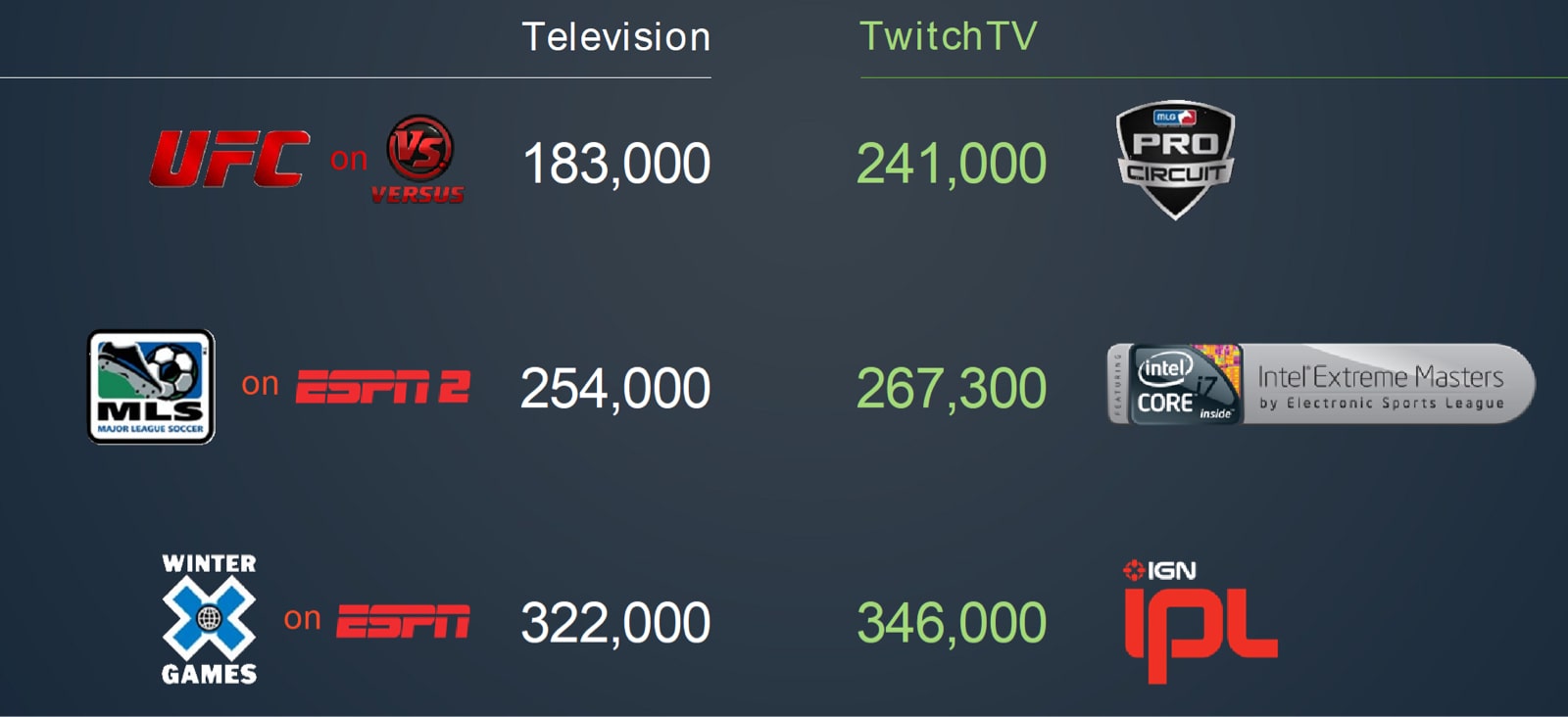 Product
Twitch is based on the non-intuitive idea that watching other people play videogames is entertaining. The company likes to compare this to watching poker on television which is now a massive franchise. Over the last 10 years, there has been a set of innovations that have brought audience, technology, and distribution to poker to make watching it on television entertaining. Two specific innovations were the "pocket cam" which allows you to see a player's cards, and the statistics engine that computes the likelihood of winning.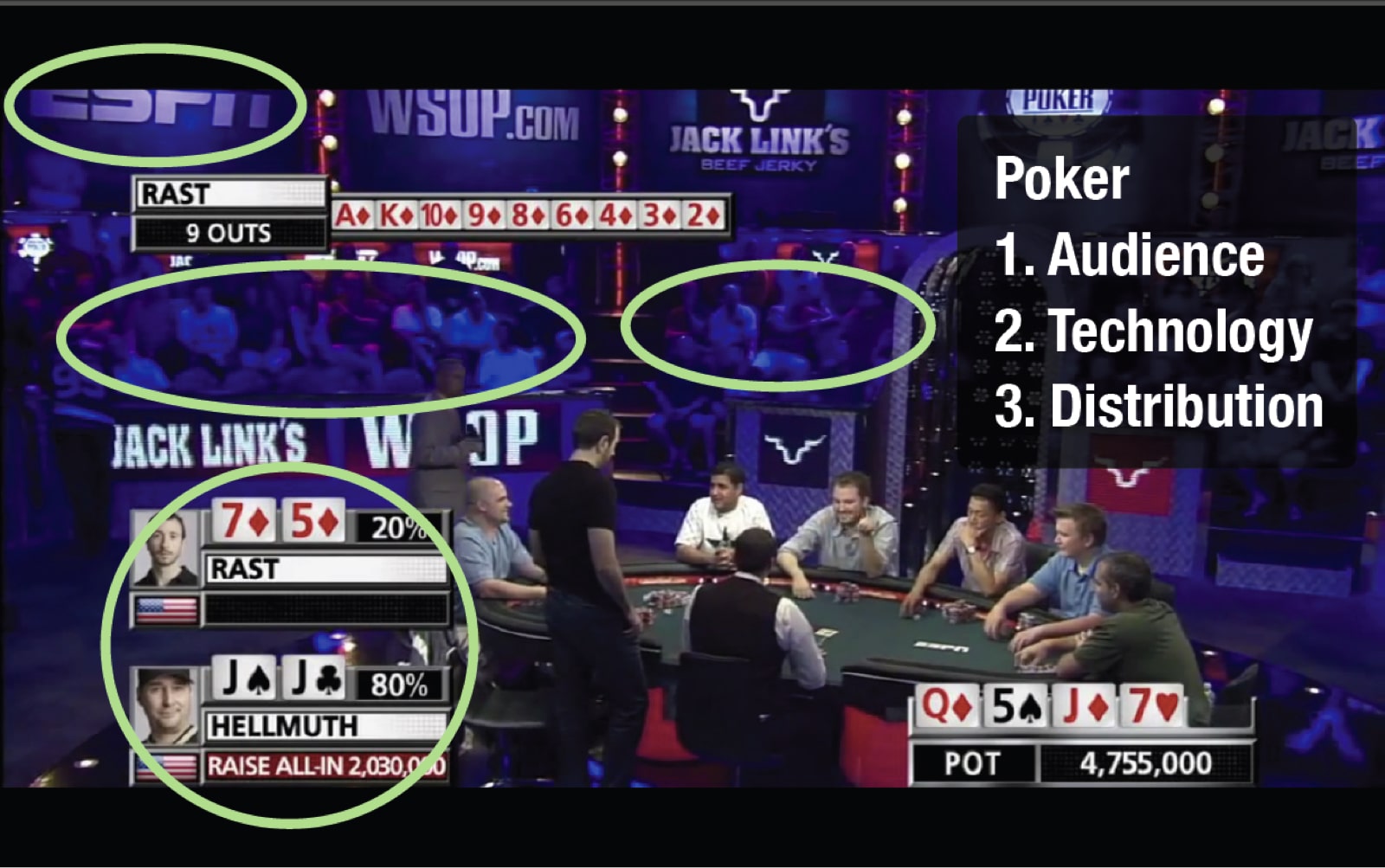 Twitch is following a similar playbook of bringing audience, technology, and distribution to videogame watching. On audience, there is clearly a large and growing user-base playing these games, as discussed in the "Market" section above. By amassing a large number of streams, Twitch presents a new broadcaster with an ecosystem where almost 20 million monthly uniques can tune in. On technology, the two key innovations are the Justin.tv infrastructure and theater/spectator modes that allow for commentary. The upcoming integration into more games will enable even more gamers to broadcast their gaming seamlessly. Finally, the ubiquity of broadband provides distribution, completing the televised poker analogy. The Twitch.tv site allows a viewer to browse by game title, begin watching a live, high-quality (720p) video stream (a "channel"), and chat with fellow viewers. The typical video stream includes a webcam view of the player (who often has a headset on to communicate with his competition) as well as the fast-paced gameplay.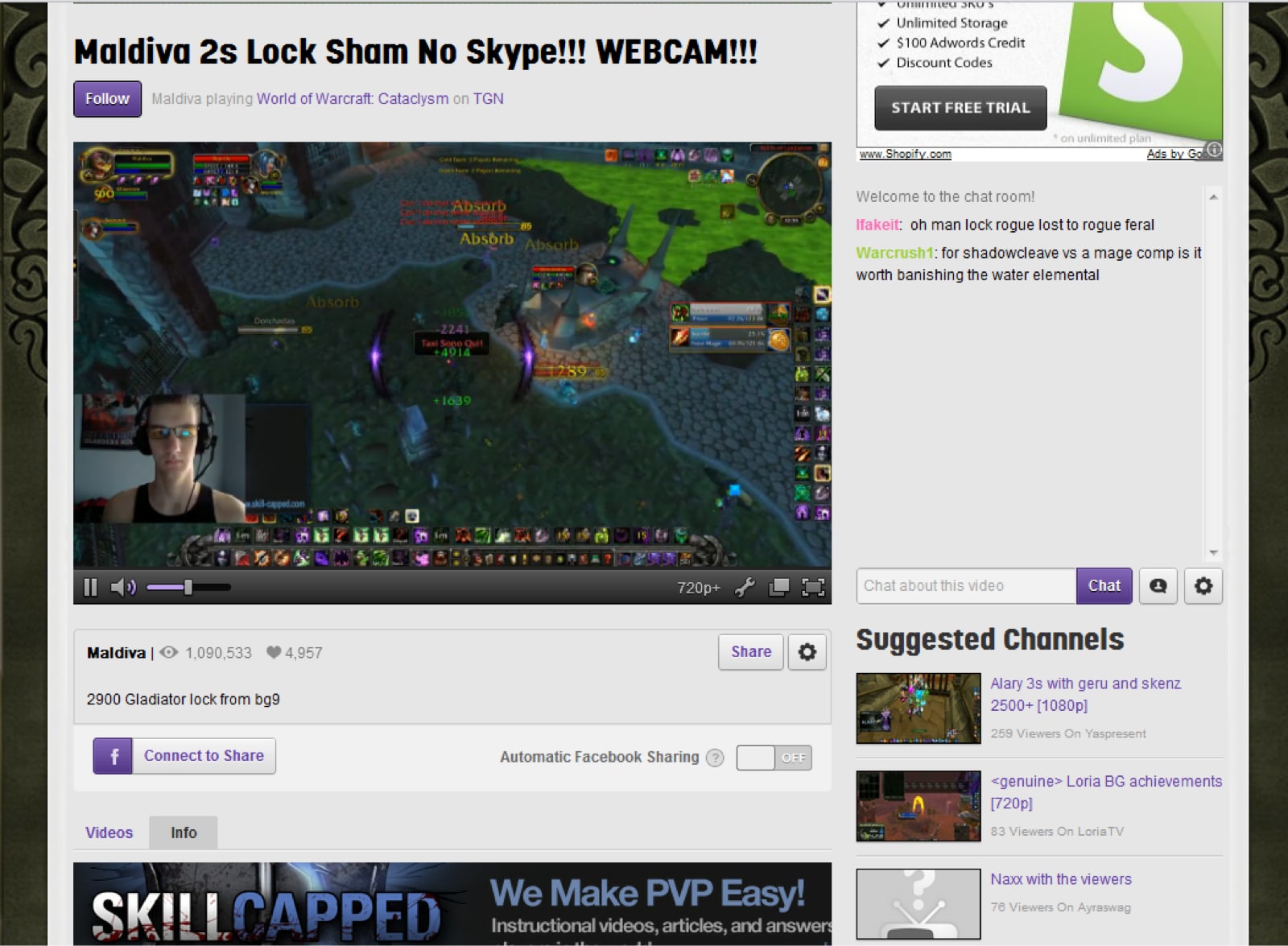 Broadly, there are two types of channels on the site: * The major channels have 10-20K viewers watching a famous gamer and his/her narration or a highly-produced gaming program in the style of ESPN's SportsCenter. Viewers tune in to catch the action as it happens but are only able to passively observe given the size of the viewership. * Smaller channels have 100-300 viewers following a gamer. In this environment, viewers have more interaction with the live gamer via an integrated IRC chat. Viewers can ask questions and enjoy more social interaction, though the game play may be less impressive and the gamer less famous. They claim to be already running the largest IRC cluster in the world. Viewers can tune in to watch many of the most popular console and desktop games today. In addition to ongoing game-play, these games have 20-30 minute player-vs-player competitive modes, and gamers often play a "best of 5" tournament mode. Below are several of the most active game titles on Twitch:
While no individual broadcaster represents more than 1% of views, the consolidation among the game titles being streamed is in line with their overall popularity in the market: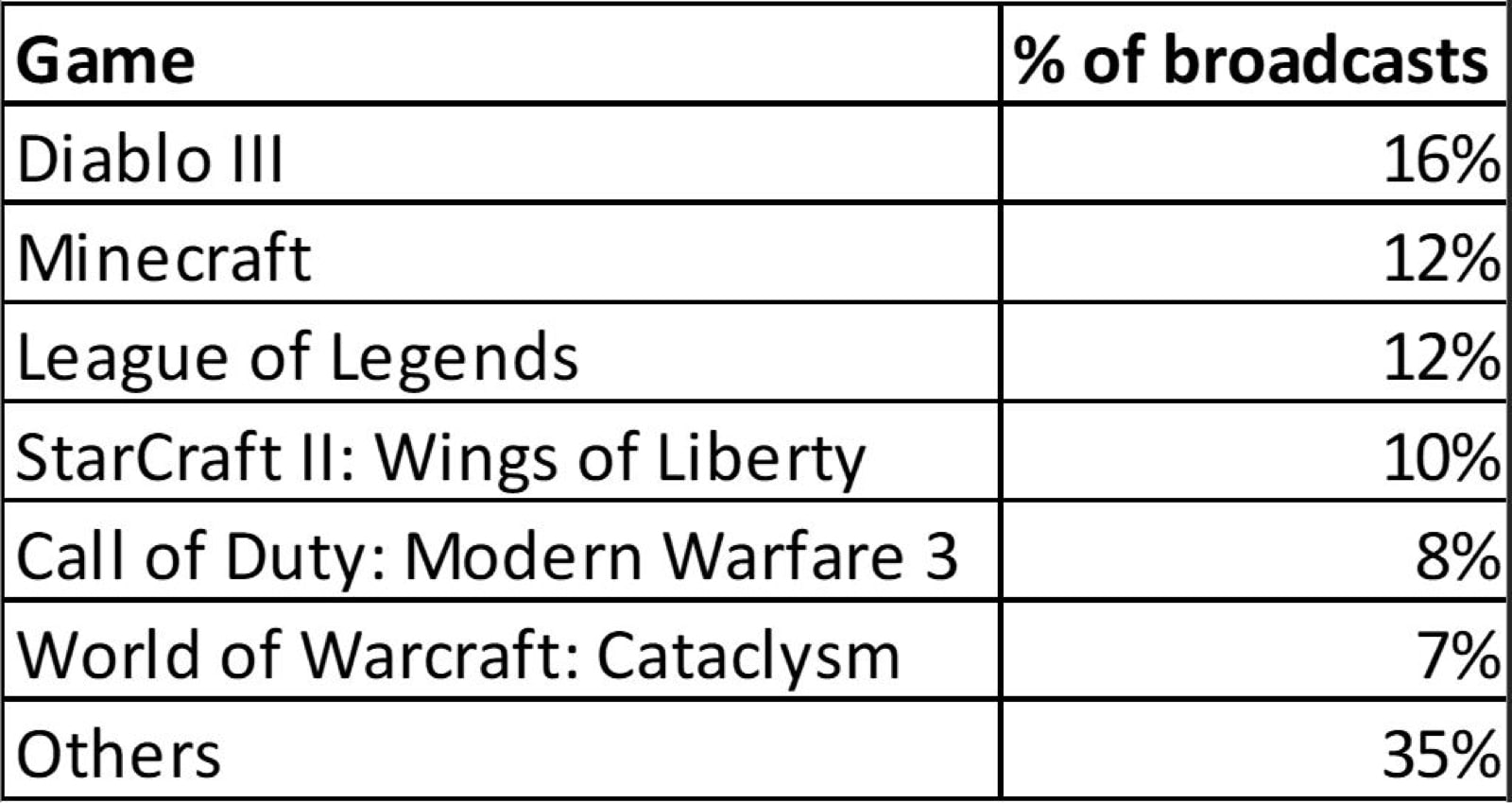 On the other side of Twitch, broadcasters can currently stream content from desktops and videogame consoles. These broadcasters go through significant hurdles to share this content, ranging from jerry-rigging open-source desktop software to capturing and encoding their local desktop gameplay, to inserting a video-splitter into their television gaming consoles. We believe the fact that broadcasters are doing so despite this friction to be a good sign for the future of Twitch as they enable in-game broadcasting without additional setup.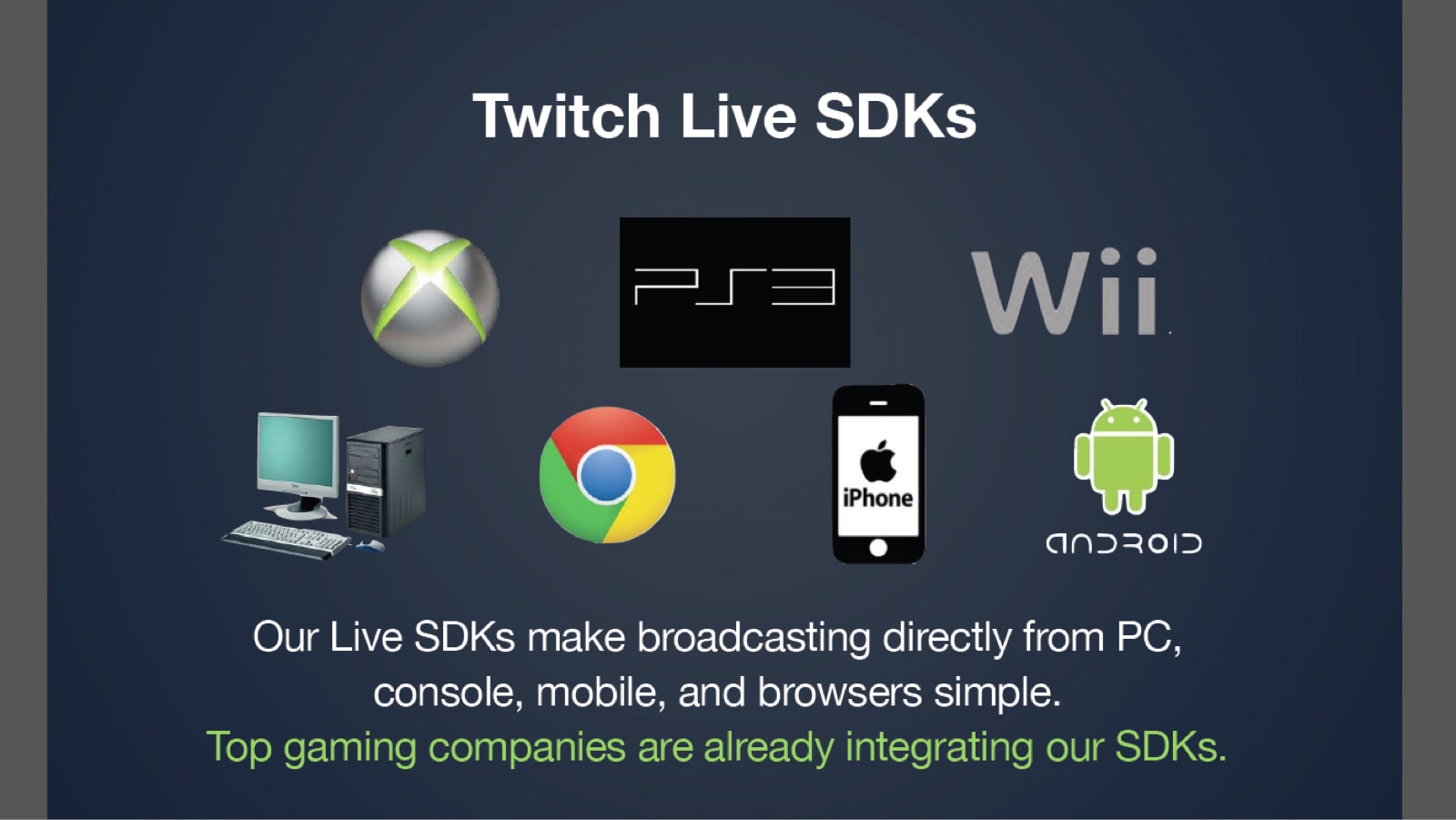 Metrics
Twitch has experienced phenomenal month-over-month growth since January 2011. The company is growing monthly uniques at an average of 9.6% and minutes watched per month by 16.0%. In addition, average daily unique visitors now watch over 75 minutes of content while on the site. Of the 18M monthly uniques, ~40% are in the US, ~40% are in Western Europe, and ~20% are in Asia.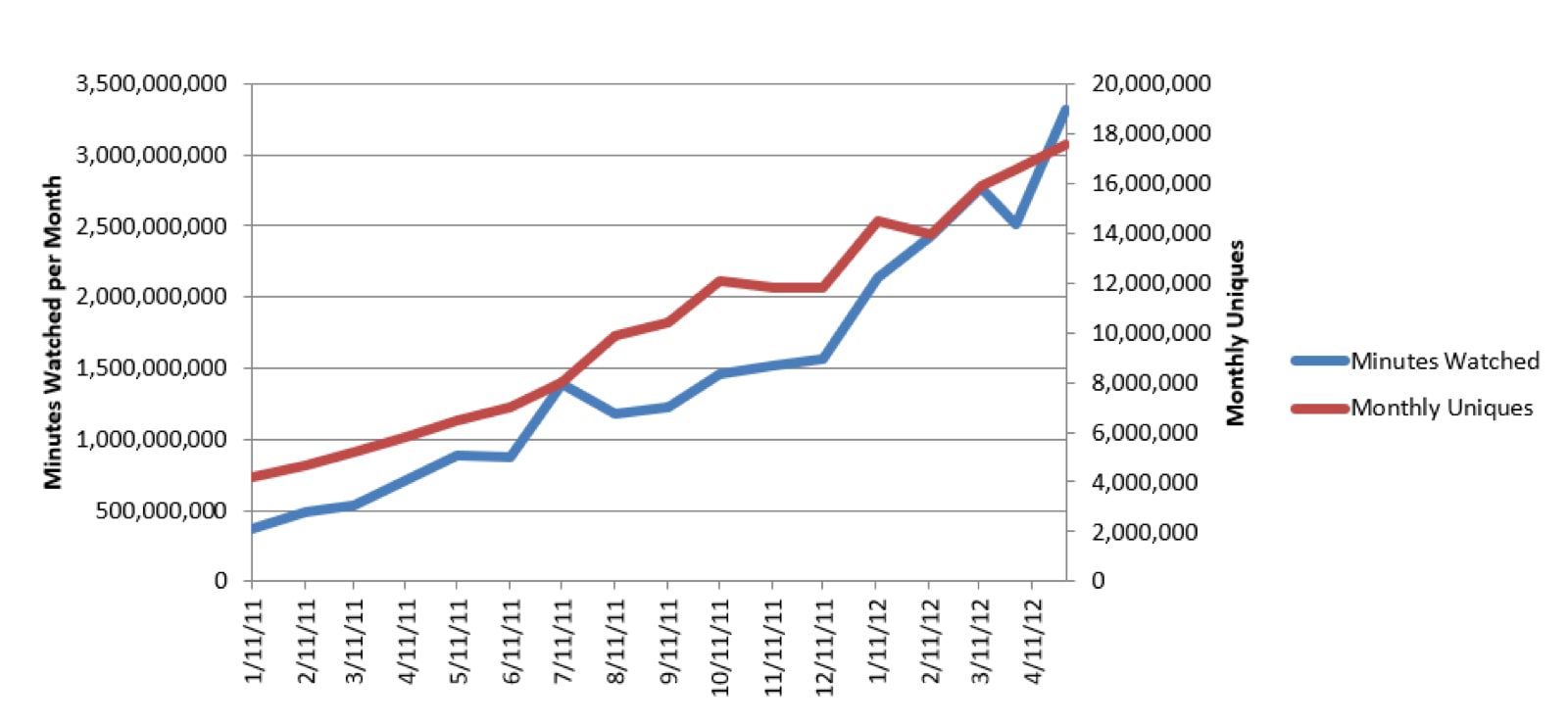 However, revenue has not tracked as we would expect given this growth, ostensibly due to CBS Interactive needing time to ramp up their sales efforts. Twitch did between $635k and $670k in net revenue in each of February, March, and April 2012. They claim to be on a run-rate of $1m in June now that CBSi is more fully ramped up. We plan to validate this prior to closing.
Having spoken with CBSi, we now have a firm understanding of how advertising on Twitch is sold, and anticipated to be sold in the near future. Currently CBSi sells 60% of Twitch inventory as premium "e-sports content" at $35-$40 CPMs and the remaining 40% on private exchanges with $8-$9 CPMs. Twitch receives half of this and, in turn, shares a $3.50 CPM with broadcasters, leaving Twitch with a net of ~$9.00 CPM. CBS segments the Twitch inventory into 3 categories:
E-sports – this is live gaming content between high-profile players or in a high-profile tournament. This drives the highest CPMs and is typically highly curated video content with announcers and on-screen overlay scores, etc. CBSi routinely gets CPMs above $50 for this content.
PG-13 – streamers can identify themselves as "PG-13"-friendly content which means that they will ensure that the gameplay and their audio/webcam does not contain R-rated violence, profanity, etc. CBSi asked for this category and Twitch is aggressively pushing its broadcasters into this bucket.
General – this is the catch-all category for the content that remains. CBSi is able to monetize this on private exchanges at $8-$9 CPMs, above remnant inventory rates
We don't have a firm view as to the long-run potential of subscriptions and PPV revenue but we are encouraged that even at small scale, the revenue from these categories is meaningful.
Risks
Market Size – As Twitch pioneers the market for streaming live game content, there is a risk that we are overestimating the latent demand for generating and viewing this novel content type. We are encouraged by the success of eSports in Asia and Machinima's gaming VOD content on Youtube but can't say for sure that live gaming will attract an audience of similar size. We continue to view this as the single largest existential risk around the investment, but have become increasingly comfortable after YouTube, CBSi, and game publishers uniformly viewed a large percentage of the Machinima audience as overlapping with potential Twitch viewers.
Monetization – We've generally shied away from media business models because monetization is difficult. This is a risk for Twitch – especially given that the content is on the borderline between premium and UGC. Adap.tv classifies it as UGC and therefore is unable to monetize the inventory as premium in their marketplace. Thus far, CBSi has been able to position it as high-quality premium content and sells it alongside their other gaming properties at CPMs upwards of $25-30. CBSi is continuing to segment the Twitch inventory and the long-term average eCPM is still not certain but is likely to remain well above remnant rates given the highly-targeted, highly-monetizable audience. The Twitch demographic is a lucrative one and they should be able to continue to monetize such a highly engaged, targeted demo watching online video effectively. Future business models predicated on subscriptions or virtual good sales are purely speculative at this stage.
Competition – Despite trailblazing the market for streaming live game content and growing significantly faster than its direct competitor, own3d.tv (no longer a meaningful threat to Twitch), Twitch faces potential competition on many fronts. YouTube is the dominant VOD platform in gaming and recently solidified its relationship with Machinima, the largest gaming VOD content source, through a $35m equity investment sponsored by YouTube (not Google Ventures) in May 2012. After YouTube noticed that 23 of their top 100 gaming contributors were streaming on Twitch, they made a push to popularize gaming on the YouTubeLive platform. Despite initially attracting 12 of the 23 to YouTube Live, all 12 streamers and 27 more from the top 100 have since rejoined Twitch because of the company's focus on gaming features in their platform. Even though YouTubeLive's initial push into gaming failed to break Twitch's momentum, this is a key risk as the Youtube product managers and business development folks we spoke with were keenly aware of Twitch's success and admitted that it was enabled by deficiencies in their Live platform. They are focused on catching up, however at the same time predicted that they wouldn't prioritize building the necessary live gaming features to do so effectively because of conflicting corporate priorities (e.g., YouTube is primarily focused on getting high quality entertainment content onto their platform).

Game publisher dynamics – While not their core business, game publishers are realizing the power of live video to drive engagement in their communities and could attempt to build competitive streaming destination sites. While the majority of publishers have expressed an interest in partnering with Twitch by integrating their SDK and/or supporting the existing streaming ecosystem through the construction of in-game spectator and theater modes, game publishers are notoriously difficult to work with and could be fickle on these points. Our continued conversations with publishers, as well as their growing strategic interest in investing in Twitch, have led us to believe they view Twitch as a strategic partner and are focused on these integrations. The most likely candidate for building directly competitive capabilities is Steam, an online gaming platform operated by Valve, with over 1,100 titles including several of Twitch's top games such as Call of Duty: Modern Warfare 3 and Dota 2. With an average of 3.5m active gamers at any one time, Steam could be a threatening fast follower if they overcame the challenge of building internal online video expertise. They don't have any such capabilities today and to our knowledge are not working on it.  
Team
Emmett Shear – CEO. Despite being a first time CEO (he was CTO of Justin.tv before spearheading the Twitch initiative) Emmett has impressed us with his open leadership style, calm and effective negotiating approach, and his passion for the Twitch product and community. The one thing we hope to see out of Emmett going forward is a deeper focus on implementing process and standards (specifically around partner support) as the team scales. We believe he can be the long term CEO of the business.
Kevin Lin – COO. More than any other executive, Kevin is Emmett's partner in building Twitch. He is a detail-oriented executive whose primary focus is on the day-to-day operations of the business. He is a grounded, solid counterpoint to Emmett's focus on high-level strategic thinking. He handles the financial aspects of the business today but the business will need a CFO pretty quickly.
Jonathan Simpson-Bint – CRO. Jonathan joined Twitch in October 2011 after a career in game content having founded IGN in 1996 and subsequently developing products for publishers including Microsoft, Sony, and Nintendo. He is the prototypical industry insider and is the reason Twitch has had the ear of top brass at Activision, EA, Ubisoft and other tier one publishers. Beyond having a world class rolodex, Jonathan has proved himself to be an excellent salesman and core asset to the Twitch team.
While the remainder of the executive team is strong, specifically in infrastructure and video technology, we believe Twitch will need to augment the group with an experienced ad sales leader and more business development talent as they continue to scale.
Deal
We recommend a $13 million investment by BVP in an $18 million round including insider Alsop-Louie Partners and additional strategic co-investors at $53 million pre-money. We would own 18.3% of the Company, and similar to the prior rounds, our security includes participation with a 3X cap.
Scenario Analysis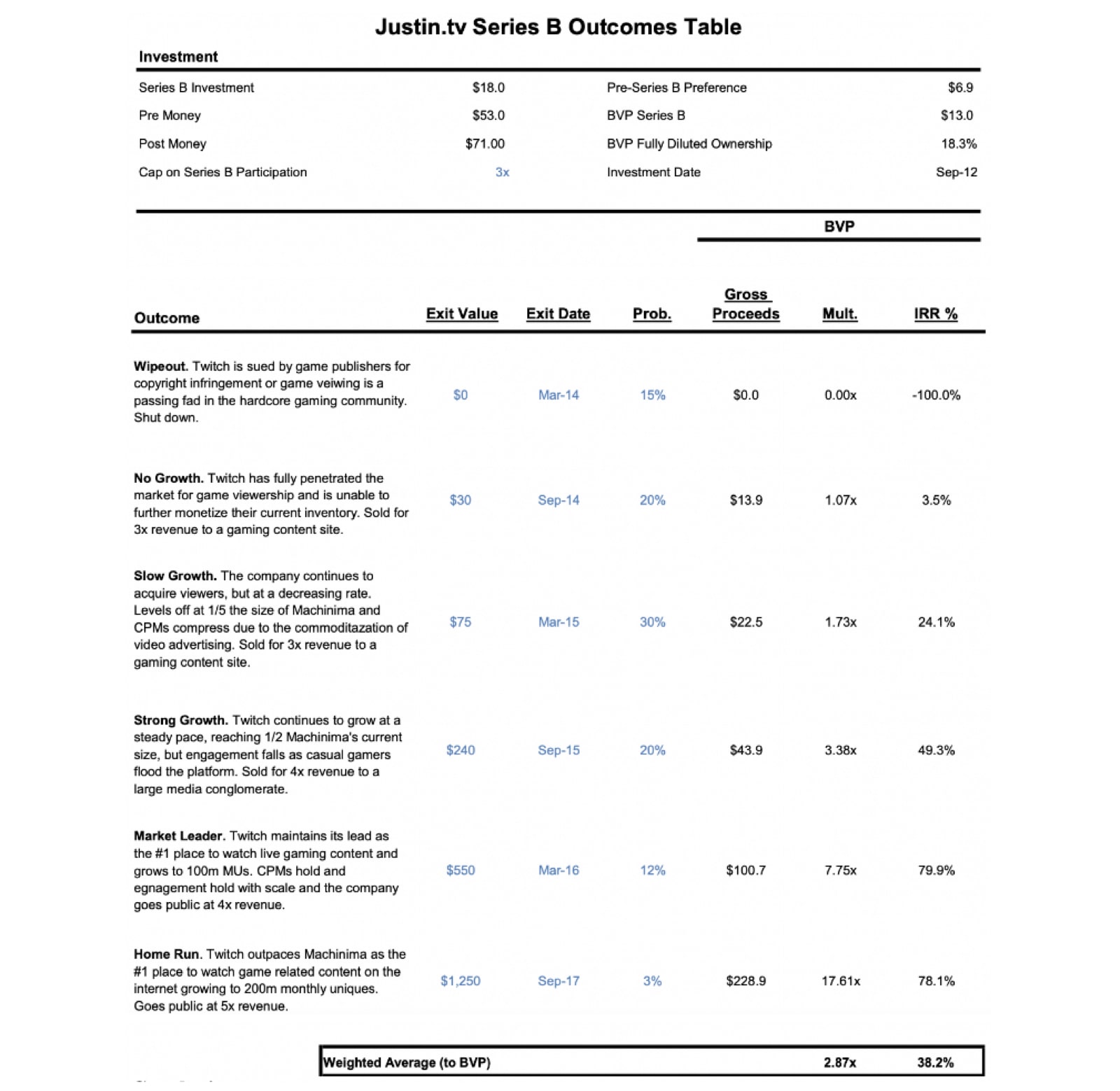 Conclusion
We are excited by the opportunity to make a meaningful investment in a very strong, scrappy team pioneering a fast-growing video community site with a very passionate and engaged audience. The company has strong momentum in viewership and is on the cusp of some very large partnerships which should further accelerate their growth and yield additional monetization and engagement opportunities. We are also encouraged by the tailwinds behind eSports, as well as the size and growth rates of other ecosystem players like Machinima. Having validated the company's strong partnerships with game developers and media and become comfortable with ecosystem players as a proxy for market size, we are excited to recommend that BVP invest $13m to lead the Series B financing of Twitch.
Appendix I - Traffic Distribution