Yelp
To: BVP Group
From: Jeremy Levine
Date: October 3, 2005
Re: Yelp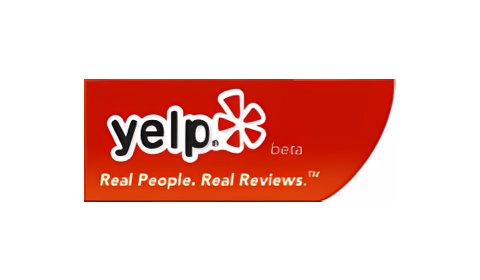 Summary
Yelp is a San Francisco-based early stage "Web 2.0" yellow pages company. The business was launched about a year ago and raised $1 million of angel financing from Max Levchin, the founding CTO of Paypal. The founders are both early Paypal entrepreneurs who worked for Max. They have spent less than half the capital they raised but have managed to accumulate what I believe is the most compelling (though far from complete) local merchant content on the web with a very loyal user base. We have an opportunity to lead the company's first venture financing with a $5 million one-handed investment at a $13 million pre-money valuation (there was a $1 million angel round).
I have been tracking the company for several months and was planning to propose an investment and bring them in for a presentation next week. However, Business Week named Yelp the top services company on the Internet (ahead of Craigslist) in their latest issue which hit newsstands on Friday 9/23 (see article). Therefore, I tried to pre-empt Yelp's financing plans with a term sheet last week and agreed to terms with the company over the weekend.
Market
Yelp is targeting local advertising markets across the globe starting with San Francisco, Boston and a few other US cities. Consumers conduct 80% of their commerce within 50 miles of home. Local advertising is a $94 billion market in the US and $150 billion globally. That market is led by yellow pages publishers which collect about $25 billion of annual listing fees, mostly from small- and medium-sized companies. Approximately 65% of all small and medium local businesses purchase ad space in local yellow page directories. Very little of this market has moved online (yet).
Over the last ten years, Internet advertising grew from nothing into a $10 billion industry in the US, and its defining characteristic is probably its performance-oriented, direct marketing nature. For the most part, however, local merchants (restaurants, salons, dentists, doctors, plumbers, etc) cannot partake in the most prevalent online ad marketplaces like Google and Yahoo, because a) a lot of the traffic represents out-of-town customers that physically cannot buy their services and b) they generally don't drive transactions through web sites, so the pay-per-click model that dominates Internet advertising does not work well.
Yelp and a number of online local services competitors are building solutions to improve the local search and discovery offerings for consumers and to shift local merchant ad spending to the Internet.
Product
Yelp is self explanatory. Try it at www.yelp.com. It offers consumers a way to discover and share their thoughts on local merchants while building a feeling of local community.
There are two ways for a consumer to use Yelp:
Strangers – anyone can use the site to learn about a specific merchant (e.g., is Oxenrose a good place to get my hair styled and what is the phone number) or discover a certain type of merchant (e.g., what are some good French restaurants in Soho?)
Members – members can customize the site (a la MyYahoo) to store their preferences, write their own reviews, and bookmark merchants and reviews of interest. (For example, visit my yelp profile at http://jeremyl.yelp.com) Users can also build a network of friends within the site to get "trusted" advice/reviews from people they know.
Since the current version of the site was launched in April, it has become apparent that a small segment of Yelp users (generally females aged 25-35) are rabid, viral users who invite dozens or even hundreds of friends to the service and write lots of reviews (Malcolm Gladwell "connectors"). These rabid users are responsible for the community feeling of the site and have driven part of Yelp's zero-cost growth. In addition, the Yelp tech team designed the site to leverage search engine optimization, and so Google searches for many top Yelp merchants (e.g., Oxenrose) return Yelp at or near the top of the result set despite the fact that Yelp's overall traffic numbers still pale in comparison to most large Internet sites.
A chart of Yelp's monthly visit count is below. The original service (pre April re-launch) required users to ask their friends about local attractions, and the growth did not accelerate until the current site went live in April. (Note that even with the little bit of marketing they recently initiated, the entire company cash burn is under $45k per month).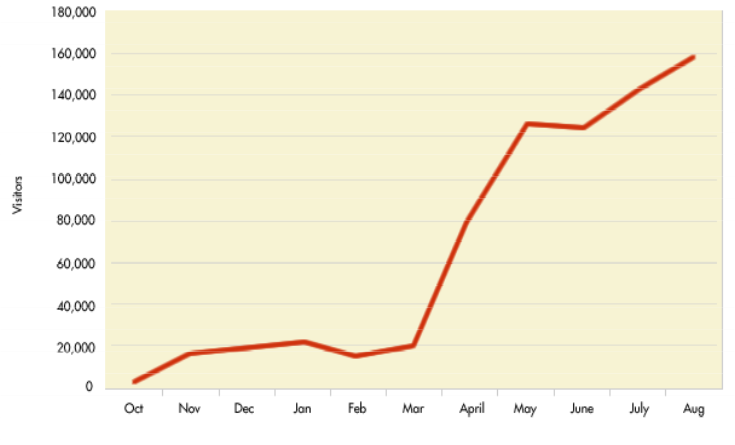 It is still early, but it also appears that Yelp's user base is quite loyal. The graph below shows an increasing number of consumers are frequenting the site more often each month.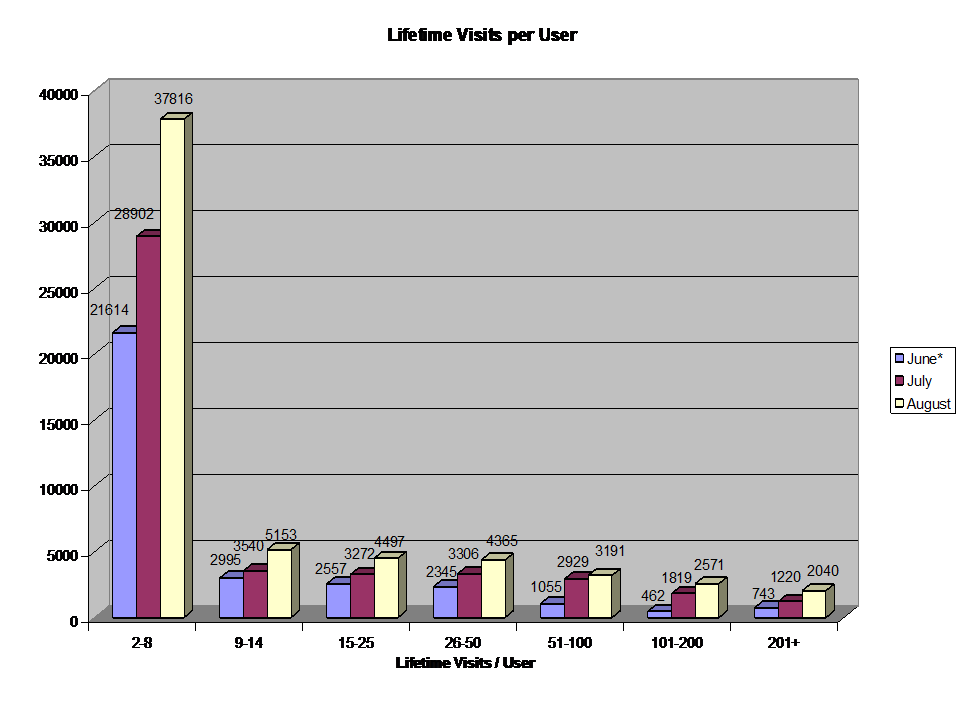 Business Model
Like most Web 2.0 businesses, all content on Yelp is free – in every sense. Consumers graciously generate the content at no cost to Yelp and then access it all for free. So how does Yelp make money?
Because doctors, restaurants, salons and the like generally don't have web-enabled appointment or reservation systems, business is still conducted over the phone. Yelp is an early pioneer of the pay-per-call advertising model emerging online for these local merchants. A merchant wishing to advertise on Yelp agrees to pay for every call it receives from consumers who find it on Yelp. The per-call fees currently range from $5 (typical low-end restaurant) to $30 (typical dentist or salon thinking about customer lifetime value). To track the calls, Yelp replaces an advertising merchant's phone number with a unique Yelp-controlled local phone number. Calls to the number get switched through Yelp to the local merchant (with a short message from Yelp).
Potential advertisers currently have two reasons to participate in Yelp's pay-per-call program. The first reason is "the carrot," which is to get priority placement on the site. For example, if a consumer is searching for a salon in San Francisco, the salons participating in Yelp's pay-per-call program appear at the top of the result set. Eventually, the result set itself will be ordered according to the amount each merchant is willing to pay per call, but neither the volume nor the auction system required for such a feature is in place yet.
The second reason, which is driving a lot of the early sales, is "the stick." Yelp places competitor links on the pages of merchants that are not participating in Yelp's pay-per-call program. In the example below, note the "You Might Also Consider" section just below Wak Shack's location information and just above its review: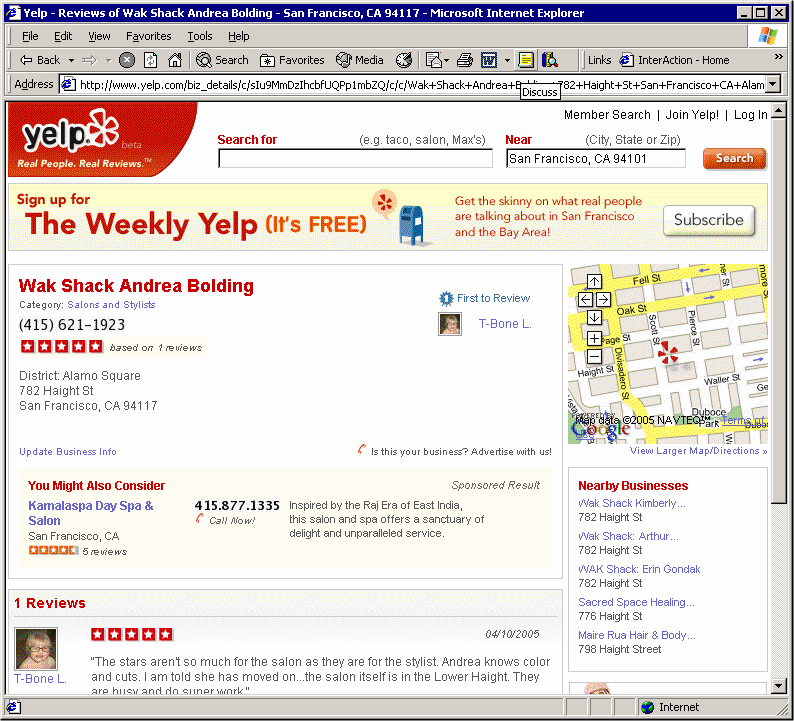 Since launching the pay-per-call program in the San Francisco market less than 2 months ago, Yelp has generated revenues from about 1,000 calls and is on a run-rate of 20-30 calls per day. It has done a small amount of outbound calling to sign up about 2/3 of its advertisers (average cost to acquire of about $38), and the remaining 1/3 have signed up after calling Yelp to inquire about how to remove the You Might Also Consider listing(s) from their Yelp page.
Although the call volume is still quite low, one promising element of the pay-per-call program is that it appears to work effectively across many different types of merchants. While salons account for almost half the calls (probably because of the demographics of Yelp's early user base), Yelp has demonstrated that restaurants, doctors, dentists and auto repair shops are all willing to advertise with pay-per-call.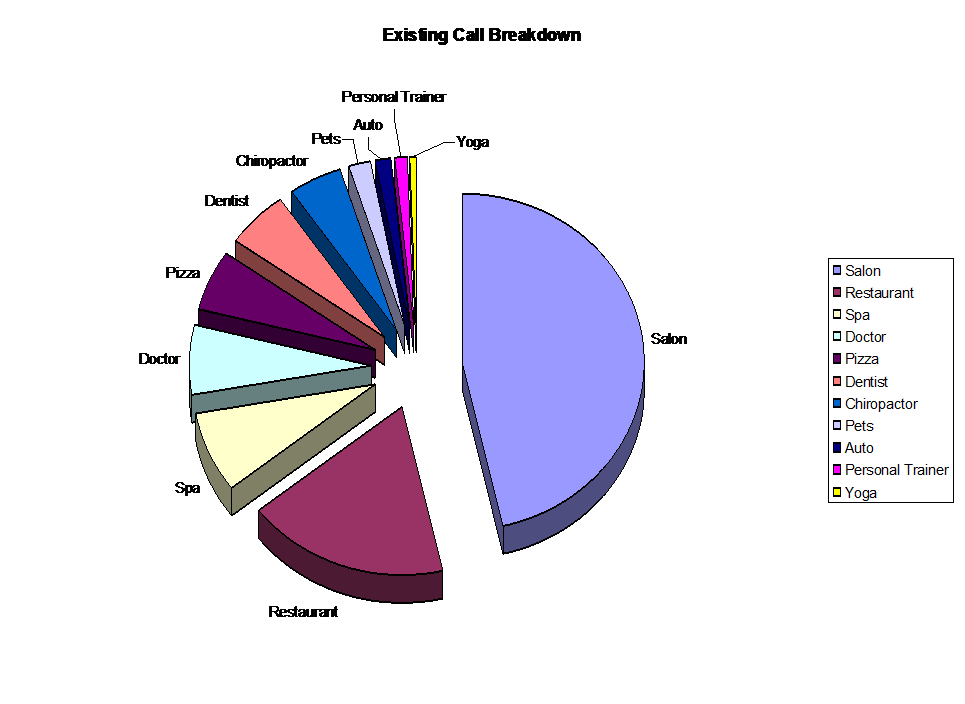 Coming Soon
Yelp has a never-ending list of new consumer and advertiser features in the works, and one of the uses of capital is to triple the current team of two developers to accelerate progress. Among the more promising new capabilities are:
Endeca-like guided navigation to help consumers discover new merchants using Google maps. The idea is to let the user drill into and out of categories and geographies. This is already in private alpha testing and looks very impressive.
Content and pay-per-call network syndication. Many local newspaper sites are incapable of building Yelp-like community functionality on their own and so are discussing potential partnerships with Yelp to cobrand the content. This is akin to Google's early deals with Yahoo and AOL. We set up initial conversations for Yelp at Boston.com and the New York Times. In addition to driving more user volume to Yelp, links from these "trusted sources" will also improve Yelp's pagerank and move it higher up in Google's search results, further accelerating the virtuous cycle to generate free traffic.
Self-service pay-per-call signups (and auctions) for advertising merchants
Competition
Because the potential market opportunity is so large, competition in this sector is intense. It falls into four categories:
Direct competitors – these are other startups with products very similar to Yelp. The two leaders are Insiderpages and Judysbook. Insiderpages is an IdeaLab/Sequoia company (~$10M raised), and Judysbook is an Ignition Partners company ($2.5M raised). Though both companies have spent considerably more than Yelp, neither generates more traffic. Yelp's site is more impressive, but more importantly, the quality of Yelp's reviews is higher. Yelp has been able to leverage word-of-mouth marketing to attract users and maintain a strong Craigslist-style "community." Insiderpages and Judysbook have both stooped to cheap marketing tactics (e.g., write 10 reviews and get a $10 gas or coffee coupon). As a result, both sites have a lot of useless reviews, which are rarely found on Yelp.
Search engines – Google and Yahoo are both trying to tackle local search. Google has a Froogle-style offering which aggregates content from other sites but doesn't offer any content itself. It also lacks the community element found at all three startups in the space. It monetizes Google Local by charging other sites (like Insiderpages) to put links to their reviews near the top of Google's meta review pages. Yelp has declined to participate in this program (it's expensive), but may need to reconsider in an effort to maintain market share. Yahoo has a stronger offering than Google and is the company Yelp worries about the most. Its interface and functionality are not as compelling as Yelp's, and it lacks the community/network element, but Yahoo has more user generated content and is able to leverage its search engine traffic. However, local.yahoo.com still accounts for less than 1% of Yahoo's traffic.
Offline yellow pages – Superpages.com (Verizon), Yellowpages.com (SBC+Bell South) and Zip2 (Infospace) are examples of companies who have taken offline Yellowpages content and put it on the web. The consumer experience of these sites is awful as they have simply "cut and pasted" yellow pages directory databases (merchant name, category, address and phone number) and put them on the web.
Citysearch – Citysearch is the leader in local search products today. Most of its content is editorial (composed by employees as opposed to generated by consumers), though it has started to collect consumer reviews as well. Because historically it charged advertisers for listings, it is impossible to find a merchant rated lower than 7 out of 10 by Citysearch's editorial staff (no poorly rated merchant wanted to advertise), and most merchants are 8 or higher. However, Citysearch is still the 250th most visited site on the web according to Alexa.
Management
The more I interact with Jeremy and Russ, the more I like them as early stage entrepreneurs. Their references are consistently excellent, and several members of the senior team from PayPal (Peter Thiel, CEO; Max Levchin, CTO; Keith Rabois, EVP Biz Dev) demonstrated their views through angel investments in Yelp. However, it is important to acknowledge that they are very young (~27 years old), and key challenges will be recruiting experienced sales and business development-oriented managers to the team and adding general management support as the number of people at the company grows.
CEO – Jeremy Stoppleman – Jeremy studied computer science at the University of Illinois and then was recruited as a developer at X.com. He continued at Paypal after its 50/50 merger with X.com and remained the VP of Engineering through eBay's acquisition by PayPal. He went to Harvard Business School for one year and then left the MBA program in the summer of 2004 to start Yelp as part of Max Levchin's incubator.
CTO – Russ Simmons – Russ was also a University of Illinois cs student recruited as the first non-founder to Paypal. He became Chief Architect under Jeremy and Max at Paypal. He left Paypal to co-found Yelp last year.
There is a lot of team building required here, but with their product and technology strength, Jeremy and Russ form a strong foundation. Max Levchin and Keith Rabois (another former Paypal EVP and current LinkedIn executive) are currently on the Board.
Deal
I wish this deal would be cheaper, but the Yelp founders anchored their expectations around the recent Sequoia investment in Insiderpages (Mike Moritz led an $8M Series B at ~$12M pre this past summer). Given the likely level of VC interest in Yelp and the fact that its product is better than the Insiderpages site, I believe a $13M pre-money price inclusive of a 20% post-money option pool represents an attractive set of terms. We will own 27.8% of the company for our $5M investment.
Risks
Monetization. The early progress of Yelp's pay per call program is promising, but this is an unproven business model. For the model to work, tens of thousands of local merchants must be willing to pay for customers on a per-call basis.
Consumer adoption. Yelp is currently delivering about a million page views per month but needs to grow 100x to 1,000x to become a truly significant player.
Competition. A lot of well-capitalized competitors are focused on the local search problem, and Yelp could find itself in a spending war as sites fight for market share. While Yelp is already at critical mass with a self-sustaining community in San Francisco, market share battles could seriously hinder Yelp's ability to establish thriving communities in other markets, which are critical to Yelp's growth plans.
Team. Jeremy (CEO) and Russ (CTO) are talented early stage entrepreneurs with the right mix of consumer product vision and technical execution capabilities. They are relatively inexperienced business managers, however, and so sales, business development and marketing talent needs to be added to this team.
Scenario Analysis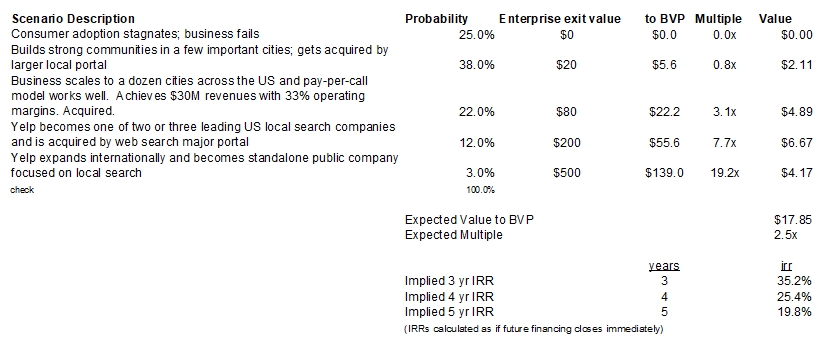 Conclusion
Yelp is a high-risk early stage consumer investment opportunity targeting a very large market. Though it would be preferable to invest after the business model risk is fully mitigated, I believe there are sufficiently promising signs of success here to justify an early stage investment. The winner of local Internet search will be an extremely large and valuable business. Therefore, I am recommending this early stage investment and look forward to the group's feedback.