Meet Pana: The company transforming the $1.3 trillion corporate travel industry
Find out why Bessemer is betting on this Denver-based startup and leading its $10 million Series A financing
Do you ever wake up at 5 a.m. to rush to the airport only to find out that your flight for an important client meeting is cancelled? It's painful to say the least. Most people who travel for work can probably relate to this notoriously bad travel day.
On a personal level, it's frustrating, stressful, and inconvenient; on a business level, travel plans going awry can impact business opportunities (especially when you miss important client meetings), put a huge dent on productivity levels and the company's budget, and creates unnecessary extra work for the back office.
"Corporate travel is a force-multiplier for growth," says Devon Tivona.
That's why when I first met Devon Tivona, co-founder and CEO of Pana, the leading corporate travel coordination platform, I was impressed by his immense empathy and understanding of how the corporate travel industry is systemically broken, for both travelers and businesses.
There's a better way to approach travel coordination that can benefit both sides of the market. As I learned more about Pana, everything snapped into focus:
The corporate travel industry is about to undergo a very similar metamorphosis that we've seen in the taxi industry with Uber and Lyft, online shopping and delivery services with Amazon, and short-term rentals with Airbnb. 

Pana will be a catalyst of corporate travel's transformation, so finally, this entrenched industry will be accessible, cost-effective, and streamlined for the traveler and the business. The best news yet is that the opportunity is bigger than ever before.
A massive market opportunity ripe for disruption
There are few B2B markets as large as corporate travel. Global business travel represents $1.3 trillion in annual spend, representing 5 percent of GDP, and U.S. business travel alone is worth $300 billion. Yet the industry has not changed in decades–businesses are still using a disparate set of tools: online booking platforms, legacy travel management companies (TMCs), and coordination that happens mostly via email. That doesn't even include the broken back office expense and accounting inefficiencies to process travel. The industry has reached a major inflection point where disruption is not only necessary given today's current set of solutions, but there's also vast market opportunity.
Whenever a large incumbent gets acquired, it creates an innovation gap for new emergents to reinvent the status quo. In 2014, the SAP acquisition of Concur for $8.3 billion created a vacuum where corporate travel startups had more opportunity in the market to innovate, launch new solutions, and find product/market fit. 

Corporate travel is a massive market and at Bessemer we expect to see that there will be multiple winners. What excites us about Pana is they decided to initially focus on the highest value piece of travel–concierge corporate travel for guests and groups.
Serving the highest value piece of travel–guest and group travel
This slice of the market requires more complex coordination between the traveler and the company's travel coordinator, recruiter, executive assistant, or back office team. (It typically takes 20 to 30 emails to book flights and settle expenses.) At the same time, other companies competing for the same candidates that provide a delightful travel and coordination experience have a competitive advantage in recruiting top talent.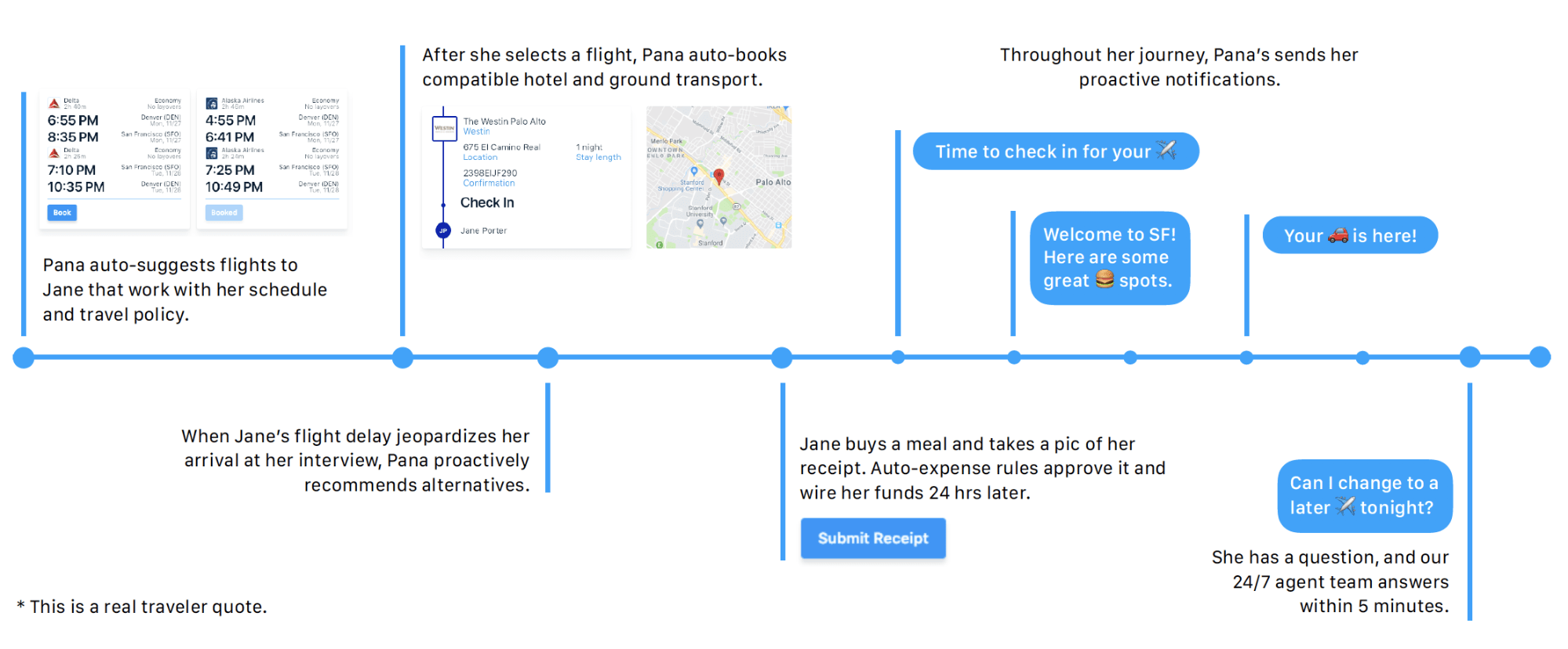 With Pana's AI-driven recommendations, travelers get the best flight and hotel offers as well as 24/7 human support via a messaging platform to coordinate travel requests and changes before and during the business trip. Travelers can even purchase lunch with the company credit card on file within budget or call a car and not have to worry about expensing it, thanks to Pana's Uber and Lyft integrations.
Bessemer's $10 million Series A investment in Pana
"We believe corporate travel is a force-multiplier for growth," Devon told us recently. "Travel connects teams to new and existing co-workers, partners, and customers. It enables new opportunities, produces unexpected collaboration, and shifts perspectives."
We are thrilled to announce Bessemer's $10 million series A financing in Pana, the leading corporate travel coordination platform. It's not only the size of the market, but Pana's strong technology and human assisted AI approach that excites us about what's to come for the industry.
This corporate travel revolution will have a powerful ripple effect on the way people work; more face-to-face time will deepen relationships at work, increase productivity levels, and close more deals, faster. 

There are so many leading indicators that convinced us that Pana will have a lasting impact on the corporate travel industry:
The fanfare: Pana has over 100 customers that are fanatical and love the platform. After speaking with more than 25 customers and prospects, we were floored by the overwhelmingly positive customer experience. Companies live-and-die because of their people, and Pana has helped the best places to work, including Shopify, Quora, Procore, and more recruit winning talent.
Smart, ecosystem-friendly approach: Pana has taken a very TMC ("Travel Management Company") friendly approach and partners with some of the largest TMCs like BCD travel in the market. Through these partnerships, Pana can offer customers great airline and hotel discounts, while Pana focuses on what they do best, which is providing amazing end-to-end travel coordination with its technology and 24/7 support.
The inroads: Pana is an early leader in the guest travel space, which by our estimates is already a multi-billion untapped opportunity. As Pana continues to deliver value for top-tier companies through their talent recruitment product, Pana is already carving inroads in the broader corporate travel market for employees as well.
The team: Finally, Devon is a founder unlike many we come across. He possesses strong engineering capabilities and an acute business intuition, at the age of 26. As he and his team approach company building with immense empathy and systems thinking, we're confident he and the founding team will be admired and examples for other entrepreneurs in the coming years.