Bessemer Venture Partners promotes Hansae Catlett to Vice President
Hansae Catlett supports visionary founders building the next-generation of SaaS platforms
Bessemer has a long history of investing in founders with ambitious visions for the future who are building the products and platforms that change the way we live, work, and do business. The same holds true for the investors on our team as well. In this spirit, we're excited to promote Hansae Catlett to Vice President. 
Hansae joined the firm in 2019 and focuses on investments in cloud and SaaS, data infrastructure and machine learning, developer tools, and consumer technologies. He currently serves as a board member of Luxury Presence and Rainforest QA, as a board observer for Courier, MaintainX, Productboard, Shopmonkey, TRM Labs, Vidyard, and Zylo, and helps support companies including Guild Education, ServiceTitan, Syndio and Undock.
"Hansae has distinguished himself through his deep curiosity, intellectual honesty and rigor, and devoted partnership to entrepreneurs. He is an incredible asset to our team," says Byron Deeter. "He has also played an invaluable role in supporting the firm's DE&I initiatives, our growing Data Infrastructure roadmap, and the annual State of the Cloud report. His commitment to our partnership and portfolio companies is nothing short of inspiring."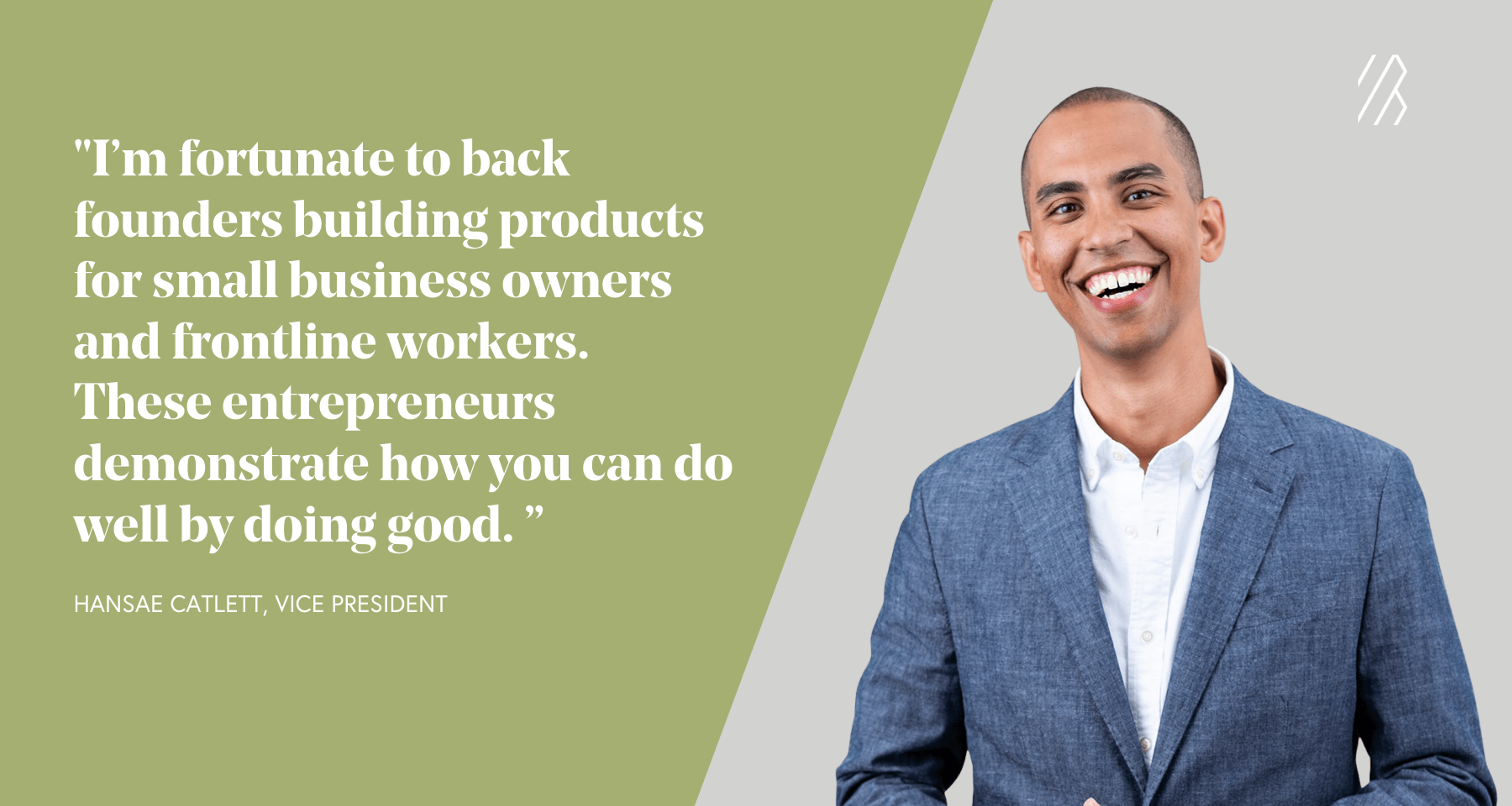 "I was drawn to Bessemer by the opportunity to back founders and teams that are driving the economy forward — for instance, by contributing to the evolution of the data-driven enterprise or by ensuring certain industries and businesses are not left behind. In particular, I admire those founders building products for small business owners and frontline workers, including Shopmonkey, Luxury Presence, ServiceTitan, and MaintainX, among many others. These entrepreneurs demonstrate how you can do well by doing good," says Hansae. "I look forward to continuing to work with inspiring individuals and helping them realize their bold visions for the future."
Hansae joined Bessemer in 2019 after graduating from the Stanford Graduate School of Business, where he co-founded and managed The MBA Fund, a seed fund that supports student and alumni entrepreneurs from top universities with a focus on Black, LatinX, and female founders. Previously, Hansae was a management consultant at The Bridgespan Group, where he supported clients with early-stage investments in education technology and biomedical informatics. He also worked with the investment teams at Slow Ventures, Omidyar Network, KNF Ventures, and New Island Capital on early and growth-stage investing across software verticals. He earned his MBA and MPP from Stanford and graduated with honors from Harvard with a degree in biomedical engineering and philosophy.