Bessemer Venture Partners promotes Morgan Cheatham to Vice President
An aspiring physician-investor, Morgan Cheatham invests in cutting-edge healthcare and life sciences startups from pre-seed to growth stages.
For more than four decades, Bessemer has backed ambitious founders and leaders reimagining the technologies and care models of the healthcare industry and advancements in life sciences. With this spirit in mind, the Bessemer partnership is proud to promote Morgan Cheatham to Vice President, an investor who is respected for his deep understanding of healthcare and life sciences technology, including the intricacies of building and scaling these companies
After developing his thesis on specialty-focused virtual healthcare in 2019, Morgan went on to source and support a wide breadth of investments in the space, most notably Hinge Health, Folx Health, where he serves on the board, and Ginger among others.
"Morgan's strengths as an investor traverse muscle and mind," shared Steve Kraus, partner at Bessemer Venture Partners. "He has tremendous perspective as to where the healthcare sector is headed, informed by his deep and broad network in the industry. His horsepower is also second to none and he works tirelessly on behalf of our portfolio companies. He naturally builds 'first call' relationships with CEOs, who rightfully view him as a trusted resource and healthcare expert."
"With Morgan's business acumen and deep empathy, he's played a critical role in building a healthcare platform that will go on to serve millions of lives within the LGBTQ community," said A.G. Breitenstein, founder and executive chairman of Folx Health and former founding partner at Optum Ventures.
Today, he is enrolled at The Warren Alpert Medical School of Brown University while also serving as Vice President at Bessemer. In this unique position, Morgan leverages his investing experience, computational background, and medical training to spot emerging markets and trends and build rapport with top experts, leaders, and scientists in various fields.
"I've had the unique opportunity to learn from healthcare and life sciences founders who come from diverse professional backgrounds and lived experiences. Becoming a physician-investor reflects my desire to gain firsthand experience with patients to inform investments and incubations that bridge the latest in medical sciences with technology, centering empathy and equity at the core," shared Morgan. 
"As a student of the industry, it's clear that we've reached a moment of discontinuous change in healthcare that's unlocking step function improvements in patient care. We need new business models that support novel science, technology, and regulation to redirect value back to patients and clinicians long term. For example, consumer centric and product-led strategies remain underutilized when you look across stakeholders in healthcare. Just as we've seen the rise of tools and platforms for the developer economy, we're at the brink of a tech-enabled renaissance for digitally native healthcare workers, researchers, and scientists." 
Over the coming quarters, Morgan will be leading efforts to identify opportunities at the intersections of computation and medicine, clinician enablement, care delivery, and applications of web3 in healthcare and life sciences. He is particularly excited to connect with what he calls "multilingual" teams—those combining expertise across life sciences, healthcare tech and services, and artificial intelligence—bringing together industry veterans and emerging talent that is coming into healthcare from other sectors.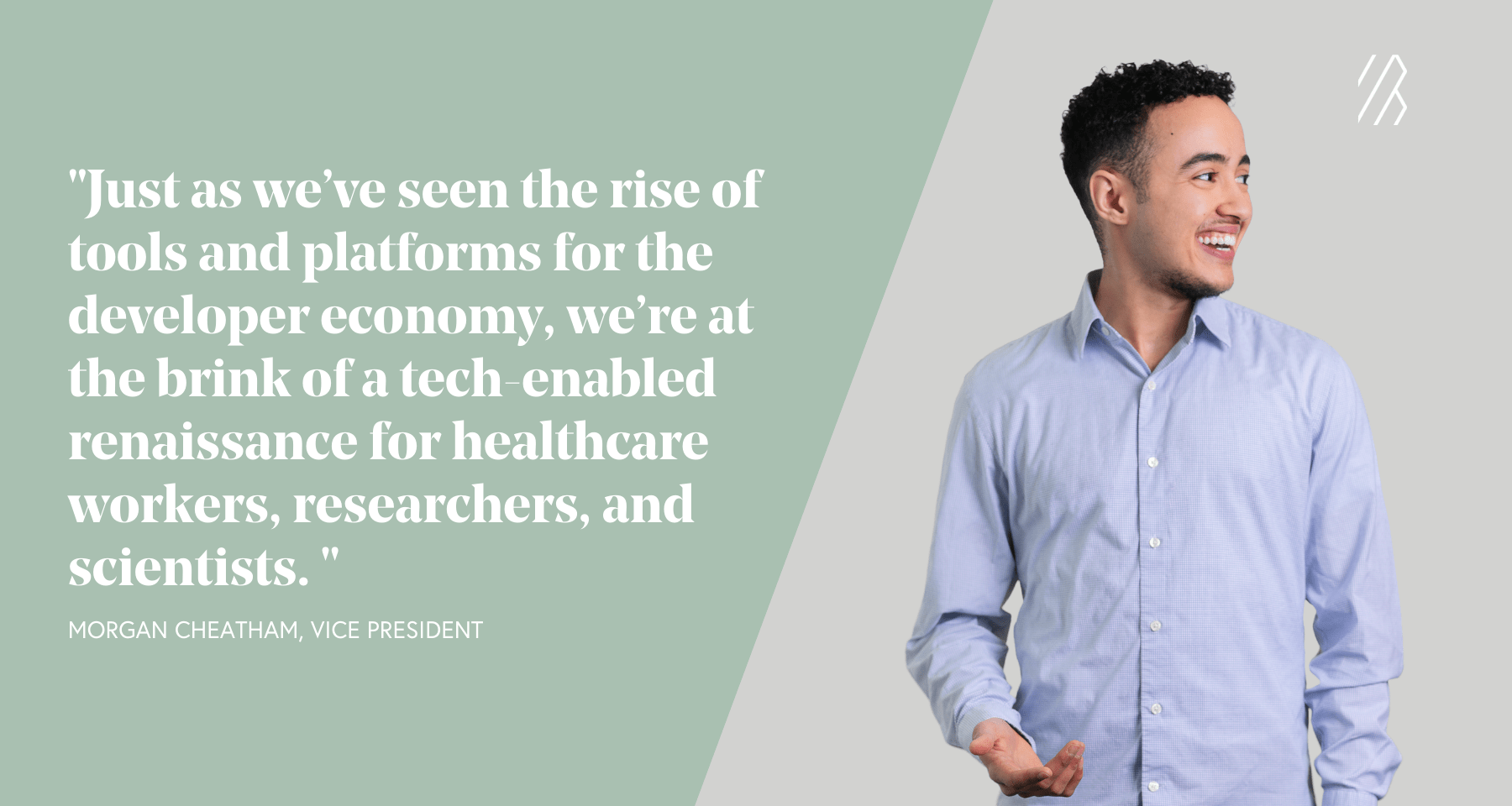 Before his career in venture capital, Morgan earned a Bachelor of Science in Neuroeconomics, an interdisciplinary field investigating human-decision making through computational neuroscience and microeconomic frameworks, from Brown University. In the past, he worked at Goldman Sachs and Kyruus. In his free time, Morgan enjoys traveling, tending to his garden, and spending time with his community.