How DeepL is changing communication and breaking down language barriers with AI
Bessemer's growth practice joins the Series B of DeepL, a global leader in AI communications.
In a world with thousands of languages and nuances across dialects, grammar, and cultures, transcending language barriers is critical for communication and commerce. The global market for language services generates $65 billion of revenue annually and growing, spanning business needs including global trade, legal documentation, and media and entertainment. We believe the need for multilingual communication will only grow, driven by increasing globalization and remote work.
While there are many paid and free options to translate text today, power users complain that the status quo is riddled with friction: errors, confusion, and even embarrassment. The "quick-and-free" options like online translators output language missing cultural context, while higher-end options like language services providers can be expensive and require multiple iterations and back and forth. 
DeepL is at the forefront of a revolution in communication, powered by artificial intelligence. DeepL's research in neural networks and machine learning research is closing the 'accuracy gap' between native speakers and machine-generated translation, unlocking new possibilities in real-time language translation. The feedback is resoundingly positive—DeepL is one of the top 150 websites visited globally, and more than 20,000 businesses worldwide rely on DeepL to communicate more efficiently and effectively. That's why we're thrilled to announce that Bessemer's growth practice is joining in the Series B of DeepL, a global leader in AI communications.
Based in Germany, DeepL has developed the world's most accurate and culturally aware real-time AI translation technology, consistently outperforming alternatives on quantitative benchmarks. DeepL Translate is now available across 29 languages and counting, and it's accessible across multiple formats (text, .pptx, .pdf) and platforms (web, mobile, API, browser extension). Try DeepL for free and see for yourself here.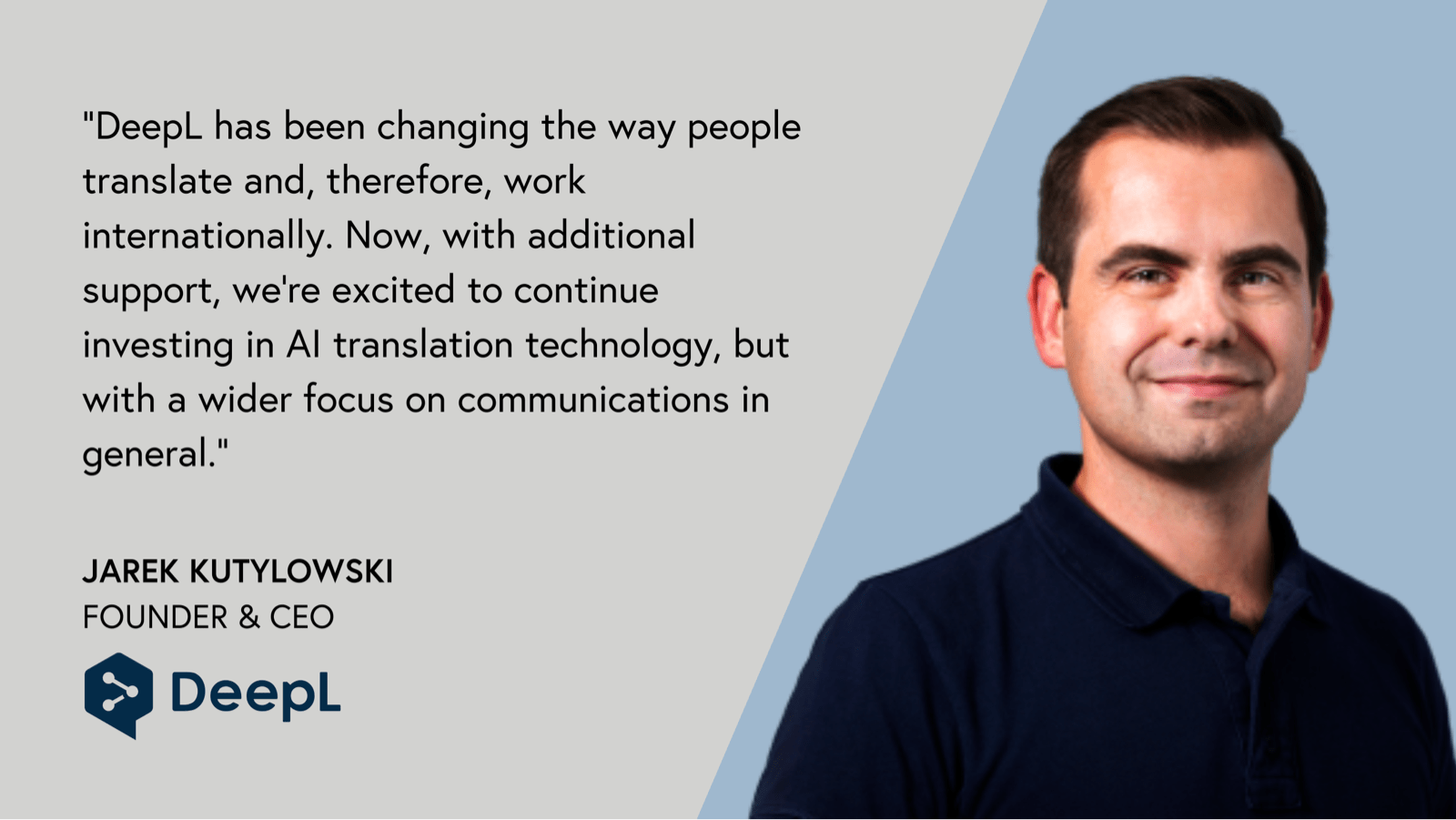 We're thrilled to partner with founder and CEO Jarek and the DeepL team on this journey. Jarek is undoubtedly a strong leader of this company on many fronts, from his ability to consistently ship product (new languages, geos, features) to his uncanny ability to attract Europe's top technical and business talent to DeepL. A key pillar of the DeepL team's success is their world-class culture—DeepL has one of the lowest attrition rates we've ever seen! This is because the team is deeply passionate about its mission to break down language barriers and bring people together through improved communication. (Quick plug: DeepL is hiring for many roles, including remote-friendly).
DeepL is building on its leadership in AI-powered translation to broaden its offerings in AI communication, with many exciting products ahead.  We are delighted to partner with the team on this journey!
Bessemer's growth practice looks to partner with companies that will define the next century of how we live and work. Building on our generative AI roadmap, we are thrilled to back more founders innovating in this category. If you're building in the space - please reach out to sameer@bvp.com, talia@bvp.com, aschmitt@bvp.com, kwalker@bvp.com, and or ahashmi@bvp.com!