Our investment in Zopper
Why we're backing the insurtech API platform that helps every company distribute insurance
As early-stage investors we are fortunate to work with ambitious entrepreneurs that are using technology to build businesses that challenge the status quo. Zopper, co-founded by Surjendu and Mayank, aims to reimagine the insurance industry, which has lacked transparency and is riddled with legacy products and old-age distribution channels. 
 In the last couple of years, companies across different sectors have leaned into insurance as a service. For example, airlines provide an option to insure passengers' check-in luggage while booking a flight ticket; consumer appliances and e-commerce businesses sell extended warranties for TVs—the examples go on.  Chances are these offerings are made possible by Zopper. 
Zopper is a leading insurtech platform that connects insurance carriers with online and offline ecosystem partners to sell curated insurance products. 
Zopper sits right in the middle of our fintech roadmap of finding software infrastructure plays with transaction-based monetization. As early investors in companies such as Perfios and Lentra, we've seen the moats of software infrastructure businesses play out in the banking industry. We expect similar moats, such as long-term client retention and increase in profit pools and share of wallet, for Zopper in the insurance industry, which is one of the largest commission pools today.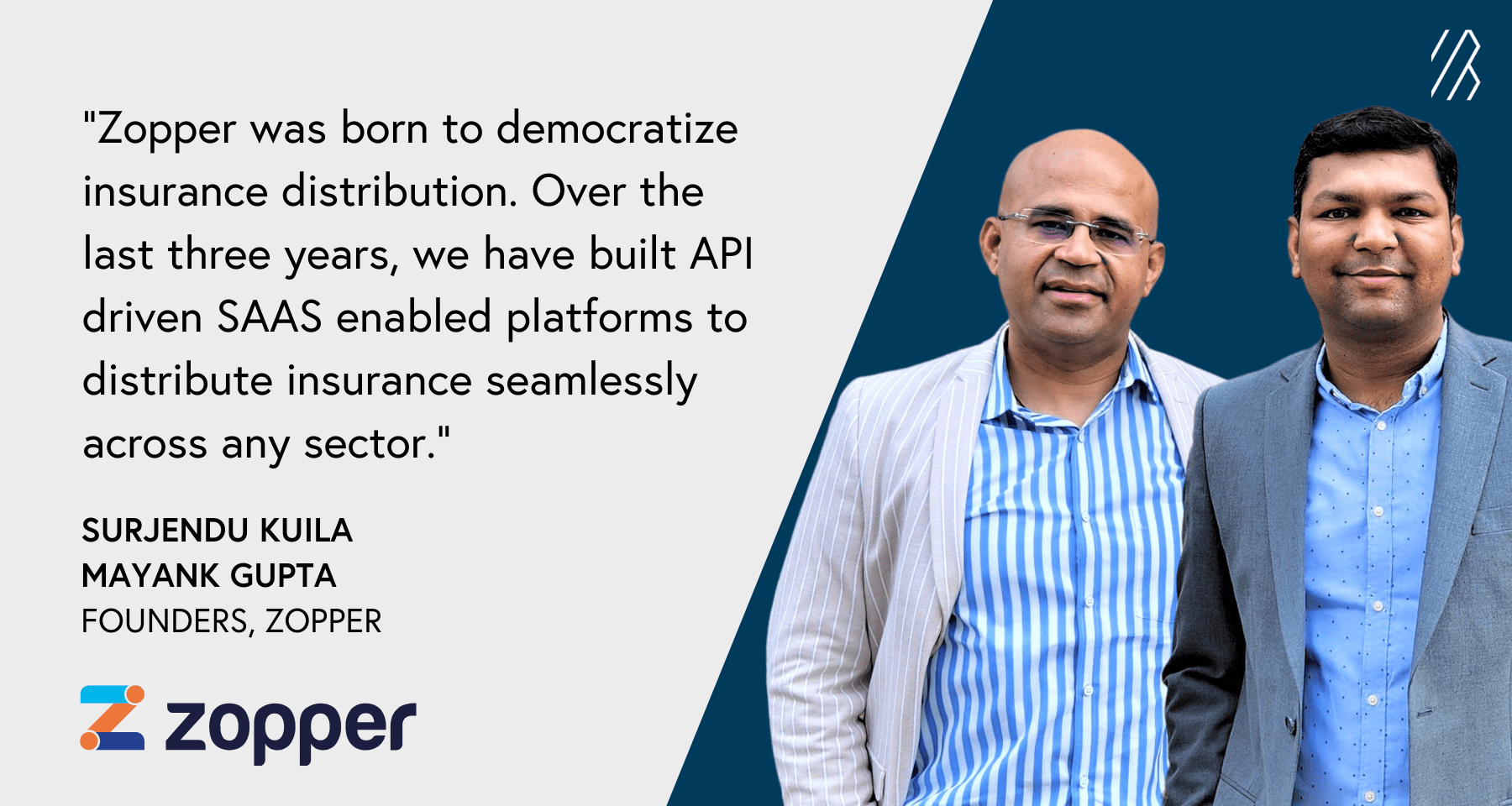 Today, Zopper works with most of the large insurance carriers and ecosystem partners to create and offer smart insurance products to consumers by integrating in to their daily activities and experiences. At the core, Zopper also aims to build trust within the ecosystem by enabling insurance distribution through working with over 60 partners in lifestyle, digital, and financial ecosystems. Some of the most recognizable distribution partners Zopper works with include HDFC Bank, IIFL, Croma, Xiaomi, Amazon, Ola, Cars24, and Titan Eye Plus among others.
Just in the last six months working with Zopper, we recommended embedded insurance via Zopper to over 25  internet companies. The result? The product market fit is strong and the willingness of companies to offer insurance is clearly not only a monetization lever, but also a path to improve user engagement and long-term user retention.
With more people looking for protection across assurance and insurance, we are excited to see Zopper team continue to strengthen its infrastructure rails and build an enduring company.