Rupa Health is powering the personalized medicine revolution
Bessemer Venture Partners leads the $20 million Series A in Rupa Health, the company turning root cause medicine into mainstream medicine.
Tara Viswanathan was desperate to find a treatment for her mom's chronic skin condition. World-class doctors and dermatologists were stumped. So Tara turned to specialty testing and root cause medicine for answers. Root cause medicine is the practice of understanding the root cause of illness rather than simply slapping on band-aids or prescribing pills for symptoms. This integrative care model considers genomics, lifestyle choices, nutrition, medication, microbiome data, and more to understand chronic illness and address its cause in a personalized manner. Within weeks, Tara's mom's health was restored thanks to these diagnostics and a personalized protocol of medication, lifestyle changes, and supplements.
Shortly after this experience, Tara and her co-founders Rosa Hamalainen and Ben Easton founded Rupa Health to make root cause medicine accessible to all, starting with a specialty lab ordering and diagnostics platform.
Demand for this holistic approach to healthcare is skyrocketing. In 2020, spend in the category reached $89 billion and has grown 15-30% annually for the past 10 years. 
Three powerful tailwinds underpin the "root cause revolution":
Consumer demand: Our increasingly health-conscious population is turning to personalized and holistic care models that incorporate diet, lifestyle, fitness, and root cause analysis. A recent survey conducted by CVS Health, noted that 88% of respondents want personalized care and 68% would like access to coaches for nutrition and lifestyle changes to improve well-being.
Mainstream medicine adoption: Thanks to the growing body of evidence-based research supporting root-cause approaches, 40% of hospitals around the country are incorporating integrative care centers. Premier medical schools, such as Johns Hopkins School of Medicine,  are adding integrative approaches and certifications into curriculums to train providers and meet the demand. 
Market structure: The rise of high deductible health plans, increased availability of at-home testing and telemedicine, and frustration with the status quo has caused younger generations to be more engaged in their healthcare journeys.
In its effort to make root cause medicine a reality for every human, Rupa began by building infrastructure to simplify lab testing and to make diagnostic data and information accessible. Its platform connects healthcare providers (e.g., doctors, chiropractors, dietitians) with fragmented specialty laboratory suppliers and over 2,000+ diagnostic tests (e.g., food sensitivity, genomics, metabolic, thyroid, GI panels). Rupa's modern portal makes it easy for consumers and providers to order test kits at-home or in-office and aids in delivering and interpreting results.  
The results speak for themselves. Rupa's rapid and efficient growth is best-in-class. Plus, the team has attracted a vibrant community of practitioners and patients that evangelize Rupa's platform and the benefits of root cause medicine, a signal of an emerging and impactful healthcare platform. 
Today we celebrate leading Rupa Health's $20 million Series A, but Bessemer's partnership with the founder has been more than a decade in the making. Talia and Tara have known each other since 2009 when they were college students in Philadelphia. It was obvious then, as it is today, that Tara is special. Tara is a magnetic, ambitious leader who will run through walls to build an industry defining company. She has a knack for attracting talent and advocates. It has been a pleasure to see Tara grow into the entrepreneur she is today. 
We are honored to support Rupa on its mission to transform healthcare to be personalized, data-driven, and holistic.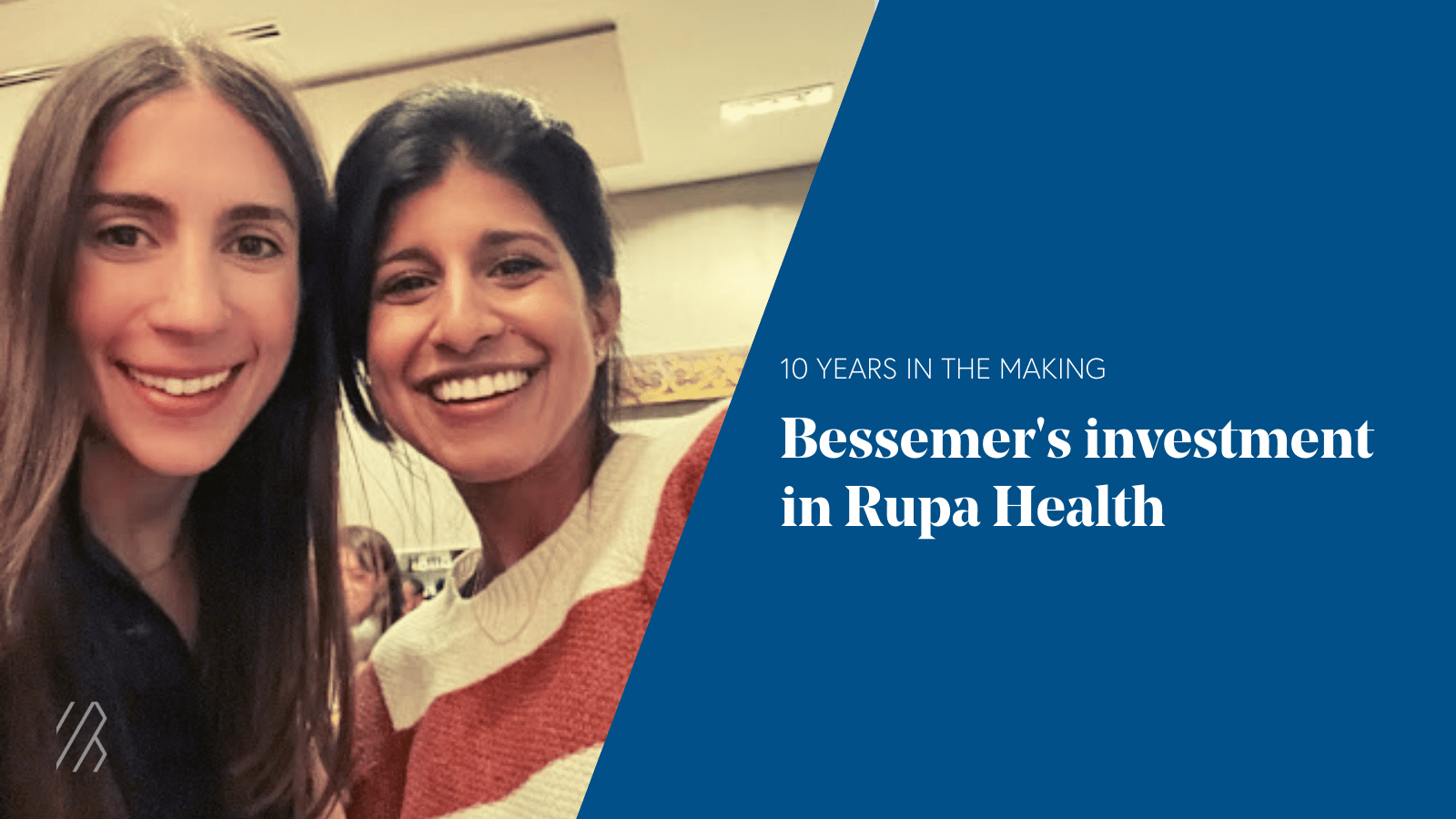 Special thanks to others on the Bessemer team, including our partners Jeremy Levine and Steve Kraus, for their support on marketplace and healthcare insights.