Four CEOs on leading in an economic downturn
This year's top Cloud 100 CEOs share their wisdom on how to focus on a business's long-term mission.
If you're a founder wondering how to navigate the next 12-18 months—in what feels like the brink of a recession—you're not alone. Anxiety-provoking as it may be, you may find solace in the fact that other founders have been through it before and have come out successful. Some of the biggest names in the cloud economy, such as Atlassian and Twilio, were founded during tough economic seasons. And the SaaS landscape is full of seasoned founders who've done it before. Take Amit Bendov, CEO and co-founder of Gong.io, the SaaS platform that helps go-to-market teams take action on customer insights: "This would be my fourth downturn," he says. "There was the dot-com bubble crash in 2000, the 2008 recession, the pandemic outbreak in 2020, and now, 2022."
During Cloud 100, we sat down with Amit and three other cloud CEOs who've led their companies through bull and bear markets: Dylan Field, CEO and co-founder of Figma, the design collaboration platform; Eynat Guez, CEO and co-founder of Papaya Global, the HR and payroll company; and Bernadette Nixon, CEO of Algolia, which provides search-as-a-service for businesses everywhere. They share their advice on what most founders get wrong about prioritization, why customers often have the best ideas, and how your selling tactics need to shift in a hybrid business world.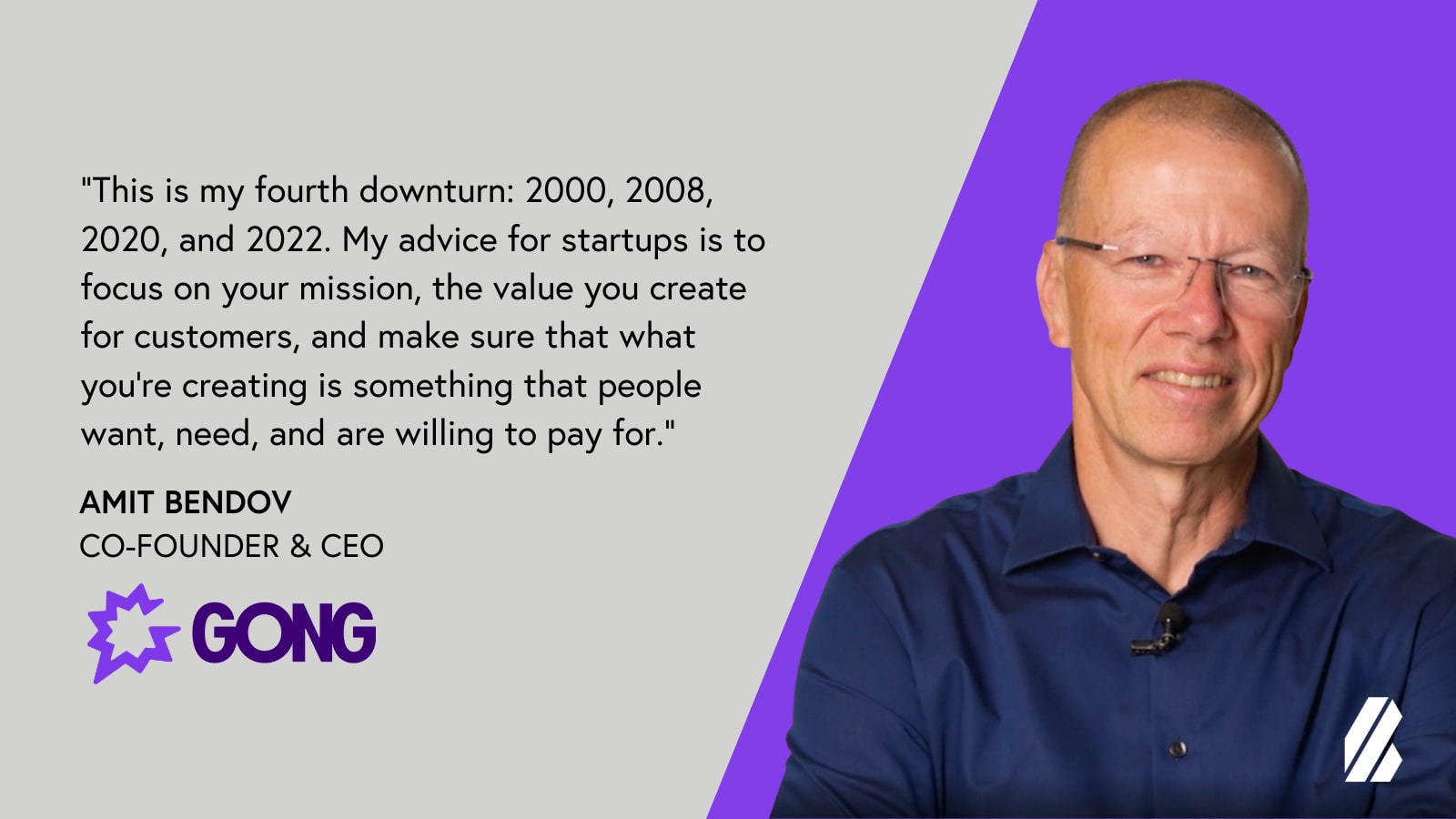 1. Ruthlessly prioritize—no, but really
"There's a lot of lip service to the idea of ruthless prioritization," says Bernadette. "But I think we need to talk about the fact that it's not that easy in reality, when you get a group of people with competing vantage points." The fatal flaw? "Conventional wisdom on prioritizing tends to be very one-dimensional," she says. 
"People typically think in terms of a list that gets numbered. But I think you need at least two axes," says Bernadette. "For example, what's the effort it's going to take and what's the impact it's going to have?" Bernadette recommends using a framework like the RICE method to give the prioritization exercise more meaning and depth. "Suddenly when you plot these data points across multiple dimensions, it becomes a lot more feasible to see what's mission-critical and what not to bother with."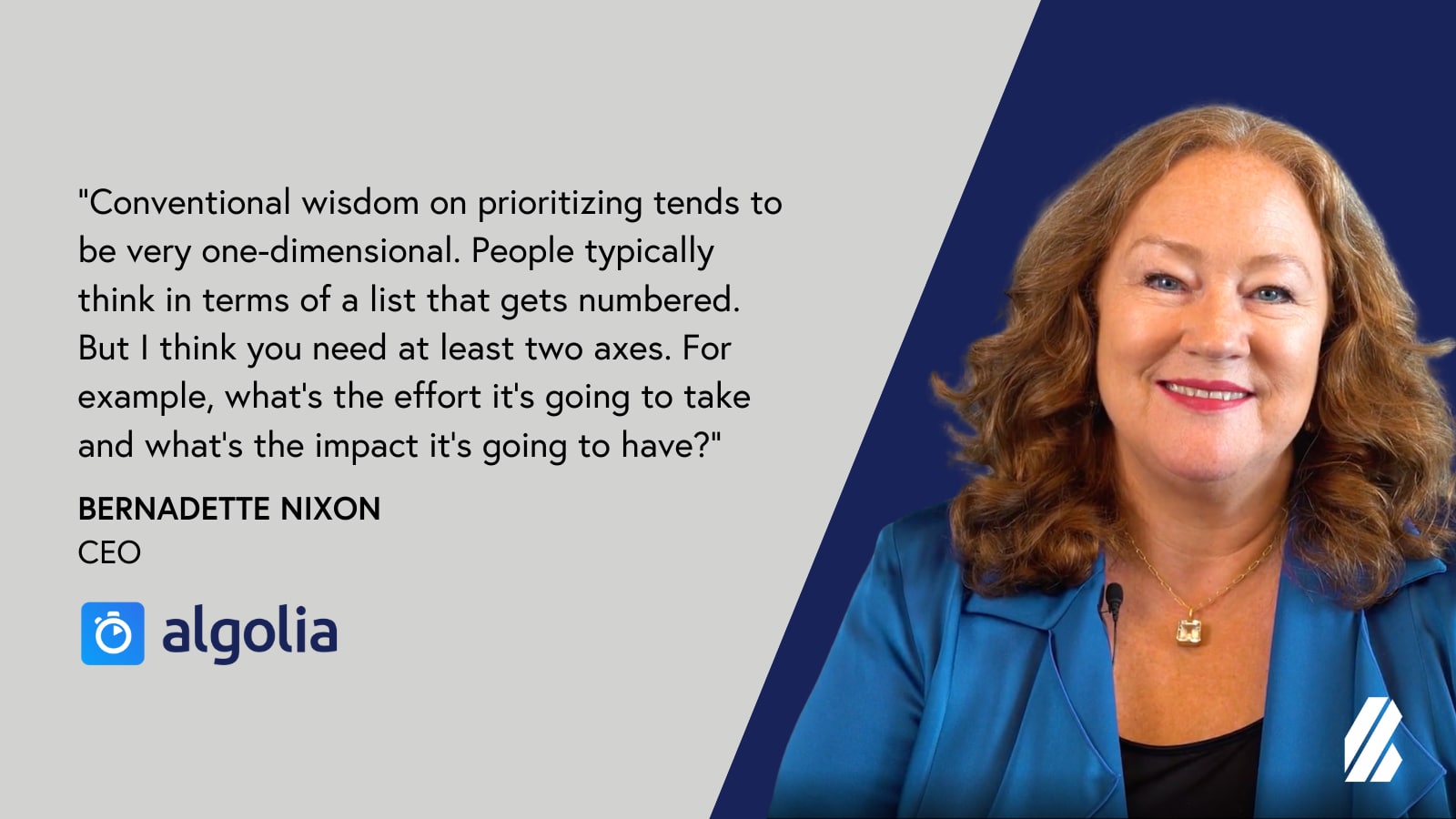 Eynat offers another way to think about prioritization. She calls it the suitcase exercise. "When you travel and start to think about what to bring, most people start with a ton of items. But if you can only bring a carry-on?" says Eynat. "Then you suddenly need to look at each item more carefully. Is this item truly critical? Can one item fit two purposes?" This is the approach Eynat uses to make business decisions, especially when strapped for resources. "It's a tricky balance to invest in the future while also reducing non-essential costs." 
And if Eynat had to give a cloud founder one piece of advice? It would be to hone in on the operating metrics of the business. Today, cloud businesses live and die based on how efficiently they're growing capital. "Double down on everything that beats the benchmarks," says Eynat. "And then, understand how to improve them over time. For example, the cost of customer acquisition (CAC payback) should be super efficient!"
2. Respond swiftly to customer needs
When Dylan first started working on Figma with his Co-founder Evan Wallace in 2012, it was a painstakingly slow and careful process. The pair spent a year producing a minimum viable product, launched a closed beta in 2015, and didn't make their first dollar until 2017. But Dylan didn't have the luxury of time when the pandemic broke out. By March 2020, Figma's customer base was demanding a product that could help them with visual brainstorming in a purely digital working environment—and fast.
"The team talked a lot about how we could get this out there ASAP because we need to help our users now," says Dylan. "That urgency really translated into a fast development cycle." Thus FigJam, a whiteboarding product for ideation brainstorming, was born. It was the company's second product, and it was launched in April 2021. Having paying customers with new needs to be met heightened the impetus to work quickly, and Figma's second project took only about eight months to release, in contrast to the five years it took for them to release their flagship offering.
Dylan recommends that other founders move quickly to serve customer needs rather than spend too long crafting the perfect product. "The beautiful thing about software is that you can keep improving it," he says. "We're not shipping couches or chairs where you put it out there once and then you're stuck with it forever. I feel very lucky to work in bits, not atoms."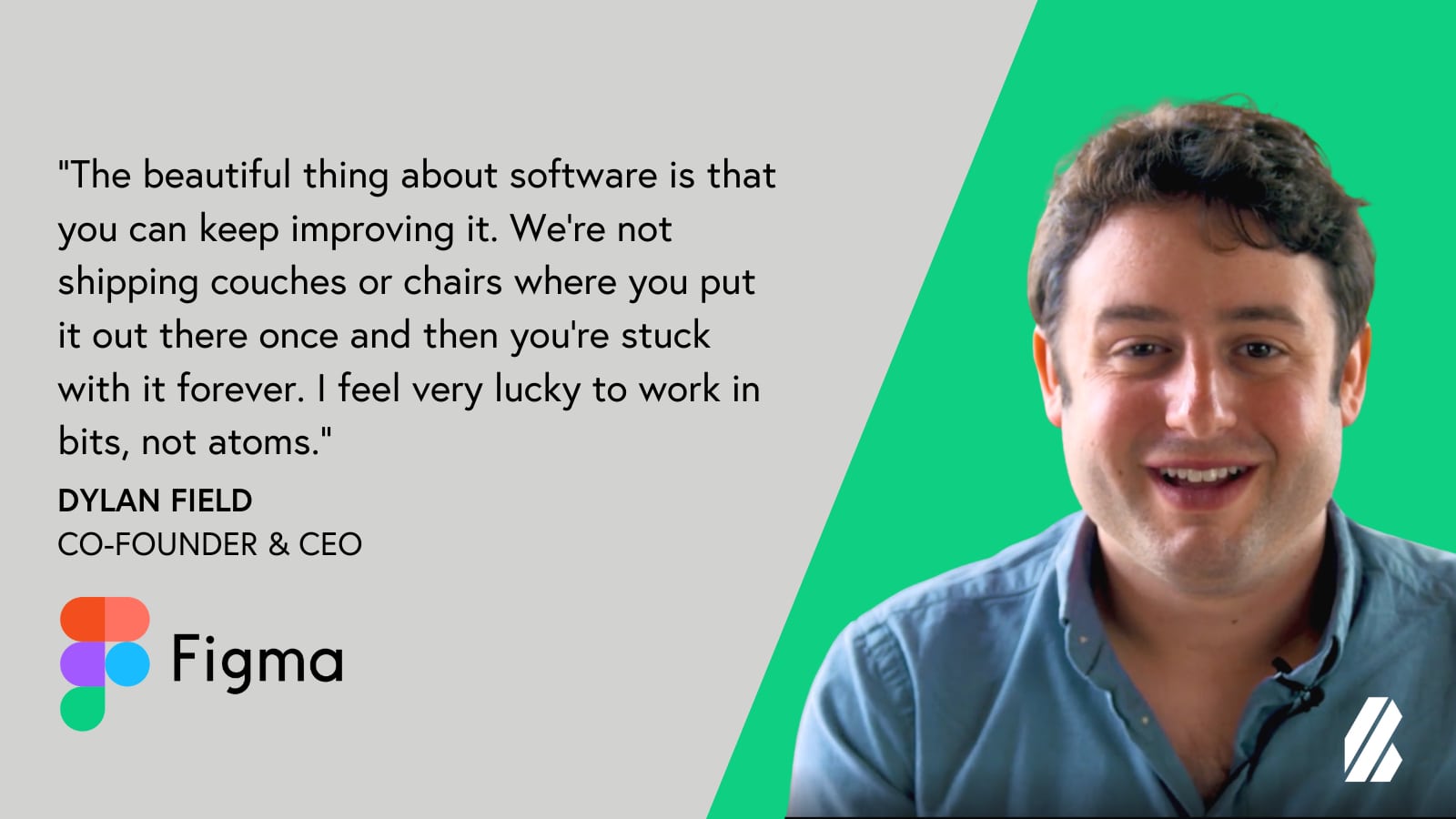 Similarly, Bernadette made a big change in 2020 based on customer feedback. "The key ingredient to customer obsession is listening," she says. And it was listening to customers precisely that led her and the team to overhaul their pricing. Transitioning from a traditional flat fee, more infrastructure-based pricing model, the Algolia team made the switch to usage-based pricing. "Our customers wanted to pay based on the value of the outcomes they were driving using our product. And it's been a win-win. As they grow and they get successful, we get to share in that success as well."
3. Shift selling tactics for a hybrid world
"Selling remotely in a hybrid world means two things," says Eynat. "First, it means making things very, very easy for potential customers. Create a transparent, easy-to-understand pricing model. When pricing is overcomplicated, you lose your audience's attention and the deal's momentum. It also takes more time to go from the sales cycle to the onboarding stage."
"The second thing, which is much more important, is that you have to sell the product using the product," says Eynat. "Don't sell over a presentation; sell over the product. Ensure that people can see and touch the product. Be proud of the product. If I attend a sales call and I see a PowerPoint presentation, you've already lost my trust."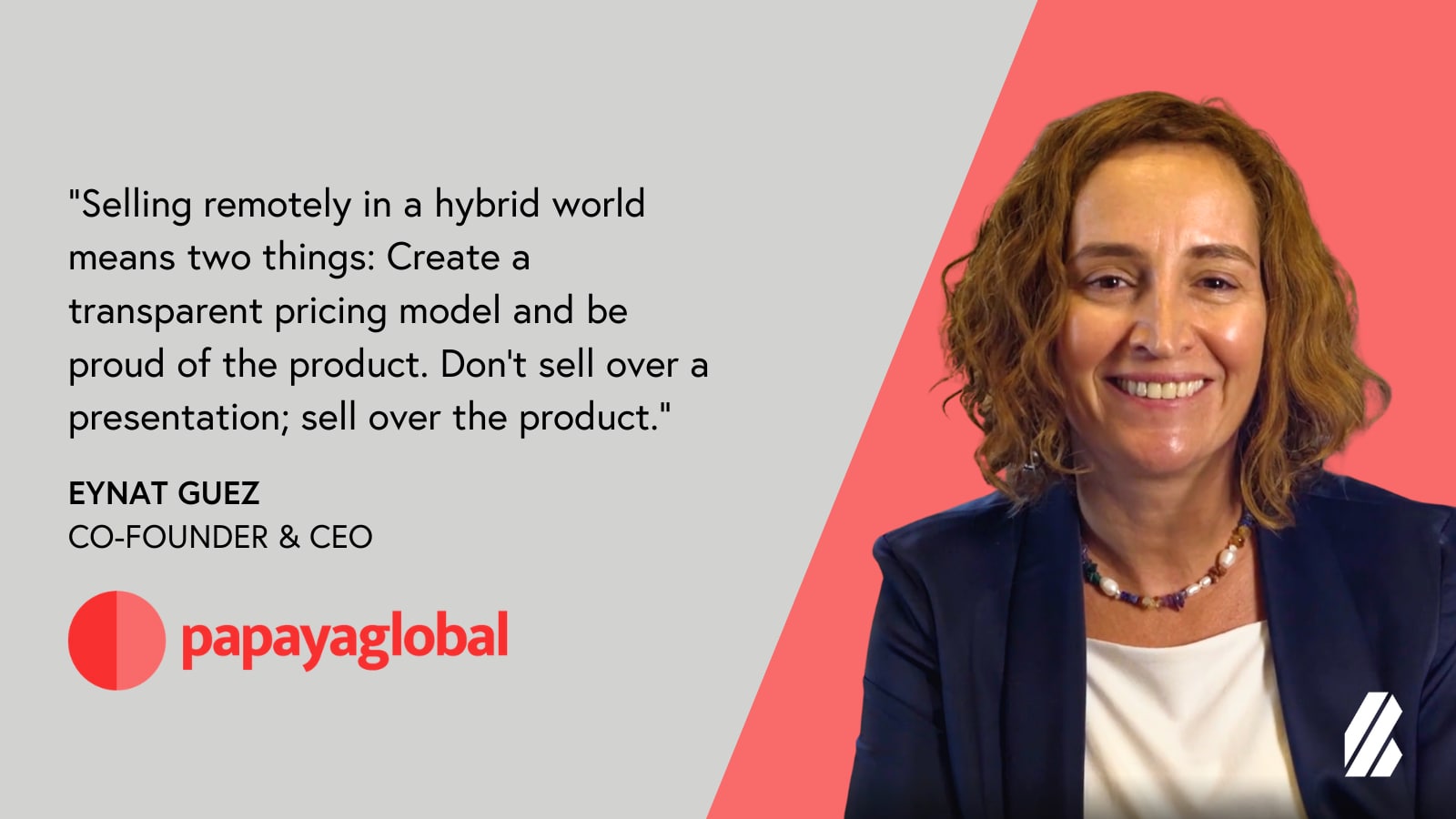 Amit adds that in a hybrid selling environment, word of mouth becomes even more important. "At Gong, we say, 'We don't want happy customers. That's table stakes. We want raving fans,'" he says. "We believe the best marketing is when our customers spread the gospel." Dylan points out that it's also worth thinking outside the traditional definition of go-to- market selling activities. "In the early days of Figma, I encouraged our support team to think of themselves as marketing. I told them, 'Hey, if you talk to someone who has a very long ticket full of feedback, build a relationship with them. You're positioned to be our best evangelist right now.'"
"And a lot of those customers who initially had all that feedback often later became evangelists in their own right," says Dylan. "Of course, some of them became trolls as well. Ignore the trolls, but just deeply engage with customers wherever the opportunity presents itself—you may be surprised by the impact this has on marketing and sales over time."
4. In times of trouble, take a wider perspective
Amit is no stranger to an economic downturn, 2022 being his fourth. Having been through similar situations multiple times, he's developed some perspective that helps carry him through. "It's helpful to remind yourself that this is a natural cycle that happens every now and then, and not worry about it too much," he says. "Rather, stay focused on your long-term mission that might span several decades."
Amit stresses the importance of adapting your product messaging to the headspace your customers are currently in. "Make sure you're leading with a value proposition that's top of mind for people right now. It's often more about efficiency and 'do more with less' versus the 'grow your business' messaging that tends to resonate in more stable times."
"Then there's your team—they're obviously worried," says Amit. "The news is amplifying things and it creates a lot of anxiety and concern. The people who aren't as experienced as you might be super concerned. So make sure you're transparent and you communicate frequently."
"Ultimately, you have to zoom out and focus on the long-term mission," says Amit. "And in the end, trust that you will make it."