How to build your brand communications strategy from scratch
Four key exercises Alex Constantinople leverages when coaching leaders to develop a company narrative that resonates with investors, customers, and employees.
The one quality that all great relationships have in common? Clear and open communication. It's the same with businesses and their customers — buyers expect to know more about your company and what it stands for before they will engage with your brand.
But I can't tell you how many times I've worked with a company and everyone's describing it in a different way.
And I get it — often storytelling is the last thing on your list as a founder. You're swamped with nailing product-market fit, raising money, and growing your team. Taking the time to define a clear brand story, however, will make all of these other responsibilities easier. You'll be able to offer potential customers, investors, and employees a compelling reason why they should buy into your company and its mission.  
No matter where you are on the path to building your company, it's never too late to ensure you are telling the strongest story possible in order to achieve your business goals. Because if you aren't, others will tell it for you. With so much out of your control in this hyper-competitive and dynamic market, one of the best ways you can reclaim agency is by telling your own story. 
I've worked with hundreds of leaders to shape their company narratives and today, I'm sharing the techniques I've cultivated from over three decades of marketing and corporate storytelling. After completing this guide of questions and exercises, you'll be able to solidify the foundation of your company's robust and authentic communication strategy.
Building out your company's brand communications strategy
Step 1: Lay the communications foundations 
Communications and marketing efforts should always be aligned with your goals and overall business strategy. Before you can develop messaging and a narrative that resonates, you need to know the answers to foundational questions about the product and how the business generates revenue. This enables you to ground your perspective in the reality of your customer, product, and target market. 
Ask yourself: Can you easily answer these foundational questions about your product, audience, and strategy? If not, it's worth taking some time to define these points before starting to build out your company story.  
Audience: Who is our customer? 
Problem / Product: What problem does our product solve for our customer / industry? 
Solution: What impact will our product have on our industry / the world?
Business model / strategy: How do we plan to win the market?
Mission, vision, values
Every company has an ethos of organization — the spirit and "the why" behind its reason for existence. This is the core of your company narrative and the starting point at which you should begin to shape your story. 
While mission, vision, and values are related, they are three distinct concepts.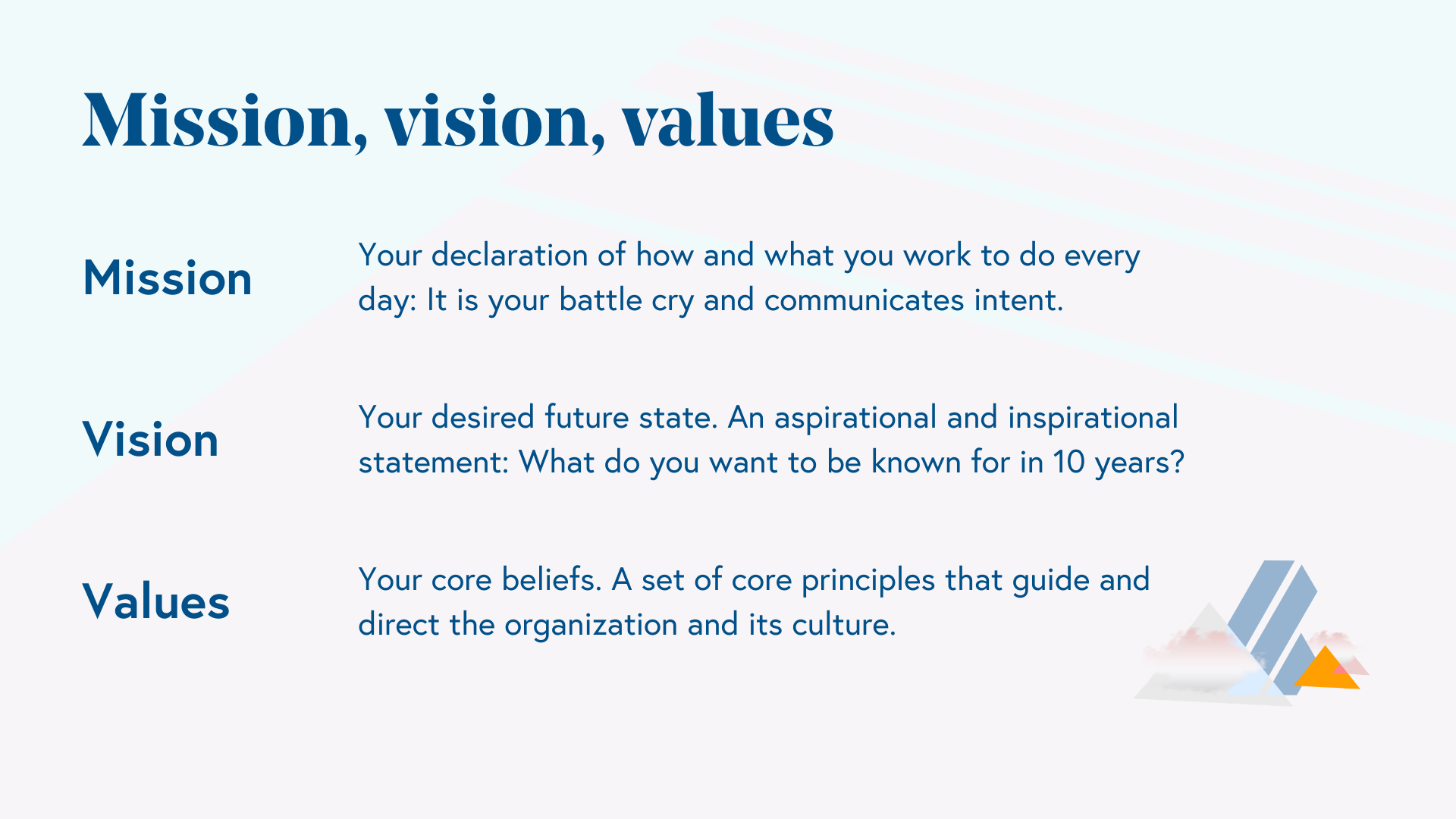 While you might choose to keep your vision private for competitive reasons, most companies today do share their mission and values publicly. It's critical to attract customers and investors as well as to retain employees. It's hard to get people excited about your company if they don't know what you stand for, your aspirations, and where you're going. 
Exercise 1
Answer these questions in short sentences to help decipher these foundational concepts for your business: 
Mission: Why is everyone climbing this big hill day to day? 
Vision: What will the world look like when we've been successful?
Values: What are the four to five attributes that will direct our decision-making and behaviors?
Step 2: Define your messaging and positioning 
While your mission, vision, and values define the core themes of your story, your messaging is the language you use to talk about your company and products. Essentially, what's going to motivate someone to interact with your product, invest in you, or want to work for you? The words you choose are incredibly important for reaching your key audiences. 
Your positioning statement is like the "elevator pitch" that describes your company in one sentence. On the surface, your positioning is a succinct description of who you are as a company — but on a deeper level, it should also validate why your audience(s) should choose you over someone else and how you can defend that. Especially if you're a founder, you must be able to communicate what makes you distinct from all the other options out there. 
The positioning statement answers who you are, what you're setting out to do (and for whom), and the problem you uniquely solve. Once you have this statement, you can train your entire organization to share this message so everyone is aligned when talking about the company.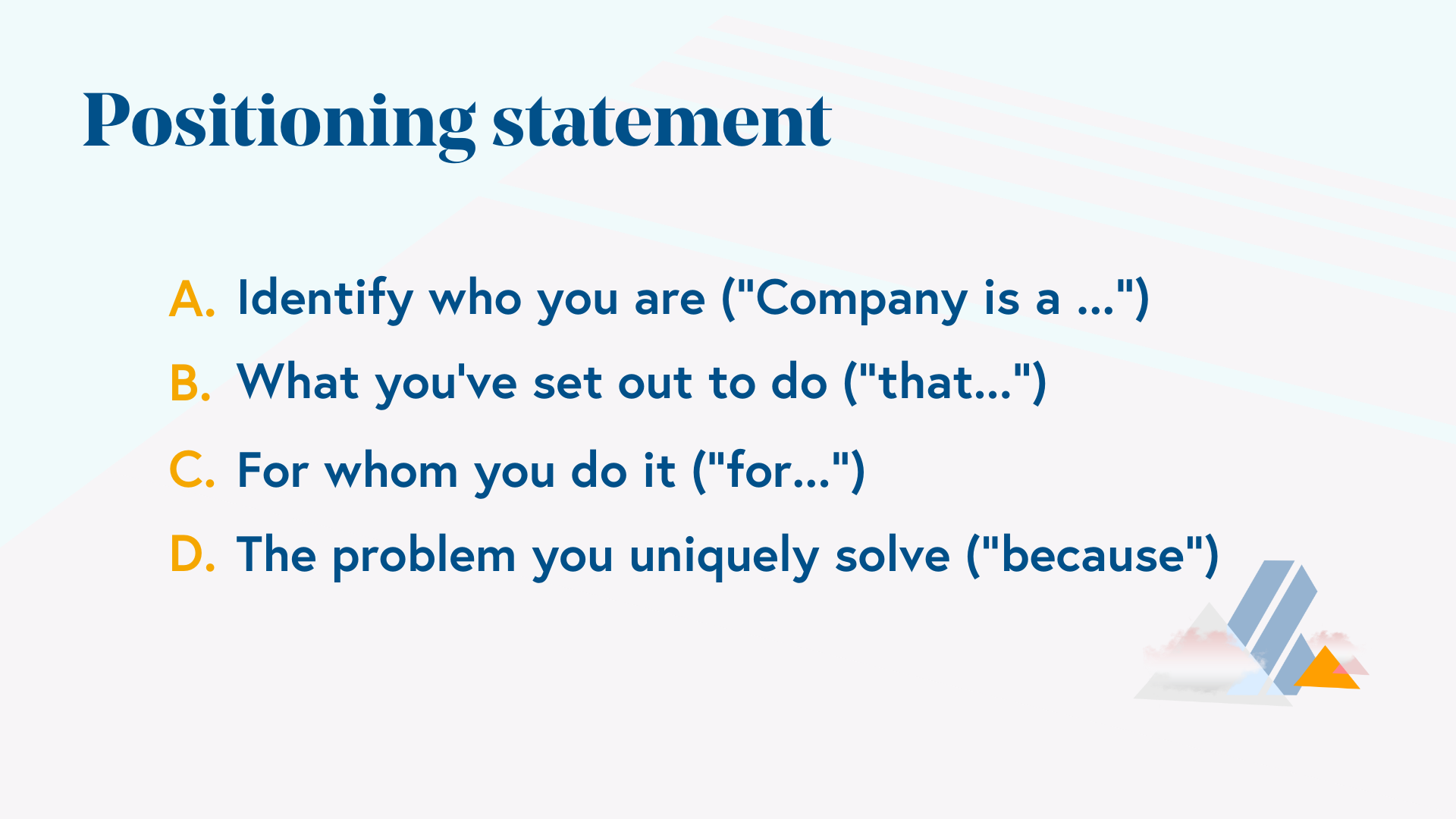 Exercise 2
Use this four-point structure to draft your positioning statement: 
Identify who you are ("Company is a …" 

What you've set out to do ("that…") 

For whom you do it ("for…") 

The problem you uniquely solve ("because")
There are many ways to craft your positioning statement. Here are three examples from some of Bessemer's portfolio companies: 
Pinterest is the visual inspiration platform people around the world use to shop products personalized to their taste, find ideas to do offline, and discover the most inspiring creators. 
Twilio is a software company that strengthens businesses by unifying their data to build insightful paths to customers, so they're smarter with every interaction and able to outmaneuver their competition.
Canva is an online design and visual communication platform with a mission to empower everyone in the world to design anything and publish anywhere.
Once defined, it's time to put your "pitch" to work. Test it out on your friends, family, and neighbors. See how many follow-up questions you get. You want to aim for people to understand what your company does and its value quickly and easily. This doesn't mean your product, technology, or building your company is easy, but your communications should be!

Is it simple? Can you express what it is you do in 1-2 clear sentences, without relying on complicated terminology or jargon?
Is it compelling? Does your messaging excite your audience to action?
Is it specific? Does your audience understand exactly what you do?
Is it differentiated? Do you express how you're distinct from other offerings on the market?
Is it defensible? Can you back up your claims and make a case for why someone should choose your company or product over other options? 
Of these, I find companies get stuck most often on keeping their messaging simple and differentiated. So it's worth spending some extra time and energy making sure your messaging is easy to understand and clearly expresses what makes you different from the competition.
Step 3: Segment your audience through the think / feel / do framework 
The benefit of segmenting your audience is that you have granular clarity in who you want to target, what kind of message appeals to them, and most importantly, what inspires them to take the actions that you want them to take. This allows you to set clear goals for your communications strategy. 
Ultimately, you want to understand what motivates your audience and how the business can encourage your target market to engage with your company and product — and even believe in your mission.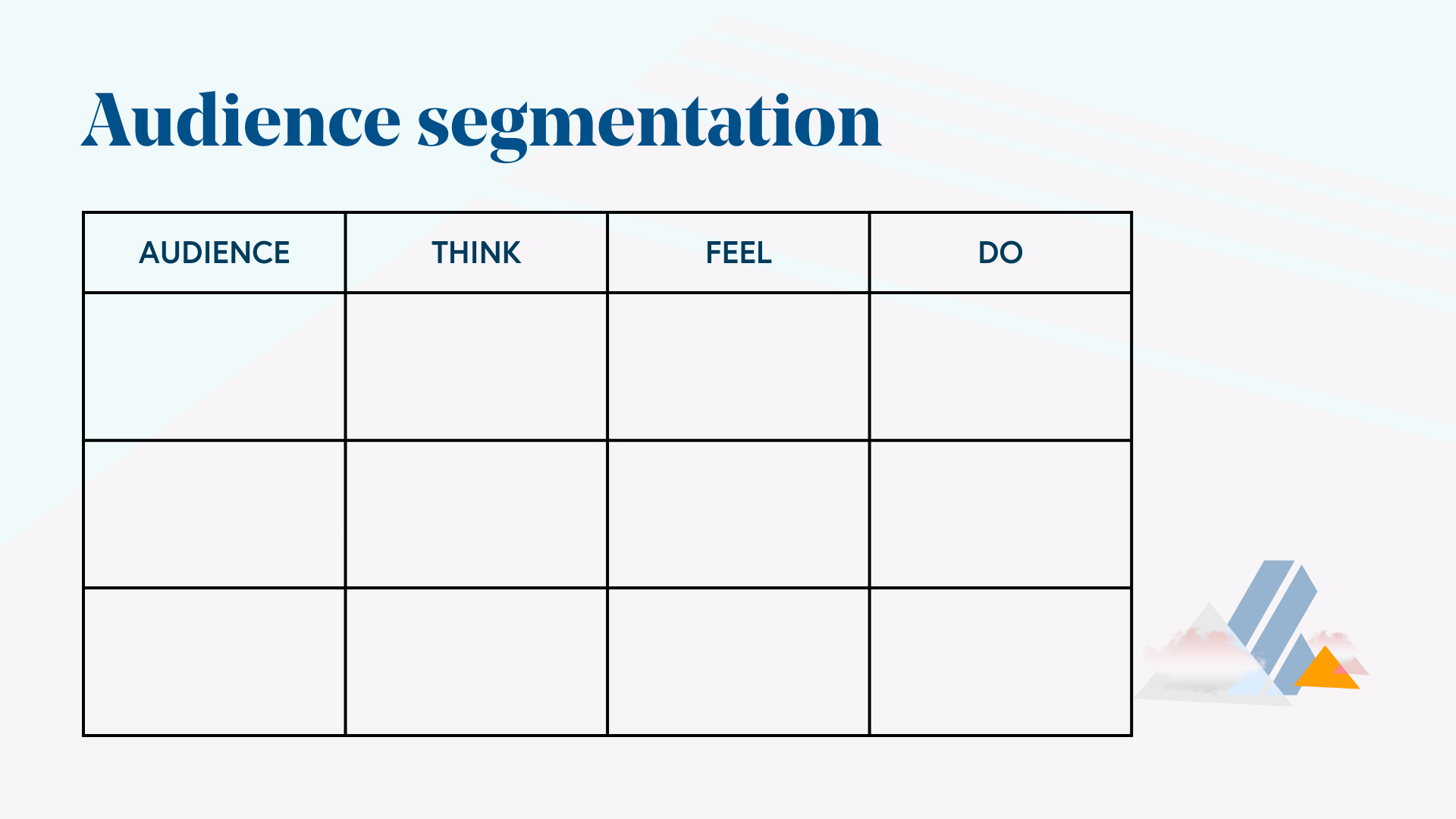 Exercise 3
Going audience by audience — for instance, employees, customers, and investors — ask the following questions: 
When [audience segment] encounters our company, what do we want them to think? 

What do we want them to feel? 

What action do we want them to take?

Repeat for all audience personas
Once defined, ensure all of your comms efforts are aligned with these goals. You may want to set up metrics or tracking to ensure that you're meeting them.
Step 4: Summarize it all and share with your team
As a founder, you can think of a communications platform (e.g. mission, vision, values, positioning statement, etc.) as the raw material for the stories that flow throughout the organization and the 360-customer experience. Underneath your positioning statement, you can also include key corporate messages — deeper points or data that support your positioning. 
It's also worth thinking about how you want communications to flow through your organization. Who has the final say when it comes to your company story? 
A clear owner will help ensure you're presenting a unified story across all your channels, including product, sales, marketing, and customer success. To do this, you need to decide who is responsible for owning the company story (i.e. the communications leader) and make sure that person is checking so the story is consistent across all your key channels, teams, and stakeholders.
Your communications framework is the "single source of truth" for your corporate message; this framework must be available for employees whether on the company's file sharing system and/or frequently referenced within town hall meetings, internal communications, and important gatherings. And for companies with corporate offices, the mission, vision, values can even be integrated within your office decor in the form of posters or design features.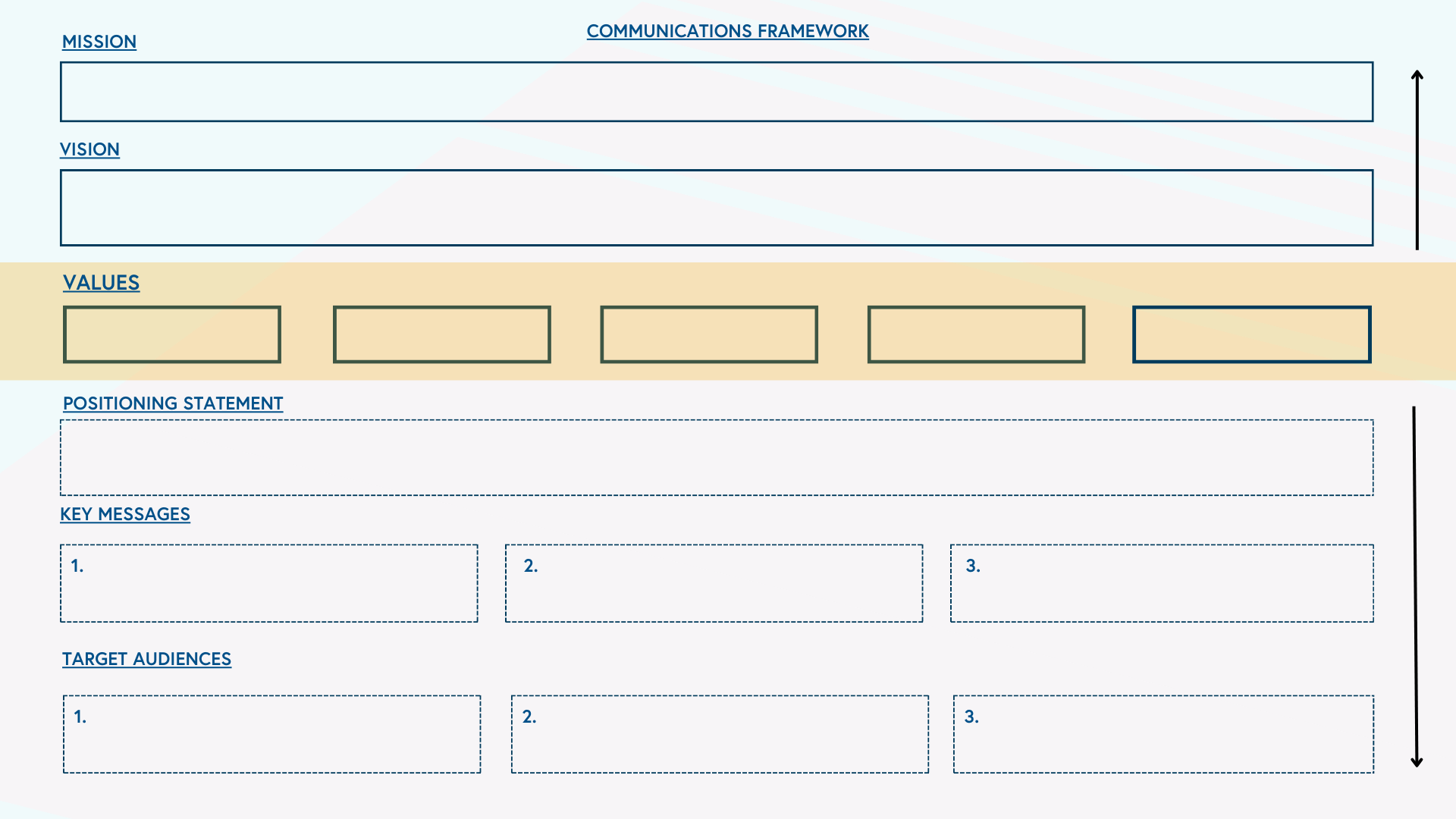 Exercise 4
Putting it all together: 
Based on the preceding exercises, fill in this template with your messaging 

Set up conversations with important stakeholders to get feedback, alignment, and understanding of next steps

Socialize your messaging with your team so everyone is on the same page 
Reminder: Your communications framework is a living document! Revisiting, revising, and refreshing your communication framework once a year is a best practice. The framework is also something to leverage at company all hands, employee review, marketing, etc.
Final thoughts — Always be storytelling 
This guide is here to help founders and leaders build out the foundation to their communications strategy — and it's a priority that's both urgent and important, since story often acts as a self-fulfilling prophecy. 
Time is always tight, but it's well worth the effort to carve out a few working sessions to tackle the above exercises as a founding team. You might want to consider working on it as part of your end-of-year planning or dedicate a team offsite to it. You can work through these exercises yourselves or with the help of a trusted facilitator. The important thing is to invest the time. 
And, with a clear story in place, I guarantee that your other priorities — increasing revenue, getting investment capital, and attracting new hires — will feel achievable and in clear sight.