Explainer: How to approach enterprise sales at a developer-centric company
Twilio's Alyson Welch distills twenty years of enterprise sales lessons into a four-phase framework to help guide developer-centric founders on their upmarket go-to-market strategy.
During the last recession in 2008, early-stage founders of developer platform companies, such as Jeff Lawson of Twilio, faced skeptical venture capitalists who didn't believe developers would have the purchasing power they do today. Twelve years and a massive public company later, developers have much more of a budget and say in purchasing processes than ever before as they build the apps, tools, and software shipped around the world.
During that time, Bessemer has been fortunate to back many ambitious founders of developer-centric companies, including Twilio, SendGrid, PagerDuty, LaunchDarkly, Auth0, and more. While bottoms-up, product-led growth is a strategic lever to earning your first dollar through $1 million in ARR and beyond, at some point, hyper-growth startups must cross the chasm to become strong at enterprise sales, too.
We talked to Alyson Welch, vice president of enterprise sales at Twilio, to understand best practices when building an enterprise sales team at a developer-focused company.
With over 20 years of experience, Alyson has built early and growth stage sales organizations from the ground up. She started her career at Akamai, helping scale the company to over a billion in revenue as vice president of Sales. After that, she built a sales force of over 50 employees as head of sales at an early stage pre-revenue company called Zignal Labs. Since then, she's been with Twilio since 2017 and is a trusted advisor to many Bessmer portfolio companies, from early-stage through growth, on topics such as building and designing sales organizations.
"I had a realization earlier in my career that the way customers were buying technology was dramatically changing. Tools like AWS were making developer tools so accessible from an onboarding perspective; developers got access to an open set of APIs with a pay-as-you-go and self-service model. Managing that transition up to an enterprise agreement was going to be a problem this new class of companies would have to face and one that I wanted to learn," Alyson said.
Developer-centric companies were on the rise and continue to see success in the market. Since Twilio's IPO in 2016, many other developer-centric companies have gone public such as SendGrid, PagerDuty, Atlassian, MongoDB, and DataDog, all with stock prices growing on the backs of superb growth rates and net dollar retentions well above 100%.
At the time of their IPO in 2016, Twilio had well over $160 million in annual revenue and marquee customers, including Nordstrom, Uber, and ServiceNow. Still, they would readily admit they were struggling with enterprise sales. Moving upmarket is a common struggle for startups—aligning bottoms-up, and tops-down enterprise sales strategies is a complex organizational problem to solve. It was just after going public that Alyson joined Twilio to lead the charge to build a holistic enterprise sales strategy.
"My goal was to build a team that could communicate the most relevant of Twilio's capabilities to the enterprise. Cloud-based communications platforms, like Twilio, provided large organizations and Fortune 500s the ability to understand their customer interactions and drive more impactful experiences resulting in more revenue. Twilio was far more than just an SMS messaging service," she said.
Alyson distills her experience into a four-phase framework to guide developer-centric founders on how to approach building their sales teams and what those organizations look like at different stages. While there are rarely strict revenue or customer thresholds to indicate each new phase, Alyson highlights the leading indicators founders should be tracking to understand the key transition points from that first sale to a proper enterprise-ready sales organization.
Phase 1 - Product Led Sales
Many founders remember the early days of their company well, whether it be the first iteration of their product or that initial office (or garage). Still, almost every founder remembers being the sole sales rep and making that first sale. While it can be painful being told no quite a bit, it results in incredible product feedback and customer engagement. Products such as LaunchDarkly did not begin their go-to-market efforts with one blog post or news article but through trial and error with prospects who were generous with their time and feedback.
"In the beginning, almost every software company starts with a product-first, founder-led sales process," said Alyson. Strong developer experience and evangelism are the beginning of all future sales playbooks. The best sales tactic is when an amazing product gains organic growth through word of mouth marketing and user love on channels like Twitter and HackerNews.
"In the early days, founder-led sales look a lot like developer relations where you have an extremely close line of communication to the first and best customer—the user. Being close to the developer allows for crucial product insights as well as a culture focused on the developer experience," she explained. Companies that invest too early in sales and marketing before nailing their product-market fit end up seeing precious dollars wasted that may have been better used elsewhere.
In terms of tactical ways to cultivate stronger relationships with the developer community, Alyson recommends creating viral developer oriented documentation, targeted podcasts, articles, and developer customer panels and forums to generate awareness, educate the community, and build a pipeline of new users. There's no one silver bullet and many things do not scale. Still, Alyson recommends this type of constant effort to not only build awareness within the developer ecosystem but also get to a place where users are posting about the product and signing up for a self-service version organically. The result tends to be rapid inbound as developers share these products with coworkers and friends. But as Alyson reaffirms, no true enterprise leader depends on inbound for pipeline consistency, which is why outbounding is necessary in order to penetrate larger organizations systematically.
Phase 2 - First Sales Hire
As a product starts to show the signs of virality in the market, founders can still find themselves pulled in to help close opportunities, whether they may be net new large prospects or smaller customers looking to expand. Eventually, every company needs to transition between founder-led sales and the business's first enterprise sales hire. Getting the timing right is critical, and it isn't easy to know precisely when to make that hire and find the right individual.
Founders report waiting too long to start appropriately investing and building sales competency and scaling too early before having enough demand in place. Alyson recommends hiring your first sales representative when the cost of sale and average deal sizes justify an external hire. For example, if a company is evaluating opportunities worth $100K-$500K ACV, then hiring new team members to handle new business is warranted.
The first hire could have various levels of experience, but Alyson firmly believes that the first sales role should be a clone of the founder in many ways — an evangelist of the product, but with a quota. "The first hire, and even subsequent ones in the early days of the sales team, will start with top targets while managing inbound leads. That person is a pioneer in many ways, wearing multiple different hats, and managing priorities by filtering through many low value leads but also tending to potential high value prospects, whether inbound, through a partner, or sourced directly." While most sales are still inbound, it's at this point Alyson recommends testing outbound tactics, which over the long-term, becomes essential to get a foot in the door of larger organizations and deliver a dependable pipeline of opportunities.
At this stage, she also recommends measuring performance by tracking metrics like new logo revenue and upsells along with retained customers saved from churning. Too often, she cautions, companies do not think critically about the nature of their leads and try to hire enterprise sales reps before there is real enterprise interest.
"If you are hiring AEs for certain segments without having the requisite number of leads coming in or vice versa, that is money inefficiently spent. It is expensive in both cash and time to get in front of Fortune 500 companies when your product may not even be ready. Focus on growing your smaller accounts and let them teach you how to go upmarket."
Phase 3 - Scaling the Team
Once the first rep begins to hit their numbers with barely any assistance from the founder, upsell opportunities from smaller existing accounts will substantially become a larger portion of their time.
At this point, a more holistic sales organization can be formed, with split functions of account executives focused primarily on inbound leads and customer success managers focused mainly on upsells. Depending on developer-centric platforms' pricing strategies, there's an expectation that retained accounts will expand as customer usage of the product grows. This land-and-expand method requires reps to secure as many new logos as possible and then grow those existing accounts over time. While it seems straightforward, sales organizations need to delicately balance their hiring to get the right timing and approach.
"I see inexperienced teams get this wrong by hiring for customer success without understanding if a hire can properly manage and upsell an account," she said. "Unless you can drive upsells quickly enough, those dollars and resources are wasted and could have instead been used to land another customer."
She recommends laying out the actual cost of an upsell against the potential upsell opportunities.
Understanding the upsell process is relatively straightforward, and a function of the number of existing accounts and potential growth opportunity (or net retention) across a book of business. However, most unseasoned companies fail to understand the actual cost of an upsell correctly. Immature sales organizations rarely consider the cost of time and how that factors into the sales and engineering resources spent on a lengthy implementation. Companies should only invest in a true Customer Success function when the opportunity cost of both time and headcount is less than the contract value. Alyson advises sales leaders to add pure expansion roles into the sales organization once they understand what implementation looks like for enterprise-wide rollouts.
Once these roles have been hired, different functions will have their own KPIs and processes. There may be some natural tension within a sales team as this breakout occurs as teams struggle with understanding the best metrics for these different roles.
For example, at Twilio, Alyson indicated that account executive performance gets tracked against the initial sale and any forecasted expansion, which is estimated through expected pay-as-you-go revenue (e.g., number of voice minutes on Twilio). Customer success is then judged on any upsell opportunity above and beyond that forecasted number and is accountable for churn.
While carefully calculated spreadsheets of implementation costs can be plotted, Alyson advises companies to test and experiment. It is easy to spend money to grow but ensuring a company is on the path to efficient growth is crucial to unlocking the next growth phase. Throughout this phase of scaling up, founders must invest when their key cloud finance metrics indicate a stable go-to-market motion, with at least a 24-month CAC payback period and 3x LTV/CAC.
Phase 4 - Multi-Faceted Sales Organization
After numerous cycles of validating product-market fit and the early innings of building a team, the real fun begins as a business continues to invest in a complex sales machine firing on all cylinders. In this case, quotas and rep profiles are well-defined, and each acquired dollar can be carefully attributed to a sign-up and future sales opportunity. This phase is more targeted than the previous "craftsman-style" sales team in other phases. Generally, around this time, sales teams need a list of leads and sales collateral generated by marketing to get potential customers over the hump and purchase a product their developers love. Alyson joined Twilio during this phase of the company, where she saw a reasonably sophisticated sales organization, divided not only by product lines but also across account sizes and geographies.
Below, Alyson provides an example of Twilio's sales structure divided into SMB, Mid-Market, Enterprise, and Strategic account groups and how they are divided into four geographies including Latin America, North America, EMEA, and APAC.
"This large, sophisticated example of a sales organization from a public company like Twilio may not seem relevant for earlier stage companies. However, it illustrates how sales organizations can grow methodically even for the fastest-growing startups. Each division starts small as a single silo that continues to divide and expand into teams of SDRs, AEs, and CSMs as the need to address each segment and geography remains cost-effective."
In tandem with developing a company's enterprise sales strategy, Alyson recommends investing in some essential resources and downstream efforts, including:
Pricing strategy: Establish a strong quote-to-cash system that can translate multiple inputs around usage, seats, etc. into a scalable pricing model.
Sales operations: Work with a strong sales operations partner who can dig into the data on both self-serve and enterprise sides to drive an informed sales strategy and pick out best practices across the organization.
Legal: Resource a deal desk that can manage complex service agreements with enterprises that ensure proper scope of services, payment terms, and other clauses that are essential, but often bogs a team down in what are already lengthy sales processes.
Typically these resources are built into later-stage companies, but these organizations could also play a critical role in building repeatable sales processes for a founder-led business growing into a multi-faced organization.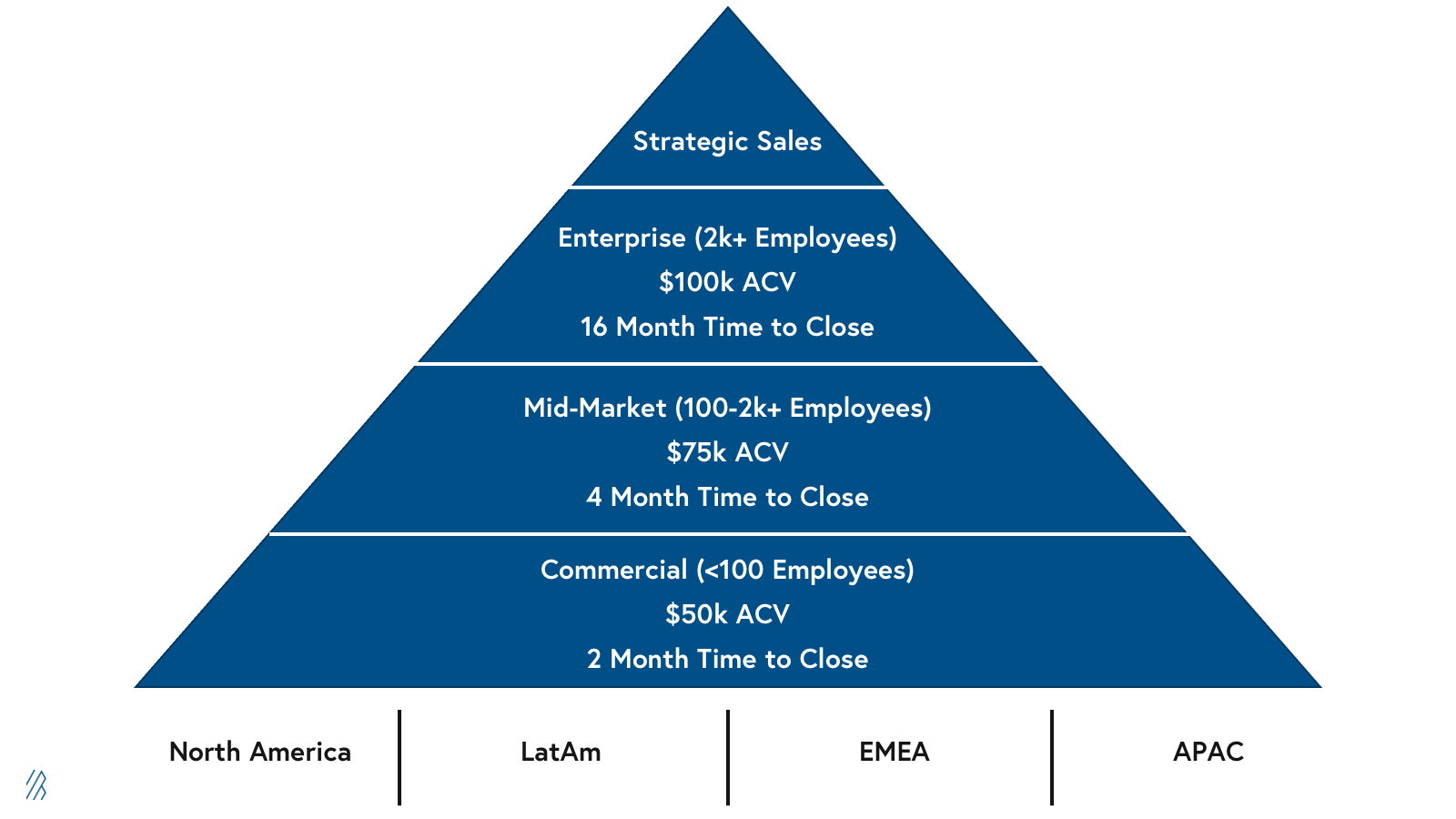 How to get started
Throughout every stage of growth, focusing on developer experience takes priority above all else. Being a developer-first company means that the internal processes, systems, and language, including the sales effort, must adapt to the end-users' needs.
"Prioritizing developer experience (DX) starts with a phenomenal product. A product with great DX grows from the bottoms-up and can be repackaged and repriced to appeal to developers and the entire line of business leaders. By doing this, Twilio, for example, is offering not just a texting solution, but a communications platform that can reach any customer whether in technology, healthcare, retail, or any industry."
At Bessemer, we're seeing a new class of developer platforms with slight variations on these go-to-market models. Some take the freemium approach to $50 million in ARR. Others go after the enterprise earlier and faster, as the Fortune 500 becomes more software-centric.
Finding the right GTM strategy for a developer-centric platform depends on experimentation, Alyson explains: "Don't be afraid of trying something, launching something, scaling it back, and then trying something else. Failing fast in this ecosystem is really important."