Bessemer Venture Partners promotes Ariel Sterman to Vice President
Ariel Sterman invests in the Israeli SaaS landscape, supporting visionary founders and cutting-edge products.
At Bessemer, we believe that innovation is borderless – great companies are born from exceptional founders in every corner of the globe. Our expanding Israel-based team and portfolio of investments in the region reflect today's entrepreneurial reality. With this in mind, we're excited to promote Ariel Sterman to Vice President. Ariel joined the firm in 2018 to help expand Bessemer's investments in SaaS, Cloud Infrastructure, B2B Marketplaces, and Fintech across Israel and Europe. 
Since then, Ariel has worked with founders building and scaling businesses from the seed through growth stages. He's passionate about partnering with teams building solutions that leverage product-led growth strategies, particularly those that serve SMBs, developers and consumers. During his time at Bessemer, the firm has deployed more than $600 million into the Israeli market.
"Ariel brings a high level of curiosity and insight to every conversation he has with founders, providing strategic counsel every step of the way," says Adam Fisher, Partner at Bessemer Venture Partners. "His integrity and intellect drives his bold decisions, even in the face of skepticism, making Ariel a rare type of investor that entrepreneurs and early stage teams need by their side."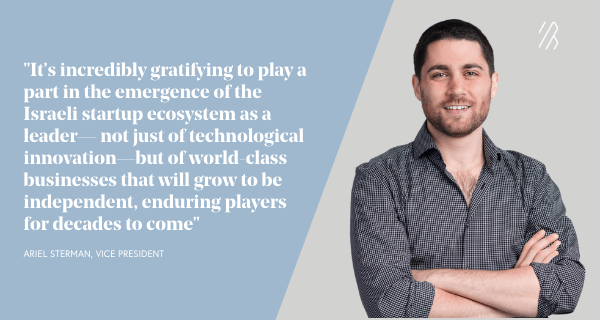 "It's incredibly gratifying to play a part in the emergence of the Israeli startup ecosystem as a leader— not just of technological innovation—but of world-class businesses that will grow to be independent, enduring players for decades to come," shares Ariel.  
"What I love about being an investor is acting as a true partner to founders from the very earliest stages of inception, and helping them on their journey in actualizing the full potential of their startup through all phases of growth," says Ariel. "In such a close-knit ecosystem, I strive to play the long game, building genuine relationships with anyone who walks through our doors."
Specific to helping foster the Israeli tech scene, Ariel has served companies such as Melio, HiBob, Firebolt, and Papaya Global. As HiBob CEO Ronni Zehavi shares, "Ariel is a trusted ear for our executive team and his unique blend of strategic thinking, guidance and growth-stage expertise has contributed meaningfully to the HiBob journey as we've scaled the business both upmarket and internationally." In addition, Ariel has also helped deepen Bessemer's roots in Europe with investments into Choco, GetAccept, and Netdata.
Prior to joining Bessemer, Ariel spent several years at Stripes Group, a growth equity firm in NYC, where he spearheaded the firm's Israeli sourcing efforts and drove its first investment in the region (Monday.com's $50M Series C). He earned his business degree with concentrations in finance and marketing from NYU Stern School of Business.