Bessemer Venture Partners promotes Kate Walker to Vice President
A collaborative investor, Kate is a champion of early-stage founders breaking technological boundaries.
At Bessemer, we believe collaboration is an essential value that underpins lasting, fruitful relationships between founders and investors. In that spirit, Bessemer Venture Partners congratulates Kate Walker on her promotion to Vice President. Since joining us in 2021, Kate has played an integral role supporting startup leaders as they transform and define their industries. 
Kate primarily focuses on early-stage vertical software and internet opportunities. As a creative and strategic investor, Kate works closely with portfolio companies to develop go-to-market strategies and operating plans, recruit talent, and navigate key decisions.
In her time at Bessemer, Kate has helped spearhead investments across the Seed through Series B stages. She sourced HouseRX and works closely with Archy Dental, Beyond, and Loveseat, while also serving on the board of an unannounced seed stage vertical software investment. She is also involved with the firm's investments in DeepL, Formally, and Kindred, among others.
"One of Kate's superpowers is building community. She has a knack for identifying and earning the trust of ambitious founders. She always rolls up her sleeves to support entrepreneurs with advice, relationships, and empathy," said Talia Goldberg, partner at Bessemer Venture Partners. "Founders are lucky to have her on their team. Kate has made valuable contributions to Bessemer. We are excited to see her continue to shine!"
On Atlas, Kate has contributed her perspectives on a wide breadth of topics, including synthetic media, community-led growth, virtual reality, soil sequestration, and consumerizing the private markets.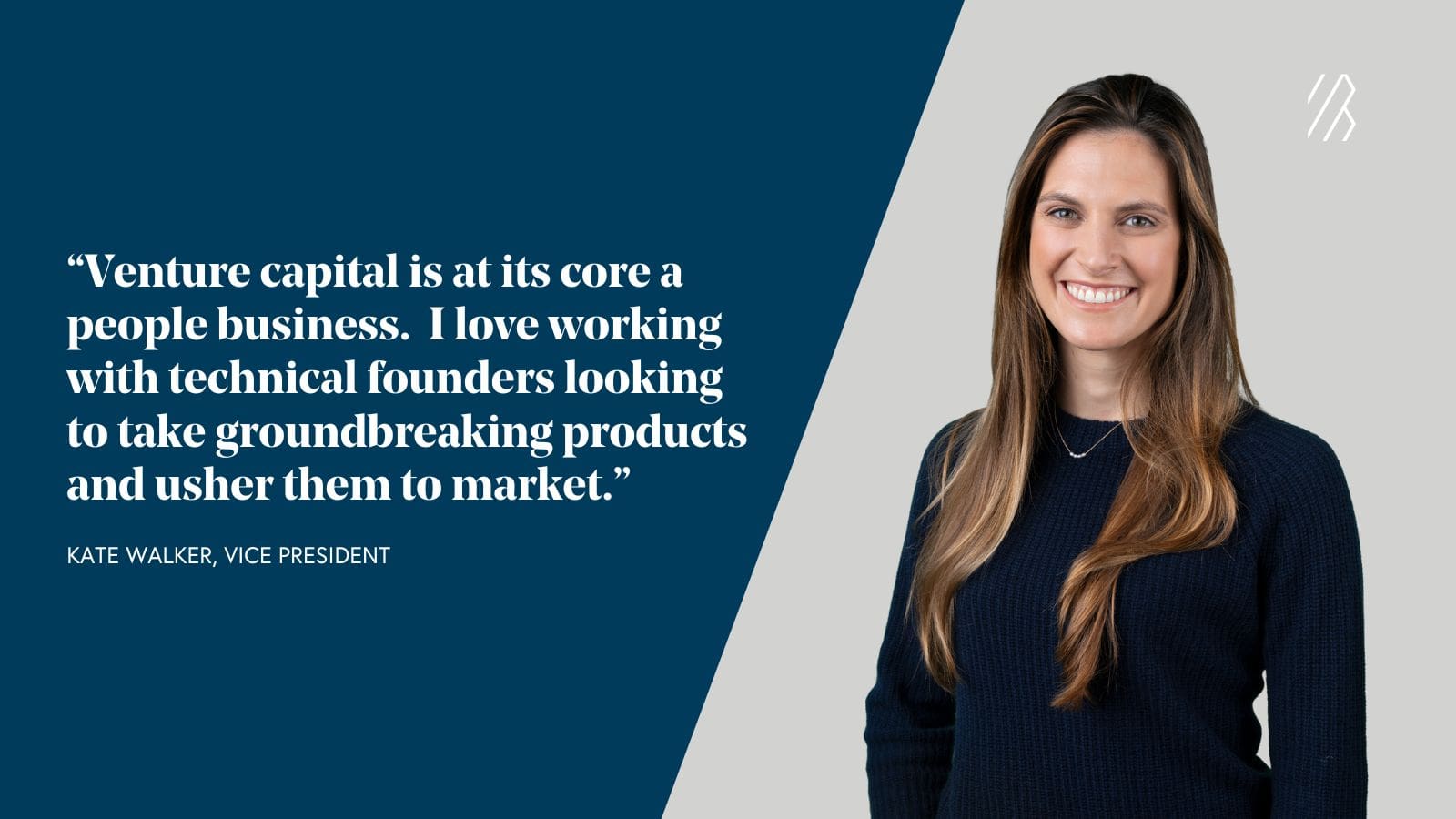 "Venture capital is at its core a people business. I'm fortunate to spend my days meeting with entrepreneurs that are at the forefront of technological innovation," said Kate. "As an engineer by training, I love working with technical founders looking to take groundbreaking products and usher them to market." 
Kate began her career at Goldman Sachs before joining the investing team at Geodesic Capital. She received her bachelor's degree in Science, Technology, and Society with a concentration in computer science from Stanford University, and later an MBA from Harvard Business School. Kate is a longstanding member of organizations supporting women in finance and tech; she started Synergist Network and is actively involved with All Raise and its VC Careers team, which helps women to break into and succeed in venture capital. In her free time, Kate is always on the go—whether cycling Hawk Hill or training as a triathlete.