Courier: A single API for managing multi-channel notifications
Bessemer Venture Partners leads $10 million Series A in the communication API company that's bringing value back to notifications.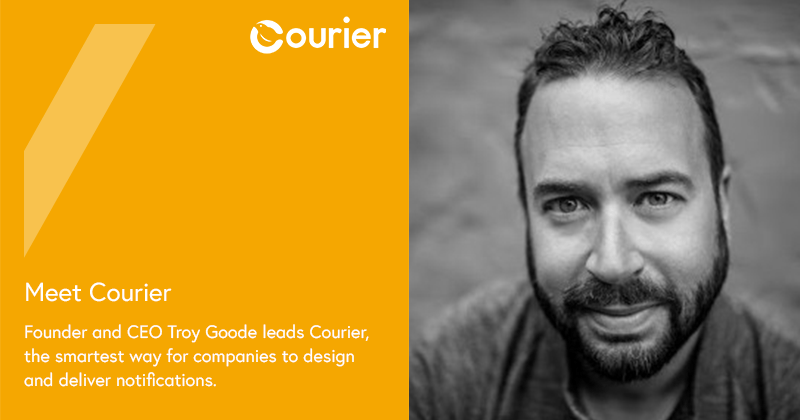 In this digital age, companies must reach and build relationships with their customers and users wherever they may be — through email, SMS text, Slack, push notifications and more. To do so, companies are increasingly constructing complex and sophisticated architectures and routing logic to determine what notifications to send, across which channels, to which users, and at what time.
Tech giants such as LinkedIn, Airbnb, and Slack have dedicated massive engineering teams and millions of dollars to these multi-channel notification management and orchestration systems. For other companies, building and maintaining such a sophisticated notification tool could take at least three to five engineers and at least six to nine months of time and resources.
Given this opportunity, we're excited to lead the $10 million Series A investment in Courier — a single API to help companies message users across any channel and a no-code editor that empowers non-technical team members to design the content, branding, and delivery rules of each message. An engineering team can have their notification tech stack up and running within an hour. Product and customer success teams can develop notification content and leverage it across channels within seconds. And with their simple drag and drop editor, it's easy for product teams to manage notifications, which means no more tickets for content changes and new channels added without writing any code.
Aside from significant time and cost savings, teams can set channel routing preferences and customize delivery rules for every single user. By tracking and logging engagement by channel, companies can quickly learn and iterate on what content and which channels work best for their users.
At Bessemer, we're no stranger to the power of APIs, the multi-trillion dollar market economy. We have a long history of investing in APIs whether it's for e-commerce shipping logistics, with Shippo, or KYC and bank fraud prevention, with Alloy. Most notably, as early stage investors in both Twilio and SendGrid, we've seen the massive opportunity in the category of communications-as-a-service as these two developer-focused companies have grown into a multi-billion dollar public cloud giant.
As early investors in the cloud, we see repeatedly how critical it is to invest behind values-driven leaders who are willing to experiment in order to create something new for the world. Troy Goode, Courier's founder and CEO, has been an established technology leader for more than a decade, and we met him during the first wave of cloud computing.
After I (Byron) sold Trigo Technologies to IBM in 2005, Umair Akeel, one of his founding team members, joined another Bessemer portfolio company, Eloqua (and then later another BVP portfolio company, Twilio!). At Eloqua, Umair recruited Troy as a senior engineering leader. While on the board, we got to see first-hand Troy's ability to lead Eloqua's engineering efforts and his product vision for the marketing automation giant as he progressed quickly to run the engineering team.
When we learned about his new notifications company in 2019, we were excited about the potential to work with Troy again, but admittedly hesitant to invest given what we saw as a competitive market and a very raw product concept. Luckily, we started to realize that our thinking had been too narrow, and we became increasingly inspired by the evolving product vision: an API that could help companies send timely, well-designed notifications across the right channel for each individual to cut through the noise and provide value to their users. We knew this platform was what companies need, end-users would appreciate, and all existing notification solutions had yet to truly offer.
Developer platforms and technologies, like Courier, empower all workers in an enterprise to contribute to customer experience and product development, freeing up precious developer time.
As developer platforms continue to drive innovation and how enterprises operate in the cloud economy, this trend is perhaps the one we are most excited about. We believe strongly that more and more functions of the enterprise, from marketing and sales to security and operations, will be "developerized" and transformed through platforms that allow people to extend their capabilities and have a greater and quicker impact on the customers they serve.