The Forbes Cloud 100 returns for 2019
Nominations are now open for the Fourth Annual List of the Best Private Cloud Companies
I am delighted to share nominations are officially open for the 2019 Forbes Cloud 100. For four years now Bessemer Venture Partners has teamed up with Forbes and Salesforce Ventures to bring you the definitive list of the world's top 100 private cloud companies and the emerging cadre of 20 Rising Stars poised to join their ranks.
If the success of last year's Cloud 100 winners is any indication, the competition to make our 2019 list will be steeper than ever. By the last count, there were over 50 private cloud "Unicorns" and almost $200B of combined equity value represented on the 2018 Cloud 100 list. Since the list was released in September 2018, 7 of these honorees graduated from the list by going public.
This includes Zoom (#3), Elastic (#9), Eventbrite (#10), SurveyMonkey (#13), PagerDuty (#16), Anaplan (#26), and Fastly (#56). Combined, these companies have created roughly $40B in market cap.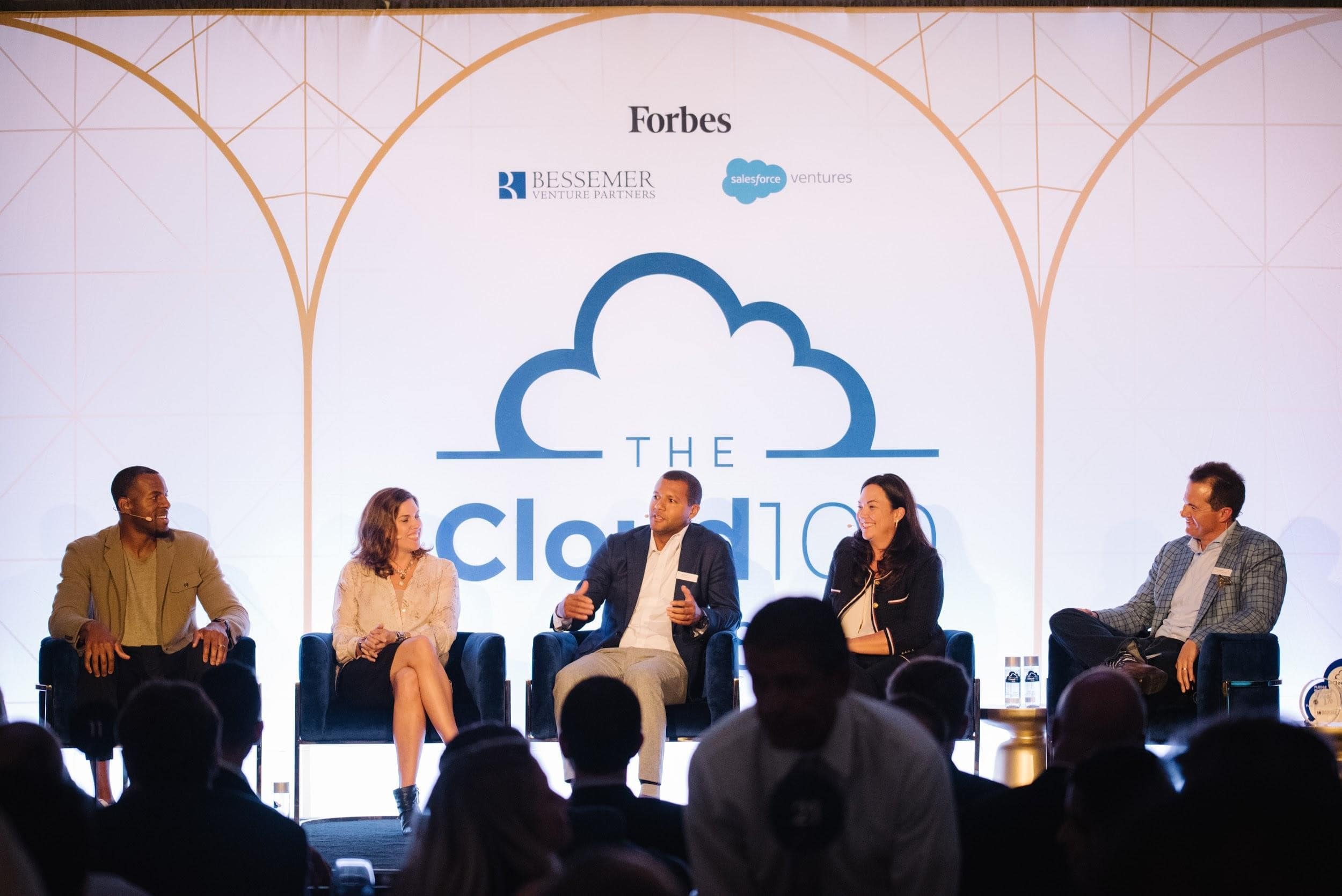 Andre Iguodala (Golden State Warriors), Claire Hughes Johnson (Stripe), Koby Altman (Cleveland Cavaliers), Jennifer Tejada (PagerDuty) interviewed on-stage by Byron Deeter (Bessemer Venture Partners) at The 2018 Cloud 100 Celebration
Other major exits from the 2018 Cloud 100 Honorees include SAP acquiring Qualtrics (#7) for $8 billion and Blackberry acquiring Cylance (#18) for $1.88 billion. Apptus (#27), NewVoiceMedia (#77), Glint (#98), and iCims (#72) also joined forces with some big name acquirers.
Several 2018 Cloud 100 winners raised massive funding rounds to build up their war chest and accelerate their growth, including Toast (#29), raising $250 million at a $2.7B valuation, HashiCorp (#32) raising $100 million at a $1.9B valuation, and Carta (#88) raising $147.8 million at an $800 million valuation.
Last year's 20 Rising Stars, private cloud companies that have raised up to $25 million, featured an all-star lineup of companies with headquarters in places ranging from Israel to Atlanta. Including leading companies such as LaunchDarkly, Benchling, Gong, and Deputy, the 2018 Rising Stars are poised to be the next big things in cloud technology.
Private cloud companies are evaluated by their market leadership, people and culture, and operating metrics, including revenue, funding, and estimated valuation. The Cloud 100 Judges, made up of the leading public cloud company CEOs, will once again determine the Cloud 100 honorees. Our public CEO judges collectively represent a staggering $230 billion in market capitalization. The Cloud 100 Judges qualifications precede them.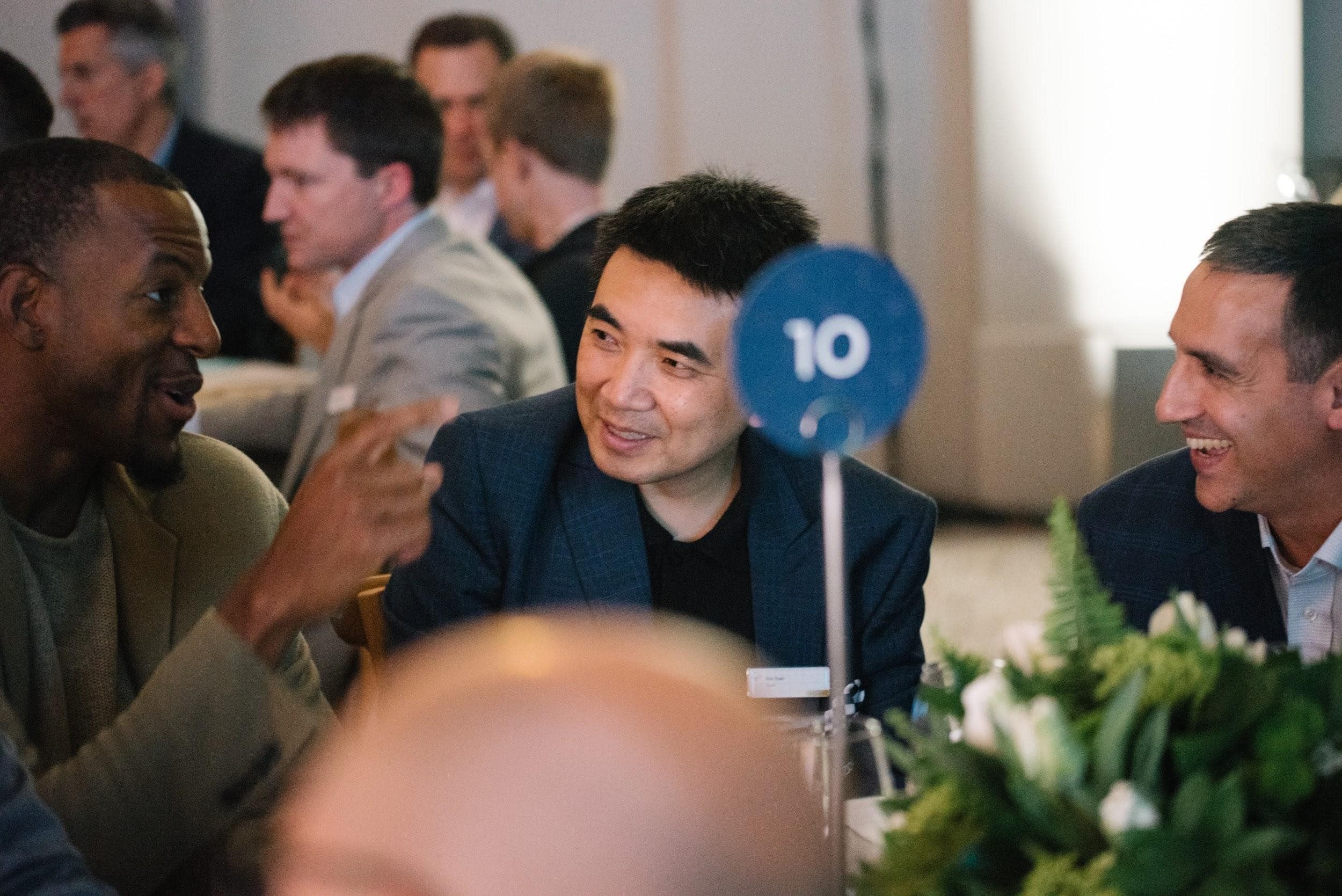 Andre Iguodala (Warriors) and Eric Yuan (founder & CEO, Zoom) at the 2018 Cloud 100 Celebration in San Francisco
Nominations for the 2019 Cloud 100 are open at thecloud100.com and run through Friday, June 28 at 12:00 a.m. ET. In September, Forbes will announce the Cloud 100 and the 20 Rising Stars in Forbes Magazine and on Forbes.com. The program will commence with the Cloud 100 Celebration in San Francisco, an exclusive event bringing together CEOs of the Cloud 100 winners and the Rising Stars, along with the top public cloud CEOs.
Every year, these 120 companies represent the best cloud technology leaders of today and tomorrow. We are honored to celebrate their massive achievements once again.
Good Luck!