Out of stealth: NYDIG raises a $50 million growth equity round
Bessemer Venture Partners invests in NYDIG to be the trusted institutional custodian and asset manager for bitcoin and other digital assets.
NYDIG, our portfolio company, which offers a full suite of institutional-grade digital asset prime brokerage, execution, and custody services, is coming out of stealth today and announcing a $50 million growth equity fundraise. The NYDIG story started in 2017 when Stone Ridge, owner of an alternatives investment firm with more than $10 billion of assets under management, could not find a trusted custodian for digital assets. The Stone Ridge team quickly identified the opportunity to close this gap and bring regulatory-compliant services to the institutional space.
Since Bessemer's initial early-stage investment and the company spinning out as a separate entity three years ago, NYDIG has assembled an incredible team of highly experienced financial services executives, developed a best-in-class technology stack, while navigating the complicated regulatory environment to bring novel products to market.
Sound money
We gained the conviction to invest in NYDIG after several years of research and honing our thesis across the crypto landscape. While not alone in this thinking, we strongly believe bitcoin will become a globally accepted asset class that institutions will increasingly seek portfolio exposure to given its asymmetric risk profile, scarcity characteristics, and ability to serve as a digital store of value. With the rapid expansion of central bank balance sheets around the globe, bitcoin is poised to serve as "digital gold" and a hedge against future inflation.
The crypto markets have largely been driven to date by influxes of retail investors, with institutions largely remaining on the sideline. The speed of institutional adoption has not been due to a lack of interest, but rather the absence of a broad suite of regulated, institutional-grade products and services in the market. With Grayscale's reporting on record inflows into GBTC quarter-after-quarter, it's clear that institutional demand for this emerging asset class has hit an inflection point. The technical hurdles and regulatory friction have made it difficult for institutions to invest and manage these new stores of value—until now.
Institutional crypto services
With the demand for digital assets on the rise, how do investors reduce these barriers for institutions? The answer starts with a foundation of secure custody.
While NYDIG's product offering started with custody, we believe securing digital assets alone is not enough to build institutional demand in a meaningful way. Institutions are looking for a host of services that help them gain exposure to the crypto markets, generate yield on their crypto holdings, reduce volatility, and hedge exposure. Just as important, institutions are looking for the same regulated, audited, white-glove experience they are accustomed to when investing in other asset classes. At the time of our initial investment in NYDIG almost three years ago, that is exactly what the founding team set out to build, and we couldn't be more excited with the progress to date.
NYDIG has created the leading platform for sophisticated institutions and individuals to access the crypto world—a true one-stop-shop for custody, execution, derivatives and yield enhancement strategies, and financing services. With NYDIG, university endowments, family offices, RIAs, banks, and other financial organizations can finally receive the institutional-grade experience they require to access the crypto markets.
A family office, for example, can mandate NYDIG to buy or sell crypto on their behalf within a well-defined set of parameters. A large HODLer may work with NYDIG to get leverage or generate yield on their portfolio. A university endowment may partner with NYDIG so they can receive, secure, and manage crypto donations. NYDIG provides a managed service for these institutions and differentiates by building products that are designed to satisfy the highest regulatory, audit, and governance standards for their clients. In the largely unregulated crypto world, having a trusted provider who emphasizes regulatory compliance is critical.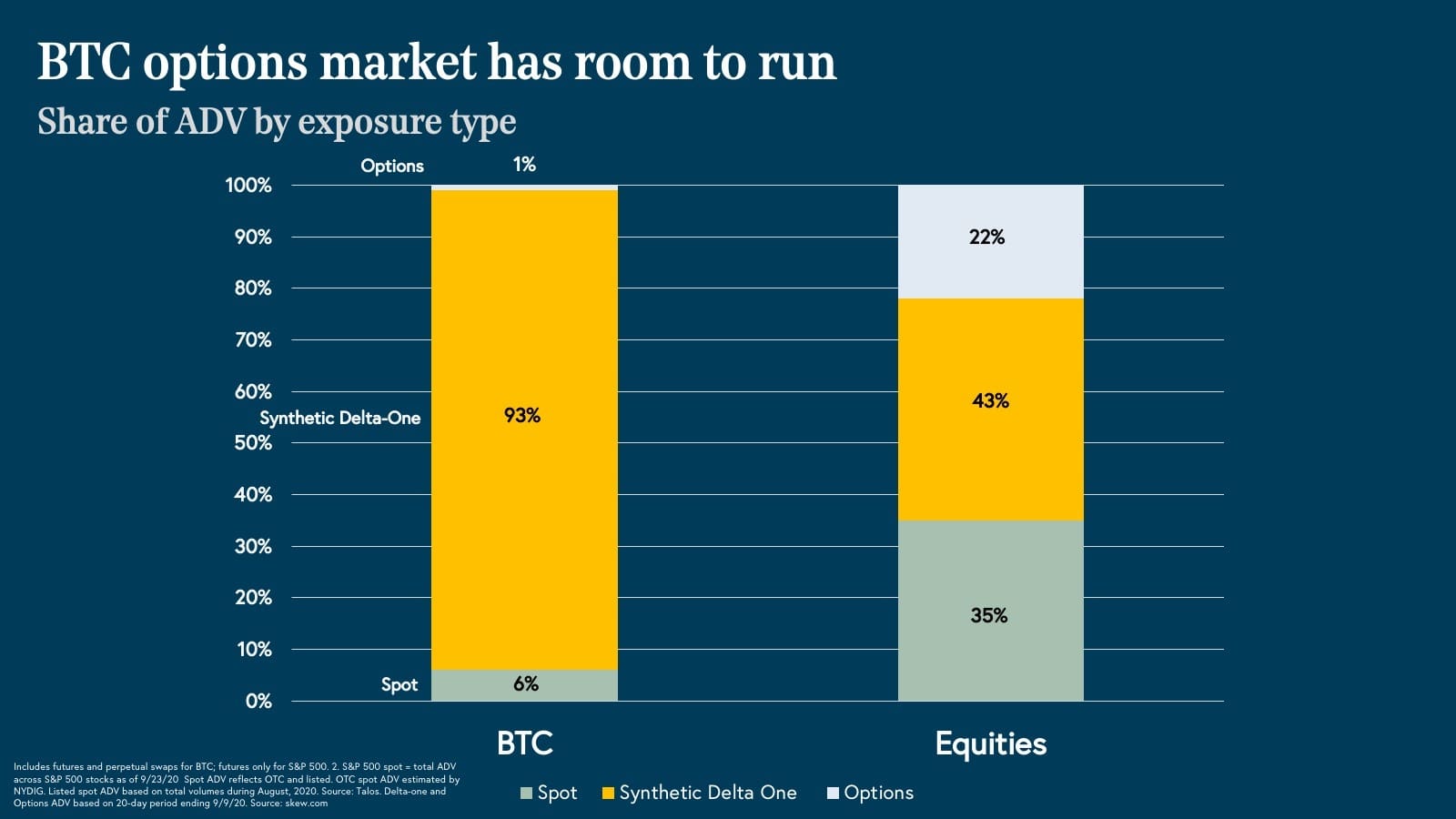 In addition, NYDIG's innovations in the derivatives world offer an array of yield enhancement and volatility hedging strategies. Options only account for ~1% of the average daily trading volume (ADV) for bitcoin today, relative to 20-25% in more mature markets like equities, oil, and gold. While still nascent today, derivatives trading is quickly emerging as one of the most exciting opportunities in crypto, and a market NYDIG is poised to become a leader in. With the team's deep experience in structuring and marketing derivatives products at Stone Ridge, they've been able to break through where others have failed.
We've also seen NYDIG emerge as an early leader in providing treasury services for corporates looking to hedge their balance sheet against inflation. We're set to see a massive shift toward institutions using bitcoin as a primary treasury reserve asset, considering recent announcements and Stone Ridge's own treasury strategy. As of now, Stone Ridge holds more than 10,000 Bitcoin (currently worth more than $100 million USD) powered by NYDIG. With a world-class product suite and compliance infrastructure, NYDIG is well positioned to serve corporate customers and banks who are looking to partner with digital asset custodians.
About the team
While we could imagine a future with mainstream institutional adoption of crypto assets three years ago, finding the team to build this unique platform required a balance of seasoned financial leaders, technical and regulatory prowess, and the ambition to evolve the industry.
When we learned that the Stone Ridge team was going to build NYDIG, led by CEO Robert Gutmann and Chairman Ross Stevens, it was an obvious partnership for Bessemer. Robert and Ross are co-founders of Stone Ridge, have decades worth of experience in institutional financial services, and a proven track record of being first-movers in a market, despite significant regulatory and operational complexity. Robert and Ross have since assembled a world-class team around them to execute on that vision at NYDIG, most recently announcing several impressive additions to the senior leadership team.
We're incredibly excited to see how this unique team carves a new path as leaders in digital asset management by bringing crypto to the largest institutions in the world.