Why Netlify is the architecture for the next generation of web development
Bessemer Venture Partners leads the $105 million Series D in Netlify, the evangelists of the Jamstack revolution and leaders in the modern web ecosystem.
When Matt Biilmann and Chris Bach, co-founders of Netlify, first pitched Jamstack as the new front-end approach at SmashingConf in 2016, it was a novel paradigm compared to the traditional industry standards for web development. The Jamstack was radically different from the traditional LAMP and MEAN stack approaches, fundamentally decoupling the front-end layer of the web from the back-end business logic layer.
To say that Matt and Chris were ahead of their time in recognizing the potential of the Jamstack would be a gross understatement. Fast forward a few short years, and the power of the Jamstack is no longer a secret. Bolstered by tailwinds including the rise of Git, the popularity of Javascript, and the API economy boom, the Jamstack has gained mainstream adoption and it's been embraced by small and large companies alike—across all levels of technical sophistication—for its tangible advantages over traditional web development approaches. Jamstack has also powered the rise of other market segments, including headless CMS, headless commerce, front-end-as-a-service, and more. The ecosystem is only growing from here.
At Bessemer, we also know the magic of Jamstack firsthand, not just via hearsay from experts, developers, and organizations. As a long-time Netlify customer, Bessemer runs the firm's website and media platform on Jamstack architecture, and we're excited to be part of their growth story as we lead the $105 million Series D in Netlify at a $2 billion valuation.  
JavaScript is the most popular programming language in the world, used by nearly 14 million developers globally who speak about the Jamstack with effusive love. Today, more than 2 million of those developers also use Netlify, with over 1 million developers joining the platform this past year alone. 
As we developed Bessemer's thesis on the future of web development, we knew we could not tell the story without Netlify as a leading protagonist.
Companies across all industries from Affirm to Unilever to Twilio have leveraged Netlify to build, deploy, and scale modern websites and apps using the Jamstack approach. With Netlify, they have been able to take advantage of better developer productivity and satisfaction with improved collaboration, scalability, security, and end-customer experience.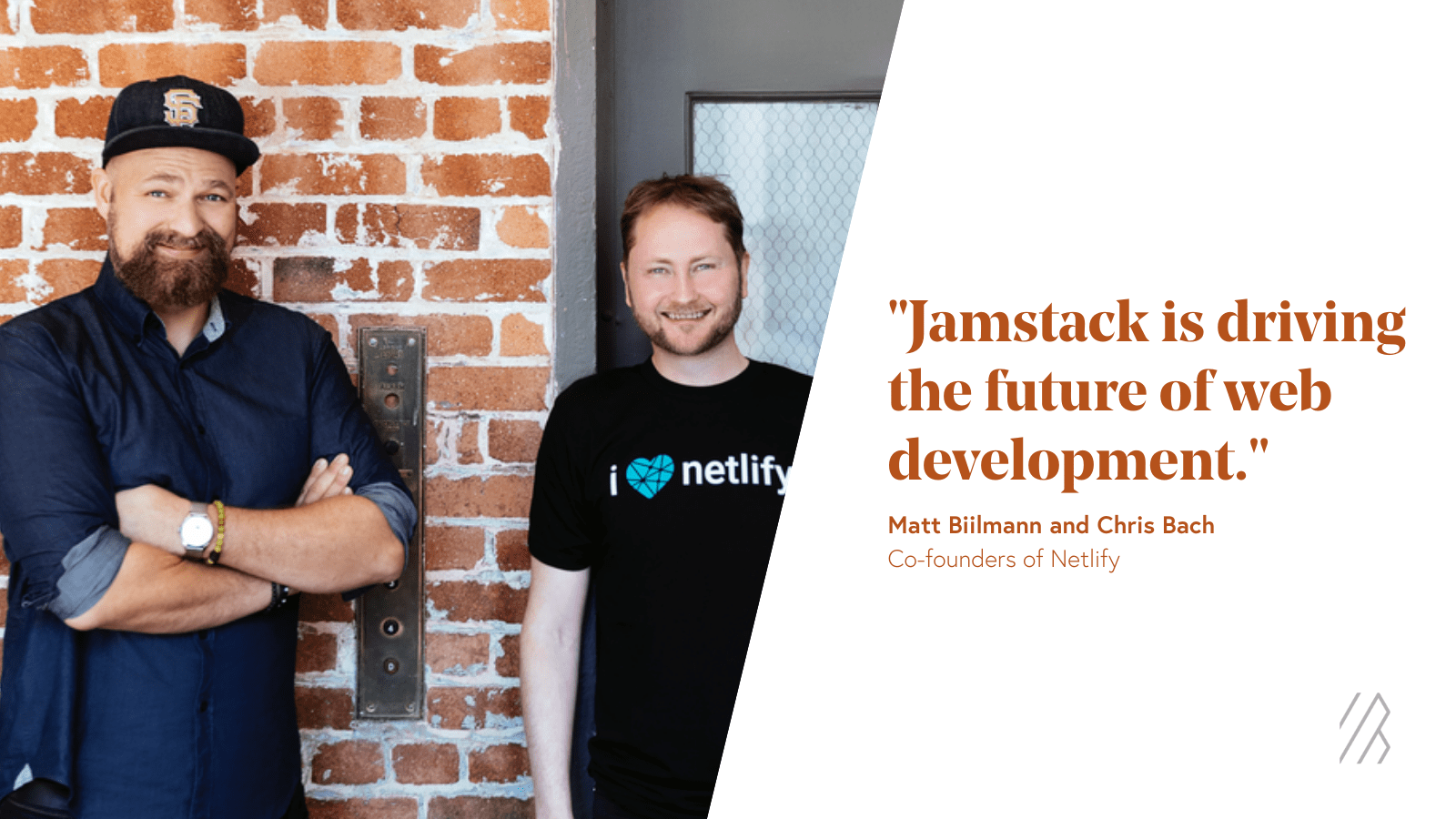 Ushering in this next era of the web ecosystem couldn't be done without the product innovation from Netlfiy's co-founders: Matt and Chris are not only category leaders and technological whizzes, but also leaders of high-integrity who have brought on an equally exceptional All-Star team, including COO Marcus Bragg (of AlienVault, AT&T), CRO Zeeshan Yoonas (of Twilio, AWS), SVP Engineering Dana Lawson (of GitHub, InVision), and VP Product Akram Hussein (of Uber, Microsoft Azure).
And the most exciting realization is that Netlify's story is just beginning. Alongside the investment, Netlify announced its purchase of OneGraph, which provides the easiest way to build and manage integrations with third-party services through its consistent GraphQL interface. This acquisition is core to Netlify's journey to unite the Jamstack ecosystem and to deliver the best developer experience for the web.
On Bessemer's Growth team, we're looking to partner with companies that will define the next century of how we live, work, and do business. Netlify is one of those companies. We are confident that Netlify will continue to lead the Jamstack revolution and make an indelible mark on the future of web development. We are thrilled to be partnering with Matt, Chris, and the team on that journey.