Charting the rise of the student builder
Today's students are taking their learning into their own hands with an innovative software suite and a builder mindset.
Education is changing. Where passive learning was once de rigeur, today's students are finding opportunities to take their education into their own hands to actively build and create. Students create apps on Codeverse, games on Minecraft, music on Rapchat, graphics on Canva, and a multitude of creative projects on Monthly. The definition of a "student" is also rapidly changing.
As the pace of technological innovations accelerates, students of all ages and backgrounds are looking for ways to use projects to learn, refine, and share skills—from software development to video creation to crypto. The builder mindset is ripe with potential to disrupt modern education.
Pursuing passion-based "projects" is both a learning opportunity for students and a way to make money. Creators of products and personal brands can monetize on their talents and skills. The economic incentives for project-based learning go well beyond the surging creator economy. They also prepare students for today's in-demand careers like software development, game creation, data science, product marketing and talent team building since they share common requirements: The ability to think creatively, constantly upskill, and manage projects independently.
Digital passion-projects are akin to internships and are investments in future resumes considering the evolving jobs market. For example, in one report, developer employment was projected to grow 22% by 2028, faster than the average projected rate of growth for all occupations (5%).
Since online resources are far more accessible than they were a decade ago—from price to ease of use—the barrier of entry is lower than ever for internet users to become students of new skills. And these students are eager to learn and apply these skills through the process of designing, creating and sharing projects like games, websites, content, apps, communities and more.
In the past, the concept of "project-based learning" still required the traditional classroom model: student attends physical school, teacher determines curriculum, teacher offers a range of potential projects, teacher grades the project, project is completed.
Today's students are empowered to set their own curriculums and manage their learning using online resources and communities as their guides. They can seek out increasingly more robust online projects, consume the requisite content to educate themselves, and access tools simple enough to start building quickly.
Today's students are empowered to set their own curriculums.
These projects don't require the presence of the in-person teacher, are uniquely suited to an individual student's interests, and can be extended far beyond the possibilities of a classroom PowerPoint. For students who encounter hitches in the building process, there are many increasingly accessible non-traditional-teacher resources, from online and IRL communities to YouTube videos. Students can access a global expert for their unique building problem in seconds.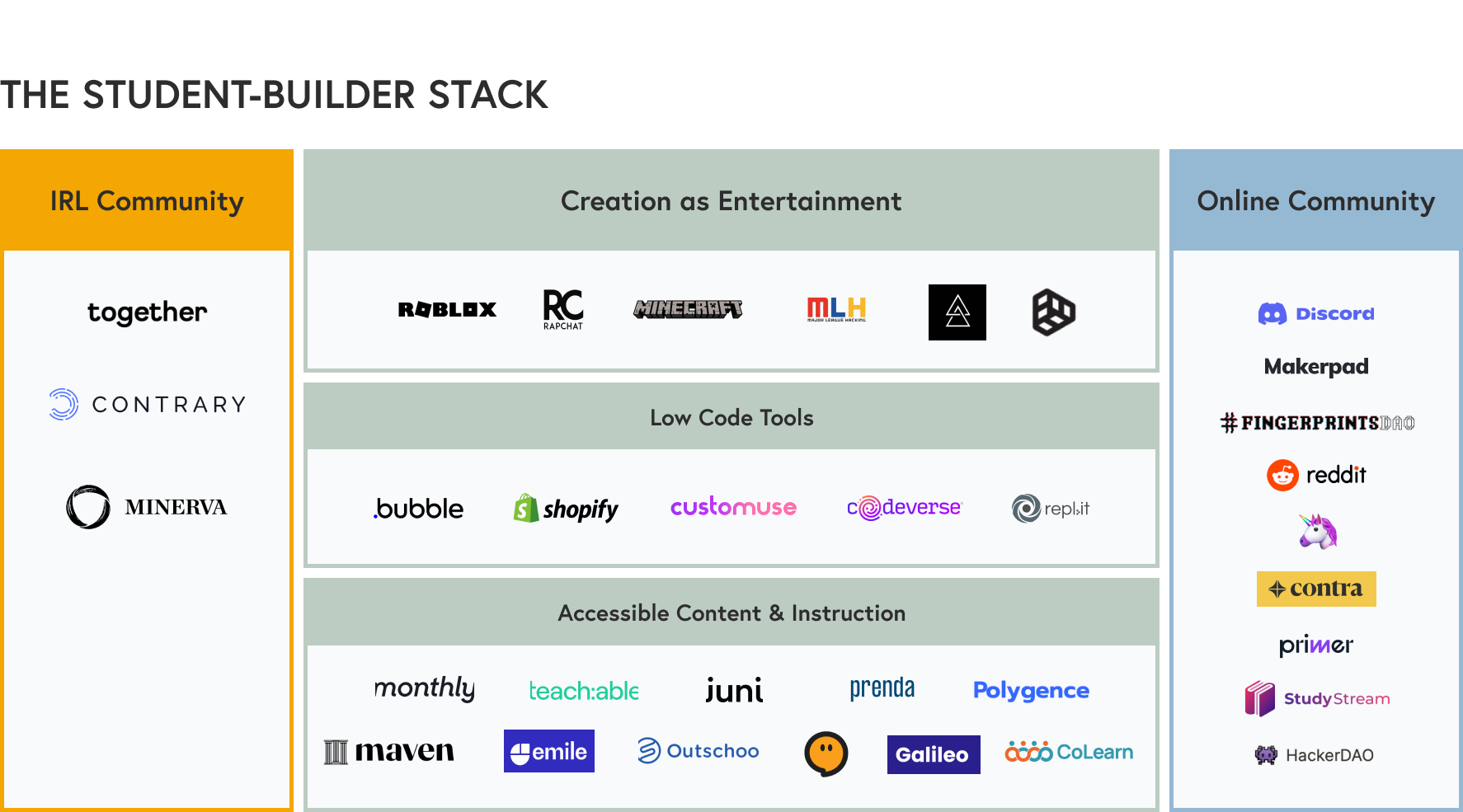 Why are student builders on the rise right now?
The barrier to self-education is lowering. The best teachers in the world can offer their lessons on Teachable, Monthly, Domestika, Outschool and more. These classes are highly verticalized (technically or creatively), allow access regardless of physical location, and are far more affordable than attending a traditional higher education institution. Additionally, tools like CoLearn Club make it easier than ever for parents to manage online and non-traditional educational experiences for younger students with their tools for keeping track of remote and at-home educational experiences.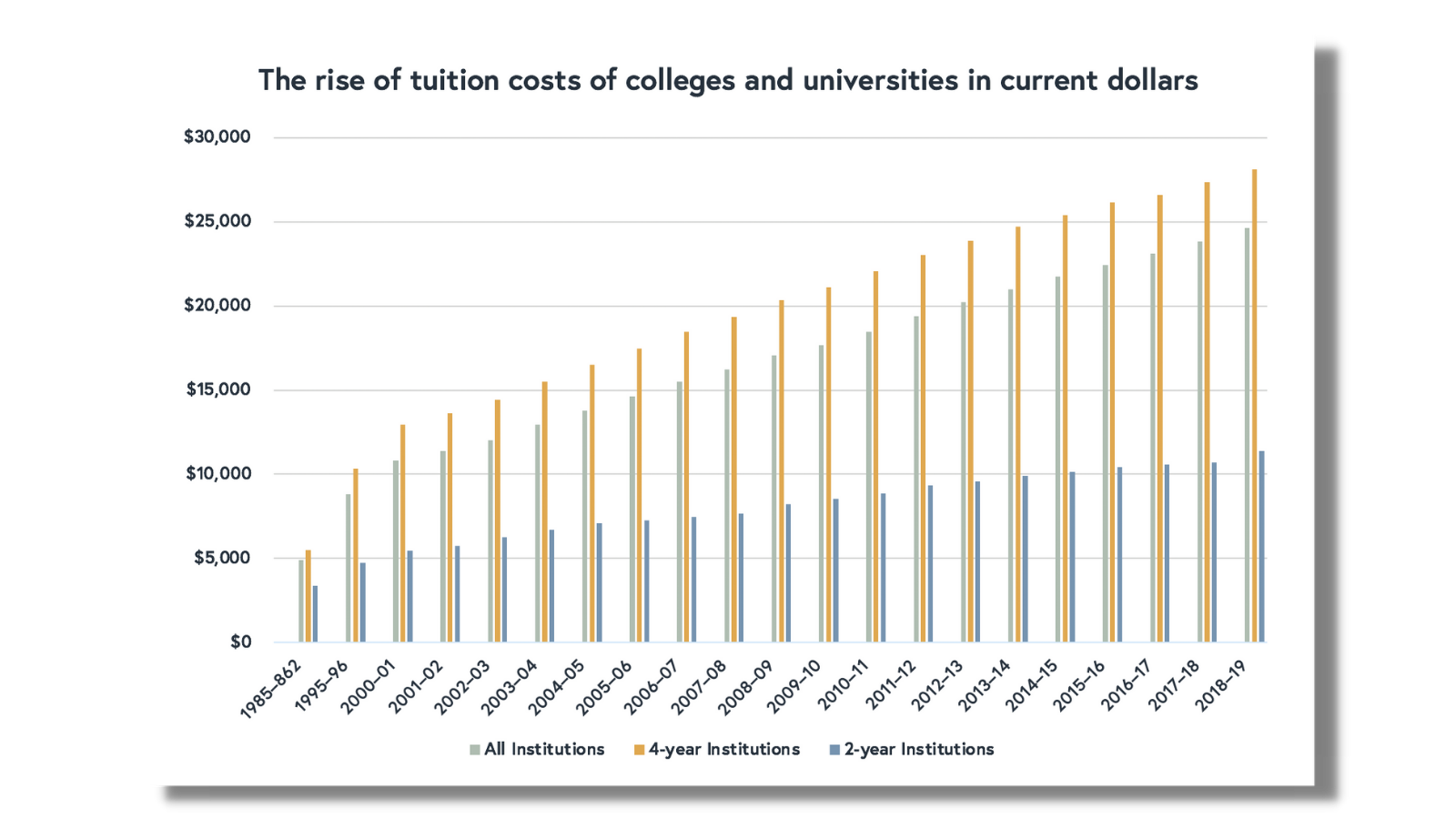 The future of the student builder
In conjunction with the rising cost of higher education and the shift in the labor market towards the "builder mindset," we predict a shift away from traditional educational models. Even for students who do attend traditional higher educational institutions, this "builder" mindset will increasingly permeate campus activity, course content, and job opportunities post-graduation.
We'll see more platforms and online communities enable students to go deep on their passions, adopt the "build/test/iterate" mindset, launch projects, and continuously self-educate and upskill. A whole cohort of companies are rising to more easily enable this behavior with new products and payment models.
At Bessemer, we're beyond excited to connect with the founders building in this space. If this theme resonates with what you're building, please email us at asukin@bvp.com and sdadi@bvp.com.