Podcast: Cloud Giants
On Cloud Giants, a show brought to you by Bessemer Venture Partners, Byron Deeter interviews entrepreneurs, founders, and great leaders who have built world-changing cloud companies.
As a former founder and investor in the cloud for nearly two decades, Byron Deeter has seen what it takes to grow a cloud company from humble beginnings into a massive public company. These companies and their leaders have changed the way we live, work, and play.
On Cloud Giants, you'll hear the conversations Byron Deeter has with exceptional cloud leaders. They talk about how they got started, the struggles and lessons learned as they built and scaled the company, and what it was like to be in the trenches together, not only as business partners but also as friends.
Don't miss an episode! Subscribe to Cloud Giants today:
Episode 16: Daniel Dines, CEO of UiPath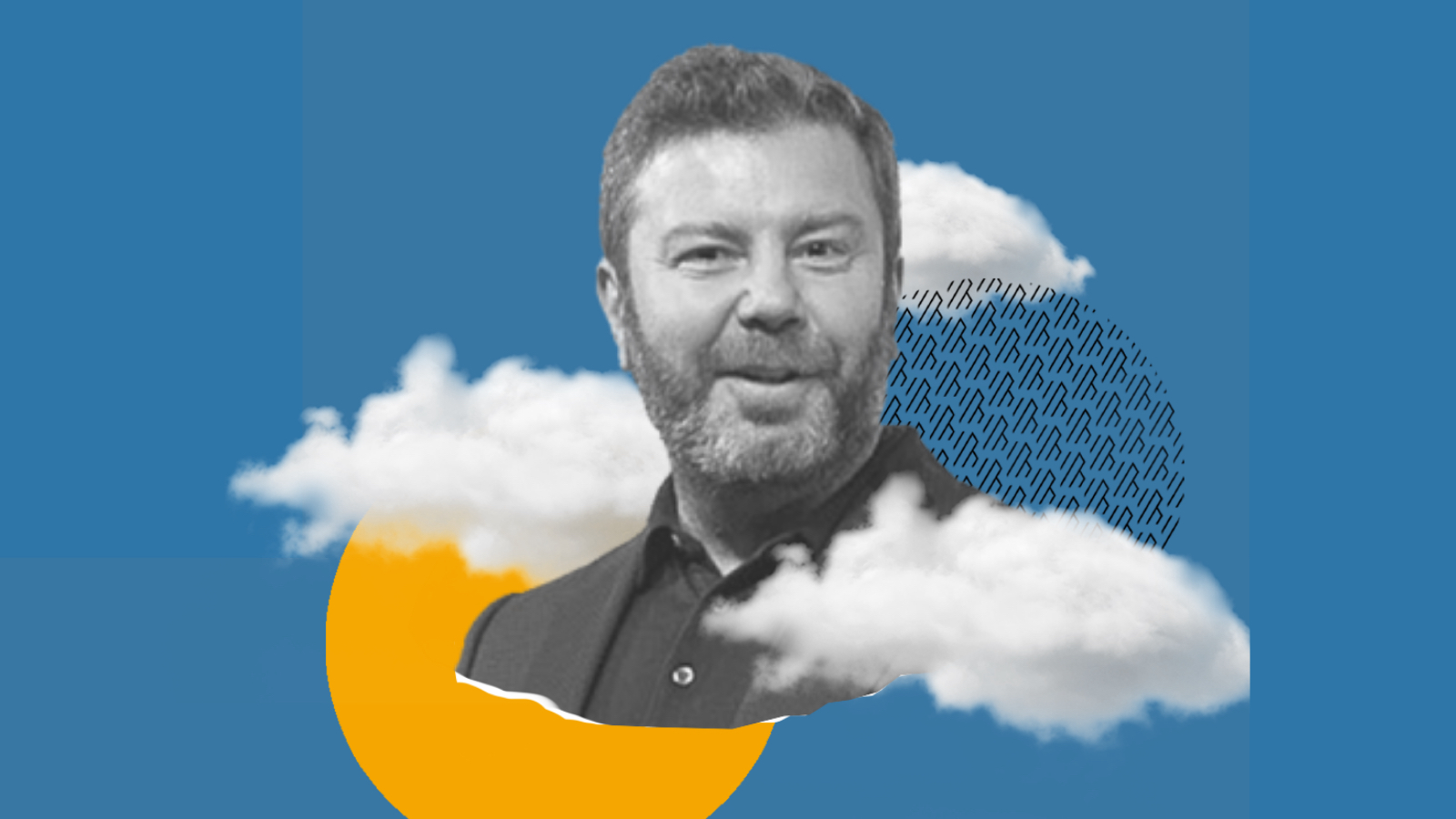 Daniel Dines is the co-founder and CEO of UiPath, a leading provider of enterprise automation software. Dines started UiPath in 2005 with the goal of building a solution that could help humans reduce the time and stress that come from menial, administrative business tasks. Today, Dines' vision is to make software robots, powered by computer vision and AI, as common as PCs in the workplace. 
He not only graduated from the Cloud 100 list in 2021, but also did so with record-breaking success in its most recent IPO in April. UiPath raised $2 billion of venture capital on their way to a blockbuster IPO and today trades well above $30 billion in the public markets. In this episode, Daniel talks about the early days of being a developer, the challenges and opportunities of starting a business in Bucharest, Romania, and his unique way of leading and managing his own mindset in order to drive success for UiPath with 3,000 employees around the globe.
Key takeaways from this episode include: 
The early ups-and-downs of Daniel's entrepreneurial career: "So we had some pivots along the way. We started as a consumer account, basically as an outsourcing company to bootstrap our products. And then we got into consumer products - they didn't work - so we took a piece of technology from that which was able to understand the screens and converted it into an OEM business. That OEM business was the only one that we were able to make relatively successful. So it generated kind of a lifestyle based for us - 100, 200K per year, in 2010, 2011," explained Daniel. "And that was really not what I wanted from life. I felt that I ruined my career. I went into doing anything, but I was better at nothing at the same time. As an engineer, I still had the pride of building something and deeply understanding something. But that journey was essential for my formation as CEO." 
Why building a GTM strategy is like surfing: "In time, I developed the simple philosophy, but you really have to understand which wave you caught and you build your business strategy according to how fast this wave goes. It's like in surfing," Daniel says. "You cannot fight the wave, you'll definitely cannot go faster than it so, for some reason we were able to understand this. So initially this working only pre-sales engineers was the best way because we are a completely indirect company. We didn't have the muscle to talk to big enterprises. I didn't even know how they source software. I didn't know anything about this. So we used our pre-sales engineers mostly to talk with partners as sales and we train their people. A lot of pilots, POCs, all this stuff. So it was essential that we are completely indirect in a way and we trained our partners. Later on where we realized we needed direct sales force. And that was a different stage of the company. When we got to build the direct sales after our Series A in 2017." 
How he keeps perspective: "I have a bit of a more anxious nature than many. And being a bit anxious since I was a kid, I trained myself to find some inner peace somehow. When I have a bout of anxiety, I built, since I was like 12, this coping mechanism [of reading]. One thing that works very well to me is to put things in perspective. It doesn't really matter at the cost level what you are going to do right now. Just focus on the moment," Daniel shares. "Again, it's that outcome doesn't matter so much, this outcome in the next few years is not going to be so important. This is something that entrepreneurs don't ever think about, but I'm thinking a lot about life and death, and I believe life and death are really one thing, life would not exist without death."
Micro Season: Cloud 100 2020 Summit
As we close out the year, Byron Deeter, host of Cloud Giants, brings you a special micro season featuring some of the conversations we had at this year's Cloud 100 2020 Summit. In these five episodes, you'll hear from top CEOs on topics ranging from what matters to the new guard of tech, how developer platforms will run the world, what makes millennials and Gen Z approach entrepreneurship differently, and so much more.
Trailer
What Matters to the New Guard of Tech
As we all know, today's leaders are the drivers of tomorrow's innovations but they also play a large role in supporting social movements, philanthropy, and giving back to build a better tomorrow. At Cloud 100, we heard what the new guard of tech increasingly wants as told through the stories of four CEOs: Stephen Curry, CEO of SC30, Inc. and athlete for the Golden State Warriors, Eric Yuan, CEO of Zoom, Frank Slootman, CEO of Snowflake, and Jennifer Tejada, CEO of PagerDuty. In this conversation, They discuss the legacies they hope to build with the companies they're leading and how their values translate into the change they're driving and the decisions they make each day. Together these leaders dive into the strategies to future-proof their businesses and the future of the tech industry. You're in for a real treat.
The Go to Market Learning Curve
In this special episode from Cloud 100, we're talking about how the go-to-market strategies of B2B SaaS companies have evolved over the years, as more companies successfully scale at breakneck speeds. In this conversation, Karen Peacock, CEO of Intercom, Nick Mehta, CEO of Gainsight, and Manny Medina, CEO of Outreach, discuss the various models of GTM success as cloud companies build, grow, and scale. Plus they share frameworks and advice to leaders on the decisions they navigate in order to align functionally across the organization and drive customer adoption, retention, and expansion.
What I Wish I Knew Before The IPO
For any leader that has helped a company go public they know one thing is true: The IPO isn't the finish line—it's a new beginning. In this conversation, Pierre Naude, CEO of nCino, Therese Tucker, CEO of BlackLine, and Zander Lurie, CEO of SurveyMonkey share what they wish they knew before leading their company through the transition of going private to public, and the leadership advice they'd offer emerging cloud leaders today.
How Developer Platforms Will Run The World
Edith Harbaugh, CEO of LaunchDarkly, Yancey Spruill, CEO of DigitalOcean, and Dave MacJannet, CEO of HashiCorp, come together to discuss how their companies serve the global developer community, the strategies they've implemented to earn the trust of developers who use their products, and the stories behind how organizations and the world have changed due to developer innovation.
The Rising Stars of the Cloud
In this final episode of this special micro season of Cloud 100 conversations, we're highlighting the rising stars of the cloud industry and the ways in which Millennial and Gen Z entrepreneurs are approaching company building with fresh eyes and unique values. In this conversation, we hear the founding stories of Baron Davis, former NBA allstar and CEO of Baron Davis Enterprises, Elizabeth Zalman, CEO of StrongDM, and Yonas Beshawred, CEO of Stackshare and what motivates them to build new solutions on the cutting edge of their fields.
Episode 10: Scott Farquhar, CEO of Atlassian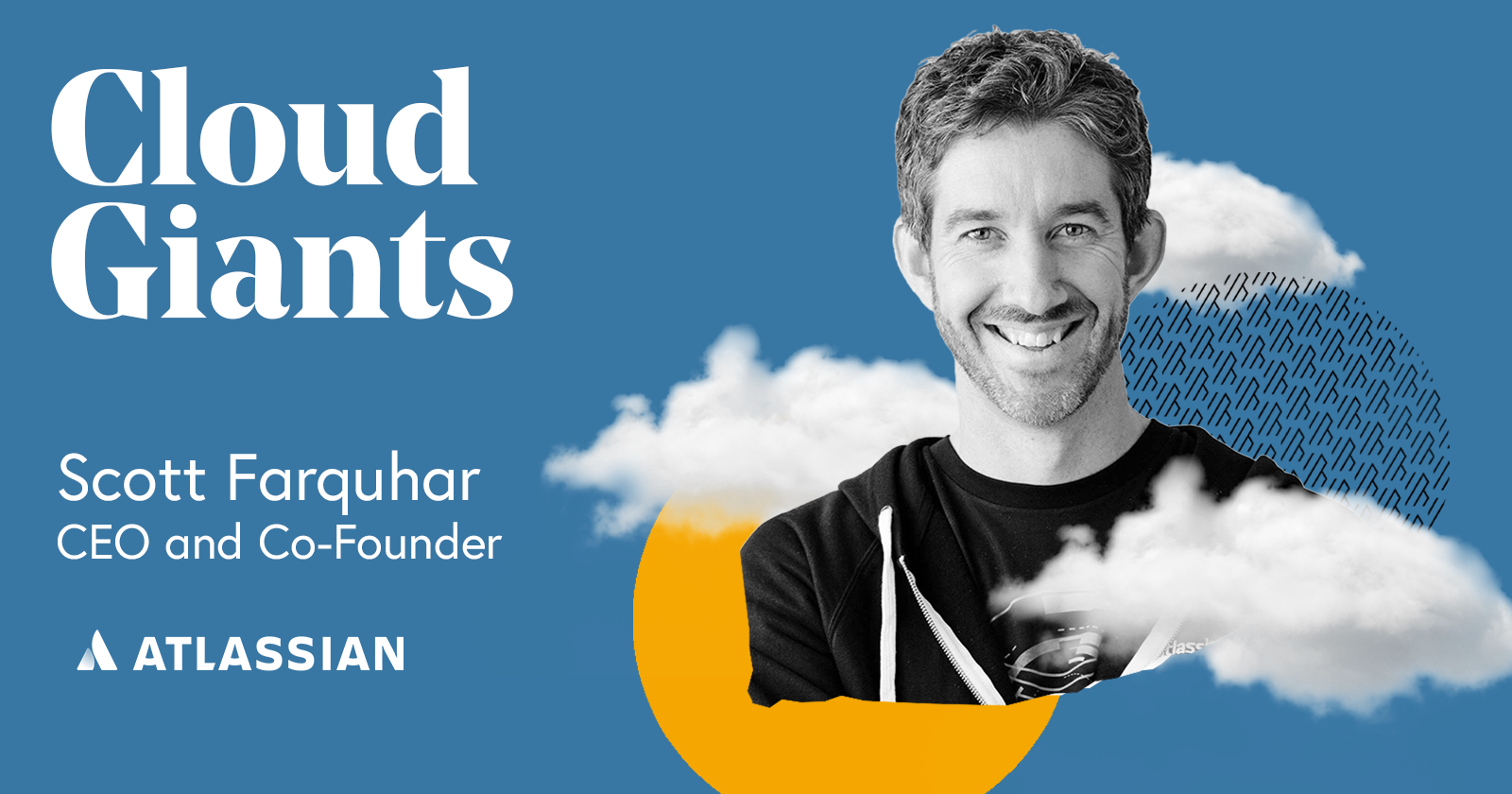 Scott Farquhar is the co-founder and co-CEO of Atlassian. At a roughly $50 billion dollar market cap, they're not only the pride of Australian tech, but one of the flag bearers for cloud and developer platforms globally. Millions of users globally rely on Atlassian products every day for improving software development, project management, collaboration, and code quality. In this episode, he shares the story of Atlassian's founding and its early days, the leadership insights he's learned throughout Atlassian's 18-year journey, and what he thinks work will be like in the coming decade.
Key takeaways from this episode include:
How Atlassian made an early bet on the web: "Every company exists in a time and a place. It's a bit like relationships, I guess. There's a certain time when you might meet your future partner in life, but if you'd met the exact same person at a different time or in a different circumstance, things might not have worked out," Scott said. "And I think it's the same with companies, that there's a time and a place and an environment for which a company would thrive. If you tried to start Facebook today, it wouldn't be successful, because probably something else out there would already exist. And I think if you look back at the environment that we were operating in, in 2001, Google was just being started, effectively. I remember buying AdWords at 10 cents a click. I think our advertising budget each month might have been $5,000 or something, or hundreds of dollars. It was very meager, but yet we could reach a lot of people. Open-source software was becoming a big thing, so that allowed us to build a new product really quickly. We also had a transition which a younger generation wouldn't remember, but most software back then was client-server. So you would build effectively a server that no one saw and you would have all these desktop clients. So you'd build Windows versions of your product. And we were lucky that we started by building a browser-based version of our product to start with because we made a bet on the web. And it was interesting that all of our competitors at the time that were out there, they did a hybrid approach. They had to maintain both their old version that was client-server and their new browser-based version. So they actually had twice as much surface area to code. We were using open source so we could catch up really quickly. We could attract customers because we had almost a shareware style, try-before-you-buy business model, which was very different to what their business models were, which was heavy sales back then. So I guess there was an interesting moment of just all those things coming together that allowed us to build something special and also compete against the incumbents in a way that they couldn't respond to."
Common errors that small vs. larger companies make: "When you're a small company, the errors you make are errors of commission, you do something and it's wrong," Scott said. "And I think [when] you get larger as a company, most of the errors you make are errors of omission, they're things you didn't do or you should have done or of that nature. And if I look at most of the errors we've made as a business, it has been about not being aggressive enough in backing new things that we've been doing. And we've been really successful with what we've done and we've built many multi-hundred-million-dollar products inside Atlassian. We've acquired companies. So, we've done a lot of things well. But where we've failed, say in HipChat, it was where things were going really well but we didn't double and triple down on things that we were doing. Now, it's always a zero-sum game a little bit in terms of where you can invest, management time, and so forth. But what I've found from the technology industry is there's, again, a window where you can be successful and you have to really take that opportunity and double down on something, even at the expense of saying no to other things. So again, HipChat versus, say, Slack, would be a good example where we were early to the market, we were already growing 400%, but we should have been growing 1,000% year-on-year, we just didn't realize the opportunity. And there are other examples of products where we could have been, I guess, more aggressive in investments early on."
Guidelines for making acquisitions: "On the M&A side of things, I've got a really strict way of thinking about things: do we share the same mission? For us, it's to unleash the potential of every team. And if they also believe that, well, that's the first bar," Scott said. "Then you have to look at, do they have similar values and culture to you as a company? And if they don't, you've got to walk away. Even though things may make sense on a spreadsheet basis, you shouldn't do that acquisition because it's going to really hurt you and hurt them. Then over time, you've got to say, 'Well, do they have a similar business model?' because even though you say, 'I want to unleash the potential of every team,' if I acquired something that's had a Workday-like sales model, which is heavy enterprise sales, top-down, that would really be a struggle. And then you got to look at everything after that, technology fit and geographic location of their employees and so forth. So we've always had a really strong bias, I guess, toward those things. And we did acquisitions early. In 2005, we did our first acquisition. And laughably, I think these days, it was single-digit millions, and we bought great products, Fisheye, Crucible, and Clover, and they've all gone on to be amazing products inside Atlassian. And we were lucky they were Australia-based. They wanted to sell. And that's the other thing I've realized with acquisitions, that acquisitions are always at a time when the acquired company wants to sell. It's never at a time when the buyer wants to buy. And for them it was some personal things going on. So we ended up picking up a team of, I think, six or seven developers that were actually in Sydney right next door to us, which was very easy. And I think we've still got over half their staff members with us, what are we, 15 years later. So we've done really well with that one."
The cloud as the future: "If we started Atlassian today, we would be cloud-only. We believe that the future is cloud," Scott said. "And I don't think you would speak with any startup these days that would say, 'In 20 years' time, we expect people to be buying our software, installing our operating system, installing the software on a piece of hardware that they put in their own cool room.' No one's going to be doing that. And then you say, 'Oh, OK, well maybe they deliver on public cloud.' But then you think, 'Well, what's the difference between you putting something on the public cloud and us putting something in the public cloud and managing it for you?' So everyone I speak to says the long-term destination is cloud. There are certain industries or other ones, whether it's certain compliances or other things, so there is almost an infinite list of certifications and compliance that we as a vendor need to get in the cloud. But the future for all software vendors should be in the cloud."
Leadership during a pandemic: "Someone said to me recently that we're not all working from home, we're all working from home in the middle of a crisis. And I do think that's the way many people feel, and I know that's the way I felt for a while, is that there's so many things going on in the world, it's not just about how you're working, that are affecting everyone, whether it's social unrest for very good reasons or it is the fact that people are trying to homeschool and trying to learn how to be a teacher at the same time as learning how to work from home. So it has been a very turbulent time. I've been extremely proud of how our team at Atlassian has responded. And we've done all the things that you would expect, giving people latitude to make sure their home office environment is productive, including replicating our Friday in-office activities such as a live DJ running a set through Zoom—half of the company dials in and listens and spends the time chatting with one another. So we've just done a lot of things like that to try and make it fun, and people maintain those bonds that are so important. And I know as a leader, I think we've been called upon to have answers for a lot of things. I know that particularly around Black Lives Matter and the injustices faced by people of color around the world is something that they don't teach you in business school. So I spent a lot of time trying to self-educate. I've listened to a lot of books, podcasts, talked to speakers, experts in this area to try and educate myself quickly about these matters. But I respect that I have a long way to go on all of them."
Episode 9: Eric Yuan, CEO of Zoom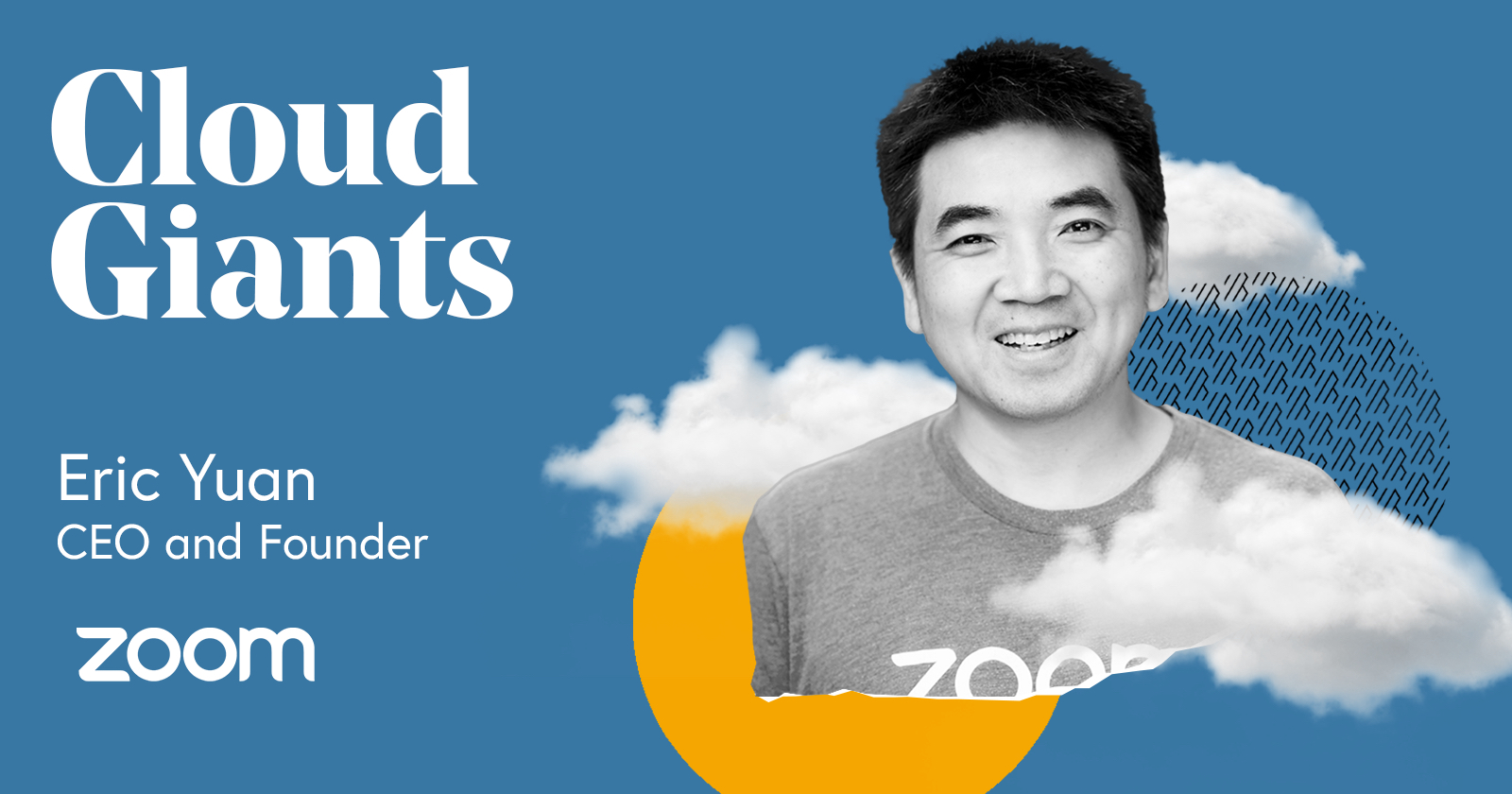 Eric Yuan is the founder and CEO of Zoom. Especially in the age of COVID-19 and remote work, hundreds of millions of people have used Zoom, the company delivering frictionless video communication. In many ways, he's built a platform that shapes a generation. In this episode, he shares the story behind this epic journey and how he's built the company that so many people depend on to stay connected at work and in our personal lives.
How Zoom established a very loyal user community early on: "When you build any product, you've got to have a very loyal user base to service. If you cannot find a very loyal user community, it's really hard," Eric said. "You can keep listening to them, keep improving, and send your new features to them. But how can you establish a very loyal user community? From our perspective, we think you first have to give users all the features. In our case, we give all the features for free for one to one calls. When it comes to multiple-participant video conferencing, we also give all the features for free but limit the meeting to 40 minutes. After 40 minutes, if you want you can start another meeting. We still allow you to do that. The customer really likes that. In the early days, if any paid customer cancels the service, I'd always personally reach out to those canceled paid subscribers, try to understand what happened. Take a step back and keep improving, and after that, we tell the customer, 'Hey, we already fixed this problem. Do you want to try again?' Or I give free access. And with that, with several years' effort, we can establish a very loyal user community. And after that everything else is relatively straightforward and easier."
How focusing on customers' perspective helped drive Zoom's pricing strategy: "In the early days of Zoom, quite often our sales team told me, 'Eric, we've got to increase the price. We added more features,'" Eric said. "But I always told them no. Our philosophy is always to make sure you add more value, and at the same time keep the same price. Because down the road, the customer will realize, 'Wow, I paid $14.99, and you keep adding more and more features, gaining more and more value, but you still keep the same price.' With that, you can establish trust. That's one. The second, the reason why I'm personally involved is because I wanted to build a culture. Everyone's got to look at everything from a customer perspective. Always care about the customers. You've got to lead by example. When it comes to price, provide a greater product and more value, but don't increase the price. At the same time, build the culture, be customer-focused."
The importance of making business principles and values tangible: "When I started the company, over the past several years, if you asked me what's the most important thing, I'd always say the company culture and the company value. We do all we can to think about the greater culture, to make sure we have a greater value and hire those people who can fit well into your company culture and value. That's our focus," Eric said. "But this pandemic crisis truly taught me one more thing: That's not good enough. I still remember the Bridgewater Associates founder and CEO Ray Dalio. He taught me, 'Eric, there's one thing missing for you. You've got to write down your company's business principles.' I know that's very important, but I didn't quite really get what he said. Until recently, I realized that's a big mistake, that's a huge mistake I made. We should have written down all those business principles. The reason why is when suddenly you have a crisis like this, a pandemic crisis, suddenly your metrics grow 30 times. There are a lot of areas that might've been broken. You have to delegate it to your team to fix all those issues, to embrace the growth. If you do not write down your business principle, guess what? Quite often, you are going to make a lot of mistakes here and there. But how can you make sure you follow your business principles? That's the key. Now, actually, we are doubling up on that. We are going to have a full-time position to focus on writing our business principles on many fronts."
The key to Zoom's success in a competitive product space: "If you look at any competitive landscape, there are three things: Your company, your competitors, and customers," Eric said. "If you laser-focus on just your customers, your users, don't look at what your competitors do. Then you can sleep well. Then you can make the right decisions. Then you can deliver better service, more innovations to serve your end users. Otherwise, you look at all those competitors' names, you will think, 'Oh wow, they might catch up tomorrow.' The more you are thinking, the more you are going to look at what they are doing. Then you spend less time on serving your customers. Don't look at any of your competitors. Double down, triple down, on your customers. That's our secret sauce."
The importance of staying humble and working hard: "We were fortunate. We started a company here in Silicon Valley. I lived here for many, many years, learned from so many other successful entrepreneurs and leaders. I'm so grateful," Eric said. "Now I also have so many mentors here, they all taught me one thing: 'Eric, no matter what you're going to do, always hard work, hard work, hard work,' right? Even my father told me that as well. Before I came here, my father taught me how to work and stay humble. At the same time, a lot of leaders, even before I started over the past several years, or even recently, they told me that no matter what, always think about what you and your company can do for the world, and be humble. Humanity is really important.
Episode 8: Therese Tucker, CEO of Blackline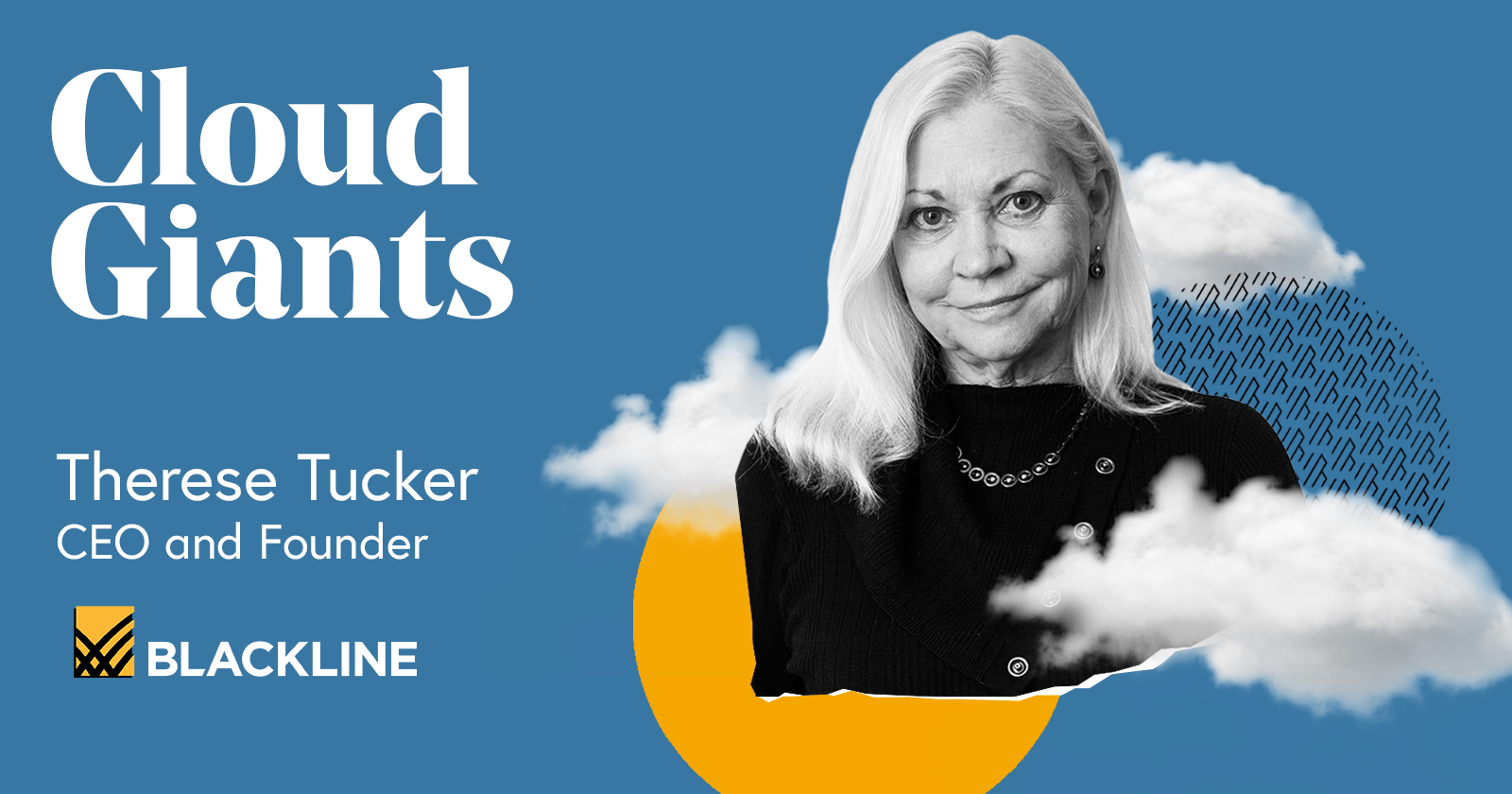 Therese Tucker is the CEO and founder of BlackLine, the enterprise SaaS company that helps businesses, like Coca Cola, EBay, Nasdaq, and more, automate accounting. BlackLine was a leader in the first wave of the cloud movement, founded in 2001, and went public in 2016. In this episode, we hear Therese's story on what it was like to be an early cloud leader and learn the wisdom she has to share with today's emerging founders in our industry.
Key takeaways from this episode include:
The problems money can't solve when creating a new market: "The reality is that creating a new market is a fairly slow process, no matter how much money you take and throw at it," Therese said. "Getting people aware, doing the education piece, getting through sort of a process and seeing that develop does not happen overnight. I still get frustrated because we have over 3,000 customers and I'm like, 'Why don't we have 30,000?' And so much of that is because of our market, and because our buyer is risk-averse and moves slowly."
Advice for solo founders wondering if they should seek co-founders: "Someone once told me that it's very hard to get things done by committee. But at the end of the day, the buck stops with one person, not a committee. Even among the companies that have co-founders there is still the lead who makes the hard decisions," Therese said. "Unfortunately, I've also seen companies where some of the co-founders are not true co-founders. The moment it gets difficult, they become employees. Honestly, I think having a co-founder adds complexity; the minute you disagree, you've got a very difficult situation. And the minute you run out of money, you'll see very quickly who's actually willing to go without their salary to make it successful and who's in it because they're sort of riding along."
Characteristics to look for in employee number one: "You need to find the kind of people that don't fit well in a corporate structure. And frankly, sometimes that's because they're just too bright. They don't have a tolerance for bureaucracy, for BS, and they want freedom to get things done. And those are the type of people that you look for in a startup," Therese said. "And you know what? Those people are really fun to work with. The other thing that you can do in the early days is you can offer people flexibility. One of my early programmers was a musician, and he toured three months out of the year. He's an excellent programmer. I was able to hire him for a fraction of what I would have paid somebody who got three weeks' vacation. Because he had a life, he had a full-time steady job when he wasn't touring. And then he got to tour with his band for three months out of the year. Flexibility. It was beautiful. We just worked with it."
How founders should lead differently in 2020 and beyond: "I think that we are all learning, that no matter where we are at, we still have some pretty deeply ingrained beliefs that are probably wrong," Therese said. "The built-in advantage of diversity is that people from diverse backgrounds do think differently. And so you get the advantage of just a lot of different types of thinking about problems and a lot of different ways to approach problem-solving. You end up with a stronger company and a stronger product set because of that inherent diversity."
Episode 7: Todd Mckinnon, CEO of Okta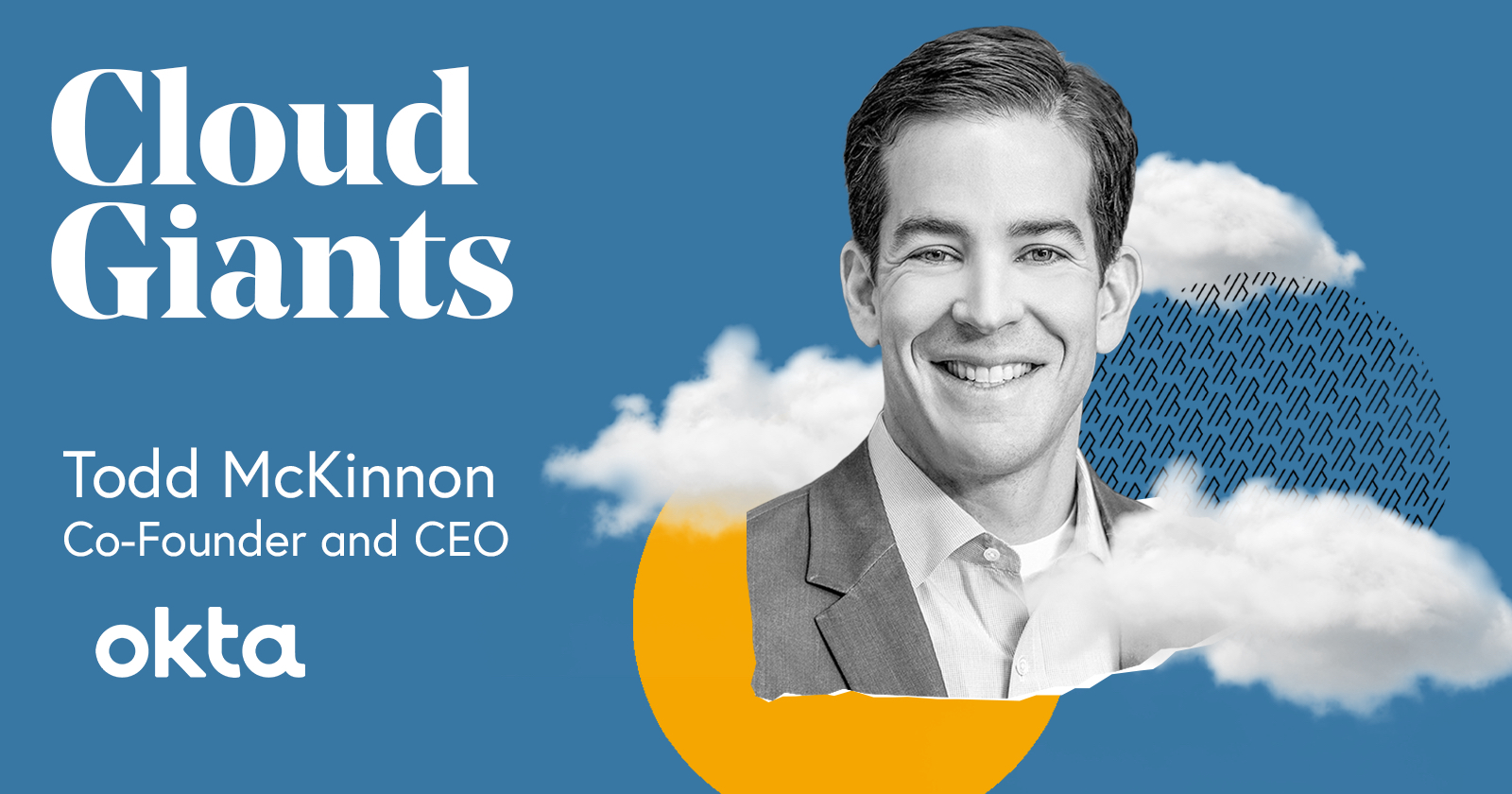 Todd McKinnon is the CEO and co-founder of Okta, the trusted platform to secure every identity in an organization, including your workforce and customers. If you happen to work for or patron one of Okta's thousands of customers, including T Mobile, Major League Baseball, Albertsons, then you've definitely come across Okta since they power the single sign on solution and much more. In this episode, Byron gets into the nitty gritty of Okta's journey and Todd's role in bringing this company to its staggering heights.
Key takeaways from this episode include:
Important lessons for investors on providing feedback to entrepreneurs: "When investors talk to entrepreneurs remember that the conversations are very, very vivid for the entrepreneur. It's usually a big part of their future, it's something they've worked hard on and so they're going to remember it forever," said Todd. "So make sure that you take that opportunity to spread some goodwill for yourself in those conversations. Oftentimes with other investors, I'd been through so many frustrating conversations when I felt like I was just getting the runaround and I wasn't hearing the real story. However, I distinctly remember the conversation [Byron and I] had where you were so straightforward and honest with me, and I really appreciated that."
Important advice when it comes to fundraising: "The first piece of advice I give people is don't get too hung up on dilution and ownership percentage because the outcomes even for the entrepreneurs a lot of times are somewhat binary," said Todd. "You're going to be very, very successful or you're not. And you probably should optimize on who's the best partner, raising enough money, making sure you get the right expertise versus trying to really nail down your exact dilution ownership percentage. If I were to go back and tell myself 10 or 12 years ago, I would give myself that advice to really think big picture, long term, and get the right partners. We were able to do that by and large but I think I spent too much time worrying about dilution."
The inherent benefits and struggles of creating a category: "When your company is inventing something new and defining a category, or seeing a new way to go to market, it's going to be a little bit lonely. But the advantages of it—whether that's if you invest enough money, if you innovate in other ways and persevere and grind through it— all of the sudden flips and you go from being a struggling category creator to now owning the category."
How Okta built $21 billion in market cap value since their IPO in 2017: "Over the last three years, it's become more and more clear to the world that SaaS and cloud are the future and that's very important to our success," said Todd. "So everyone is pretty universally in agreement that things delivered as cloud services are the future and there's going to be really big, substantial platforms that are going to create a lot of future cash flow. The second thing is something I didn't fully appreciate as much before we were public. Once investors get that macro, high level conviction of the cloud, then the next thing is they have to see you as one of those major players. One of the main things to achieve that position is for your company to consistently deliver what you say you're going to deliver. And I think that's what we've been able to do at Okta," he continued. "This was starting even before we were public. Two years before we went public, we started meeting with public market investors and telling our story and getting to know them. And even when we went public, you could see those same investors taking out their notebooks from those meetings over the previous two years and looking at what we told them and the numbers and the milestones and the roadmap and what we delivered. We started building an incredible amount of trust and confidence in the investors and then continue to do that as a public company. Delivering value for 13 quarters in a row builds up a lot of credibility so investors begin to see you as a player in that part of the economy.
Episode 6: Jennifer Tejada, CEO of PagerDuty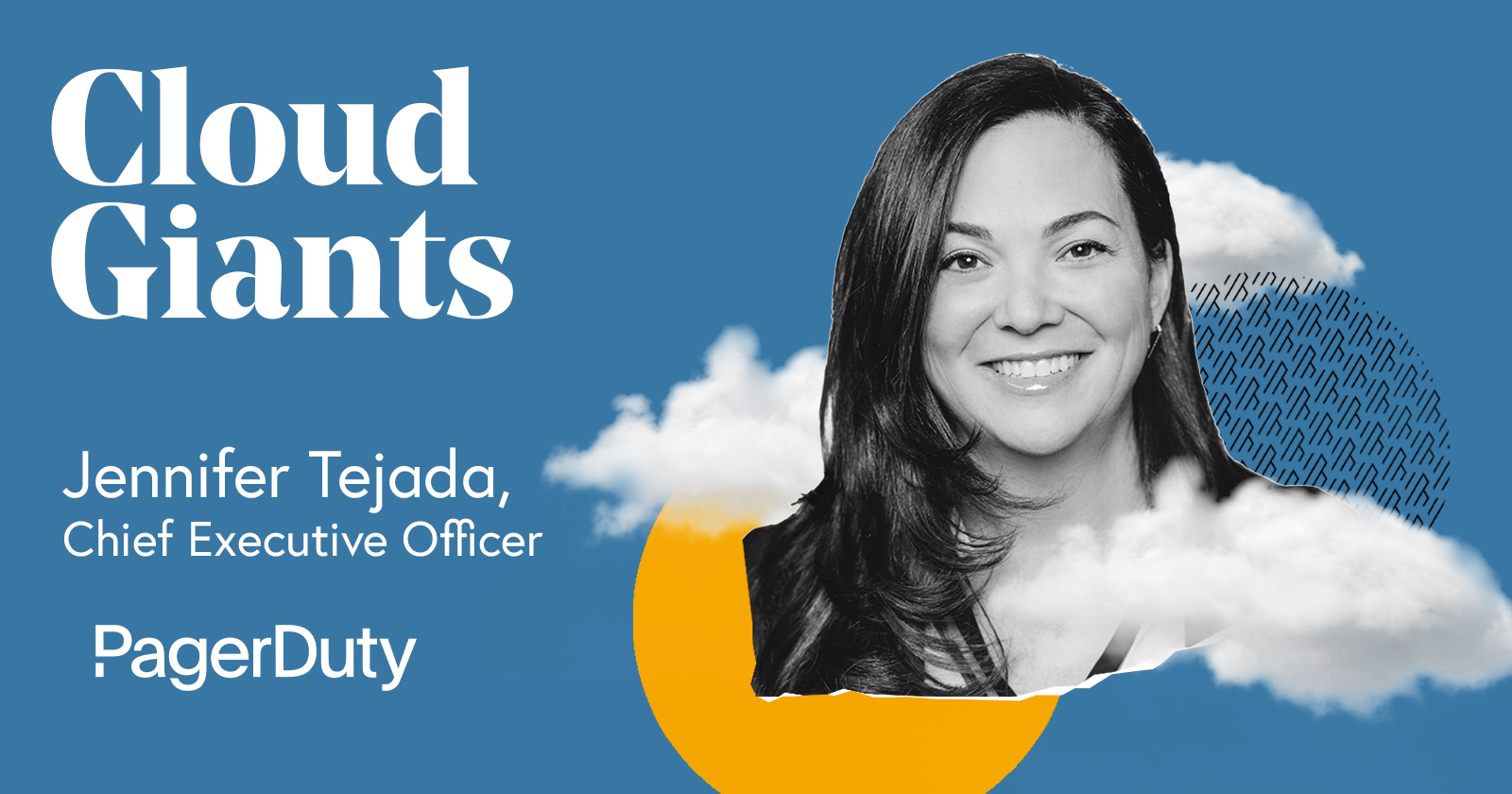 Jennifer Tejada is the CEO of PagerDuty. In a world that's always on, PagerDuty is the leading platform for real-time operations for IT and DevOps. In this conversation, Jennifer discusses the early days of her career, how she was recruited to become an outside CEO, and the path toward PagerDuty's successful IPO. Plus, Ethan Kurzweil, partner at Bessemer Venture Partners, joins the conversation and talks about how he led the Series B investment in PagerDuty in 2014.
Key takeaways from this episode include:
Why it's important to position new leadership as a milestone of success: "I wanted my transition into PagerDuty to be a victory lap for [Alex, the founder], and to be a celebration of what Dutonians had built to this point and be a milestone. This was all a sign of what was possible for us in the future," said Jennifer. "For me, that meant coming into that transition with a lot of humility and grace and appreciation and honor for all of the things the company had built so far."
Why company culture is a strategic initiative: "Culture is really defined by the lowest level of behavior you're willing to tolerate, not the highest aspiration that you have in a business. We don't hire brilliant jerks. If we identify people who are disruptive, we work with them to change their behavior," said Jennifer. "Culture has become a force multiplier for us as a business. It's allowed us to demonstrate more inclusive leadership in terms of the diversity of our employee base and the balance in diversity of our board and our leadership team. Which means there are people from all walks of life that are attracted to work at PagerDuty and stay at PagerDuty and it allows us to compete more effectively—and sometimes out-compete for talent."
The importance of delegation, especially in times of crisis: "One of the things that I've learned from PagerDuty and from particularly the developer community at PagerDuty is that when you undergo a major incident, the incident commander is in control and makes the decisions, not the CEO," said Jennifer. "And thank God for that, because, at the time of one previous incident, I was traveling for business and had intermittent WiFi connection. I was really pleased with how the team managed the crisis, especially in terms of how we communicated and helped our customers during that time. When trust is your number one value proposition to your customers, your reliability is where they count on you for, literally our customers feel that if the whole world is down, at least PagerDuty will be up."
The benefits of pressure testing your own convictions. "One of the lessons you learn as a leader is that you're always going to be tested—your conviction, your vision, your beliefs will be tested constantly, and that's sort of part of the cycle," said Jennifer. "People need to test your conviction in order to believe in it themselves."
Episode 5: Aaron Levie, CEO of Box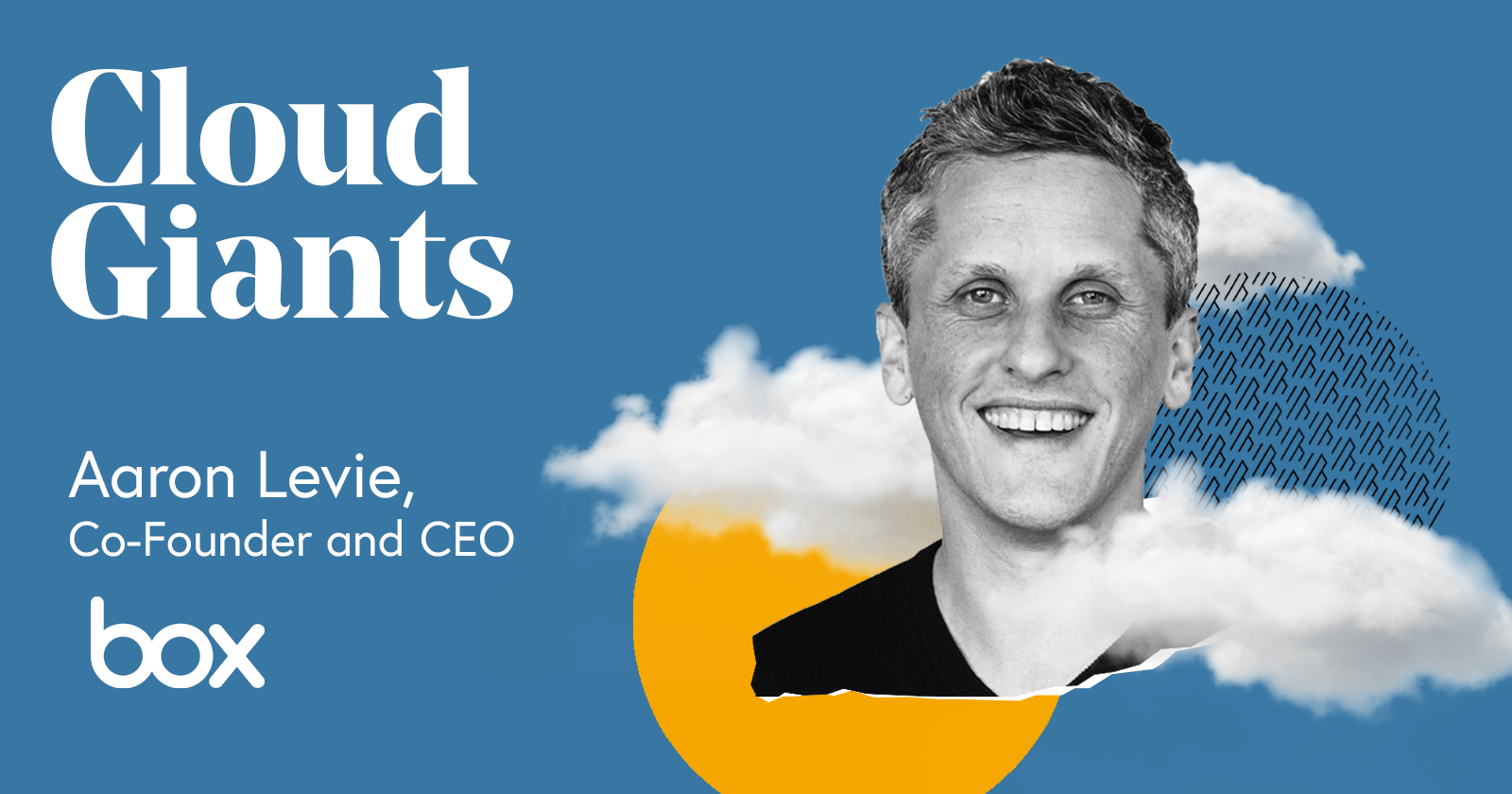 Aaron Levie is the founder and CEO of Box, the cloud content management and file sharing service for businesses. If you work in the modern business world, then you have almost certainly used Box to save and share documents. In this episode, we talk about how he and his co-founders first built the company in 2004, why they decided to pivot from consumer to the enterprise, and insights on building an a C-Suite, culture, and transitioning into a CEO of a public company.
Top highlights from this episode include:
Box's early struggles and windfalls: "We launched the product and a few people started signing up and Box started to gain some steam. We decided to take the summer off and dedicate all of our time to the business. That was a fortuitous period because we could just go full heads down building the company," said Aaron. "We pitched a lot of venture capitalists in Seattle—and we got rejected by everybody. Basically nobody thought it was a good idea to invest in two 21-year-olds at the time and going up against these big behemoths in enterprise technology. We got lucky because we did a cold email to Mark Cuban and he somehow decided to respond to us. He was interested enough to actually make an investment of about $300,000. That was the real turning point for the company very early on."
How Aaron and his founding team approached their pivot to the enterprise: "By '06 and '07, we asked ourselves: 'What if we let an enterprise deploy a hundred or a thousand users and we'll just charge per seat? It'll be a monthly recurring business model and we'll have all the IT and the security features that they need?" Aaron said. "We'll sell this as an enterprise software product with a bottoms-up distribution motion with a sales team that works off of those customers. And so in a matter of a few weeks, maybe to a month or two, we designed the business model that has stuck with us to this day. In '06 and '07, this model pivoted the company, and made sure that we had a kind of a modern enterprise software model that was bottoms-up, consumer-driven, but also focused on selling to large enterprises and to the Fortune 500."
Why all feedback is always useful to consider: "I can look back now with the benefit of hindsight and I'd say 95% of the feedback that we got from the investors that turned us down was actually correct," said Aaron. "Either it took us longer to realize it, we didn't get it, maybe we didn't answer in real time in the right way. Maybe we didn't portray actually why we agreed because we were taken aback by the feedback. Take feedback from everybody you can, because oftentimes you can synthesize it and take just the bits and pieces across all of the people that will give you constructive or critical feedback."
The importance of finding a great COO: "COO has become obviously quite a catch all term in the Valley and I think one company's COO doesn't look like another company's COO. That's because the role is usually a way of complimenting and balancing out the skills or the gaps of the CEO," said Aaron. "For me, I'm very product oriented. I tend to lean more toward thinking about the strategy, our customers, the culture, and not necessarily the entire day measuring the pipeline, building out the salesforce, and coordinating the end-to-end go-to-market execution."
The power of achieving positive cash flow early on: "Ultimately the reason why cash flow early in a business matters is because it gets you in a mindset of having to build a business that is a real business that's going to scale," said Aaron. "When you're thinking about scaling a company early on, this mindset ensures that you're not burning lots of money, the model works, and you don't need to raise an unbelievable amount of capital to keep the business going."
Why an IPO exit is just the beginning for a company: "For the entrepreneurs and for the team going public is truly when the clock starts and it's really game time. I think too many startups, too many founders, too many people, they think of the exit or the IPO as some sort of flag in the ground moment," said Aaron. "All I can tell you is it only gets way harder and so going public at the right time, going public with the right team, with the right business model, both are really, really important because nothing will get easier about your company once you go public. It will only get harder. It'll only get more stressful. It'll get more gratifying for sure, but nothing gets easier."
Episode 4: Dan Springer, CEO of DocuSign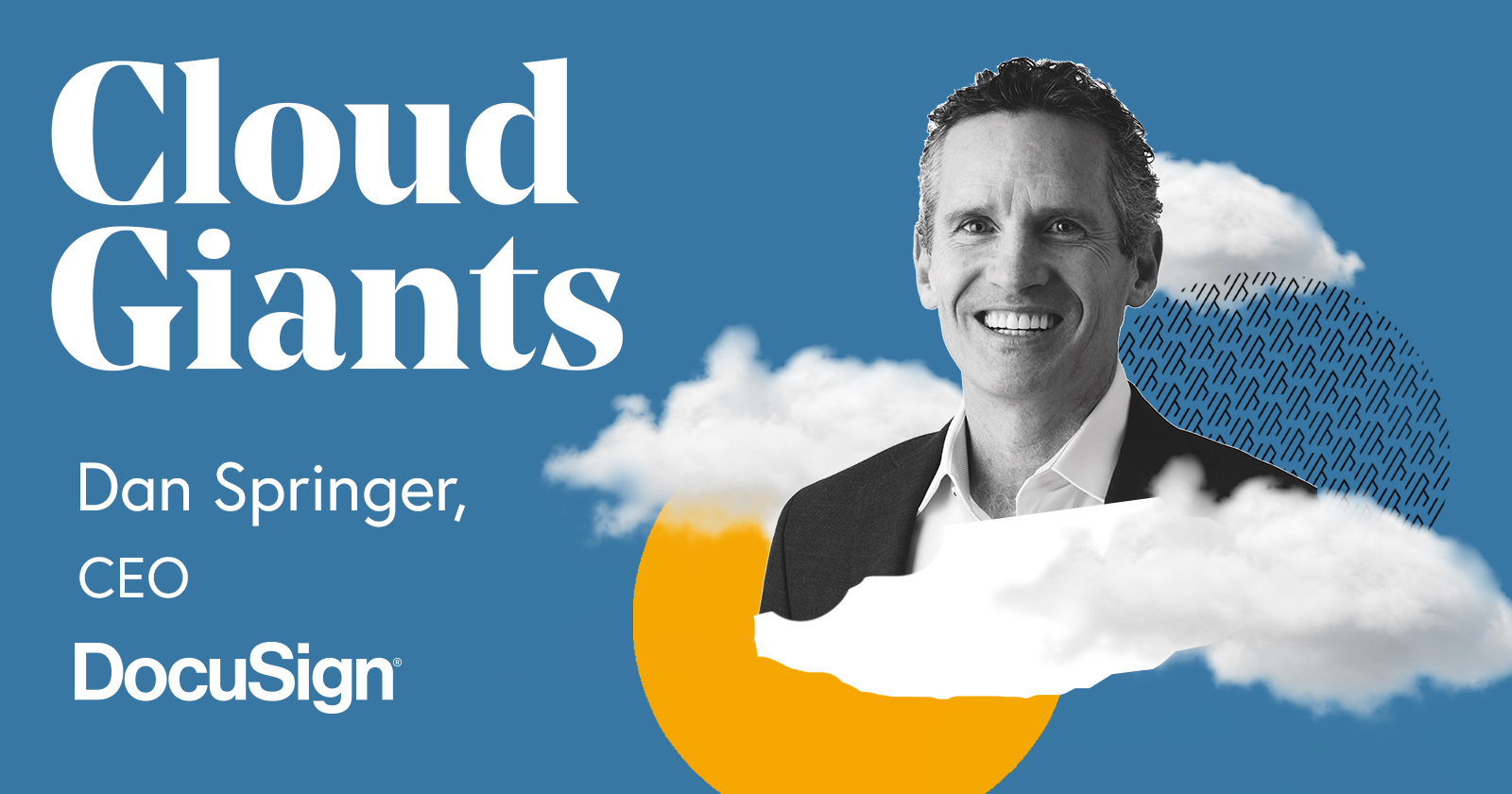 Dan Springer founded Responsys in 2004 and after a successful exit and tenure, he took four years off to be a stay at home dad. In 2017, Dan Springer joined DocuSign as their CEO. In this episode of Cloud Giants, Byron Deeter talks to Dan about transitioning back to work, how to be a good leader, setting boundaries, and how Dan increased DocuSign's value by $14 billion during his time as CEO.
Takeaways include:
As a leader, be aware of your gender bias: "People make this construct around being a stay-at-home dad and describe how strange it is," Dan said. "Usually people say, 'You were at the top of your game. All these people must be calling you for these great deals.' My feminist friends say if I were a woman, people wouldn't be asking that question. They'd get, 'Well, you should have been staying home with your kids anyway.' We should be aware we have these biases. I probably had a little bit of that bias myself at the time, but I've been educated. As we like to say, feedback is a gift. Thank you for all the women and men who are great feminists that have given me that perspective that I missed."
Why ambiguity kills productivity for leadership teams: "As a founder, be unbelievably clear on what skills you're bringing in and how the company is going to change over time. Are you bringing in a COO who over time is going to maybe grow into the CEO? Well, then how much time? When will you know that person is ready? What will your new role be? Get clarity on all those questions because most issues arise when people are too polite and ambiguous."
If you failed the first time, set the boundary the second time: "As a person who is admittedly weak on setting boundaries, this is a big lesson for me still," said Dan. "If someone shows up at my office or someone sends me an email asking me for something, I say yes. I've learned to set the boundary on the second time. I say, 'Hey, happy to help. In the future, I need you to do it this other way.' For example, we have all hands meetings every quarter where I speak to the entire company and I also do town hall meetings in all our offices. I try to drive people into those lanes where I've already allocated the time. So that means if I'm visiting customers, this isn't the time for you to ask me about another issue. I'm with a customer."
Leadership is about understanding the trade offs: "One of the biggest things that executive leadership can provide is the ability to bifurcate the discussion into which things are really competing with each other and which things are independent," said Dan. "If you get down to each of those discussions, you're able to find better solutions because of the way you've framed the question."
Episode 3: CEOs of Shopify, Twilio, and Pinterest on building a startup during a downturn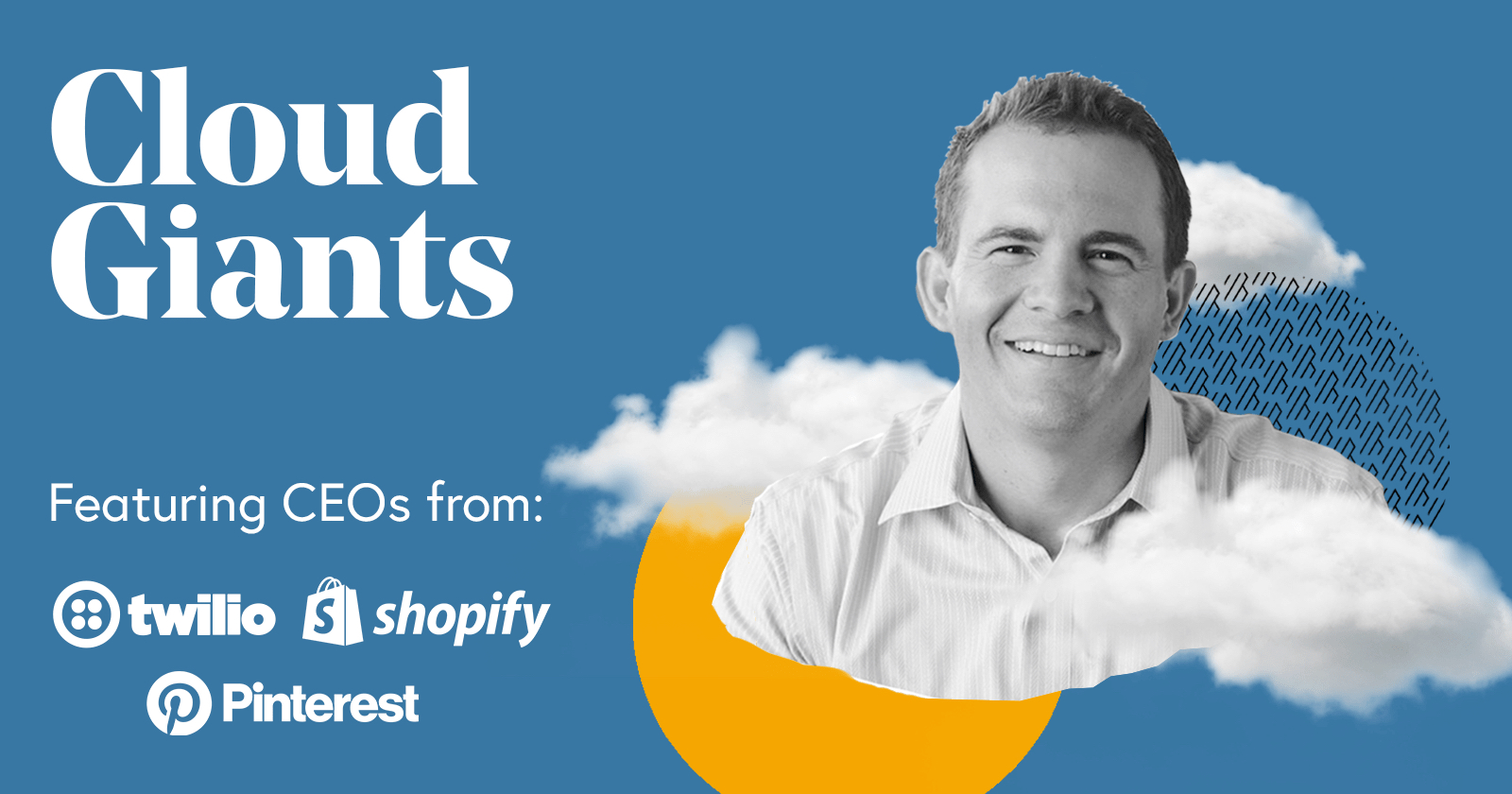 Last week, Byron Deeter and Jeremy Levine gathered three founders and CEOs from our portfolio to share how they survived and grew their company during the 2008 Recession. 
In this conversation, Jeff Lawson, CEO and co-founder of Twilio, Tobi Lütke, CEO and founder of Shopify, and Ben Silbermann, CEO and co-founder of Pinterest, talked about grappling with the difficulties of weathering an economic downturn and all the while staying customer-centric. 
Together they offered several leadership principles and founding values that still drive their companies today. We hope their entrepreneurial wisdom and these seven key insights shared here can be a source of motivation and guidance as many entrepreneurs might feel as though they are leading their teams through this foggy territory. 
Episode 2: Jeff Lawson, co-founder and CEO of Twilio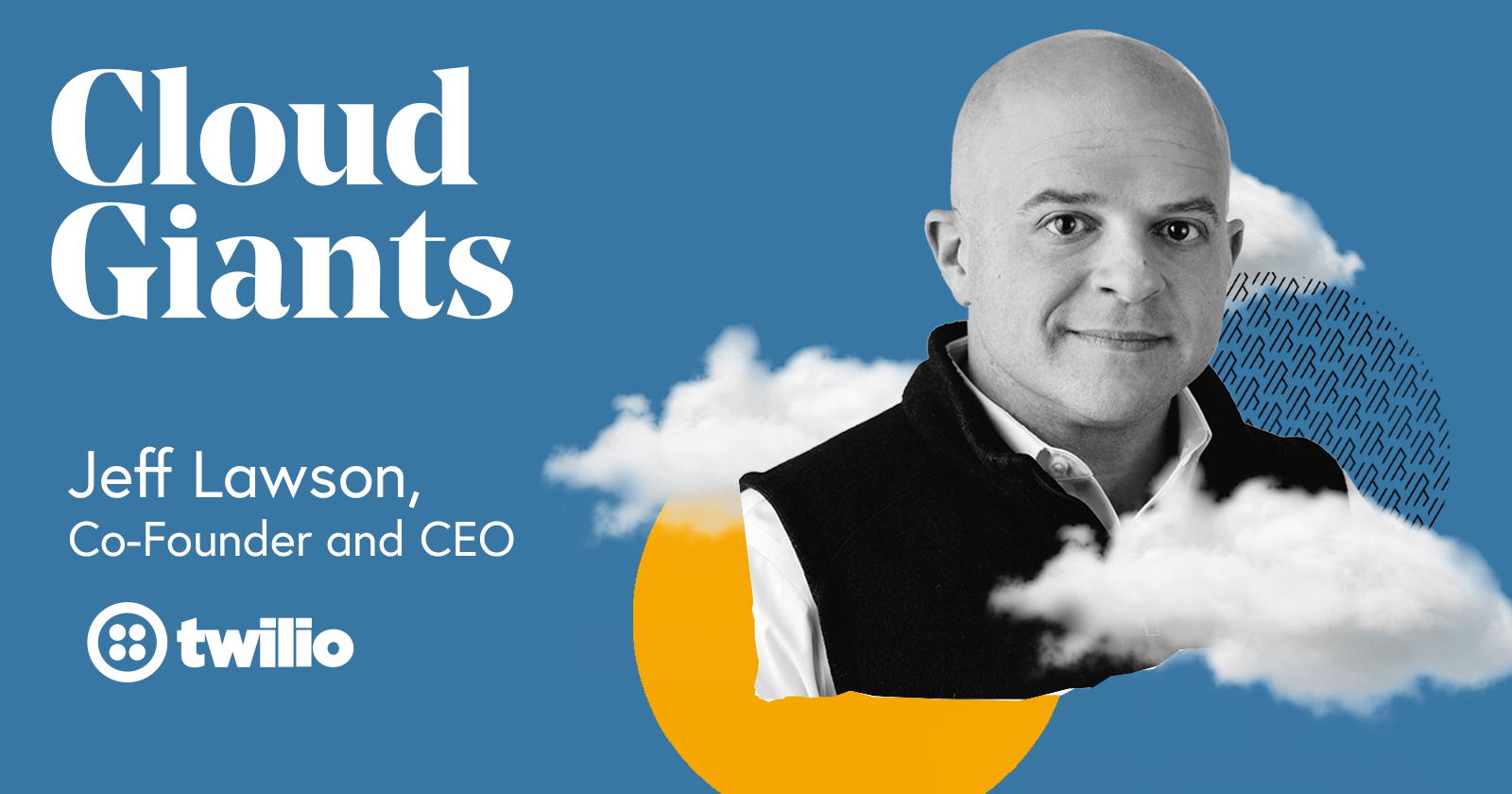 Jeff Lawson is the co-founder and CEO of Twilio, the cloud communication-as-a-service with a market cap worth $13.5 billion (at the time of this recording). Twilio allows software developers to programmatically make and receive phone calls, send and receive text messages. As a customer, anytime you call or text your Uber driver, you are using Twilio. Today we're going to talk with Jeff about his career leading up to founding Twilio, how he built the company to a successful IPO and beyond, and the invaluable lessons every founder should adopt.
Listen to this episode on Apple Podcasts and Spotify.
Insights and key takeaways from Jeff Lawson
Internet connection can be the source of invention and inspiration in college: "I arrived at school in 1995. And so, many people arrived at college and the thing they were most excited about was alcohol or other girls or boys or whoever it was, and the freedom of leaving home. And for me, I arrived in the dorm and I was like, "Oh my God, there's a 10 megabit ethernet jack in this," remembered Jeff. "That was the thing that was most exciting to me. That was the most life-changing part about going to college. Not the alcohol or the parties or anything. And it was '95, so it was right after the Netscape IPO, and I remember one of the first things I did after I said goodbye to my parents was I FTPed down a copy of Netscape Navigator 1.0, and suddenly was able to start browsing this brand new thing called the web."
When Jeff was working on a startup he realized the importance of following your passion: "Why am I grinding out code with these skate kids all around me breaking my flow, when really I belong in tech?" asked Jeff. "I realized I had made that same mistake again, of not following my passion. I was pouring all my blood sweat and tears into a company where it was a good business opportunity, but wasn't where my heart was."
Twilio was started because Jeff always believed that software is a super power: "Developers can build software quickly and iteratively to serve customers," said Jeff. "Your work is never done because you can always hear the next problem or the next improvement, and put your mind to work and build a better version of your product."
Experimentation is the prerequisite to innovation. "If you can help a developer and help companies run more experiments for what their customers need, then you're going to get more innovation. If you ruthlessly remove the friction, the barriers to experimentation, that is what you need to enable innovation. That was the guiding principle that we started the company with," said Jeff.
In the cloud your number one value proposition you're selling is trust. "No matter what you do, if you're a communications API, if you're infrastructure as a service, or if you're a SaaS product... What you're fundamentally telling your customer is, "Trust me to run this part of your business for you."
Episode 1: Adam Miller, co-founder and CEO of Cornerstone onDemand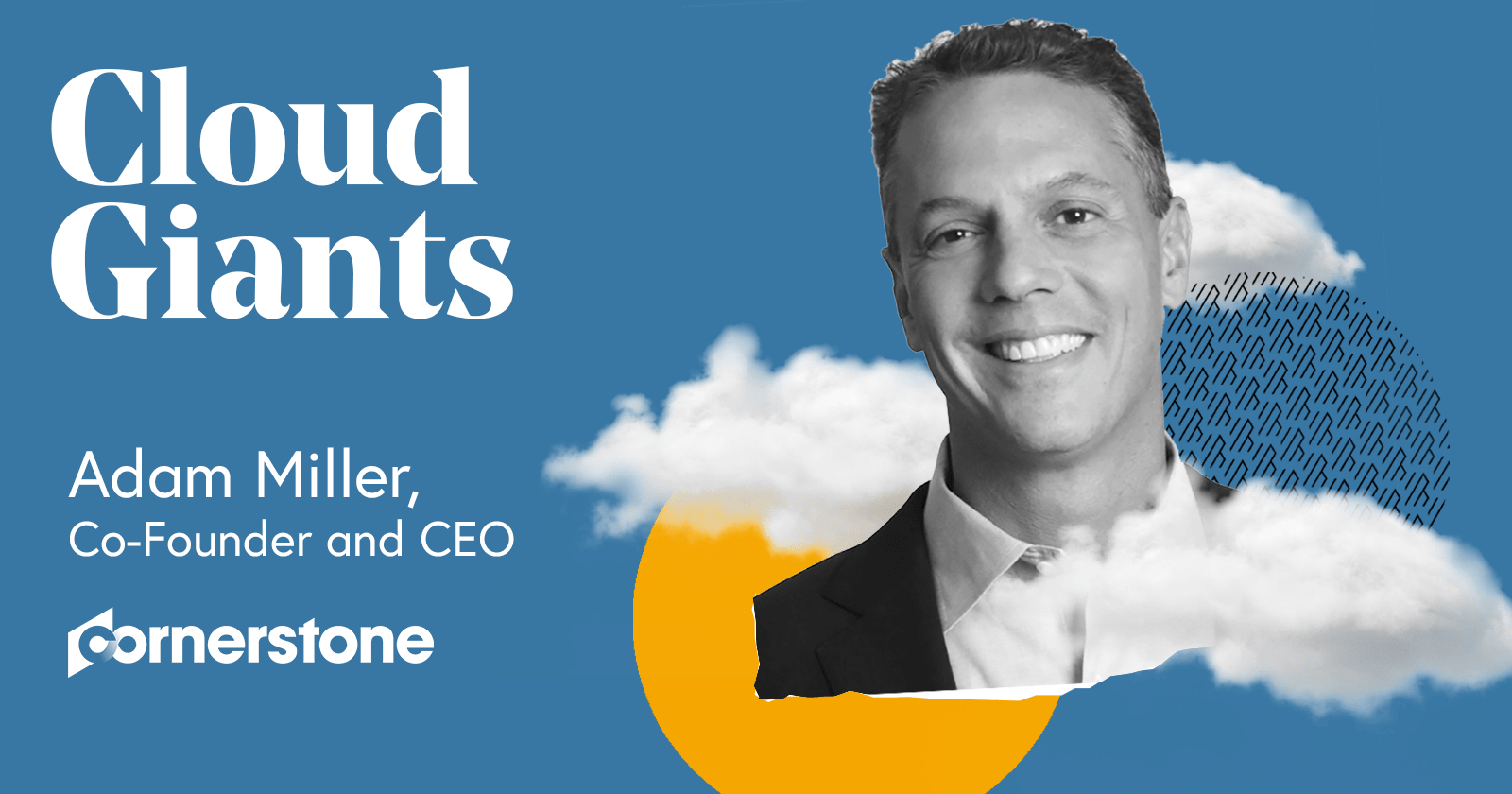 Adam Miller is the Founder & CEO of Cornerstone OnDemand. He started Cornerstone in 1999 in his one-bedroom apartment to help people realize their professional potential. Under his leadership, Cornerstone has grown to over $500 million in revenue and is one of the largest cloud computing companies in the world.
Listen to this episode on Apple Podcasts and Spotify.
Insights and key takeaways from Adam Miller
Perspective is essential with challenging sales cycles and near-death experiences: "We were very bad at sales back then. We had lined up this great pipeline of potential clients in August of 2001, all northeast financial service firms. While we had very little capital, we had raised no money, and we really needed these sales to keep the business operation," remembered Adam Miller. "Then, September 11th happened. I was told by the management team, by every advisor, by every investor, 'Adam, you have to cut the business. Cut the staff down to the minimum number of people.' We had very few people to begin with. Cutting the staff down would mean we wouldn't be able to deliver to a client. So, on September 15th, 2001, we started hiring more people. We ended up closing three deals. Those accounts ended up being the capital for the business, and we grew the company from there."
Culture change is inevitable: "One year we were going to go from 45 to 51, and then from 51 to 150. So, we're going to triple the size of the company. What I've learned over the years is that it's never about the absolute number of people. It's always about the relative number of people," said Adam. "Are you adding 10% more people, 50% more people, 100% more people? The higher the percentage, the more of an impact that influx is going to have on the culture of the business. And if you don't do it by design, you're going to end up with a culture you don't want."
As the business scales, there are always new skills you need to welcome: "At Cornerstone onDemand, we try to do a 50-50 hire from outside and promote from within. It's important to advance those who have invested in the company as well as bring in fresh perspectives at each new stage," said Adam.
The stock market demands precision in your business forecasts and revenue: "If you're thinking about going public, every quarter, write on a Post-it what number you think you're going to have at the end of the quarter and put it in a drawer. You should do it, your CFO should do it. After you get it right three quarters in a row, you're ready to go public," said Adam. "It's much harder than people think."
Entrepreneurs need passion, persistence, perseverance, and persuasion: "I like to say that good entrepreneurs need to have the three Ps," said Adam. "They need to have passion, they need to have persistence, and they need to have perseverance, and I'll even throw in a fourth one. They need to be persuasive because you got to persuade employees, investors, clients, partners, all the time."