Internet marketplaces in India
As internet and mobile access become ubiquitous in India, the country's eCommerce market is on the cusp of a trillion dollar digital opportunity.
In the past decade, India has seen a meteoric rise in eCommerce businesses, online payments through the unified payments infrastructure (UPI), and the maturation of supply chain and logistics technologies. As internet penetration continues to climb at approximately 59%, every business—big or small—has the ability to go online. Through a combination of multiple software layers, including storefront, logistics, payments, marketing, and many more, existing businesses and new businesses alike are able to leverage technology to become online marketplaces quickly, and at scale. At the same time, only about ~125 million Indians i.e. less than 10% of the total population and less than 20% of the internet population transact online today. 
As these numbers grow and consumer behavior and shopping patterns continue to shift online, India represents a massive, trillion dollar digital opportunity around Internet led consumption in this coming decade.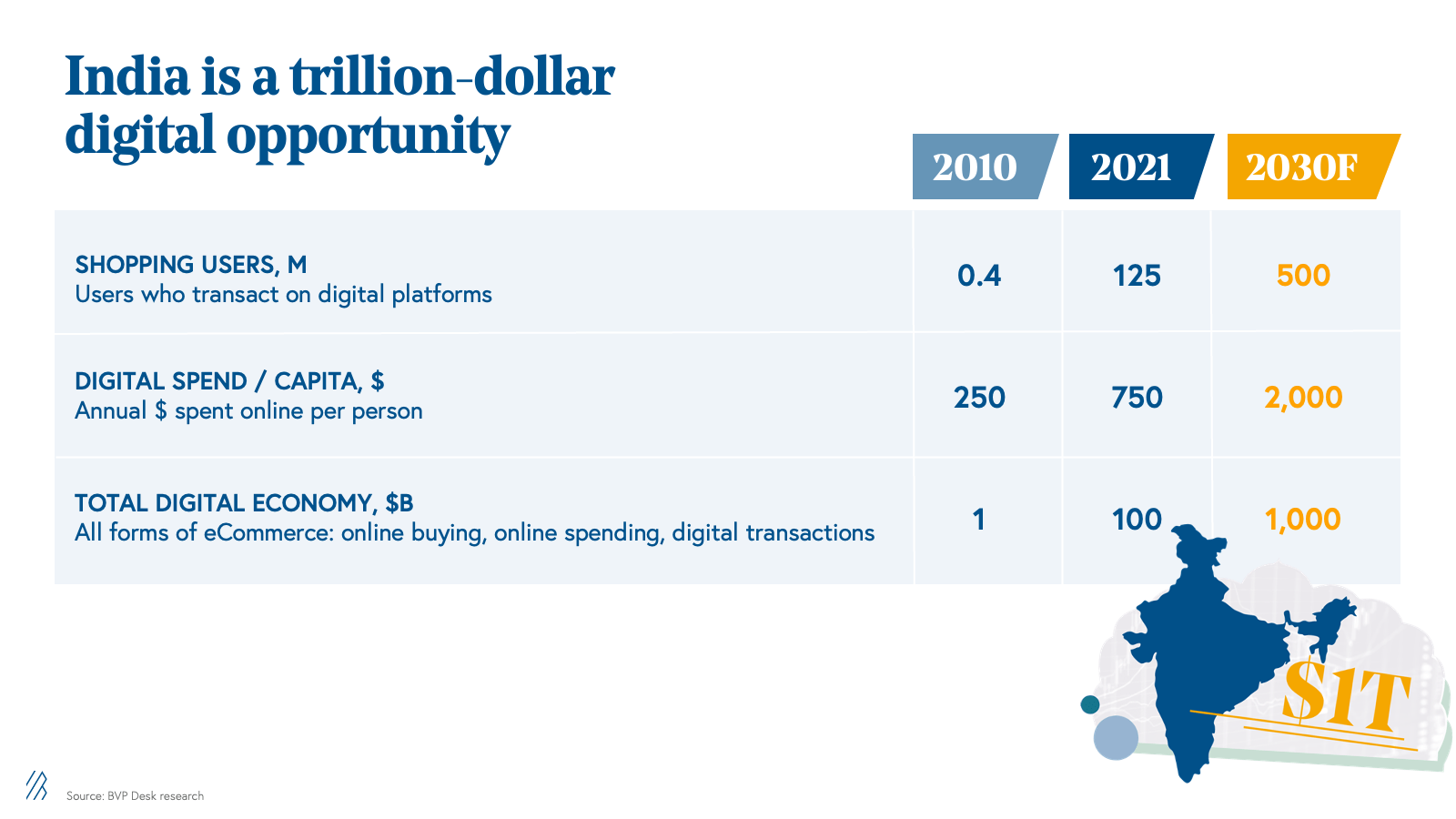 Understanding India's affinity for internet marketplaces
Two major aspects of  the region set the stage for increased traction among internet marketplaces: fragmentation and offline operations challenges. 
Fragmentation: India is inherently fragmented on both the demand and the supply side. In virtually every category of consumption for both goods and services, there are hundreds of thousands of small to mid-size enterprises (SMEs) and Mom-and-Pop suppliers. As a consumer, getting the right assortment, price, and product is an arduous task of going to multiple offline shops.
Offline shopping is broken: India's offline retail industry has struggled with key structural challenges including high retail rentals, multiple middle-layers of hand-offs between manufacturer and consumer, high inventory holding cycles, long logistics cycles, and a lack of penetration outside of tier-1 and tier-2 cities. These challenges are responsible for inefficiencies and high operational costs. Most of these challenges are solved with an internet-first model. As mobile internet penetration has increased to beyond half the country, India has leapfrogged offline organized retail and jumped straight to internet marketplaces, with hundreds of such marketplaces having emerged in the last ten years across multiple different categories.
At the same time, marketplaces themselves have evolved and grown into more sophisticated businesses during this time. The first wave of internet marketplaces were simple connection platforms where sellers could list their products/services and consumers could find suppliers of different goods and services online. Initially, these marketplaces operated as horizontal classifieds, like JustDial allowing consumers to discover suppliers of a variety of goods and services online. From there, marketplaces evolved to focus on a particular "niche" and specializing deeply in one vertical. For example, BharatMatrimony is a marketplace only for wedding services. Both of these types of marketplaces had one thing in common - they enabled the buyer-seller connect on platform, but then let the two parties close out the transaction themselves. 
Over time, as online payments and logistics evolved—led by proliferation of technologies such as Unified Payments Interface (UPI), eWayBill, and GST—marketplaces moved to a transactional model (i.e. marketplaces could now own not just the discovery but also the transaction closure and payments). An example of this is Ola, which facilitates the entire cab-booking experience end-to-end from discovery to payment. As transactional marketplaces scaled across multiple cities and towns, they started to run into challenges of supply standardization and operational complexity. Hence, the last step of evolution was owning and managing not just the transaction experience but also the supply itself—creating what we at Bessemer call "Vertical, Full Stack, Managed, Transactional" Marketplaces. For example, UrbanCompany identifies, trains, and manages service professionals, allowing customers to book a service, manage the delivery experience, and execute payment on the platform. By controlling a product or service end-to-end, internet marketplaces are able to improve customer experience and create efficiencies by cutting out middlemen. This allows them to increase gross margins and benefit from higher rates of customer retention.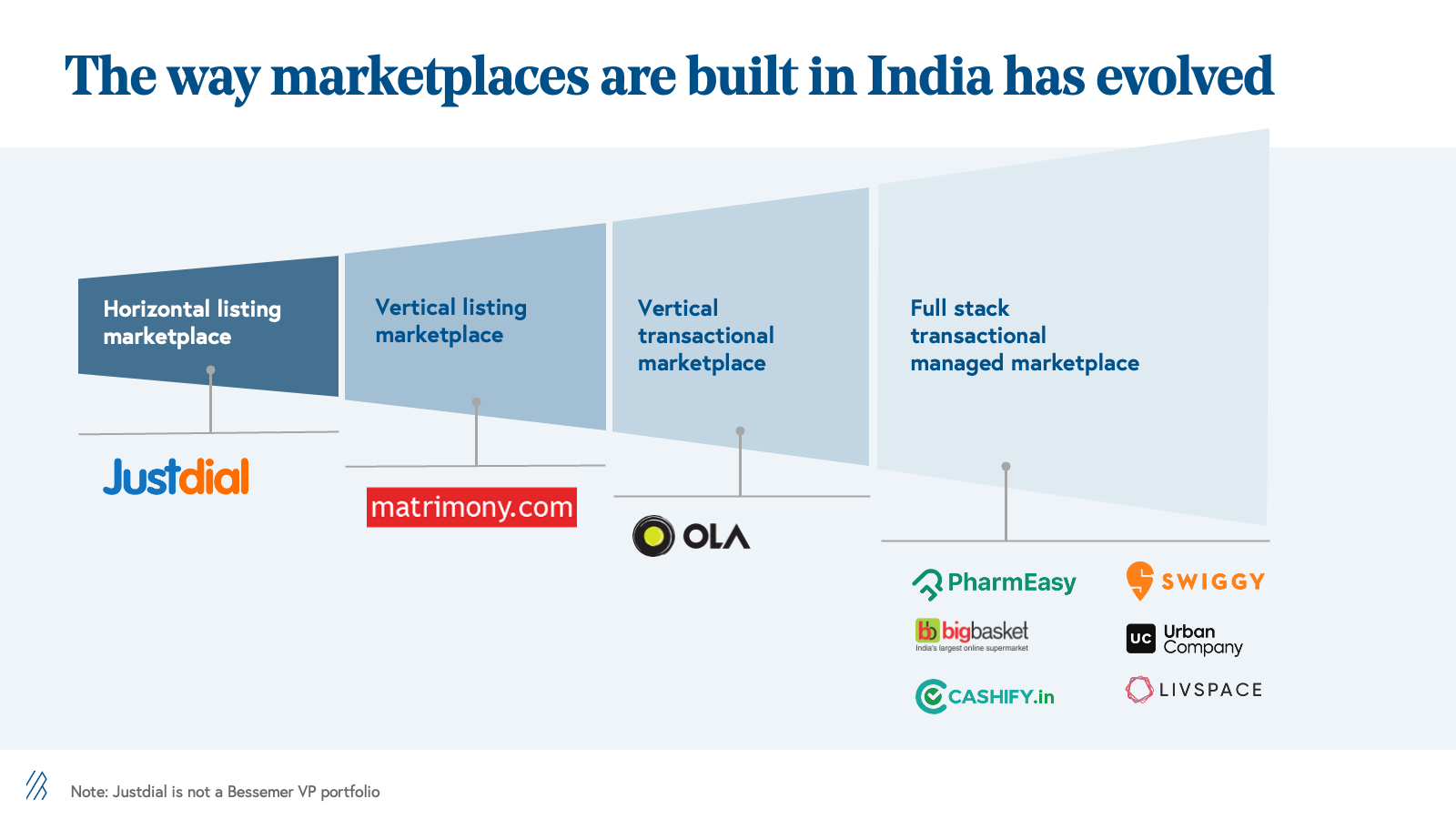 Going forward, we see two major axes of evolution emerge in building internet businesses for Indian consumers: new consumer segments and distribution channels.
The emergence of new consumer segments
Much of the last decade (2010-2020) saw a largely homogeneous customer set on India's internet marketplaces. These customers were mostly English-speaking, tier 1 city residents—often male users aged between 25 and 45 years who came onto the internet early in late 2000s to early 2010s and started their online journey on Zomato, Flipkart, Snapdeal, BigBasket, etc. During the second half of the decade, the internet welcomed more women, younger consumers (<25 years old),  older consumers (>45 years), along with SME consumers (businesses coming online as a consumer), as well as consumers who were much more comfortable with local Indian languages than with English. For example, in the last five years alone, over 300 million women have come online in India, with almost two of every three new internet users being female. In today's decade (2020-2030), we believe that new internet marketplaces and brands will be built to serve these new consumer segments which have come online more recently and who have been underserved thus far. Early signs of this new cohort are already taking shape, as seen through Nykaa and Good Glamm Group, with offerings built to serve women, arguably the largest new consumer segment in India. 
Similarly, today over half of India's 50 million-plus SMEs are now digitally engaged, thanks to  increased Internet adoption, digital payment infrastructure, and increased digitization of small businesses. With these structural advancements, B2B marketplaces have begun to grow in prevalence. These types of companies span verticals, including Retailio (Pharmacy), Zetwerk (Manufacturing), Moglix (Industrial Supplies), PepperContent (Content) and many more. 
We believe that start-ups addressing these new verticals and audiences will win by niche segmentation and personalization. What this means is that their product and service offerings will not only need to be tailored for their core audience, but also that driving revenue will be based on discovering new distribution channels or leveraging them in novel ways. In doing so, these new businesses will reach product-market fit and scale more rapidly.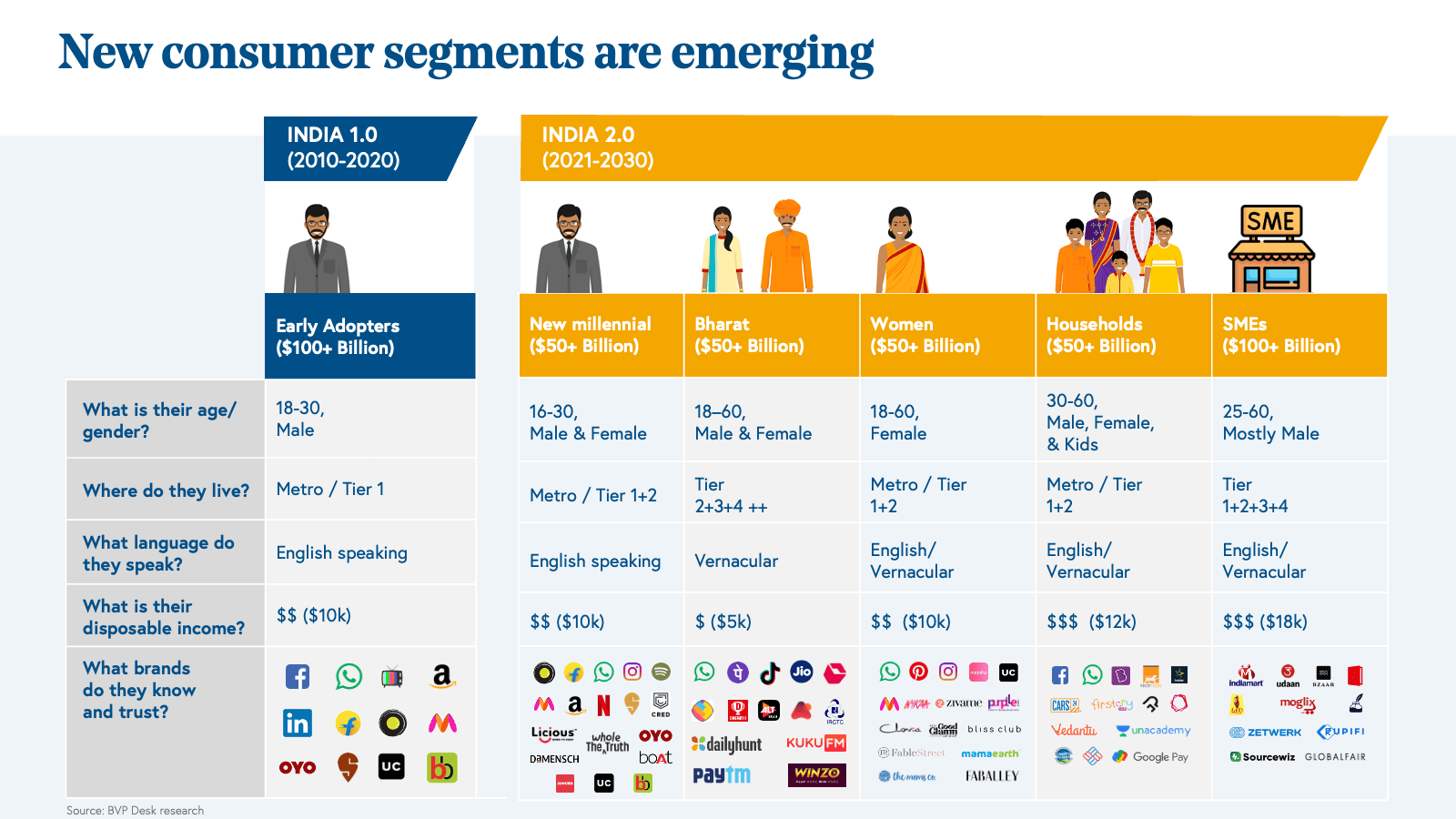 New distribution channels
The first set of internet consumers in India were introduced to online commerce via text and structured content formats like Google, JustDial, Zomato, and Flipkart. As such, most companies between 2010 and 2020 were built around a catalog-led commerce model, in which consumers visit a website or app to browse a structured catalog of products. However, the new set of consumers coming online in India today are introduced to the internet through social messaging (WhatsApp), social media (Instagram), or social video (YouTube, Josh, Moj), and often make purchases through influencer led content. Today's marketplaces are leapfrogging textual, browsing, catalog-led commerce and jumping directly to social, video, and influencer-based commerce. Businesses serving these new sets of consumers will be required to be native on social, video, and influencer channels from day one. For example, Good Glamm Group, a DTC beauty and personal care brand, acquires more than 90% of their new customers through content, video, or social. Similarly, setting up an internet storefront is a lot easier than it was 12 years ago, with enabler products like Shopify, Shiprocket, Dukaan, Razorpay, Delhivery, and WhatsApp for Businesses allowing almost instant go-live for new e-commerce stores. New internet companies are taking advantage of this infrastructure and creating more DTC brands than before.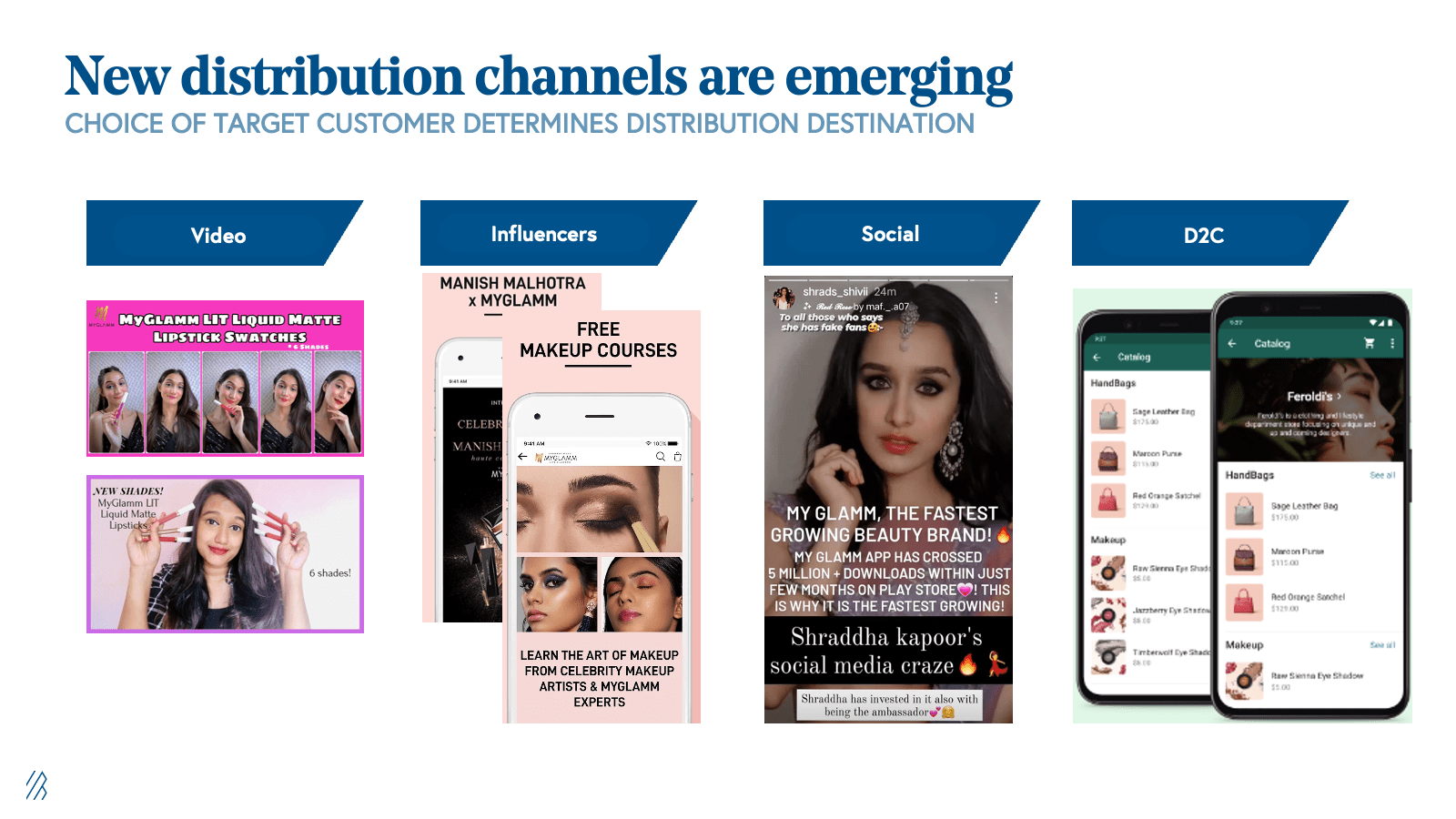 In the coming decade, India will see continued growth of existing large internet incumbents as they continue to build on their advantage of scale and distribution. Meanwhile, several hundred billion dollars of value will be generated by businesses serving these new consumer segments through novel business models using these new emerging channels of distribution.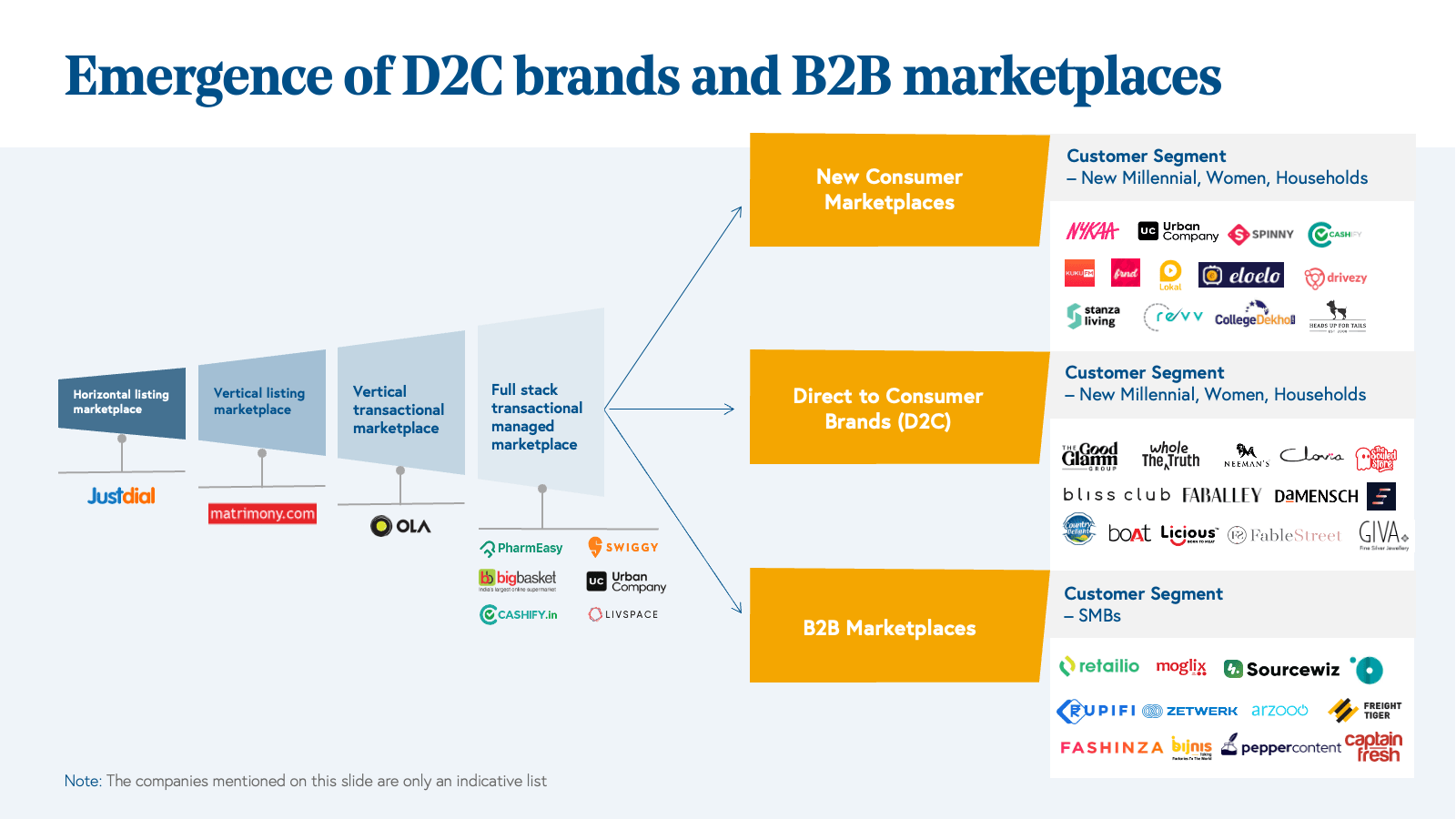 While 2010-2020 saw mostly B2C internet marketplaces leading with catalog based commerce, we believe that this next decade will see the rise of three kinds of businesses in India: Consumer (B2C) marketplaces for new consumer segments, Direct to Consumer brands (D2C) for new and existing consumer segments, and B2B marketplaces for SMEs. Moreover, we believe that all 3 categories of businesses will be built for both products and services.
One such example is our portfolio company, Good Glamm Group, previously known as MyGlamm. Good Glamm Group is a direct-to-consumer women's beauty platform with its own set of brands across a range of beauty and personal care categories. The company has been direct-to-consumer and social from the start, with over 90% of its revenue from proprietary direct channels. It also owns PoPXo—India's largest content platform focused on women and lifestyle topics—and acquires  90% of its customers at about $1 cost-of-acquisition from this channel.
Five tenets of internet marketplaces in India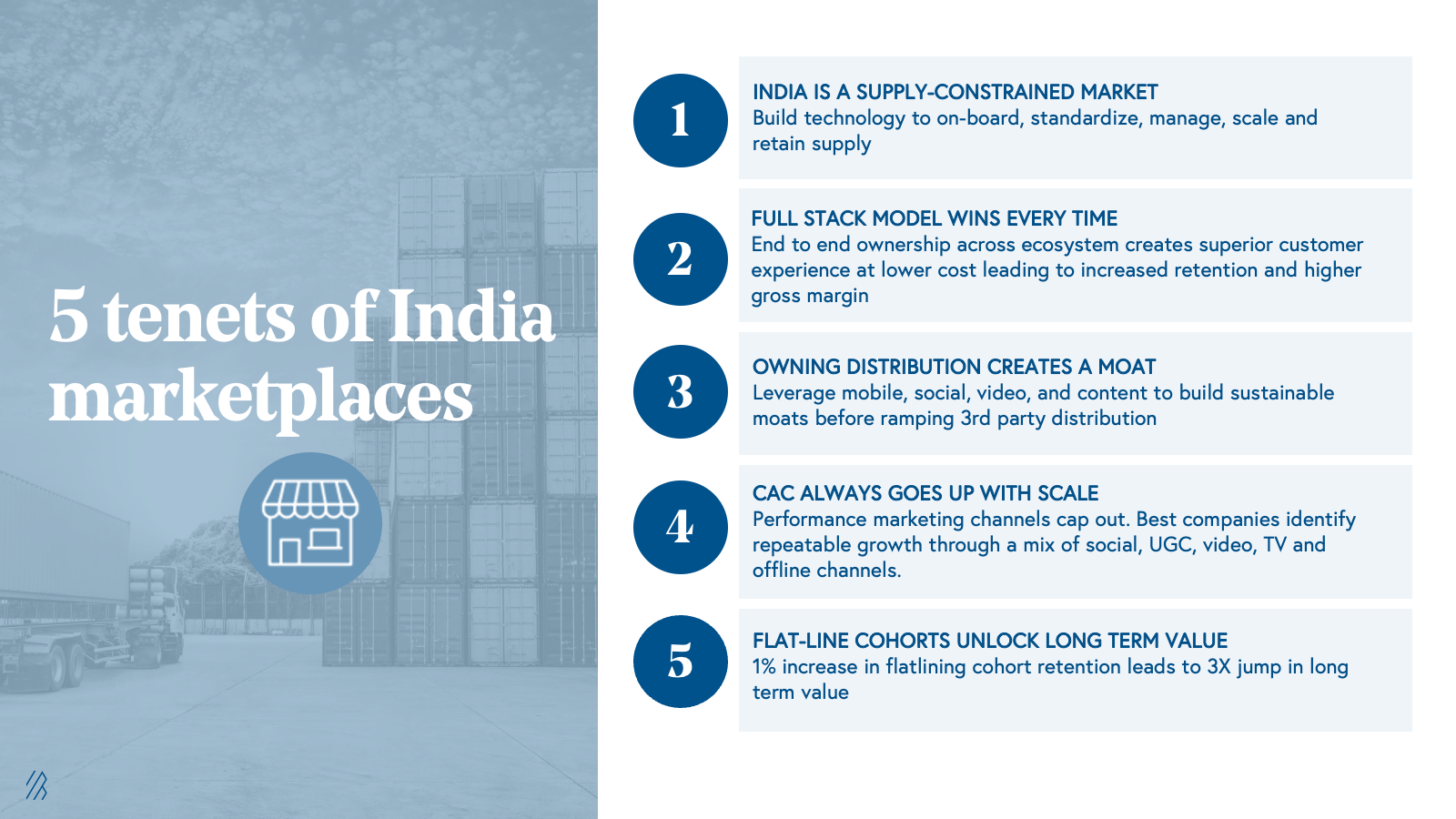 At Bessemer, we have a rich portfolio of internet businesses. Our experience has led us to identify tenets to guide our investment strategy going forward.
 India is a supply constrained market. Unlike developed economies where there is enough standardized supply of goods to serve consumers, in India supply is not standardized and usually not enough to meet demand. As investors, we have been positively surprised by the demand for every consumer internet company in which we have invested. However, the supply has been consistently been difficult to scale—be it farms (BigBasket), restaurants (Swiggy), furniture manufacturers (Livspace), taxi drivers (Ola), service professionals (UrbanCompany) or delivery executives (BigBasket, Swiggy, Pharmeasy, Cashify). The problem of supply becomes harder if the company has to build local, city-by-city operations because that means supply has to be built from scratch in every new city. In order to ensure a company's growth is not restricted by supply problems, any consumer company needs to first build a repeatable, scalable model for onboarding and retaining quality supply before attempting to hyperscale demand.
Full-Stack model wins every time. "Full-stack" means full, end-to-end, control over the supply chain. A "full stack" model ensures better customer experience at the lowest cost while ensuring the best margins. Let's take the example of BigBasket, which operates primarily in the grocery segment. At BigBasket, the company buys fresh fruits and vegetables from the farmgate at four in the morning and has an end-to-end delivery chain that allows the produce to be at the customer's table by the evening. This "full stack" approach ensures customer delight due to fresher produce, lower cost due to direct procurement from the farmer, and higher margins due to eliminating middlemen. Similarly, in Swiggy's delivery service, "full stack" means controlling the delivery fleet for food delivery such that the consumer has full transparency as to where their order is.
Owning distribution creates a moat. While third party marketplaces can get a company faster scale, long term consumer loyalty only comes via owned distribution channels. For example, in beauty, Good Glamm Group acquires 90% of its customers via its own channel. What this means is that these customers are cheaper to acquire, engage with the Good Glamm Group brand ensuring higher retention and lifetime value (LTV), shop on the website/app ensuring higher margins, and allow for cross-sell and upsell of new products. This gives Good Glamm Group a huge advantage over brands selling only on third-party marketplaces.
Customer Acquisition Cost (CAC) always goes up with scale. While performance marketing on channels like Google, Facebook is a good starting point, they almost always get extremely expensive as the marketing budget scales. Time and again, we have seen that all our consumer internet companies tap out on digital marketing at a few tens of thousands of new users a month. This leads to a consistent increase in CAC as the business scales unless the team is able to find alternate customer acquisition channels. One such channel that has worked successfully to scale to millions of users a month is TV.  This is due to its broad reach, which drives higher organic/brand searches, and improves conversions across all channels, resulting in lower cost of customer acquisition in the long term. However, as new, digitally-native consumers come online,  companies will need to innovate on newer channels of marketing which will be key differentiators to their growth and allow them to keep CAC low. Even today, we see companies have started using short video, audio, social, influencers, and content to diversify away from vanilla performance channels.
Flat-line cohorts unlock long term value. Retention pays dividends in customer value. Over time, flatlining cohorts are the key to sustainable profitability. Flatlining cohorts are the small subset of customers who absolutely love the product/platform and will keep coming back virtually forever. This group ensures extremely high LTV and allows the platform to spend aggressively on marketing to find more of those customers, thereby ensuring rapid growth.We believe that just a 1% increase in terminal flat-line monthly cohort retention can lead to a 3X increase in the long term value of the business.
Evaluating internet marketplaces for investment
These five tenets have helped us build several evaluation frameworks for different internet business models within India. While the broad metrics remain the same for any kind of internet marketplace anywhere in the world, the benchmarks are different depending on business model, category, and choice of distribution. The frameworks below are indicative of how we evaluate different internet businesses in India. In our experience, almost no business has every metric in green and specific benchmarks could vary slightly with scale and specific sector.
If you are a founder, building an internet marketplace or internet-first brand business in India, please write to us at IndiaInternetMarketplaces@bvp.com.