Jeremy Levine's backstory on Pinterest–from Series A to IPO
In early 2011, I left my New York City apartment at 4:45 a.m. and headed for the airport. I had scheduled a there-and-back day trip to California to meet with Mariam Naficy, the founder and CEO of Minted. I invited my San Francisco-based associate, Sarah Tavel, to join me. Sarah and I spent the morning with Minted's impressive team, and we wrapped up the visit over lunch with Mariam. To this day, I regret not asking Mariam if I could lead her Series A round, and with the benefit of hindsight, that was clearly a big mistake. (By the way, Minted just closed a $208 million financing a few months ago.)
Luckily, however, I got a chance to redeem myself later that afternoon when I met Ben Silbermann for the first time.
My flight back to New York was in a few hours, and Sarah suggested we kill the extra time with a visit to a tiny Palo Alto startup named Pinterest. Thanks to a torrential downpour, 101 traffic was a nightmare. By the time we got to the one-bedroom apartment serving as Pinterest's headquarters, I introduced myself with an apology–I only had ten minutes to chat, otherwise I'd miss my flight.
At first impression I could tell Ben Silbermann was an introverted and deeply-thoughtful person; he didn't provide a long preamble describing what Pinterest was all about. Instead, he showed me a 12-page presentation of simple slides with this cover: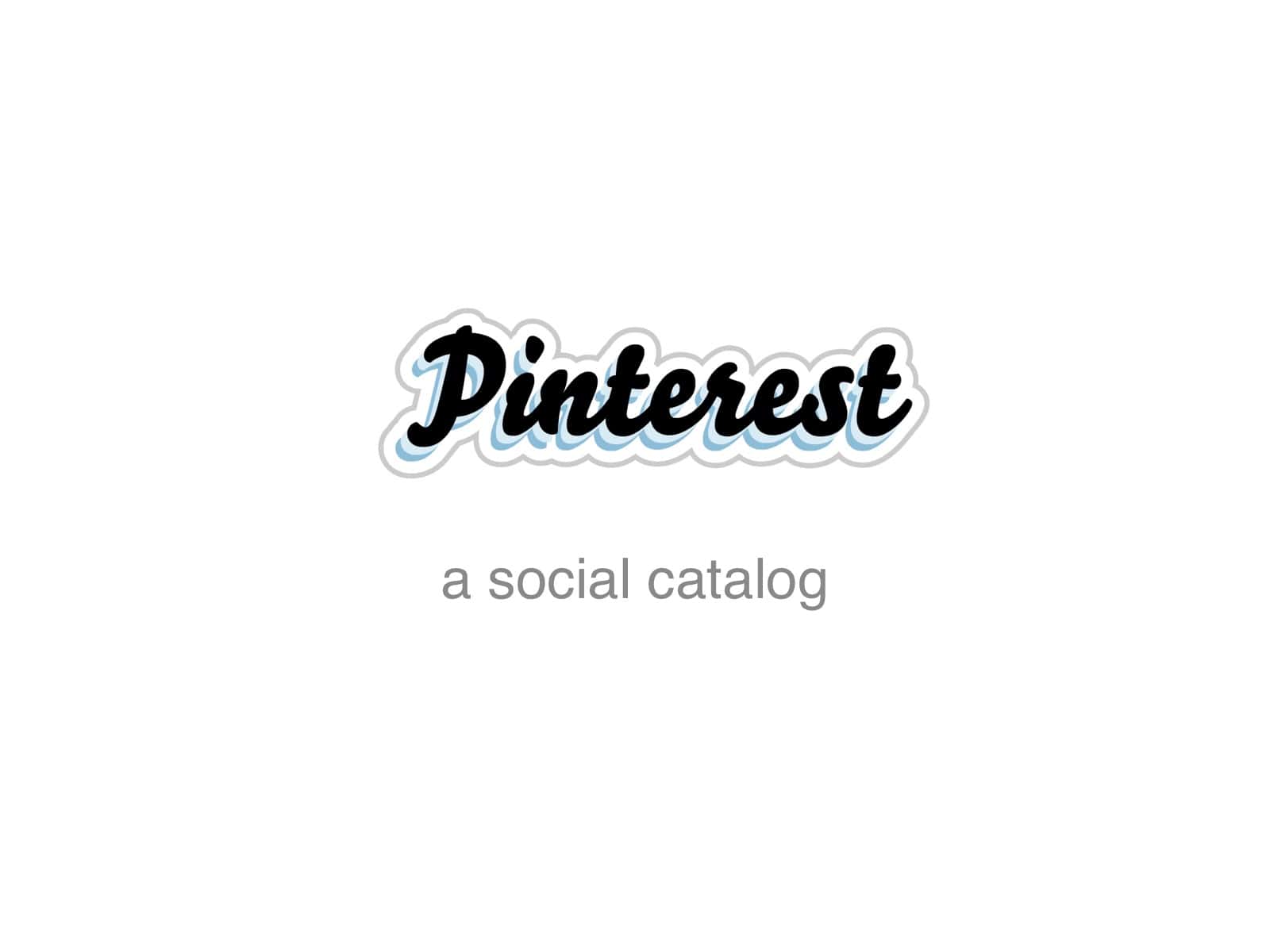 He then demonstrated the product with his own pinboards, which included a curated catalog of products for his "future kitchen." (You can still find that board here.)
While nearly all of Pinterest usage is on mobile devices today, back then, Pinterest didn't yet have a mobile product. Mobile did not get a single mention until the appendix of Ben's presentation, a place where he also foreshadowed the company's evolution to the Pinterest red that defines the brand today.
The team had just built its first-ever iPhone version of the app and was still waiting for approval from Apple. Here's the appendix slide pulled from Pinterest's original pitch deck: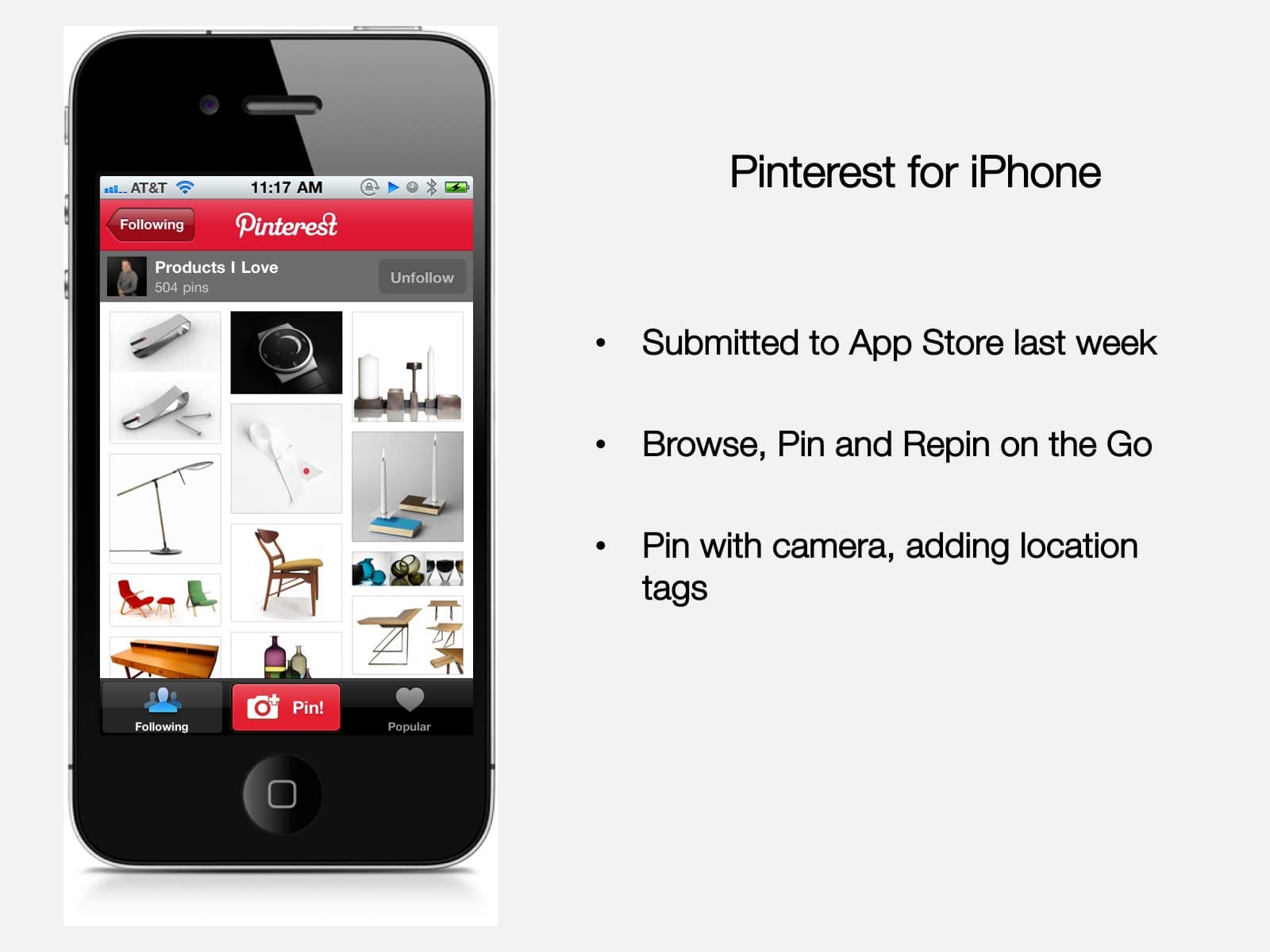 Having invested in UGC (user-generated content) platforms such as Yelp (UGC for local), LinkedIn (UGC for professionals), OLX (a UGC marketplace in Brazil), and Fandom (UGC for pop culture), I had long craved an investment opportunity in a UGC platform dedicated to products. The straight-forward business model connection to commerce was compelling. Seeing Ben's early pinboards, where he discovered, pinned, and curated products from around the world, was enough to convince me to skip my flight and continue the conversation.
Pinterest's straight-forward business model connection to commerce was compelling.
Let's just say that the red-eye I ended up taking back to New York several hours after my scheduled flight was well worth it.
A few weeks later, Bessemer led Pinterest's $10 million Series A round. The company had only five full-time people working out of a dingy Palo Alto apartment.
There were plenty of reasons to dismiss Pinterest as an exciting investment. The entire concept was a recent pivot from a failed shopping app called Tote. The website's stability was shaky at best. Finally, the company lacked a technical founder, and even co-founder Evan Sharp, who conceived of Pinterest's ground-breaking, image-dominated grid design, was still moonlighting up until the Series A financing.
However, the user love–or in Pinterest's case "pinner love"–was crystal clear.
In that early pitch deck, Ben quoted Katie Evans, a designer at Kate Spade: "Pinterest is one of the tabs that I keep up on screen all day long. I love exploring what other people are pinning."

Eight years later, as we celebrate the IPO, we can trace a number of ways in which Pinterest has done things differently from how most storybook Silicon Valley companies have operated.
Pinterest didn't crave the attention that most young companies seek after landing a big Series A investment. The small team focused on perfecting Pinterest's design and experience, rather than embrace the attention and distractions of press. They never even announced the fund raise.
Rather than blindly follow conventional wisdom that every Internet startup should have a technical founder, Ben and Evan played to their strengths and stuck with their design-centricity. In doing so, the company remained faithful to its product and community over prioritizing strategies that pushed for growth at all costs. And at every stage of its evolution, Pinterest embraced what made its personal discovery platform unique relative to the scores of consumer startups trying to make a name for themselves.
The virtues and strategies that differentiated Pinterest from the herd were also the ones that helped build an enduring community of more than 250 million pinners. 

Pinterest went from five employees with no revenue in a cramped Palo Alto apartment in 2011 to roughly 1,800 team members with more than $750 million in revenue and gleaming offices around the world just before their IPO.
With billions of monthly searches, 175 billion pins saved and 4 billion boards created, Pinterest provides a fresh and authentic way for advertisers to reach and engage consumers while they shop but before they've decided how exactly to spend their money. Pinterest's ability to influence shoppers "mid-funnel" is a byproduct of its pinner community using the platform to seek inspiration for their lives.
While so much has changed since that rainy day back in 2011 when I first met the company, Pinterest's most persistent virtue has been prioritizing pinners. Through my time investing in UGC platforms, I've never seen a more loyal, dedicated, and creative collective of users than those I've seen on Pinterest.
Congratulations to Ben, Evan, and everyone who has been part of Pinterest's evolution. The world is a more inspired place.