Roadmap Update: Remote Work
For the knowledge economy, going to work is more of a state of being than it is a destination. The future of work is remote and a new wave of software is emerging to reimagine how businesses and teams operate.
I first published our remote work roadmap (below) just three months before the COVID-19 pandemic swept through the U.S. It was inspired by over a year of research that led to our conviction that remote and distributed work was inevitable. Removing geography as a constraint to team building would be transformative. It also led to a few exciting investments, including companies like Papaya, Friday, and Discord.
We felt like we were peering into a crystal ball that illustrated the decade ahead of a remote-first future. Little did we know, our vision of the remote future would engulf the world in a matter in a days, not years! (Timing is everything, right?)
According to several surveys, roughly 40% of the American workforce continues to work remotely, a staggering increase in the number of remote workers since the release of our original roadmap. About one in every four people will continue to work from home through 2021. These rates will stay relatively the same (approximately 22%) through 2025.
Throughout the past year, entrepreneurs rose to the occasion to transition entire industries online and create new ones. With this in mind, we've updated our Market Map to reflect the current ecosystem.
We often underestimate the power and long-term impact of certain macro trends and technology innovations. Just as the cloud economy continues to transform industries, the shift to work-from-anywhere in 2020 has culminated into a new normal. Never bet against the internet.
Despite the incredible progress of this ecosystem, there is still hard work ahead. Zoom fatigue is real, many problems remain unsolved, and countless opportunities lie ahead. We are excited to continue to partner with founders and entrepreneurs building solutions to power our "work from anywhere" reality.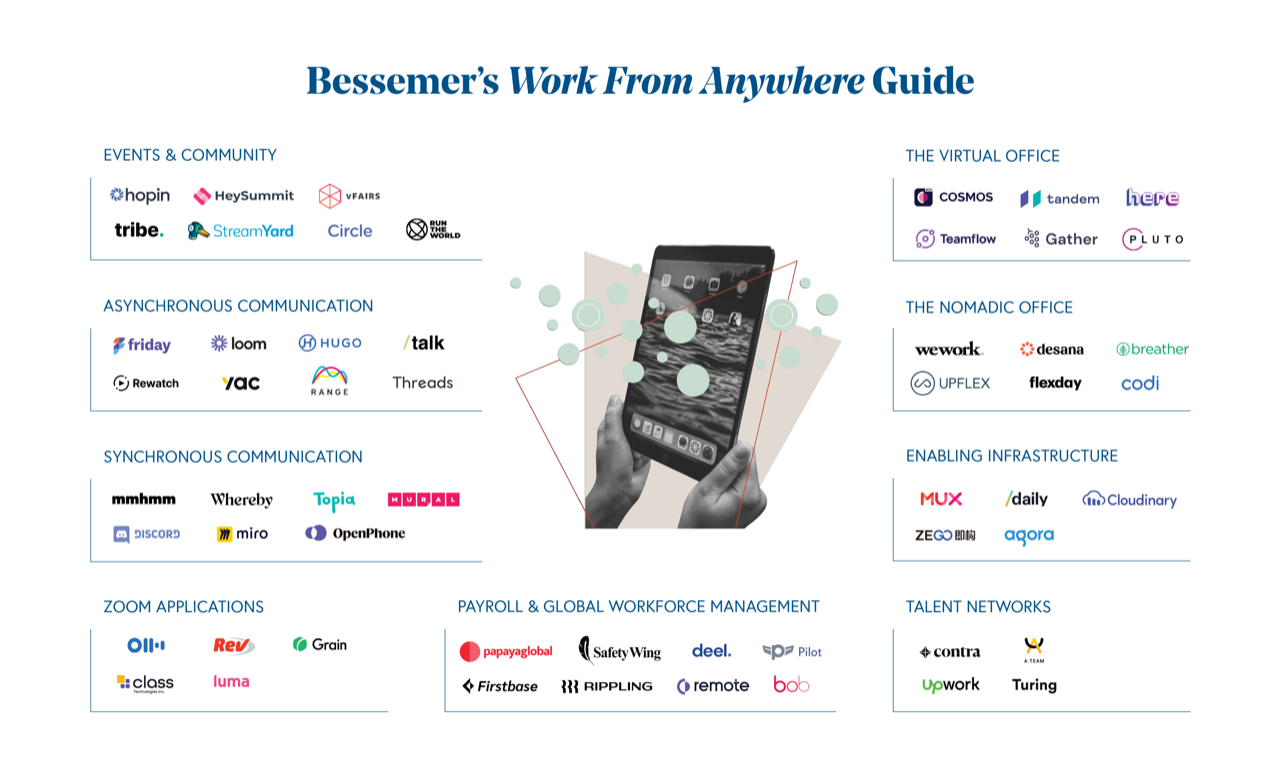 2020 Roadmap
First published: January 28, 2020
At Bessemer, we believe entrepreneurship is borderless and that geography is one of the greatest limitations of innovation and growth. We first came to this realization in the early 2000s when companies transitioned from on-premise to the cloud. This monumental shift enabled companies to achieve new levels of efficiency and hockey-stick growth. In fact, we have a long tradition of investing outside of Silicon Valley, with Shopify in Ottawa, Canada, Mindbody in San Luis Obispo, Procore in Santa Barbara, Toss in Seoul, Korea, and countless others.
Just as the shift from on-premise to cloud computing transformed industries, we are convinced that eliminating geography as a constraint to company building is similarly transformative. Remote and distributed teams can tap into limitless talent pools and unleash new levels of productivity and creative horsepower. They are built to be more scalable, more cost-effective, and have the potential to be more diverse compared to their "centralized" counterparts. In a world where talent is a company's most precious resource, this value proposition cannot be overstated.
In the near future, the knowledge economy will be built on a decentralized workforce. Businesses are already retrofitting team architectures to match this future state. As these changes begin to crest and companies reshape how teams are built and what "work" entails, a mega wave of business software and tools will support this new generation of knowledge workers. We are excited to partner with companies fueling remote and distributed teams.
Paradigm shifts in the knowledge economy
During the industrial revolution, people traveled to factories, manufacturing plants, shops, or other destinations to clock in and get paid. By 1959, the same year Peter Drucker penned Landmarks of Tomorrow where he coined the term "knowledge worker," office culture and corporate norms became ubiquitous. Today, thanks to "always-on" computers in our pockets and the proliferation of communication and collaboration software like Zoom and Slack, work isn't a destination as much as it is a state of being.
Today, we see four different team architectures for knowledge workers, all of which fall on the remote spectrum: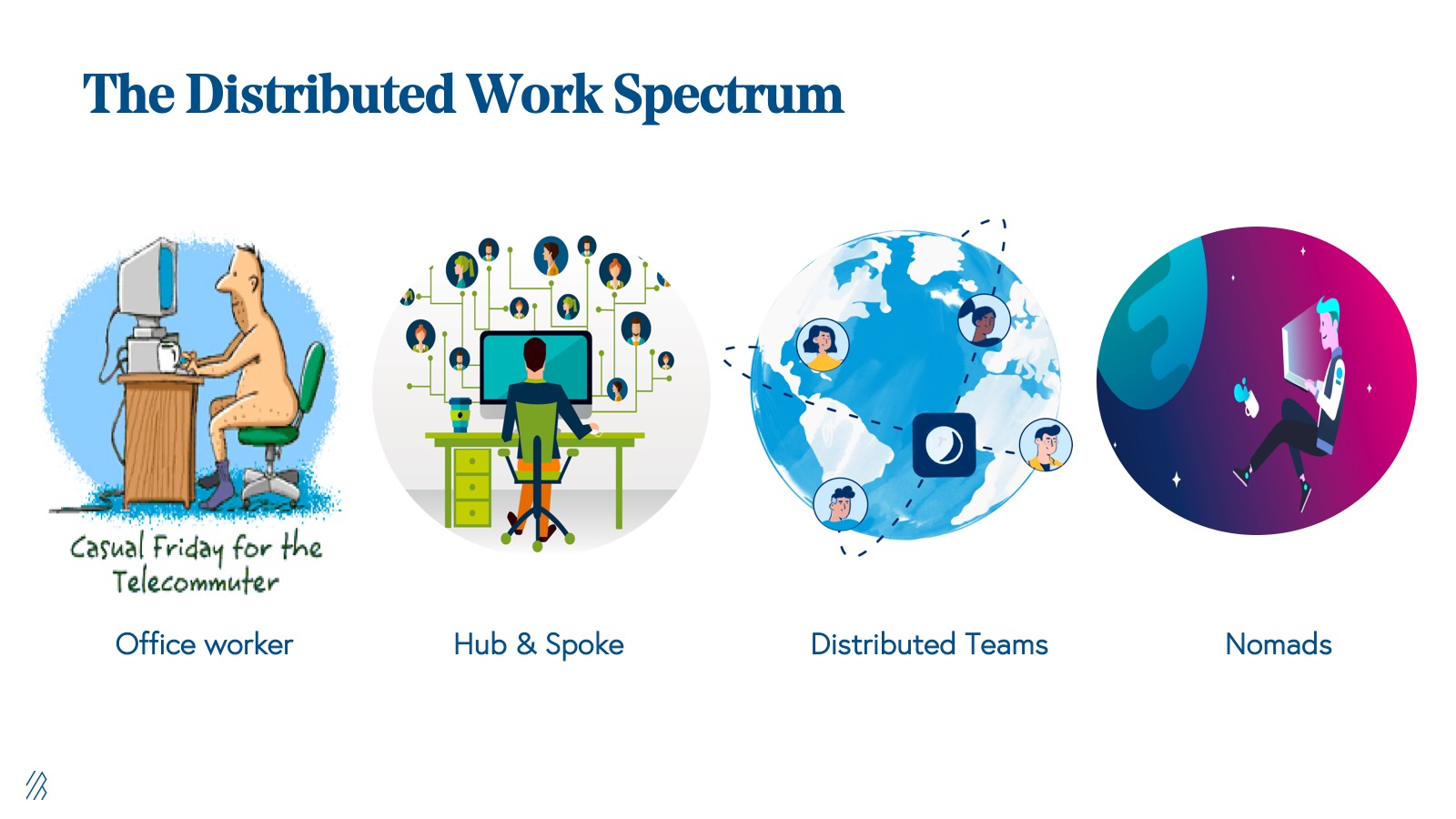 On-premise: Each employee works out of a specific office location.
Hub-and-spoke: A company has an HQ and a network of regional hubs to tap into talent across markets.
Distributed: These are companies with centralized offices that also support remote workers. For example, Shopify has offices throughout North America, Europe, and Asia, but also successfully built the Guru team, a fully distributed customer support team that serves all time zones. Likewise, Stripe recently announced its fifth engineering hub is remote.
Nomadic: These are completely officeless companies. Bessemer portfolio company Zapier is known for being a fully remote company, scaling to over 300 people.
Although fully remote companies remain the exception, it's just a matter of time until the Hokusai wave of distributed and nomadic work reaches the shores of every industry. Already, more than a third of the U.S. workforce is spread internationally. This change isn't driven solely because of societal demand, but also because of the advantages gained from distributed team models.
Key advantages of remote and distributed teams
Access to the best talent across the globe: Companies can hire the best talent, no longer constrained to finding people that live miles from the office.
Diversity as a superpower: When a team has more diversity, there is no shortage of fresh ideas, new outlooks, and potential solutions to a problem. Research shows that remote companies have four times as many female CEOs as non-remote companies.
Time and cost savings: The average office worker spends 53 minutes commuting; if an office worker evolved into a remote worker, even part-time, it could lead to more flexible schedules and improved standards of living. From an economic perspective, businesses that hire remote team members save approximately $11,000 per half-time teleworker per year.
Talent retention: Companies that offer remote work have lower attrition rates. Over the long term, talent retention increases productivity rates and boosts team morale.
Why distributed work is not well distributed
Despite the economic advantages and employee benefits companies get from building distributed teams, many companies still shy away from transitioning to this model. To better understand what's preventing entrepreneurs from encouraging and hiring for remote work, we surveyed a swath of Bessemer portfolio companies to understand their perceived fears and challenges.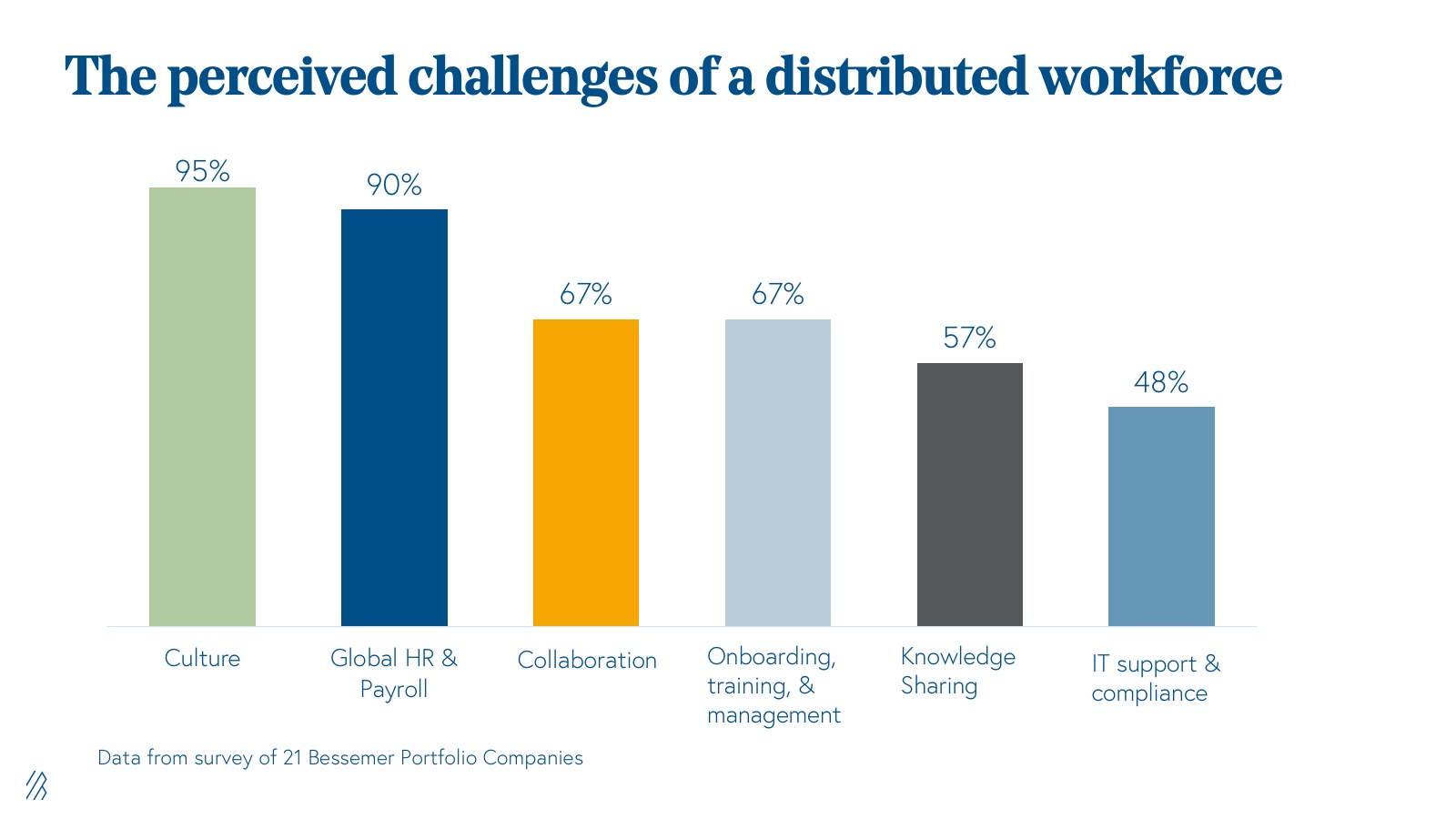 Here's what our portfolio companies had to say about their perceptions of distributed work:
95% say culture would be at risk;
90% think today's global HR & payroll tools are insufficient;
67% of companies worry about collaboration;
67% believe on-boarding, training, and management would be too difficult;
57% would struggle with knowledge sharing;
48% think IT support & compliance wouldn't be effective enough.
Our current and future portfolio companies are hungry for solutions to these problems. They are not alone. The opportunity to alleviate these pain points is massive and growing.
Where we see opportunities to power the future of work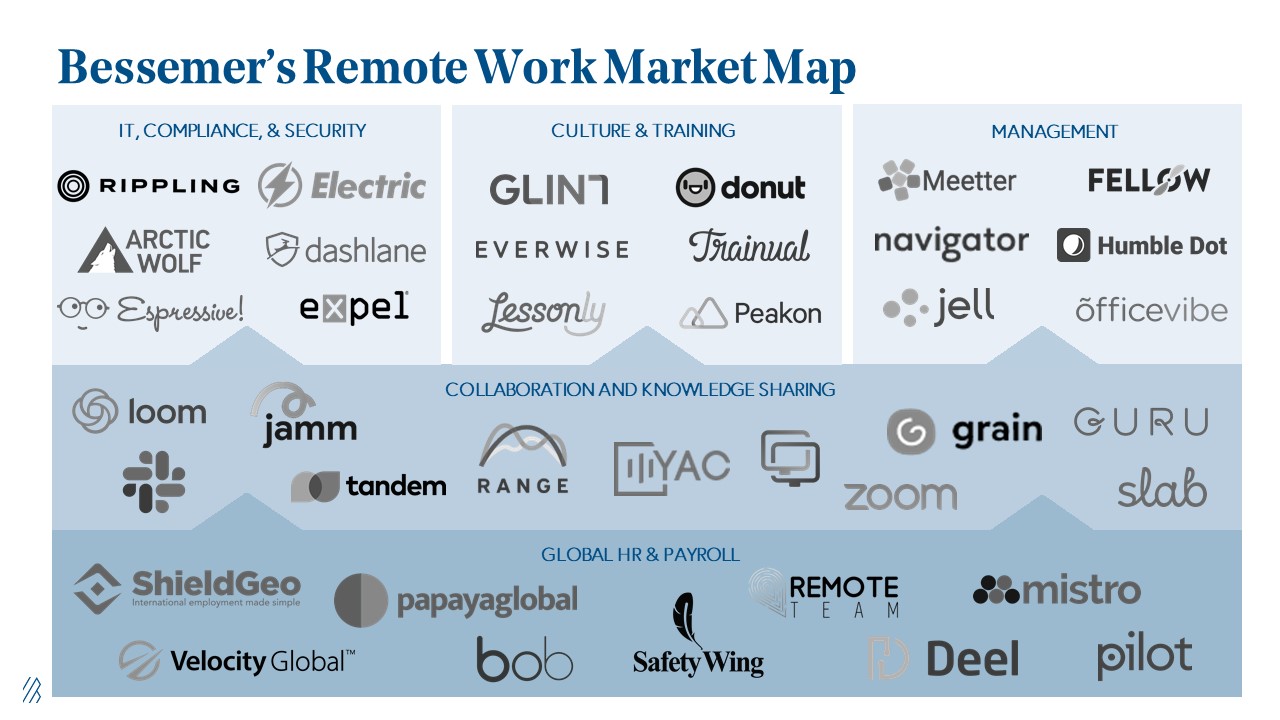 While we haven't carved out every possible category of this roadmap, these are the opportunities that excite us most:
Culture and Training
Building a strong and deliberate culture is a challenge for all companies. While culture is not defined by physical space, distributed teams need to create new playbooks to infuse their flavor into everyday interactions. Likewise, remote workers often cite loneliness as one of the biggest obstacles. There is an opportunity for software to bring serendipitous "water-cooler-talk" and "team-building" activities to a distributed environment. Bessemer portfolio company Glint (acquired by LinkedIn), provides employee engagement solutions to help companies stay abreast of worker satisfaction, development, and culture.
Likewise, training and on-boarding employees such that they are connected to the broader team is paramount. Zapier flew its first 150 employees to on-board in person with team leaders. While that built trust and authenticity, it doesn't scale. They have since developed a world-class on-boarding playbook, and we expect third party solutions will help streamline this process. Donut is one promising company focused on build culture through relationships, on-boarding, and bringing teammates together one-on-one.
Global Payroll and HR
While global candidate sourcing is becoming easier, managing, paying, and supporting different worker types across multiple cities and countries can be a nightmare. Local labor laws, regulations, benefits, and payments are increasingly complex and riddled with manual processes. As companies expand their footprint, they quickly discover that this is a recurring pain that compounds at the rate of the number of cities, regions, and countries they enter.
The good news is that there are new systems being built from the ground up with the distributed workforce in mind. Bessemer's portfolio company Papaya Global is one example. Papaya is a global payroll and workforce management platform that streamlines and automates payroll across 100+ countries for all worker types. It is one of the few truly technology-driven global payroll solutions on the market. We have our eyes open for companies pursuing other segments of the global HR & benefits market for modern teams.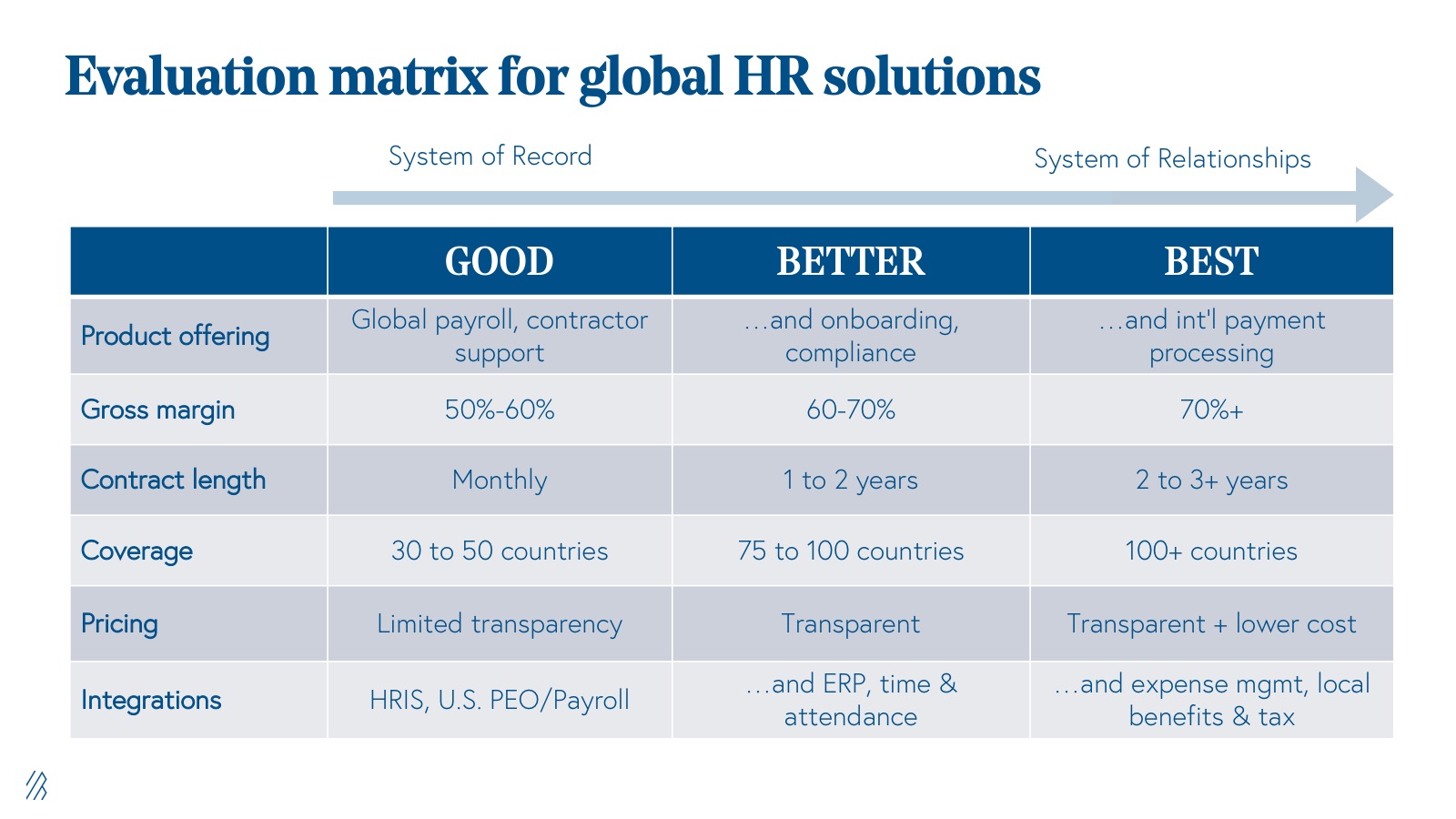 Collaboration and Knowledge Sharing
Over the past few years, there has been an explosion of workplace collaboration and communication software. Despite this, information still lives in silos.
We are also especially excited by novel modes of synchronous and asynchronous communication leveraging some combination of screen-sharing, voice, and video. Companies like Loom, Yac.Chat, Tandem, Jamm and Around exemplify the rising appetite for these types of solutions.
Likewise, the traditional concept of a knowledge base or "wiki" is becoming obsolete. Next-generation products unify information and contextually deliver knowledge directly into existing workflows. Guru is one company that has emerged as an early leader in this space.
Other areas of potential investment
Finally, three other areas we are keeping close tabs on include, IT Administration & Security (i.e., how do remote workers set-up and manage devices and software?), global benefits (how can remote employers easily offer benefits to a global workforce?), and Management (i.e., what services or software can help remote teams cultivate great managers and leaders?)
What's next?
Remote and distributed work is here. Bessemer is eager to support a new generation of companies purpose-built to power this workforce revolution. If you're an entrepreneur building products or services to enable remote work, we'd like to chat! You can email me, Talia Goldberg, at talia@bvp.com.