Roadmap: Enabling entrepreneurship in the creator economy
With the rise of new products and platforms that support small businesses and solopreneurs, the rebirth of the American Dream is underway—driven by the digital economy.
Contrary to popular belief, starting a business has never been harder. Although startup culture sometimes feels more like pop culture in mainstream media, the number of new businesses formed each year is decreasing. Over the past 30 years, new business creation has declined almost 50%. As small businesses dwindle, large enterprises capture market share. This trend has only become more severe in the wake of the pandemic as the data reveals a disproportionate decline in survival rates and job opportunities at small businesses.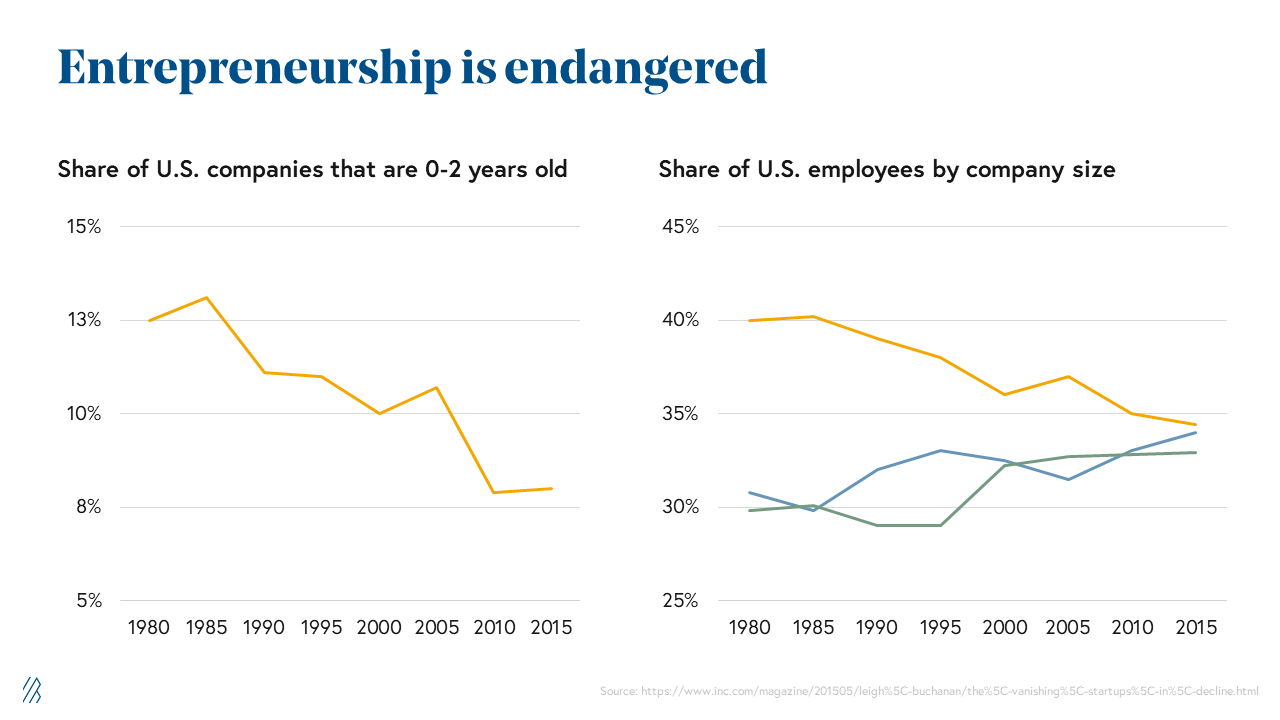 Ironically, today's entrepreneurial drought persists despite—or perhaps because of—advancements in Internet and cloud technology that promise to democratize access and lower upfront startup costs.
So what are the underlying trends contributing to this decline in entrepreneurship? As it turns out, the barriers to starting a business are high and the barriers to survival are often higher.
Three major forces creating headwinds for aspiring small business owners
1. Regulation - Navigating local and federal regulations can be incredibly complex, requiring trips to city hall and reams of paperwork. There is also often substantial effort required to procure necessary licenses, insurance, and approvals. This is all, of course, before a business even gets up and running!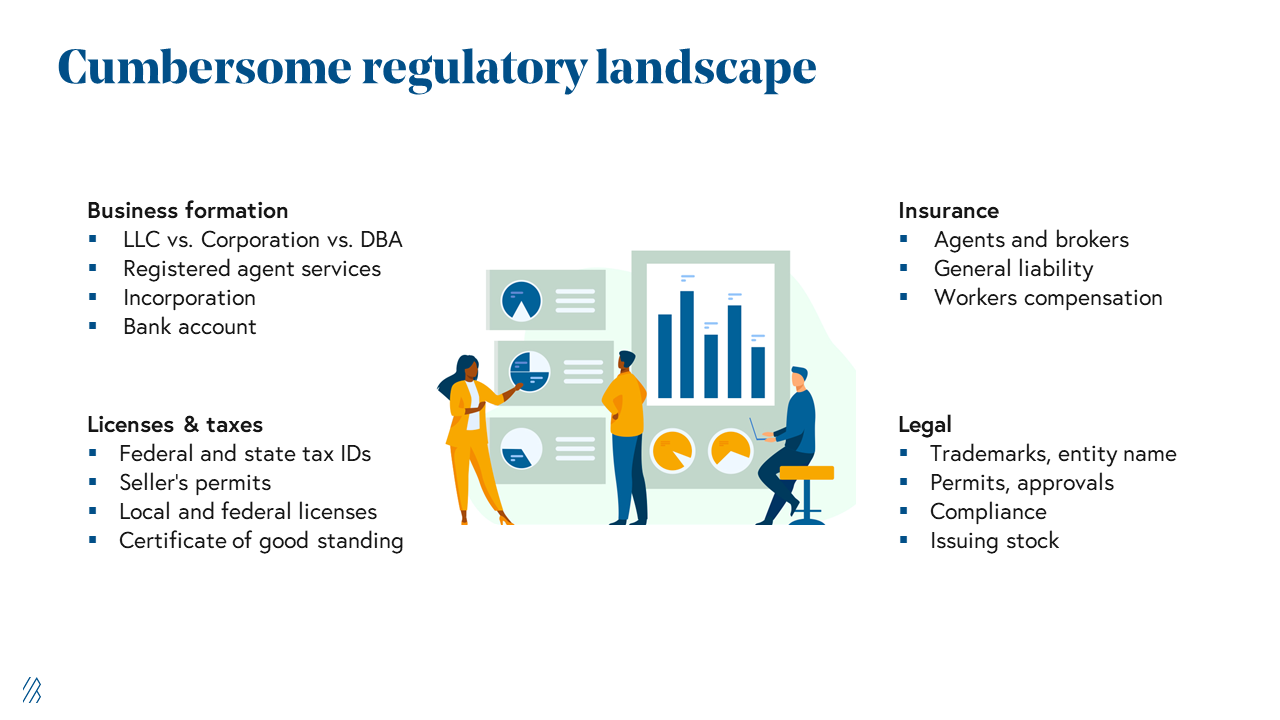 2. The big get bigger - The antithesis of greenfield, today's big box retailers and large tech incumbents often suck the air out of the room and capture disproportionate share of consumer spend. The pandemic exacerbated this as many small businesses struggled to survive social distancing mandates and decreased consumption, leaving the giants with more market share and an increasingly consolidated landscape. In 2019, Amazon became the world's largest retailer, controlling 45% of the e-commerce market, up from 34% in 2016. Their market share is expected to grow past 50% by 2021. This illustrates a larger trend that continues to persist. One example of this is the S&P 500 to GDP ratio, which stands at .17 today. This is the highest it has been in over 50 years and nearly double what it was just ten years ago. Since 2010, the growth of the S&P 500 has meaningfully eclipsed overall GDP growth in the US.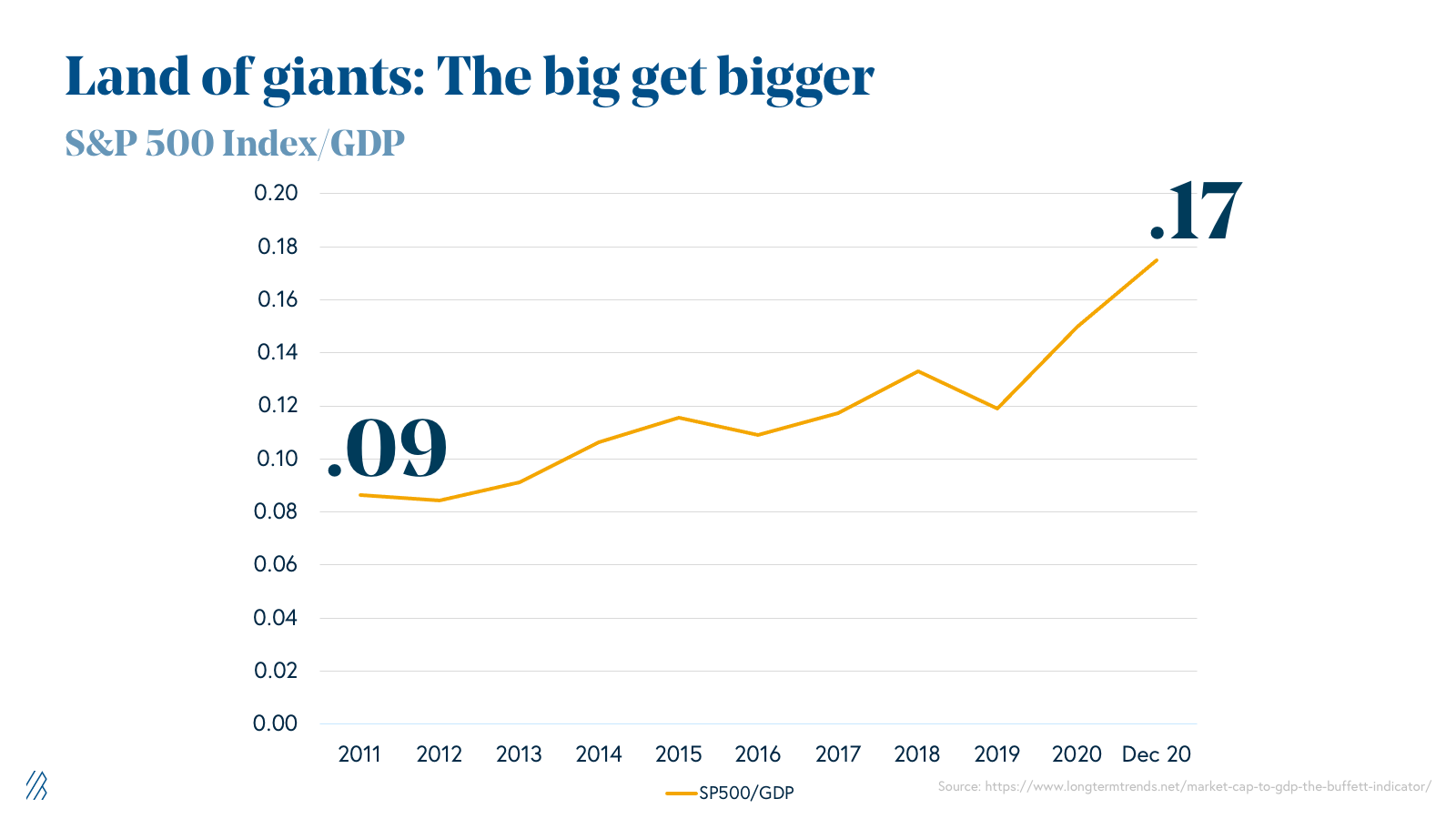 3. Access to capital - Despite explosive growth in early stage venture funding, many SMBs and solopreneurs are unable to secure the funding they need to operate. "Friends and family" rounds instead materialize as scarce small business loans. The Federal Reserve Bank's Small Business Survey indicates that less than half of small businesses have their financing needs met. For "solopreneurs," the financing options are even more scarce and often nonexistent.
Democratizing the CEO and reinventing the American Dream
While these obstacles are real, they are not insurmountable. In fact, we believe we are at the onset of a new wave of entrepreneurship—a rebirth of the American Dream. Amidst a social, economic, and health crisis, Q3 2020 saw a sudden spike in new business applications, the biggest in more than a decade as many use this period of uncertainty to take a shot at entrepreneurship.
For many, this year in particular has been one of survival, especially with record unemployment rates. And yet, the resilience of the entrepreneurial spirit persists as individuals rethink their skills and either start new ventures or reimagine their businesses to thrive in a digital-first world.
There are also promising cultural and macro shifts supporting a resurgence of entrepreneurs, solopreneurs, and small businesses. A younger generation of builders has more entrepreneurial ambitions than their predecessors, with 63% wanting to be their own boss and start side hustles that will, we believe, prove to be sustainable income sources in the future. For example, as marketing shifts to online channels and individual influencers can build and grow their own audiences, traditional retailers are seeing a decline in the value of foot traffic.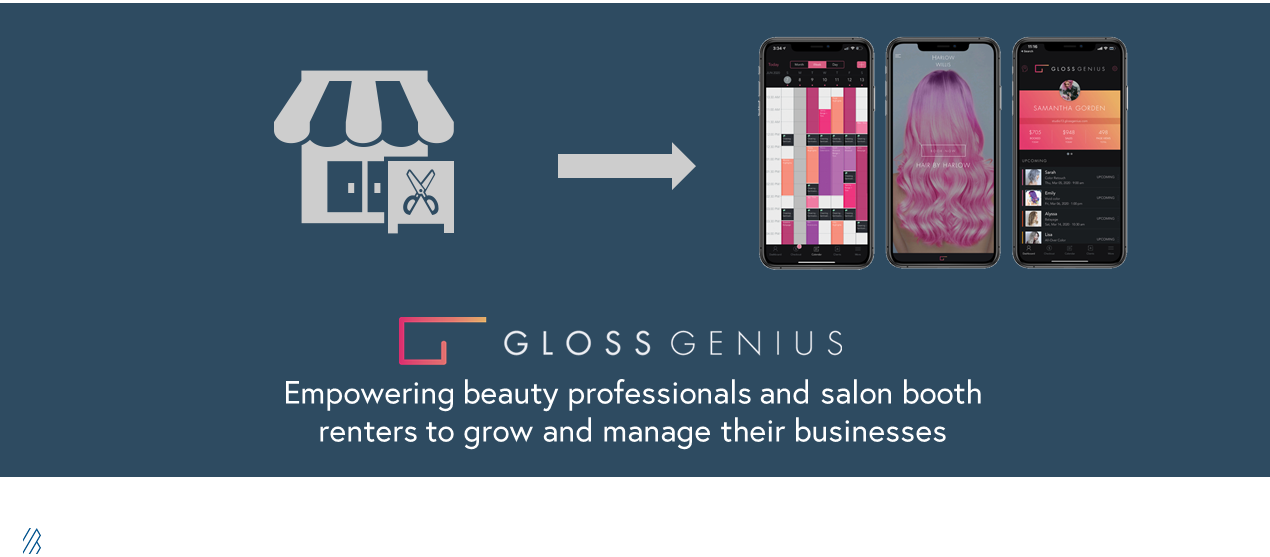 One salient example is GlossGenius, a startup that empowers individual beauty professionals and salon booth renters to grow and manage their own businesses, enabling them to build brands that thrive independent of physical salons.
Technology has also unlocked new entrepreneurship categories. From digital content to cloud kitchens to online storefronts, there are many emerging areas ripe with opportunity.
We are excited about technology platforms and products that democratize the CEO by reducing the friction of starting and scaling a small business.
Current and former Bessemer portfolio companies that are enabling and empowering entrepreneurship include Shopify, Wix, Teachable, Tribe, Streamloots, and Canva, and after evaluating countless others, we have created six laws for assessing these businesses.
Six laws for platforms that enable entrepreneurship
Law 1: Forget churn, focus on expansion revenue with pricing that scales with customers
Most enabling entrepreneurship businesses cater to the long tail of individuals or micro-enterprises. This is a high churn segment often with 40% gross customer churn, which can be inevitable. The best way to counter this is by generating more revenue from your successful customers, measured by net revenue retention above 80% and ideally 100%+. Pricing should tie to the success of the customer. This means your most successful customers pay more over time.
Despite a multitude of levers and business models that allow businesses to capture the value being generated by their customers, most startups utilize some form of a transaction fee to tie revenue with customer success. Importantly, they are not one-size-fits-all. Platforms that spend time and money to generate incremental demand for their customers earn the right to capture a transaction fee of more than 5%.
For example Outschool, a marketplace for live online classes for kids, commands a 30% take rate as its teachers depend on the platform to acquire learners. Conversely, Shopify pushes the full burden of customer acquisition onto its merchant and, as a result, only captures a few percentage points of gross sales. It is critically important to ensure your fee scheme is aligned with the value you provide.
Law 2: Scale with your customers
Reducing the friction for individuals is key. But as outlined in Law #1, churn is inevitable, so it is critical to retain the most successful customers, even and especially as they grow to require enterprise level features and support. This means progressively building functionality to support the upmarket opportunity without distracting from the simplicity that appeals to the long-tail.
This is perhaps the hardest of the laws to master. There are few companies able to provide a simple, easy-to-get-started offering, while simultaneously serving the needs of their enterprise customers.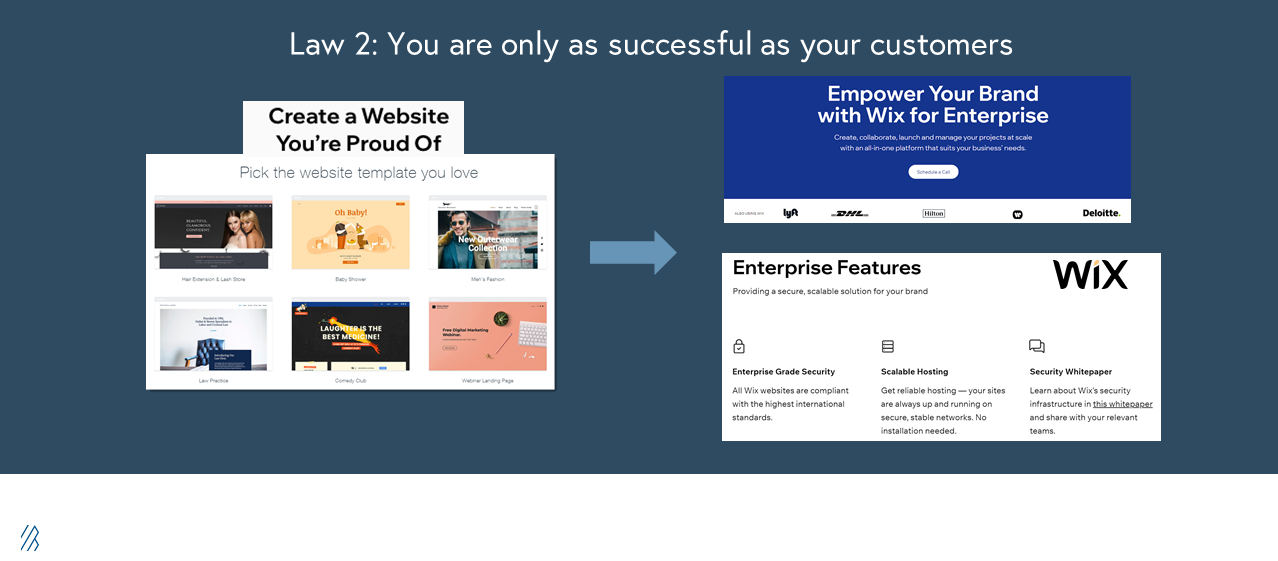 Our portfolio company Wix has done this masterfully, starting as a simple website builder and growing with their fastest-scaling customers to offer enterprise-grade features such as security, scalable hosting, integrations, accelerated web development, permissioning, and collaboration features. Our partner Adam Fisher discusses this trend for SMB-focused businesses more broadly in his piece on moving upmarket.
Law 3: Side hustle to main hustle
The most successful sub-categories we've observed are those that start as "side hustles" but can eventually evolve into lucrative careers. A great example of this is Substack, a platform that makes it easy to start an email newsletter subscription. Many of their initial customers started as amateur bloggers with passionate Twitter followings who, in just two years, are now raking in hundreds of thousands of dollars.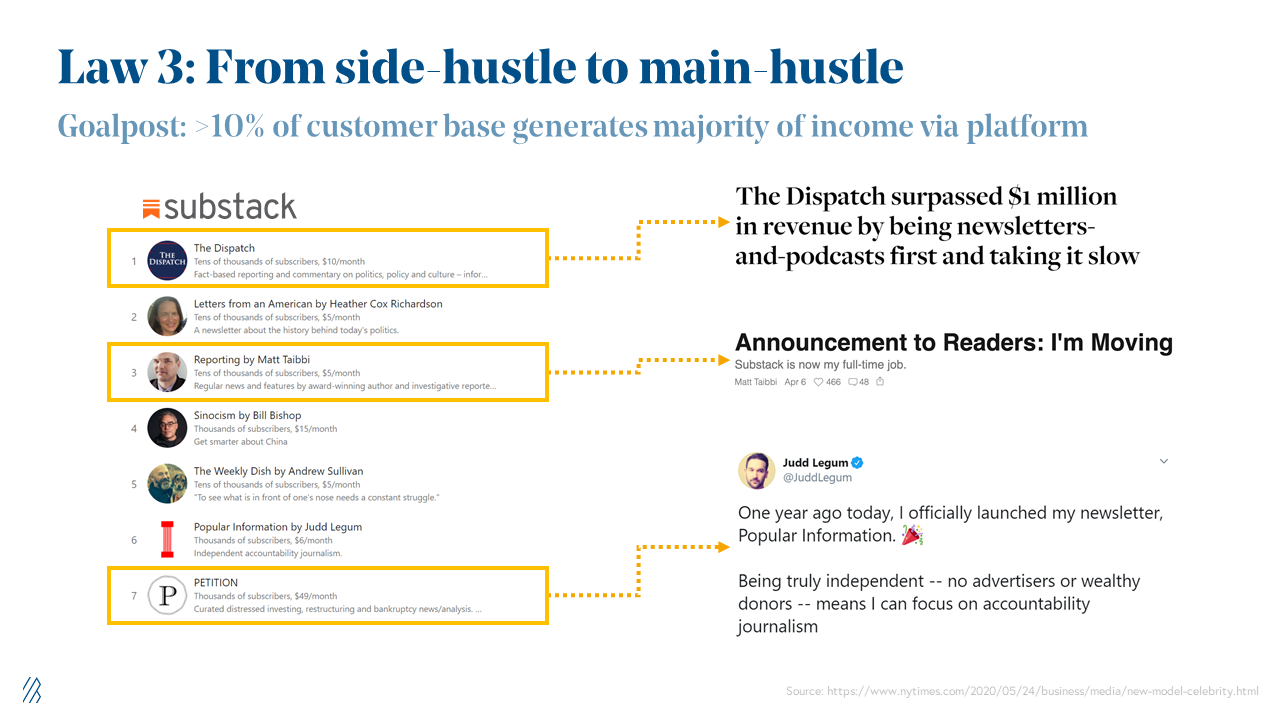 On average, this payday is higher than that offered by traditional media publications and helps explain in part why Substack customers have now also diversified to include professional writers leaving well-established newspapers and magazines to write for themselves and their specific audiences.
The more successful startups in this space have at least 10% of their customer bases generating the majority of their income via the platform.
As another example, Bessemer portfolio company Streamloots enables streamers to sell exclusive, interactive digital content to their fan bases. Streamers sell surprise interactions in the form of mystery digital cards within chests, shout outs, social media follows, and more. This not only provides an income source for the streamer, but also serves to further engage the community.
Law 4: Narrow the funnel
Companies often spend too much time and money focused on filling the top of the funnel and too little on conversion within the funnel. Many companies suffer from severe leakage as the barriers to creating something of value are still too high. At Bessemer, we encourage our portfolio companies to focus on improving conversion, ideally by 10% or more each year, and to do so by automating the steps required to go live and reducing friction between ideation and creation.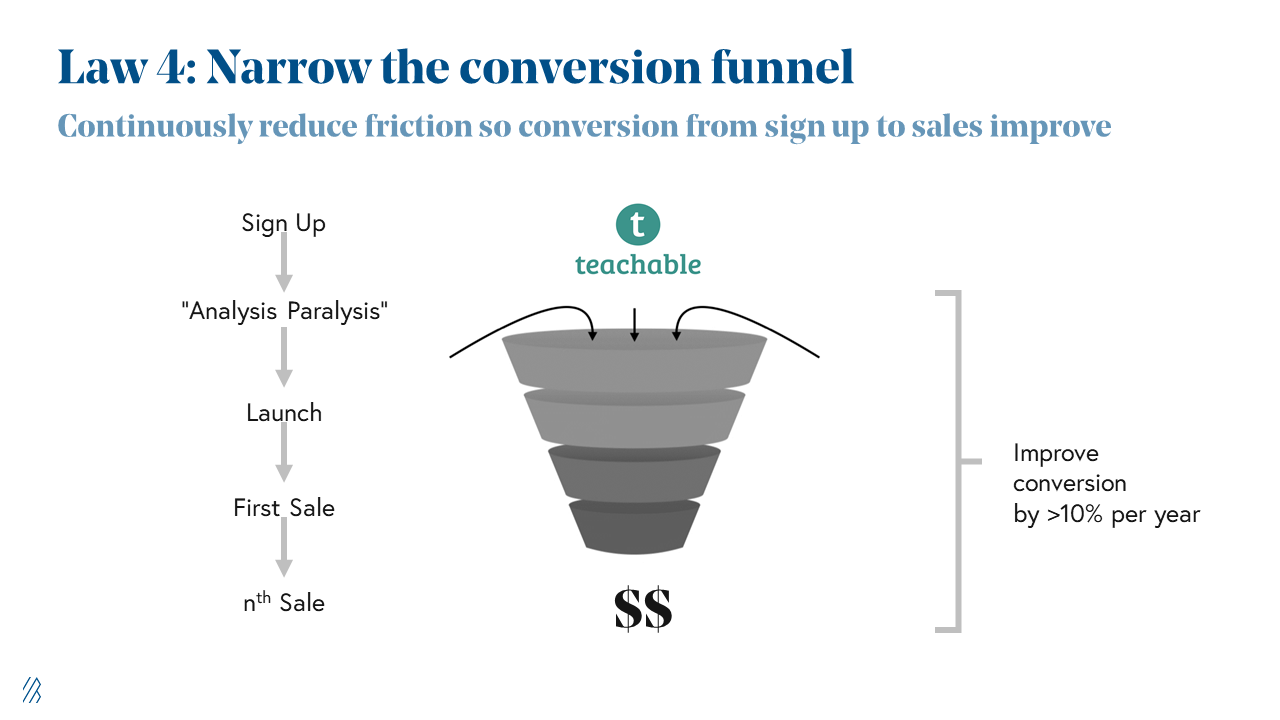 In 2017, we invested in Teachable, a platform for creating and selling online courses. Their users had grand ambitions but would get stuck in "analysis paralysis" and never actually launch or finish the creation process. By investing in product features that made it easier to create high quality content, Teachable dramatically improved conversion rates, resulting in faster growth and better economics.
Law 5: Arm the rebels
As the big get bigger, the best way to fight the large incumbents is to arm the underdogs with tools to help them differentiate, accentuate their uniqueness, and cultivate direct relationships with consumers.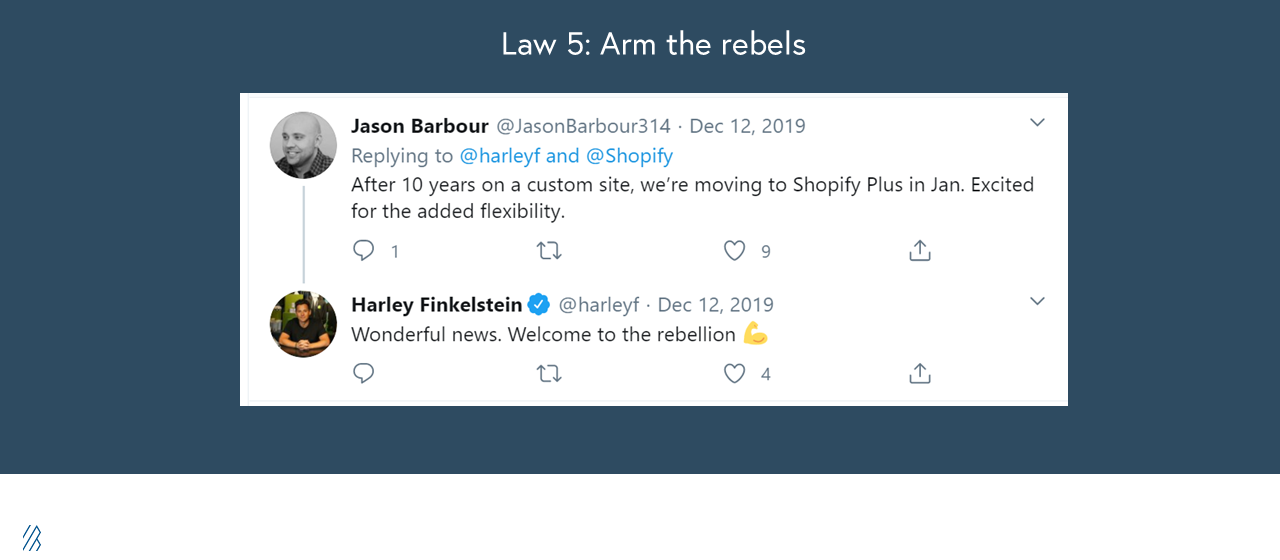 There is no better example of this than Shopify, which has positioned itself as the Anti-Amazon. The Shopify team has described the company as "arming the rebels against the Amazon Empire" by providing the platform and infrastructure needed to enable independent businesses to offer a similar customer experience to that of Amazon's at scale, an ideal that would otherwise require billions of dollars to recreate.
Law 6: Founder market fit
Founders that have first-hand experience facing these challenges are often best positioned to solve them. These often are not the stereotypical Silicon Valley founders, but those with an unfair advantage in the form of deep customer empathy and understanding. This authenticity cannot be manufactured and engenders trust and support from early customers.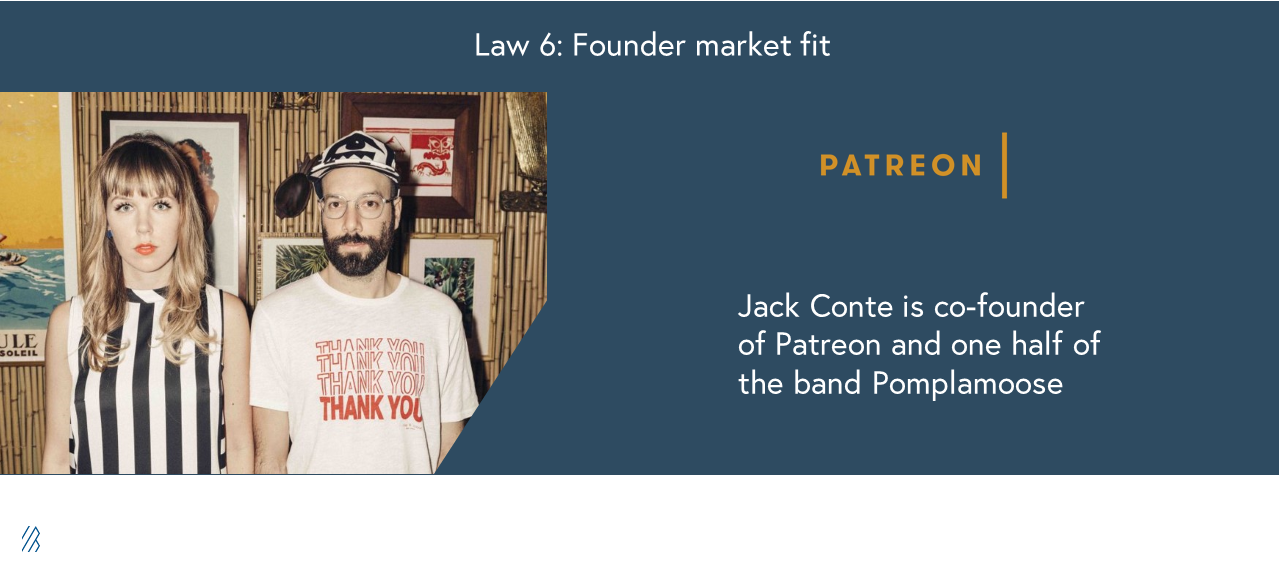 One of our favorite examples of this is Patreon. Founder Jack Conte is still a musician in the band Pomplamoose. He started Patreon to better monetize his fan base and stay more connected to his audience. He soon discovered that millions like him needed similar tools.
Lived experience is often the greatest competitive insight or edge a founder has.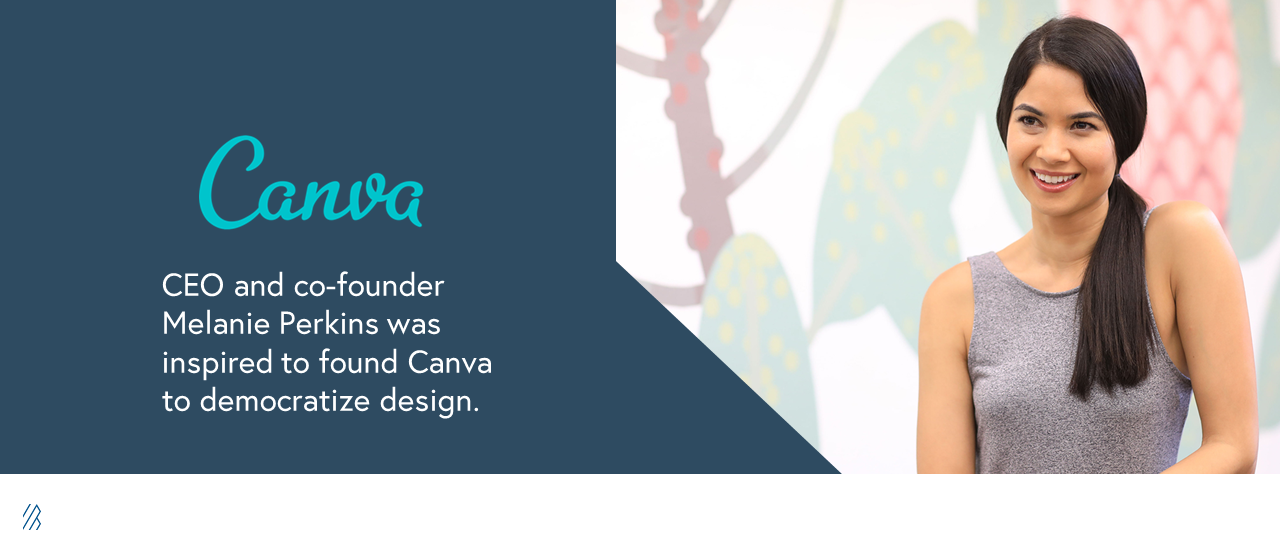 We continue to see this trend play out across our portfolio. For example, Melanie Perkins started Canva to make design accessible to all. While teaching a design course to students, Melanie saw how difficult it was to use existing tools from Microsoft and Adobe even for seemingly simple projects like creating a yearbook. To test this idea, Melanie built Fusion Books, an online school yearbook design business that remains a standalone company today, and served as the foundation for Canva's product.
Landscape of enabling entrepreneurship
Using these six criteria, we are looking to back companies across these three segments:
Vertical platforms specific to a type of work, such as a Shopify for commerce or Teachable for online courses. Generally these are the core systems of record and work where core creation and management occurs.
Engagement and monetization tools that help to grow an entrepreneur's audience and build direct relations with end consumers. This includes companies like Bessemer's newest portfolio company, Tribe, which provides community management tools, or StreamYard which makes it easy for anyone to create a professional livestream.
G&A automation software tools automate the back office complexities of starting and scaling a business. This includes both the initial setup processes such as incorporating and licensing, but also ongoing work such as taxes and payroll, essential to continuing operations.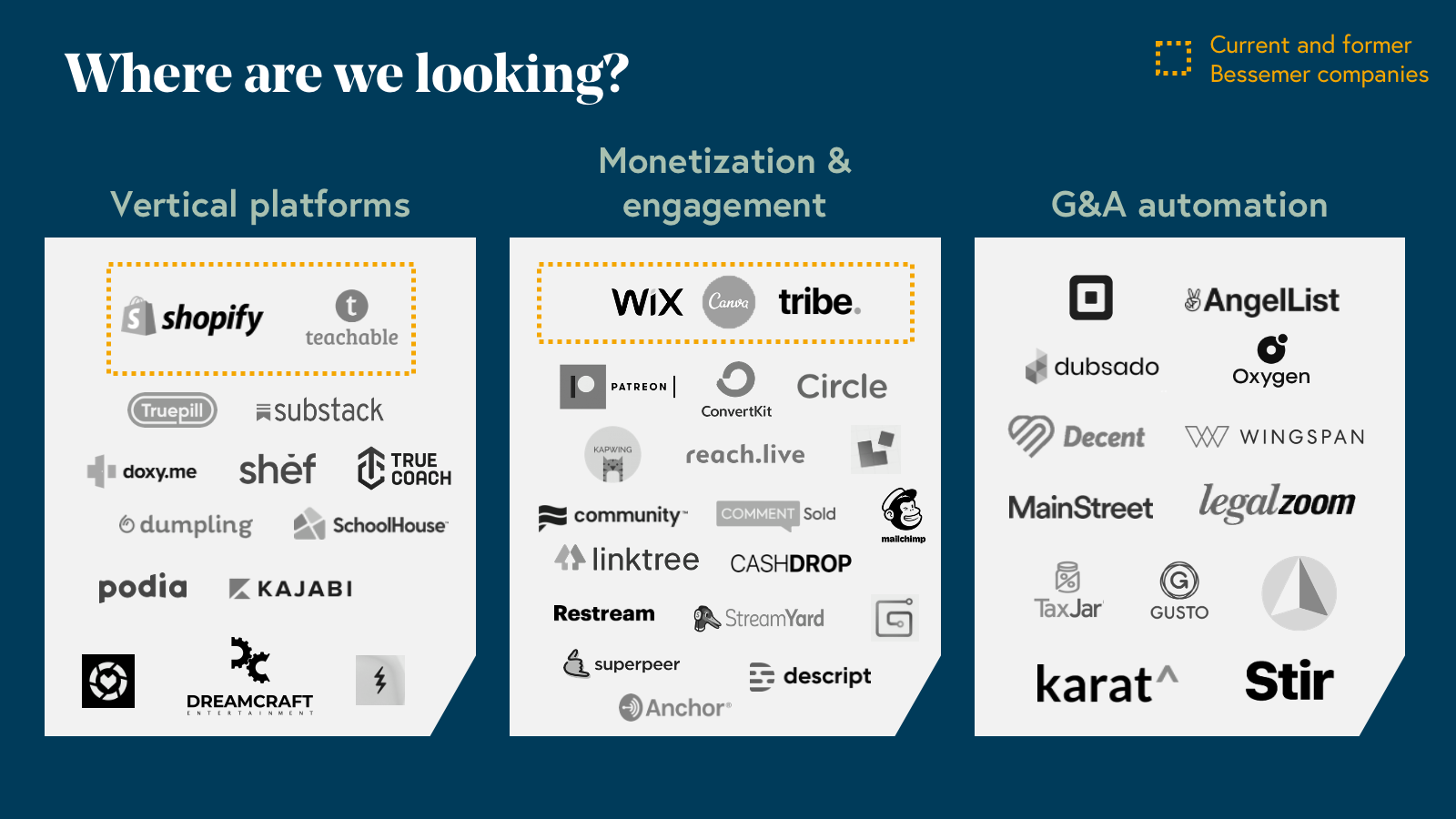 The new wave of entrepreneurship
A new wave of entrepreneurship is about to crest. The technologies and tools that support every facet of small businesses and solopreneurship will fuel economic growth and opportunity.
We are eager to work with builders that are helping their peers make a lasting impact on their unique industries. With new tools to enable entrepreneurship, we won't be surprised to see an order of magnitude more millennials and Gen Zers become self-employed in the next ten to twenty years.
If you are working on a company in this ecosystem or want to learn more about how we think about building and investing in these businesses, please email us directly. Reach out to Talia Goldberg (talia@bvp.com), Sakib Dadi (sdadi@bvp.com), or Lindsey Li (lli@bvp.com).