Bright Health
To: BVP Group
From: Steve Kraus, Bob Goodman, Andrew Hedin
Date: March 21, 2016
Re: Bright Health Series A IR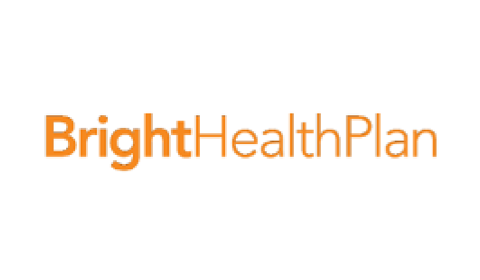 We recommend a tranched $28.8M ($16.2M upfront) investment as part of Bright Health's $80M Series A at a $37.5M pre-money, inclusive of a 10% unallocated pool. In this round, the company plans to launch in Colorado in 2017, launch in one or two other geographies in 2018, and see the plan's performance data through 2017 all before needing outside capital. BVP and our co-investor Mo Makhzoumi at NEA will co-lead the round, post-financing BVP will own 24% of the company on a fully-diluted basis.
Our diligence over the last several weeks has provided more conviction in both the Bright Health strategy and the team (and in particular, the founder/CEO Bob Sheehy). In our diligence, we've conducted dozens of industry calls, spent a day with Centura (Bright's first health system launch partner), met the local Bright Health Colorado team, and have engaged the leading health plan actuarial consulting firm (Milliman) to review Bright's financial projection assumptions. This diligence continues to give us comfort that Bob and his team are the right team to back in this space, that the market opportunity is massive, and that the Bright Health strategy is the right model for building a long-term sustainable consumer focused health plan.
Introduction:
Bob Sheehy, CEO of Bright Health, will be presenting to the partnership from the Larchmont office on Tuesday at 2pm ET. Bright is a Minneapolis-based health plan founded by Bob - the former CEO of UnitedHealthcare (the largest health insurance company in the country). We have examined several de novo health plans over the last couple of years (e.g., Oscar Health, Clover Health, Melody Health, SeaChange, etc.) and believe that Bright Health is the most promising of these, with the potential to become a major player in a massive market (currently $50B and expected to grow over next five years to >$100B). Unsurprisingly, starting a health plan requires a lot of capital, which is why we are recommending the large $80m Series A. While there's a lot to like, there are many "known unknowns" (detailed later) that create a lot of variance in the potential outcomes. There is also a real risk of the company needing to raise significant additional capital early in the investment period, although the larger proposed capital raise mitigates some of this risk.
By the Numbers
$37.5MM pre-money valuation
~$80MM Series A, tranched with $45MM upfront ($20MM is required on the balance sheet upfront as "statutory capital" per insurance regulations)
Investment: $28.8MM from BVP. NEA will co-lead. Additional investment from the seed investors (Flare and Waterline Ventures).
Market size: commercial health plan revenue is ~$1T annually. UnitedHealth (the largest insurer) is valued at >$110B and the top 5 insurers all have market caps >$25B
Bright Health will "relaunch" a narrow-network product in Colorado that obtained 40K members in one year (~$110M in premiums revenue) with an impressively low unadjusted Medical Loss Ratio (MLR) of ~65-75%
The investment thesis here is simple – huge market, great team, and a strong initial health plan product with many expansion opportunities. Bright Health is playing in one of the biggest markets within healthcare (and probably within venture) and is also led by an A+ CEO (Bob Sheehy) that we think is one of the better people out there to start a new health plan. Bob has operated more health plans than anyone else in the country and was previously CEO of UnitedHealthcare (the health plan division of United Health Group) with all state health plans reporting up to him. While there, he led all of United's acquisitions that were health plan focused. In addition to this big company experience, Bob actually grew into this position through several startup health plans, including in Colorado (the first geography of Bright Health). In our time with Bob, we've found him to be an extremely thoughtful operator who we believe is hungry and willing to roll up his sleeves in the scrappy start-up world.
The market size is huge (UnitedHealth is a $113B dollar company), and we feel good that a successful new health plan will have multiple exit options. There's potential to build a very large independent company, as a successful launch in 3 markets can legitimately bring in revenues of over $1B. Additionally, the major players have been consolidating and continue to demonstrate their acquisitive nature.
The core initial Bright Health product will be a low-cost individual health plan that offers an Exclusive Provider Organization (EPO) that is clinically integrated with a local health system, with the potential to expand into new product lines like Medicare Advantage. We have spoken with Bright's first health system partner, Centura, and they are fully committed to working with Bright Health..
Product description:
There are two key features of Bright Health's individual product in every market: 1) the plan will be a narrow network of providers called an EPO and 2) the product will be deeply integrated with a health system. This will allow them to run one of the lowest cost health plans in a given geography. With an EPO offering, Bright Health will have better insight and control over their costs. Additionally, the integration with the health system will have a financial benefit for both sides. Bright Health will get low negotiated rates, improving their MLR. For the health system, Bright Health will increase patient volume. In turn, Bright is able to offer affordable health plans to the end consumer.
The first market will be Colorado, and the strategy will be replicated in additional geographies (projecting 3 markets in total within 5 years). Bright has identified an initial set of 13 attractive expansion markets. In Colorado, members of Bright Health's plan will mainly receive care at Centura hospitals and from Centura-affiliated physicians (hence the name Exclusive Provider Organization). Centura is the largest health system in Colorado with 18 hospitals, 250 ambulatory sites, 3800 aligned physicians in a tightly integrated delivery network. EPOs have had non-risk adjusted medical loss ratios between 65-75% on the individual market (we're still digging into how universal this is), while broader networks like a PPO plan have had MLRs well over 100%.
The Bright team continues to evaluate second and third markets, and they have been getting a lot of interest from leading health systems around the country. The team has been extremely thoughtful about their approach to finding a health system partner like Centura in markets that are as attractive (or more) than Colorado, and the team expects to be able to launch with one or two new partners in 2018. In these markets, Bright will likely launch both an individual plan and Medicare Advantage plan simultaneously.
One of the main reasons Bright should be profitable is that the deep integration with Centura will help to significantly reduce costs. First, Bright Health gets attractive negotiated rates. Second, Bright Health can share patient level data with physicians to help identify higher risk patients that need to be more closely managed. Our discussions with Centura have suggested this is one of the most beneficial aspects of the relationship to them, and they do not believe a larger, non-EPO insurer could ever integrate as closely as Bright Health will. The relationship is also expected to be valuable from a volume standpoint for health systems. Finally, this deep integration allows Bright Health to closely ensure appropriate membership risk coding (important for reimbursement).
In addition to offering a lower cost plan, Bright Health also plans to differentiate itself based on its consumer experience, primarily by providing superior technology offerings that traditional health plans (note: the bar is very low here). A mobile engagement offering (including telemedicine and best-of-breed health trackers) will be a core component of the Bright product. The plan also plans to incent/reward members for health and wellness activities.
Market:
Over $2T in spend flows through health insurance products each year. Health insurance can be broken into three segments at a high level: 1) commercial, 2) Medicare (federal government payor that covers the elderly and some disabled), and 3) Medicaid (joint state and federal payor that covers low income Americans). Annual spend in each segment is huge: commercial is $1T, Medicare is $600B, and Medicaid is $500B.
The commercial segment can be further broken down into two categories: health plan risk products with ~76M enrolled (~16M individual, ~16M small group, ~44M large group) and employer self-funded ASO products with ~90M+ enrolled. Bright Health's first product will be focused on the growing ~16M individual market. Over time, Bright Health's infrastructure could allow them to move "upstream" to EPO products for self-funded employers and the small group market. Of the ~50M Americans on Medicare, a growing segment (currently ~16M) are managed by health plans called Medicare Advantage (MA). The company believes that MA products are a natural extension from their individual product offerings, and MA plans could offer meaningful upside to Bright Health. About 2/3 of Medicaid patients receive their care through a managed care plan, but Bright Health doesn't plan to target the Medicaid segment currently.
The individual market has become increasingly important under the Patient Protection and Affordable Care Act (PPACA). Due to a combination of the individual mandate (the penalty for not having health insurance) and subsidies for individuals with household incomes below 400% of the federal poverty level, ~11M Americans are projected to purchase health insurance on public exchanges this year. The CBO projects this number to reach 23M by 2020. The ARPU on the public exchange is ~$4,700 and so the current market size is ~$50B and expected to grow to >$100B by 2020. The remainder of the individual market is split between traditional individual coverage and private exchanges. Upwards of 40M individuals are projected to purchase individual insurance on private exchanges by 2020 as employers move to defined contribution plans.
Public and private exchanges have created a new consumer-driven health coverage marketplace that has created an opportunity for Bright Health. The number one driver for consumer purchasing behavior on exchanges has been price. Consumers also consider whether their physicians are "in network", but price has proven much more important as long as the network is considered adequate. Additionally, new health plans have been successful at getting market share and consumers haven't demonstrated a strong preference for national brands.
Individual market dynamics:
For those watching headlines about Obamacare recently, health plans have had mixed results in the individual market so far, which is partly why Bright Health believes there's a big opportunity. Most notably, UnitedHealth recently hinted that they may be removing themselves from the individual market. Our industry expert calls to date suggest that United's strategy to enter the individual exchanges was almost guaranteed to fail (note that this strategy was put in place well after Bob Sheehy left). United's products were designed and priced in such a way that encouraged expensive high healthcare utilizers to sign up. Under the exchanges, health plans can offer different metal tiers (bronze, silver, gold and platinum), which change the cost sharing structure. Platinum plans have the highest monthly premium, but lowest deductible and lowest cost sharing for procedures. United focused on higher end offerings, priced too low and ended up as the lowest cost platinum plan in many markets. As an example of why this strategy failed, a consumer could sign up for their plan temporarily and undergo an expensive procedure, then drop off coverage and stop paying the premium. Additionally, United and other large insurers have typically applied group insurance approaches with broad unaligned networks to the individual market, which drives higher cost and biases selection to higher healthcare utilizers.
Additionally, non-profit COOPs have also been in headlines recently for shutting down. One provision in the PPACA was a temporary program called Risk Corridors, which is in place through 2016. The federal government put risk corridor programs in place at the onset of public exchanges because there was no prior history/experience for plans on which to base premium pricing. This program was supposed to stabilize premiums and protect against inaccurate premium setting during initial years of the reform. The risk corridor program as designed essentially put a floor on how much money a health plan could lose in the first couple of years on the exchange. Unfortunately, the majority of non-profit COOP Plans relied on risk corridor programs to function profitably and the government ultimately backed away from its promise to fully fund the risk corridors; only 13% of the program was funded. Nearly all COOPs factored the Risk Corridor program into their pricing. The Risk Corridor program ends this year, will not be offered in 2017 or beyond, and is not a component of Bright Health's financial model.
There is another program that will be relevant to Bright Health, however, called Risk Adjustment. This is a permanent program that redistributes funds from plans with lower-risk enrollees to plans with higher-risk enrollees in order to prevent against adverse selection in the individual market. It will be critical for Bright Health to accurately code their membership base (i.e. properly capture all members' health status to ensure getting their fair share of risk adjustment payments) and price their plans in order to run a profitable plan (this is something the team has spent a lot of time on).
We've spent a good amount of time looking for successful precedents in the individual market. The only data that has been released by CMS so far is from the first year of the individual exchanges (2014). In this year, plans generally mispriced their product given expectations for payouts from the government with the risk corridor program, and no plans had good data about the likely membership base on the individual market. That said, the average non-risk adjusted MLRs for plans in 2014 was in the 80-90% range, with risk adjustment payouts that were ~10% of total premiums on average. Moreover, 44% of plans had MLRs that were 80% or below. This implies that there have been winners in the marketplace that have achieved MLRs at the level that Bright is targeting, and we believe there should be more going forward with additional experience in the individual market.
Competition:
The health insurance industry is one that is going through massive consolidation with the top 5 insurers merging into three remaining large companies (United, Aetna/Humana, Anthem/Cigna). We believe this presents opportunity for new entrants, particularly in the individual market where the large players have historically struggled. In general, competition for Bright will vary market-by-market. On the Colorado exchange, the major competition is from Kaiser.

Why can't the big guys replicate the same strategy? There are a few points that give us comfort here: 1) all of the large carriers have the biggest book of business in group (employer) insurance. These plans generally have very broad networks of physicians and hospitals. It would (in theory) be a risky proposition for a large commercial insurer to partner tightly with a specific IDN / hospital system because it would anger the rest of their network and hurt their pricing power with the entire network. Since the employer business is the most critical to them, it does not seem worth risking this business for the emerging individual market. 2) IDNs / hospitals have told us that the large insurers are so widely spread that they won't be able to have the same integration and close relationship with the IDN / providers as Bright. 3) The large insurers are viewed antagonistically with the providers and are generally not viewed as partners. All this said, if the large insurers really wanted to replicate a similar strategy, it's possible that they could replicate a similar strategy. For example, a company called Evolent Health (which recently went public) is helping large hospital systems become ACOs, with the potential to help them become their own insurance plans. However, Evolent is currently most relevant for the largest health systems that are willing to take on this risk and feel as if they are able to manage their own plans.
One additional "competitor" worth noting is Oscar, which is the highest profile new entrant in the insurance market in a long time. Like Bright, Oscar is focused on the individual insurance market. They are known for their aggressive consumer marketing although they lack the same tight integration with a health system that Bright has. Oscar originally launched in the New York market and has since expanded to New Jersey and now California and Texas. In just three years of health plan operations, they have expanded to ~150,000 members. Oscar has proven to be proficient in raising capital, having raised ~$300M at a valuation of ~$1.7B as of September 2015. In February, Oscar closed a $400MM financing led by Fidelity, which valued the company at $2.7B.
Go-to-market/sales strategy:
Health insurers have to accept all comers given new regulations in PPACA, but Bright Health's marketing will focus on "efficient healthcare utilizers". Bright Health's actuarial analysis suggests that middle-aged females represent one of the most attractive risk-adjusted segments, and will be a key target demographic. The company expects to spend ~$1.5MM in marketing (similar to the other major players in Colorado) on both digital and traditional marketing spend to optimize direct sales. A significant portion of members will likely also come from the exchanges, brokers, and exchanges + brokers.
Financials:
Bright Health expects to offer the lowest or second lowest cost health plans on the exchange. They expect that their premiums in 2017 will average ~$340/month per member, with expected medical expenses of ~$220. The company is expecting to pay out $70 per member in Risk Adjustment. This gets them to an overall MLR of ~80%.
We would note that Bright's pro-forma includes three major assumptions: 1) that they are able to price their plans as expected with standard industry pricing growth), 2) that medical expenses increase 19% over next two years (note: we believe this to be very conservative assumption), and 3) Bright is accurately forecasting when it comes to risk adjustment. So, after scrubbing the pro forma, we feel that the company's assumptions for 2017 are reasonable and may even be conservative, allowing for upside performance.
The company projects ~20K members in 2017. With modestly successful individual and Medicare Advantage products in 3 markets (~147K members), it's feasible that Bright Health sales will exceed $1B by 2021.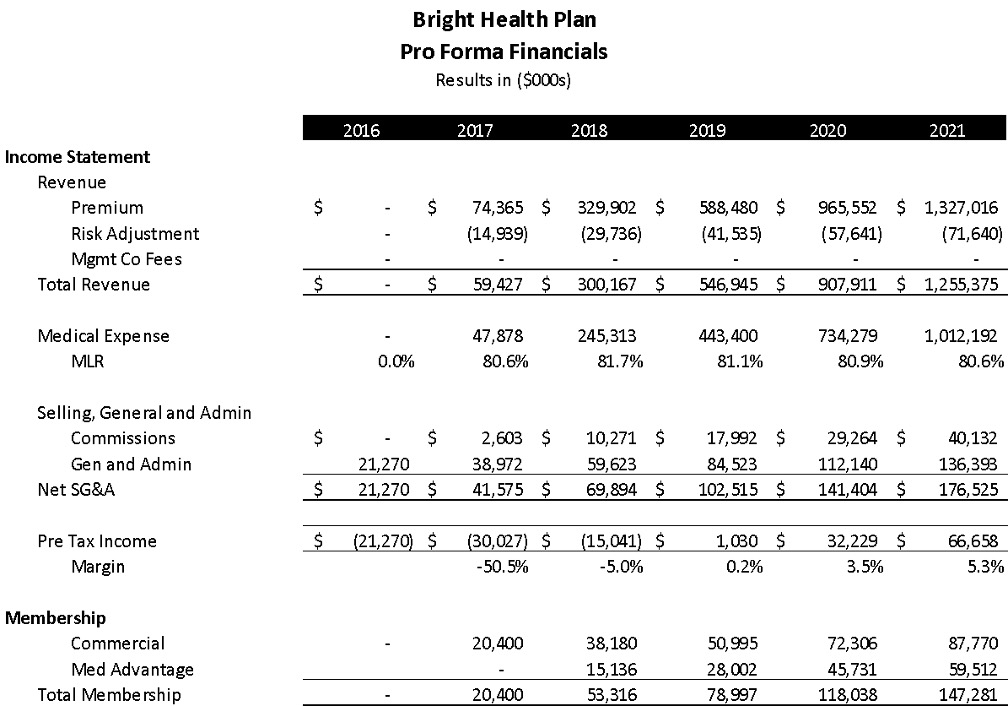 Team:
We believe that this team is one of the best suited teams to lead a profitable and growing health insurance business. We've been impressed with our interactions with the core leadership team so far, and the team also references extremely well with both hospital systems (Centura) and other health insurance executives.
Bob Sheehy, Chairman and CEO: Bob is one of the most attractive aspects about Bright Health for us. He was the former CEO of UnitedHealthcare, and has successfully operated profitable and growing health plans at all stages. He's also operated in every U.S. market. Given his prior success leading UnitedHealthcare which is now $110B+ company, it would be fair to question how effective Bob will be in downshifting to the scrappy start-up world; but the early signs are very encouraging as he responds to emails extremely quickly at all hours and over the weekend/holidays, is all over the details, and by all accounts 100% committed and hungry. In fact, in the employment agreement negotiations, Bob insisted on founder vesting of four years with a one year cliff. We had offered more generous vesting, but Bob wanted standard vesting to make sure everyone's incentives are aligned.
Kyle Rolfing, President: Kyle brings a strong consumer health angle to the team, and is also a successful health entrepreneur as the founder and CEO of both Redbrick Health (a leading wellness company) and Definity Health (the first ever consumer directed health plan which was ultimately bought by United). Most of his consumer experience is through a B2B2C lens (Redbrick is a wellness company that sells to employers), and he recognizes that Bright Health may want to augment his expertise with a marketing lead from outside of healthcare.
Tom Valdivia, MD, CMO: Tom is an expert in health informatics, and leads the team's actuarial work. He was also a founder of two prior health startups (founder of Carol Corp and CMO of Definity Health).
Don Powers, CFO: Don was the CFO of Colorado's HealthOp, and is an expert on financial planning for startup health insurers. He's come across as very thoughtful and is very well versed on the nuances of the individual market. During our interactions with him, we've felt that his budgeting is on the conservative side.
Jon Watson, Colorado Market Lead: Jon was previously the COO of the Colorado COOP, and brings local market knowledge to the team.
The company is currently recruiting a technology lead and has a large number of really interesting candidates with strong consumer tech and health backgrounds. We are already actively involved in this search and believe that the company needs to recruit someone with strong consumer product development expertise (much more important than having a healthcare background). Given the high profile nature of this deal, we are confident that we will land a great candidate.
Deal:
The deal is structured as an $80MM equity line, of which BVP's share is $28.8MM, with a $37.5MM pre-money valuation inclusive of a 10% unallocated pool. The first tranche will be $45MM ($16.2MM from BVP). We know our co-investor at NEA extremely well, and we are very well aligned on the strategic vision of the company. NEA has a lot of experience in the insurance space and they are one of our favorite healthcare co-investors.
There were several weeks of negotiation on the term sheet, and we ultimately came down on the total round size we had initially proposed. Management was concerned with the potential dilution from this first round and was reluctant to raise more than $80MM, as they believe that they will be able to raise at a significant up-round after the Colorado launch. The $80MM raise accomplishes our intended goal of extending the runway through Q2 2018, at which point Bright will have data on the Colorado results before raising outside capital.
Scenario analysis:
We recognize that the potential size of check and risk profile here make this an unusual deal. This is a risky, early stage investment with a real possibility for capital loss. The company currently has no members, and we won't know what enrollment looks like until the end of 2016. We also won't know whether MLRs are in line with expectations until later into 2017. That said, we believe that Bright Health has a legitimate opportunity to build a multi-billion dollar business (i.e. we think the "just go nuts" scenario here is a lot larger than that for most deals we see as a fund).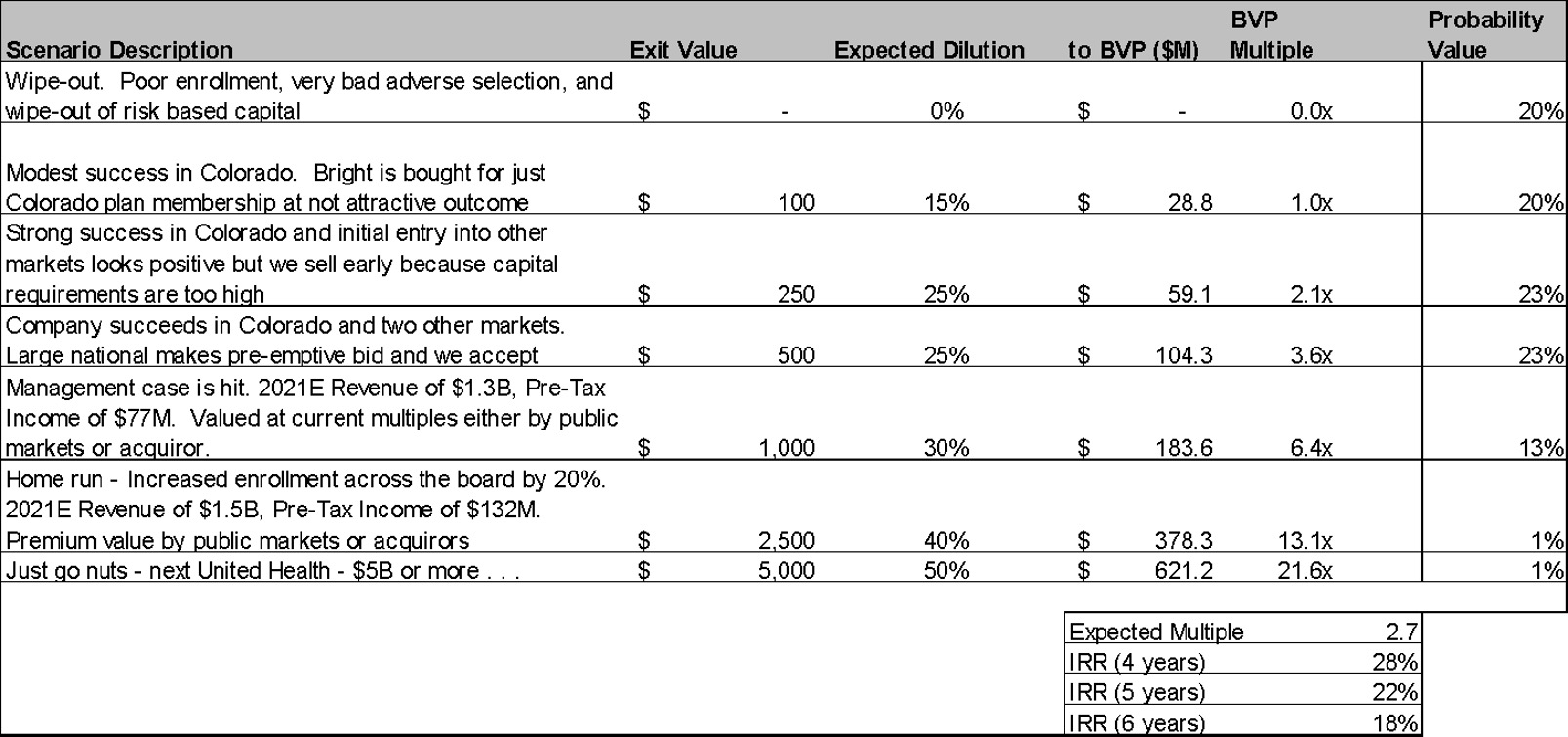 Key Risks/Ways This Can Fail:
This is a big investment with high burn prior to any real data that the company is working as planned. The first meaningful milestones for Bright Health are nearly 12 months out (enrollment numbers between November and December of 2016), and the most important data is at least 18-24 months out (can Bright Health actually keep medical costs down and run a profitable health plan through 2017?).
Moreover, while revenues are really big in health insurance plans, margins are small! The slightest variance in medical loss ratios will make a huge difference in the performance of the company (and their need to raise additional capital). Additionally, Risk Adjustment, which forces plans to pay out if their membership base is less risky than average (and in return, plans with more risky membership get paid), complicates the actuarial analysis here. All of this makes the actuarial analysis and premium pricing critical to successfully running a profitable plan. We do think the Bright team is the best equipped we have seen to be successful in this effort. Milliman's work has given us more comfort on the variance related to risk adjustment, but this will be a key focus for the company
In addition to the MLR / risk adjustment risk, there is still unknown risk in CAC. The individual market is still early and there is some good comp data from the COOP experience, but we worry that customer acquisition could be a moving target as individuals become more knowledgeable consumers. That said, the company appears to be relatively conservative in their modeling.
There is political / regulatory risk. We do not believe that individual exchanges will go away (it'd likely be a political nightmare to take away insurance from the 10m+ newly insured), but this is certainly a risk that we need to consider during an election year where Trump is still around! While Republicans have generally been vague about healthcare plan proposals if they win the office, most are proposing "repeal and replace" options. Analysts we've spoken to do not believe that a repeal is likely, but they do think that it's possible that modifications of the PPACA would happen if they win. Potential modifications include 1) getting rid of the individual mandate to buy insurance (or reducing the minimum viable insurance, 2) getting rid of or reducing tax advantaged employer coverage (which may actually shift a significant number of people to the individual market), 3) changing the methodology for subsidies for the individual market (many believe Republicans would shift to an age-based approach instead of income-based), and 4) changing some of the requirements for cross-state insurance. Many believe that some of these trends would push more people to the individual market, but it is still possible that this political risk could negatively impact the individual market. For sure an across the board Republican victory would put everything into limbo and would most likely cause the healthcare focused capital markets to "freeze up" for some period of time. This obviously could be a significant adverse event to a company like Bright which needs to raise significant amounts of follow on capital and is another reason why we proposed the larger Series A raise than the company originally wanted.
Summary:
We are enthusiastic about the opportunity to invest in a great team in this massive market. The initial product is one we feel good about, and there are plenty of expansion opportunities to create a new, leading health plan. We believe our strategy is the winning one in this space, and we enthusiastically recommend backing this team that we believe is poised to build a massive company.