Bessemer's 2022 Fellowship Class
Meet Bessemer's third Fellowship Class and discover how their internships at Bessemer portfolio companies gave them insights into the future of their careers.
The Bessemer Fellowship Program aims to connect university students to the world's most innovative and exciting companies within Bessemer's portfolio. This year, we appointed 20 students from over 2,000 applications to intern at portfolio companies across healthcare, enterprise, and consumer roadmaps. Some of these companies include AspenRxHealth, BallerTV, LaunchDarkly, nCino, Shippo, and Toast. Through the program, Fellows gain valuable work experience that allows them to meet other students with similar interests, work closely with industry professionals, and receive mentorship from the broader Bessemer community.
Last week, we wrapped up our Fellowship Program and finally had the opportunity to reflect on what made this year so special. Our Fellows came together from all over the United States and Canada to participate in professional development workshops that dove into strategies around starting, running, and growing start-ups. The Fellows connected with top experts and executives who are paving the way in their unique industries, including Diya Jolly, Chief Product Officer at Okta; Gokul Rajaram, Board Member at Coinbase, Pinterest, and The Trade Desk; Laura Behrens Wu, CEO & co-founder of Shippo; and Jeff Epstein, Operating Partner at Bessemer.
What was the most impactful lesson you gained from working at a Bessemer portfolio company?
The 2022 Fellows have demonstrated deep curiosity and a passion for technology and innovation during the Fellowship sessions and their internships at Bessemer portfolio companies. In this spirit, we asked them to share their thoughts on what was the most impactful lesson or experience they gained from working at Bessemer portfolio companies.
We hope the 2022 Fellows inspire other students, aspiring entrepreneurs, technologists, and pioneers to consider applying for next year's Bessemer Fellowship Class.
Meet the 2022 Bessemer Fellowship Class
Ali Danial Hussain - Data Analyst Intern at AspenRxHealth
"One of the foundational lessons I derived this summer was a framework for making analytics a cornerstone component of a startup's culture. This entails democratizing access to data in each company department and empowering individuals with autonomy to make data-driven decisions," shared Ali Danial Hussain.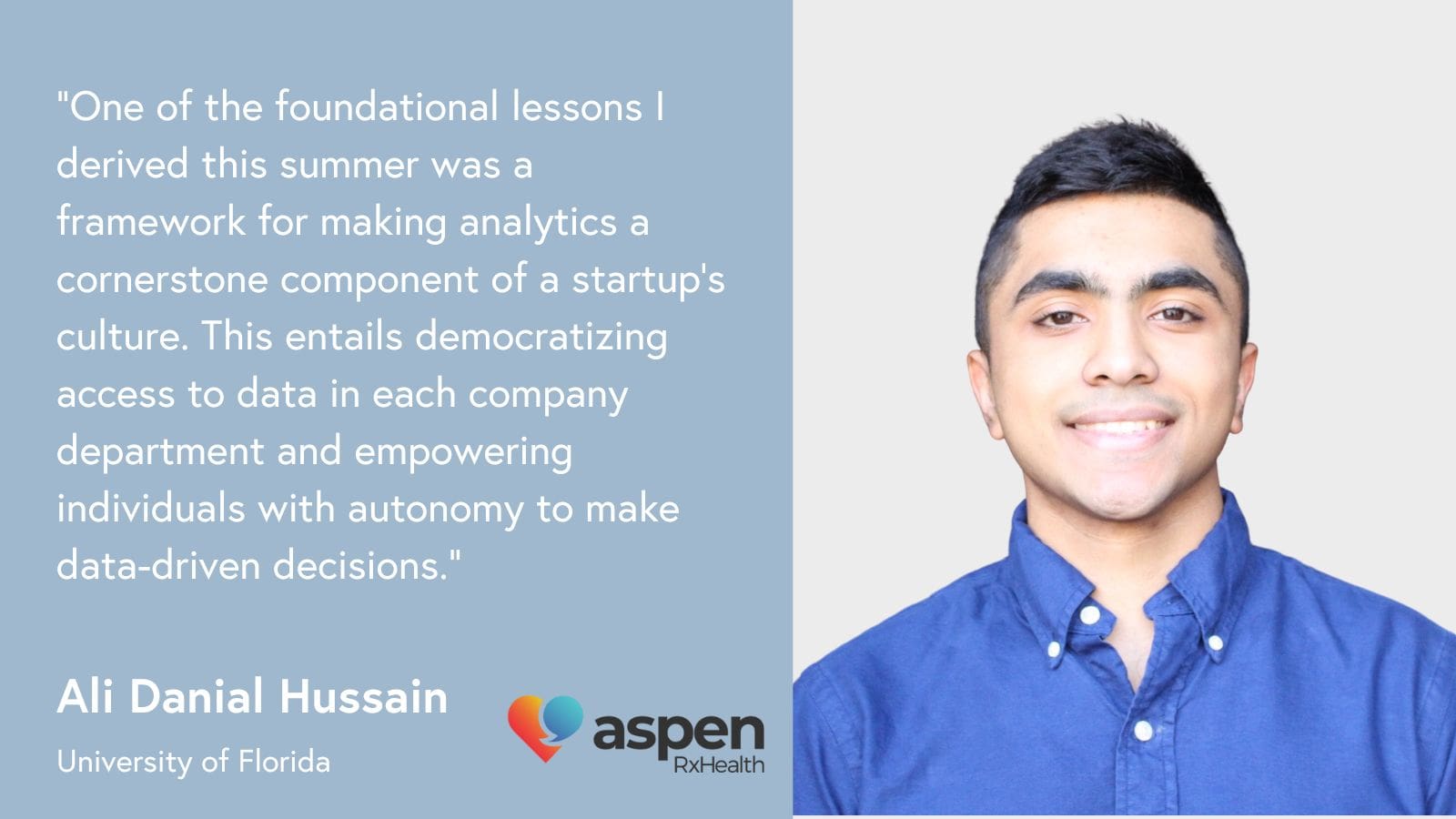 Amanda Ha - Software Engineering Intern at DataDistillr
"At my internship with DataDistillr, even as a software engineer, I was able to work with people from all aspects of the business, from UX design to technical sales. This really gave me a full understanding of how a product is launched," shared Amanda Ha.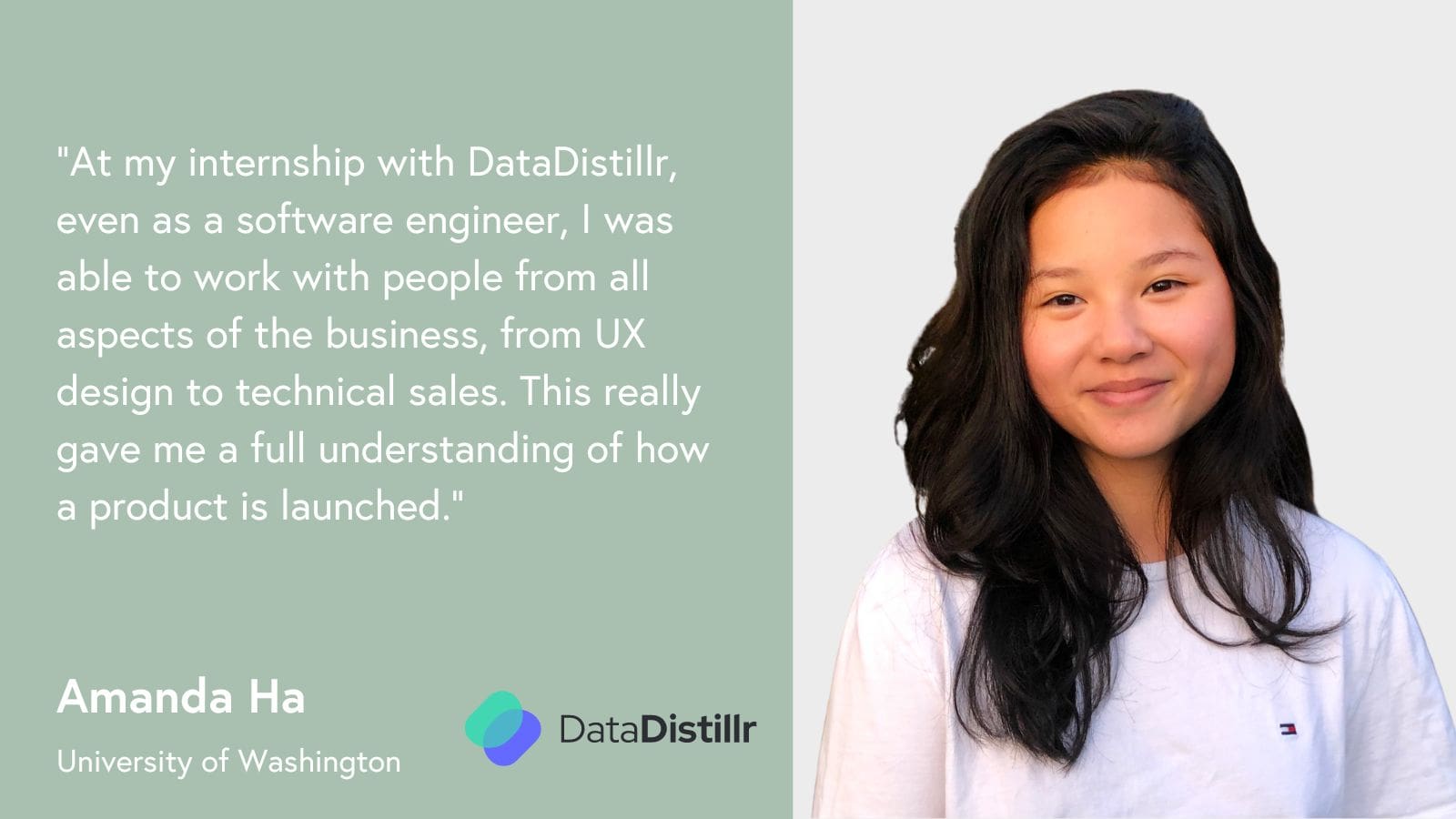 Andrea Ha - Software Engineering Intern at DataDistillr
"Beyond working on my project, I think my most impactful experience was having an hour long 1:1 with my manager nearing the end of my internship. She gave me really honest and insightful advice that I think back to today when deciding my next steps in my career," said Andrea Ha.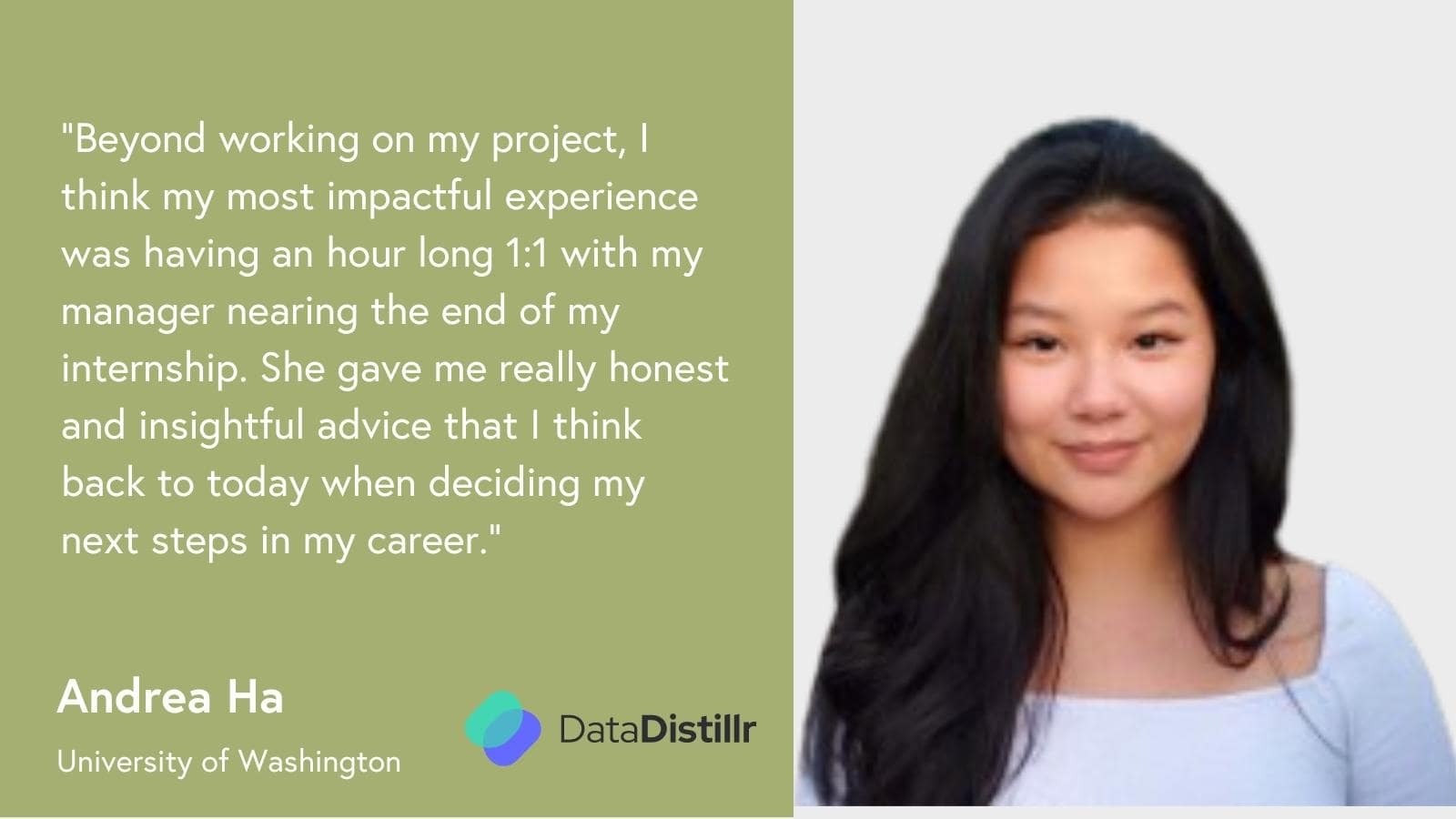 Aparna Ayyah - Software Engineering Intern at BallerTV
"This is my first time working at a startup, so I'm really excited about the variety and quick pace of the work. The fact that my projects will directly impact the consumer experience is really fulfilling, and I also get to work in a new programming language this fall," shared Aparna Ayyah.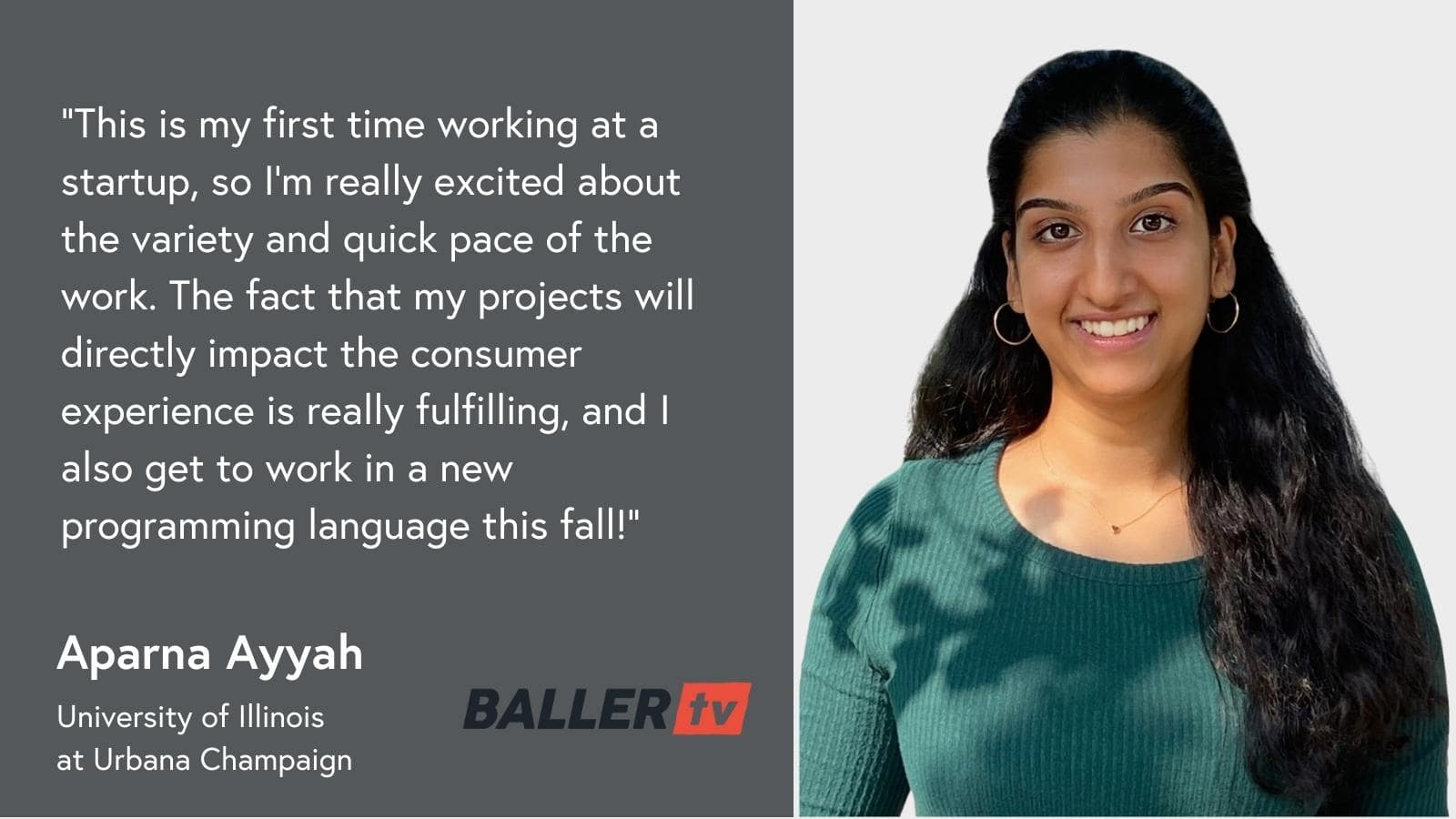 Benjamin Allan-Rahill - Software Development Intern at onXmaps
"Ask questions; ask for help; ask for advice. When you are early in your career you gain a unique privilege to seek advice from anyone (executives,role-models, etc.) without fear. People will be excited to share in your journey and your success, so don't hesitate to share it with them. On top of this, asking to take on projects or shadow a team member helps to augment your daily learning. Learning to be a sponge and soak up as much as I can has shifted how I approach new problems every day," said Benjamin Allan-Rahill.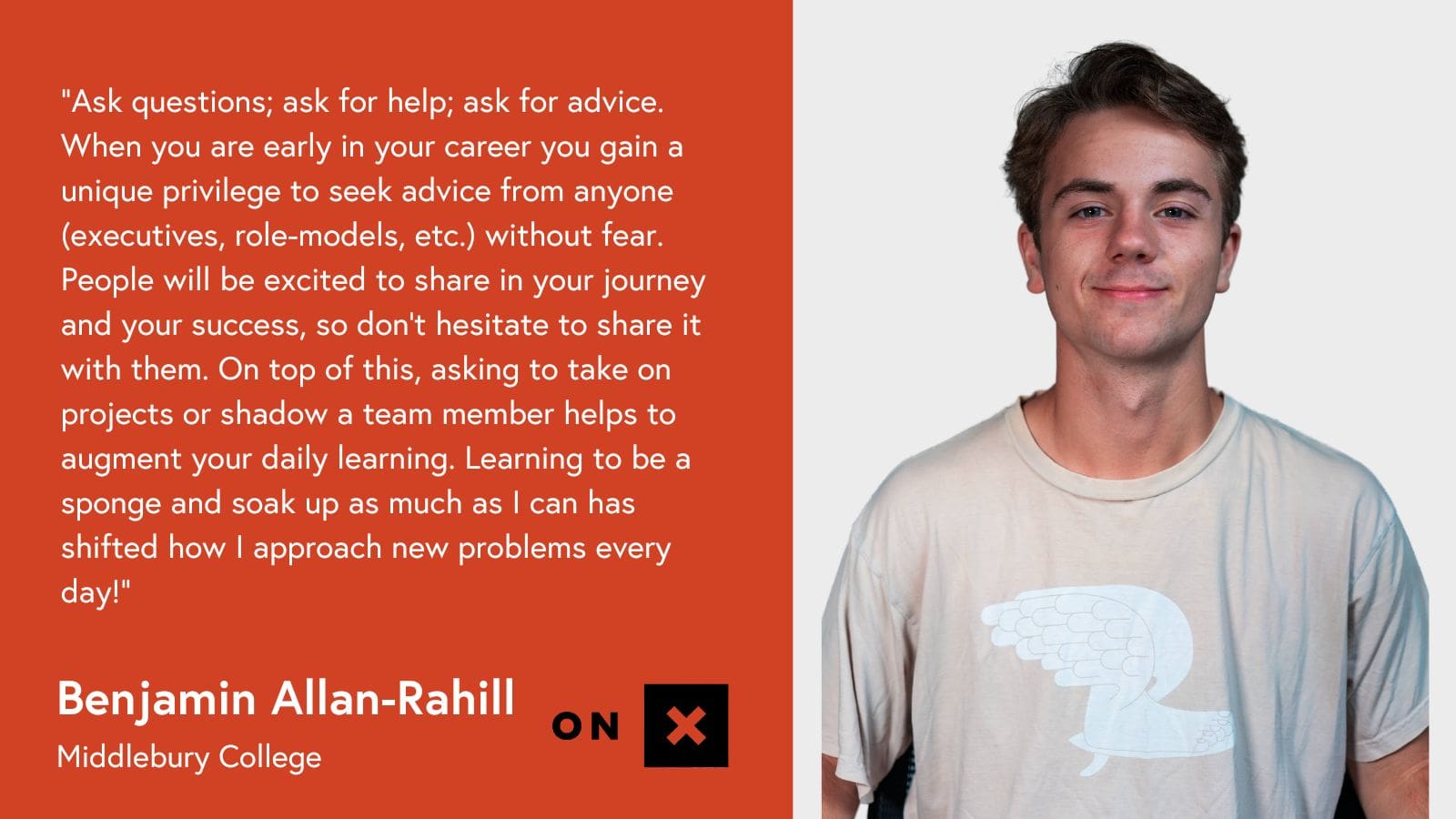 Cathylin Wang - Software Engineer Intern at Plenful
"I'm excited to utilize prior knowledge to streamline data management and operational workflows in healthcare, making the industry a more efficient space. I look forward to driving value for my team, learning the ins and outs of the company, and working towards a shared mission," shared Cathlyin Wang.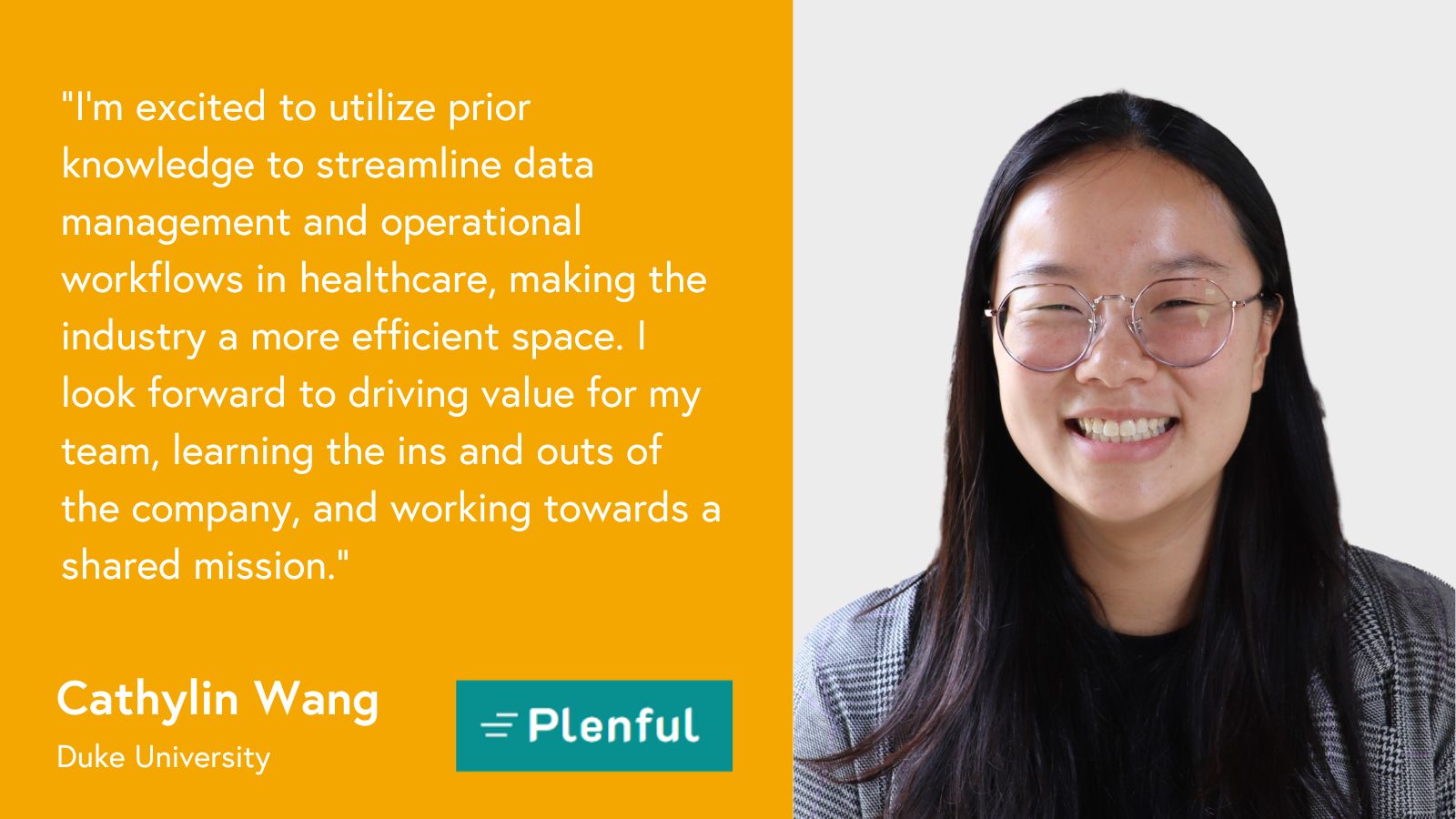 Daniel Hariyanto - Software Engineering Intern at Bevi
"At Bevi, I was empowered by the belief that anything is learnable and that the most daunting challenges are able to be overcome through the curiosity and dedication to learn," said Daniel Hariyanto.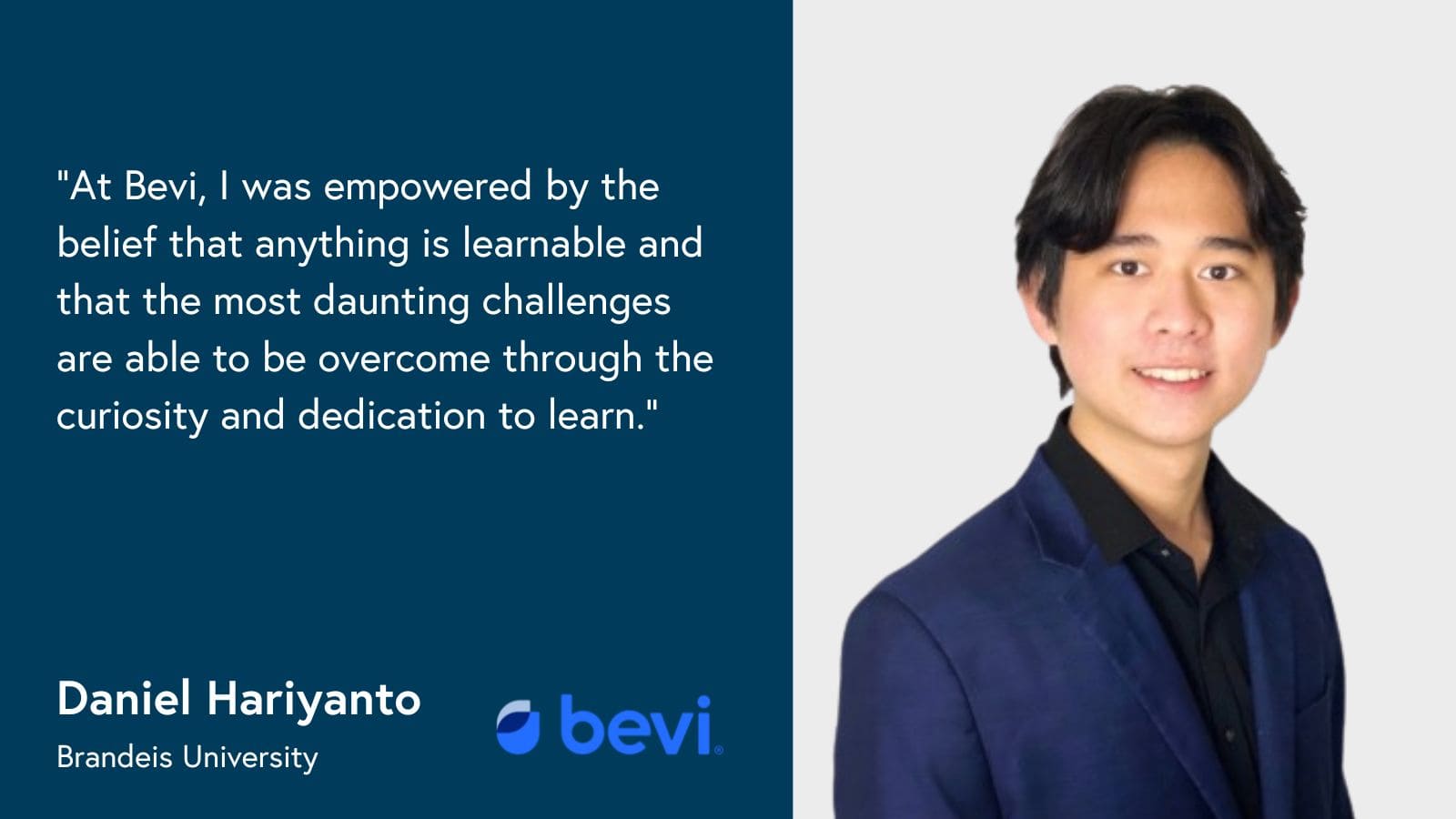 David Anyaeche - Washington University in Saint Louis, Computer Science
"Prescriptions don't work! One should evaluate their talents and interests to build incredible skills in product, engineering, or design and find opportunities where they can aggrandize their abilities and find mentorship; that's a generative way to navigate your career," shared David Anyaeche.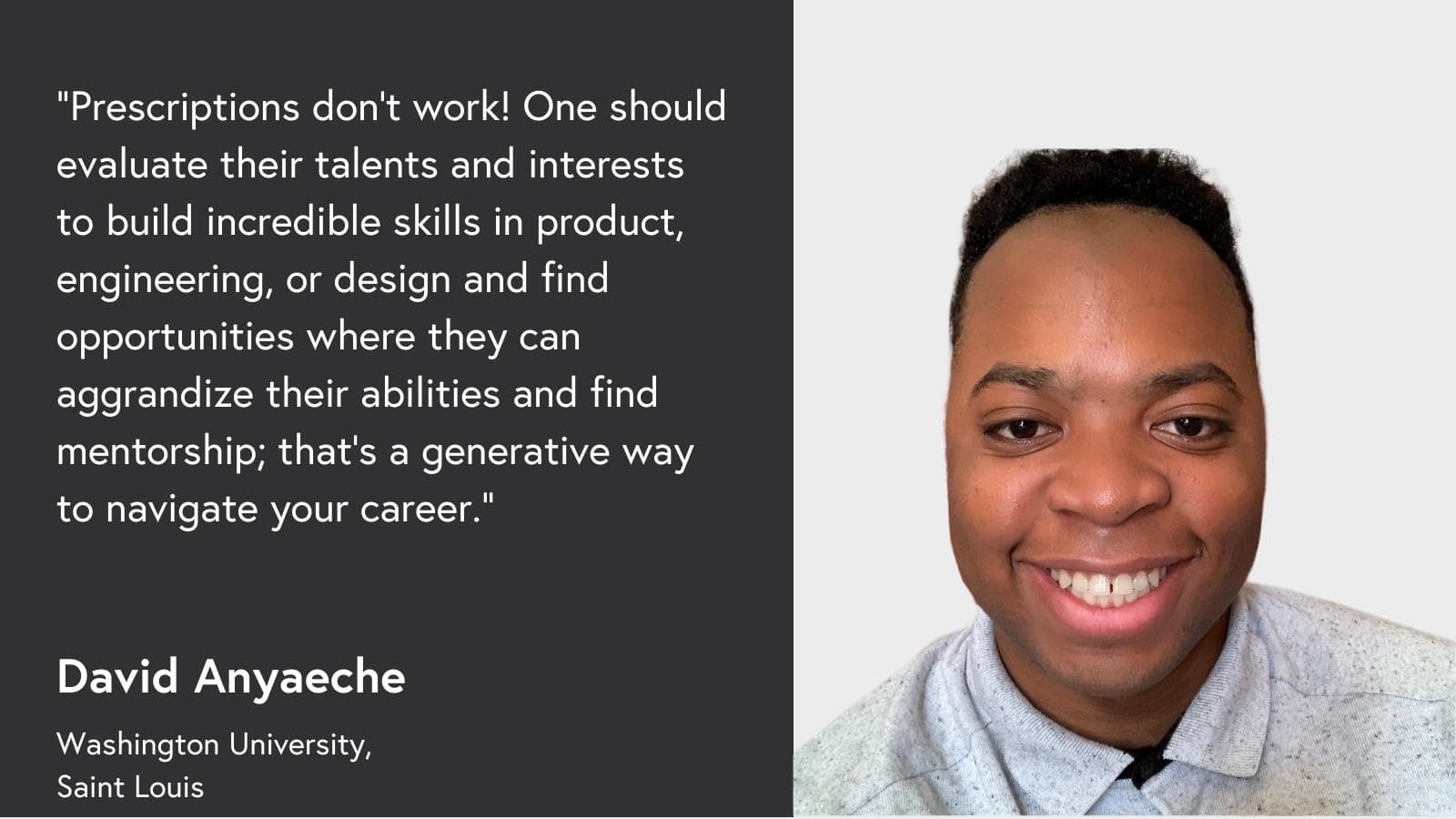 Howard Ma - Software Engineering Intern at nCino
"The most impactful experience I gained from working at nCino is that I got to take a glimpse into the world of cloud banking from an industry leader and directly work on its codebase. I received immense support and learned so much during my time at nCino,' said Howard Ma.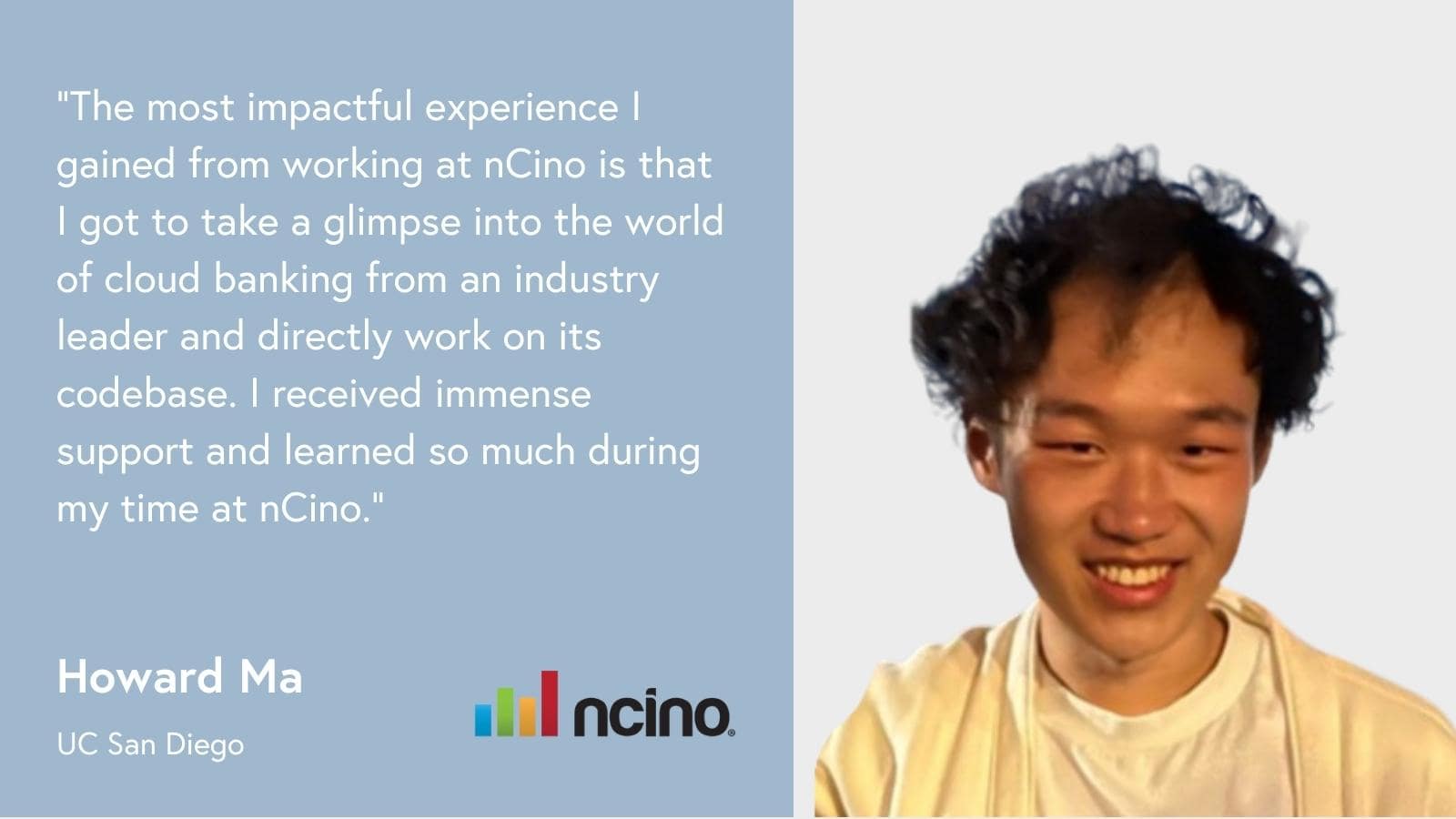 Jacqueline Lee - Software Engineering Intern at BallerTV
"With this experience being my first introduction into the startup and software engineering worlds, I've been able to broaden my career horizons, expand my skillset, and learn firsthand how exciting it is to work at not just any startup, but at one whose mission you value," shared Jacquiline Lee.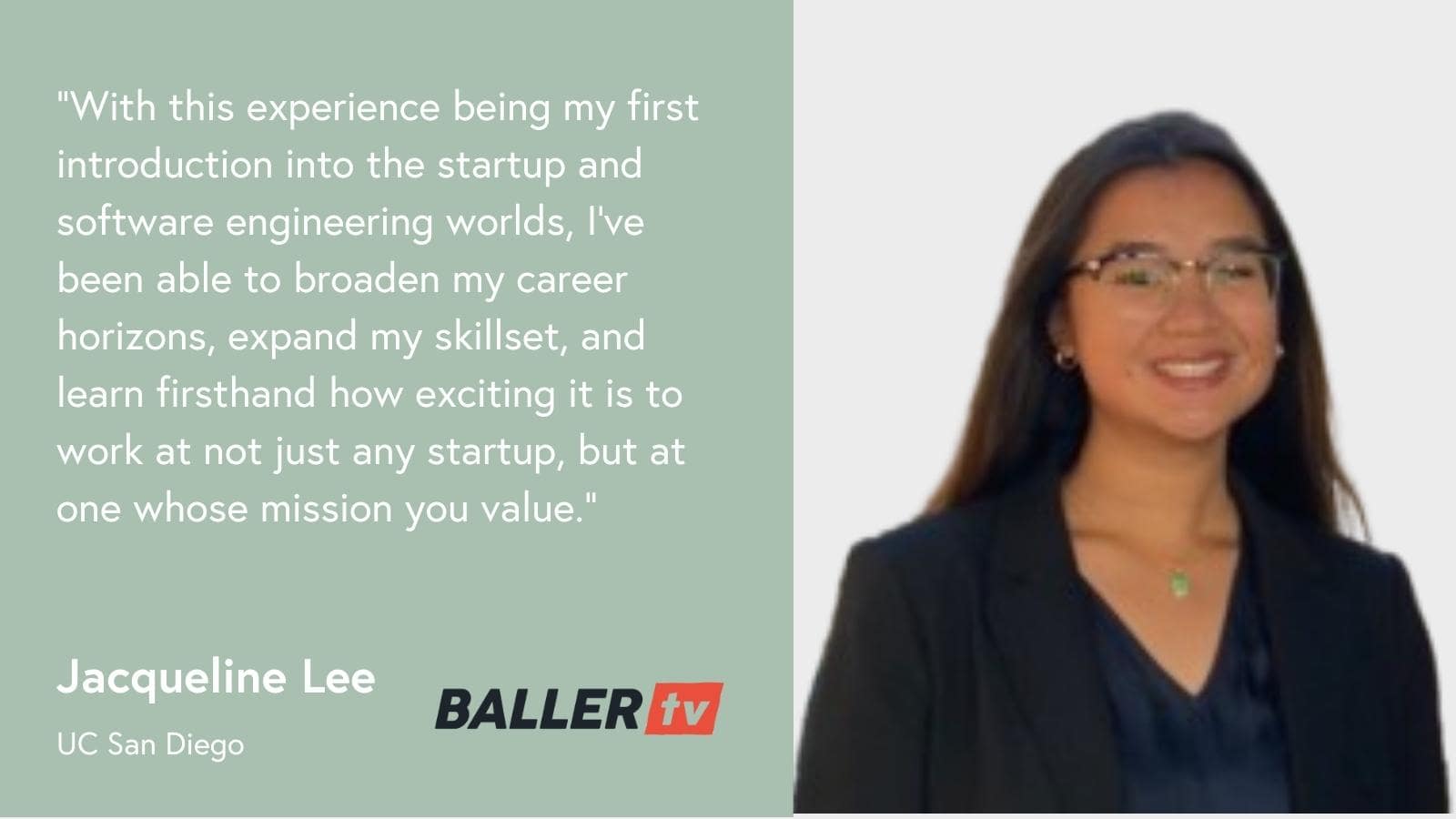 Miguel Sarenas - Software Engineering Intern at LaunchDarkly
"I've learned that it's easy to compare yourself to others who are more successful and have done more in a shorter period of time, but why does that matter when you feel like you belong where you are. It's important to enjoy the journey especially at the start of a budding career," said Miguel Sarenas.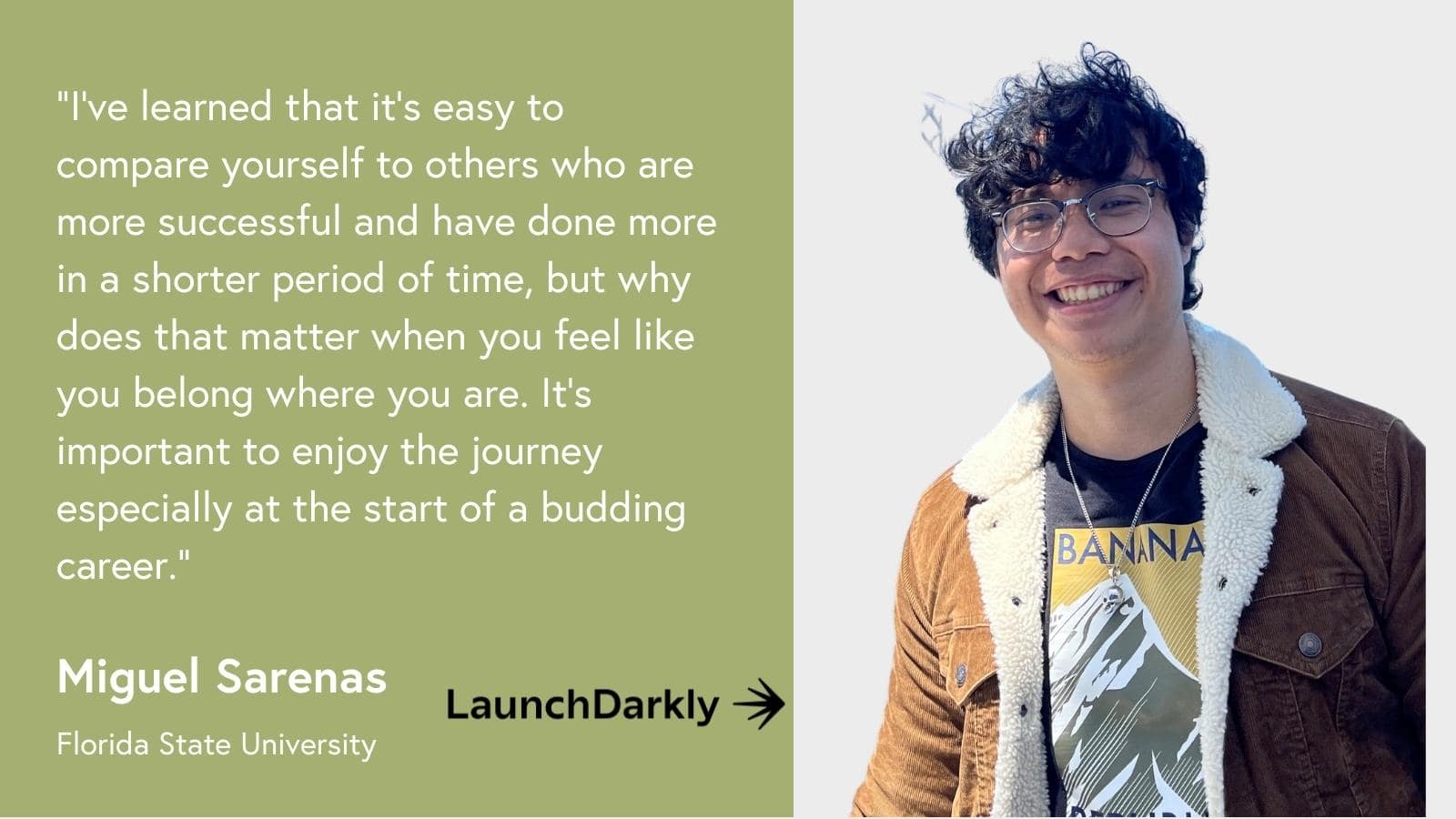 Paolo "Paul" Russo - Sales Development Representative Intern at HashiCorp and Intern at ForeVR
"My favorite part about interning at ForeVR was hearing stories about YC from ForeVR's CEO, ex-YC partner Marcus Segal. My favorite part about interning at Hashi was working with my SDR buddy, Manuela Moutafian. I also want to thank my Fellowship mentor, Abid, for his good advice," shared Paolo "Paul" Russo.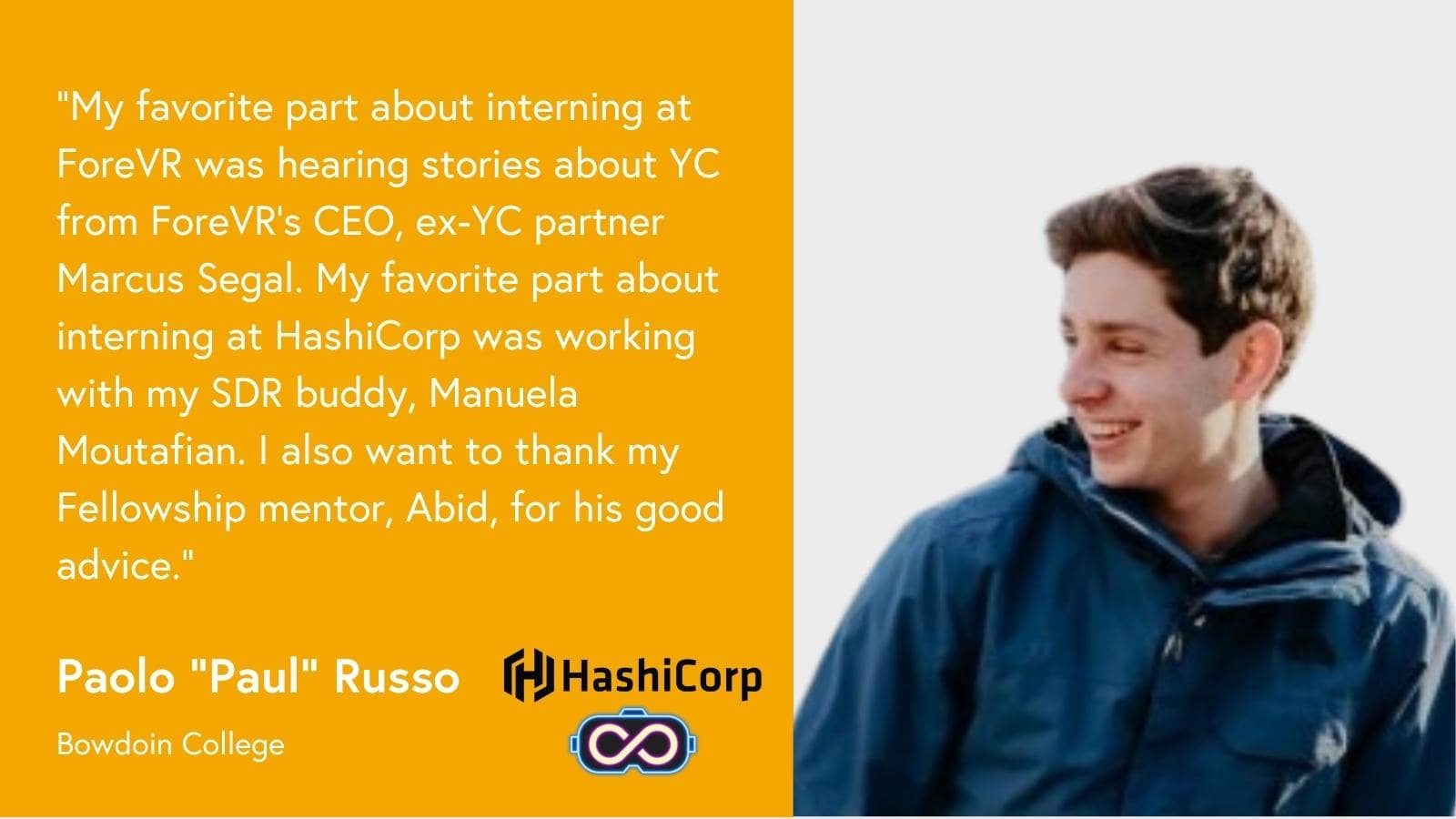 Ritvik Ramakrishnan - Business Operations Intern at Shippo
"Immersing myself into a fast-paced team taught me how to deliver impactful results quickly while learning from accomplished leaders. With individuals spending on average one-third of their lives (90,000 hours) working, our time is an investment in our future growth: choose wisely," said Ritvik Ramakrishnan.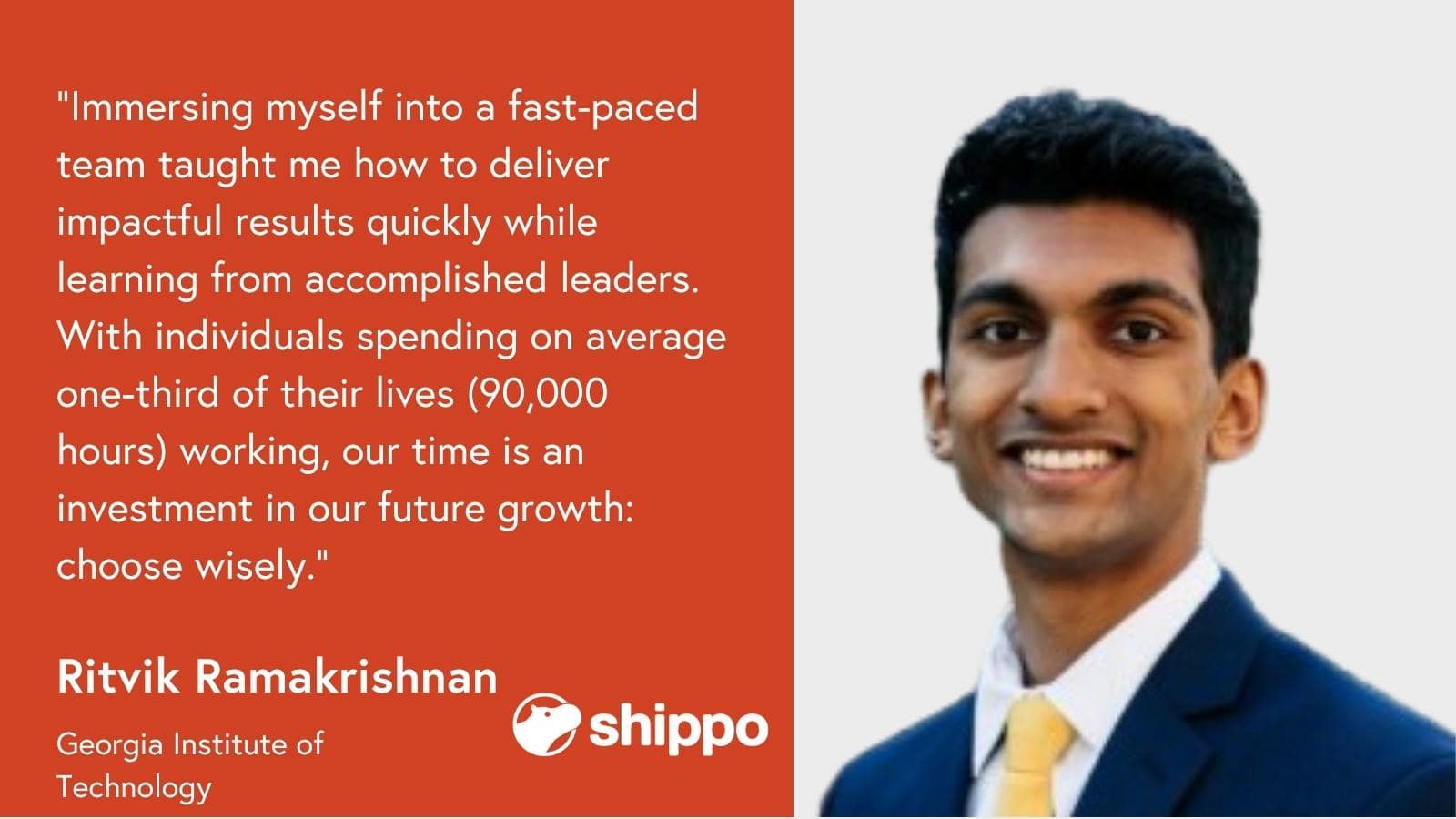 Sally Bdeir - Organizational Development Intern at Toast
"Toast taught me the importance of having a meaningful company mission backed by team members. With a majority of Toast employees coming from a restaurant background, the empathy and drive behind the Toast community is fueling the innovation and increasing customer acquisitions," shared Sally Bdeir.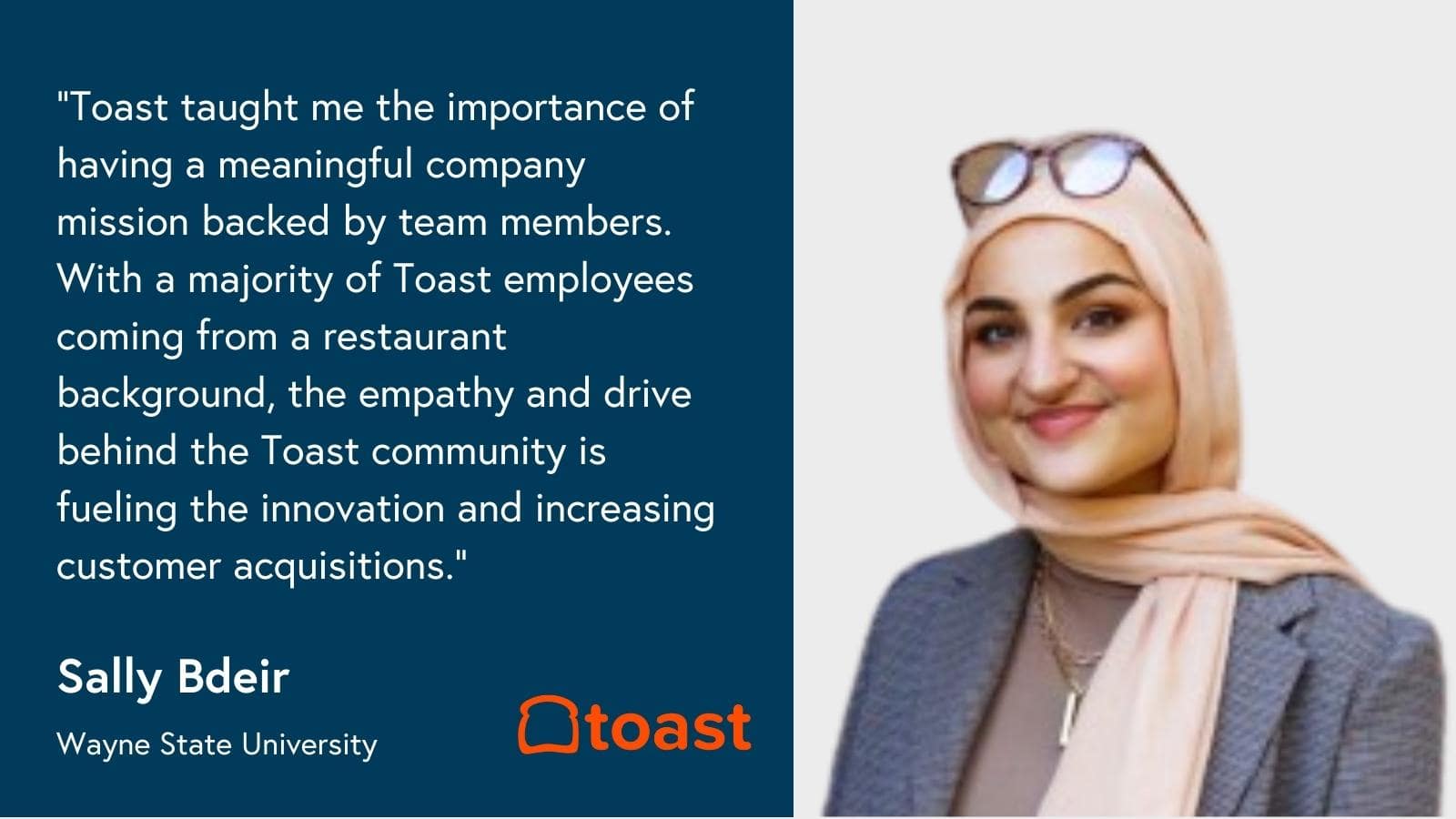 Sean Cheng - Product Manager Intern at Restaurant365
"Working in product honed my judgment in balancing the business' priorities, user needs, and technical constraints to deliver a satisfactory solution. I've loved this work because it's an opportunity to meaningfully help others while being constantly challenged to learn and grow," said Sean Cheng.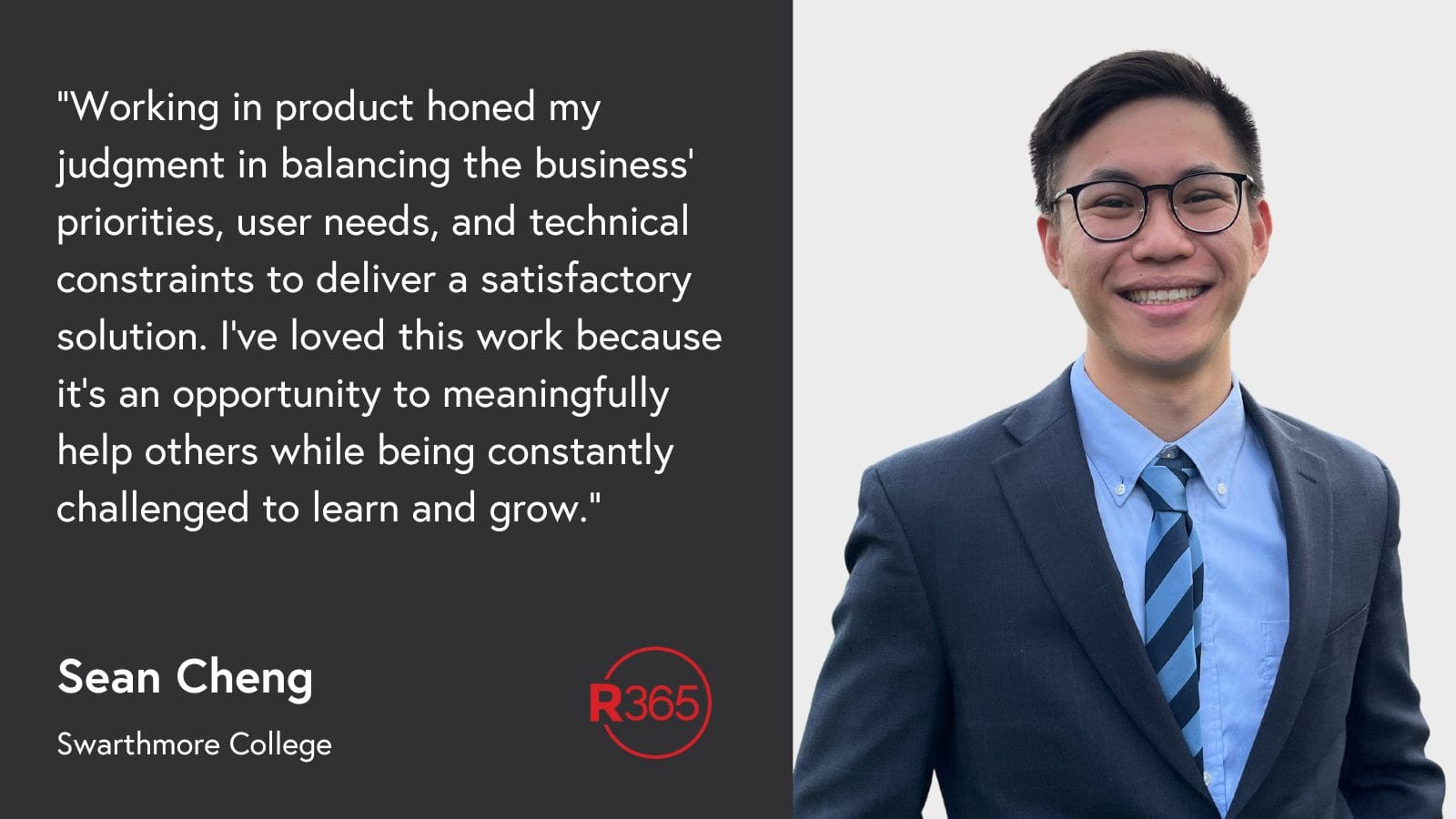 Sophia Clark - Engineering Intern at HouseRX
"I learned to align my day to day work in engineering – whether it was the functionality of a button or gaining a better understanding of historical data – with the mission of the company: easing access and increasing affordability of treatment for patients with chronic illness," shared Sophia Clark.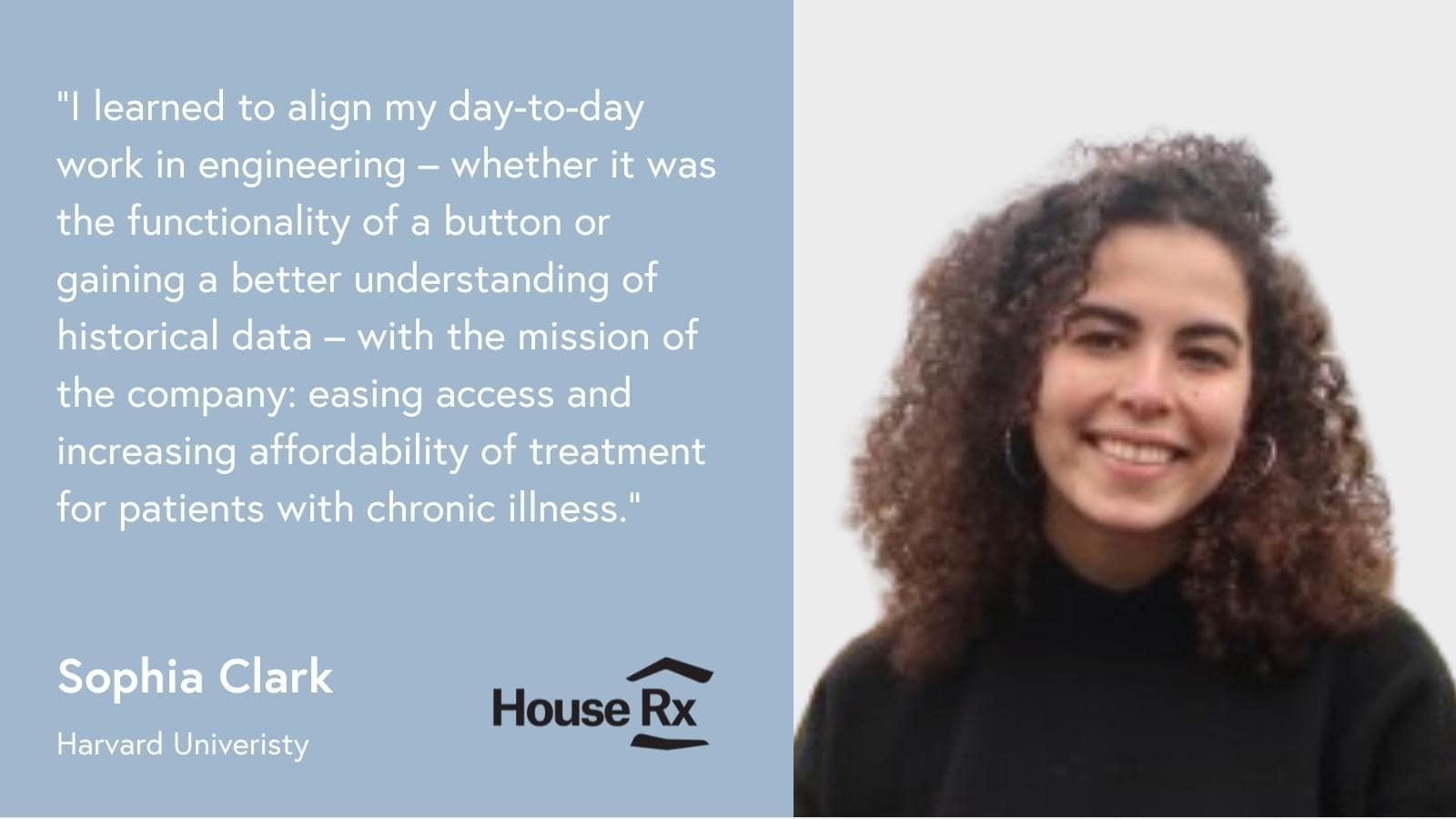 Tameem Hassan - Software Engineering Intern at Pinterest
"While I was provided long-term milestones to achieve every few weeks, I also found it useful to create daily goals for myself. On top of helping you hold yourself accountable and managing your time, daily goals help you to measure your progress and improve your estimation skills," said Tameem Hassan.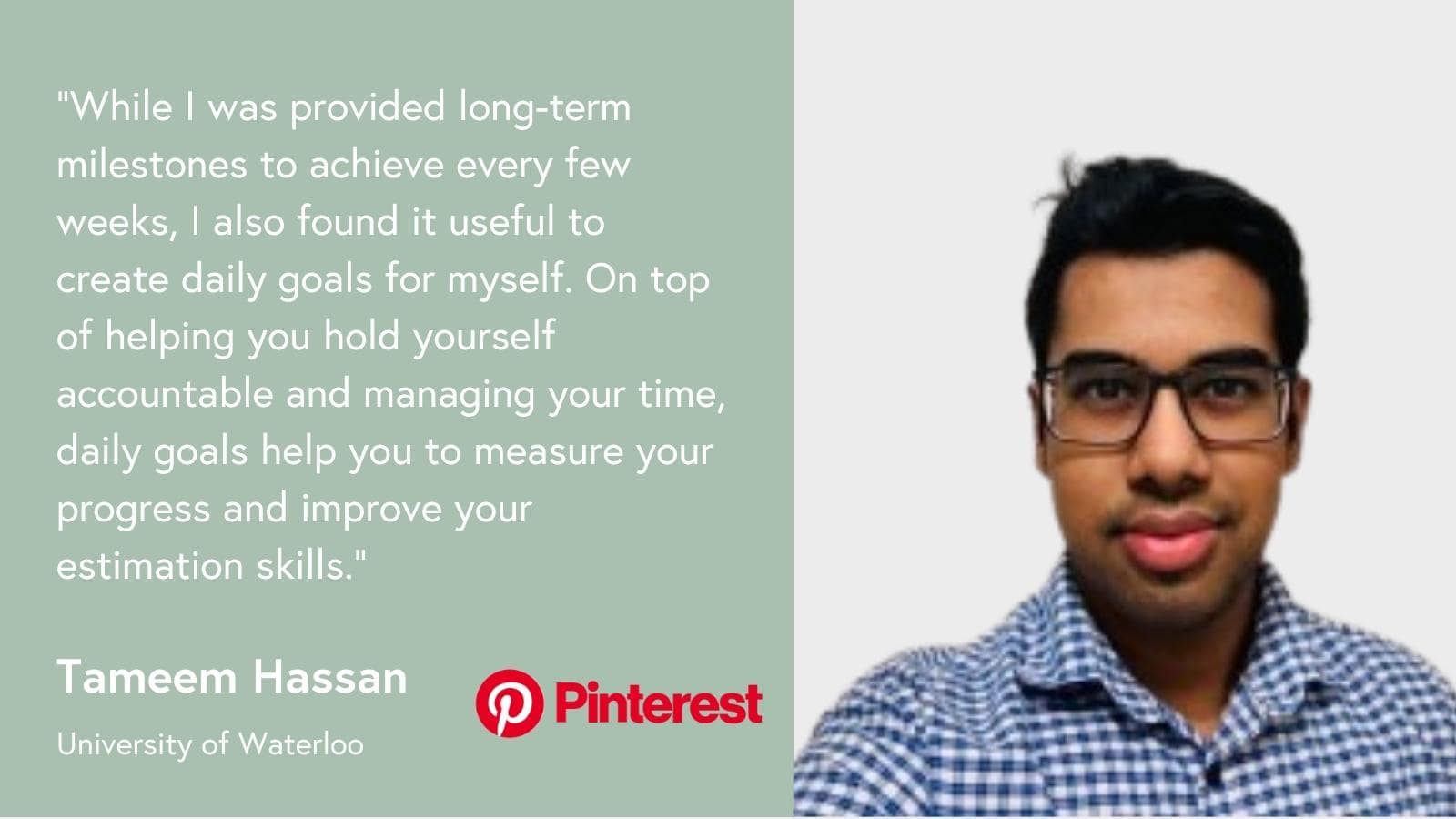 Tiffany Lee - Product Manager Intern at DocuSign
"At the beginning of my DocuSign summer, a mentor shared some advice: to be the best contributor, having curiosity is going to carry you much further than having raw knowledge. This impactful lesson pushes me to constantly learn and work to be a better teammate & driver of change," shared Tiffany Lee.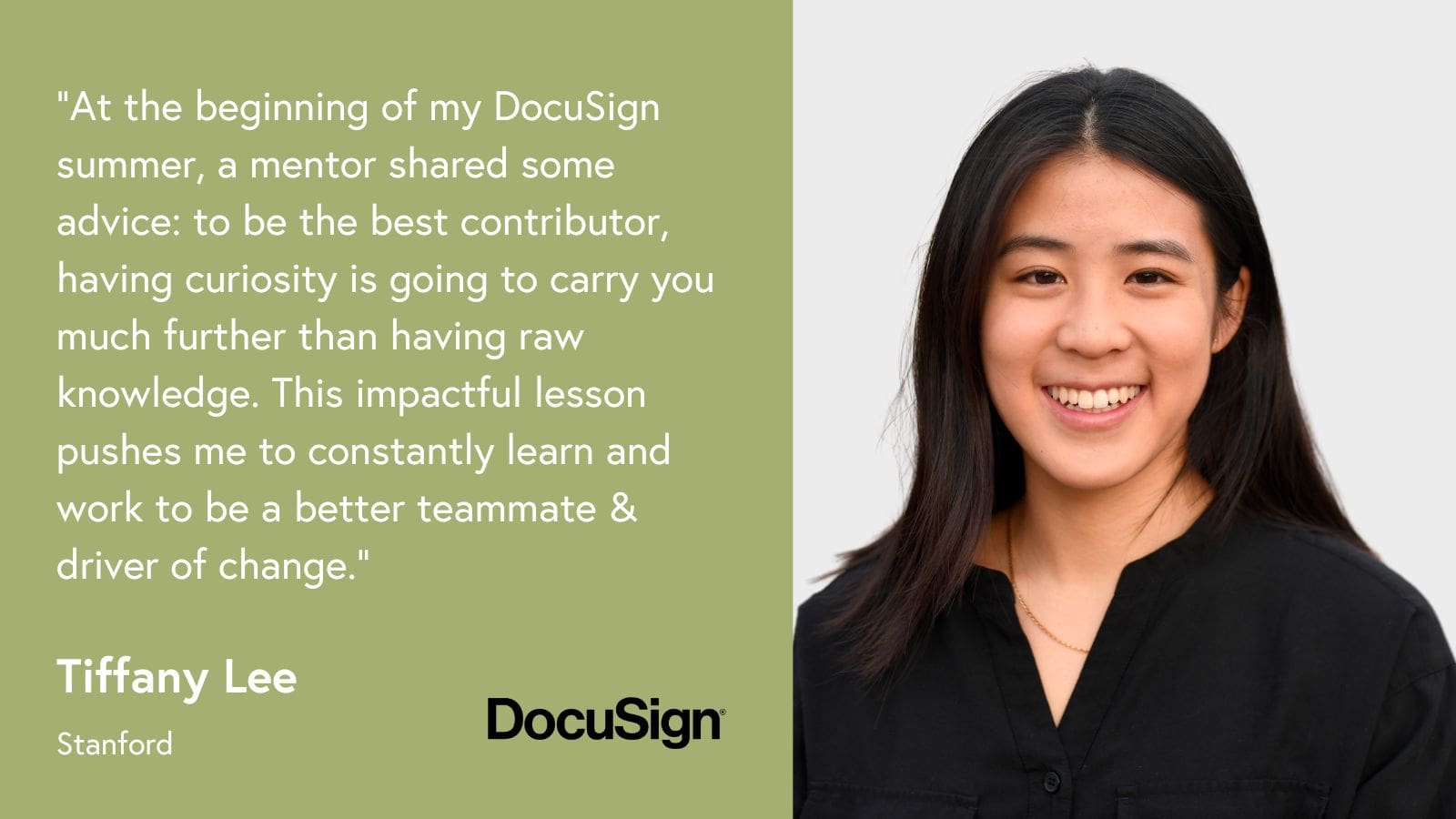 Vanessa Chen - Growth Intern at Dashbot
"The opportunity to drive new initiatives for user experiences and establishing pipelines to manage customer health was incredibly impactful. Specifically, learning from my team and being supported to share my perspectives and work with ambiguity was incredibly transformative," said Vanessa Chen.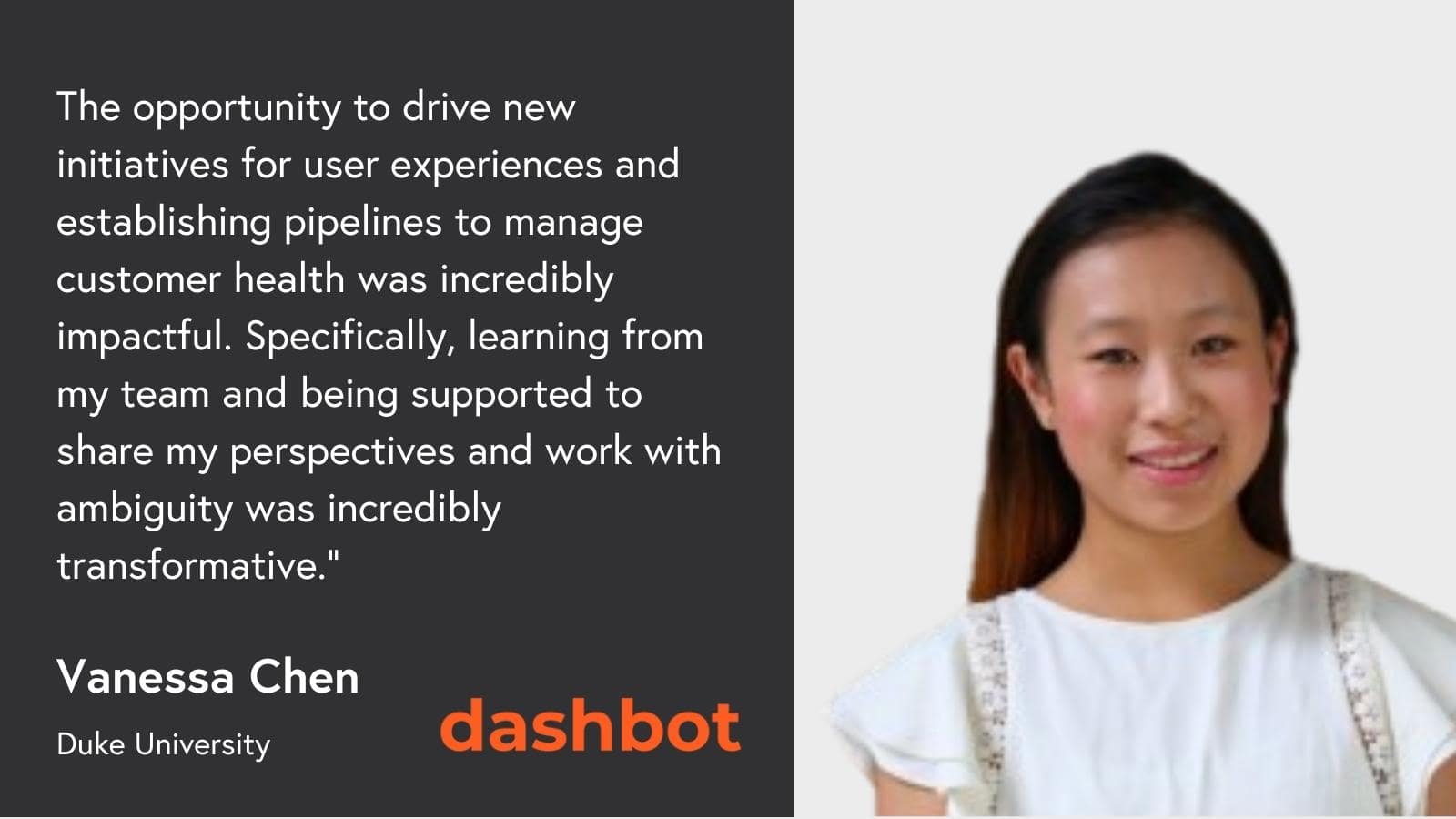 Zak Ben-Har - Software Engineering Intern at Shopify
"The most impactful lesson I gained from working at Shopify is the art of asking the right questions. How does one ask the right question(s)? By pondering the problem at hand more deeply, gathering all information you know about the problem and thinking through the problem from different facets. This is valuable because through deep pondering sometimes one finds the answer to their own questions, or better yet you bring something up to the team that they hadn't even thought through before. Over time, asking the right questions increases productivity because you're able to complete tasks more efficiently and collaboratively," shared Zak Ben-Har.
To learn more about the Bessemer Fellows Class, the program, and how you can potentially apply (student) or provide an opportunity (portfolio company), learn more here.