Now concluding its fourth year, the Bessemer Fellowship Program equips high-achieving undergraduate students with internships at Bessemer portfolio companies and robust programming and networking opportunities. For 2023, we placed 13 U.S. university students from over 2,100 applications at companies across consumer, enterprise, deep tech, and healthcare roadmaps. Some of these companies include Pinterest, StubHub, Shippo, Fulcrum, Oshi Health, and Black Sheep Foods.
This year's cohort participated in professional development workshops with top founders, operators, and investors, including Jeff Epstein, Operating Partner at Bessemer and former CFO of Oracle; Byron Deeter, Partner at Bessemer; Maria Colacurcio, CEO of Syndio; Gokul Rajaram, board member, and former DoorDash executive; and Rachel Wolan, former product leader at Dropbox, LiveRamp, and Talkdesk.
How do you see AI making the world a better place?
The 2023 Fellows are entering the tech sector at what feels like the precipice of a new era of artificial intelligence (AI) product growth. To that end, we asked them to share their thoughts on how they see AI making the world a better place. This year's Bessemer Fellows are optimistic around the expansive potential of AI—automating mundane tasks, improving healthcare systems, leveling the playing field for people with disabilities, and discovering solutions to systemic problems, such as poverty, hunger, and climate change. 
We hope the 2023 Fellows inspire other students, aspiring entrepreneurs, technologists, and pioneers to consider applying for next year's Bessemer Fellowship Class.
Meet the 2023 Bessemer Fellowship Class
Alex Cheng, Software Engineer Intern at Lunchbox Health
Harvard University, Computer Science & Statistics 
"AI will be able to revolutionize a number of fields, from healthcare to education to environmental sustainability. From my research in AI at Massachusetts General Hospital, I've seen firsthand how AI can help aid in the diagnosis and prognosis of common diseases, allowing doctors to deliver more efficient and effective care. It's clear that as AI development continues to progress, workflows will become increasingly streamlined, freeing up time for people to focus on solving even more complex and critical tasks to improve our world," shared Alex Cheng.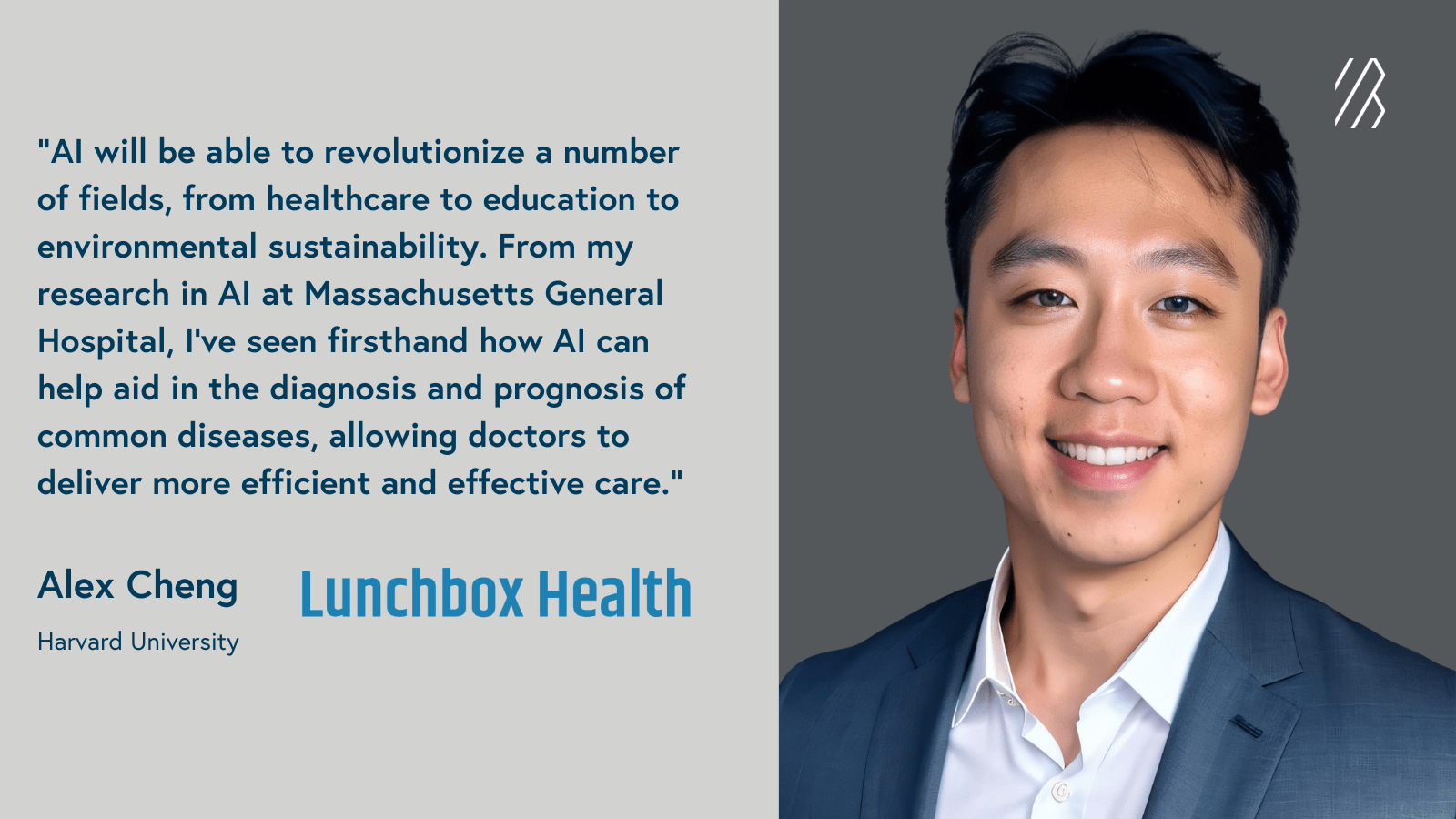 Amit Levi, Revenue Operations Intern at Yotpo 
Brown University, Computer Science and Modern Culture & Media
"AI democratizes access to knowledge, skills, and creativity. Recent AI innovations have already demonstrated the potential to empower people to express their ideas and talents irrespective of their educational or personal background. As new technologies emerge and adoption spreads globally, I expect growth in humanity's imaginative and intellectual output along with an improved distribution of opportunities," shared Amit Levi.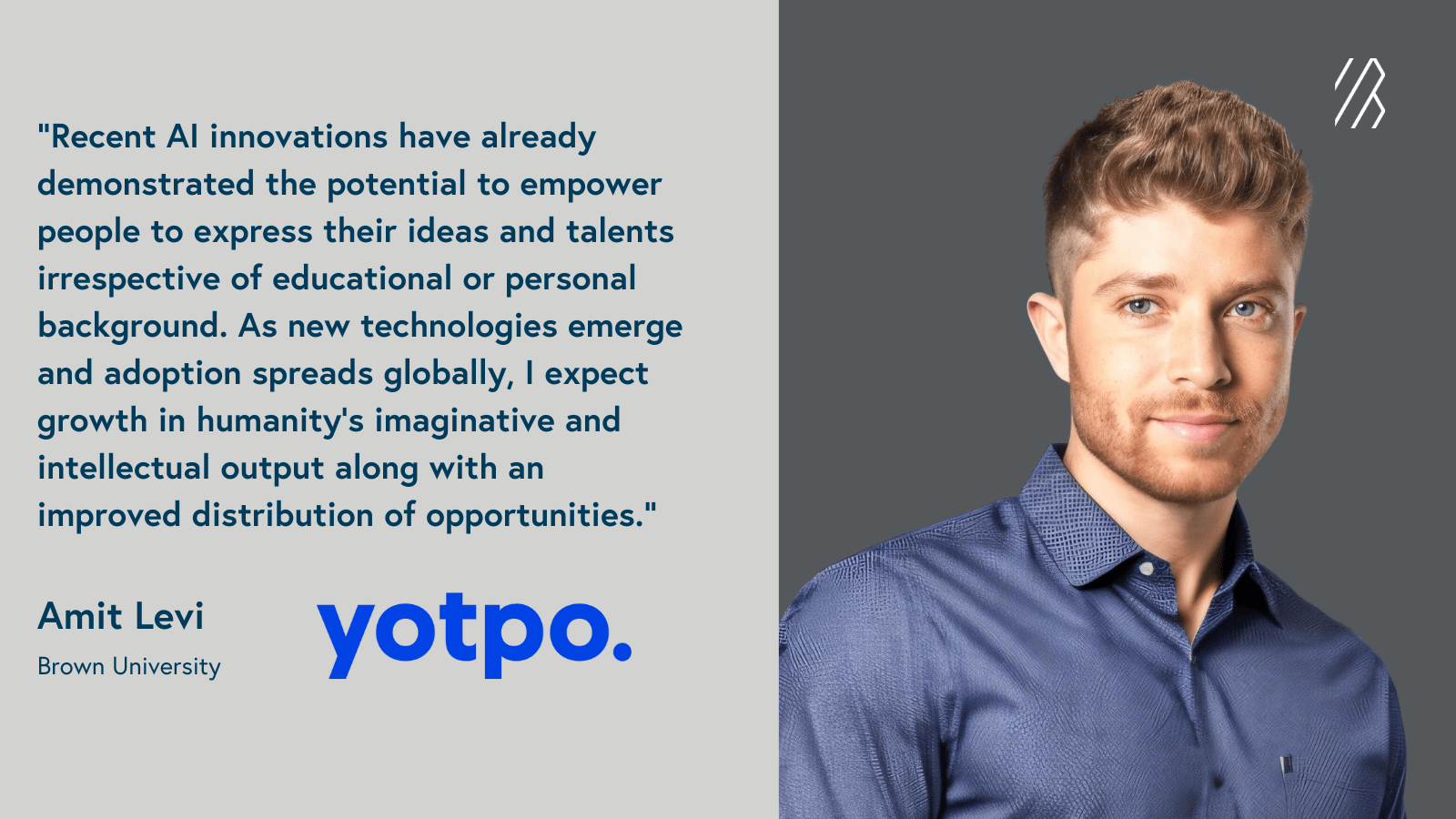 Anna Monaco, Product Intern at StubHub
University of Pennsylvania, Computer Science & Entrepreneurship 
"One way that I believe AI will make the world a better place is by encouraging higher levels of innovation globally. AI allows innovators to focus on what they do best: creative thinking and problem- solving, while repetitive, labor-intensive tasks are automated. AI also contributes to innovation by personalizing education and making it more inclusive, which paves the way for emerging innovators, including those with disabilities, to engage with learning resources tailored to their unique needs. This helps foster a more diverse and inclusive culture of innovation," shared Anna Monaco.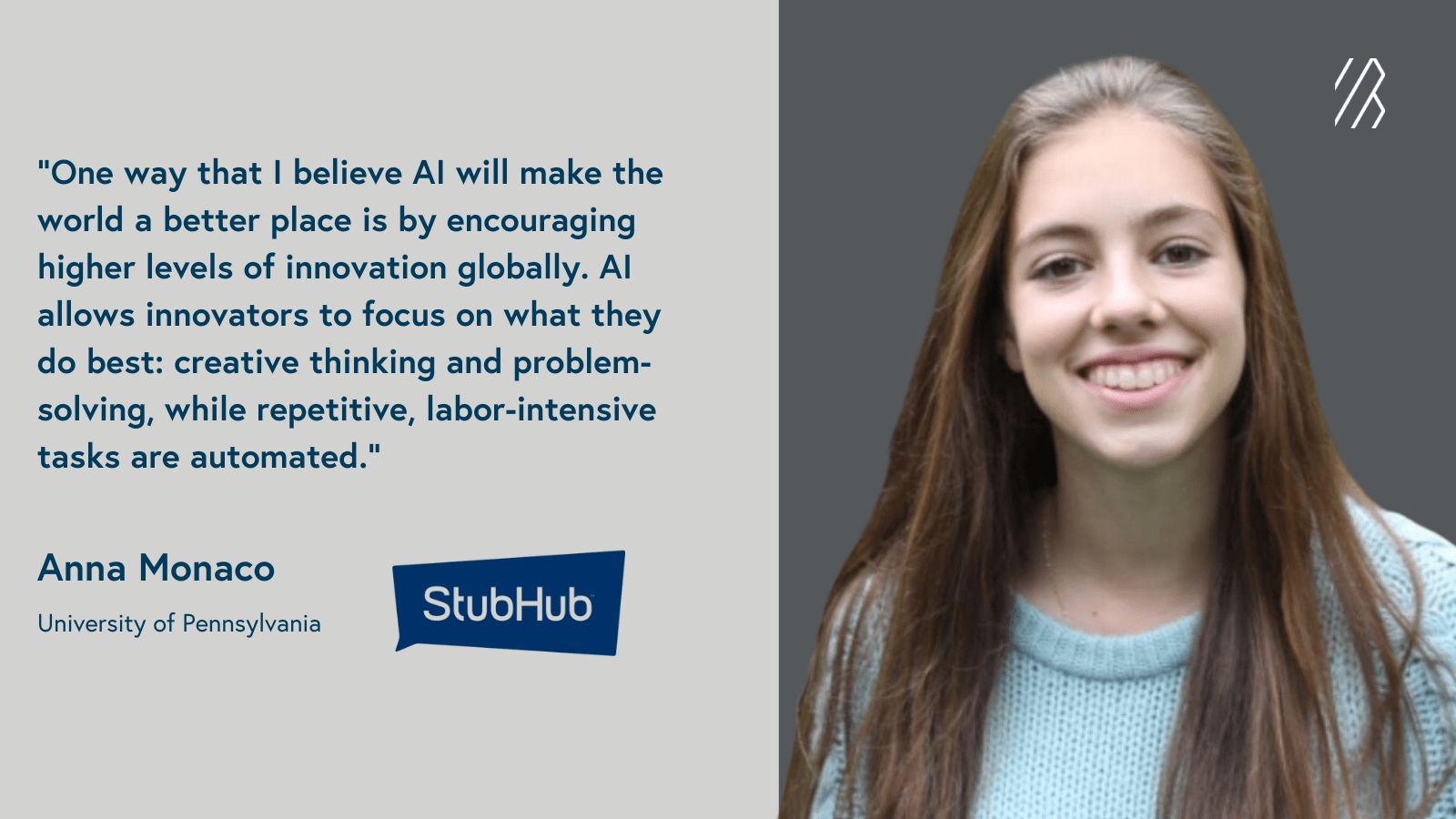 Athena Yao, Product Manager Intern at StubHub
Duke University, Neuroscience, Computer Science, and Visual & Media Studies
"From improving drug discovery to increasing efficiency in software development, manufacturing, and more, AI holds incredible potential to change the world for the better. We're at a pivotal moment in human history right now, and I'm particularly excited about possibilities for improving healthcare systems and unleashing human creativity, as we've begun to see through generative AI and data analysis techniques. I'm also curious to see how AI can transform human connection and be leveraged to address key issues in our world, such as poverty and climate change—there's so much opportunity here, and it's our responsibility to get it right," shared Athena Yao.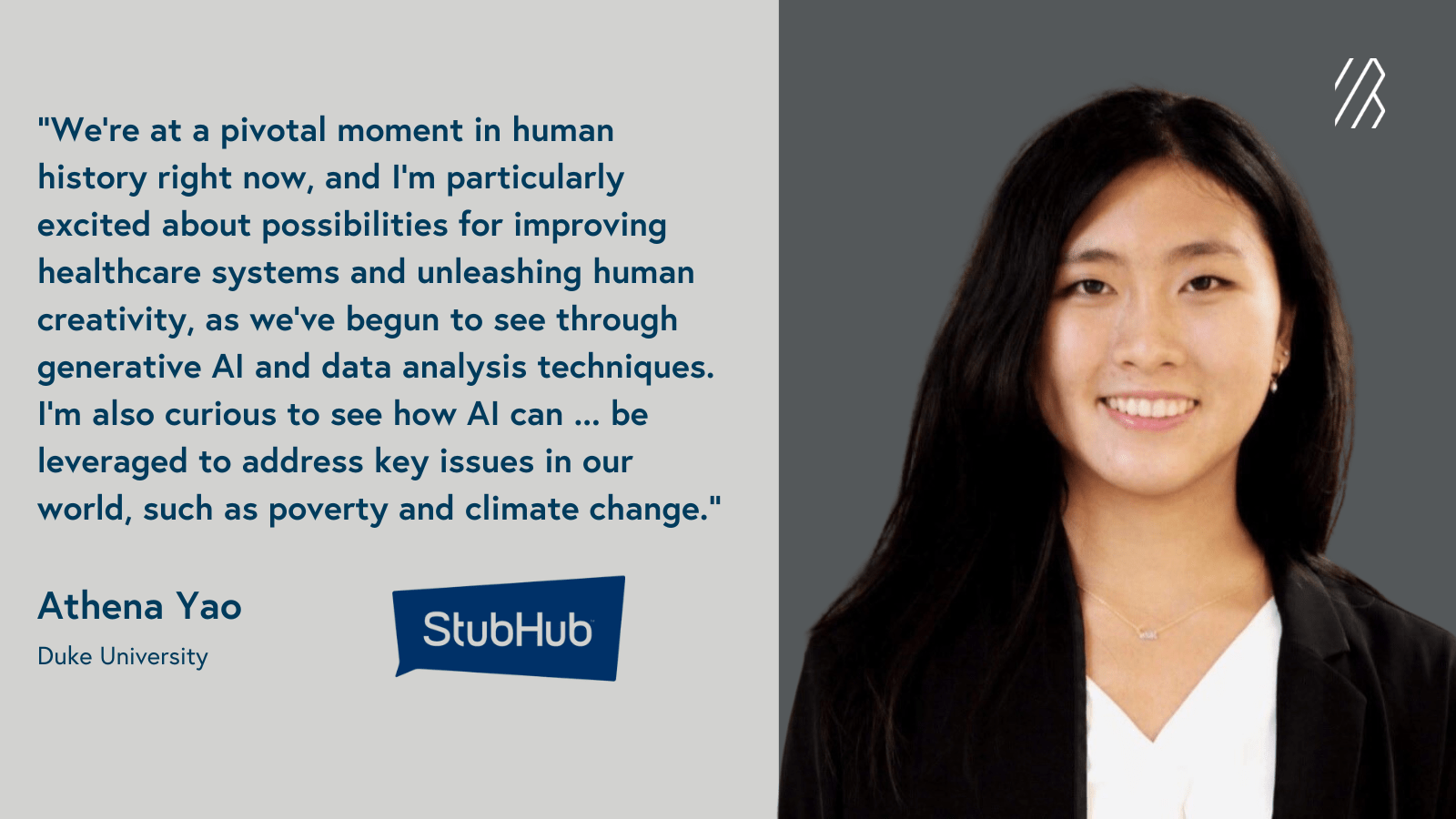 Halla Elkhwad, Product Intern at Fulcrum
University of Pennsylvania, Economics: Business Analytics, Marketing, Design 
"AI is already making a large impact in the agricultural sector, and has immense potential to do more. With AI-driven precision farming techniques, farmers are able to optimize resource usage, leading to increased crop yields and reduced environmental impact. AI's ability to analyze large data sets at high speeds enables real-time data capture and swift decision-making. The integration of AI with agricultural systems will bring about the next agricultural revolution allowing us to sustainably feed the growing world population," shared Halla Elkhwad.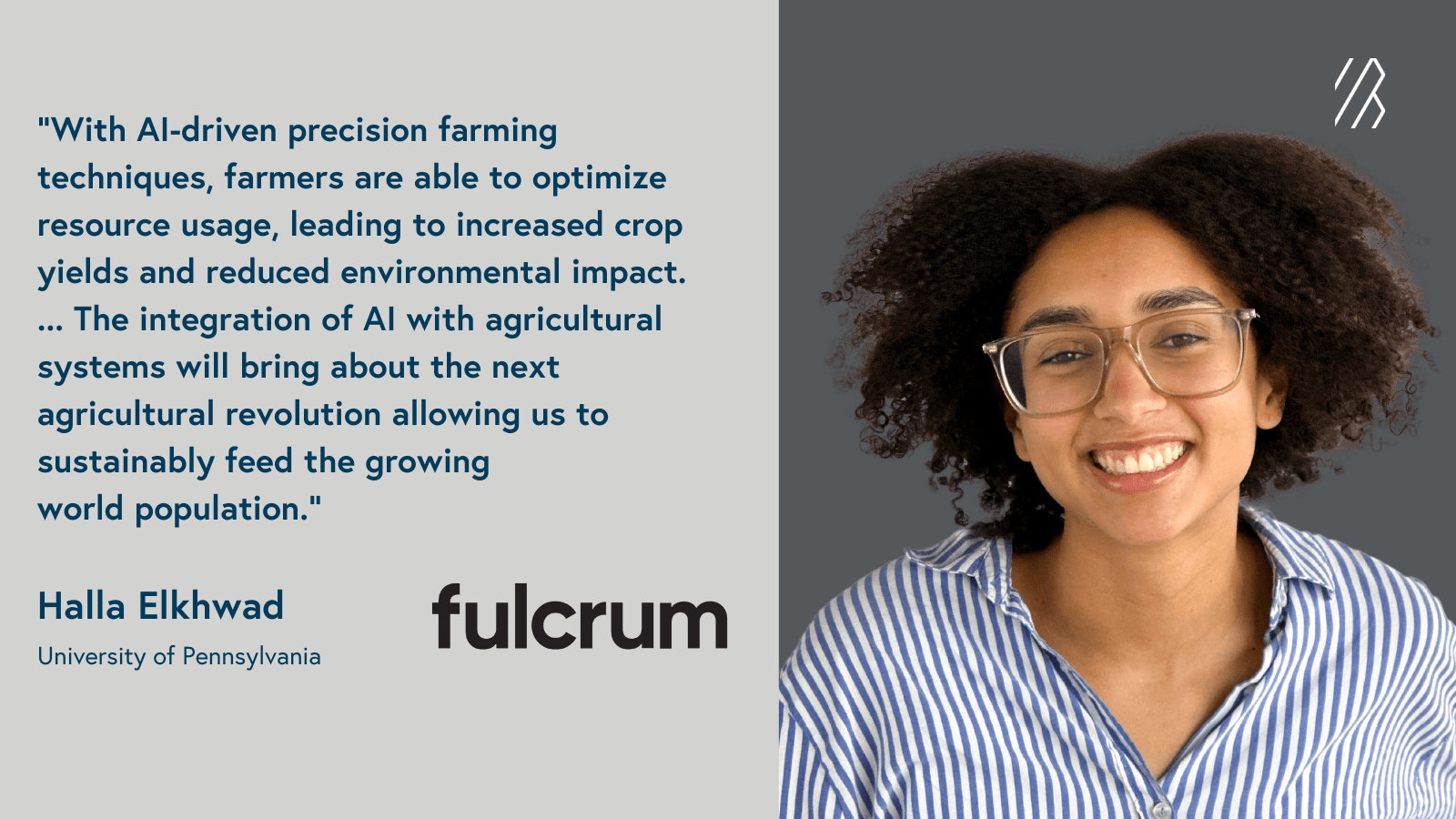 Hanjune Lee, Customer Success Intern at Onaroll
Northwestern University, Computer Science
"If AI is developed with the right care, I can see meaningful advancements in developer productivity, educational opportunities for the under-resourced, medical diagnoses and treatments, and scientific research. But the non-zero existential risk and lack of sufficient safeguards from industry and government are alarming; the upside in the aforementioned industries, and in applications such as military and cyber, could quickly flip to catastrophic downsides. Today's technological inertia poses a great opportunity for our generation to accomplish truly great things. But more importantly, it necessitates our acknowledgement of the moral responsibility that we hold to innovate the right way," shared Hanjune Lee.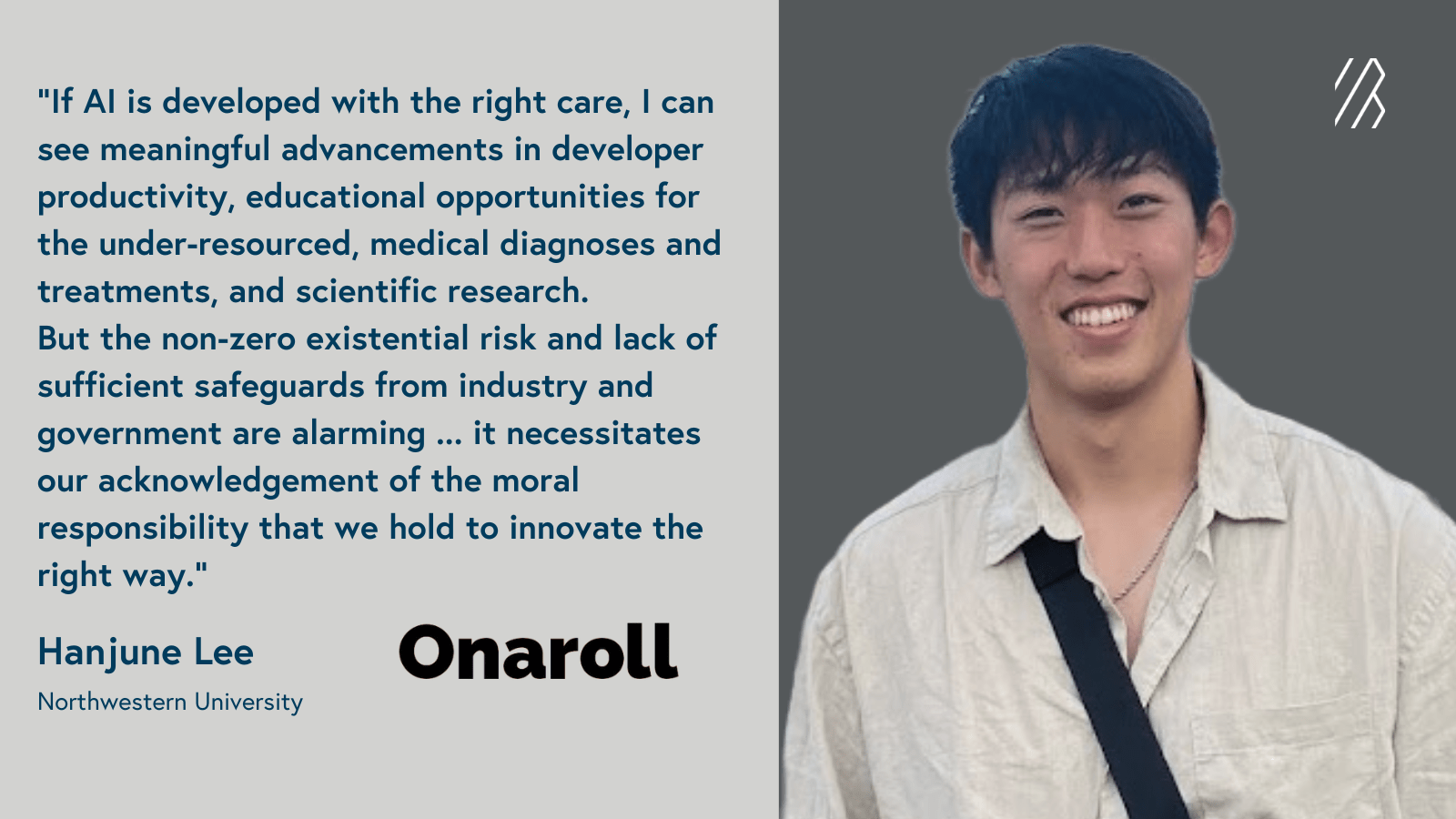 John Rho, Summer Data & SWE Intern at Black Sheep Foods; Fall Product Management Intern at StubHub
Harvard University, Applied Mathematics
"AI is a powerful equalizer. For individuals from disadvantaged backgrounds, AI frees up time, resources, and manpower towards new innovations, like how AI-powered educational apps are bringing quality education to remote and underserved areas. Researchers have already made significant strides in fields like signal processing, which have resulted in improved denoising algorithms for tools like hearing aids. It is incredible to witness the progress AI/ML researchers will make in our lifetimes, and as a budding entrepreneur, I find the pace of innovation thrilling -- brainstorming how these advances can be applied in sectors like healthcare, environmental conservation, or education technology," shared John Rho.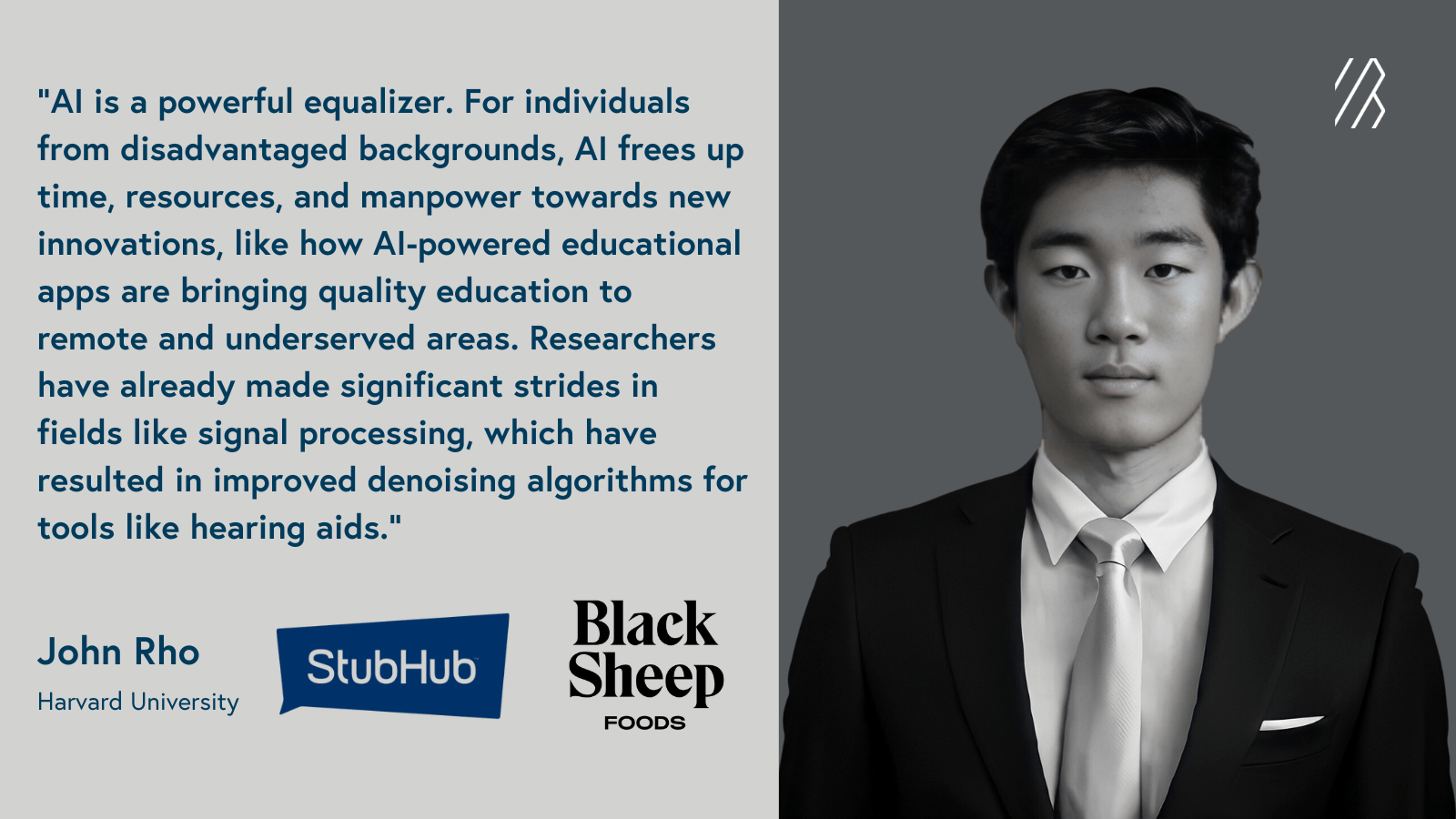 Jose Lopez, Software Engineer Intern at Pinterest
UC Irvine, Computer Science
"I see AI being beneficial by speeding up scientific research. For example, as we venture further into space, communication latency––the time it takes for information to travel from source to destination––can drastically increase mission times. AI can be integrated into rovers, allowing them to make decisions for themselves and process any of their findings to report any notable discoveries. This same idea can be applied to many processes that require heavy human intervention; allowing technology to "think" for themselves is something that can lessen the workload from humans," shared Jose Lopez.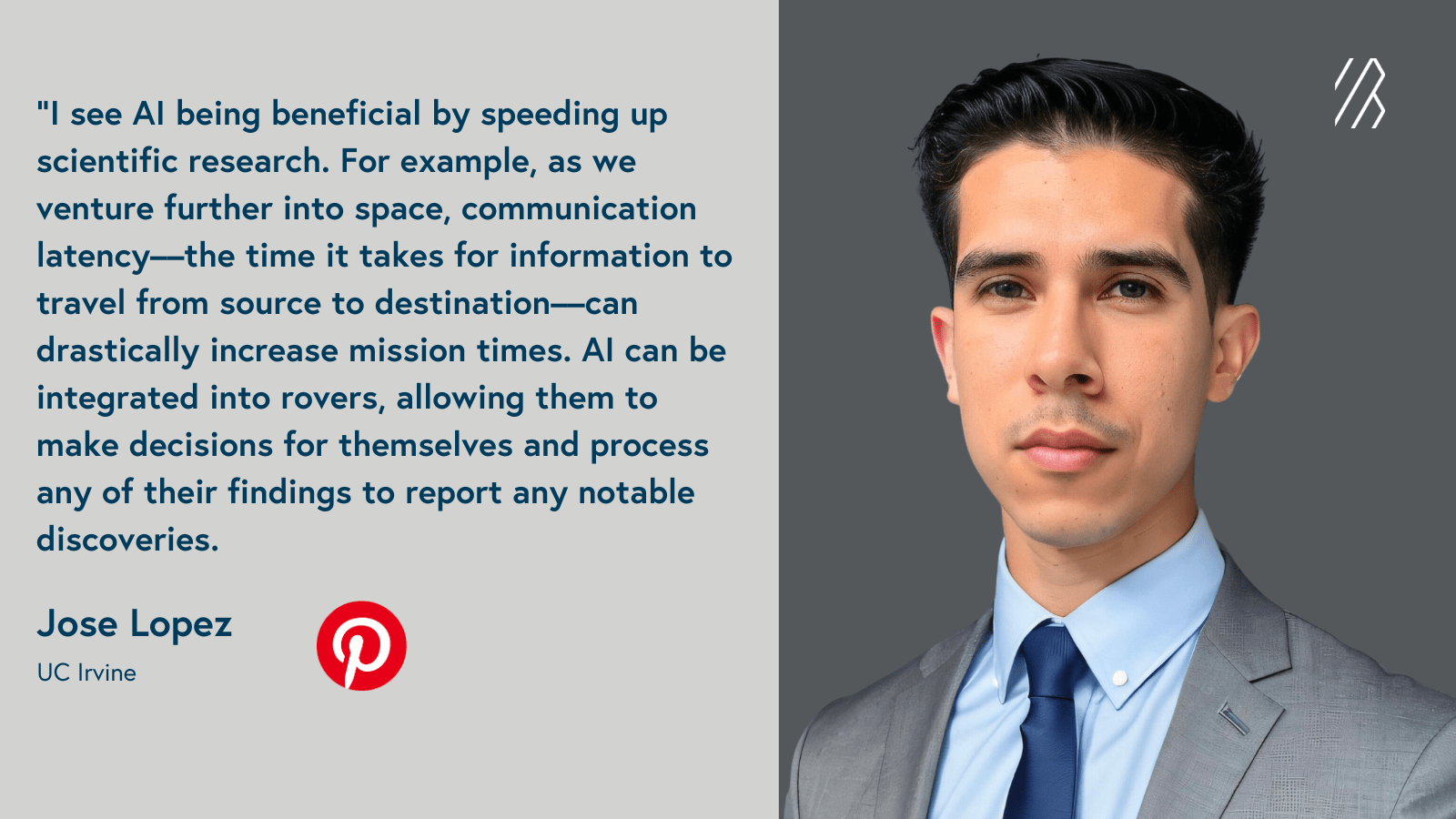 Kim Tran, Strategy & Operations Intern at Oshi Health
Princeton University, Molecular Biology
"I'm excited about the convergence of biology and generative AI. The volume of life sciences and healthcare data has exploded over the years due to more efficient technology and lowering costs. More recently, generative AI has finally evolved to the point where it is able to structure and extract meaningful insights out of it. These insights can then be used to design novel proteins for the creation of new medicines, automate inefficiencies in clinician workflows, revolutionize at-home healthcare, and even predict disease risk. The future is bright and is at this intersection," shared Kim Tran.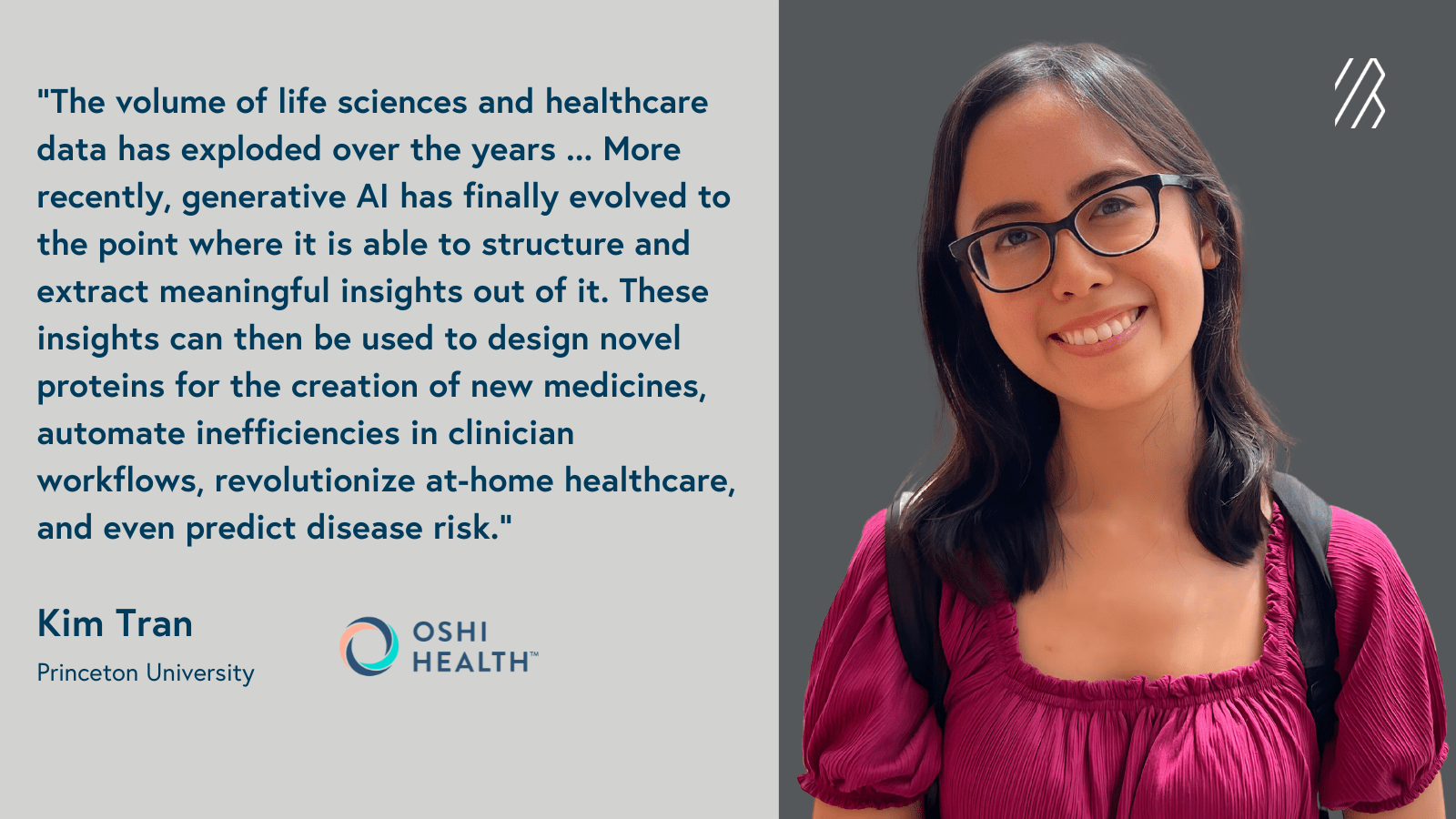 Stanford University, Computer Science
"AI will fundamentally change the way we live. I am most excited about how AI will transform legacy infrastructure that has created bottlenecks in the healthcare, mental health, and substance abuse industries. Generative AI will save clinicians time from documentation and insurance referrals and billing so they can focus on improving patient experience and access to resources. Predictive AI will inform clinical decision- making and optimize administrative workflows. Emotion AI will play a critical role in solving the human resource issues affecting healthcare. AI will create unimaginable impactful solutions to deep social issues," shared Melanie Zhou.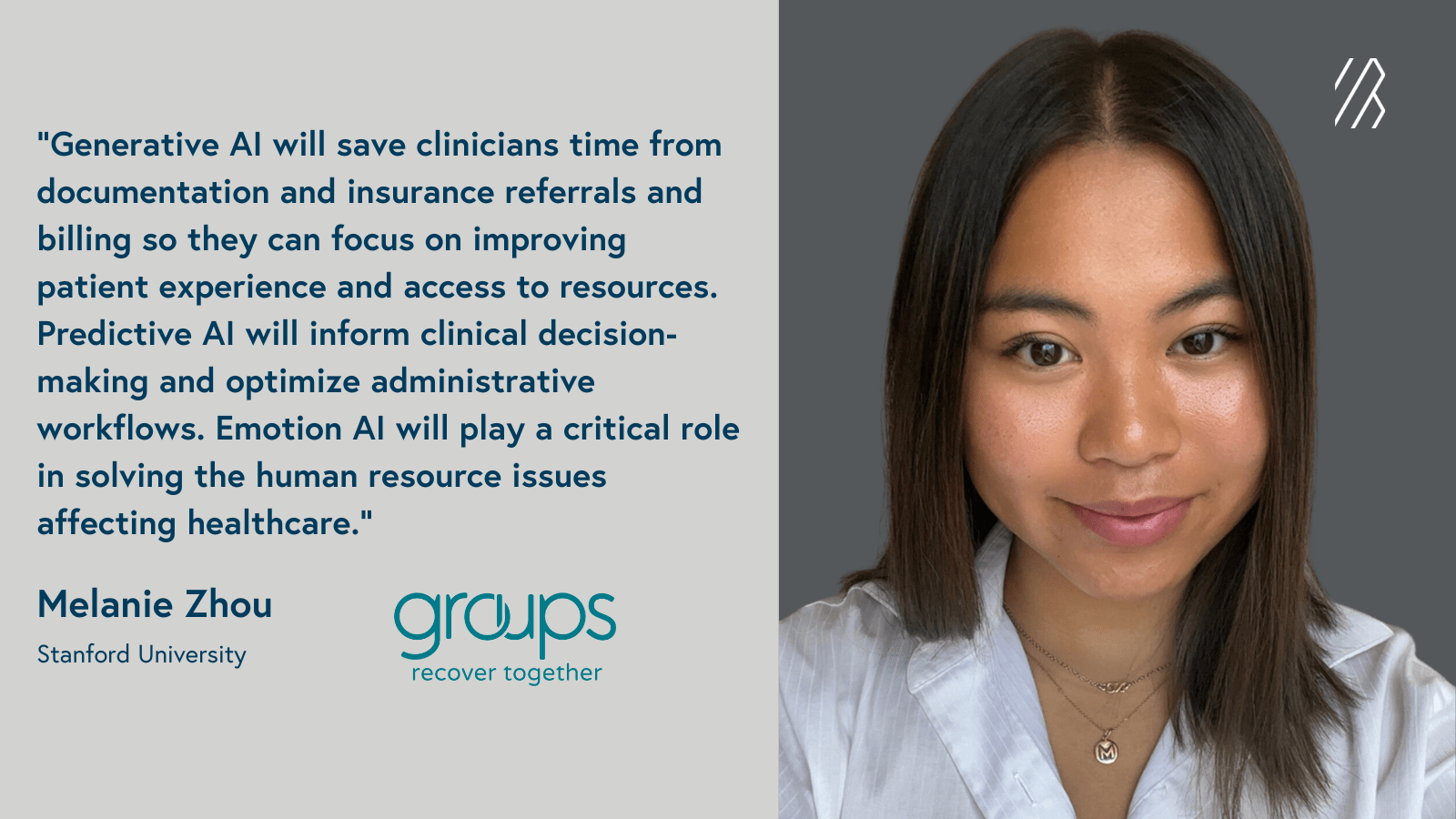 Samrat Sahoo, Software Engineering Intern at Visor
Georgia Institute of Technology, Computer Science
"Advancements in AI will fundamentally change the way we live our lives. AI empowers humanity to become increasingly efficient and introduces automation in an intelligent manner to a diverse set of tasks. Ultimately, the seamless integration of AI into our lives sets in motion a new paradigm of living where we are free from the mundane parts of our lives and can instead focus on the things we care about most, whether that be solving intellectually challenging problems, tending to our relationships, or just living life to the fullest," shared Samrat Sahoo.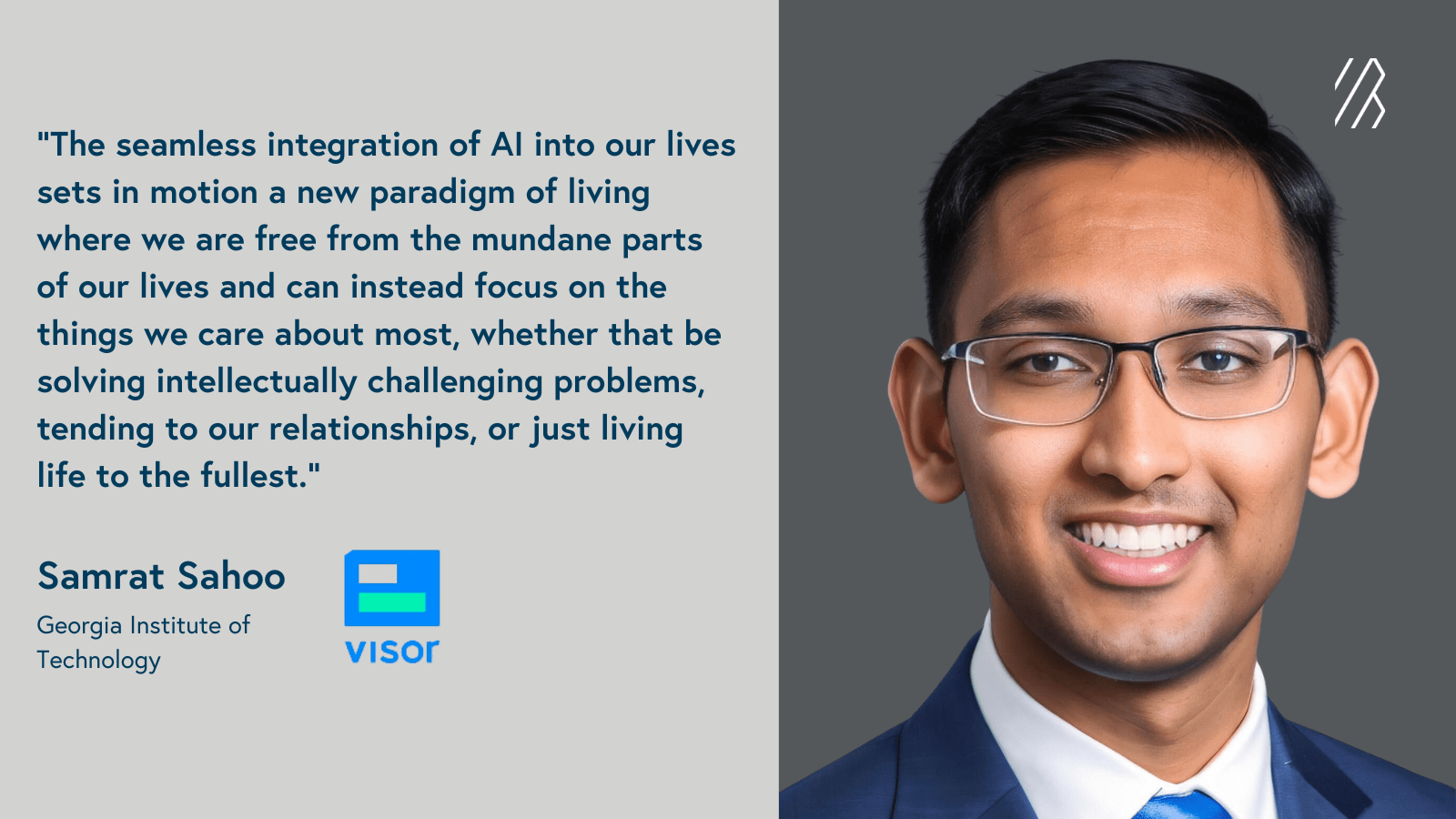 Shayna Kliger, Product Management Intern at Bevi
University of Colorado, Boulder, Business Administration: Marketing, Entrepreneurial Studies, Operations & Information Management
"The rise of AI is set to profoundly transform our world, unlocking human potential through heightened efficiency, precision, and decision-making. By combining human ingenuity with technology, we are shaping a future where positive disruptions in healthcare, education, innovation, and many other sectors are inevitable. The responsible adoption of AI is crucial in order to harness its positive impact and navigate an ethically-guided route toward a new, AI-enhanced world. As we witness AI reshaping industries and empowering humanity, the collaboration between human intellect and AI capabilities propels us into a future filled with endless possibilities and remarkable advancements. I'm excited to be a part of the journey!" shared Shayna Kliger.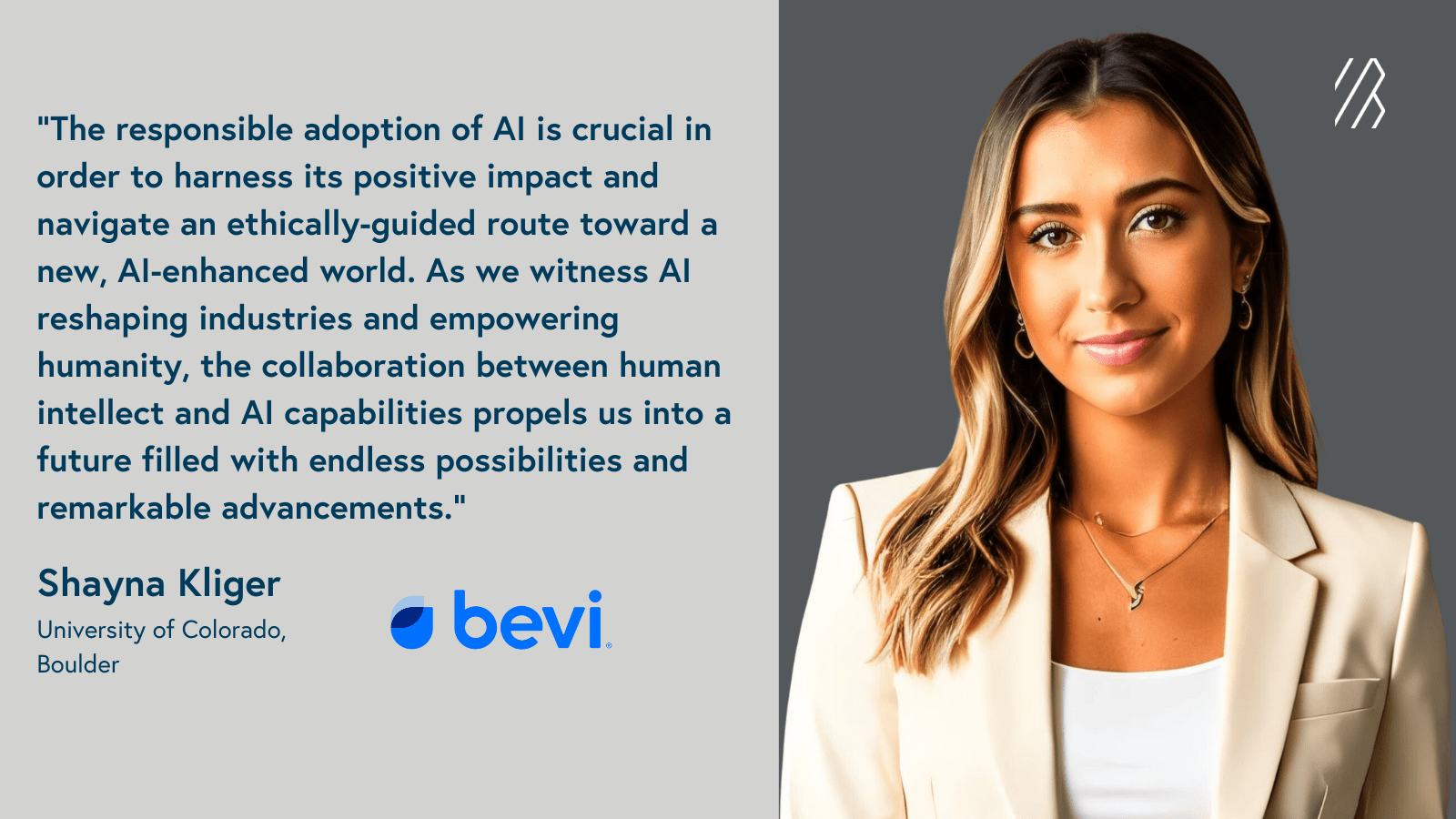 Viraj Kacker, Business Strategy Intern at Shippo
Georgia Institute of Technology, Computer Science
"The education equity gap is a prevalent issue in our society today and is one that holds particular significance for me. While the internet offers an abundance of educational materials, individualized guidance is crucial to a student's progress. I believe access to AI tools can serve as a catalyst in bridging this equity gap. For example, using AI tools like Khanmigo can be just as effective in preparing one for a standardized test than investing in costly study courses. AI applications in education have the potential to accelerate efforts to provide equal access to educational opportunities," shared Viraj Kacker.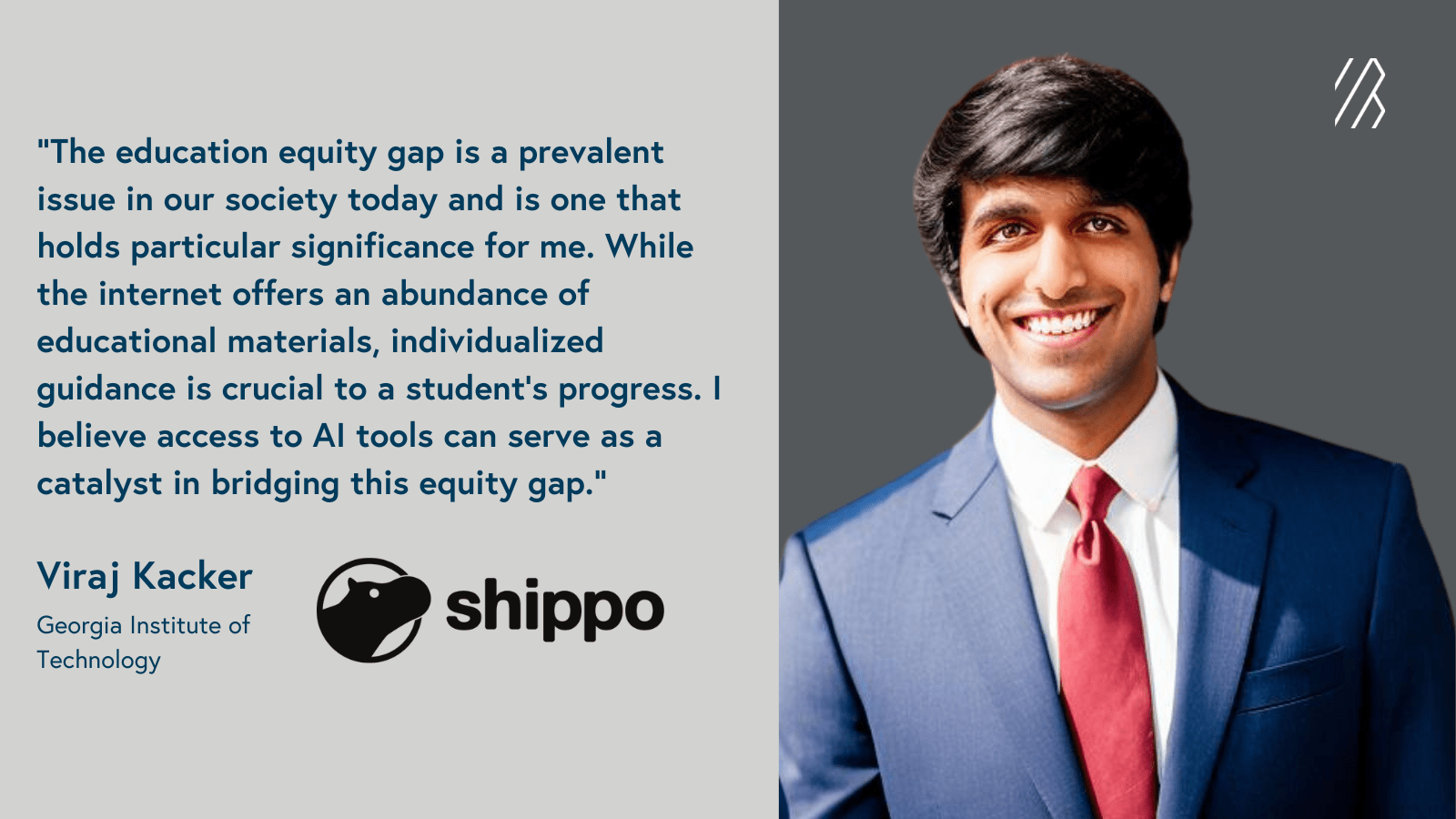 To learn more about the Bessemer Fellows Class, the program, and how you can potentially apply (student) or provide an opportunity (portfolio company), learn more here.