Insights on becoming a founder with Bessemer Fellowship Alumni
Three entrepreneurs got their start with the Bessemer Fellowship Program. Here's where they are today.
Entering its fourth year, the Bessemer Fellowship program will return for 2023, connecting a cohort of high-performing third-year college students with internships, workshops with founders and CEOs, and mentorship from Bessemer and startup leaders. 
As the Fellowship program gears up for this summer and accepts applications for 2024, we caught up with three alumni to find out what they've been up to and how they've been building on their experiences as Bessemer Fellows. (Hint: they're already on their founder journey, building for the AI era.) In the Bessemer Fellowship program, aspiring builders and entrepreneurs gain real life experience interning for growing technology companies, such as Truebill, HashiCorp, and Gainsight; invaluable mentorship from leaders in venture capital and tech; and the peer community that empowers them with confidence to venture into their early careers. Here are their stories. 
Sarah Johnson on building creative solutions for a sustainable future 
Sarah Johnson '21, co-founder and COO of SpoilSaver 
Sarah Johnson applied to the Bessemer Fellowship intrigued to learn more about the venture capital industry, but after working for and meeting the founders within Bessemer's portfolio, she realized that building was a way to make an impact and build solutions for a sustainable future. 
"Growing up, I didn't know much about venture capital," said Sarah. "Once I became a Bessemer Fellow, it was like a whole new world opened up."
Sarah held two internships at Bessemer portfolio companies: one at a tech real estate company, WiredScore, in 2020, and one at customer engagement platform Twilio, during her fellowship in 2021.
At WiredScore, Sarah interned in operations, where she helped the company automate a key business process that historically relied on manual data entry. And at Twilio, she helped the company's technical support team clean a backlog of data that had accumulated during the COVID-19 pandemic.
Despite her love for engineering and tech, Sarah initially felt apprehensive about entering the industry as a founder because she thought she didn't fit in: "I didn't think there was space for creatives in tech. But I later realized that as a founder, you are kind of a creative in the tech space––you're using your skills and artistry to build an app."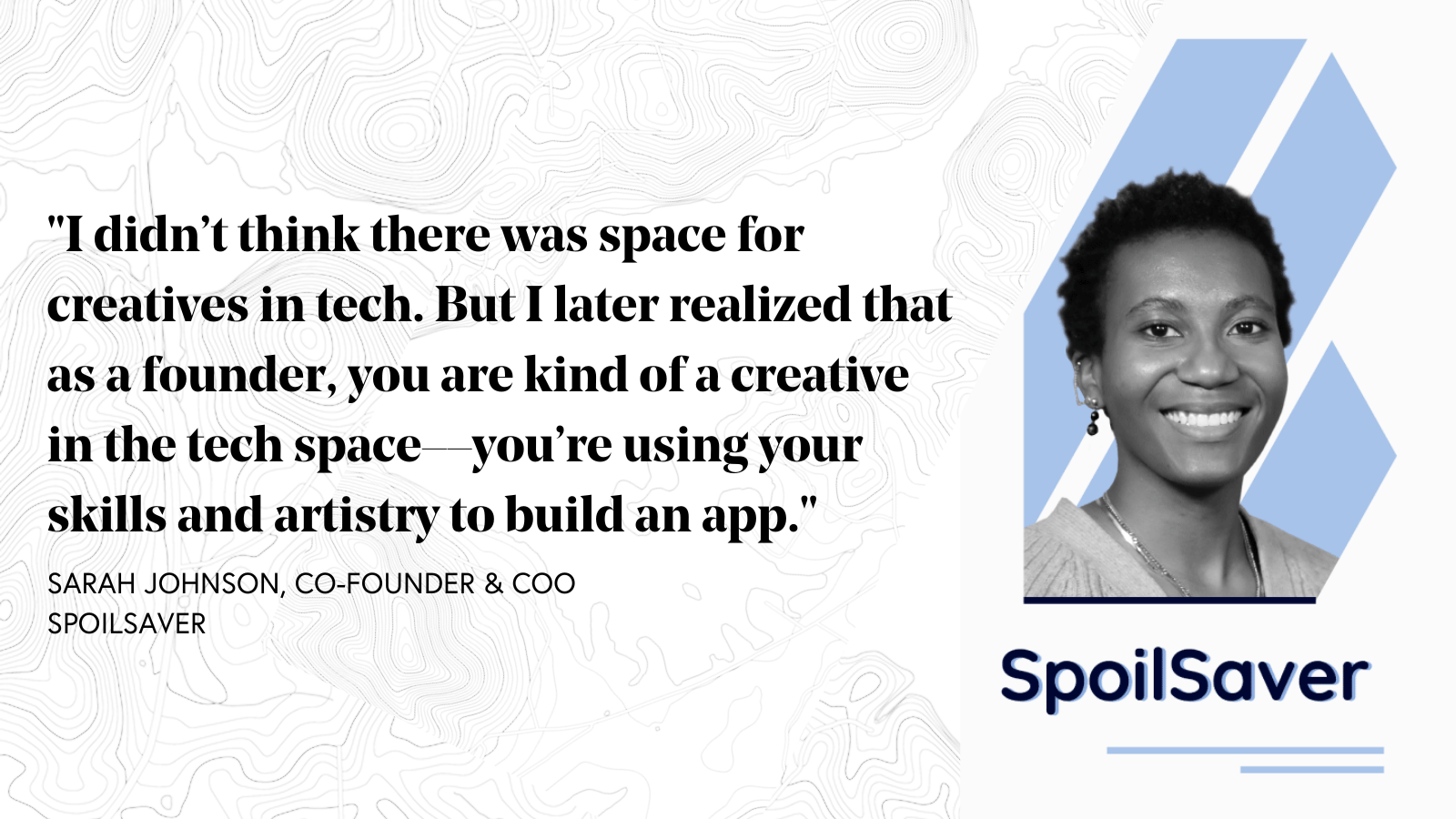 Creativity is just one of a number of professional skills Sarah honed through her experience as a Bessemer Fellow. Sarah also felt she learned a lot about leadership through the Bessemer Fellowship's programming: in one particularly resonant workshop, she learned practical advice from an engineering leader on how to manage people and time––lessons that continue to pay dividends as she leads a team of her own.
Those professional experiences informed Sarah's postgraduate journey: soon after graduating from New York Institute of Technology, Sarah co-founded SpoilSaver, an artificial intelligence (AI)-powered food waste management app.
One key ingredient fueling her founder journey was the Bessemer Fellowship—Sarah felt she got the "lay of the land" of the entrepreneurial ecosystem as a Fellow, between interning at two different tech companies and learning from professionals in the Bessemer community. At first, she didn't realize how all the different skills she was developing would cinch together, but eventually it clicked: as a co-founder, she brought to the table not only an engineering background, but also an understanding of product market research, public speaking best practices, and how tech companies and venture capital firms work on the inside, she explained.
With confidence from her Fellowship experiences and skill sets, Sarah felt inspired to team up with a peer and turn their vision into reality: SpoilSaver was originally based on a design project she and a classmate collaborated on in their senior year.
Initially a hardware idea, Sarah and her co-founder decided to pivot SpoilSaver's core offering to a software product after they conducted user research. To make that decision, Sarah thought critically about supply chain needs, engineering and headcount requirements, and even the sustainability impact of creating a hardware product versus building a smartphone application.
By manually inputting or taking a picture of a perishable food item, SpoilSaver uses AI to identify the food, provide a countdown until its expiration date, and suggest uses for it, such as recipes and donation sites, Sarah explained.
"I don't think I would be where I am now if I didn't do the Bessemer Fellowship," said Sarah. "It definitely helped me come out of my shell, see other opportunities out there, and meet other people like me."
Ethan Ding on discovering the entrepreneurial journey 
Ethan Ding '20, co-founder and CEO of TextQL
Ethan Ding joined the Fellowship program because he saw Bessemer as a foray into a global entrepreneurial ecosystem.
"I just wanted to get started with startups," said Ethan. Because the Fellowship matches students with internship positions at tech companies in the Bessemer community, applying to the program "felt like 10 or 20 applications in one," he added. 
Ethan's Fellowship took place in the midst of the COVID-19 pandemic, when companies were canceling internships. As a result, Ethan spent the internship portion of his Fellowship supporting data efforts for investors at Bessemer Venture Partners. (In fact, his analysis supported and was featured in Atlas' Scaling to $100 Million, a canonical benchmarking article.)
Through his time at Bessemer, Ethan developed hard skills, such as understanding company financials and Excel, and soft skills, like understanding investors' perspectives during startup pitches. Among his most memorable learning experiences in the Bessemer Fellowship program was a finance workshop led by Bessemer Operating Partner Jeff Epstein, who explained the importance of conviction in venture capital investing. 
Ethan also benefited from connecting with his Fellowship cohort, which provided valuable support during the challenges posed by COVID-19.
After his Fellowship, Ethan worked at Bessemer portfolio company Tackle.io as a data product manager. Ethan quickly noticed that his colleagues on the data team were spending excessive time writing SQL queries, an observation that ultimately sparked a business idea. "I really didn't want our engineers to be writing SQL all the time because it's not the highest leverage thing for them to do," he added.
Today, Ethan co-founded TextQL, an AI platform that provides companies with virtual data analysts that can write SQL, create data documentation, and answer data questions.
Ethan noted that having a solid understanding of company valuations—something he developed during his time as a Bessemer Fellow—has helped him in his founder journey at TextQL. He explained that it can be tempting for founders to chase the highest possible valuation that an investor is willing to offer, but in doing so, you can strike out.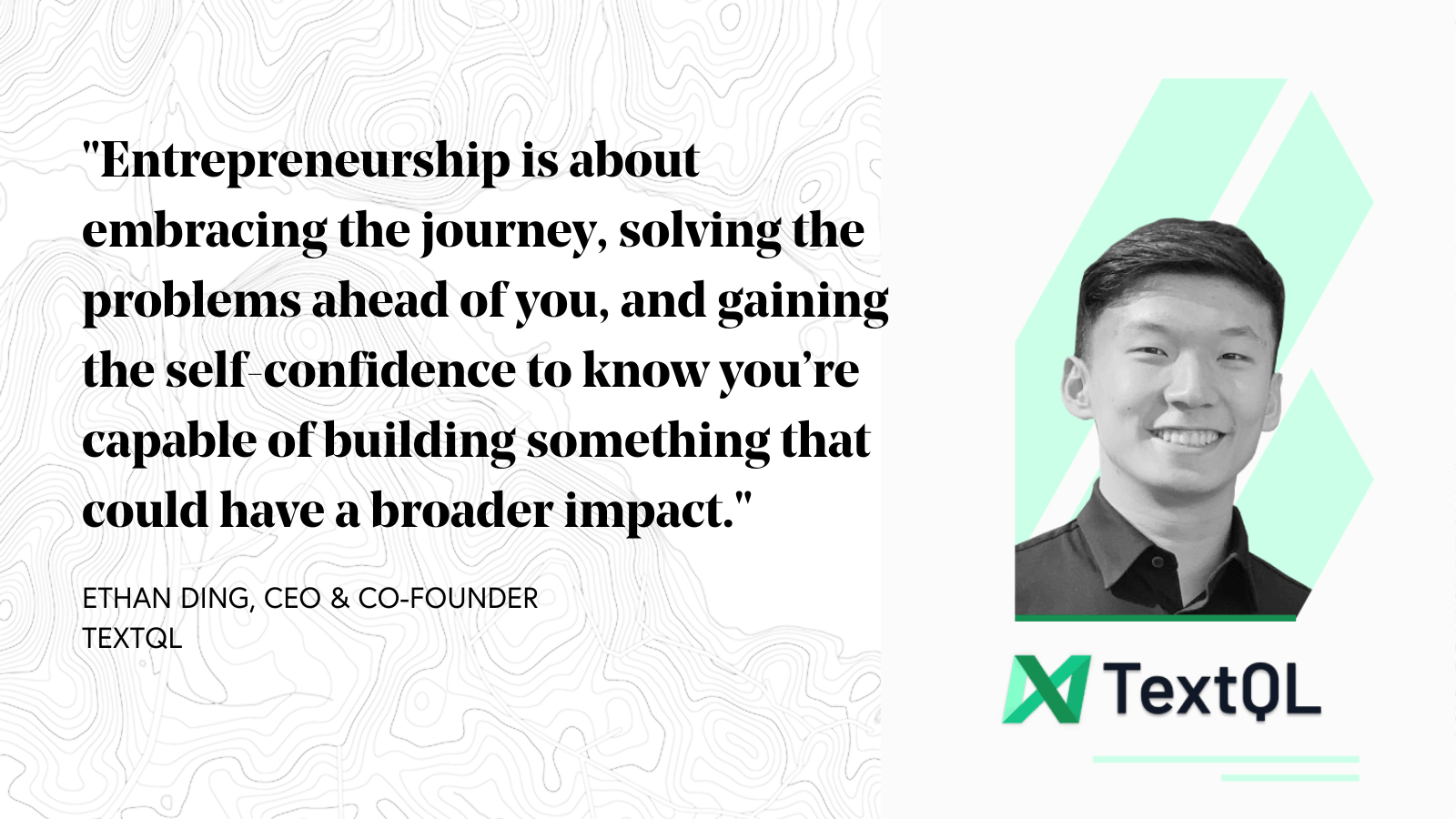 Most importantly, he learned through Bessemer's mentorship that being a founder is also about having a long-term mindset. "I'll always remember a coaching session I had where I realized that I didn't need to know everything right away—entrepreneurship is about embracing the journey, solving the problems ahead of you, and gaining the self-confidence to know you're capable of building something that could have a broader impact. When I reflect on the Fellowship, I realize the program helped me cultivate my self-esteem and belief that I could be a founder." 
Rafi Tanzim on cultivating a builder community 
Rafi Tanzim '20, co-founder and CEO of Fuego.io
Rafi applied to the Bessemer Fellowship hoping to find other like-minded individuals: students interested in entrepreneurship. "We're all going through the same struggles and have the same ambitions, so it's nice to have a support system around you," he said. And that panned out: Rafi is still in touch with Bessemer Fellows from his cohort, as well as Fellows from subsequent cohorts. 
Also a Fellow at the height of COVID-19, Bessemer supported Rafi as he interned in product management and attended the Fellowship program's workshops and community. During his internship, Rafi worked on an autonomous vehicle (AV) platform––the goal was to build a scalable system to test the functionality of AVs in a simulated environment, he explained.
As a product management intern, Rafi got to write product requirements, set a schedule, connect cross-functional teams, and field client requests. "It's like gluing everything together," he added. 
Some of his favorite Fellowship memories were of workshops with Bessemer portfolio leaders, including Yelp CEO Jeremy Stoppelman and Twitch co-founder Justin Kan. "I remember Justin Kan mentioning the importance of finding an idea and building something that you enjoy, and the importance of having fun in the process," said Rafi. "It's really hard to build a company if you're not enjoying the process of building it."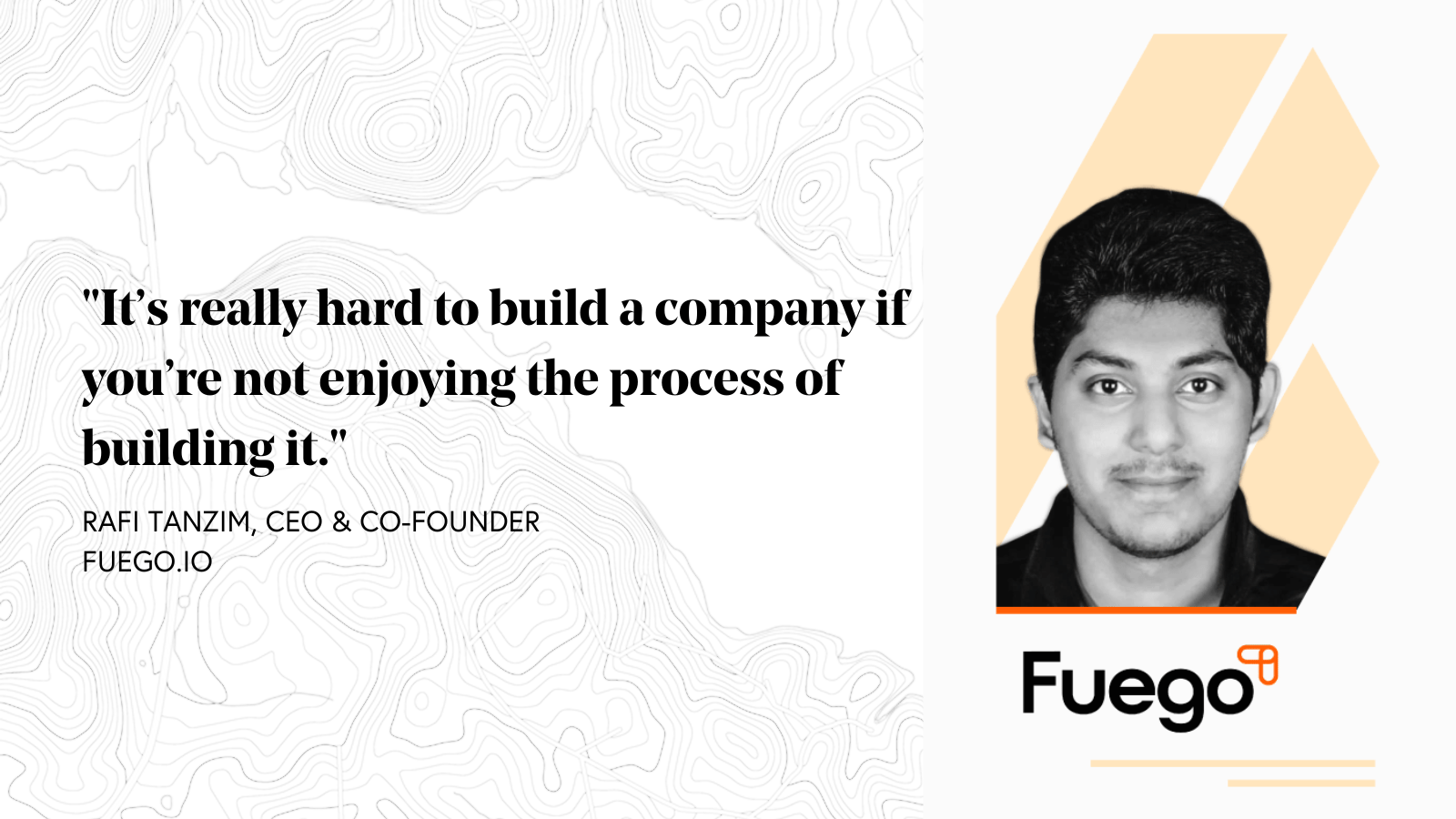 Within his cohort, Rafi appreciated the late-night calls he and the other Bessemer Fellows had in time zones around the world. "We were all working remotely at the time, and I just remember how diverse the entire group was."
Rafi's Fellowship experiences ultimately set him up to launch a venture of his own. Today, Rafi and his brother are the co-founders of Fuego.io, a customizable and extensible no-code mobile app builder for direct-to-consumer brands. 
The two were initially inspired by the power of Bessemer portfolio company Shopify, on which around 75% of transactions occur on mobile devices. That figure made them wonder if they could use generative AI to help Shopify retailers create full-service, social commerce-enabled mobile apps with little to no code. Fast-forward to today, that's what they did––and now they're looking to expand to other e-commerce platforms. 
The power of community, a core component of the Bessemer Fellows program, stuck with Rafi as he began to build Fuego.io: not only does the product help facilitate retail transactions, but it also enables e-commerce stores to create online hubs for customers and fans to congregate. "The fusion of content, commerce, and community is a powerful way to create an engaging online shopping experience", he added. 
Perhaps one of Rafi's biggest sources of inspiration was a conversation he had with Bessemer Partner Byron Deeter, who explained to him that to stand out alongside competitors, it's important to build the product that you can point to and say is the best product in the market.
"My time at Bessemer taught me two critical things: if you're going to be a founder you have to have a passion for the problem you're solving, and if you're building, product innovation is what sets your company apart from the herd."
Welcoming the next generation of founders and leaders
Much of Bessemer's history has thrived through an apprenticeship model—whether it's been the analysts that grow into career venture capitalists or the leaders and founders we have backed and helped support through every stage of their growth. In this spirit, we've cultivated the Bessemer Fellowship program to celebrate our longstanding values, including learning and mentorship. 
The benefits of the Bessemer Fellowship don't just end after the summer. We've continued to support our Fellows past their summer programs through continued programming on company- and product-building topics, such as how to navigate the fundraising ecosystem and finding your company's product-market fit (PMF) with Anurag Wadehra, former marketing leader at Apigee, Google, and Omada Health.
How to apply to the Bessemer Fellowship program
The Bessemer Fellowship Program will appoint up to 20 Fellows for Summer 2024. Applications are accepted for third-year undergraduate students, and we are particularly focused on working with students from underrepresented backgrounds.
We are currently accepting applications for Summer 2024 until December 15, 2023. Learn more and apply here.
Bessemer will announce its 2023 Fellowship cohort in early June––stay tuned for the announcement on our website.