2021 Healthcare Predictions
We look back on the year where a global pandemic changed everything and unpack the technology and trends driving healthcare investing.
We have not had such open and involved discourses around public health since the AIDS epidemic in the 1980's. After a year like 2020, ravaged by the COVID-19 pandemic, citizens, patients, and the scientific community at-large are indebted to those who helped care for us and strived to stop the spread of COVID-19.
While the pandemic is by no means over, we've seen how COVID-19 has pushed our healthcare systems to the brink and what new innovation is required from our providers, payers, employers, and pharma sponsors
In looking back on our 2020 Predictions, we saw six out of the eight predictions begin to realize. Leading virtual care delivery platforms moved laterally through product expansions and acquisitions, resulting in new solutions and services for patient populations. Meanwhile, incumbents like Walmart and Amazon expanded their footprints in healthcare. We also witnessed direct-to-consumer businesses reach 'escape velocity,' powered by a burgeoning digital health technology stack, which lead to notable and long-awaited milestones, such as the Good Rx IPO and the rise of DTC healthcare companies like HIMS and Ro. Finally, biopharma had a record year for innovation and exits, alongside which came a restored reputation for the industry. We go more in-depth on how these trends panned out in 2020 here.
As for what's to come, we believe our predictions indicate where the healthcare industry is headed in 2021. Dive in here:
1. BidenCare brings more value based experimentation
2. The pandemic removes the scarlet letter from diagnostics
3. The commoditization of telemedicine will unlock holistic virtual care
4. Advanced Practice and Ancillary Providers enter center stage
5. Healthcare will focus on underserved patient populations
6. The back office will see further digitization and automation
7. Digital health will continue to have strong investments and exists
8. COVID-19 will force Big Pharma to permanently revamp clinical trials operations
2021 Healthcare Predictions
1. BidenCare brings more value-based experimentation.
Following the inauguration of the Biden-Harris administration, it's safe to say that Obama-era healthcare reform will proliferate. Overall, we view the new administration's plans as a positive force for entrepreneurs and investors in healthcare. One of many reasons why it's challenging to innovate in healthcare is because of the dynamic regulatory environment—unlike other industries, our healthcare system often changes dramatically with each new administration. When you combine this dynamic with the multitude of stakeholders and incentive structures involved in driving change, it's no surprise that the industry suffers from long sales cycles and a slow pace of innovation.
As a continuation from the Obama Administration regulatory environment, BidenCare will "protect and build" upon ObamaCare's original goals, aiming to:
(1) Bolster marketplace cost assistance and add a "Medicare-like" public option, deepening consumer involvement in healthcare as a mechanism for better engaging members in their care while bending the healthcare cost curve. Several large companies have been built out of the exchanges, including our own portfolio company, Bright Health, which raised a $500 million Series E last fall and now serves over 500,000 consumers in more than 50 markets. And Oscar Health, recently filed its S-1 to go public, Devoted Health, as well as
(2) Further expand Medicaid, expanding access to care for currently underserved communities to achieve better health outcomes and lower costs.
(3) Incentivize value-based care, which made material progress under the Trump administration with Seema Verma leading as the administrator for the Centers for Medicare & Medicaid Services. For example, new value-based models such as Kidney Care First launched, spawning a wave of new companies in the value-based kidney care space such as Strive Health, Monogram Health, Cricket Health, HealthMap, Somatus, and Square Knot Health to name a few. We expect continued advancement of value-based care given the bi-partisan support for this care delivery paradigm. As we rebuild post-COVID, many decisions will be made with value-based care in mind.
In the coming year, we'll be leveraging the following rubric to evaluate new value-based care opportunities centered around chronic diseases characterized by:
High prevalence and incidence in the U.S.
Expensive, episodic care
Clear disease progression and staging
Rapidly evolving therapeutic landscape
Diverse payer mix
High prevalence of co-morbidities
We'll also be looking for teams that:
Take a "crawl, walk, run" approach to assuming risk
Consider Primary Care Provider or specialist engagement and/or co-location
We are also keeping a close eye on the value-based care enablement space, which includes companies that offer products and services to support value-based care models, such as population health analytics, transportation, and care coordination. With strong balance sheets following disruptions in care caused by the pandemic, we expect payers to interrogate their roles in value-based care delivery and enablement, and as such, we anticipate more payer-startup collaborations.
2. The pandemic removes the scarlet letter from diagnostics.
Investing in diagnostics is not for the faint of heart. Historically, diagnostics have been a challenging area for investment plagued by capital intensity, a long and arduous path to commercialization, and oftentimes, a binary risk profile. These concerns about diagnostics investing were only exacerbated in recent years by the all-consuming rise and fall of Theranos.
The COVID-19 pandemic, however, has reminded us of the immense need for accessible and rapid diagnostics. The Moderna COVID-19 vaccine was developed over the course of a weekend in January, in large thanks to the novel computational techniques accelerating therapeutic development and transforming the cost structure of biopharma companies. Despite these advancements, diagnostic testing lagged. Further innovation in diagnostic testing will be required to support the plethora of remote and at-home care models that are emerging. We anticipate that 2021 will bring renewed interest in diagnostics of all kinds across therapeutic areas, including consumer, molecular, at-home, point-of-care, and AI-enabled.
Investing in diagnostics is not for the faint of heart.
Some investors are already doubling down on diagnostics. Exact Sciences, a molecular diagnostics company focused on the early detection and prevention of certain types of cancer, has added more than $18.6 billion of market capitalization since September while generating approximately $1.5 billion of revenue in 2020. The company boasts a platform of at-home screening products spanning cancer to COVID-19. Private companies, such as Everlywell and LetsGetChecked, raised large private rounds this past year, too, further validating the direct-to-consumer testing category. We're closely watching companies like GetLabs, ScanWell, and AshWellness, which are also re-designing the consumer experience of lab testing.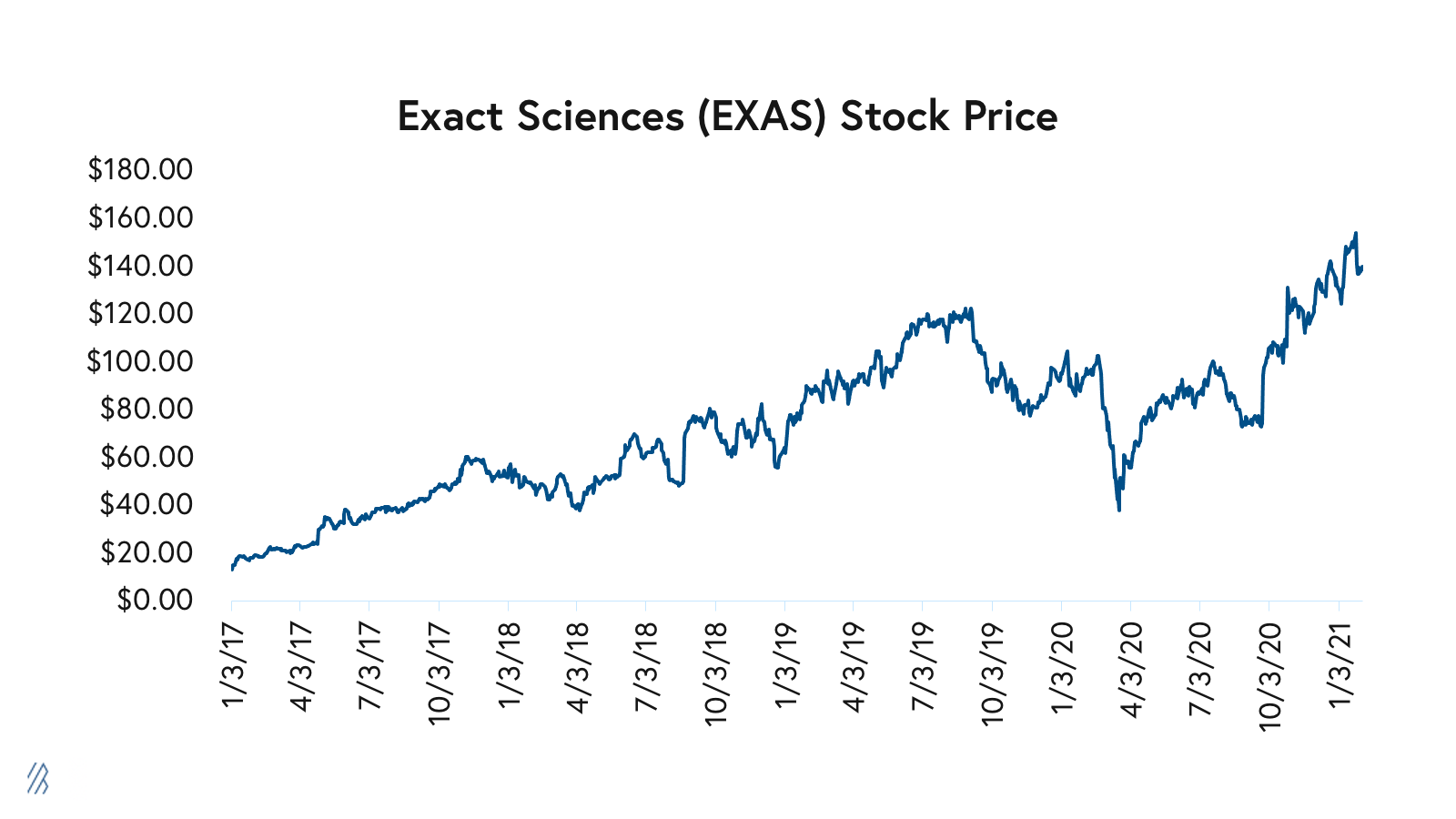 3. The commoditization of telemedicine will unlock holistic virtual care.
Over the last year, telemedicine utilization has scaled more than 30x and has become a new standard for care delivery. As telemedicine infrastructure becomes commoditized, specialty-focused virtual care has evolved with the help of specialty-specific remote monitoring, at-home diagnostics, pharmacy, and labs capabilities.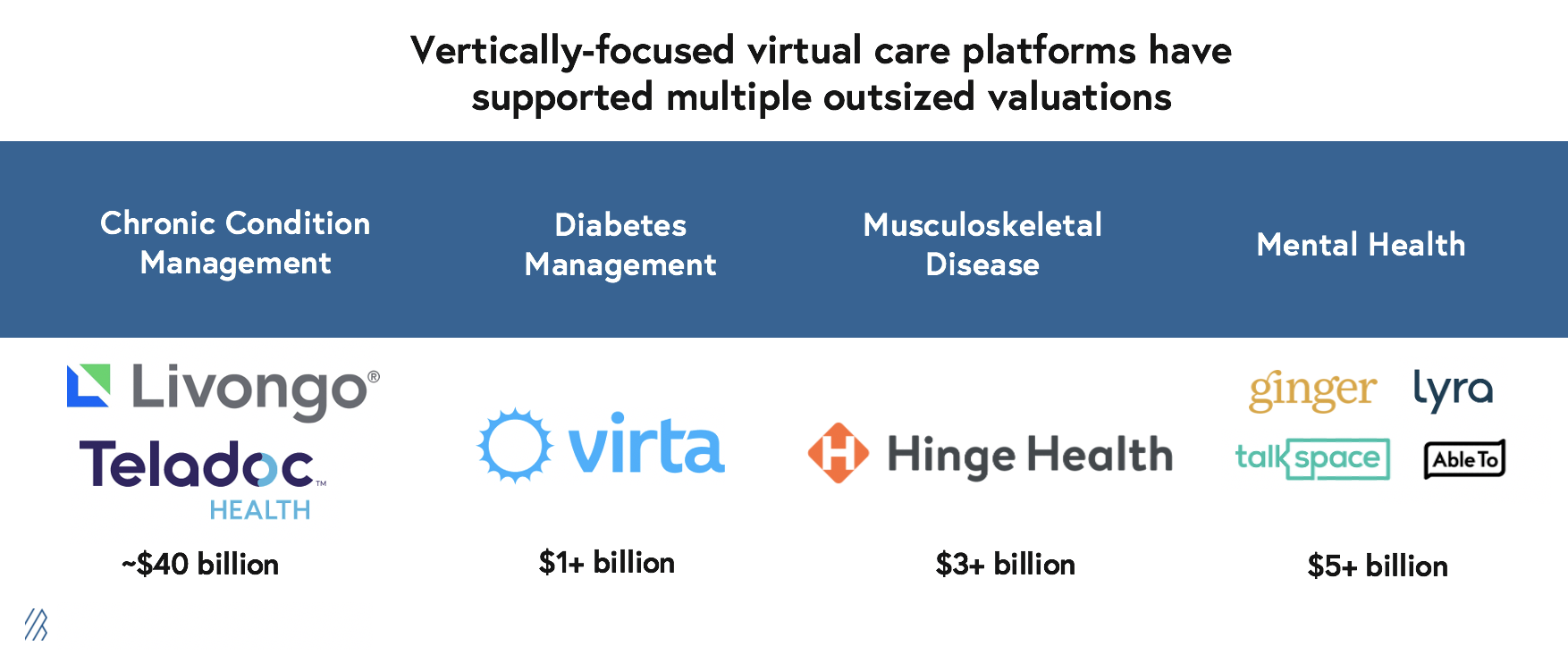 Vertically-focused virtual care delivery platforms in top areas of chronic disease spend (e.g. diabetes, musculoskeletal disease, and mental health), have supported multiple outsized outcomes. For example, Livongo, which was acquired by Teladoc, now has a market cap of $39.9 billion. Across other verticals, market leaders serve multiple billion-dollar industries, such as Virta ($1.1 billion), and our portfolio company, Hinge Health ($3.1 billion). In addition the mental health space has a number of leading companies, like Lyra, Ginger, a Bessemer portfolio company, and Talkspace as well as others that are valued for a combined market cap well north of $5 billion
Throughout 2021, we anticipate continued investment in virtual care, with an emphasis on:
Companies that deliver strong "hybrid care," facilitating effective transitions between best-in-class virtual care experiences and in-person visits.
Vertically-focused businesses that deliver solutions targeting specific specialties, patient populations, and/or indications.
Platforms that leverage Advanced Practice and Ancillary Providers (APAPs) and supplemental care management programs to address co-morbidities.
Businesses that are centered on longitudinal care delivery.
The first wave of digital health companies leveraged employer and payer-facing B2B2C go-to-market strategies, services that address clear diagnosable conditions that are identifiable via claims, with measurable biomarkers and effective treatments. In addition, these platforms and solutions help patients engage in preventative care. We've seen the most impact made in chronic conditions such as diabetes, cardiovascular disease, musculoskeletal disease.
For example, Hinge Health is a coach-led, digital therapy platform for self-insured employers and health plans that provide care for more than 124 million U.S. adults living with musculoskeletal (MSK) disorders. In order to improve the outcomes of people living with MSK disorders, Hinge Health offers an end-to-end digital MSK clinic spanning prevention, acute and chronic management, as well as pre- and post-surgical rehabilitation. By providing a spectrum of care focused on patients at various points in their MSK journeys, Hinge delivers outcomes for people with the most need, while also driving down the employer's bottom line. Ultimately, digital therapy platforms like Hinge Health provide access to care at a lower cost, reducing the occurrence of unnecessary surgeries and prescription of opioids.
The newer, second wave of digital health companies is emerging with consumer-centered strategies, including both B2B2C and B2C go-to-market motions. We're seeing an influx of new healthcare companies addressing conditions characterized by long and costly diagnostic journeys, including those that are un-or-under diagnosed and not easily identifiable by claims data alone. With these conditions, there's often (but not always) a dearth of high-fidelity biomarkers and disease modifying therapeutics. We're seeing early signs of innovation across conditions such as gastrointestinal disease, several mental illnesses, autoimmune disease, cancer, and various neurological conditions.
As the virtual care model has played out in major areas of chronic disease, we are bullish on more specialty-focused companies that will lean into large, underserved and untapped conditions. These models will likely require companies to take on more scientific risk in exchange for category leadership.
4. Advanced Practice and Ancillary Providers enter center stage.
APAPs, which include nurse practitioners and physician assistants, are the foot soldiers of the healthcare system who, along with other ancillary providers like physical therapists, nutritionists, pharmacists, health coaches, etc., are growing in importance in terms of care provision in our country. Over the last few years, we've seen several companies emerge that empower Advanced Practice and Ancillary Providers (APAPs) to practice at the "top of their license", often performing tasks previously under the purview of physicians.
With burgeoning primary care and specialty provider shortages made worse by physician burn out, the COVID-19 pandemic, and aging physician populations, APAPs are stepping up increasingly to take on key roles on the clinical teams of emerging care delivery companies. Many businesses are leveraging APAPs to not only drive cost efficiencies, but also to play to the strengths of various practitioners who are uniquely trained to address key gaps in care.
Consider the pharmacist, for example: the person standing behind the counter at CVS who boasts six to eight years of clinical training but spends most of their day attending to disgruntled customers and teaching adults how to stand in a line.
Pharmacists are considered one of the most overtrained and under-utilized resources in healthcare, despite the fact that they can prescribe medications in 43 states, manage chronic diseases, and administer vaccines. With approximately 332,000 pharmacists in the US and a projected surplus of 50,000 by 2025, there is a much needed opportunity to leverage pharmacists for higher value clinical services. Pharmacists have long sought "provider status," which would further expand clinical services nationally to more acutely serve the needs of patients in certain instances. Ultimately, we believe COVID-19 will be a catalyst for regulators to reconsider the role of the pharmacist in the delivery of clinical care.
Along this thesis, we recently invested in Aspen RxHealth, a tech-enabled marketplace that connects pharmacists with patients to provide clinical services on behalf of health plans, at-risk providers, and biopharma companies.
Of course, there are many services that only doctors can perform, and we cannot underscore this point enough. In lieu of the physician shortage and the costs of hiring a large team of physicians, however, companies will continue to think creatively about ways to leverage MD expertise and capabilities at scale including one-to-many models (e.g. Groups) and intelligent and hierarchical escalation of care. We are encouraged by the record +18% increase in medical school applications this year (coined the "Fauci Effect"), representing a material increase from the average +1-3% annual growth in applications observed by the American Association of Medical Colleges.
Medical school applications have increased by 18%.
In 2021, we anticipate that companies will continue to center APAPs in their care delivery models. The decision to hire clinicians full-time vs. as contractors is a key strategic decision for every care delivery business, and we expect companies to deploy a myriad of models supported by expanding telemedicine regulations, better infrastructure for licensing and credentialing (e.g. Andros and Medallion), in-house workflow tools that supercharge clinician productivity, and telemedicine infrastructure companies like Wheel and Truepill. This trend is not only empowering for companies, it's empowering for clinicians, who like many of us, are exploring new structures for remote work, leveraging their credentials to drive both one-to-one as well as one-to-many impact.
5. A renewed focus on underserved patient populations.
COVID-19 highlighted the staggering health disparities that exist in the United States across intersectional axes spanning race, ethnicity, gender identity, sexuality, socioeconomic status, and immigration status to name a few. It remains imperative that healthcare incumbents and new entrants design and deliver care with social and structural factors of health in mind.
A quick note on semantics: While "Social Determinants of Health" (SDOH), is a widely used term in the industry, we prefer the CDC's terminology, "Social and Structural Determinants of Health" (SSDH). Only speaking to the social factors fails to acknowledge the systems that contribute to health disparities.
Several forces are catalyzing renewed (and long overdue) interest in healthcare companies focused on underserved patient populations. First, we are encouraged that BidenCare is expected to further expand Medicaid. We've seen remarkable traction among companies focused on Medicaid populations (e.g. Cityblock Health, Ready Responders, Brave Health, and LiveChair), demonstrating to many investors that (1) the economics of managing Medicaid populations can work within value-based arrangements, and (2) tech-enabled patient engagement and care delivery paradigms can be effective among underserved groups when designed with intentionality and cultural competence.
LiveChair, a Maryland-based company that equips barbers with the infrastructure to offer care solutions for their community, clients, and those who choose to join, has seen success with their trust-centered model and is contracting with leading Medicaid plans. We expect continued innovation focused on Medicaid and dual eligible populations.
Let's be frank: for years, the investment community has largely overlooked opportunities citing that certain markets were too small, or likely because of the lack of representation among healthcare investment professionals. Increasingly, personalized care is in demand. A new cohort of companies is on the rise — companies that serve the unique needs of LGBTQ+ people, people of color, people living with housing-instability, and immigrants to name a few. Historically, many investors have balked at the "nicheness" of these intersections, which we believe is a grave mistake.
Personalized care is in demand.
As we highlight in our 10 Laws of Healthcare, healthcare is approaching a $4 trillion dollar market size, but no single addressable market comes close to that figure. Instead, healthcare is a lot more like a thousand $4 billion markets, and numerous underserved populations embody this. We note that at the seams of healthcare where the medical industrial complex breaks down, patients from underserved communities are not waiting for the system to reform. For so long, many underserved communities have created their own infrastructures for caring for one another.
The LGBTQ community is a great case study — for instance, our portfolio company, FOLX Health, is building a virtual primary care clinic in the cloud for people who identify as LGBTQ. Their initial products will include hormone replacement therapy for transgender patients as well as sexual health and wellness products and services. Over time, FOLX will expand their product and service offerings with the intention of becoming a leading destination for LGBTQ+ health and wellness.
6. Further digitization and automation of the healthcare back office.
When the Interoperability and Patient Access final rule was announced in March 2020, there was little airtime in the media to cover any news unrelated to the COVID-19. Though overshadowed by the pandemic, the 2020 CMS interoperability ruling was a long-awaited moment for the healthcare industry.
Over the last decade, we've seen first-hand how regulation can drive widespread adoption of healthcare technology. Implemented in 2009, the HITECH Act helped expand Electronic Health Record (EHR) adoption from ~9% in 2009 to >90% today. However, what the regulation lacked was an equally strong mandate for open data architectures. Unfortunately, many EHR vendors capitalized on the opportunity and built walled gardens that made both data entry and abstraction challenging processes.
The first requirements of the new mandate went into effect in January and created new policies that seek to "liberate health information and move the healthcare system toward greater interoperability." The rule requires hospitals and physicians to expose software endpoints to repositories of clinical data to enable patients to access their records autonomously, and also prohibits information blocking, or the interference with access, exchange, or use of data stored in electronic health records.
Emerging software vendors, such as our portfolio company, Collective Medical Technologies, which was recently acquired by PointClickCare, have played an integral role in advancing interoperability over the last few years. In fact, the rate of provider organizations that have achieved "deep interoperability," has more than doubled since 2017, with two-thirds of providers citing that they "often or nearly always have electronic access to needed records." Still, there remains a massive opportunity for improvement in interoperability across electronic record access, record location, clinical view, and ultimately, the downstream impact on care.
Prior authorization (or "prior auth") is one area where we anticipate that data liquidity will have an immense impact on care delivery. Prior auth is a largely fax and phone-based process by which payers require providers to submit clinical documentation to validate the integrity and necessity of a proposed care plan. These requirements pose immense administrative burden for both providers and payers, exacerbated by the current state of data interoperability in healthcare. As a result, in over 90% of cases where it is required, prior auth causes delays in care. In fact, nearly one in four physicians report that care delays associated with prior auth have led to adverse events.
In 2019, we made an investment in Verata Health, an end-to-end prior authorization automation platform that leveraged computationally-based clinical abstraction methods to streamline prior auth workflows for providers and payers alike. As an early mover in the prior auth automation category, Verata was acquired in December 2020 by Olive, a leading robotic process automation platform for healthcare. Just before the new year, CMS proposed new rules that tackle the patient and provider burden of prior authorization. The rules, if finalized, would require several government payers to deploy APIs to support data exchange that streamlines prior authorization. We anticipate continued innovation in prior auth in 2021, supported by several companies such as Cohere Health, Itiliti Health, PriorAuthNow, and Glidian to name a few, as well as the broader revenue cycle management healthcare back office.
We also expect further investment in the public health back office as the pandemic shined light on the need for more robust systems for managing public health programs, empowering key healthcare stakeholders, businesses, and communities to respond rapidly to emerging public health threats. Throughout the pandemic, many startups have stepped up to help, often launching new lines of business or applying their technologies to public health-related problems. For example, our portfolio company Qventus, which provides AI-enabled hospital operations software focused on patient flow, designed and deployed surge prediction models for their hospital system customers to better manage operations during these unprecedented times. Furthermore, Qventus exposed these COVID-19 models and Scenario Planners publicly for hospitals across the nation for free. At the beginning of the pandemic, even when predicting seven days ahead of time, the Qventus forecasts demonstrated a 2-3x better accuracy than the models developed by the Institute for Health Metrics and Evaluation. Qventus's work in public health underscores the potential for collaboration between startups and our country's public health departments.
Over the years, we've seen the impact of open source data architectures in other industries and the robust developer ecosystems that blossom as a result. Increased interoperability in healthcare will not only increase efficiency and enable better patient care, it will also spawn new companies that operationalize healthcare data in new ways. We are hopeful that 2021 will be the year that healthcare data becomes meaningful and useful at scale.
7. Continued strong investment and robust exit environment for digital health.
Over the last decade, digital health has grown from a small, cottage industry to a foundational category that represents one in every ten venture capital dollars invested. Though 2020 was a banner year for the industry with $14.1 billion invested (+72% year-over-year), we anticipate that interest in the segment will continue. As described in predictions three and six, we are in the early innings of healthcare's re-platforming. With EHRs achieving near ubiquity in recent years and with true data liquidity still a twinkle in the industry's eye, digital health will be a ripe area of opportunity for several decades to come.
COVID-19 pandemic exposed many pervasive issues yet to be solved and with new business applications up +30% year-over-year, we anticipate a meaningful share of new businesses and founders will plant their flags in healthcare.
As we recover and heal from the past year, and weather the challenges that may be ahead, there will be a unique window of opportunity for healthcare innovators to propose new ideas to open-minded industry stakeholders.
Though multiples may remain frothy even through the end of the year—do recall that healthcare businesses previously traded on EBITDA and now trade on growth—companies with strong clinical outcomes and unit economics (CAC/LTV, MLRs, etc.), and not just strong balance sheets, will come out on top.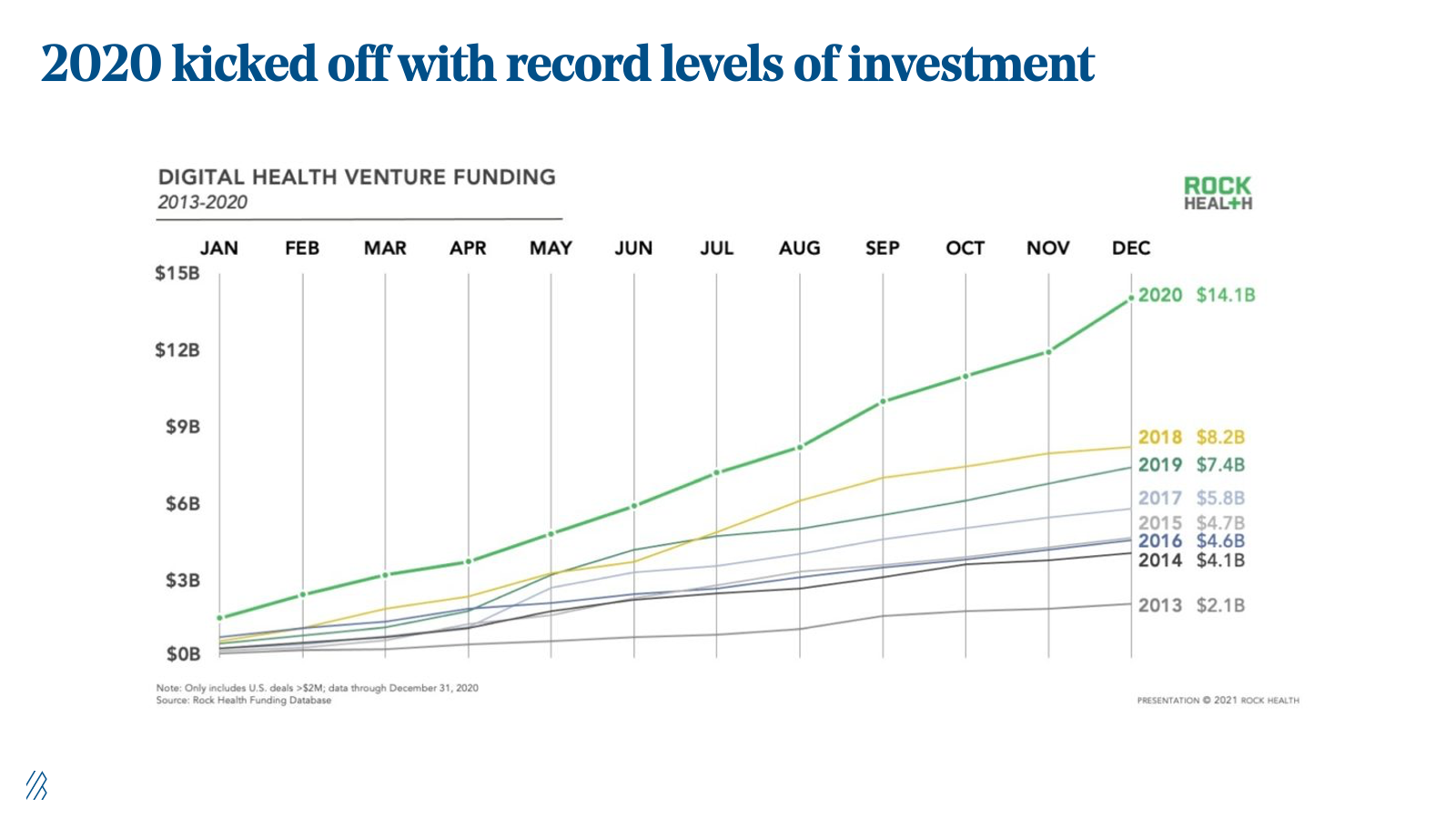 Finally, as executives at large, incumbent businesses gather around the board room to discuss areas for future growth in 2021, it will no longer be possible to ignore the nearly 20% of GDP represented by healthcare. In fact, one out of ten venture capital dollars went to the healthcare industry. We anticipate that more large companies will join the fray, unlocking novel collaborations and exit opportunities.
8. COVID-19 will force Big Pharma to permanently revamp clinical trials operations.
The pandemic's macroenvironment has served as a watershed moment for software-enabled clinical trial operations. The short-term tailwinds for virtual clinical research were driven by a number of factors — first, patient preferences shifted dramatically to remote options, as 80% of clinical research participants were unwilling to go on-site. Second, with 77% of ongoing trials being delayed due to the pandemic and 31% of trials at risk for complete closure, virtual options made the trial process more cost-effective and efficient in nature. And finally, considering the favorable regulatory landscape (e.g The 21st Century Cures Act and the Digital Health Innovation Action Plan), conditions created a 'perfect storm' to drive adoption of software-enabled clinical trials during the uncertainty of 2020.
Many experts within big pharma spent 2020 rethinking frameworks for clinical trials across multiple dimensions, including protocol design and site selection, patient recruitment, patient engagement and data collection, data management and analytics, as well as operations and supply chain logistics. However, we don't think these tools will just be a short term stop gap. Similar to telehealth adoption, we anticipate that biopharma executives will want to continue with these virtual clinical trial methods even after the pandemic as they've led to efficiencies, improved outcomes, and drastically better patient experiences.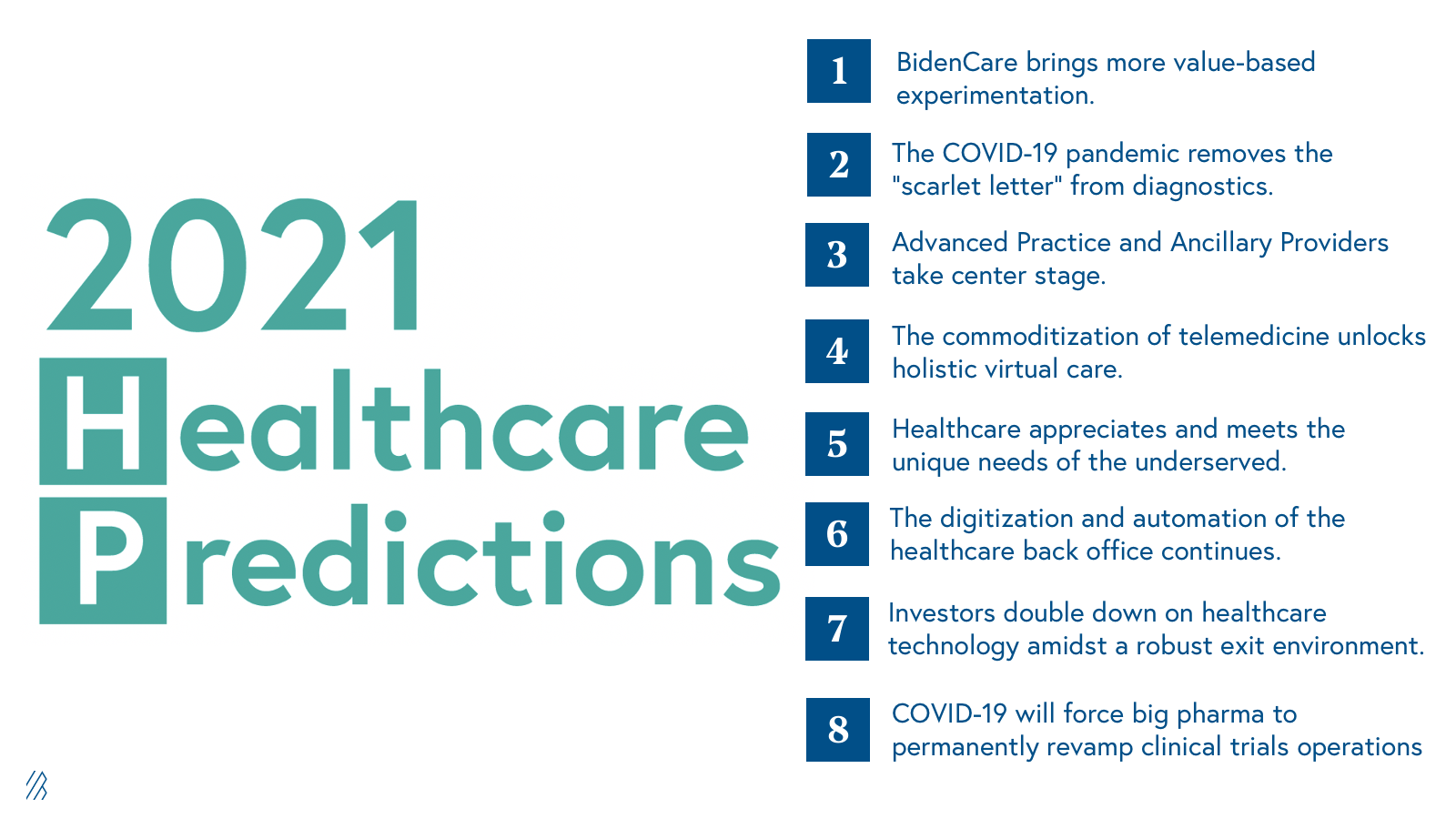 Our reflections on the predictions from last year
1. Vertically-focused companies moved laterally.
In the employer benefits space, the "healthcare platform war" waged on in 2020. Companies formed, merged, and expanded their offerings with the goal of becoming leading providers of chronic disease care management services for employers and health plans.
In May 2020, Omada acquired Physera, planting a flag in the musculoskeletal disease market, Kaia Health expanded deeper across both musculoskeletal disease and COPD, Maven broadened its offering from maternal health to holistic family benefits, and Wellthy expanded the scope of caregiving to include financial, veteran, and LGBTQ+ support.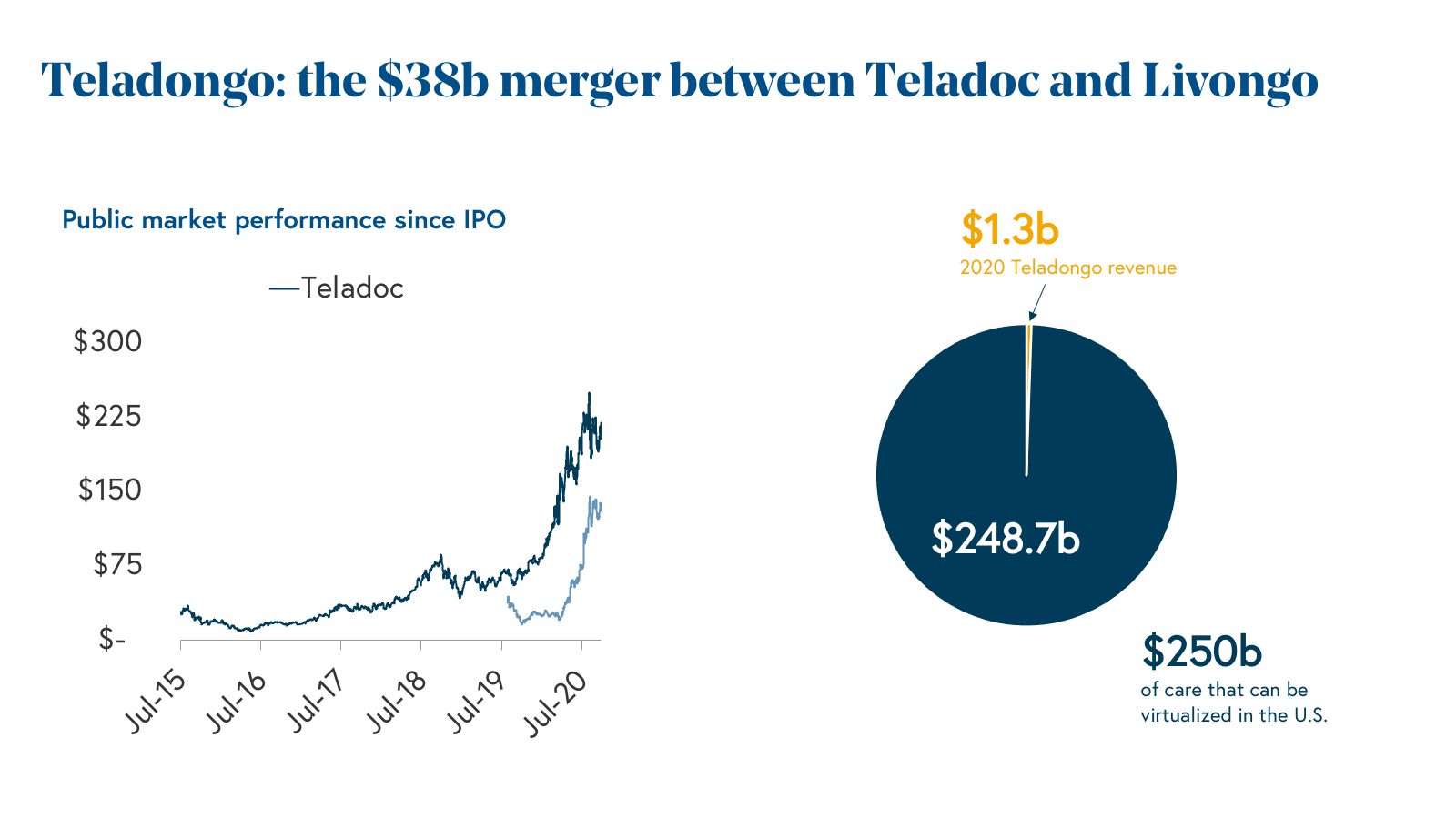 We'd be remiss to not mention Teladoc's acquisition of Livongo, which extended the company's urgent care-centered delivery system into chronic disease management. Did we mention the combined market cap of both companies before the pandemic was a mere $8 billion, and today sits at nearly $40 billion?
Of course, we also saw some vertically focused companies stay the course, including our portfolio company, Hinge Health, which has emerged as the leading provider of musculoskeletal (MSK) care for self-funded employers and health plans. Hinge's laser focus on MSK has enabled the company to deploy an end-to-end Digital Clinic for the specialty, delivering best-in-class clinical outcomes for one in every two adults who live with MSK conditions.
Though we see many new opportunities for specialty-focused businesses in 2021, vendor fatigue is real, and we expect that there will be continued consolidation this year. The jury is still out on how massive consolidation in virtual care will impact patient outcomes and we believe that companies that focus on patient outcomes above all else will be in the strongest position for continued growth.
2. Hospitals will reposition technology as an opportunity rather than an obstacle.
This prediction was a swing — and a miss. Obviously, the procurement of new technology took a backseat to pandemic response at most hospitals. We saw technology budgets tighten as COVID-19 slashed revenues and squeezed margins across health systems. That being said, the pandemic made obvious the need for more robust technology solutions across the hospital system stack including operations, supply chain, and patient care. We're expecting hospitals to double down on investments in technology as we get control of the pandemic and balance sheets strengthen.
3. Care delivery might be an opportunity where Amazon follows Walmart.
We are in the early innings of this story and both companies made interesting moves in 2020. Walmart has continued to expand its footprint of free-standing clinics in the Southeast, which offer primary care, imaging, lab, dental and behavioral health services to consumers at low prices, regardless of their insurance status. The company also announced plans to launch a Medicare insurance agency and partnered with Clover Health on its first plans. To no surprise, Amazon took an asset-light approach, making waves in February with the launch of AmazonCare and in December with the launch of Amazon Pharmacy (it's pretty great, by the way).
Amazon's foray into healthcare hasn't been perfect, however, and the company announced the shuttering of the Amazon-Berkshire Hathaway-JPMorgan Chase joint venture at the start of this year. We expect these two companies to continue to invest deeper into healthcare over the next several years, and similar to retail, taking on two wildly different strategies to do so.
4. Healthcare is battening down the hatches as institutions will focus on security.
Cybersecurity took a back seat in 2020 as hospitals were preoccupied with a different, but also invisible threat: COVID-19. However, with the explosion of virtual and remote care, as well as 5G networks, there are more attack surfaces than ever before. Despite the pandemic's ravaging effects on hospitals, cyber attacks showed no signs of slowing down. The Ryuk attack on Universal Health services was particularly damaging, causing a network shutdown at 250 hospitals across the country. We expect cyber attacks to increase in 2021, with some analysts expecting a three-fold increase this year. Now a top area of discussion at most health systems, our industry still faces many challenges including talent shortages of healthcare cybersecurity professionals, underfunded budgets made worse by the pandemic's impact on hospital balance sheets, and increasing vulnerabilities exposed by new, and increasingly virtual modes of care delivery.
5. The appetite for pharma tech companies is on the rise.
Pharma tech flourished in 2020 as biopharma companies accelerated efforts to digitize core components of their businesses spanning R&D to Commercial. We expect this 2020 prediction to bear more fruit in 2021— more on that in Prediction 8.
6. Direct-to-consumer (DTC) is no longer DOA in healthcare.
The proliferation of high-deductible health plans has shifted the cost burden from payers to patients, with the average deductible more than doubling over the last decade and out-of-pocket costs growing by more than 10% annually in recent years. (In fact, the average deductible for individuals is ~$1,500 and ~$2,800 for families).
With "patients as the new payers," people have become savvier, price-and-brand-sensitive buyers of healthcare. Additionally, regulations that have expanded the use of telemedicine for synchronous and asynchronous care have unlocked massive opportunities to provide healthcare services and products via DTC channels online. Prescription drugs and primary care visits are often "first dollar" healthcare for most individuals and families, where consumers generally pay out-of-pocket for coverage.
The confluence of these trends over the last few years unlocked a new, multi-billion dollar DTC opportunity in healthcare. In 2020, we answered the fundamental question many private investors have been asking: "What happens to consumer health companies when they grow up?" This past year, we celebrated major exits including the GoodRx IPO and the Hims SPAC, further validating the category and bolstering investor interest in DTC healthcare.
Underneath this ecosystem of DTC healthcare companies is an increasingly robust infrastructure layer powered by companies like Truepill, Wheel, Medallion, and Axle Health, which abstract away the complexity of back office telemedicine, pharmacy, clinical operations, and virtual care delivery via API. The barriers to entry for starting new consumer health companies are rapidly diminishing as the category (and the infrastructure enabling it) matures.
As investors and founders alike double down on consumer-centered healthcare, we'll be spending time with companies that can tap into strong organic growth loops, establish sustainable clinical or operational moats, and deliver care that celebrates and considers the unique needs of patients of all backgrounds. (See 2021 Prediction 4 and Prediction 5 for more.)
7. Biotech bankers will be busy for the first half of 2020.
We were bullish on the biotech IPO market going into 2020, but we didn't anticipate quite how busy bankers were going to be throughout the year. As the world witnessed first hand how scientific innovation had the potential to lead us out of the pandemic, the entire biotech industry was put into the limelight with strong favorable sentiment.
Additionally, during the uncertainty of initial business closures and social distancing, investors recognized healthcare as a countercyclical industry that has historically performed well during other downturn periods. Plus, unlike many revenue generating private businesses where social distancing had the potential to significantly crater a few quarters' performance (and delay any near-term hopes for an IPO), biotechs are not dependent on revenue and face fewer short term macroeconomic shocks because funding typically provides multiple years of runway to achieve scientific results as the primary value driver. Combined, these forces led to multiple successful IPOs during the height of the financial uncertainty related to the pandemic. (Even during April, four companies, Lyra, Oric, Keros and Zentalis, all priced at the top of their range.) For the industry, 2020 was a culmination as the busiest year on record for biotech IPOs with [84 newly minted public companies raising more than $15 billion. ](<https://www.svb.com/globalassets/library/managedassets/pdfs/healthcare-report-2021-annual.pdf https://www.fiercebiotech.com/biotech/spite-covid-19-and-partly-because-it-biotech-ipos-have-a-record-year>)
8. Biotechs built for M&A will come back in vogue.
Given the attractive IPO market, it's hard to argue we've gotten this prediction right. Oncology and Platform companies continued to be the top prospects for Series A deals and overall funding in 2020. These companies tend to have multiple drugs (aka "assets") in development, which make them credible candidates towards becoming standalone public companies. They differ from a "built for M&A" company because those companies tend to focus all of their budget on advancing a single asset through development with expectations that the drug will attract M&A interest to refill Big Pharma's pipeline. However, single-asset companies have historically been less attractive to the public markets.
Because biotechs are so capital intensive, each company will often need to raise money that is often beyond venture capital's capacity in order to continue to fund their later stage clinical trials. This typically means they need to raise money through an IPO in order to continue to develop their drugs. Otherwise, the only successful outcome is to get acquired.
If a company isn't setting itself up to be a public company (or if public markets are closed to the biotech industry, which happened after the financial crisis in 2008), biotechs essentially need to be acquired to have a successful outcome, which reduces a company's optionality. As anyone who's ever taken a negotiations class would tell you, it's extremely helpful to have options to negotiate against your counterpart. A company's ability to raise capital through the public markets has served as an effective BATNA (Best Alternative To a Negotiated Agreement) to big pharma M&A.
We believe that the open public markets is the reason why "biotechs built for M&A" haven't quite come back in vogue yet. With that said, Big Pharma is adjusting to the realization that the industry needs to pay higher prices if they want to acquire a company, especially if that company has the ability to go public as an alternative. This dynamic hahs not only increased M&A valuations, it's also resulted in the highest biotech M&A deal values over the last six years — $300m upfront and $770m total deal value.
While we are not out of the woods just yet in terms of the pandemic, 2021 will be a critical time for the healthcare industry as it adopts new technology and telemedicine, virtual and remote clinical trial processes, addresses new ways to provide care for patients, and helps frontline workers recover from an unprecedented year.
What do you think of our predictions for 2021? Let us know what you think by emailing us. You can reach the Healthcare team via Steve Kraus (steve@bvp.com), Morgan Cheatham (morgan@bvp.com), and Andrew Hedin (ahedin@bvp.com).