2022 Healthcare Predictions
Opportunities are emerging for leaders to build the connective tissue between the physical and digital worlds in healthcare.
2021 was an unprecedented year for digital health. As Bessemer has been investing in healthcare for four decades, last year was unlike anything we have seen before. More than $26 billion dollars were invested across almost 700 US health tech companies at soaring valuations (up from $14.6 billion across 464 companies in 2020). We saw a record of more than 30 IPOs and 80 mergers and acquisitions. While 2020 was the first year where virtual care was widely adopted as a tool to treat people at home and mitigate the spread of COVID-19, 2021 was the year where the industry swiftly innovated and adopted a "hybrid approach" with a mix of both virtual and in-person care models as the new normal. 
COVID-19 continues to put a strain on our healthcare system and cause burnout to the heroes who have been on the frontlines fighting this pandemic. Despite COVID-19 becoming endemic, we will continue to see the lasting impact of this infection and how it structurally and holistically changes the industry indefinitely. 
As we reflect on the previous year, we turned to our portfolio company founders and leaders—those who tirelessly work on the ground to transform our healthcare system—to get their predictions on what to expect over the coming year. These conversations inspired the seven themes and trends that'll guide our investment perspectives for healthcare in 2022. 
1. 2022 is the year where IaaS meets digital health
Last year we predicted that the commoditization of telemedicine would unlock holistic virtual care. 2021 saw a record-breaking number of new companies and newly minted unicorns leveraging telemedicine as a tool to deliver care virtually. Despite differences in patient population, specialty focus, or go-to-market strategy, these care delivery companies are digital-first: they have multidisciplinary expertise across business, engineering, and medicine, and iterate and build consumer-centered products in a fast and agile way.
Several companies in this category have grown during 2021, including Truepill, which has become a best-of-breed API for pharmacy fulfillment and Wheel, which is a leading clinician matching marketplace. In 2022, many more infrastructure companies will blossom to support the virtual care ecosystem. What will differentiate virtual care companies is outstanding clinical outcomes for their patients built upon best-in-class clinical protocols, as well as personalized and delightful consumer-centric experiences that put the whole patient first. Thus, the technology that these services are built upon should not be reinvented every time. Instead, the developer teams at virtual care companies should rely on a series of API platforms and tools to build their technology stack.
The most successful companies in this infrastructure category will enable virtual care companies to go to market quickly, be flexible to evolve as companies grow, and integrate seamlessly with other tools and API platforms.
These companies will focus on different steps in the value chain of virtual care: For example, (1) communication and remote patient monitoring with companies like Memora Health and Avon Health, (2) EHR, data storage and analysis with companies like Zus Health, Healthie, and Canvas Medical, (3) provider workforce management and productivity with companies like our portfolio company AspenRx, and (4) billing and payment pipes with companies like Candid Health.
Ultimately, virtual care companies will be early adopters of these new tools and as they scale, help transition the pre-existing ecosystem away from legacy platforms.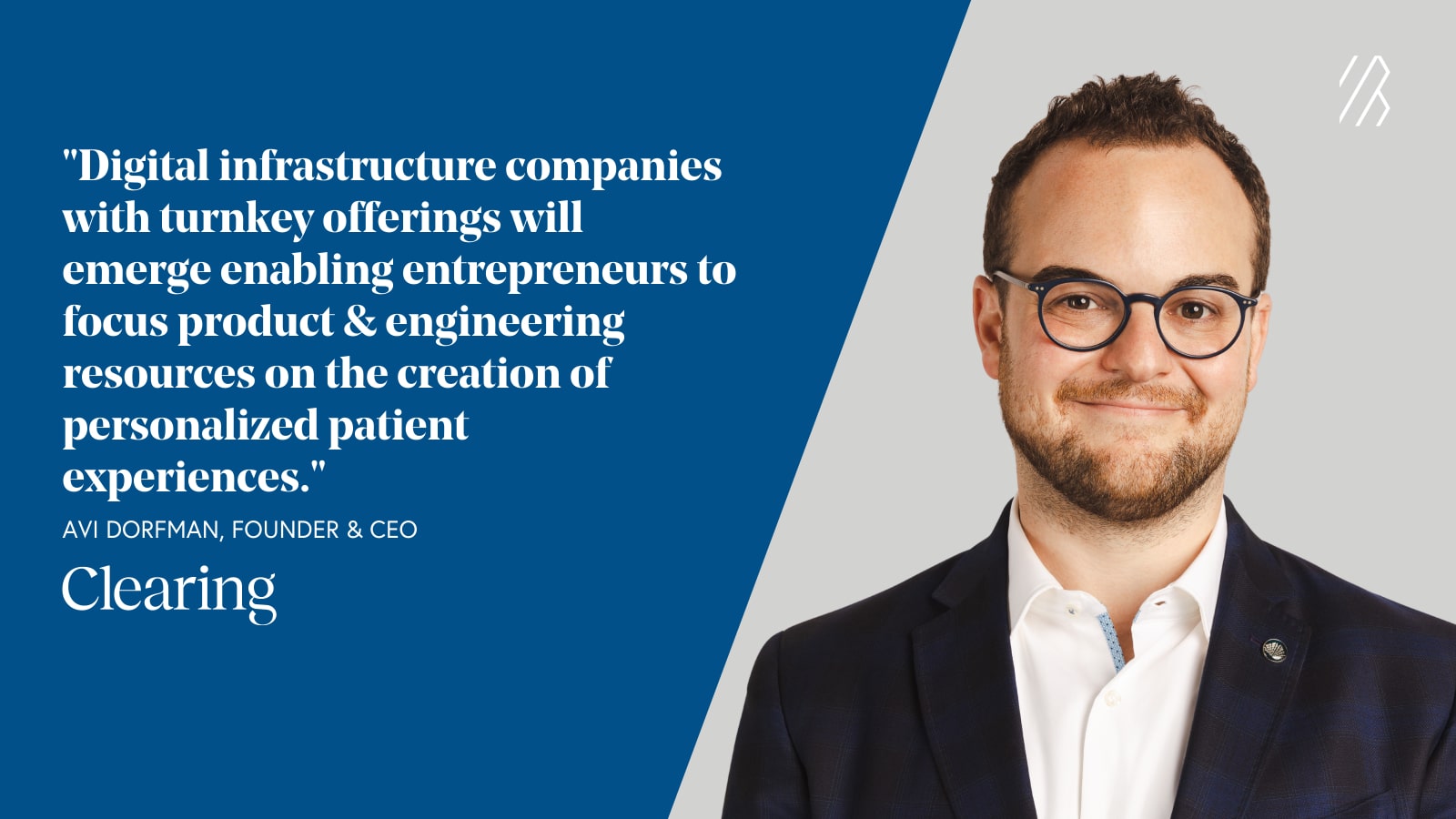 As Avi Dorfman, founder and CEO of Clearing told us: "As telemedicine becomes increasingly mainstream, digital infrastructure companies with turnkey offerings will emerge, enabling entrepreneurs to focus product & engineering resources on the creation of personalized patient experiences. As an example, when we set out to build Clearing 1.5 years ago, we developed an EMR in-house because legacy systems were too inflexible to meet our needs. Today, we are seeing a crop of new platforms that are viable partners for us."
2. An increased focus on hybrid care
Despite CMS announcing their intent to maintain reimbursement for select video-and-audio-only services through 2023, we saw a drop in the number of visits and declining satisfaction across consumers with telemedicine in 2021. At-home diagnostics, digital biomarkers, and remote patient monitoring innovation continue to improve the virtual care experience, however, telemedicine isn't a complete replacement for diagnosis or treatment that requires an in-person visit. We expect healthcare companies that provide an omnichannel patient experience,  integrating online and offline care, will more likely succeed longer term compared to one-modality options.  
"As we redesigned GI care into a patient-centered, value-based model, we recognized that our virtual care supports many important clinical needs, but we also needed to bridge our services with in-person care like colonoscopies and diagnostic tests. We support this omnichannel delivery of care through our care coordinators that navigate members to high performing in-network gastroenterology providers, labs and pharmacies, as needed," said Founder and CEO Sam Holliday of Oshi Health.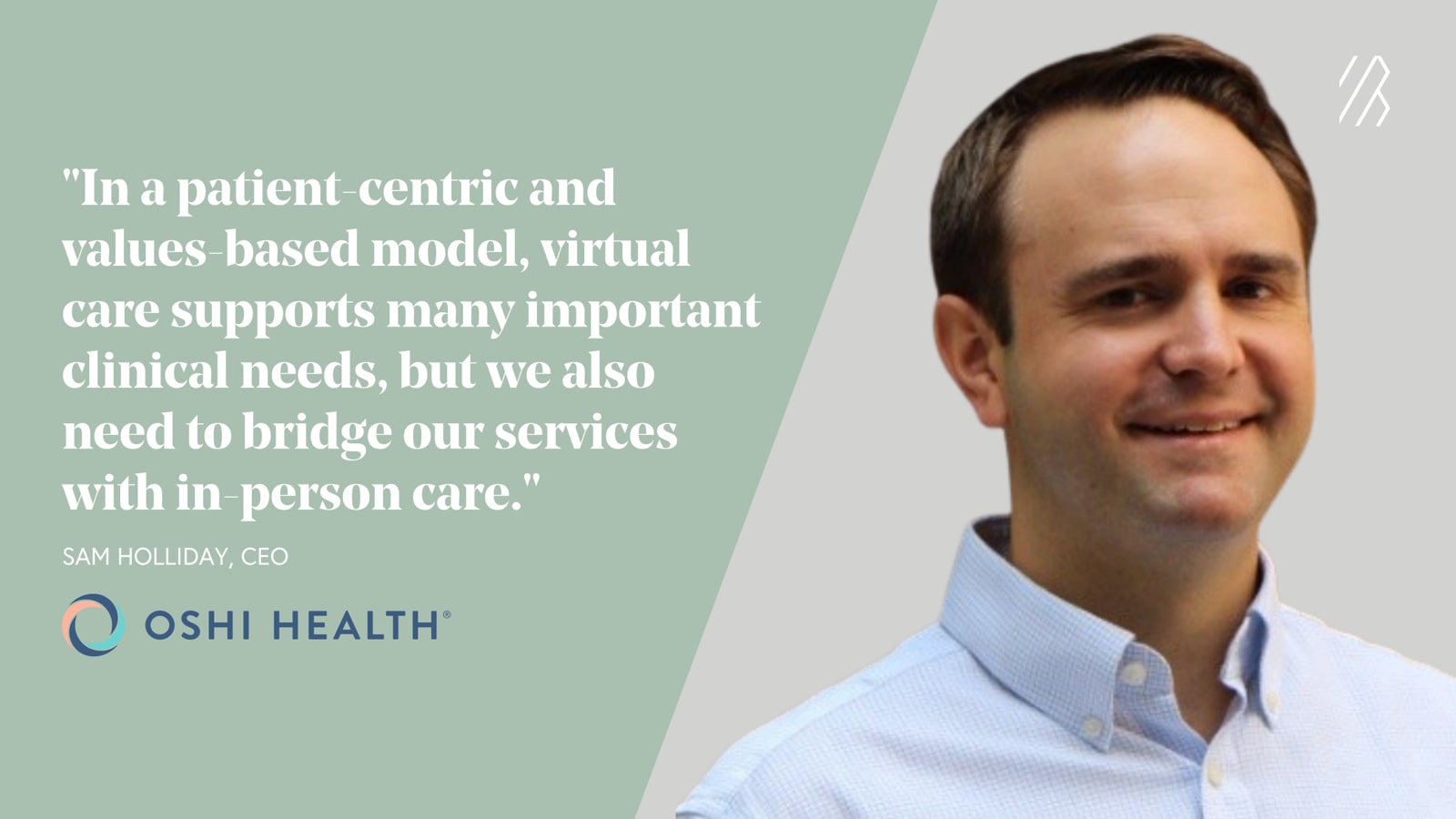 To be clear, we don't believe only hybrid-care companies will succeed, rather we believe digital-only companies will bridge the pre existing healthcare system to support a hybrid care delivery model. Similar to the transition that ecommerce and retail industries had over the last 20 years. For example, Amazon now has built an omnichannel experience between online, prime delivery, and wholefoods shopping experiences.
In 2022, there is an opportunity for a new crop of companies to successfully build the connective tissue between the physical and digital worlds. We see three prominent themes emerging:
Connecting the pre-existing system to the virtual care world. For example, Dexcare Health is a Platform-as-a-Service (PaaS) for health systems to triage digital demand and manage capacity across all lines of care.
Linking virtual care providers to real-life care. For example,  MedArrive is leveraging paramedic workforce to provide care at-home, Rupa Health is providing on-demand specialty lab testing across multiple laboratory vendors, and CopilotIQ is enabling longitudinal health tracking to ensure virtual care providers can build strong relationships with patients and capitalize on longer LTVs.
Enabling interoperability and data sharing. The CMS Interoperability and Patient Access final rule came into effect in July 2021, which requires payers and providers to remove the industry siloes that prevent seamless patient data exchange across the care continuum. Considering this new legislation, we expect to see more progress between stakeholder data exchanges in the upcoming years, reducing the burden of administrative processes like prior authorizations, and facilitating patient hand-off and longitudinal health journeys.
Lastly, the siloed nature of care doesn't only exist between the virtual and the physical world, it also exists among specialties. We continue to be bullish on clinical models that can integrate and treat comorbidities enabling holistic and longitudinal care. We expect this to result in more consolidation and opportunities for M&A.
As Chief Clinical Officer of Healthspace Health Dana Udall said, "The system has mounting costs associated with untreated or poorly managed conditions, and ongoing siloed nature of care. We need better integration of clinical models to enable the treatment of comorbid conditions, such as Diabetes and Major Depressive Disorder. We expect to see a record number of acquisitions as large digital health companies, both public and private, recognize the need to add mental health to their offerings to deliver comprehensive care."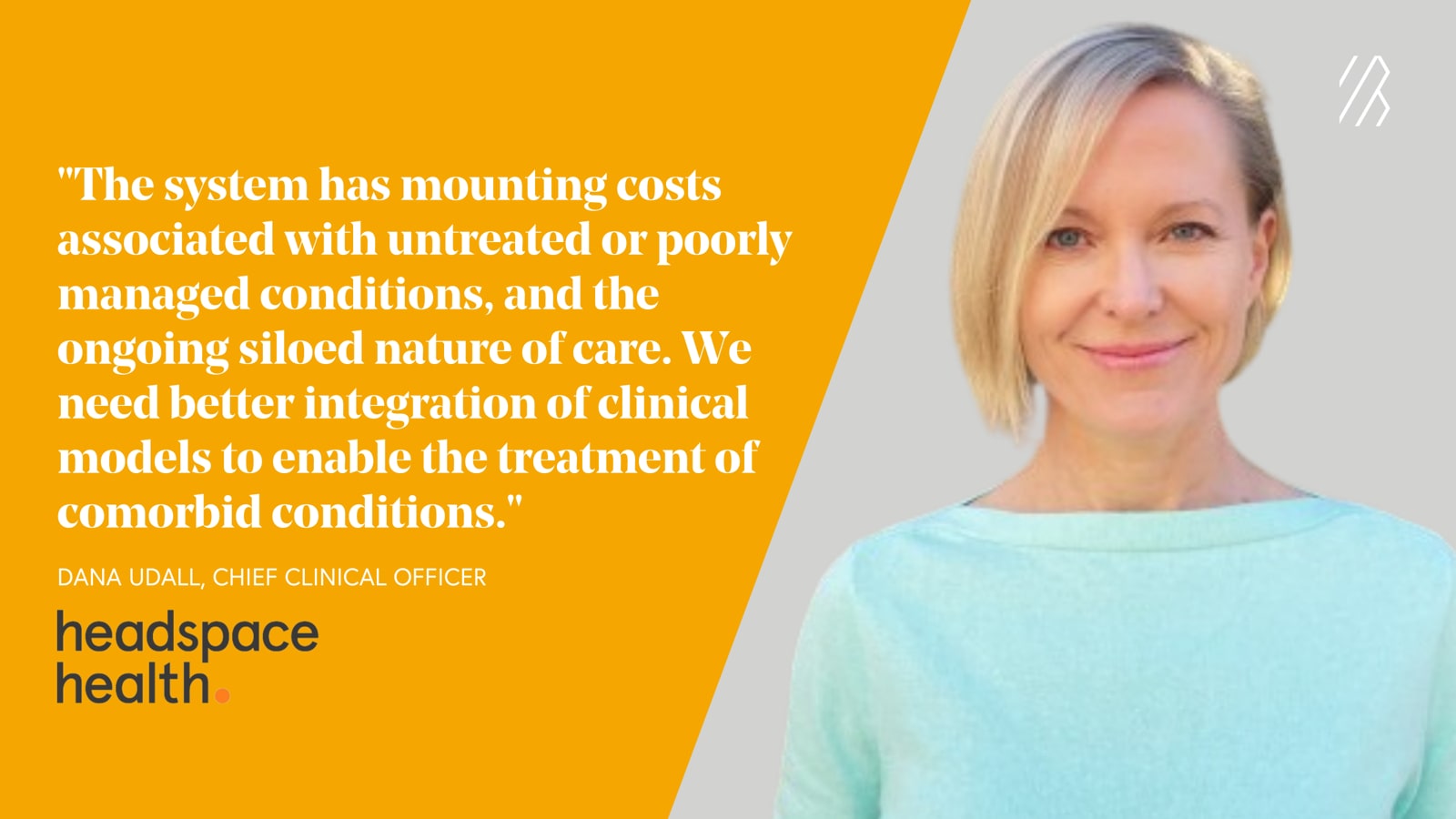 3. As the digital health field becomes more crowded, clinical outcomes will become a key competitive differentiator
There has been much debate about the tension between DTC companies doing good by expanding access or doing harm by scaling irresponsibly. We believe that companies with deep clinical services alongside therapeutic regimes will become enduring care models for patients and establish market leadership in the long term. Given the rise of many 'pill mill' businesses, we expect the FDA and other regulatory bodies will enforce increased clinical protocol scrutiny. Ultimately, the wheat will be separated from the chaff in digital health in 2022; clinical outcomes will support patient adoption. Furthermore, as virtual care companies ask their clinicians to take more license risk, the clinical workforce will exert more pressure on their employers to also abide by clinical protocols and "do no harm."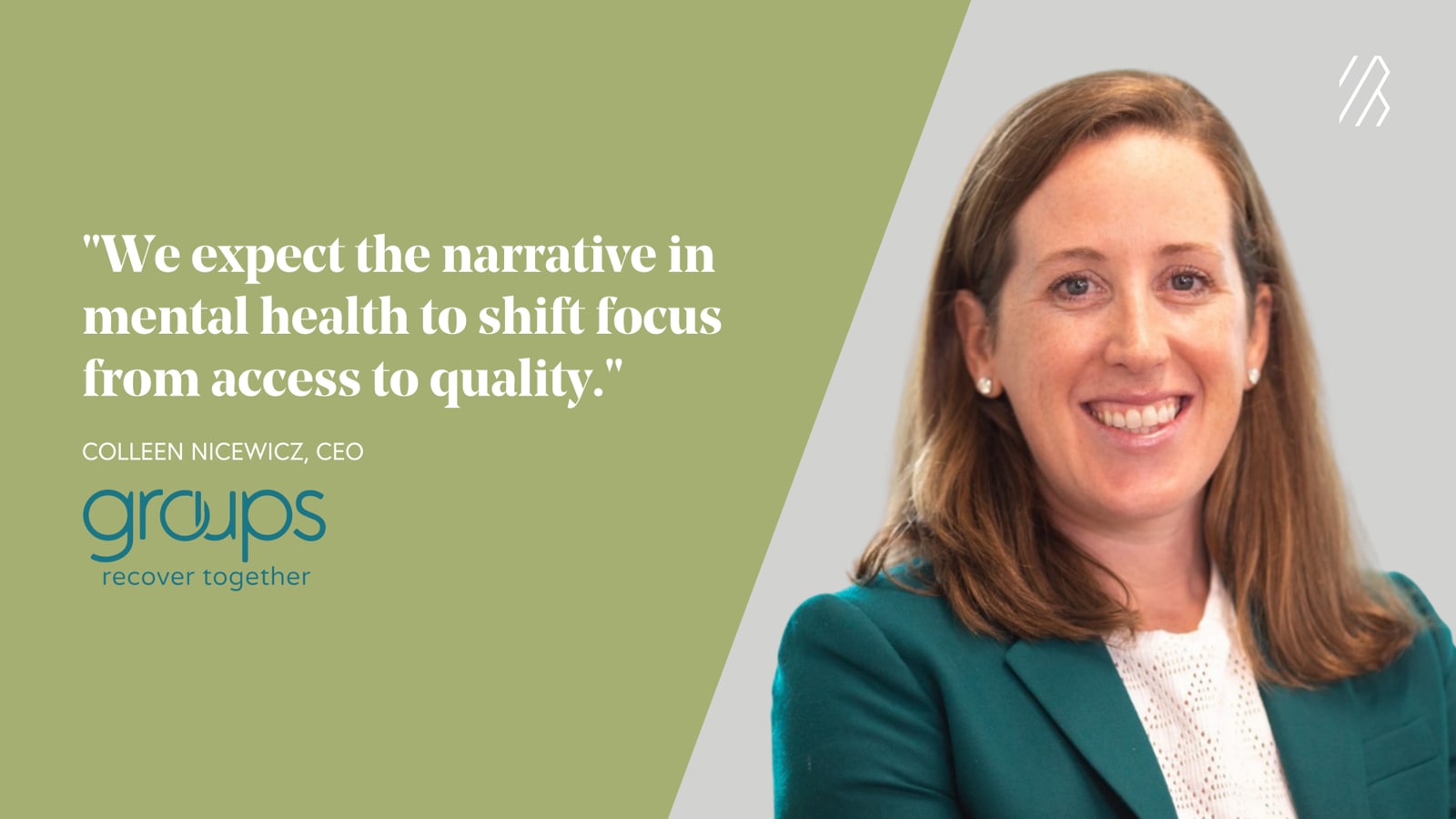 "We expect the narrative in mental health to shift focus from access to quality. For example, in mental health, the massive uptick in need has driven a huge amount of activity and access, however clinical and financial outcomes remain opaque. As access gaps are filled, quality will become the new focus," said CEO Colleen Nicewicz of Groups Recover Together.  
"Clinical outcomes will support patient adoption."
Deeper clinical services translate into lower margins and more extensive and expensive clinical apparatus. These investments in people, processes, and protocols are one of the reasons why best-in-class healthcare companies tend to have lower gross margins than their software counterparts. However, these investments are critical in healthcare and we believe will become long-term competitive moats for those companies that make them early in their life-cycle and prove real differentiation in terms of patient outcomes. The digital health industry is still very early in proving itself on this dimension with many of the market leading and even already public companies lacking gold standard evidence of their clinical efficacy, especially when compared to their "offline" competitors. We hope 2022 is a turning point for the digital health industry when it comes to clinical outcomes and would encourage all companies to make these necessary investments even from their earliest days.  
4. The great resignation poses a breaking point for the supply of clinicians
In 2021, we saw a tidal wave of resignations across employment categories, sending  shockwaves throughout healthcare. The pandemic has led to an increase in workloads and burnout among clinicians. For example, the short supply for full-time clinicians has increased wages for per-diem and travel nursing and Allied Health 3x in 12 months, furthering a negative spiral of nurses quitting full-time jobs to access more flexible hours and higher wages. 
Last year, we talked about the critical role that Advanced Practice and Ancillary Providers (APAPs) would play in clinical teams. Providers like nurse practitioners, physician assistants, health coaches, nutritionists, counselors, and pharmacists have served as critical providers in the healthcare system given the physician shortage and the high cost of hiring a large physician team. Companies able to unlock non-obvious types of workers and a new supply of practitioners are well-positioned to scale in a world of limited clinician supply. In the last year alone, over 200 mental and behavioral health startups received over $4 billion in new capital to scale. We have seen first-hand how this has led to a real battle for clinical talent among companies in this subsector.
In 2022, the strained supply of clinicians in healthcare is likely to be exacerbated. Some studies even estimate that 30% of the remaining healthcare workforce are considering leaving their full-time hospital jobs in the next two years. This exodus from traditional healthcare settings can be an opportunity for digital health. Healthcare workers can search for more flexibility, better pay, and motivation to change the legacy system. However, these new virtual care clinicians now have multiple options. Digital health companies must rethink incentives to recruit and retain the best clinician talent. This may involve platforms for career development, benefits, and inspiring company culture and values.
Aaron Snyder, founder and CEO of US Health Partners, highlighted, "COVID-driven burnout and increased administrative burden will drive hospital-employed clinicians to the private sector in record numbers in the coming years."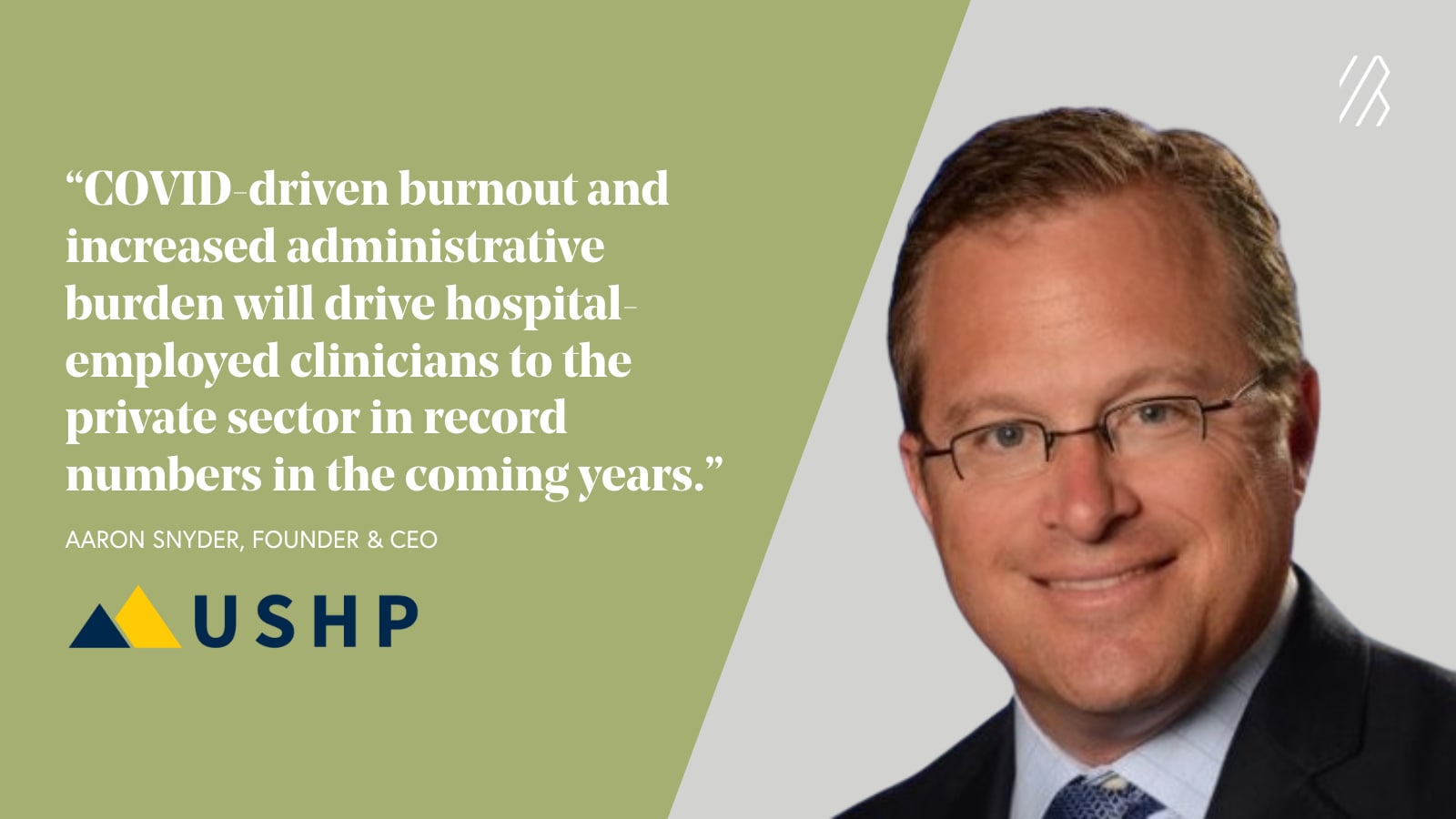 5. A tech-enabled renaissance for the independent clinician
As risk shifts from health plans to providers, we will continue to see digital managed service organizations (MSO) serve as the chassis of digital health. These entities provide outsourced management functions, including not only administrative and financial but also care management services. 
Emerging new platforms and tools are helping clinicians become more independent and run successful businesses by enabling flexible hours, additional revenue streams, or owning their audience.  
For example, our portfolio company US Health Partners is assisting cardiologists in breaking free from the traditional hospital structure to run independent practices as they transition to digital and value-based care. Our most recent investment, HouseRx, is helping independent physicians in a different way by enabling doctors to run medically integrated dispensing of specialty drugs and helping them connect therapeutics with care journeys, which will ultimately be better for patient adherence and outcomes. 
The re-emergence of the independent clinician also gives rise to a new go-to-market channel: the new D2C or "Direct to Clinician." As clinicians have increasingly become consumer-facing during the pandemic while educating the public via social media, they have become an addressable class of customers with specific needs, uncoupled from the four walls of a clinic or hospital. "Bottoms-up" sales strategies may become the norm as companies evangelize clinicians as their customers and focus on use cases spanning clinician-focused fintech products, retail, healthcare, and online community-building ecosystems.
Companies like Headway and Alma have proven successful in helping providers, who historically only took cash pay, access insurance coverage and therefore increase their patient census. We believe changes in consumer demand and reimbursement patterns will drive the adoption of this same business model across other medical specialties where companies can aggregate demand for services to negotiate better rates with insurers. For example, Zaya Care uses this model in the maternal health space. These new companies are great examples of the new breed of digital MSOs serving the independent practitioner.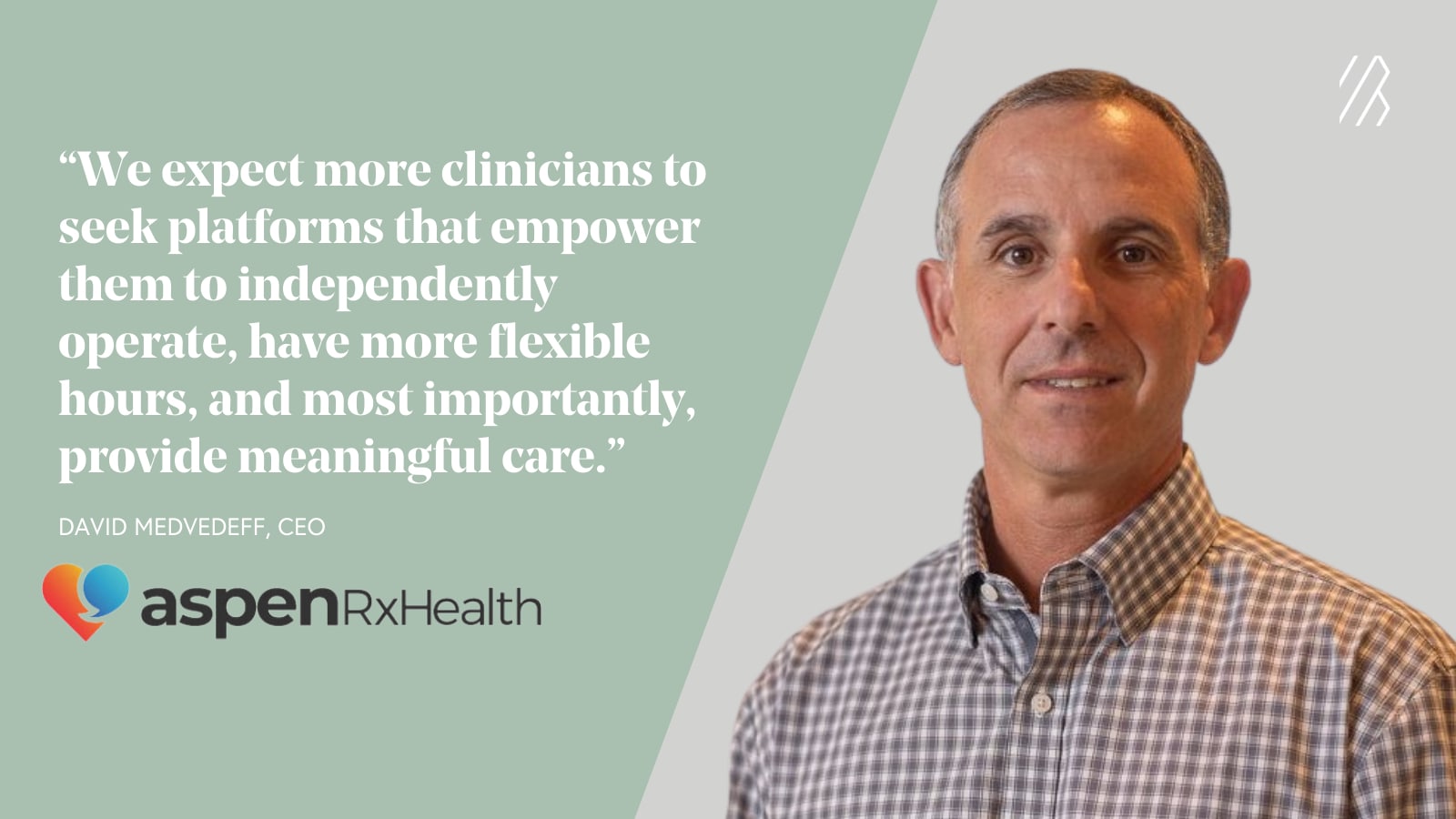 David Medvedeff, CEO of AspenRx said, "We expect more clinicians like our pharmacists to seek platforms and tools that allow them to independently operate, have more flexible hours, and most importantly, empower them to provide meaningful care aligned with what drove them to be in this profession."
6. Value on investment alongside return on investment
In our 10 laws of healthcare, we talked about the importance for healthcare companies to demonstrate strong clinical and financial ROI. Increasingly, benefit managers are now looking at social factors as well when making purchasing decisions. They are beginning to place a premium on benefits that support diversity, equity and inclusion, as well as employee satisfaction and productivity. We first saw this shift from a business case to a wellness case in mental health, caregiving, and maternal health. In a tight labor market, employers are keen to attract and retain the best and most diverse workforce and many employees expect certain benefits as part of the compensation package.
We believe that digital health solutions that can address and service these ESG or social aspects in the employer-psyche will stand out from the noise in the employer channel. For example, our portfolio company Folx began selling to employers as LGBTQ+ employees requested these services.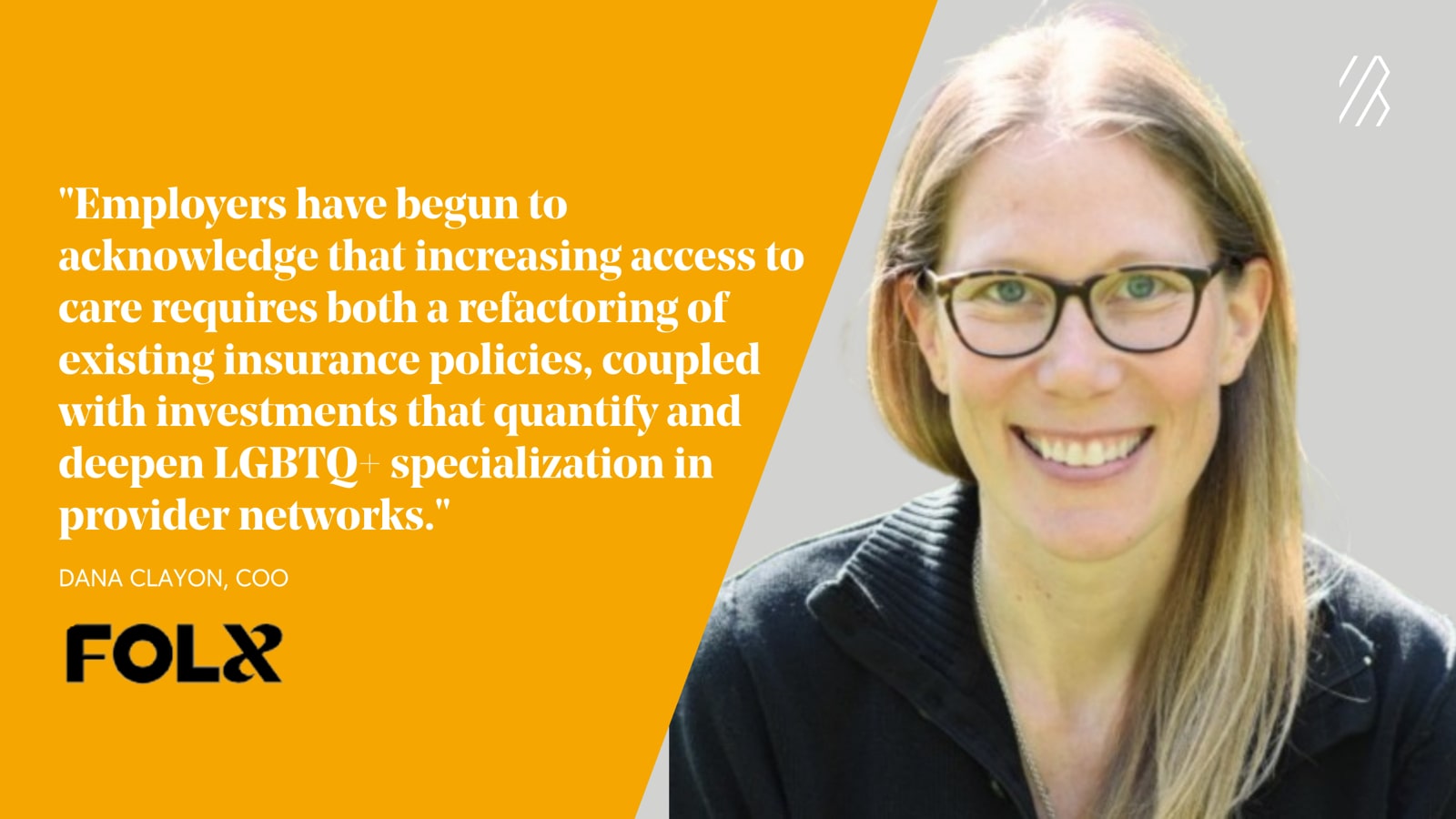 "LGBTQ+ people are a large and growing part of the workforce, with 1 in 5 Gen Z identifying as LGBTQ+. Employers have begun to acknowledge that increasing access to care requires both a refactoring of existing insurance policies, coupled with investments that quantify and deepen LGBTQ+ specialization in provider networks. Through the largest virtual network of LGBTQ+-specialized clinicians, FOLX offers end-to-end virtual primary care, gender-affirming services (e.g., hormone therapy, counseling), sexual and reproductive health (e.g, PrEP), community (e.g. peer support groups, events), and care navigation," said Dana Clayton, COO of Folx.
7. Teenage years for digital health
2022 marks the 13th anniversary of the passage of the HITECH Act which ushered in the digital era in healthcare. Since that time, our industry has quickly matured from the infant stages of technology adoption (think: EMRs, HIE, PHM) to its current teenage digital health self. Similarly, we have seen a dramatic shift in market valuation multiples for digital health companies. And while these companies did not perform as well in the public markets in 2021 as in prior years, we are confident that the overall basket of digital health assets is more mature and valuable than ever before. While we may see some of the valuation gaps between public and private markets narrow in 2022, we continue to be optimistic that the IPO market will remain open and create more opportunities for M&A in our industry. 
We believe the continued spotlight that COVID has shed on the challenges facing our healthcare system alongside the many opportunities for innovation outlined in this article will make 2022 another banner year for healthcare investing. While the broader markets look to be in the midst of a correction, we are optimistic about the myriad of opportunities for innovation in the largest market in our economy that is still in just the teenage years of its own digital revolution. As we start the new year, we at BVP are excited to forge ahead and partner with audacious healthcare entrepreneurs who want to create revolutions of their own.  
"The number of startups in digital health will increase even faster next year as entrepreneurs jump into the fray out of sheer frustration that our pre-existing healthcare system, despite the learnings from COVID, doubles down on old strategic plans and the traditional fee for service system which has proven time and again to neither lower cost nor improve quality," said Ming Jack Po, Founder and CEO of Ansible Health.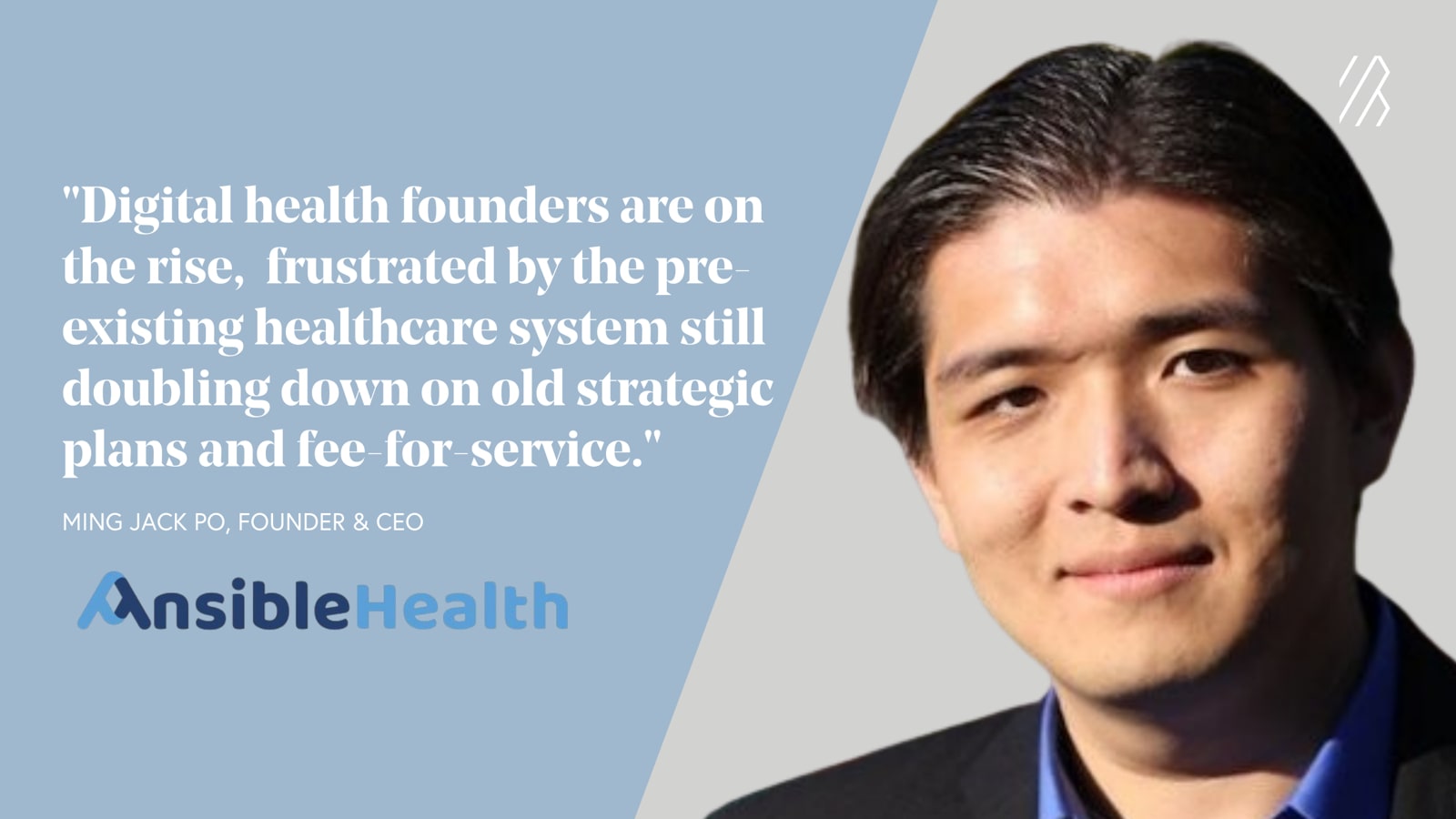 Additional predictions from healthcare leaders
If the past two years have demonstrated anything it's that healthcare innovation is driven and inspired by patient needs, clinicians, and builders who strive to better the frontlines of care. With that in mind, we looked to our community of founders and aggregated their predictions for 2022. 

Jennifer Bellin, VP of Marketing, Artemis Health: "The market has seen an influx of healthcare point solutions over the past few years. In 2022, HR Benefits leaders will feel heightened pressure from their finance departments to demonstrate the value of these point solutions. It is incumbent upon these solutions to demonstrate value on investment or risk losing market share to higher-impact offerings."
Mudit Garg, Co-founder and CEO, Qventus: "Over the last two years, hospitals struggled with capacity and staffing shortages. After initial successes in automating back-office operations, leaders are now extending automation to the area of care operations — all operations involved in the delivery of acute care, including management of discharge planning, or access, system-wide patient flow, and more, as well as processes that connect patient care beyond the hospital."
Jonathan Wang, Co-founder and CEO, and Mark Kalinich, Cofounder and CSO, Watershed Informatics: "The progression of life science's digital transformation will drive large investments in computational infrastructure." 
Joy Liu, Co-founder and CEO, and Joy Patel, Co-founder and CTO, Plenful:  "Automation and AI will play a growing role in specialty pharmacy operations in 2022, spurred by increases in limited distribution drugs, growing staffing challenges, pressure to differentiate on better patient experience, and novel purpose-built technology for pharmacy operations workflows.  End-to-end automation with human-in-the-loop AI will decrease the amount of manual administrative work, decrease staff burnout rates, and increase patient access to medication in healthcare." 
Ogi Kavazovic, Cofounder and CEO, and Tesh Khullar, Cofounder and President, HouseRx: "Further consolidation in specialty pharmacy space, likely led by PBMs acquiring specialty pharmacy competition, which once again will result in fewer patient options and a suboptimal patient experience."
Let us know what you think of our 2022 predictions by emailing us. You can reach the Healthcare team via Steve Kraus (steve@bvp.com), Sofia Guerra (sguerra@bvp.com), Andrew Hedin (ahedin@bvp.com), and Morgan Cheatham (morgan@bvp.com).