Cloud trends around the world in 2023
Bessemer teams across Israel, China, India, and Europe reveal what's moving the cloud economy, covering highlights such as SaaS buying behaviors, the importance of profitable growth, and how artificial intelligence will drive value creation.
As cloud multiples normalize after the highs of the bull market, the entrepreneurial ecosystem around the globe has shifted its focus to driving profitable growth. In practice, that can look like driving up gross margins, improving customer retention, and re-evaluating pricing models, to name a few recommended tactics. The emphasis on top-line growth at all costs has pivoted, but not entirely to cash flow break-even. A majority of investors at Bessemer recommend venture-backed businesses aim for 100% revenue growth and a 1.2x burn multiple in order to still meet the Rule of 40 threshold. 
But the good news is that no matter where you are around the world, the cloud business model is still one of the most efficient business models to ever be invented. Massive rates of digital transformation since 2020 have brought the cloud economy to a major inflection point where the majority of all software is in the cloud. 
When we look at different markets across the globe, there are still growing opportunities for cloud adoption and entrepreneurship across Israel, China, India, and Europe. Cloud spending grew 85% in Latin America, including Mexico (LATAM), and 35% in Asia and the Pacific (APAC). Venture capital investors deployed $53 billion into cloud companies outside the United States and Canada last year, or 42% of global cloud VC investing. And cloud and SaaS deals represented nearly a quarter of worldwide venture-backed startups last year.
In this deep dive, we explore four key cloud markets outside of North America and the driving forces shaping where the cloud is headed in Israel, China, India, and Europe.
Global maturity of cloud adoption varies across the globe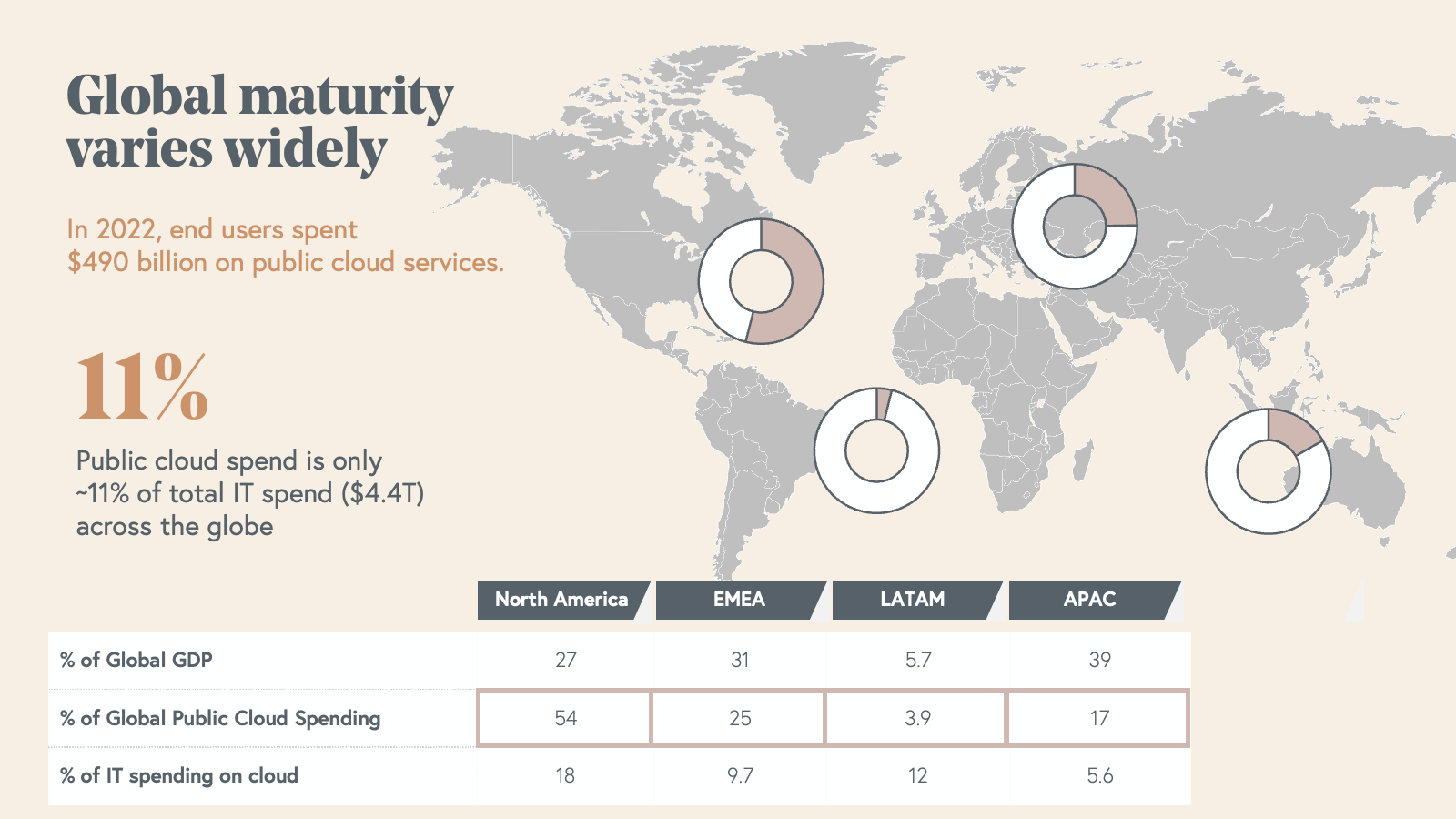 In 2022, end users spent $490 billion on public cloud services, up 23% year over year—that's nearly twice as large as New Zealand's gross domestic product (GDP), and $4 billion more than Norway's GDP in 2022, for scale. Public cloud spend makes up roughly 11% of total IT spend globally, or $4.4 trillion–that's just over the value of Germany's GDP in 2022.
In North America, end users spent $265 billion on public cloud services in 2022, representing 18% of total cloud spend in the region. But cloud spend makes up a higher proportion of IT budgets in North America than it does elsewhere—almost three times what it does in the APAC region, for example. In 2022, cloud spend made up 12% ($19 billion) of total IT spend in Latin America; 10% ($121 billion) of total IT spend in EMEA; and just 6% ($82 billion) of total IT spend in APAC.
From 2021 to 2022, public cloud spend grew 85% in Latin America, compared with 34% in APAC, 14% in EMEA, and 11% in North America. That's likely a reflection of growing digitization in the region compared to more developed economies where cloud penetration is more established.
Next, we'll dive into our regional SaaS updates.
Israel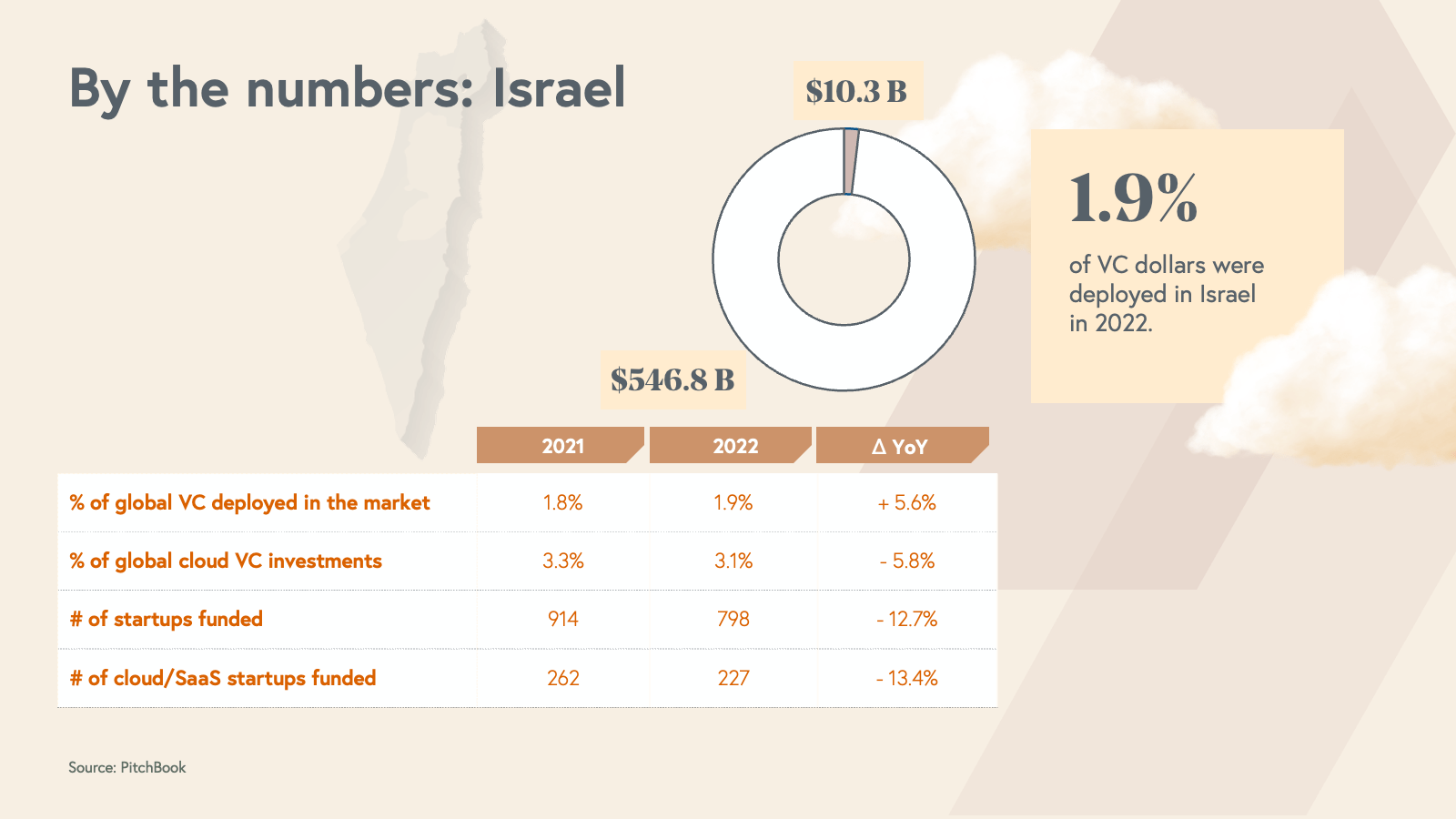 The Israeli cloud market is distinct in its scale for such a small country, representing just .12% of the world's population. Last year, almost 2% of all VC dollars were deployed in Israel, totaling $10.3 billion. That's nearly as many VC dollars as all of Latin America, including Mexico.
Venture capital investors funded 784 Israeli startups last year, 351 of which (45%) are cloud or SaaS businesses. Generally, it's important to note that Israeli cloud funding and startup trends largely mirror that of the United States, following the same macro crests and troughs seen across sectors and stages in the US.  
Trend: Historical SaaS buying barriers shift, further leveling the playing field for Israeli cloud businesses
Similar to SaaS in India, it used to be standard for Israeli software companies to build their products in Israel and inevitably find the founder moving to the United States to build the go-to-market (GTM) motion close to the customer. Over the past few years, that's become increasingly rare: companies today are laying their foundations and scaling commercially from Israel––in large part because of the growing opportunity to sell to an increasingly scaled, local ecosystem, explained Ariel Sterman, a vice president at Bessemer Venture Partners. 
The major shift we observe is that historical go-to-market barriers for Israeli startups have crumbled, driven by three trends in customer buying behavior: remote sales, cloud marketplaces, and product-led growth have enabled Israeli startups to compete on a more level playing field with their US counterparts. These buying shifts are accompanied by significant changes within the entrepreneurial ecosystem itself: of the 41 Centaurs in the Israeli cloud ecosystem, the majority still have their founders based in and scaling their businesses from Israel. 
China
In 2022, 13% of all VC dollars were deployed in China, making up $72.5 billion. Venture capital investors funded 5,493 Chinese startups last year, 585 of which (11%) are cloud or SaaS businesses. 
China's economy has been making a strong rebound from COVID-19, but enterprise growth has yet to catch up with consumer firms in the country. This year, B2B companies in China are especially focused on profitability and efficiency. According to Partner Bryan Wu, in 2022, it was considered excellent for B2B companies in China to report 30% year-over-year growth, during which other growth and efficiency metrics fell due to macro shocks and the ongoing impact of the country's COVID-19 lockdown policies. In 2023, investors expect the same average growth rate of approximately 30%, while a few leading software companies may achieve growth of 50% or above. 
Though pandemic-era lockdowns have hindered enterprise sales teams from being able to travel, China's cloud market is still growing: it's expected to nearly triple over the next three years, from $36 billion in 2022 to $90 billion by 2025.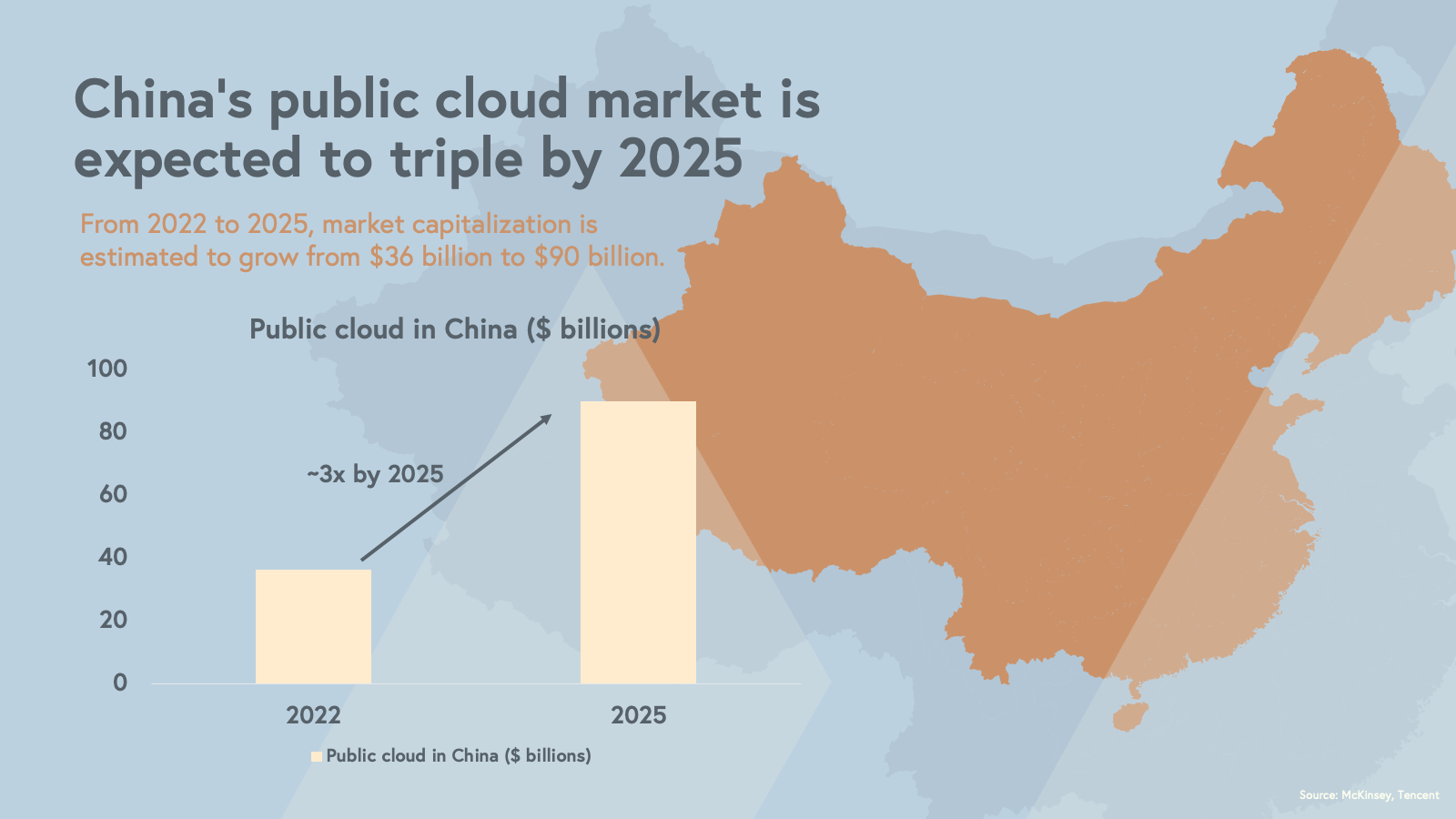 Though growth metrics are down, we expect the Chinese cloud ecosystem to improve its efficiency during the year ahead. Companies are already emerging from 2022 leaner and focused on efforts to drive efficient growth.
As the SaaS market continues to rebound and normalize in China, investors are seeing increased price sensitivity from software buyers. This means that cloud software providers have had to adapt and compete to retain existing customers and attract new ones. 
Trend: A number of China-headquartered SaaS businesses are putting AI to the test
As reported in the global State of the Cloud report, the Large Language Model revolution is making its mark in the China cloud ecosystem as well. Take the case of Sensors Data, China's leading vendor for user behavior analytics. Sensors combines its data analysis capabilities with large language models (LLMs) such as ChatGPT and Baidu's Ernie bot, improving the interactive user experience for its enterprise clients. Other applications of AI in the enterprise include expense management products like Helios and Fenbeitong (FBT). Helios uses AI to learn, implement, and match accounting policies with expense compliance, and FBT is rolling out intelligent travel booking, expense control, and customer service features with the help of LLMs.
One headwind facing the market is China's heavy reliance on on-premises deployment. For AI models to work better, they need to continually ingest new data, and cloud infrastructure is better to achieve that. That's why artificial intelligence might drive further adoption of cloud computing in China.
India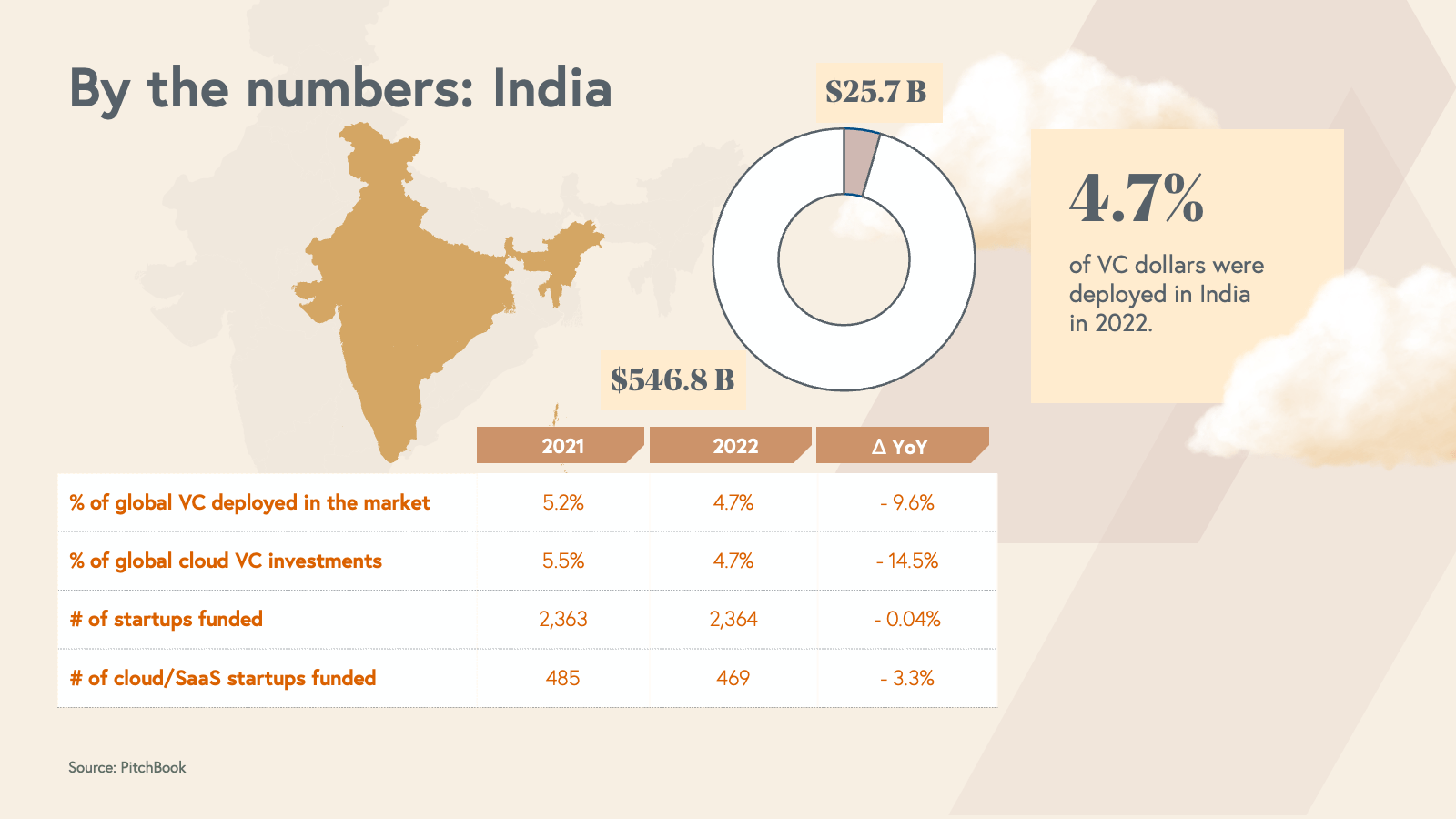 India is home to eleven centaurs, including three companies that became centaurs last year. Cloud spending in India grew nearly 22% last year, putting it nearly in line with the entire continent of Europe. Importantly, India's growth in public cloud services spending vastly outpaces its overall growth in IT spending (2%), more so than for other geographic regions. 
In 2022, 4.7% of all global VC dollars were deployed in India, making up $25.7 billion. Venture capital investors funded 2,367 Indian startups last year, 468 of which (20%) are cloud or SaaS businesses.
Trend: Startups in India adopt multi-product strategy earlier than global counterparts
We're seeing cloud companies in the India market adopt a multi-product strategy: vertical SaaS companies are creating more products along the customer lifecycle, and horizontal SaaS firms are expanding into related business segments. 
The Indian cloud market's ability to quickly build multi-product solutions is a nod to the country's strong developer talent pool and SaaS customer base. It used to be the case that Indian founders would have to relocate to the US in order to sell, but since the pandemic, Indian companies have been able to sell remotely to domestic and international customers alike.  
Trend: Indian SaaS companies are using AI to productize services
The power of AI is also a prominent feature in India's cloud market. In particular, we're seeing best-in-class cloud companies find ways to integrate LLMs alongside human staffing. For instance, Entropik analyzes people's facial expressions and voice tones to generate emotionally intelligent user research, and Leena AI helps HR teams create a virtual assistant that's personalized to the needs and cultures of its customers' companies.
In particular, Indian SaaS companies are leveraging AI to help productize services, said Anant Vidur Puri, a partner at Bessemer Venture Partners. That means Indian builders are using the cloud to deliver services and LLMs to improve their quality and accuracy. Take the case of Pepper Content––Pepper helps content creators write better, and it has incorporated AI into its quality assurance (QA) processes, which its employees ultimately review. Or take the case of Perfios, a company that helps underwriters analyze consumers' credit profiles. Perfios uses AI to collect and analyze data from a number of traditional and non-traditional databases, giving lenders a fuller picture of creditworthiness than more conventional banking processes. In the Indian startup market, AI is helping people do their jobs better–not replacing them.
Europe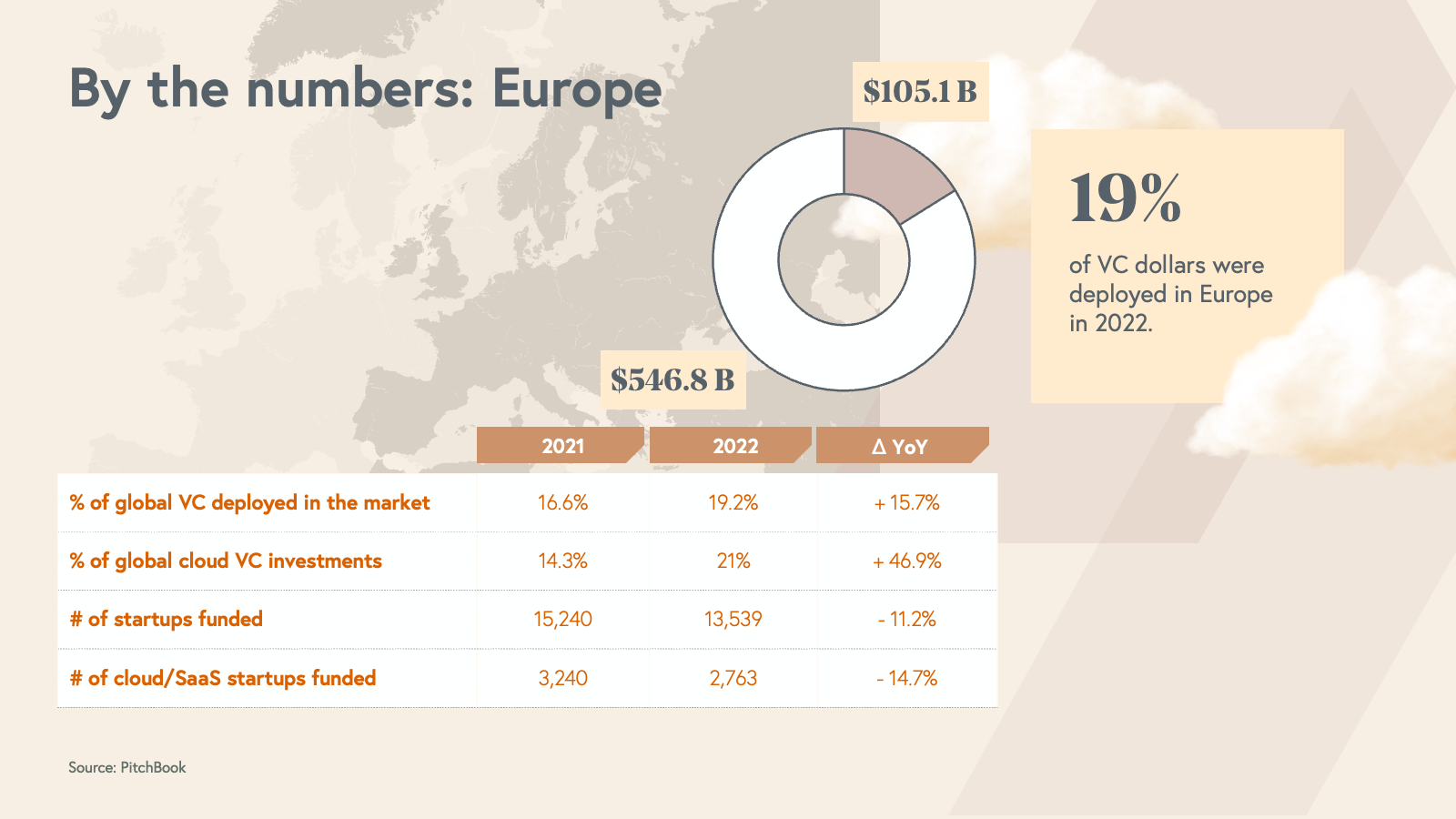 With over 13,000 venture-backed startups funded in 2022, Europe is growing as a global hub of tech innovation––especially when it comes to cloud. Last year, 19% of all VC dollars were deployed in Europe, making up $105.1 billion. Venture capital investors funded 13,539 European startups in 2022, 2,763 of which (20%) are cloud or SaaS businesses.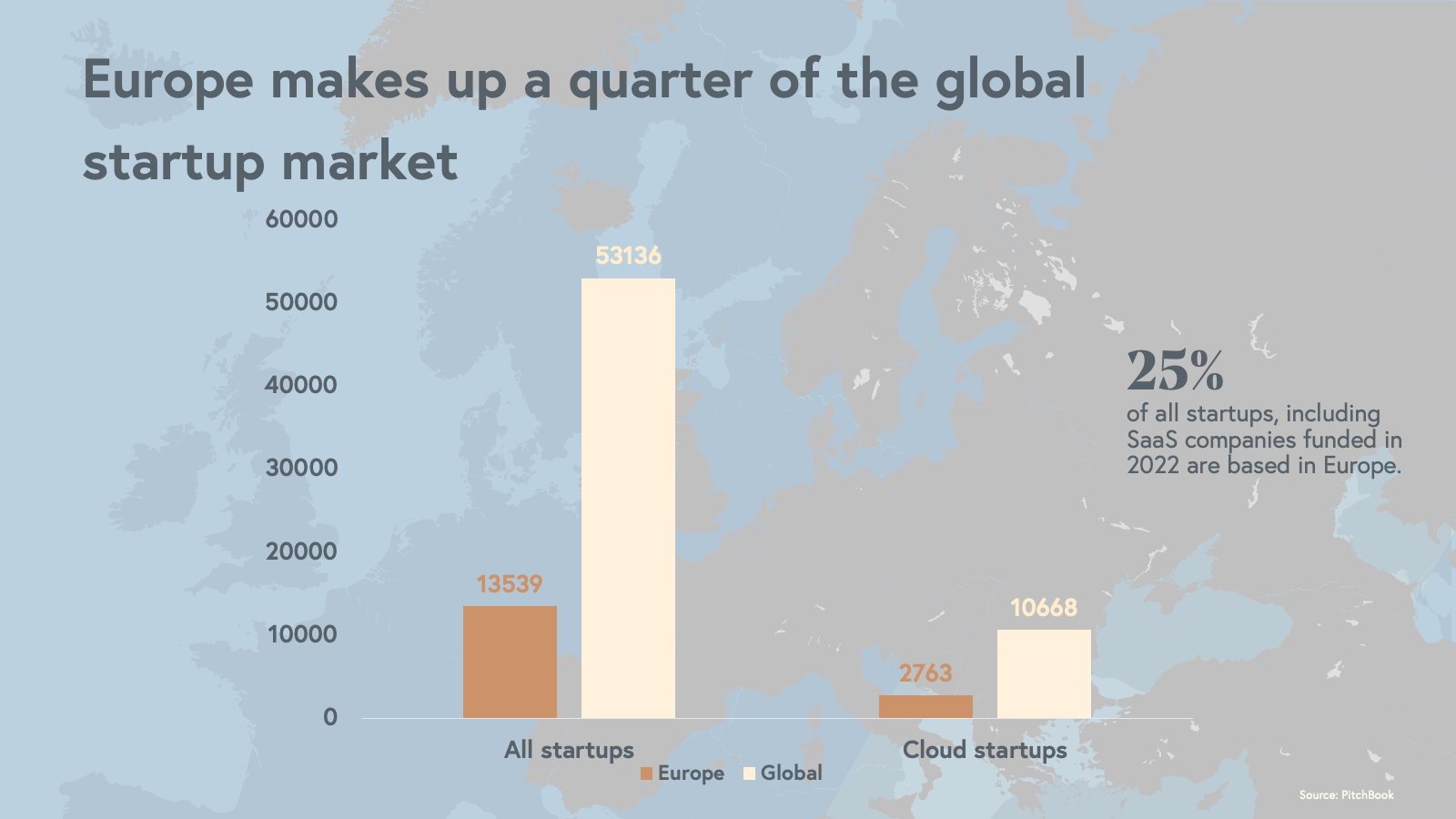 Trend: Europe is becoming a hotspot for AI engineering talent 
Europe has a strong pedigree of AI-native founders and companies. Prominent AI companies based in Europe span B2B and B2C markets, including language translator DeepL, Stable Diffusion maker Stability AI, learning platform Sana, and Alphabet-owned research lab DeepMind.
In central and eastern Europe, a strong engineering talent pool rivals the US and wider world, particularly at a time when companies worldwide are looking for lower costs of labor as they focus on operational efficiency. More of the world's developer talent pool is in Europe than it is in the US: there are over six million software developers in Europe, compared to the estimated four million in the US. And four of the top ten universities for computer science, as ranked by Times Higher Education, are in Europe: Oxford, ETH Zurich, Cambridge, and Technical University of Munich. Companies around the world looking to hire engineers and developers may look to Europe in the years to come, noted Partner Alex Ferrara. 
It's also a great time to be a cloud builder in Europe. As the European Union (EU) continues its ongoing antitrust and regulatory scrutiny of US-domiciled Big Tech companies, home-grown SaaS companies have the favor of local regulators and investors alike. Europe's local cloud market will only grow as a result of this tailwind.
Parting thoughts for 2023
Across the venture capital industry, there's roughly $290 billion of dry powder that has yet to be deployed into the next generation of cloud companies. In 2023, cloud startups are working toward fundability—for founders, that means being in control of your business, having more than a year of runway (with significant buffer),  low burn rates, high net retention, and short customer acquisition cost (CAC) payback periods. At the end of the day, in any market environment, there are opportunities to drive better margins and profitable growth in every aspect of running a business. 
At Bessemer, it's not lost on us that the year of efficiency also coincides with the year where the cloud-first world witnesses one of the most significant technology shifts in our lifetimes: artificial intelligence. Across all SaaS ecosystems—in China, Europe, India, and Israel—we expect to see operational efficiency in how internal teams function, the products they deploy, and the way people work. As for the LLMs impact on the SaaS application layer, AI will not only multiply software and human capabilities, but also completely transform and expand the cloud economy in the process.  
To read more about how SaaS leaders can reimagine their businesses and product roadmaps with AI, dive into State of the Cloud 2023.