The Rise of Cloud in Europe
With the launch of our London office, we're releasing our insights on the macro trends driving the European cloud ecosystem and why we believe entrepreneurship is a borderless endeavor.
As cloud computing becomes the primary technology and delivery model for software, now more than ever we believe that the sun will never set on the cloud-first economy. As we have a two-decade history of investing in the cloud, building out the rails of technology not only underpins Bessemer's roadmap-driven investment process, it's also analogous to our firm's origin.
Our firm's story began with Sir Henry Bessemer, a British inventor who created and patented a process—called the Bessemer Process—for producing high-quality steel at low cost in 1855. His innovation was later licensed by Andrew Carnegie and Henry Phipps in the U.S., both of whom scaled production of Bessemer Steel, ultimately becoming the leading provider of industrial steel in the U.S.
Carnegie Steel appears to have been the very first unicorn. The company went public in 1901 and shortly thereafter became the first company to achieve a $1 billion market capitalization. It remains the largest inflation-adjusted IPO of all time.
Bessemer Venture Partners would not exist were it not for the innovation of Sir Henry Bessemer so it feels fitting to finally establish a European presence. Just as Bessemer steel laid the foundation for architecture around the world, we too believe that the cloud will provide the infrastructure software companies and global entities will need in the coming years.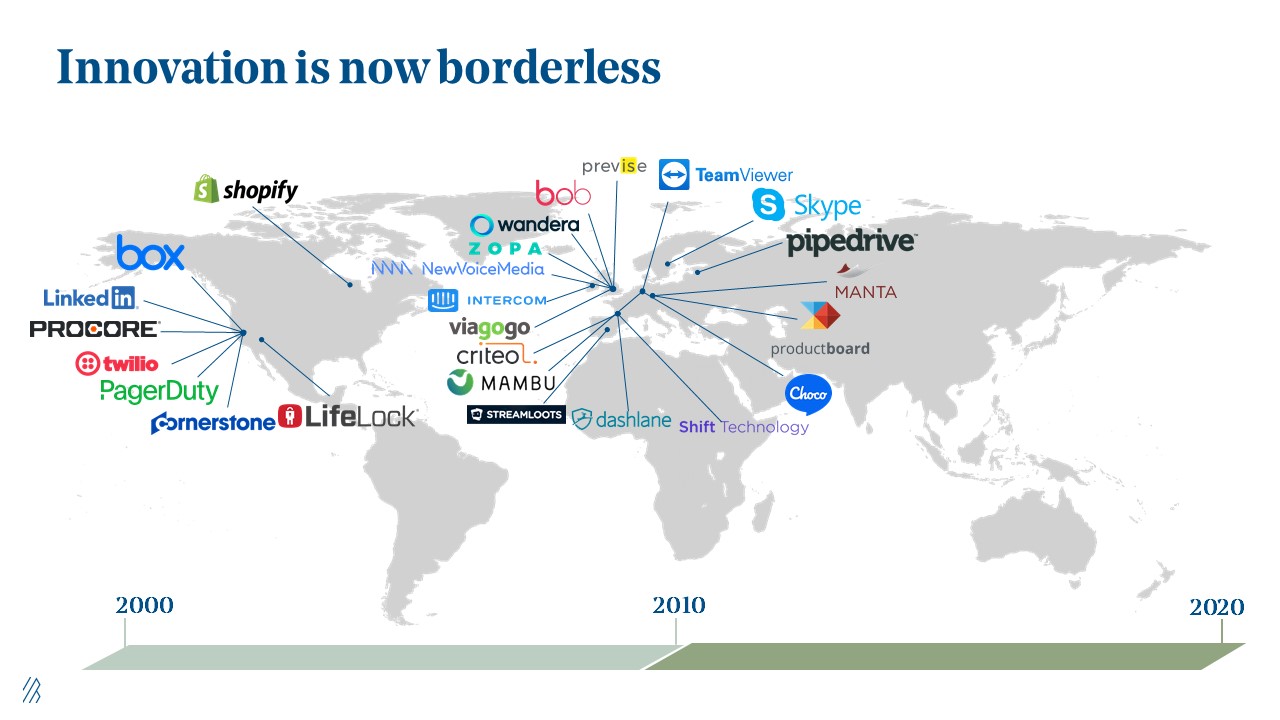 As Bessemer officially launches its presence in London, we're releasing this report to reaffirm that Silicon Valley doesn't have a monopoly on innovation and entrepreneurship is a borderless endeavor. We share the signals giving us confidence in Europe as a new technology leader, the macro trends driving the European cloud ecosystem, and the predictions we believe will inform our investments.
Macro trends driving the European tech ecosystem
During the early days of the cloud from 2000 to 2010, most of our investments at Bessemer were in U.S. companies, but gradually we've begun to see a number of exciting opportunities emerge in global markets. As investors, we go where the founders are building great companies, whether in SF, London, or Estonia. Especially in the age of COVID-19, the location of where you may be on the map is less relevant than it might've been a few months ago. We've found that remote-first and distributed teams across Europe are more operationally efficient, have a leg up in terms of tapping into top technical talent, and are more diverse.
Four observations give us confidence in Europe as not only a burgeoning technology region, but also as a cloud leader. Similar to the cloud growth we saw five to 10 years ago in North America, we're still seeing similar growth trajectories in EMEA.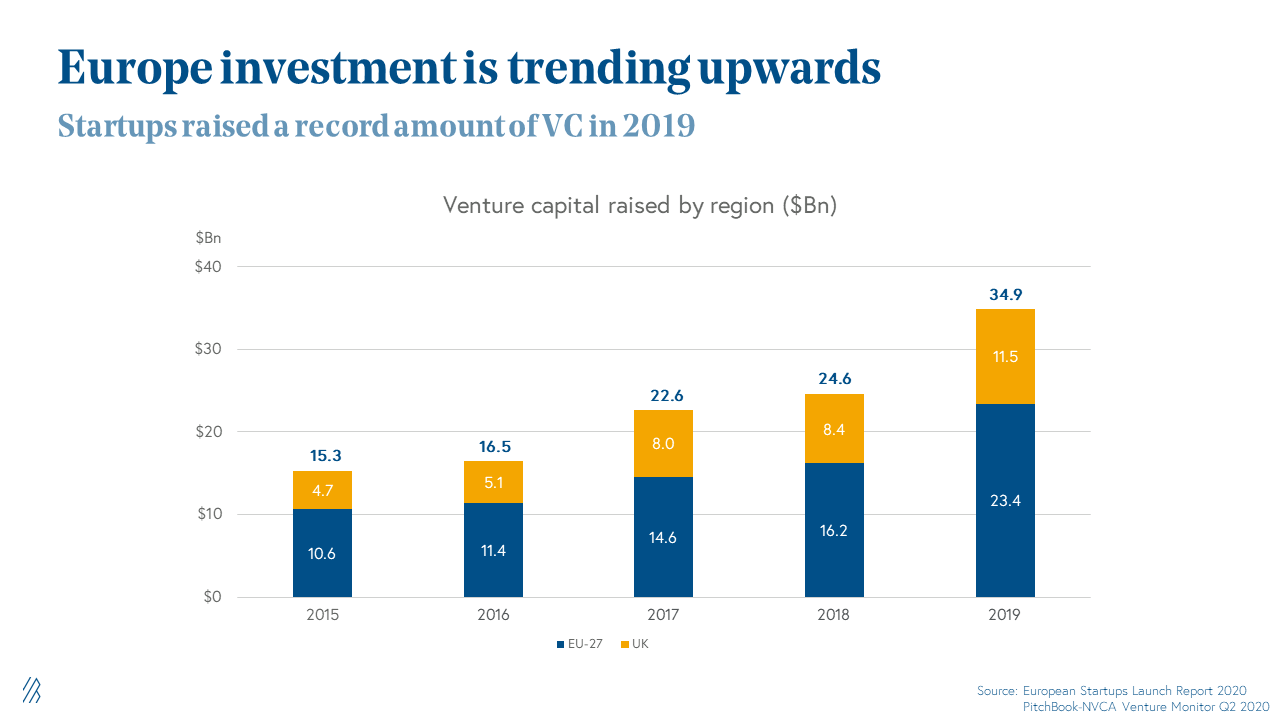 Venture capital investment is steadily rising across the continent. In 2019 alone, startups raised a total of $34.9 billion in venture dollars across the UK and the European Union. The total capital raised has more than doubled in the past four years. We expect this trend to continue, as emerging technology companies such as UiPath, Productboard, Intercom, Shift Technology, and Pipedrive have been founded across European tech hotspots in the past several years.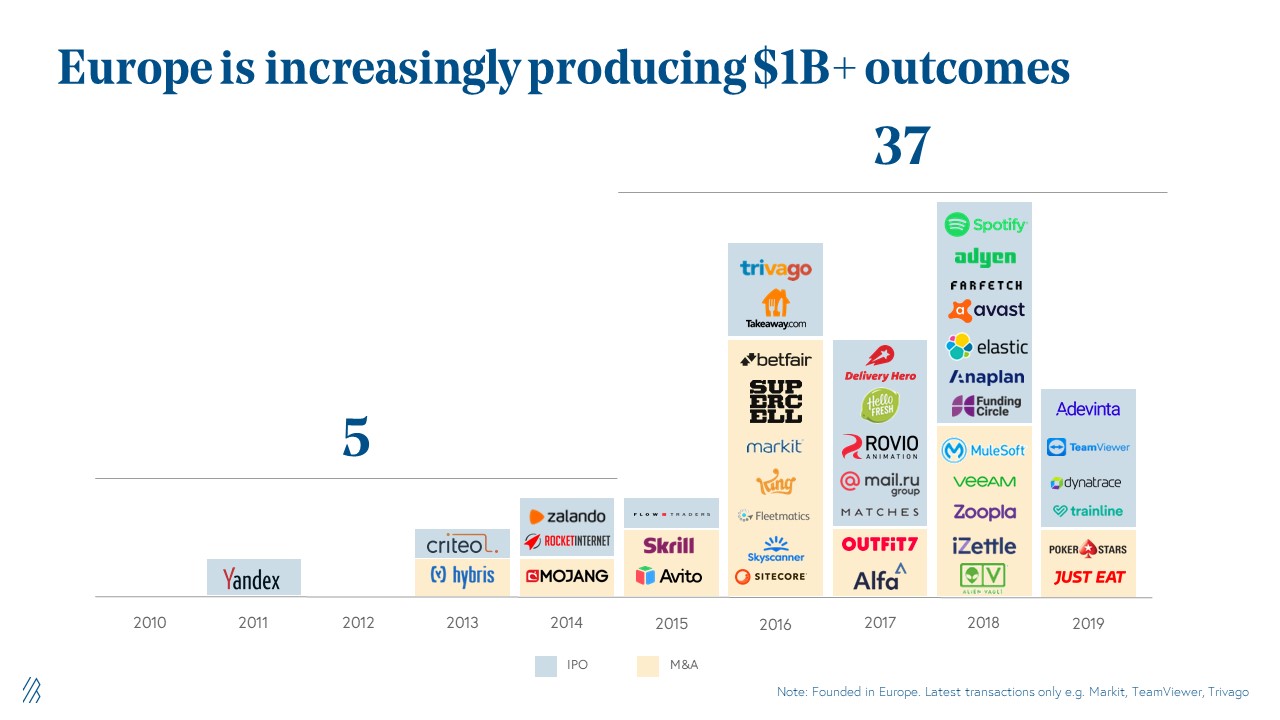 The exit environment has been consistently producing billion-dollar exits. From 2010 to 2014, the region only saw a total of five IPO and M&As, all valued at a billion dollars or more. Since 2015, that number has increased more than 7x with 37 total exits from companies such as Trivago, MuleSoft, Spotify, Adyen, Elastic, Anaplan, TeamViewer, and more.
There's a healthy pipeline of European technology giants (many of which are cloud). We counted more than 68 private European tech unicorns, and this is a great sign for the next few years since many of these will be the European IPOs of 2021 and beyond. (Although perhaps we should count 67 now that Unity recently went public and has now amassed a market capitalization of more than $24 billion.)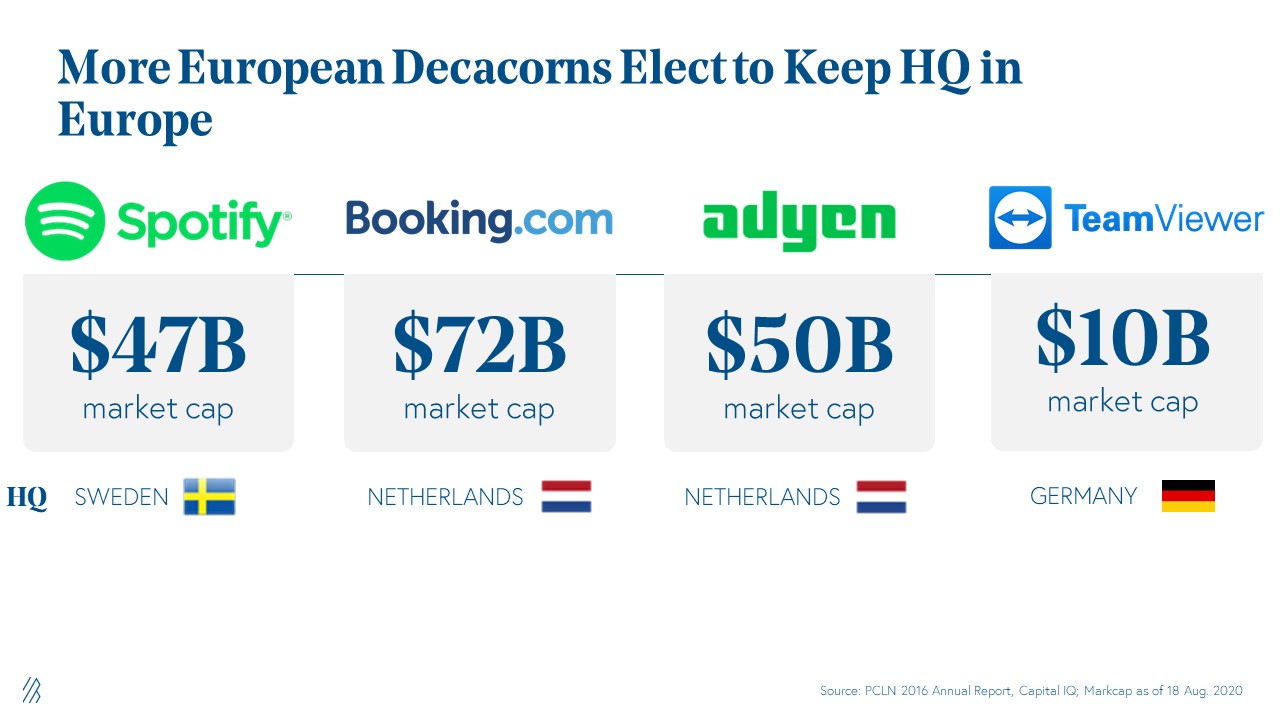 Lastly, we've begun to see not just unicorns but also decacorns rise throughout Europe. Some of the largest European successes are choosing to remain headquartered in Europe, including TeamViewer in Germany with a $10 billion market capitalization, Spotify in Sweden with a $47 billion market capitalization, Adyen in The Netherlands with a $50 billion market capitalization, and Booking.com also in The Netherlands with a $72 billion market capitalization.
As cloud investors, we're excited about the potential for these technology companies in Europe, but given the exits have been historically more consumer-focused, we wanted to take a deeper look at how European cloud companies compared to the broader trends in cloud.
Cloud trends in Europe
Just 10 years ago, the entire market capitalization of the global public cloud industry totaled just under $40 billion. Five years later, that scaled up 6x, but still totaled just a bit over $200 billion. At the start of the year, the public cloud market hit a milestone we've been waiting for — finally, on February 5, 2020, we surpassed the $1 trillion market capitalization, with a 45% growth rate.
Then, COVID-19 tore through our global communities and made an indelible impact on the economy and how businesses operate. It's an understatement to say that 2020 has been unprecedented for cloud businesses, as a global pandemic altered our public health systems, communities, and how we all depend on technology.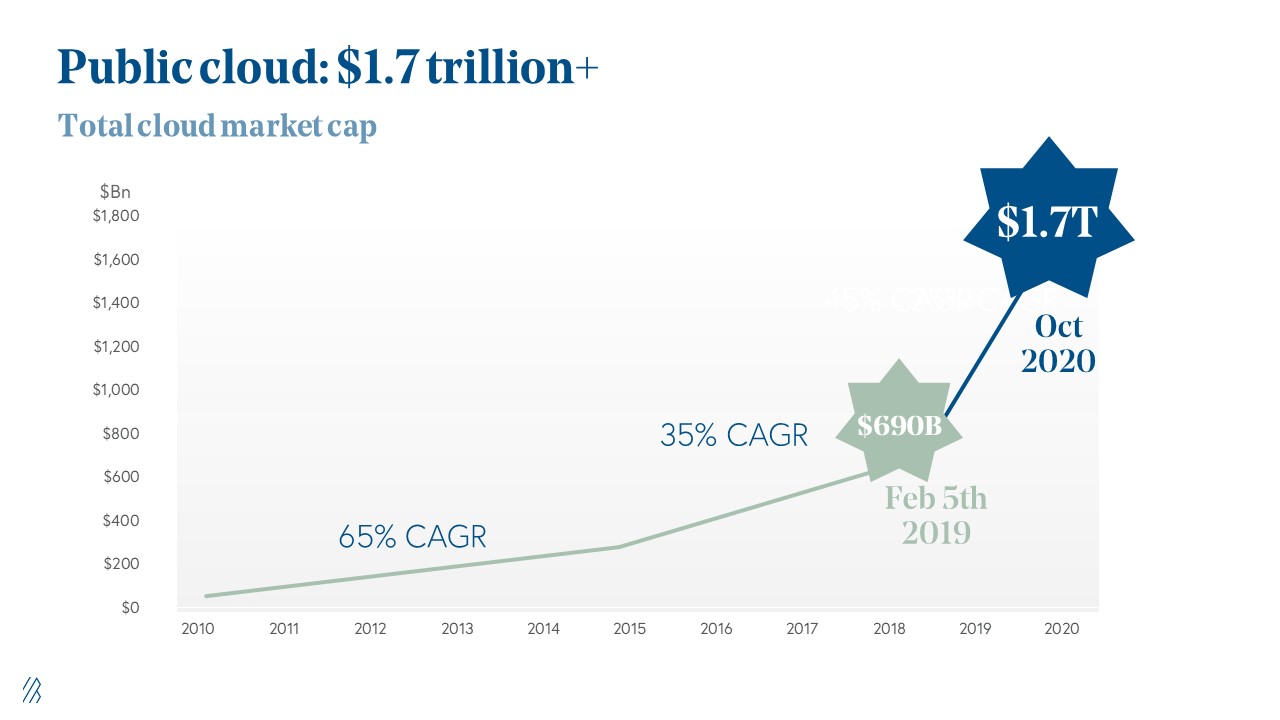 In the beginning months of the pandemic we hadn't seen such volatility since 1929, but soon the power of the cloud took hold. Companies across industries had to quickly accelerate their digital transformations, lock in their virtual and remote working environments, and as a result, cloud technology and its delivery system rebounded.
As of October 2020, the public cloud market cap hovers around $1.7 trillion with cloud category leaders growth rates in the triple digits, such as Zoom (689%+), Twilio (200%+), and Shopify (159%+) growing triple digits.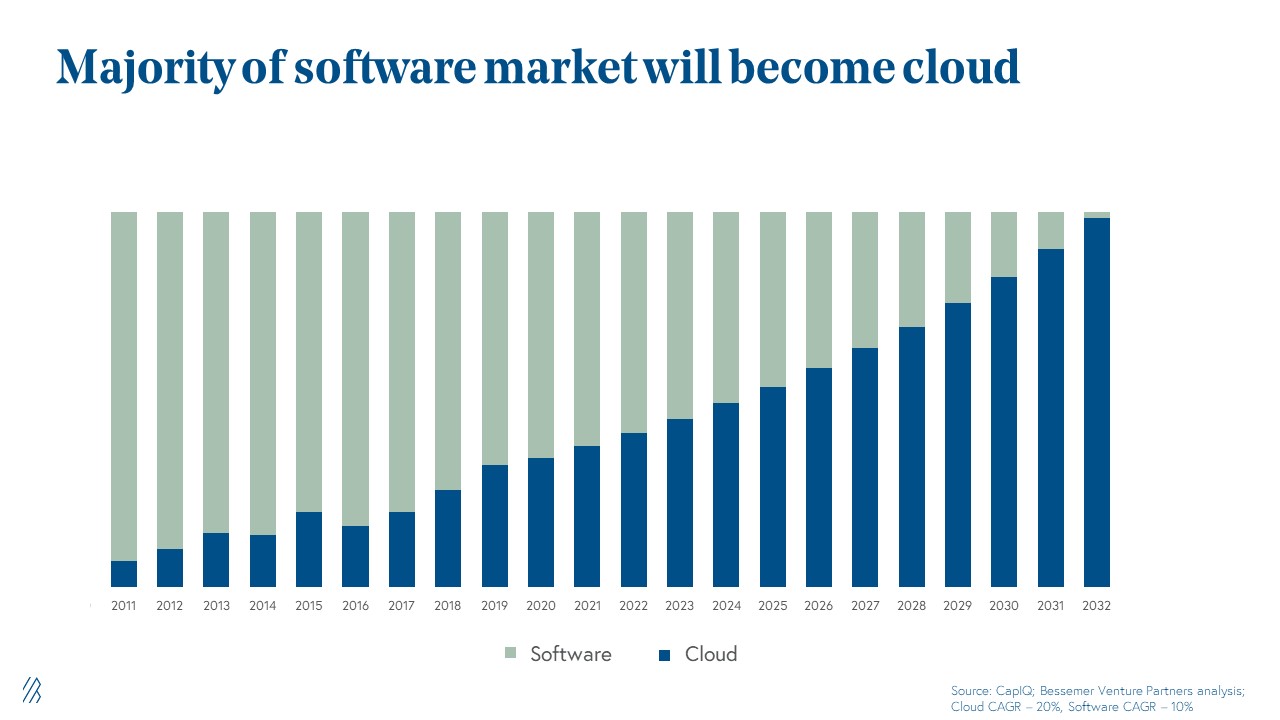 But above all else, our belief in the potential of the cloud in Europe is reinforced by one major statistic: more than 94% of enterprises use cloud solutions today. In addition, a majority of all software will become cloud in the next few years. We're truly living in a cloud-first world, and Europe is a rising regional leader in the category.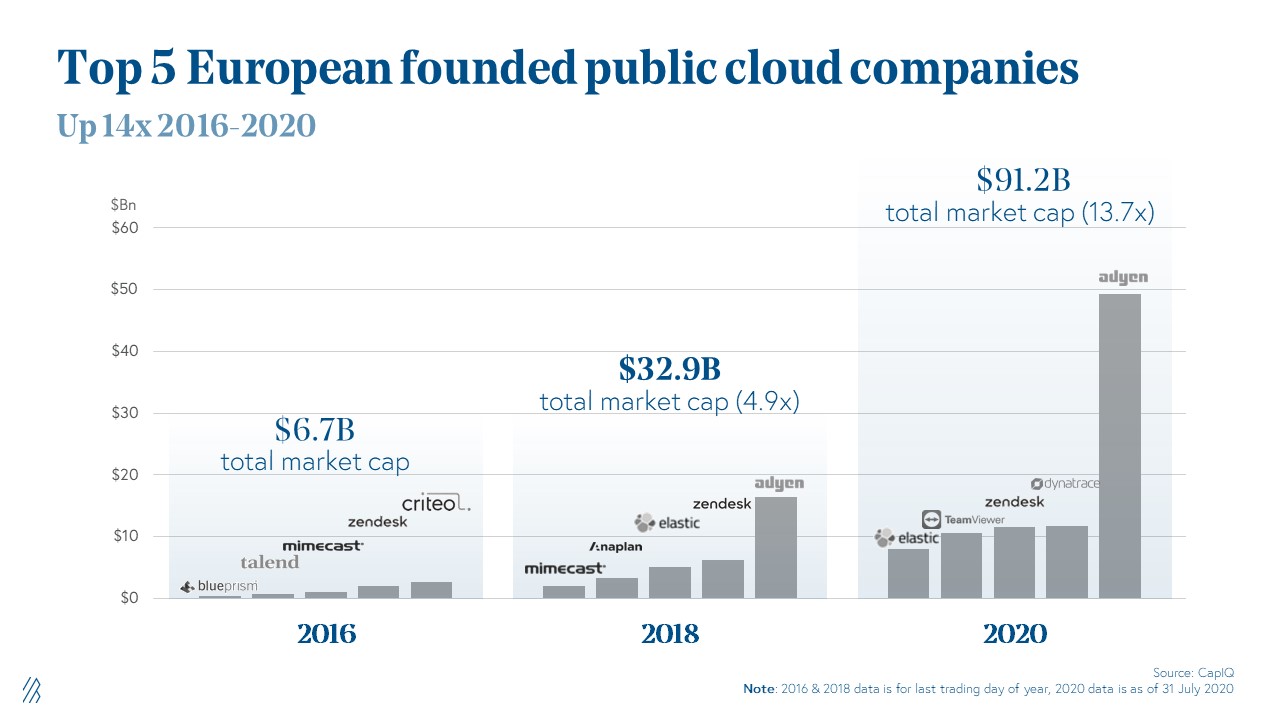 In the past four years, we've seen meaningful growth among the top five European founded public cloud companies. Starting in just 2016, the collective market cap of companies like Zendesk and Criteo were in the early days, just under $7 billion. Two years later, we saw a 5x increase in market cap to $32 billion, driven by exciting players like Adyen and Elastic. Finally, moving to just two years later, as of Summer 2020, the top five European founded cloud companies have created over $91 billion in market cap. This is another 13x growth from just 2 years prior. In totality, this represents a 14x over this 4 year period. In addition to a growing public cloud, European private cloud companies show promise as well.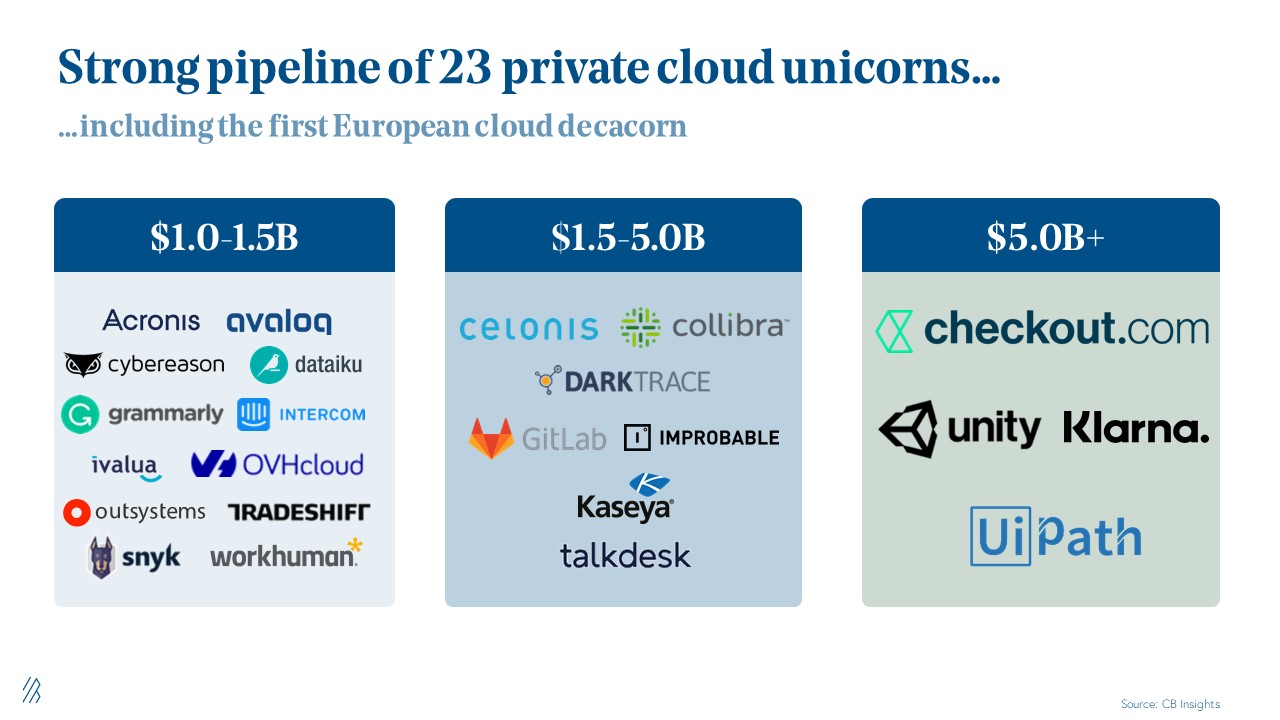 Europe is poised for more cloud success, with more than 23 private cloud unicorns founded in Europe today and even more exciting the first cloud decacorn with UiPath, and more recently Unity going public.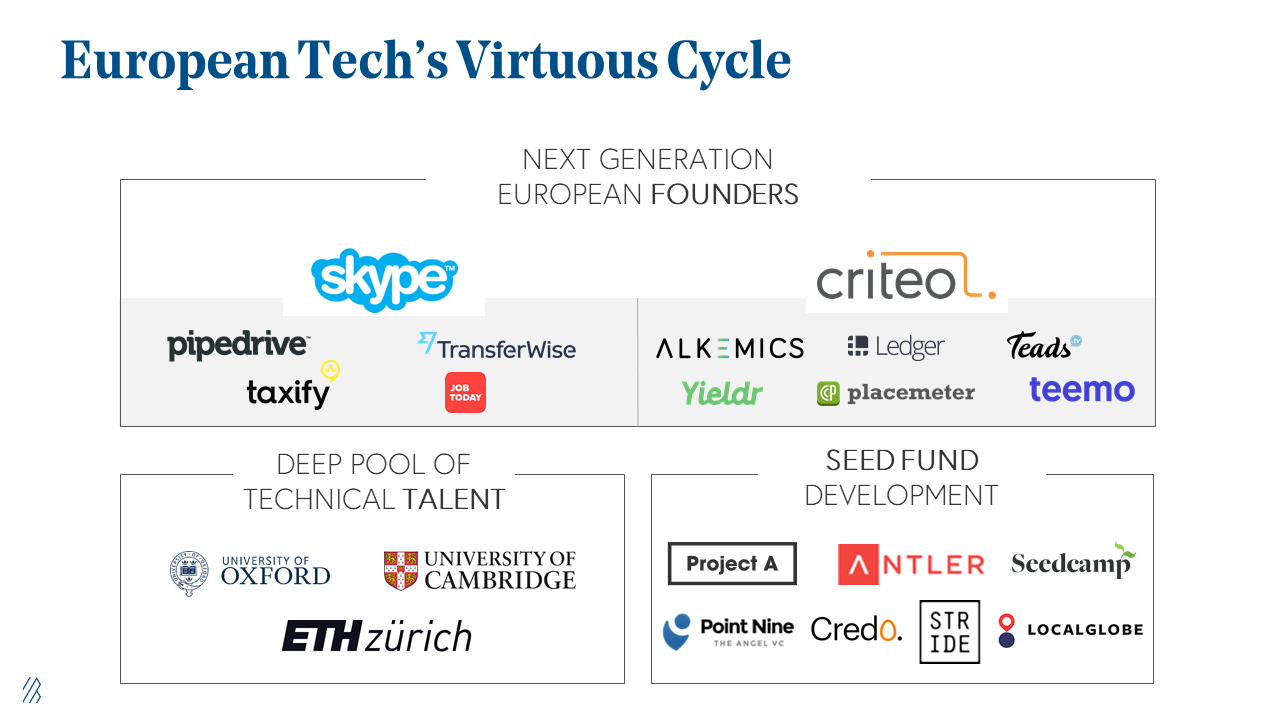 Putting these factors together, Europe has a "virtuous cycle" with three key assets going for it.
First, we're emerging out of the first wave of successful European tech companies, such as Skype, Criteo, Spotify, and Adyen. Success stories like these are what inspire a new entrepreneurial base within a region. Secondly, Europe has a deep pool of technical talent even more so than the United States, making it a stronghold for software innovation. And finally, in the venture community there's a new wellspring of seed funds helping capitalize the ecosystem and finance these emerging breakout companies across Europe.
Five cloud predictions for European trends
The region has all the essentials to grow the next European cloud giants of their own. We take all these factors into consideration as we evaluate the emerging trends we believe will gain the most attention in the coming years for venture-backed innovation.
Prediction 1: Product led growth wins, regardless of location
In a global world, selling to large enterprises from outside the US can be a difficult task, especially when trying to do so from locations outside of the U.S. However, by establishing a presence in new geographies, such as serving SMB and Mid-market customer segments, companies can grow their product usage as their customer scales. Often thought of as a land and expand strategy, product led growth can help gain a foothold into a new geographic market.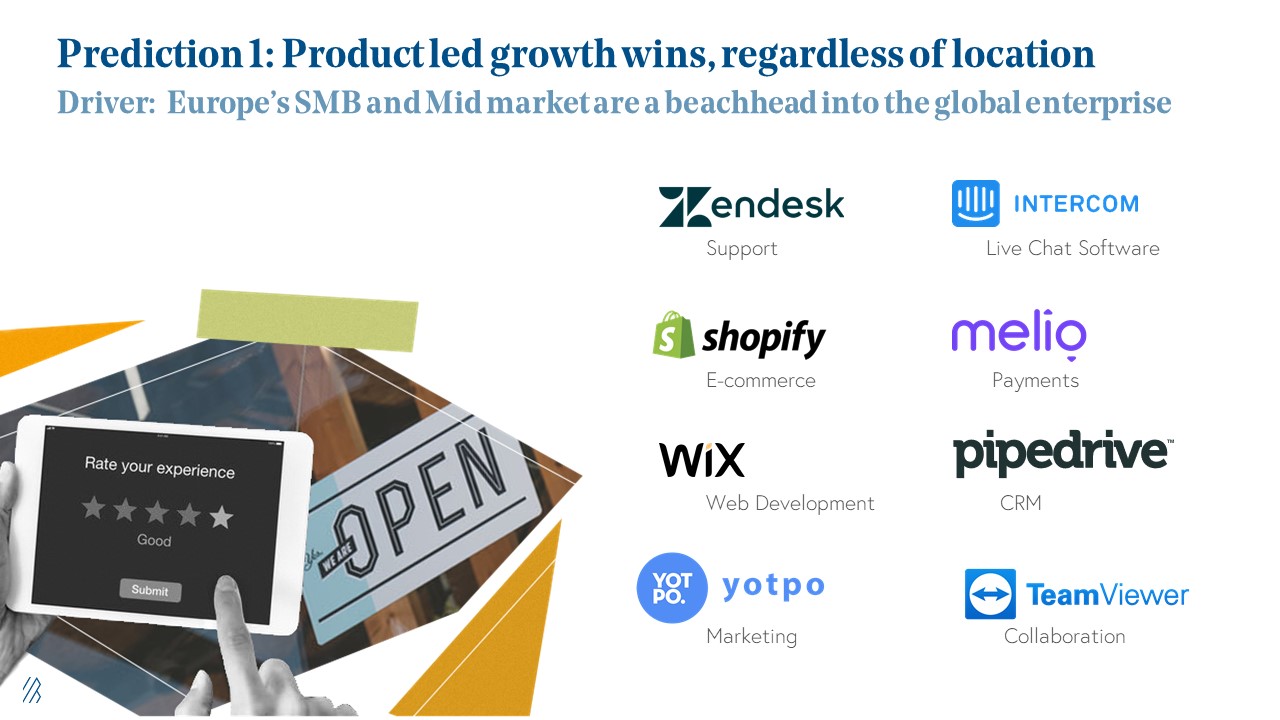 At Bessemer, we've seen this trend play out in companies like Shopify in Canada and Wix in Israel, but have seen the trend translate towards companies like Pipedrive and Intercom as well. These are all examples of companies that have served and positioned themselves as leaders in large categories of software using a product led growth strategy that did not require them to build expensive field sales teams or large offices in the U.S. Lastly, we expect that most if not all of the categories of enterprise software will have SMB counterparts.
Prediction 2: Privacy debt is the new technical debt
There is perhaps no place in the world that has been more forward thinking about data privacy than in Europe. We've seen this through strong regulations like GDPR which have come in response to consumers demanding more control over their data. While many tech companies were architected to collect data, they were not necessarily architected to safely store data. Today there's not just a rift, but a chasm between where data privacy technology, processes, and regulations should be and where they are, thus creating massive amounts of "privacy debt."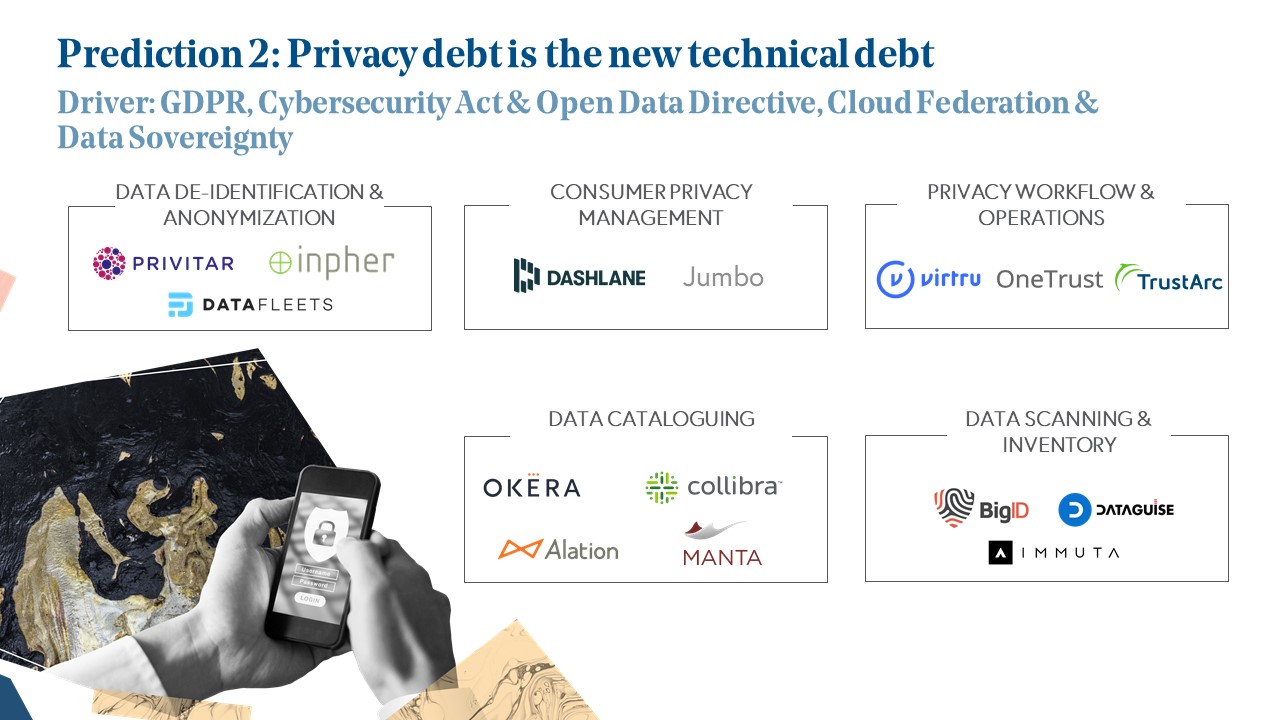 Like technical debt, privacy debt requires reworking internal systems to adapt and build to the newest standards, which will not only make consumers happier but also make companies better. Thankfully, this is happening in an emerging field called Data Privacy Engineering. This is a new category of technology that'll help enterprises large and small comply with global privacy regulations and help protect consumer data.
At Bessemer, we've already invested behind this prediction with companies like MANTA, the data lineage leader, BigID in the data scanning and inventory space, as well as consumer privacy protection tools like Dashlane, a company that was originally founded in France.
Prediction 3: Entering the age of automation at scale
As we've seen a proliferation over the years of software tools, we see automation as the solution for managing these growing complexities. Approaches to this are taking multiple forms. One of the most well-known is Robotic Process Automation, by which software "bots" are programmed to complete low intelligence tasks. We've seen companies including UiPath and Automation Anywhere emerging as leaders in this space.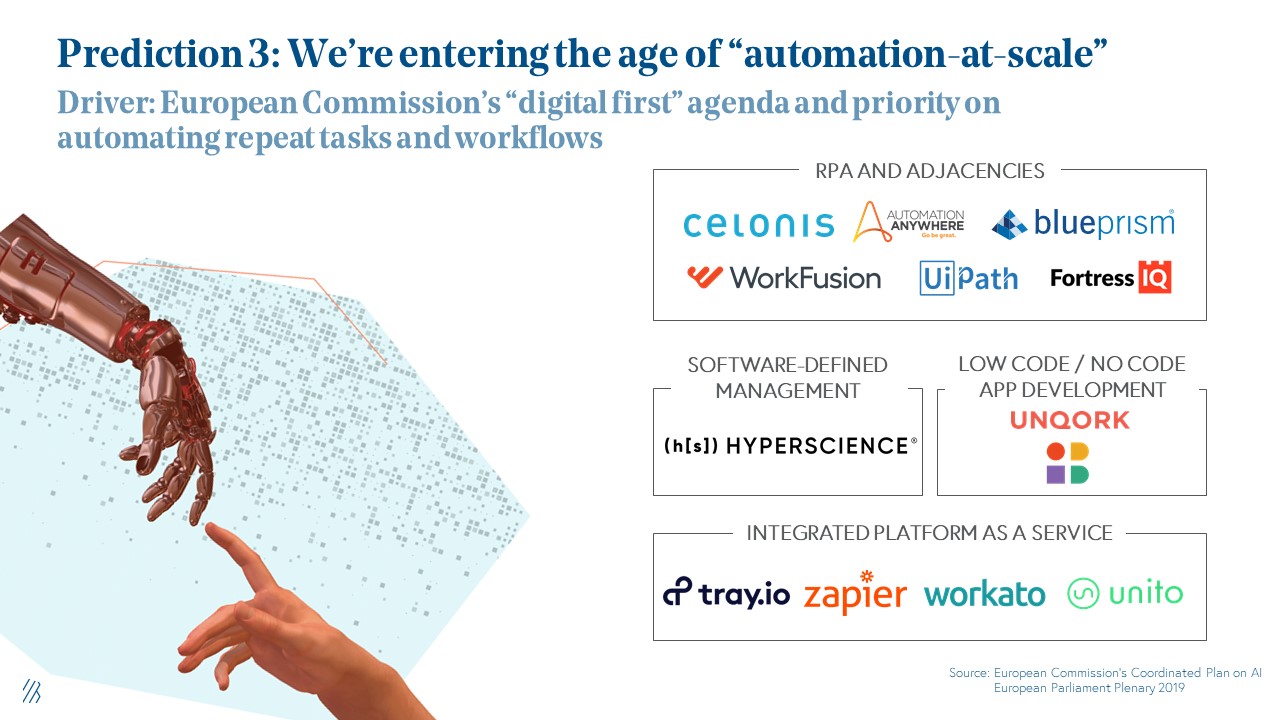 Another is Software-Defined Management, championed by the company HyperScience, which automates entire business processes via application building blocks in order to increase labor efficiency and to trigger enhanced human-machine collaboration. Interestingly, we've seen strong vendors coming out of Europe, such as Celonis in the process mining category from Germany, as well as UiPath, from Romania and BluePrism, from the UK. We're candidly not quite sure exactly why Europe has taken the lead on developing these automation companies over places like the US, but between these companies we think Europe is already a leader in automation and welcome feedback from founders on this area.
Prediction 4: Sustainability goes mainstream
In the past few years, climate change has become impossible to ignore, and Europe and their environmental activists such as Greta Thunberg continue to be role models for the rest of the world. We are seeing consumers and enterprises becoming more socially and environmentally responsible, putting sustainability as an integral part of the mode of operations with new solutions to help transition industries to become more green.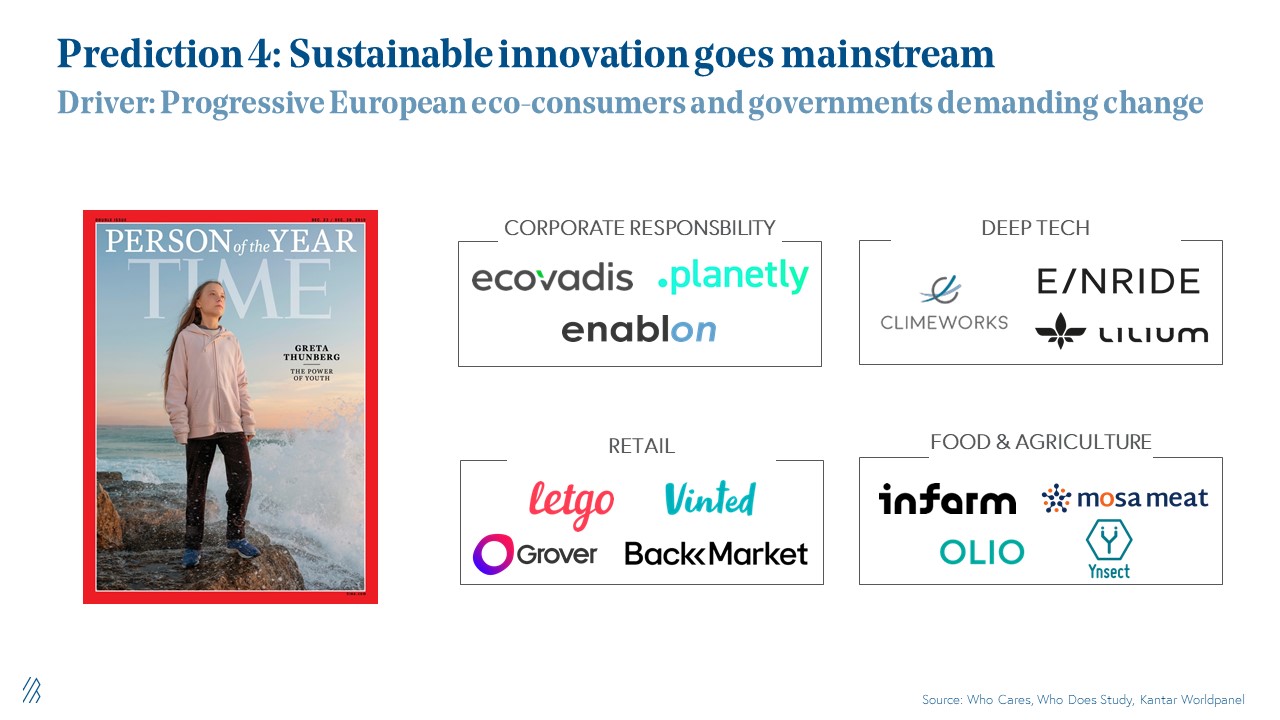 We think sustainability will be and already is a defining theme in Europe. As we saw with Greta Thunberg when she sailed from Sweden to the U.S. last year, a new class of "eco consumers" are demanding sustainable goods and services led by European companies such as Vinted in the second hand clothing space, or Mosa Meat, a pioneer in the clean meat industry.
At a regulatory level, Europe is a leader in sustainability with the passing of the European Green Deal and the formation of Paris Climate Agreement. As in the world of data privacy, we expect European regulators will set global standards in this domain and usher in a new wave of corporate social responsibility, affecting the way enterprises manage their teams, understand their supply chains, and ultimately manage their global footprints.
Prediction 5: Fintech as a service becomes ubiquitous
Our final prediction is about the extension of financial services, once typically stand alone applications, now being "embedded" into cloud software. While the trend has played out across the world, Europe has always been a leader in innovation in financial services. In fact, fintech is Europe's largest investment category, receiving over 20% of all venture capital in the region. This capital, along with unique regulations allowing companies to passport financial institution licenses, has led to European consumer fintech leaders like Monzo, Revolut, and Transferwise.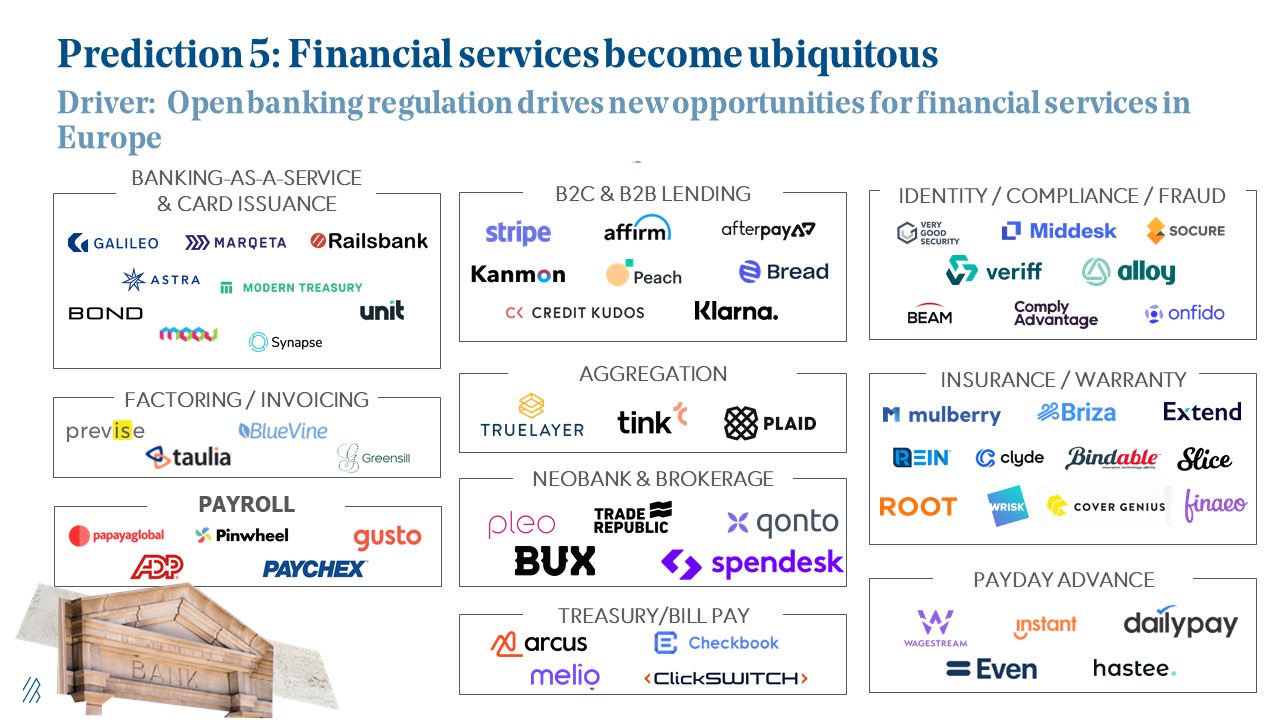 In addition, given Europe's recent passing of new PSD2 Open banking regulation, we expect a new range of applications to be built on top of newly available bank data, and largely embedded in consumer and enterprise applications.
These fintech infrastructure companies are transforming the technology and financial services industries through APIs, enabling virtually any software company to offer financial products directly to their end customers through embedded fintech, whether through banking as a service players like Railsbank to B2B payments like Melio Payments. In 2020 and beyond, we think fintech will be everywhere.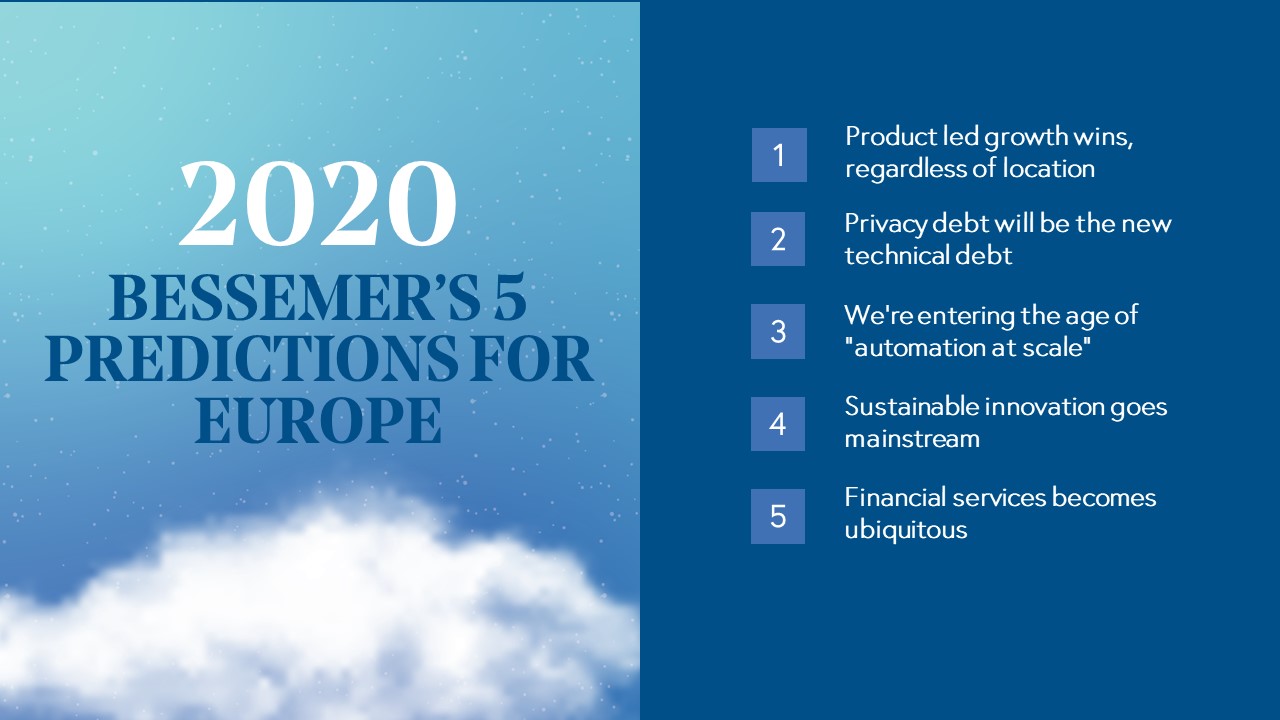 Today Europe's tech ecosystem has the right combination of capital, founders, and technical talent to drive the next phase of innovation throughout the region. As knowledge work increasingly becomes more remote, cloud connectivity is foundational for digital operations, both for large enterprises and upstarts across the globe. Just as Sir Henry Bessemer in the United Kingdom discovered the Bessemer process and helped create the infrastructure for the next century, we're hoping to fund the inventors across Europe that'll have the same indelible impact as our firm's namesake. If you want to get to know our Europe team, half of whom is now based in London, please reach out to Alex Ferrara at mailto:alex@bvp.com and Dhruv Jain at mailto:djain@bvp.com.