The Rise of SaaS in India
Cloud innovation has been a global endeavor for more than two decades, transforming entire industries—now, India is an emerging global leader driving technological innovation and noteworthy entrepreneurship.
Software-as-a-service continues to accelerate around the globe as industries and businesses shift toward cloud-based environments. With digitization increasing year-over-year due to an increasingly hybrid world, SaaS startups founded in India have seen significant growth in recent years. Projected to be valued at $50 billion by 2030, India's SaaS market has reached a critical inflection point as venture dollars deployed in the region reached $4.8 billion in 2021.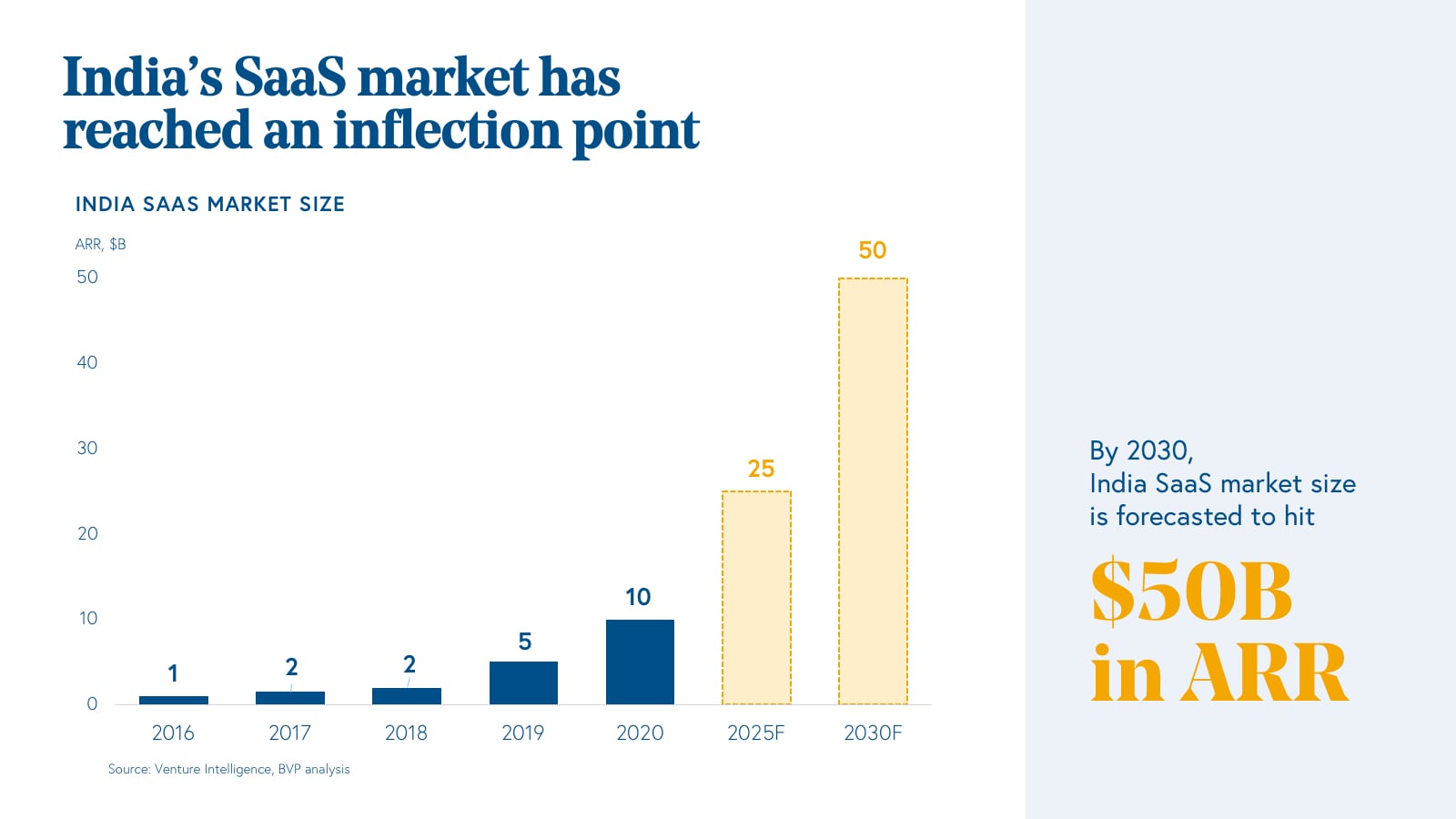 At Bessemer, we define India SaaS as any company building cloud software in India.  This includes companies selling primarily to Indian customers, such as Perfios, Lentra, DarwinBox, and companies selling primarily to global customers which include names such as Freshworks, Zoho, Gainsight, and more.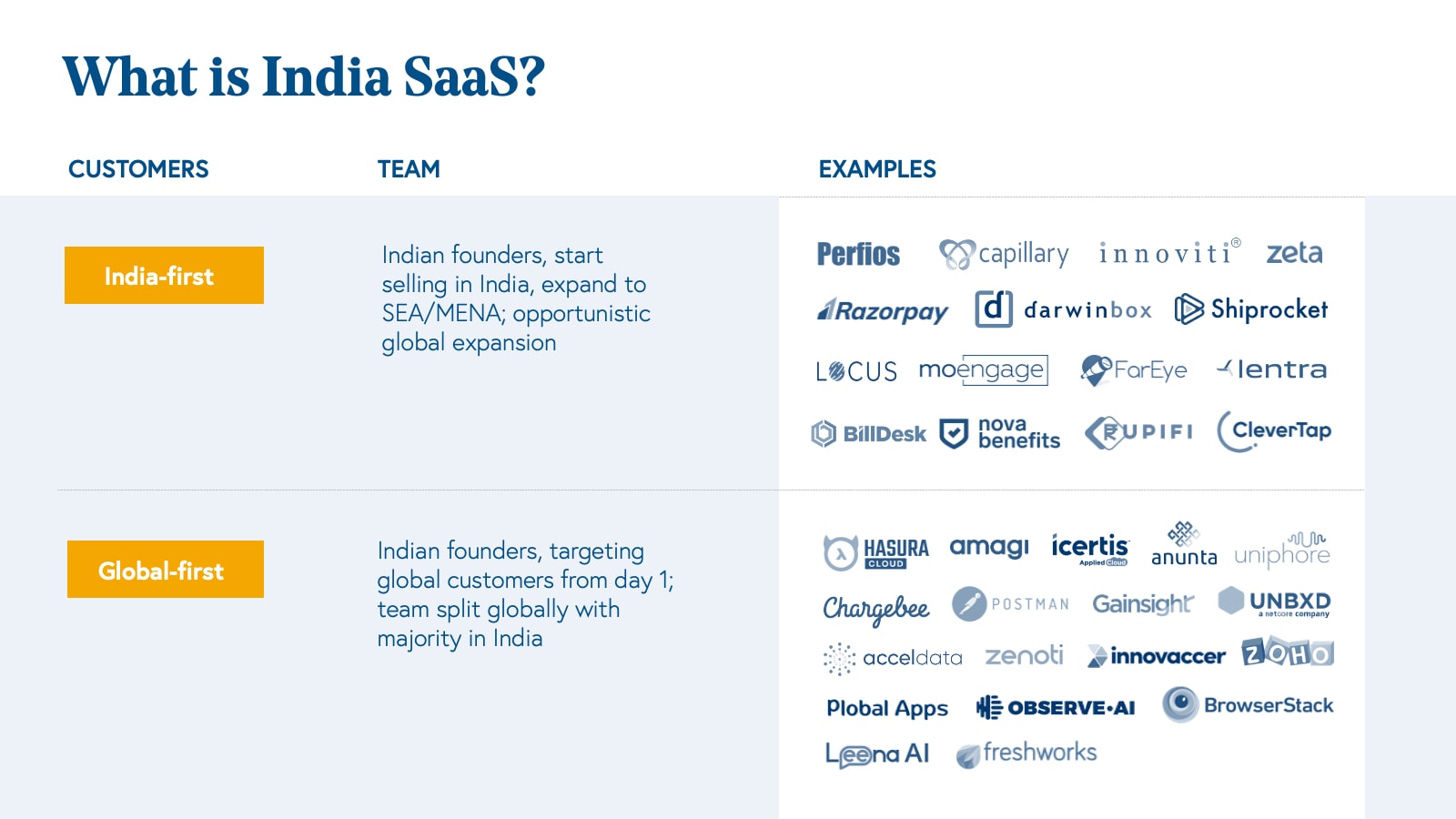 Today, there are tens of $50 million-plus revenue companies that fall into "India-first" and "global-first" businesses, but oftentimes they all begin with selling to the India market and expand into adjacent or other regions. Having been investors in the entrepreneurial ecosystem within India for 15 years, we know that there's no better time to invest in the region.
In this report we explore: 
India SaaS—why now?
The India SaaS market has reached a significant inflection point due to three macro forces driving innovation.
Digital rails. The emergence of digital rails for large industries has spurred development across a number of large industries, such as financial services (e.g. Aadhar and UPI). What this means is that over 1 billion people in India have unique digital identities and all banks and financial institutions are connected through a common transactional back end which is also linked to the same identity. Software companies are now building products and solutions for banking and financial services on top of these commonly accepted rails and standards. A similar trend is also happening in other industries, including healthcare through the national digital health stack, retail through ONDC, logistics through eWayBill, and FastTag, among others, etc. Today software companies can build products and solutions for Indian enterprises on top of commonly accepted rails and standards, leading to faster adoption and rapid growth.
Smartphones. With the rise of mobile internet, over 700 million people (and growing!) have smartphones in India, and similar to other regions, they use them for work as much as for their personal lives. Today, more people in India are using smartphones as compared to laptops or desktop devices. As smartphone usage for business becomes ubiquitous, cloud software companies are emerging to build productivity and business enablement tools for mobile devices.
Digitization. The rapid acceleration of digitization across all industries due to the global pandemic, has furthered digital sales in both goods, services, and software. During the pandemic,  nearly all cloud software sales have been virtual (i.e. conducted over Zoom or another platform) leading to a new normal of software sales. This means that Indian SaaS companies can now target global customers sitting in India without the need for an elaborate global office setup.  Many global SaaS leaders from India, including Zoho, Freshworks, Browserstack, iCertis, among others, gained significant traction because of virtual selling.
With these macro changes picking up speed, India's SaaS market has gained the attention of the venture ecosystem, too.
Signals of traction in the India SaaS market 
2021 saw almost $4.8 billion invested in India SaaS companies, which is up nearly 3x from 2020 and a staggering 6x from 2018. Similar to U.S. venture-backed businesses, increased funding into SaaS startups has driven the rise of new Unicorns, as businesses gain fresh capital to drive growth, traction, and efficiency.
In the last three and a half years, the number of SaaS Unicorns in India grew from a mere two businesses to 20. And in the first four months of 2022 alone, India saw four new names added to this list. (Not to forget to mention that 40% of Unicorns in the India SaaS market are recognized on the 2021 Cloud 100, indicating the strength and quality of these businesses.)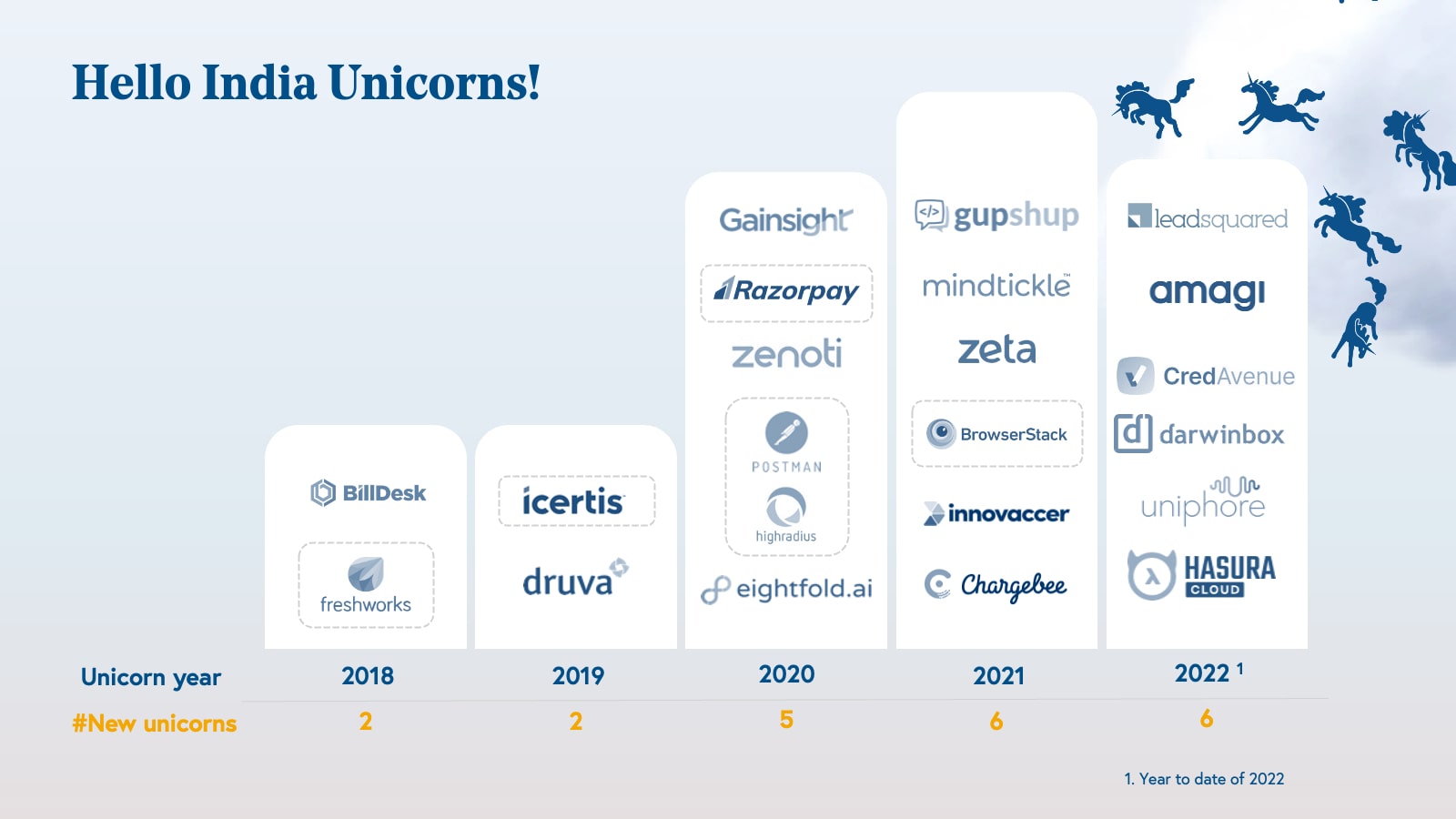 From 2020 to 2021, the India tech market saw 267% increase in new unicorns. Last year alone, ~44 India unicorns were minted across different industries.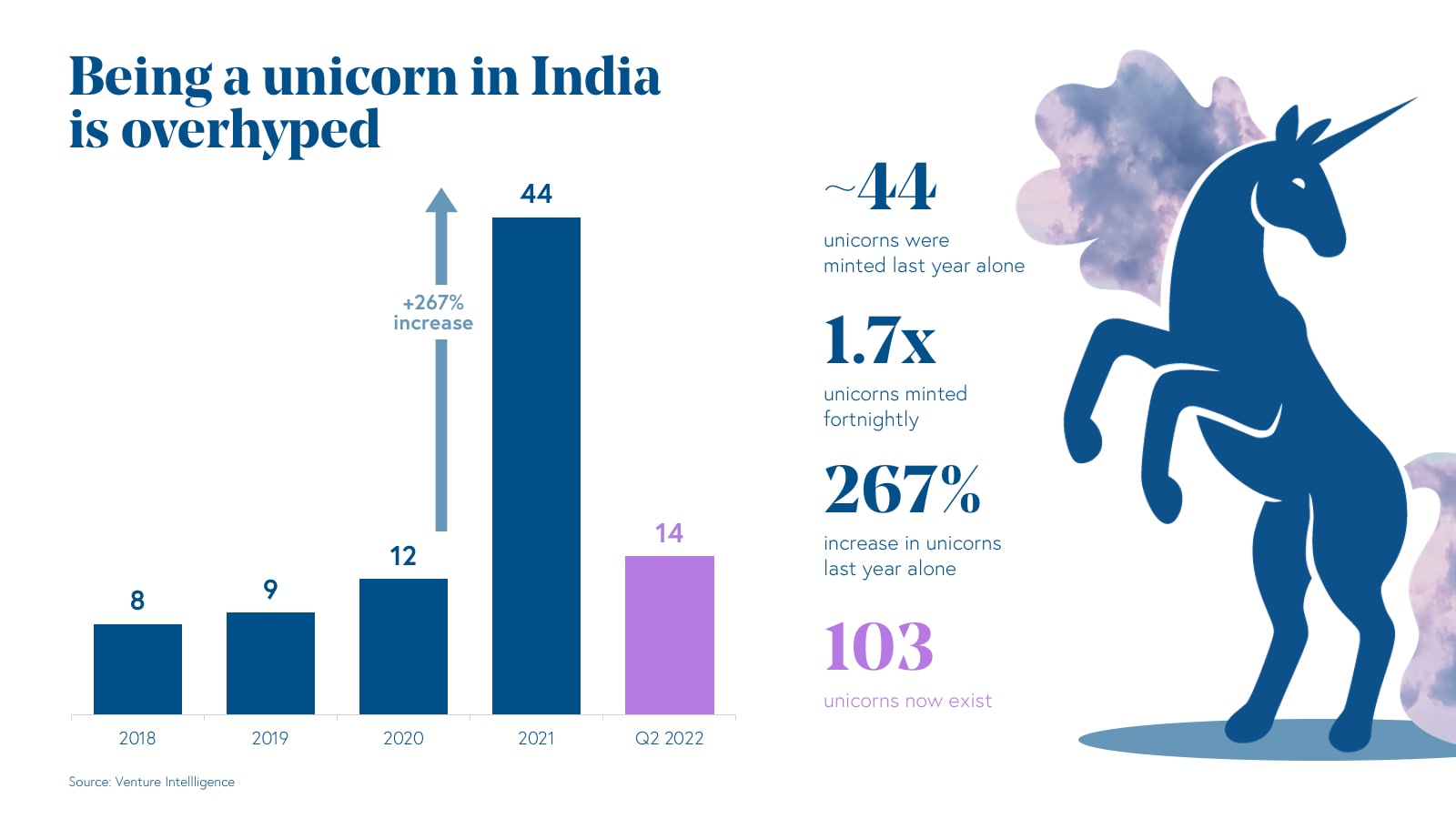 But as we explore in this year's State of the Cloud 2022, Centaurs—SaaS businesses that have crossed the $100 million ARR mark—is a new milestone of success in the cloud world. And from our research we see how eight  of these names such as Zoho, Icertis, Highradius, Browserstack, Druva, Eightfold.ai, Billdesk, and Gainsight are known to be part of this elite cohort of cloud businesses in India as compared to just one a few years ago.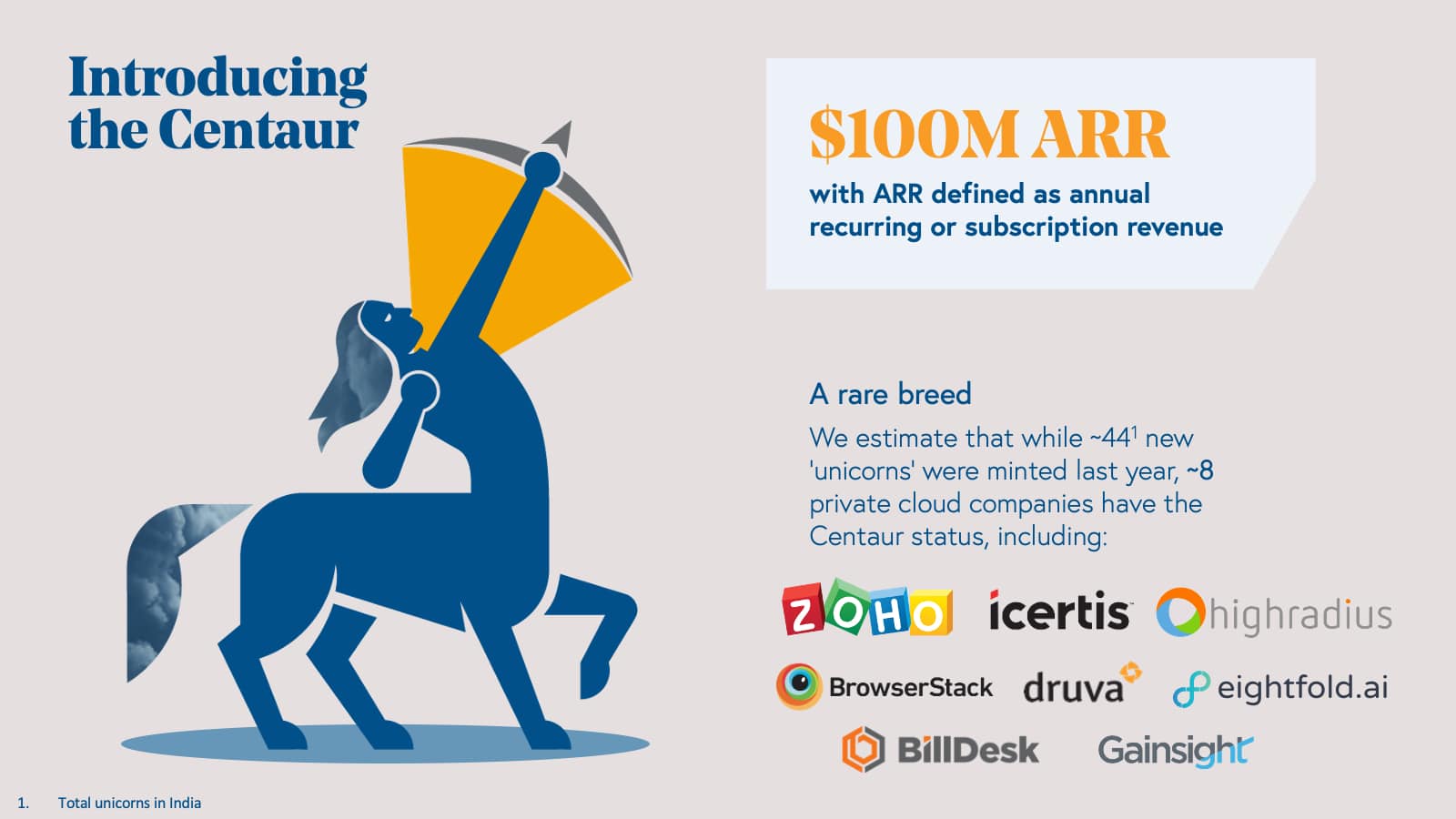 Another key signal of traction within the India SaaS market is the growing cohort of maturing businesses. Since 2015, the number of private SaaS companies in the region at the $100 million ARR milestone has increased steadily from approximately two businesses to just under 10.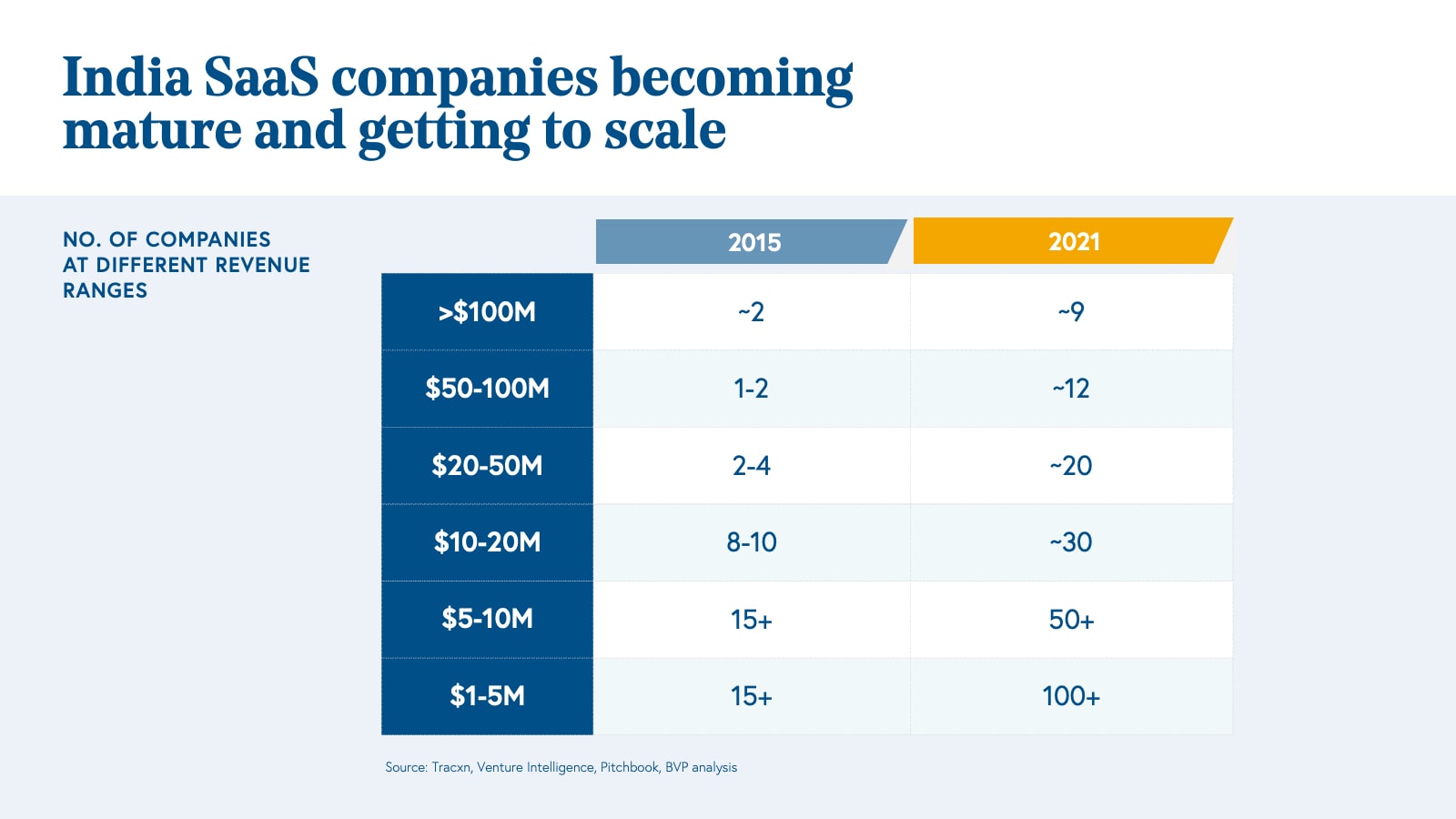 While it is still early days for the ecosystem, we've seen significant growth in the number of early stage companies that surpass $10 million in revenue. Six years ago, we identified approximately 30 businesses with revenue over $10 million, and today we see that number hitting beyond 70 companies.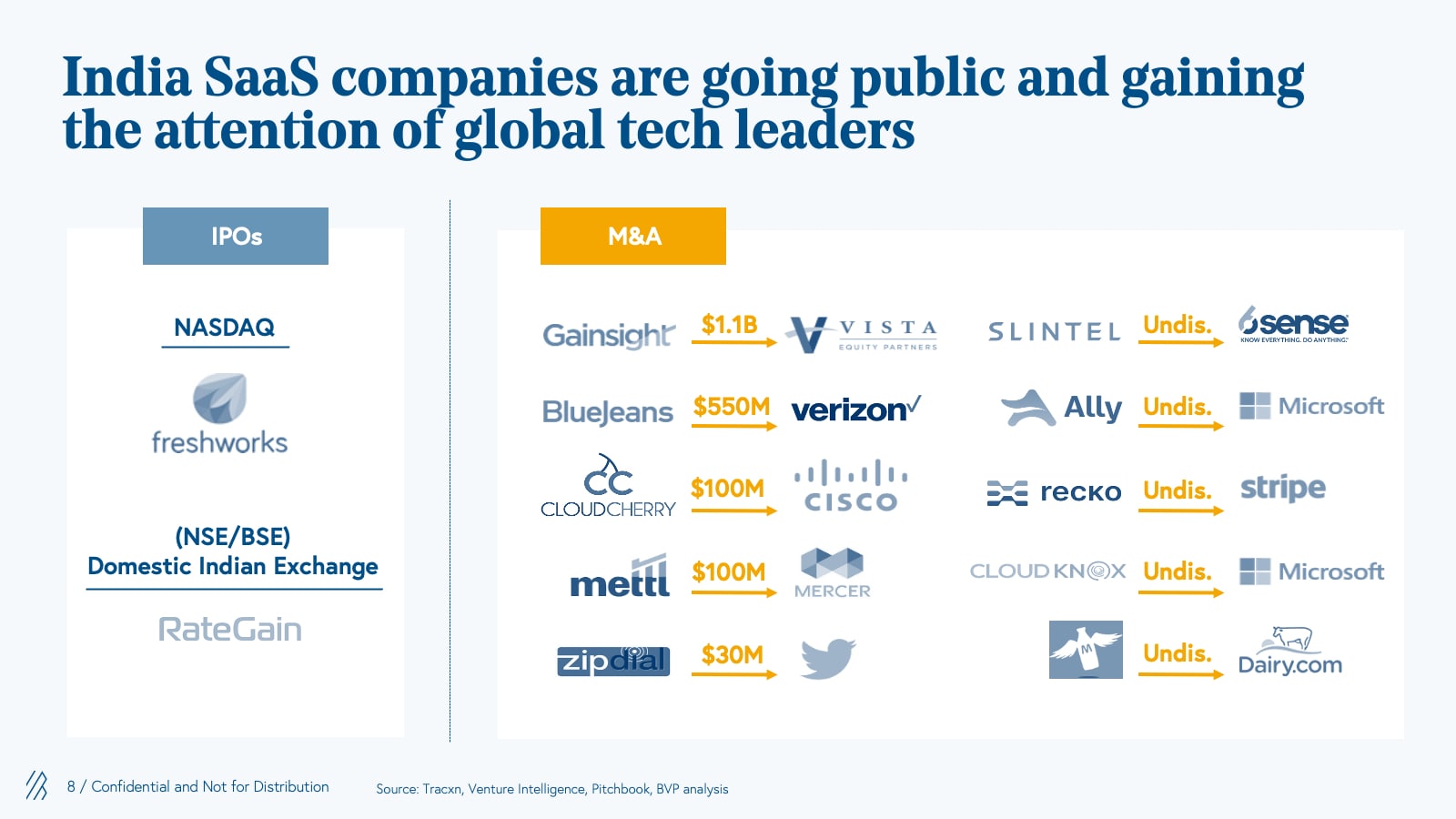 These scaled-up SaaS companies are also attracting attention from global and local public market investors. In the last eight months, we've witnessed two IPOs coming from both the local and global market (e.g. Freshworks and RateGain, respectively) and a number of global strategic M&As.
Insights and observations of India-based startups
From our time investing in the region, we've identified two clear trends that differentiate India SaaS businesses from their U.S. and global counterparts.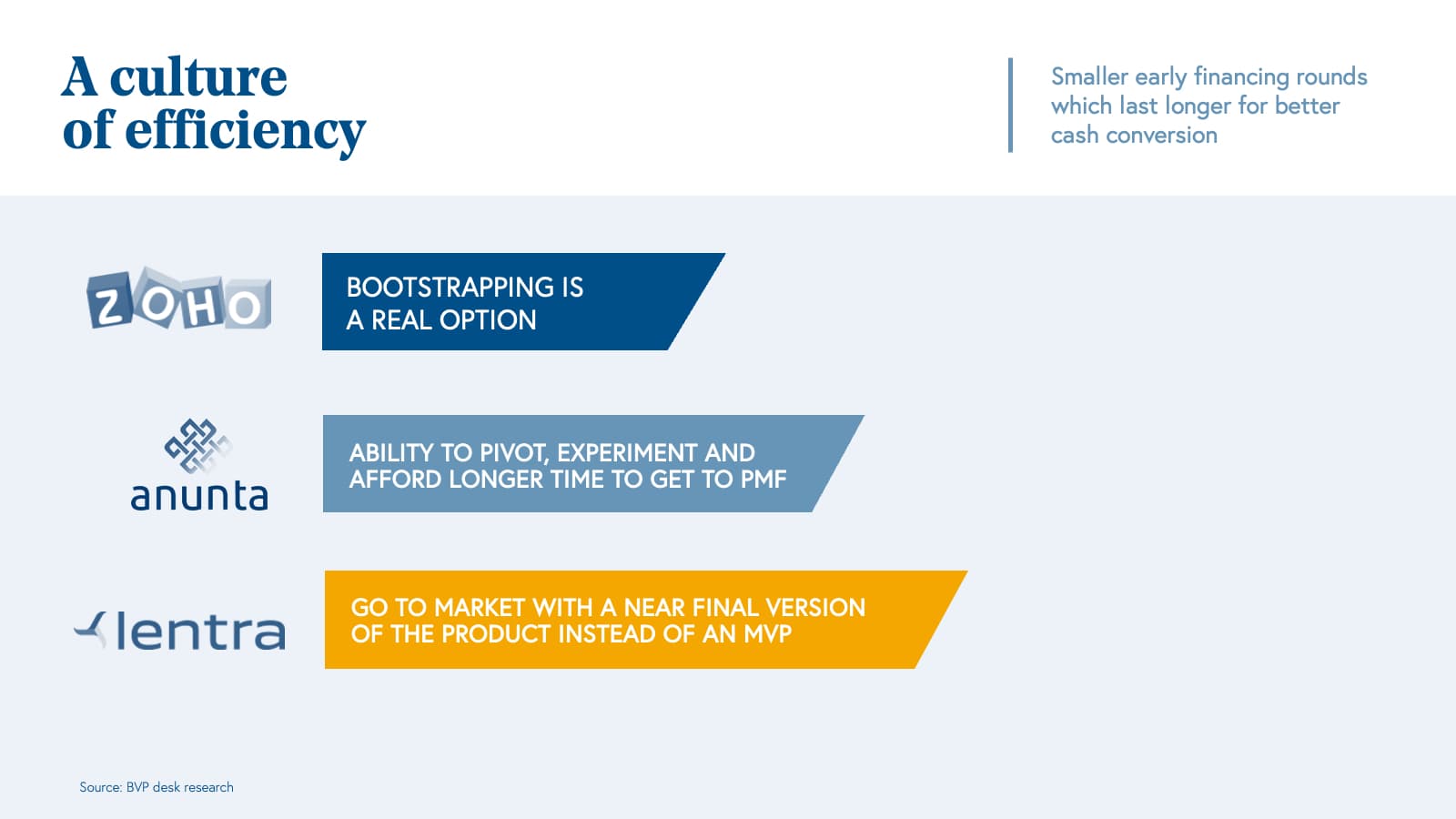 The first key characterization of India SaaS businesses is the "culture of efficiency" within these startups. This means that companies can get up and running and scale with much less capital than their global counterparts. For example, Zoho has crossed half a billion dollars in revenue without taking a single dollar of venture money. They were able to achieve this by building a full suite of products ready for market that made the platform more valuable for its customers from the onset, driving increased engagement and improving outcomes early on. With this approach, seed and Series A rounds last longer and companies have more time and cash buffer to get to product-market fit. In fact, most Indian SaaS companies go to market with near final versions of their product rather than a minimal viable product (MVP) and they often do so by burning less than $2-3 million dollars.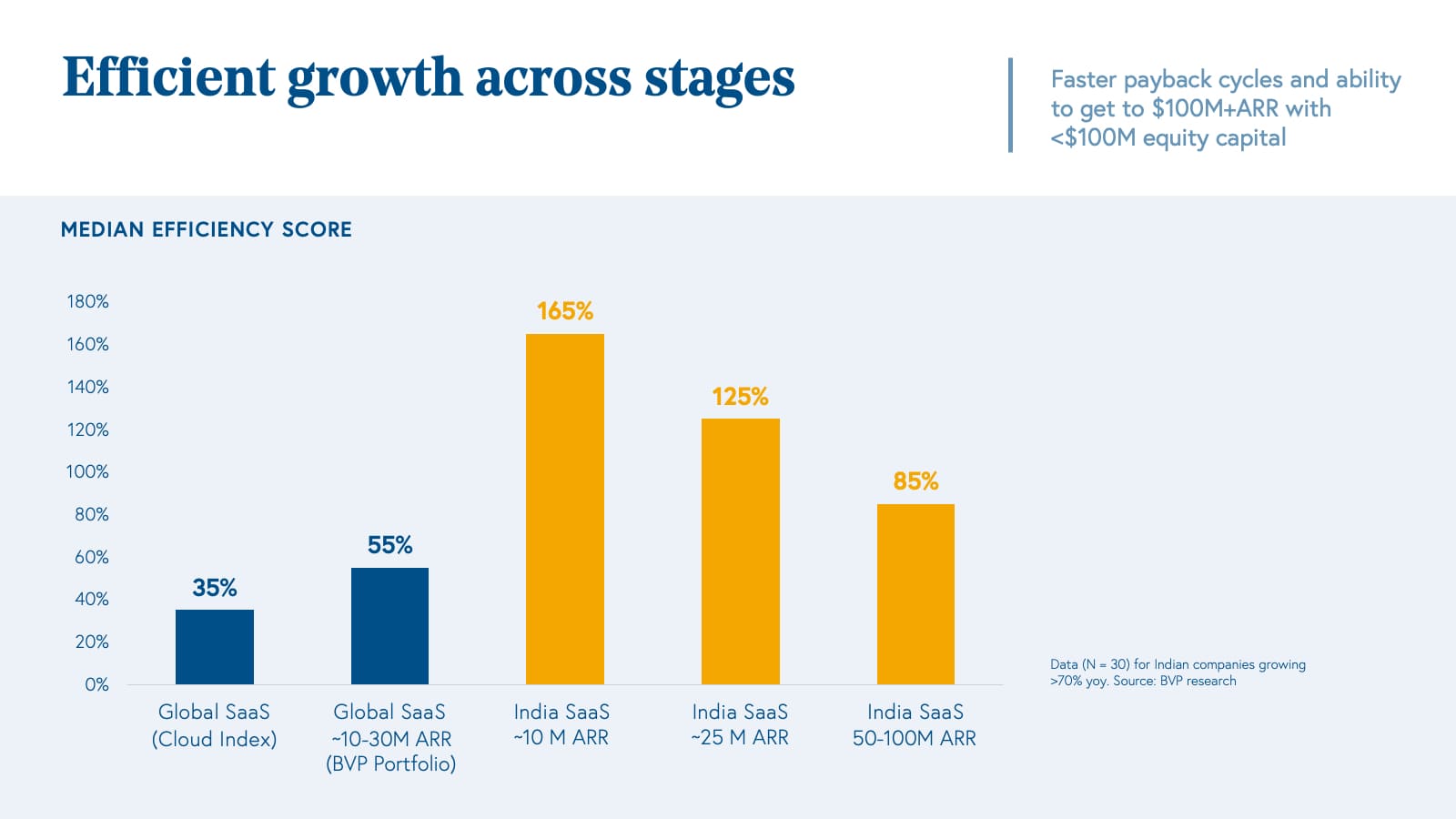 Based on our limited data, early indicators show us that Indian SaaS businesses tend to be far more efficient than their U.S. counterparts. Most best in class SaaS companies in the global SaaS market have approximately 70% sales efficiency at $10-$30 million ARR. As a business grows its revenue,  efficiency drops to about 30-40% by the time the company reaches scale (e.g. $100 million ARR). 
In other words, when we look at the The BVP Nasdaq Emerging Cloud Index,  the median efficiency is 35-40%. Comparatively, most Indian SaaS companies run at 80 -100% or higher sales efficiency even when these businesses approach $100 million ARR. 
Best in class early stage Indian SaaS companies usually have 150%+ efficiency. This means most Indian SaaS companies will spend less  than $100 million to get to $100  million in revenue. Across the number of businesses we've gotten to know in the region, the ability to break even at 10 million dollars of ARR is far more common. Leaders tend to raise capital only when the business is primed for hyper growth. Oftentimes, we've observed Indian SaaS businesses are inherently more capital efficient than their global counterparts.
Another unique trend we see in SaaS businesses in India is that they build products faster and much earlier in their lifecycle. For example, often U.S. SaaS companies will wait for one product to get to approximately $30-$40 million ARR before thinking of new products. India businesses often start creating their second and third products even before the first product has reached $5M ARR. For instance, this was the case with Zoho and Freshworks. Both companies have tens of different products and they built them early in their growth trajectory as a business, aiding in customer engagement. What's also noteworthy is that India SaaS businesses also set up a personalized sales and customer success function for every customer to drive higher net dollar retention.  Achieving higher net dollar retention (NDR) leads to sustainable growth and higher value creation as customers are not only more engaged, but also increasing the amount they spend.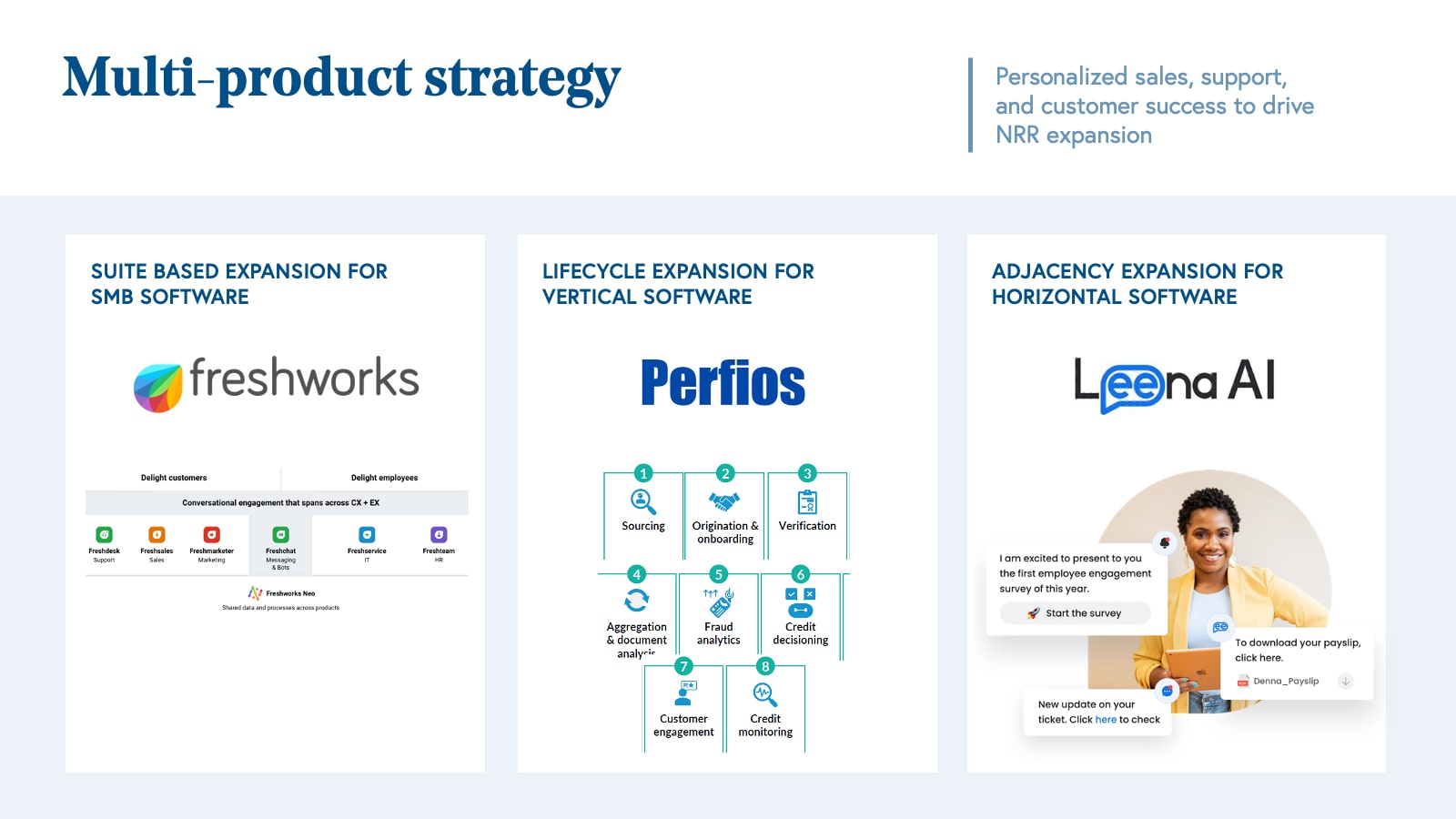 We've seen a number of different avenues that help a business achieve a multi-product strategy: 
Build a suite of products for underserved SMB customers and scale them through the product-led growth model (e.g. Freshworks, Zoho) 
Expand the business into different areas of a broader industry (e.g. Perfios served a small sliver in the lending business, and now has broadened its product offerings to serve customers across different stages.) 
Own the entire domain (e.g. Leena AI, for example, started off with one HR module and has since built products to ensure the entire HR function.
Evaluating India SaaS businesses
While the fundamentals of evaluating SaaS businesses don't change across the world, we believe benchmarks and standards may change depending on the specific geographies businesses get their start and the unique qualities that drive the market.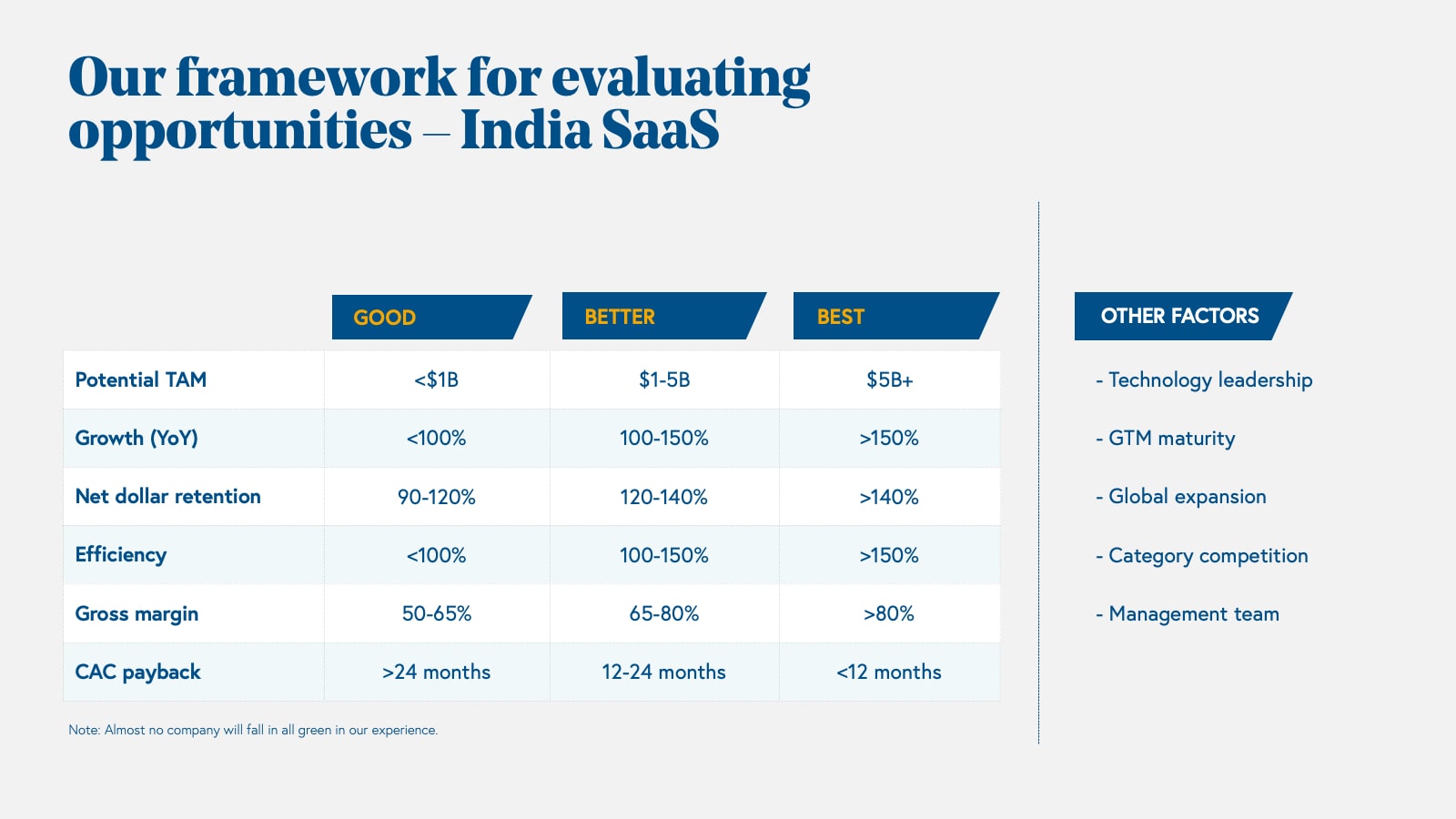 Our Good, Better, Best framework for evaluating India SaaS opportunities is focused on the operating metrics of business. For example, we assess businesses based on TAM, Growth, Net Dollar retention, Efficiency, Gross margin, and CAC payback. In addition, we look at other qualitative factors such as the company's leadership, product innovation, GTM maturity, opportunity to expand globally, and whether a business is creating a new category. All of these metrics are the same as what we would look at globally in any software business. However, we believe that the benchmarks for some of these metrics could be quite different for an India SaaS business. 
For instance, the India SaaS team at Bessemer pays special attention to two metrics: Net Dollar Retention and Sales Efficiency. In India, given the base NDR and Efficiency are so high, we believe the bar for companies on these metrics should be even higher than some of its North American or EMEA counterparts. For example, best-in-class efficiency scores in India are above 150% and NDR can exceed 140%.
India SaaS predictions
Prediction 1: Rise of global category creators and leaders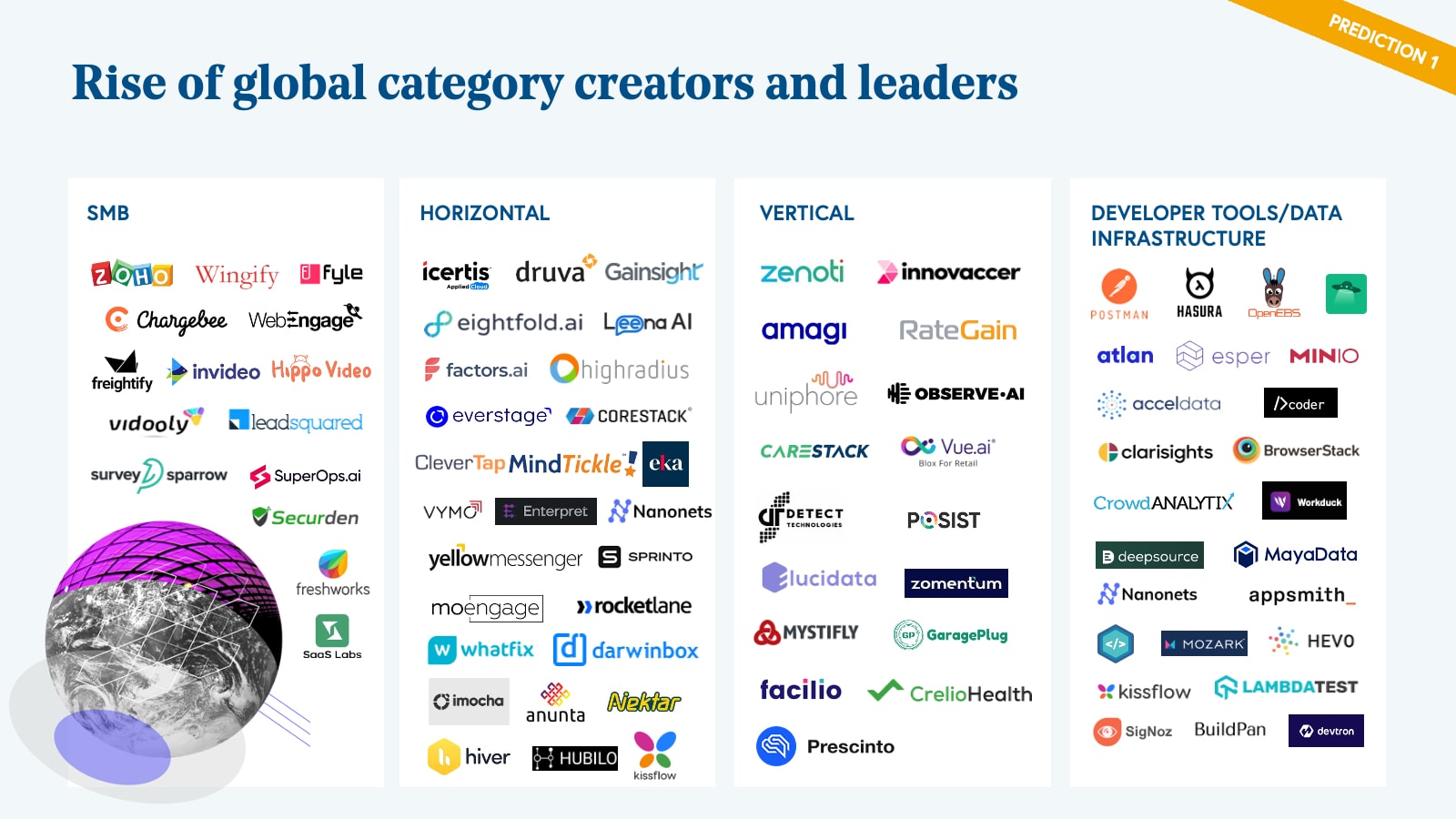 We believe global market leaders will be created from India across software categories. There are several category leading SaaS companies that have already emerged from the region including Zoho, Freshworks, Gainsight, iCertis, BrowserStack, Postman, Hasura, Amagi, Zenoti, and more. These examples have helped foster an ecosystem of entrepreneurship so other leaders and businesses can benefit from the momentum and traction category creators have helped create.
Prediction 2: Fintech for all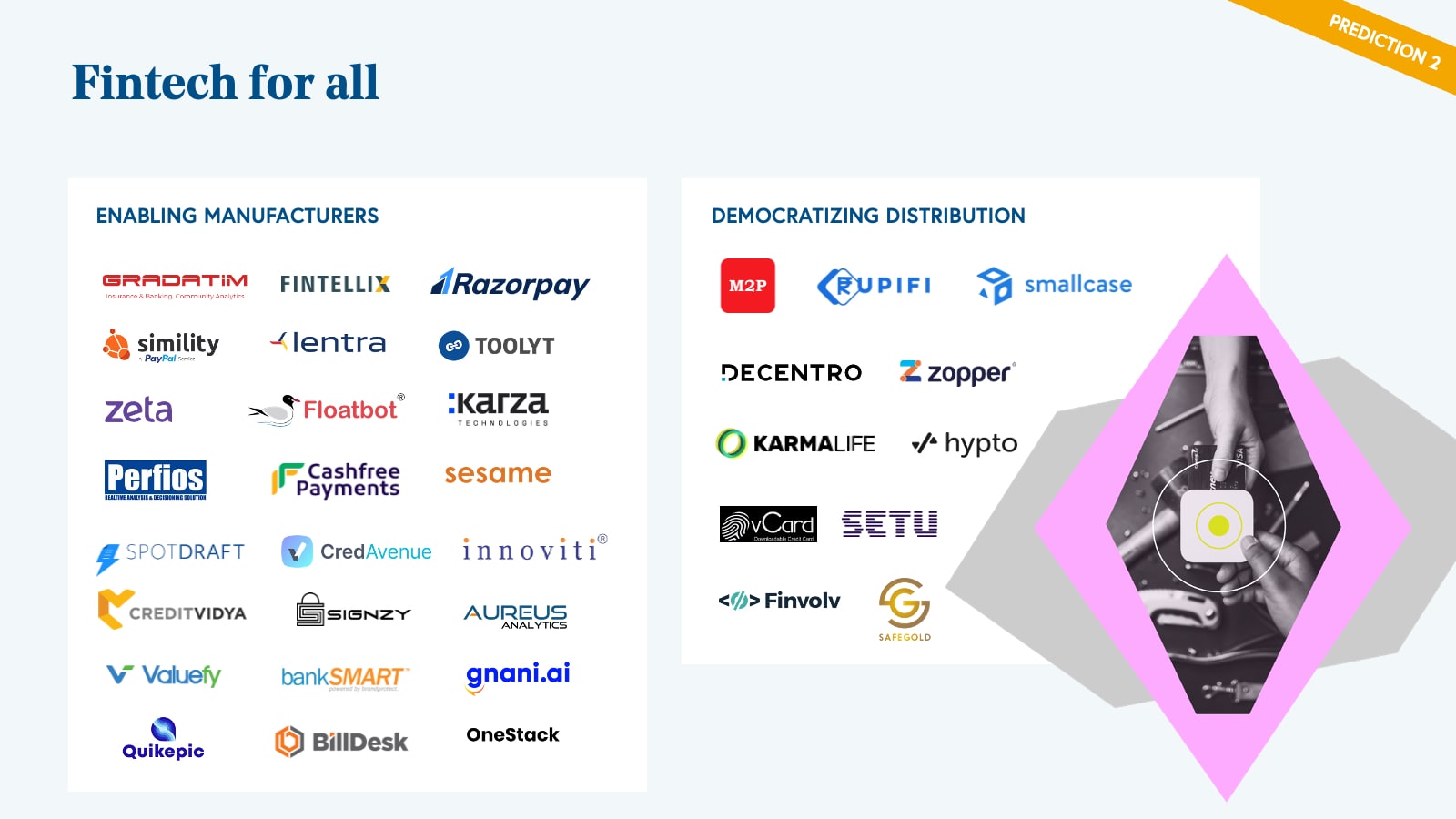 The fact that Indian financial services are underpenetrated amongst the population is not new. However, a new wave of new technology initiatives are in the midst of completely reimagining the Indian financial system as we know it. The most fundamental amongst these is Aadhar, which is the world's largest biometric ID system created by the Indian government to serve as a social security number-like digital identity for every individual. The unique Aadhar forms the basis of a digitally enabled bank account (Jan Dhan Yojana) as well as Mobile led financial transactions (UPI). In addition, several other enablers have been created including Aadhar led KYC, a Docusign like protocol called eSign, a dropbox like secure repository called DigiLocker and many others. All these initiatives have led to the creation of a uniform, standardized digital rails for financial services in India. 
We believe SaaS businesses built on these rails will lead to more innovation in financial services  and as a result the market will see the rise of two main trends: 
The first is the emergence of software products to support incumbent financial institutions like banks, insurance companies, asset managers (aka financial services manufacturers) to provide better service at lower cost across the country. We believe every step of financial service delivery will be reimagined by cloud software companies built on top of the digital financial rails of Aadhar e.g. products for easier KYC, authentication, underwriting, loan or insurance processing, credit monitoring, loan collections, insurance claims processing etc
The second is the rise of fintech solutions that allow every company to be a fintech company by providing banking as a service. One of the biggest hindrances to large scale financial services adoption has been the high cost of distribution. With the rise of the internet, more and more distribution platforms are emerging which can reach each and every pin-code of India. We believe that all these platforms will eventually offer financial services e.g. credit, payments etc to their consumers - something which will be enabled by new embedded finance products on the cloud.
Prediction 3: Enabling e-commerce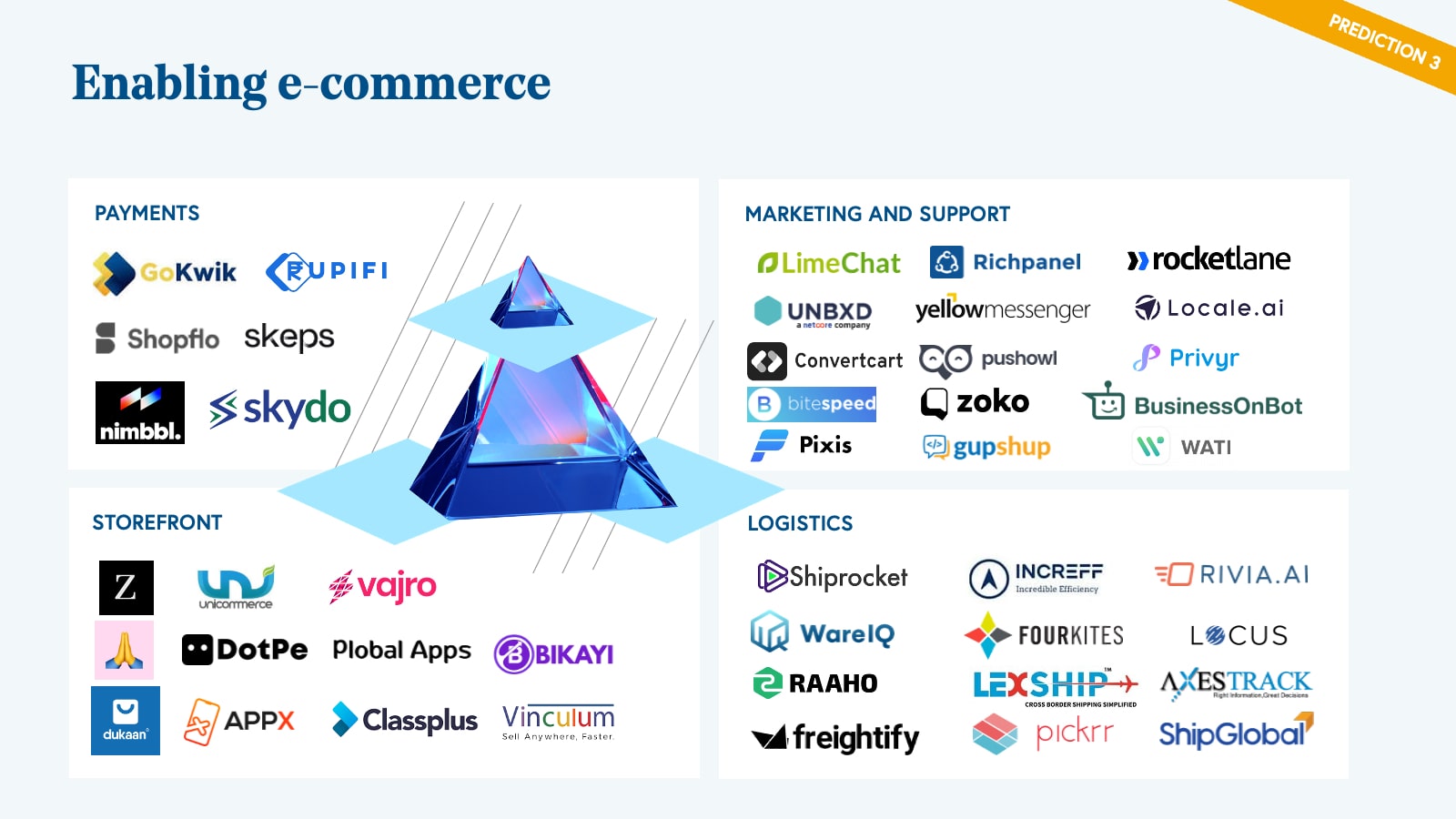 In the last decade, e-commerce has ballooned with almost  $100 billion of GMV transacted across different B2C, B2B, and B2B2C internet marketplaces, including the likes of Flipkart, Swiggy, Zomato, BigBasket, Pharmeasy, etc. This next decade will be marked by e-commerce going mainstream in India. We believe new software solutions will emerge to ensure even the smallest business can go online and serve every single pincode in the city with the same level of efficiency and customer satisfaction that these multi-billion dollar marketplaces have made consumers expect.
Prediction 4: Productizing services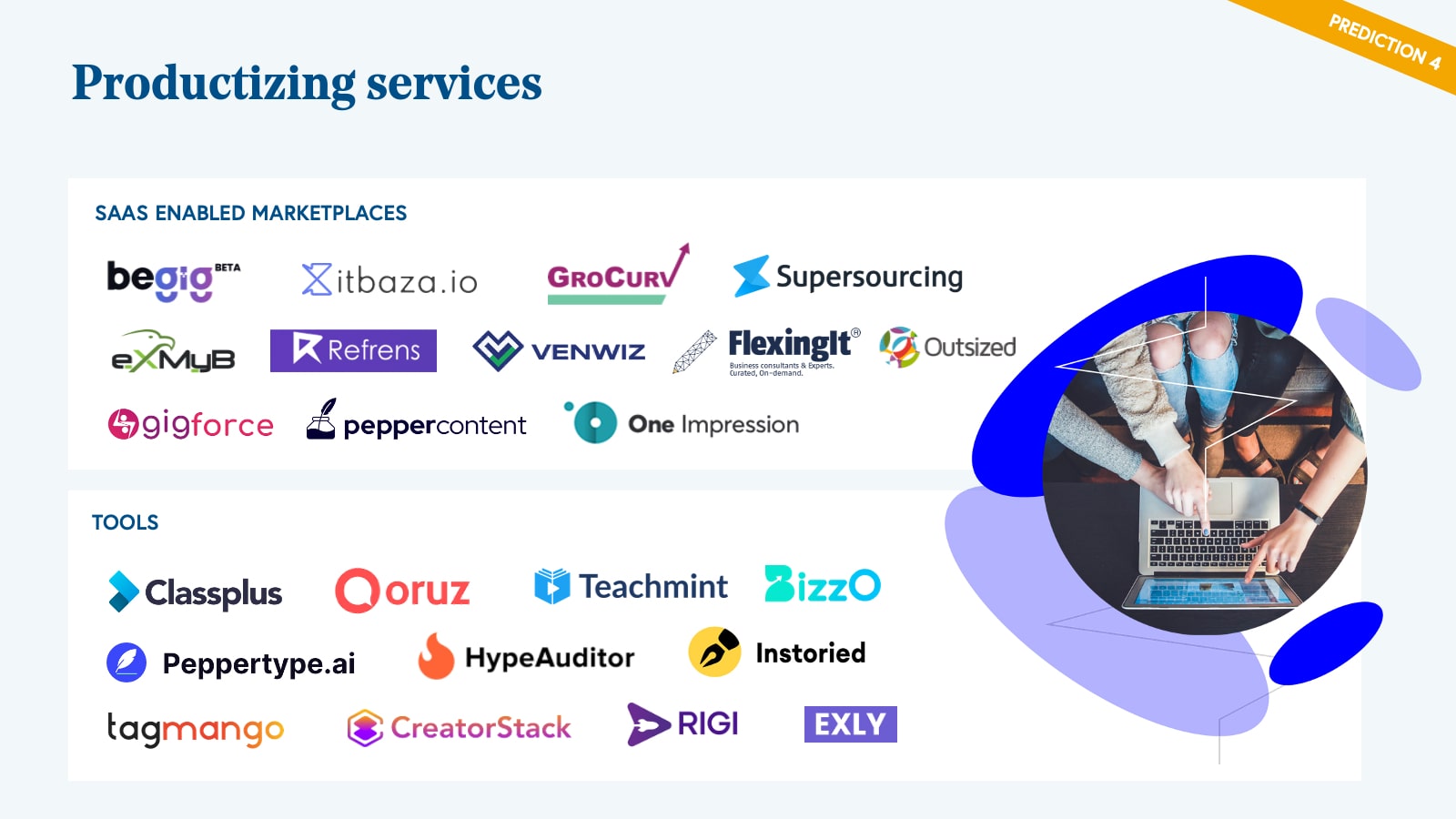 India is a services heavy economy with massive fragmentation in supply. We believe these services, particularly B2B services, will start to get productized as mobile internet penetration increases and as financial rails get standardized with ease of KYC and payments across vendors and customers. These software businesses could be pure software tools or software enabled marketplaces. Leaders in these businesses will use cloud software to organize the fragmented supply, standardize service delivery, increase transparency, and facilitate payments.
Prediction 5: Digitization of healthcare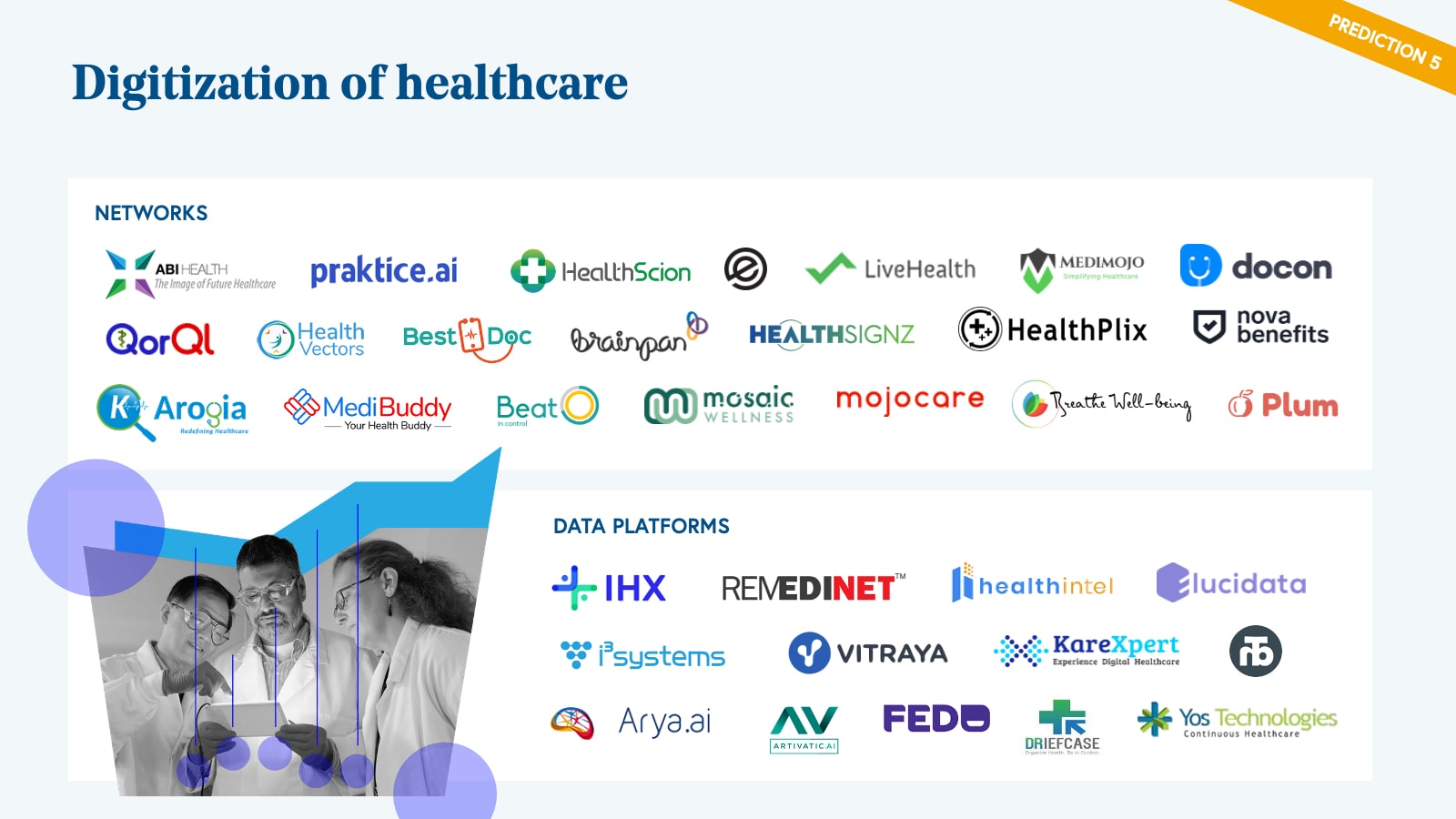 Sixteen percent of Indian families are one medical emergency away from poverty. Affordable healthcare, access to insurance, and financing are key levers that can change the overall standard of living for citizens in India. We believe the NDHM and Digital Health Stack will become the infrastructure upon which several new software businesses will emerge to increase insurance penetration as well as access to alternative forms of healthcare financing in India.
On the horizon
The India SaaS market is poised to become one of the globe's top centers of innovation in the next decade. With technical and developer talent on the rise, a growing entrepreneurial ecosystem, and increased venture funding we look forward to seeing how India founders not only build household names for the country, but also grow them into the next generation of global Centaurs. 
If you're an entrepreneur building the next great SaaS business in the region, we want to hear from you. Reach out to our team at IndiaSaaS@bvp.com.