Moving upmarket and the ascent of SMB SaaS
While most SMB SaaS companies will struggle to move upmarket, the potential reward is enormous, making it well worth the journey for the companies that can pull it off.
It's easier than ever to build and sell SaaS focused on small to midsize businesses (SMB), but achieving a meaningful scale often requires moving upmarket in today's competitive environment. Commonly, SMB SaaS startups focus initially on the smallest of business customers, which demands a product designed to deliver immediate customer impact with minimal effort from customer success. This approach facilitates a low-touch marketing and sales model that can accommodate the competitive pricing and withstand the higher gross customer churn expected of SMB customers. As venture investors, we ask critical questions, such as, "How will this SaaS startup leverage this initial success?" and "Where will they go from here?"
Conventional wisdom says that attempting to move upmarket will be a struggle with never-ending product feature requests and excessive demands of customer support. As a result, the idea of moving upmarket is often associated with fighting an uphill battle or the even more futile struggle of paddling upstream. But there are many SaaS product categories where the market leaders have emerged from the low end of the market by leveraging intuitive product experience and low-touch go-to-market strategy to undermine any 'higher end' competition.
These startups tap into product-led growth initiatives to gradually yet consistently move toward the enterprise to win larger customers, quarter after quarter, without ever forfeiting their command of the market's longtail. Most SMB SaaS companies will not break out of their customer category but, done correctly, product-oriented SaaS companies can use their customer-focus into an unfair advantage.
GTM strategies for SMB SaaS
There are two broad types of go-to-market strategies that SMB SaaS vendors employ that position them to make the upmarket ascent successfully:
Customer-pull SaaS: These SMB focused SaaS vendors tend to support many growth-oriented customers that invariably pull the vendor upmarket. This is most relevant in rapidly growing market segments such as e-commerce and online marketing (e.g. Shopify, Yotpo, Hubspot), a product category with high switching costs, such as finance, HR and payroll (e.g. Netsuite, Hibob, Papaya), or products applicable to both SMBs and enterprise departments (e.g. Tableau, Sisense, Gong). In each instance, the customers' business growth creates a natural upward pull on the SaaS vendor's product roadmap.
Bottoms-up SaaS: These SaaS vendors typically begin by targeting individual employees as entry points within an organization (e.g. Slack, Monday, SurveyMonkey, Notion), or targeting specific types of employees such as individual developers (e.g. Twilio, Zapier, Hashicorp) or salespeople. We've seen this especially in companies serving the developer ecosystem, where category leaders such as Pagerduty in DevOps, Cloudinary in media management, and LaunchDarkly in feature flagging employ a high-velocity bottoms-up sales motion to help the company gain momentum with specific teams or users and then expand within the organization.
I've invested in several startups that straddle the consumer, employee, and SMB divide, such as Wix (WIX), Fiverr (FVRR), Cloudinary, and Soluto (acquired by Asurion), and more recently I've invested in pure SMB product companies such as Yotpo, Hibob, and Melio. Watching what works and what does not has led me to put together a list of ten best practices to provide some guidance to the SMB-focused SaaS vendor.
1. Start within the SMB segment
The ascent upmarket should start comfortably within the SMB segment and does not require an expressed strategy to break out of the SMB segment. The universe of small business customers is considerably larger and more diverse than entrepreneurs typically envision, and the quantity of potential customers becomes the quality that distinguishes the SMB segment. The variety means that some SMB customers are more sophisticated and discerning with their technology choices than others. (If a prospect has a more developed relationship with business technology, that's likely a strong signal for a sales team.)
In most markets, the SMB segment is varied enough to allow a startup to win larger and larger customers every quarter without making the leap to mid-market or enterprise. While it's a long way to the top, a rapid ascent for an SMB SaaS business can be both unnecessary and destabilizing.
2. Follow your fastest-growing customers
The move upmarket should be natural and measured, driven by your largest or fasted growing customers. There is a real temptation to drop everything in order to chase "potential whales" that appear more likely to sign big deals and less likely to churn. However, the ascent upmarket can be derailed when these large customers demand substantial changes to the product, deployment process, or pricing in return for their generous patronage. New large customers are welcome, so long as they don't derail the existing GTM motion; in this case, all customers should follow the same purchasing trajectory as the rest of your customers, whether it's over the phone or the web.
Hibob, the HR platform for small to midsize businesses, has built its product roadmap in conjunction with its fastest-growing customers, letting them pull the product upmarket. This focus has allowed customers to quadruple in size without ever outgrowing the platform. Even then, the company has been careful to consider which customer feature requests are genuinely worthwhile, doing its best to avoid getting on a feature treadmill that will overwhelm product and R&D.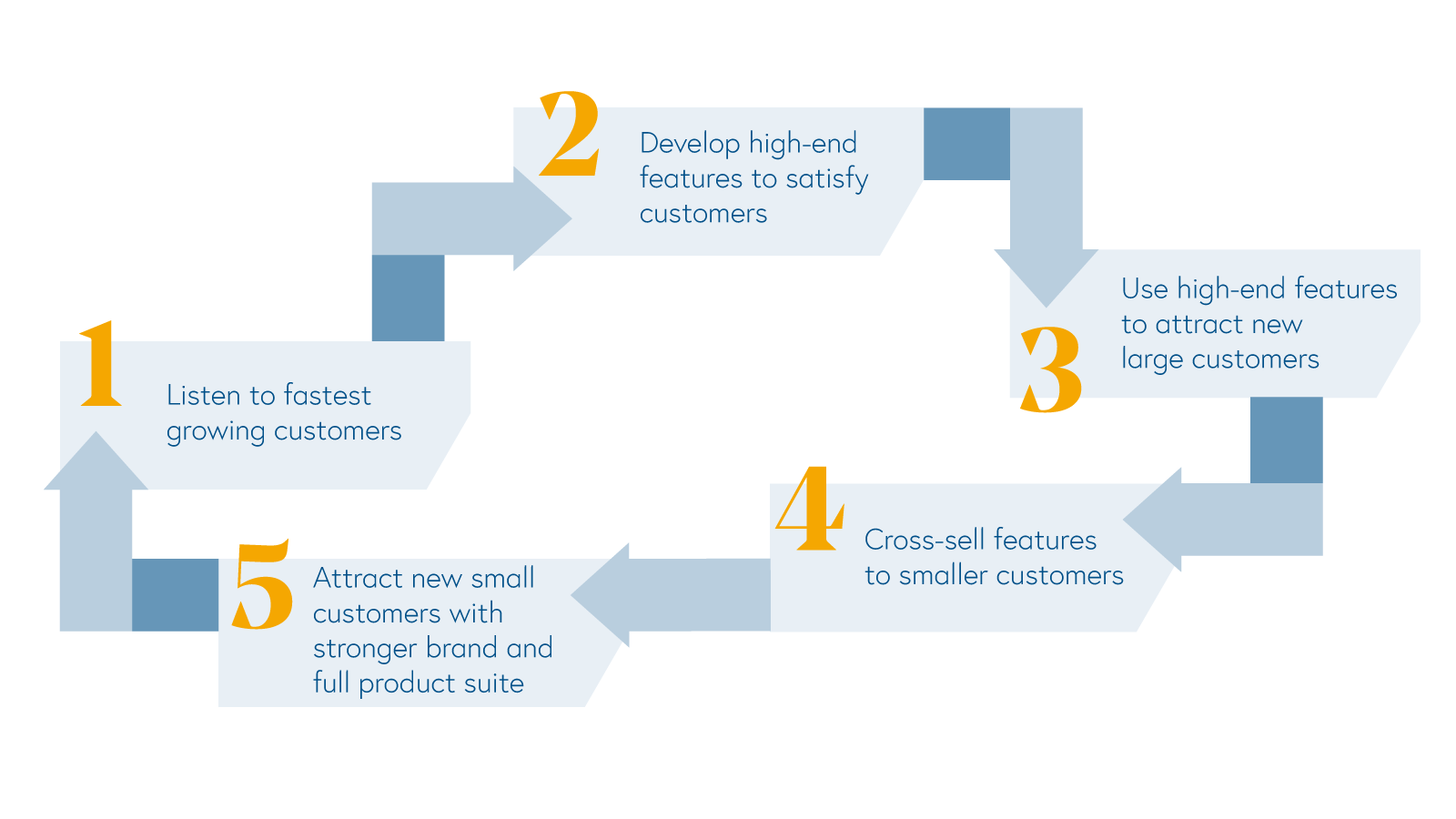 3. Lead the way with the product, not sales
If the pressure to move upmarket quickly doesn't come from your investors, it will come from the sales team that readily sells nonexistent product features, thereby commandeering the product roadmap. As difficult as it is to turn down large deals on this basis, the cost and distraction are too high, and the wins may ultimately prove anecdotal. Instead, the product organization, with the founders' guidance and support, should lead the way upmarket. In this case, companies should assess the value of large customers not solely by average contract value (ACV), but also by the size of the customer's organization or business. Placing too much pressure to move upmarket in order to drive a spike in ACV can distort and damage the business. As the startup strives to reach these high ACV deals, product, marketing, and sales teams shift their focus to a handful of large customers, neglecting the small business core, which should remain the mainstay.
Intercom, the conversational relationship platform, secured its foothold within the SMB segment by being maniacally focused on building a product that serves its customers' unique needs. Rather than building a product to seduce large customers, Intercom focused on their existing customers, many of which grew to become much bigger companies pulling Intercom into upmarket use cases and solidifying the company's market leadership.
4. Don't fork the product development
Over time, the move upmarket requires adding more product functionality, deeper integrations, enhanced security and compliance, and improved support, but nothing so radical as an 'enterprise product' that risks forking the product development in two. (At most, there may be a high-end module more likely to be purchased by large customers but built with the same SMB product design principles that worked so well to date.) Some companies have introduced a premium brand without actually forking their product development, which is what Shopify managed with Shopify+. In other cases, product packaging facilitated a higher-end product without completely forking the development. For instance, Cloudinary has been able to package many of its developer-focused APIs into products marketing teams can now also purchase.
5. Don't bifurcate the go-to-market engine
The ascent upmarket should be accomplished initially with only minor adjustments to the working go-to-market strategy, as startups are too small to split into business units. This approach may dictate the pace at which a startup aims for larger customers, as it is crucial not to split the business in two in order to implement the strategy. However, it is expected that many SaaS vendors will find that the sales organization needs a group of account executives or a dedicated SDR team for qualifying larger customers. Both are fine as long as this doesn't create a parallel GTM before there are signs of success.
6. Track the count of large customers
When executed gradually, and in response to the startup's own customers' needs, the move upmarket will be imperceptible to the broader market(not a bad thing). It may not necessarily translate into a rapidly rising average ACV (also not a bad thing). The metric to focus on is the growing number of "large" customers closed every quarter, with an eye on the higher net revenue retention typically exhibited by these large customers. Within reason, a startup shouldn't be discouraged by the longer sales cycle and higher cost of customer acquisition, as the lower churn and upsell/cross-sell potential should lead to a best-in-class LTV/CAC ratio. According to our many Good, Better, Best Frameworks for SaaS, LTV/CAC ratio should be no less than 3x, and superior rates are 5x or greater.
As an example, Yotpo, the e-commerce marketing platform, consistently has quarters where they break records for the largest number of high ACV deals, while keeping average ACV unchanged due to rapid expansion at the low end through self-service.
7. Use the upmarket product to generate downmarket dividends
The steady ascent upmarket not only enlarges the TAM but allows the SaaS vendor to expand its core SMB customer segment. Winning larger, more recognizable customers contribute to a stronger brand that improves conversion and shortens sales cycles. As customers become more sophisticated over time, they too will want the high-end features and modules originally developed for larger customers. This provides not only the ability to upsell and cross-sell more efficiently, but it also removes any cause for churn as the startup's smaller customers grow.
8. Don't forfeit the low end
The biggest risk of moving upmarket is abandoning the core small business segment and exposing yourself to the competition below. In moving upmarket, SMB SaaS startups must always watch their backs. This situation can be challenging as the product becomes bloated with advanced features and becomes more complicated for small customers to use, providing an opening for competitors to offer a more simplified product at a much lower price point, all the while leveraging a lot of your marketing groundwork and advertising on branded search results. This may require revisiting the base product feature set, the onboarding experience, and pricing. It may even warrant a dedicated product manager to work alongside Customer Success to see where onboarding friction appears.
Yotpo was deliberate in doubling down on its existing self-service offering, even as it won larger customers quarter after quarter. For some companies that may have neglected the low end in their ascent upmarket, it may be necessary to introduce a freemium or self-service model, as Hubspot and Datadog did to expand their engagement with the longtail. At the same time, every SaaS vendor must decide which longtail customers are not worth the effort given the weak unit economics, and therefore best left to the competition.
9. Ignore the enterprise competition
Properly done, SMB SaaS vendors can defeat enterprise SaaS competition without ever formally declaring war. Enterprise SaaS vendors face a daunting path when they look downmarket, with the hope of serving SMB customers. As any SMB SaaS founder knows, going downmarket is not merely about disabling product features, lowering the price point, and providing the option to buy online. It is about delivering a radically simplified UI/UX to support a low touch model in sales and customer success, the building of which requires both expertise and patience. The examples of SaaS companies successfully moving downmarket are few (e.g. DocuSign), which is why they should rarely be considered a competitive threat.
10. Focus on profitability if the path is blocked
Moving upmarket is not always viable. Some SMB product categories don't offer a straightforward path upmarket without significant changes to the product to be relevant or competitive. In these cases, the difference in the functionality, performance, and integrations required to address both ends of the market can be too substantial to attempt any move upmarket. Even when product requirements are very similar for large and small customer segments, the critical go-to-market approaches may differ so vastly that it is deemed futile. In such cases, it's not only important to emphasize leadership in the low end and longtail but to also focus on efficiency. SMB SaaS companies that get cornered in the low end of the market are often less attractive to strategic acquirers, making it imperative for them to become profitable to better control their fate. Importantly, this does not apply to those vertical SaaS opportunities (e.g. Toast, ServiceTitan, and ShopMonkey) in markets dominated by SMB customers without a meaningful high-end customer segment to consider.
The best B2B product companies worldwide hone their skills on the small business customer and steadily move upmarket. Their ability to make a complicated product easy-to-use affords a low touch marketing and sales strategy and uniquely positions them to win over larger customers over time. Lastly, they are rewarded with overwhelming brand recognition and can stand out with positive net revenue retention, which is decidedly uncharacteristic of the SMB software segment. While most SMB SaaS companies will struggle to move upmarket, the potential is enormous making it well worth the journey for those who can pull it off.