Six product strategies to catalyze your Second Act
Building and maintaining scale requires constant product innovation. Here's how category-defining cloud companies expanded their total addressable market and increased market leadership.
Scale wins in the cloud economy. From Law 1 in our 10 Laws of Cloud, market leaders generally command half or more of a total market's enterprise value. Second place captures less than 30% and third place is lucky to get 20%.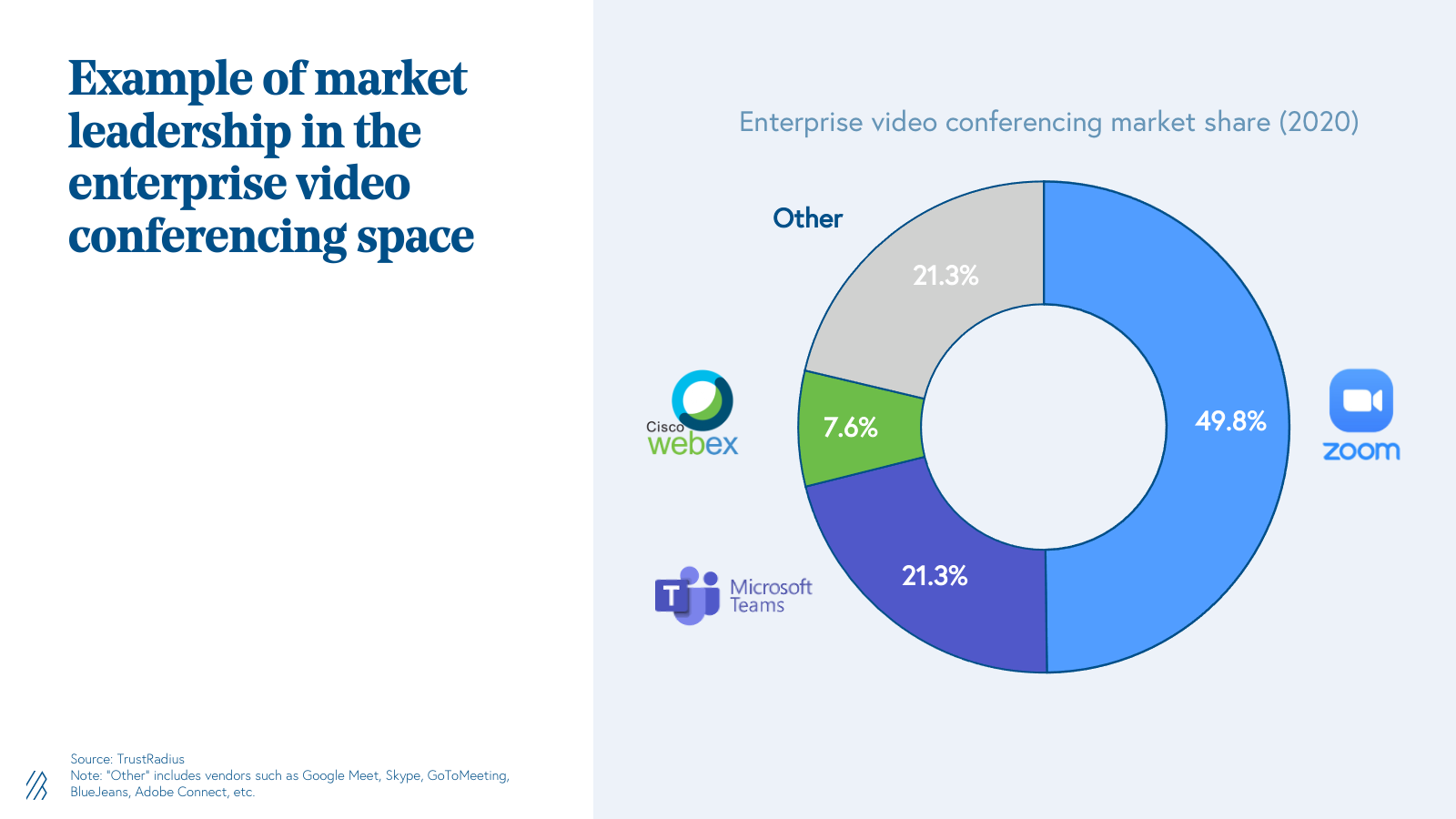 While some of the best cloud companies take four to eight years on average to reach the $100 million ARR milestone, many market leaders are able to accelerate to $1 billion ARR in seven years or less after they cross the $100M ARR mark. Businesses achieve these hyper-growth rates because scale helps to create a virtuous cycle of pricing power, customer awareness, and talent attraction that further widens a company's lead over the competition.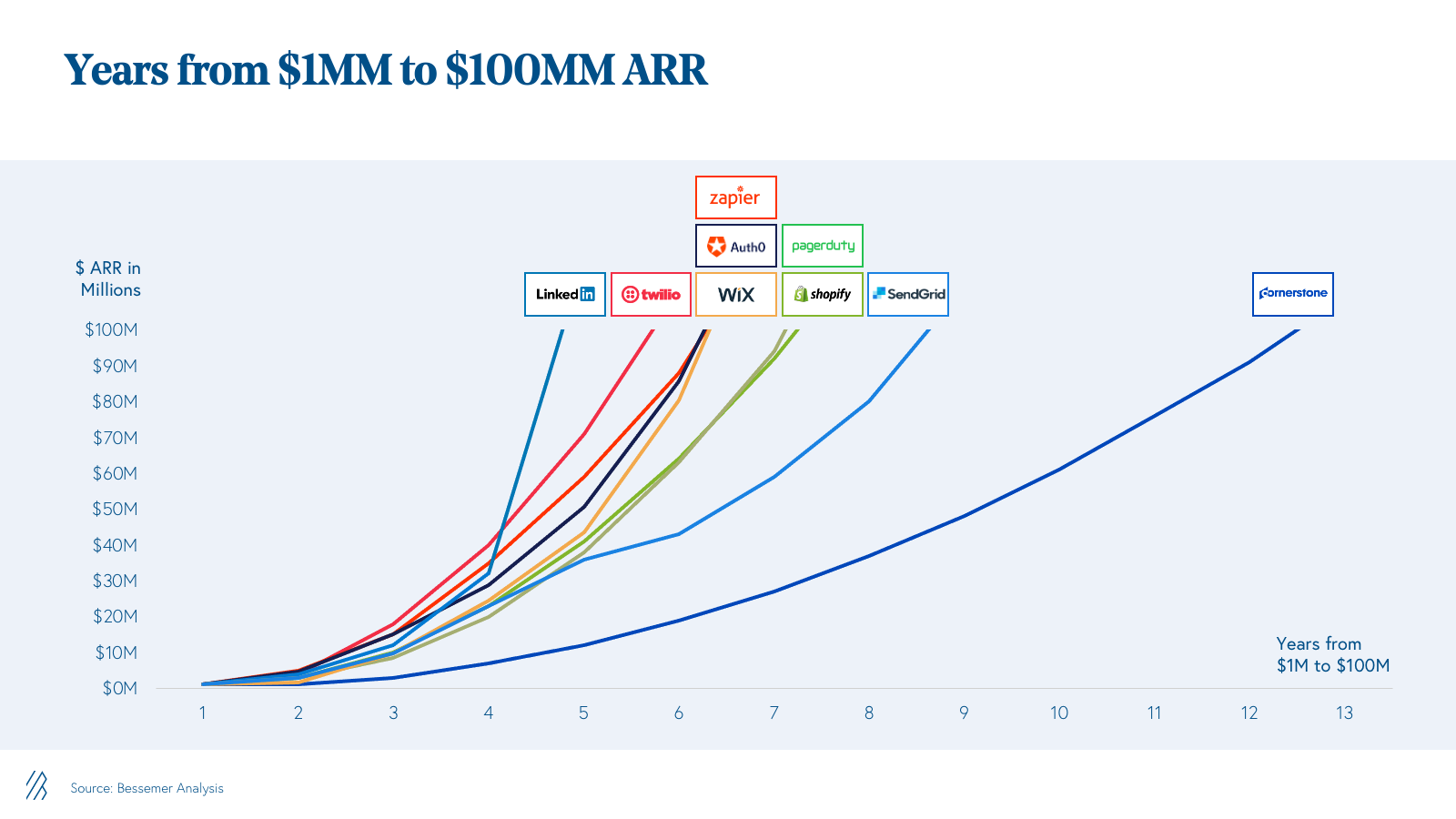 Building and maintaining scale requires constant product innovation. At Bessemer, we often see the fastest-growing businesses employ what we call the "Second Act" strategy—where leaders use product innovation to expand their initial core market and further cement their category dominance.
On the Bessemer Growth team, we've observed this phenomenon repeatedly as we've partnered with cloud leaders to execute on this strategy as they enter their scaling phase. We've witnessed that there is no one-size-fits-all strategy to your next act. More often than not, market leaders don't just apply one method, but a combination of strategies in a comprehensive platform play.
In this guide, we dive into six of the most effective scaling strategies we've seen from some of the most iconic cloud companies. All have gone on to become market leaders, thanks to powerful Second Acts.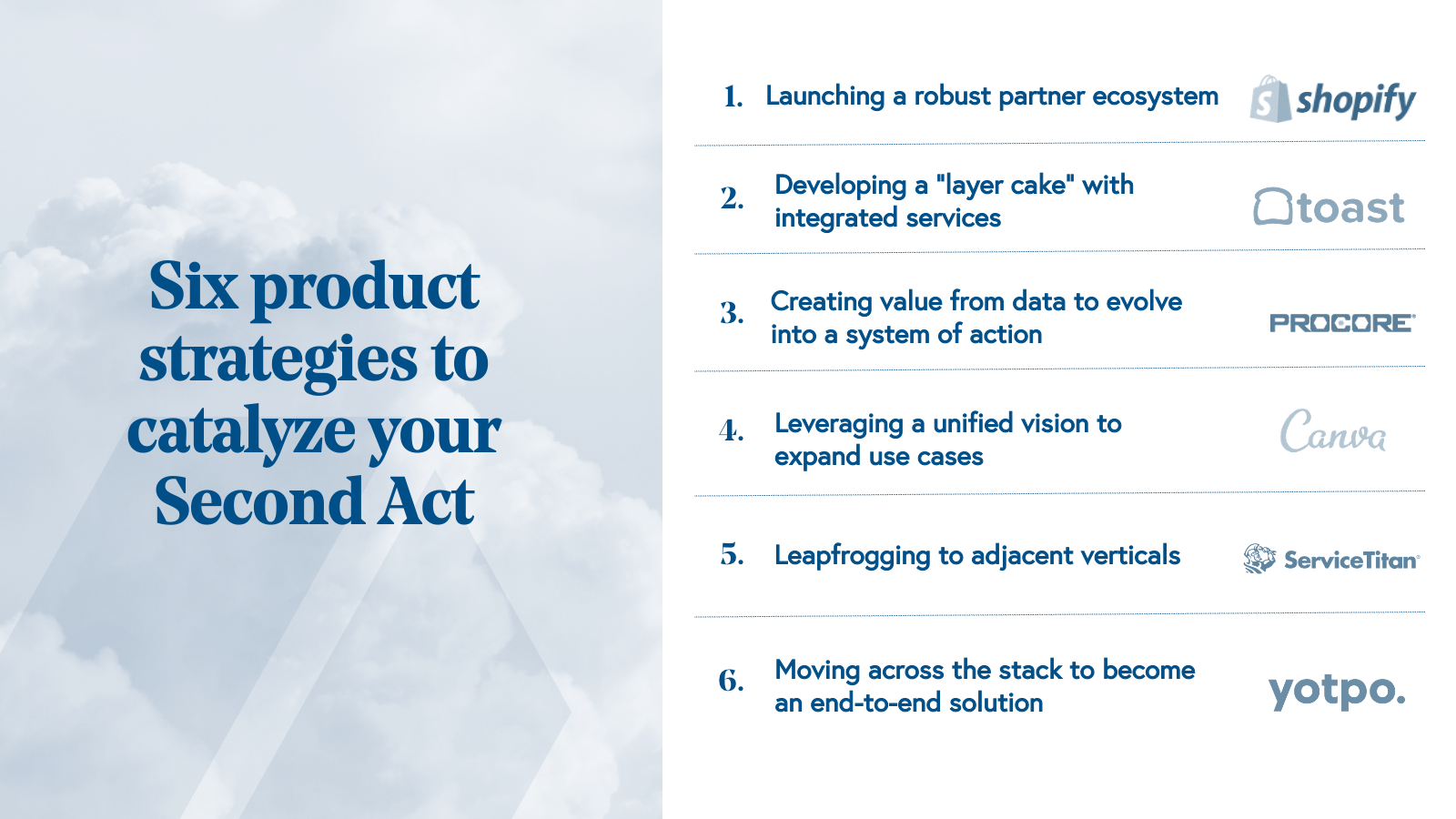 1. Launching a robust partner ecosystem
From Salesforce's AppExchange marketplace to Okta's Integration Network, building out a third-party ecosystem is a tried-and-true next act strategy. Many established cloud leaders have used it to achieve unprecedented scale—and by "many established leaders," we mean almost all.
One hundred percent of the top 10 BVP Cloud Index companies by market capitalization offer an app or data marketplace. A majority implemented this strategy after reaching the $100 million ARR mark.
This methodology is ideal for companies in the hyper-growth stage since you likely have already attained a baseline of market awareness at this point such that other third-party partners want to work with you. Building a partner ecosystem creates infrastructure that allows others to participate in and accelerate your growth.
Ecosystems have many compounding benefits. They reinforce your leadership message (many companies want to work with you), inspire stickiness and retention (more reasons to stay), deepen your product's capabilities, and produce a steady stream of success stories.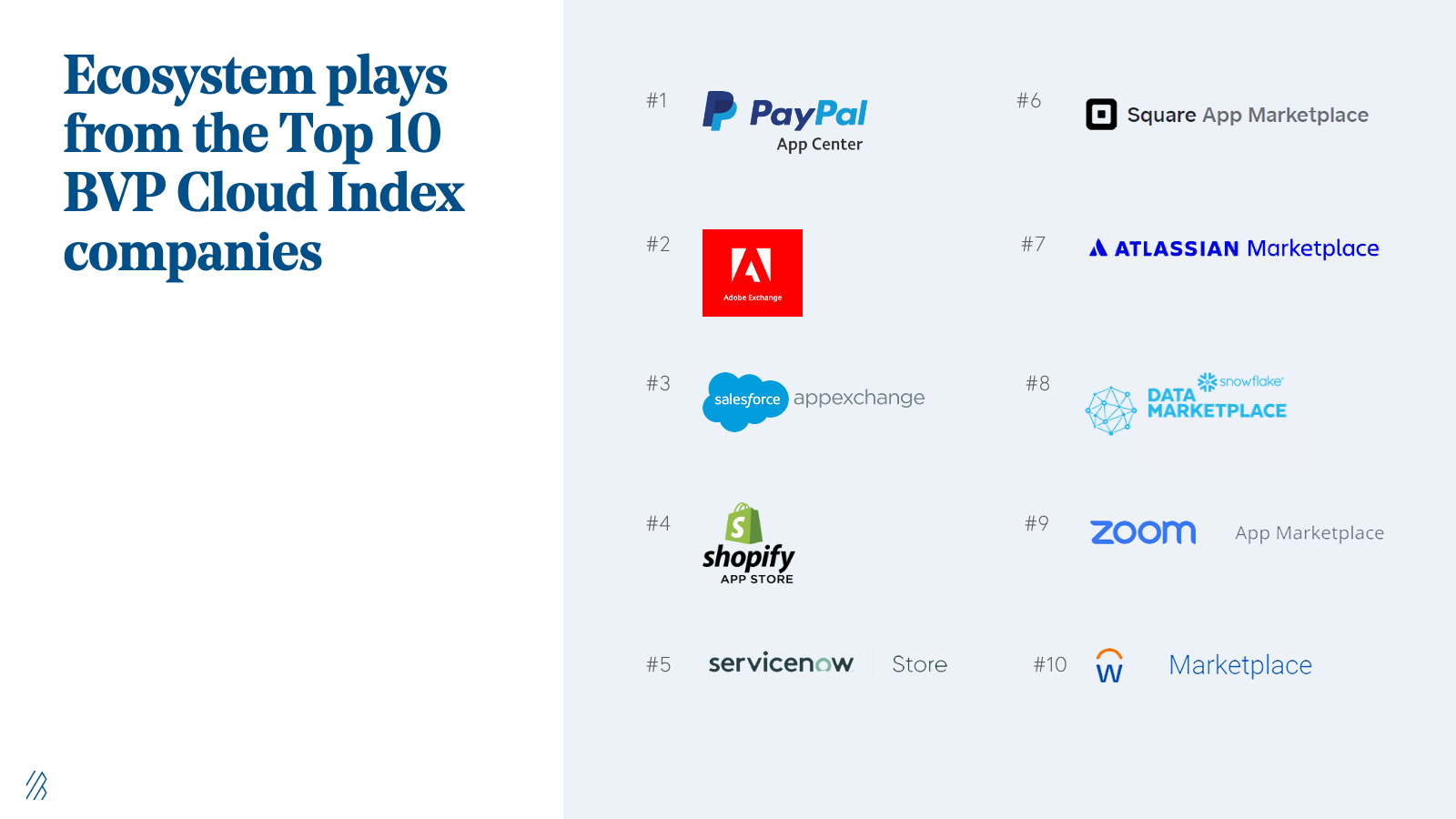 Case study: Shopify 
Launched in 2009, Shopify's App Store had a very clear purpose: To generate new merchant referrals from partners, and to extend the functionality of Shopify's platform. The team understood that allowing independent developers to build apps meant having thousands of additional product teams solving niche problems for their customers.
The number of publicly available apps on Shopify's marketplace has exploded from 500 in 2013 to its present number of over 6,000. Eighty-five percent of Shopify merchants now say they rely on at least one App Store solution to run their business, with an average of six apps per merchant. Shopify partners, including developers, designers, and agencies, earned $12.5 billion in revenue in 2020 which was a staggering 4x of Shopify's total revenue. 
Shopify takes a commission on developer and theme revenue, and also makes money from other ecosystem-related channels such as App Store advertising fees. While the App Store has been an attractive revenue-generating next act initiative in and of itself, its most valuable contribution is how it has helped to expand Shopify's core merchant base and solidify Shopify's market leadership. Since 2014, the number of partners referring at least one new merchant to Shopify has increased by almost 750%!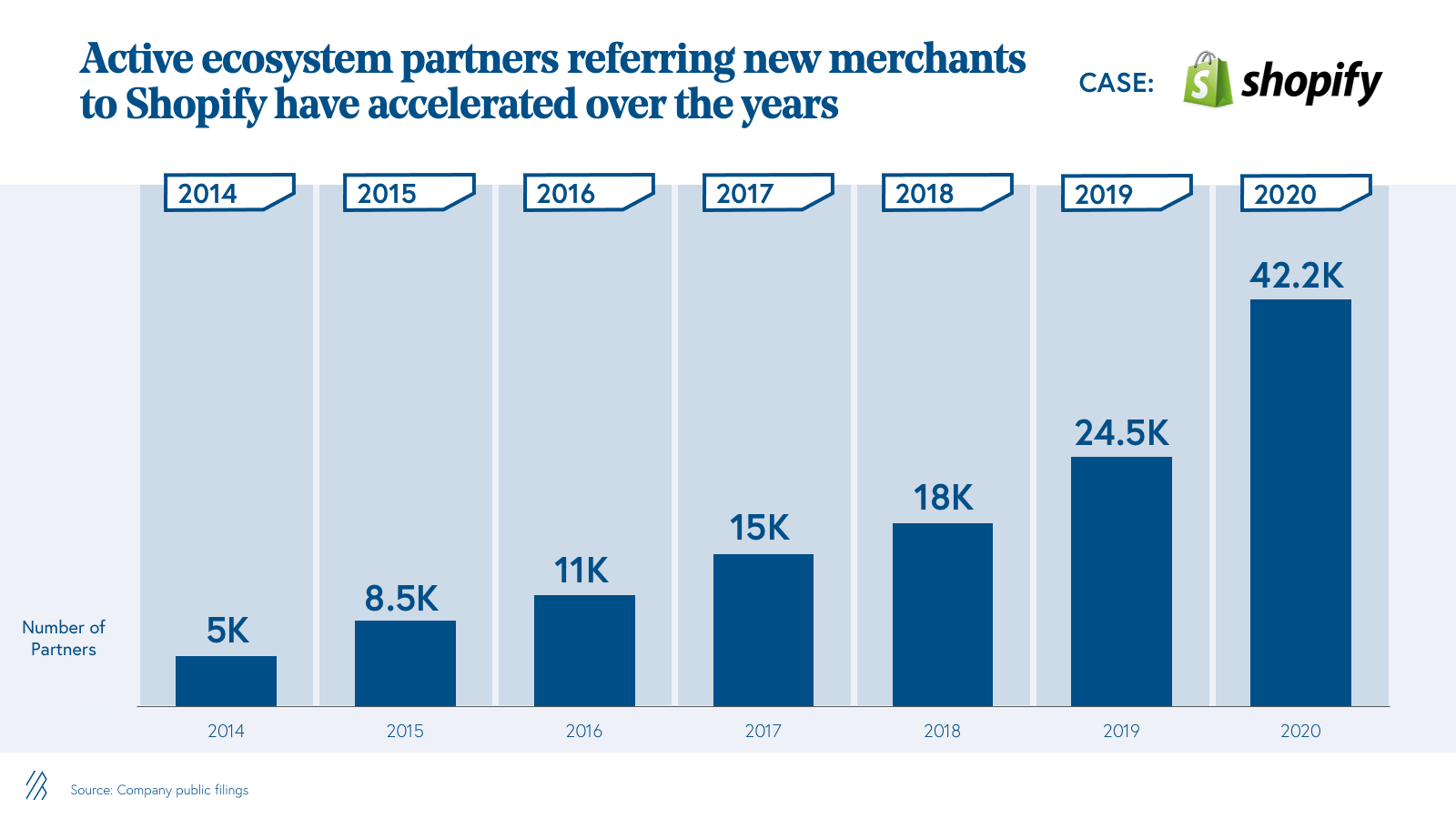 2. Developing a layer cake with integrated services
With one of the largest vertical software portfolios in venture, Bessemer has worked with over 30 vertical software companies in the past decade. We've been lucky enough to have front-row seats to what can only be described as a vertical software tsunami, with the market capitalization of public vertical software companies exploding from $71 billion to more than $650 billion in the past ten years alone.
This is astounding since conventional wisdom suggests that vertical software companies should be more TAM-constrained than horizontally-focused peers given their more narrow focus. How have the best vertical software companies overcome this challenge?
As our partner Brian Feinstein noted, there is one thing that separates the good from the truly great in vertical software—the "layer cake". This is the phenomenon of creating a multi-product strategy to layer in new products and cross-sell these capabilities to the existing customer base as a Second Act.
Case study: Toast
Toast's mega IPO in 2021 set the record for the largest vertical software IPO in history. (This is even more impressive when you consider all the challenges the restaurant industry has experienced over the past few years with COVID-19.) 
Our partner Kent Bennett led Toast's first institutional investment in 2015 and recognized early on that the founding team had unmatched product chops. Indeed, since inception, this vertical software market leader has constantly introduced new products year after year to deepen capabilities on Toast's platform for existing customers. On top of a point-of-sale hardware and software subscription, they layered solutions for back-of-house (the kitchen), back-office, digital guest engagement, and most recently, touchless guest experiences.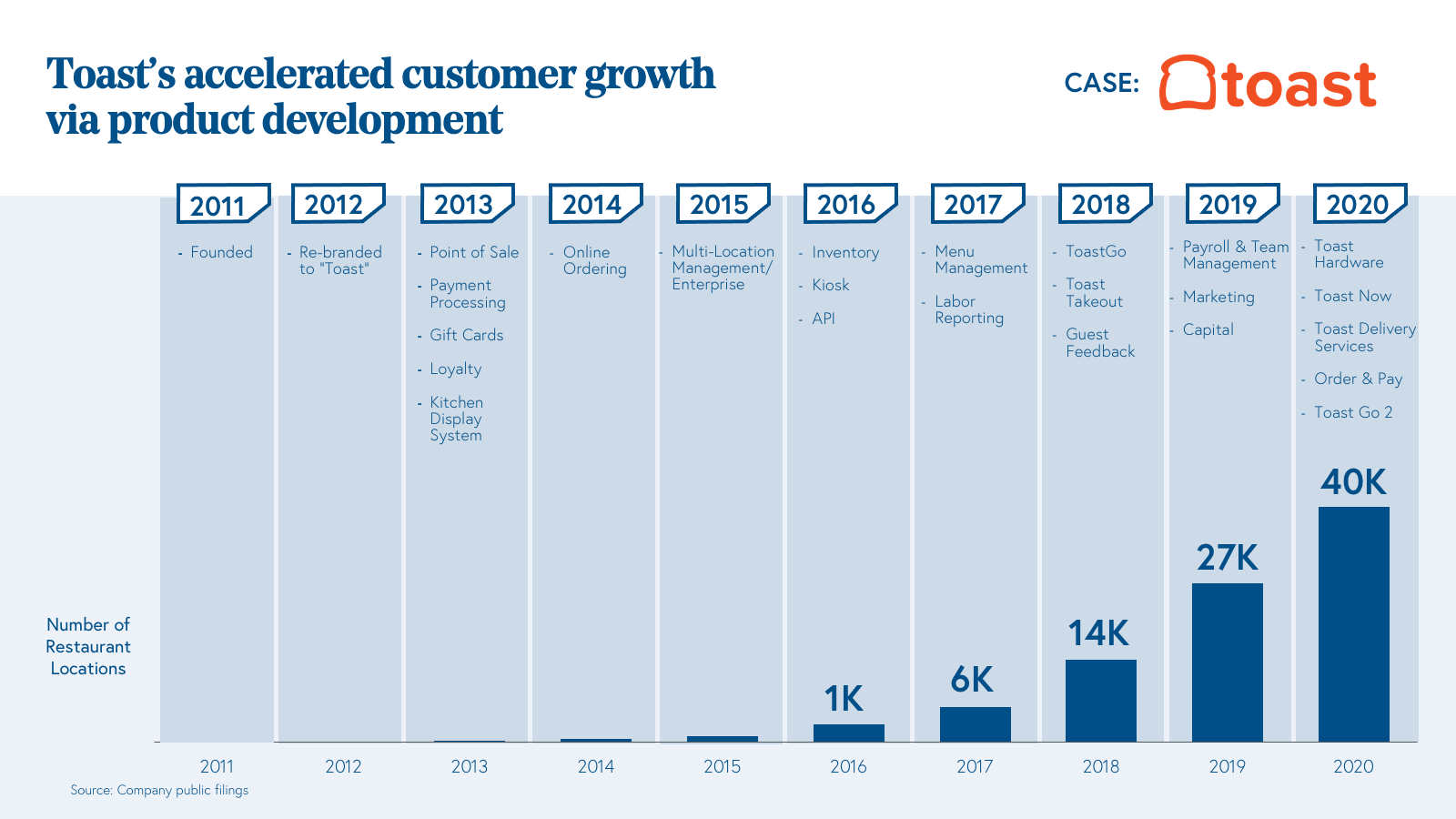 Toast keenly identified that some of the most highly monetizable layer cake opportunities involve adding integrated services such as payment processing to an existing platform. These integrated services tend to create a better end-to-end user experience than generic third-party point solutions. They're also easier to cross-sell to existing customers because they supplant competitive offerings that customers are already paying for. 
Toast was able to execute flawlessly on this strategy by integrating payments solutions on top of its traditional software subscription and hardware offerings. The payments channel served as Toast's largest contributor to revenue during its scaling phase and today, Toast's platform processes over $14 billion in gross payment volume each quarter.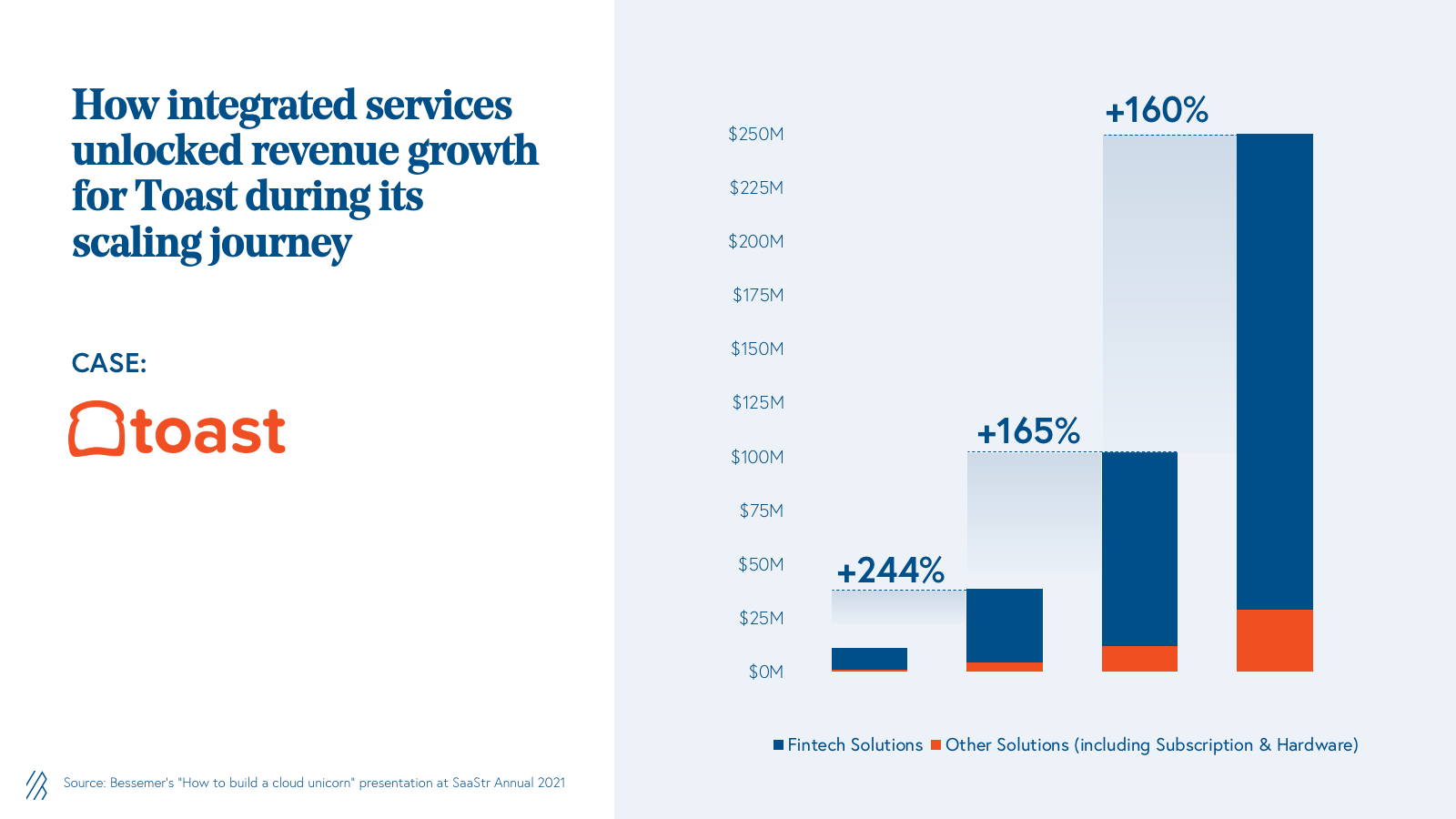 3. Creating value from data to evolve into a system of action
As a company's product usage begins to grow, so too does the volume of user-generated data its product captures. This is especially true for products that start off as a system of record for customers. Finding a way to harness the value of this accumulated data to help customers make smarter decisions (and grow more dependent on those insights) at the growth stage makes for a great Second Act. 
Case study: Procore
Procore is a prime example of this strategy. The business began in 2002 as a project management solution for general contractors. Even as one of the first cloud-enabled vertical software solutions for the construction industry, the team understood that a single product would only get the business so far. 
Procore CEO and Founder Tooey Courtemanche developed a customer-centric product organization centered on the mission of connecting everyone in construction on a global platform and constantly executed on a multi-product strategy over the years.
By 2019, user activity on Procore's platform generated a staggering 3,000 terabytes of data with an average of 110 terabytes being added per month. Procore identified that its platform was accumulating a wealth of data that could be valuable to customers. In 2019, Procore acquired Construction BI and launched Procore Analytics, which helped customers capture value from Procore's data layer through advanced business intelligence, including pre-built reports based on underlying data and the ability to develop custom visualizations and configurable dashboards.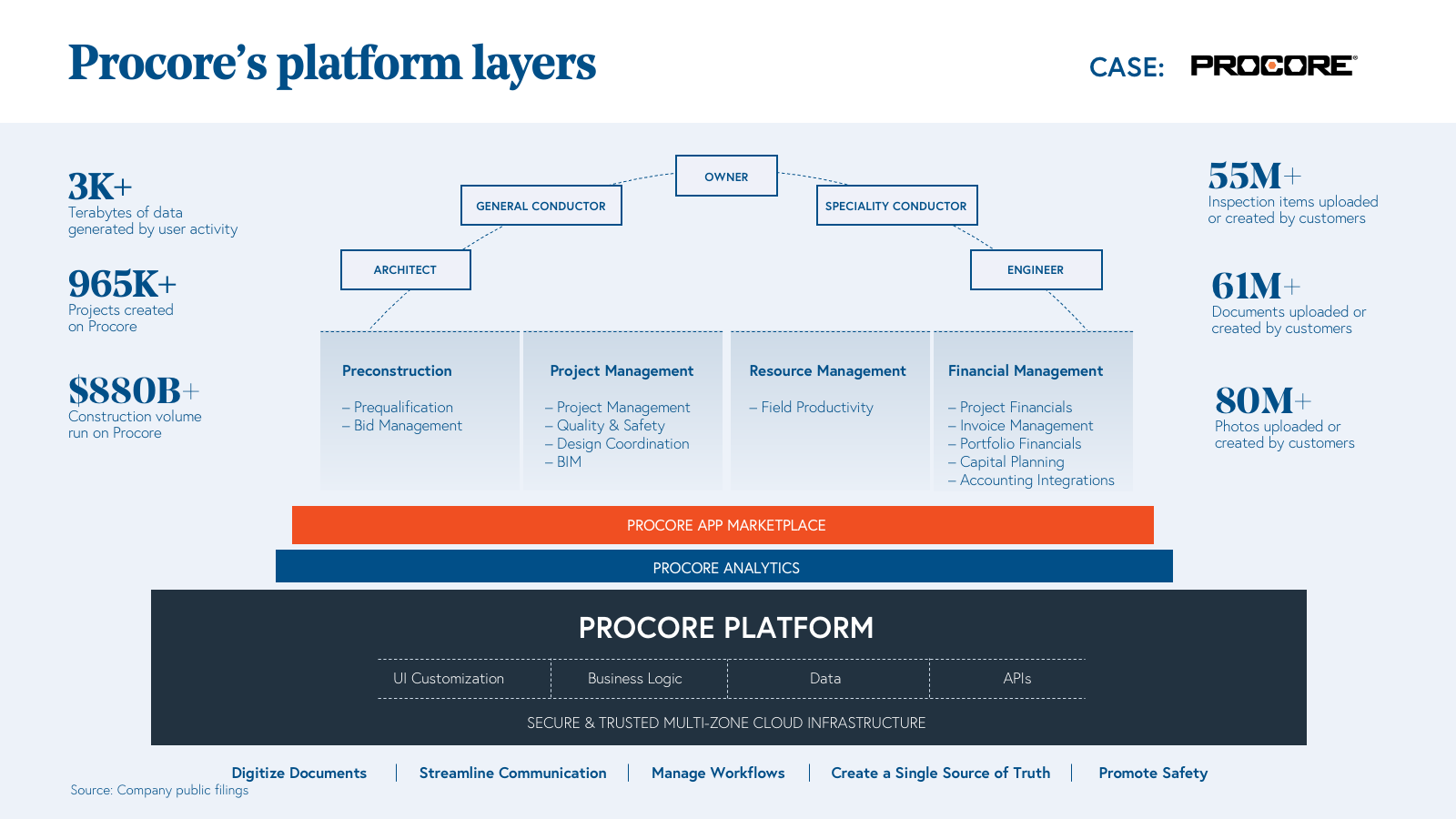 After a multi-decade journey, Procore has evolved from a system of record into a powerful system of actionable insight—one that allows its customers to use their own data to make better business decisions.  In 2020, Procore went public after crossing the $400 million ARR benchmark and is now valued at approximately $13 billion in market capitalization. 
4. Leveraging a unified vision to expand use cases
Company visions are not merely the realm of public relations professionals. A strong vision championed by a founder or executive can also help direct the business' attention to future opportunities to grow its product portfolio and use cases while still being centered on a unified aspiration.
This works because an inspiring vision can plant a flag on a long-term goal and challenge those within the business to reach this, irrespective of the state of its current product. For instance, rather than ask, "How can we improve our CRM product?," workers are encouraged to ask, "How can we help salespeople sell more?" The latter question leads to more meaningful innovation.  
An outstanding example of this practice is embodied by Canva, the global visual communications platform. Launched in 2013, Canva had an ambitious vision to empower the world to design anything and publish anywhere. Its initial product focused on providing an easy-to-use drag-and-drop design tool aimed at the mainstream target audience including hobbyists, social media influencers, and students.
Fast forward a few short years, Canva is now the most valuable female-led startup in the world, and is on track to exceed $1 billion ARR by the end of 2021 at breakneck speed while generating positive free cash flows. The Canva community has created more than 7 billion designs, with 120 new designs created every second using the platform's expansive library of more than 800,000 templates and over 100 million design ingredients including graphics and audio tracks.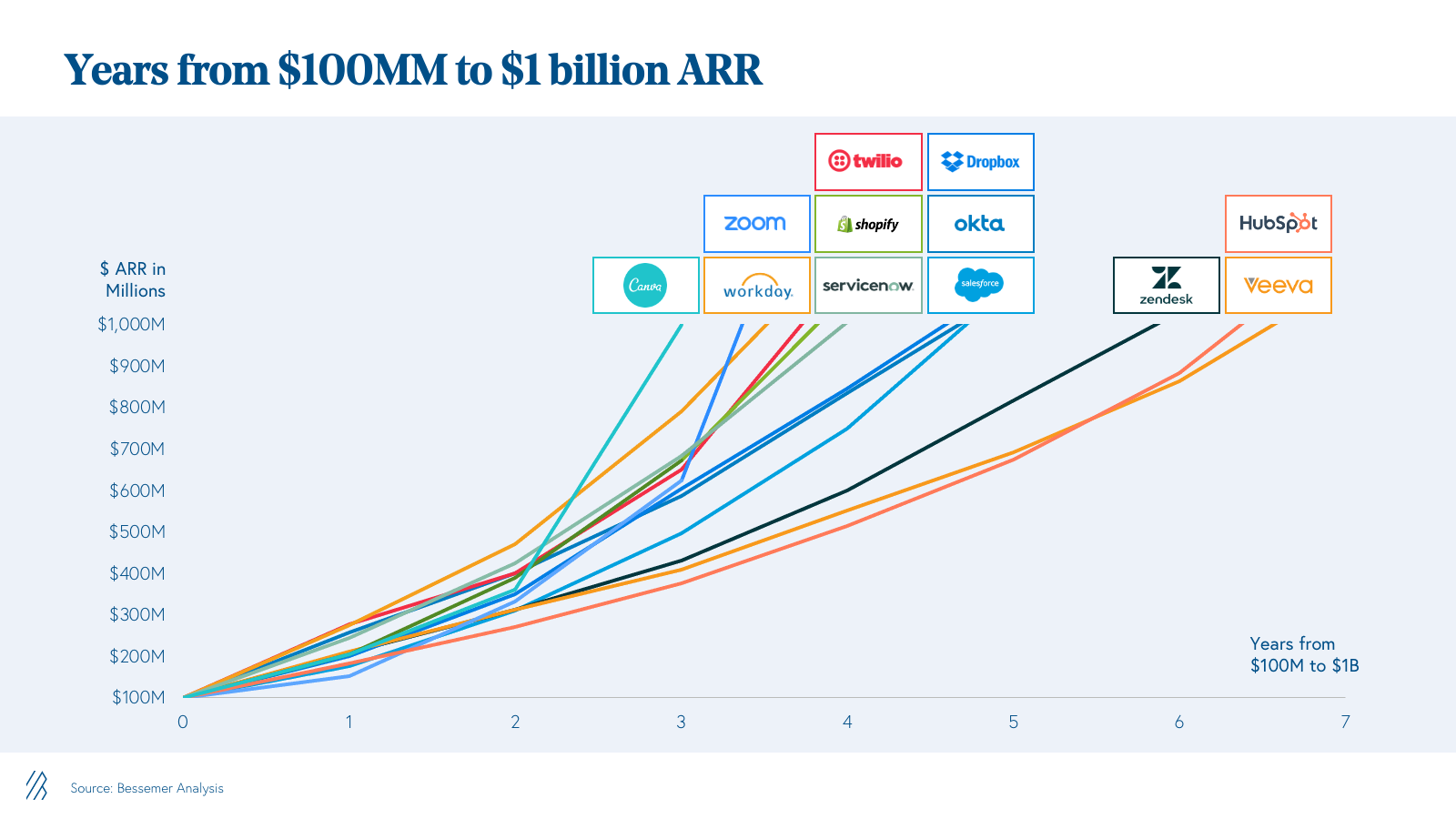 Case study: Canva
Let's look more closely at Canva's approach. Much of its rapid success can be attributed to its well-executed product expansion strategy based on its core vision. Over the years, Canva has expanded its use cases:
Mediums: Canva has expanded its design catalog to offer templates spanning social media collateral, video, documents, printed designs, and much more. 
User personas: While Canva initially appealed to individual non-professional creators, it has now expanded its feature set through offerings such as asynchronous collaboration to target other personas including startup founders and marketers in enterprise teams.
Geographies: Canva's platform is available in approximately 100 languages and is used in over 190 countries.
Devices: Beyond its initial browser-based experience, Canva can now be used on a variety of phone and tablet operating systems. 
Canva has executed faithfully on its Second Act strategy by only introducing extensions that are aligned to the company's initial value proposition of democratizing design for
everyone. For instance, all offerings offer the same easy-to-use UI/UX. This has allowed Canva to stay true to its North Star and maintain a consistent customer experience even in the midst of rapid platform expansion.
5. Leapfrogging to adjacent verticals
Growth-stage companies that have established a strong reputation in an initial industry can capitalize on this to take on adjacent verticals, in a Second Act known as "leapfrogging."
Case study: ServiceTitan
ServiceTitan, the world's leading vertical software solution for the home and commercial services industry, is one good example. The company's original product targeted three core trades including residential heating and cooling (HVAC), electrical, and plumbing. It rose to prominence thanks to an outstanding product and a deep sense of customer empathy that emanated from its founders. (Both had close family members who worked in these trades.)
Leveraging its strong, initial reputation within their first verticals, and a track record replete with referenceable customers, ServiceTitan began expanding to adjacent verticals like water treatment, landscaping, pest control, and franchise brands. They did this through a mix of acquisitions and product adjustments (e.g. mobile capabilities) to cater specifically to new trades.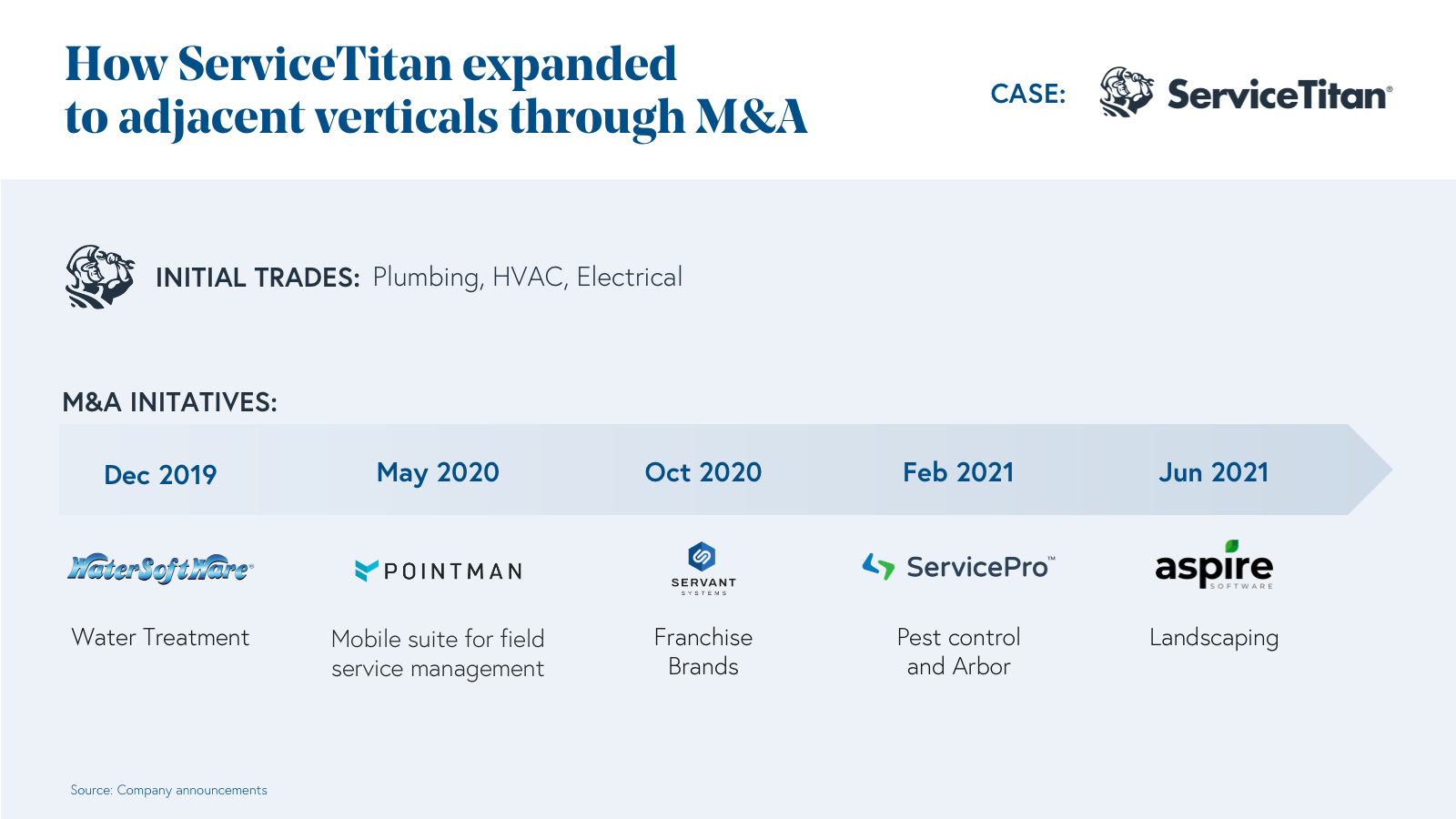 ServiceTitan's Second Act propelled it to and through the $250 million ARR mark. It's now the highest-valued private vertical software company ever. Its platform supports more than 7,500 trade businesses that collectively generate more than $20 billion in annual revenue and 100,000 field technicians.
6. Moving across the tech stack to become an end-to-end solution
The first product for many startups tends to manifest as a point solution in a broader customer value chain. This makes sense — in the early days, it is prudent for startups to be highly-focused due to limited resources. But as a company enters its growth stage, it is important to adapt this product strategy and dedicate more resources to new product development in order to take advantage of emerging market leadership.
For companies that have already established credibility within a niche, moving across the tech stack from an initial wedge and evolving into a one-stop-solution for a category is an effective way to establish your Second Act.
Case study: Yotpo
Ecommerce marketing platform Yotpo is a terrific example of expanding across the tech stack. Yotpo's initial product was a point solution focused on user-generated content (UGC), including reviews, ratings, and visual content for SMB ecommerce brands. Yotpo maximized velocity early to win the hearts and minds of its core SMB customer segment, and grew alongside its best SMB customers.
As SMB customers grew their underlying business, Yotpo anticipated that its customers' business needs would expand as well. The company began building out an end-to-end eCommerce marketing stack starting with natural functional adjacencies to its UGC product, which included launching a new Loyalty and Rewards solution and acquiring SMSBump, to move into SMS marketing and automation.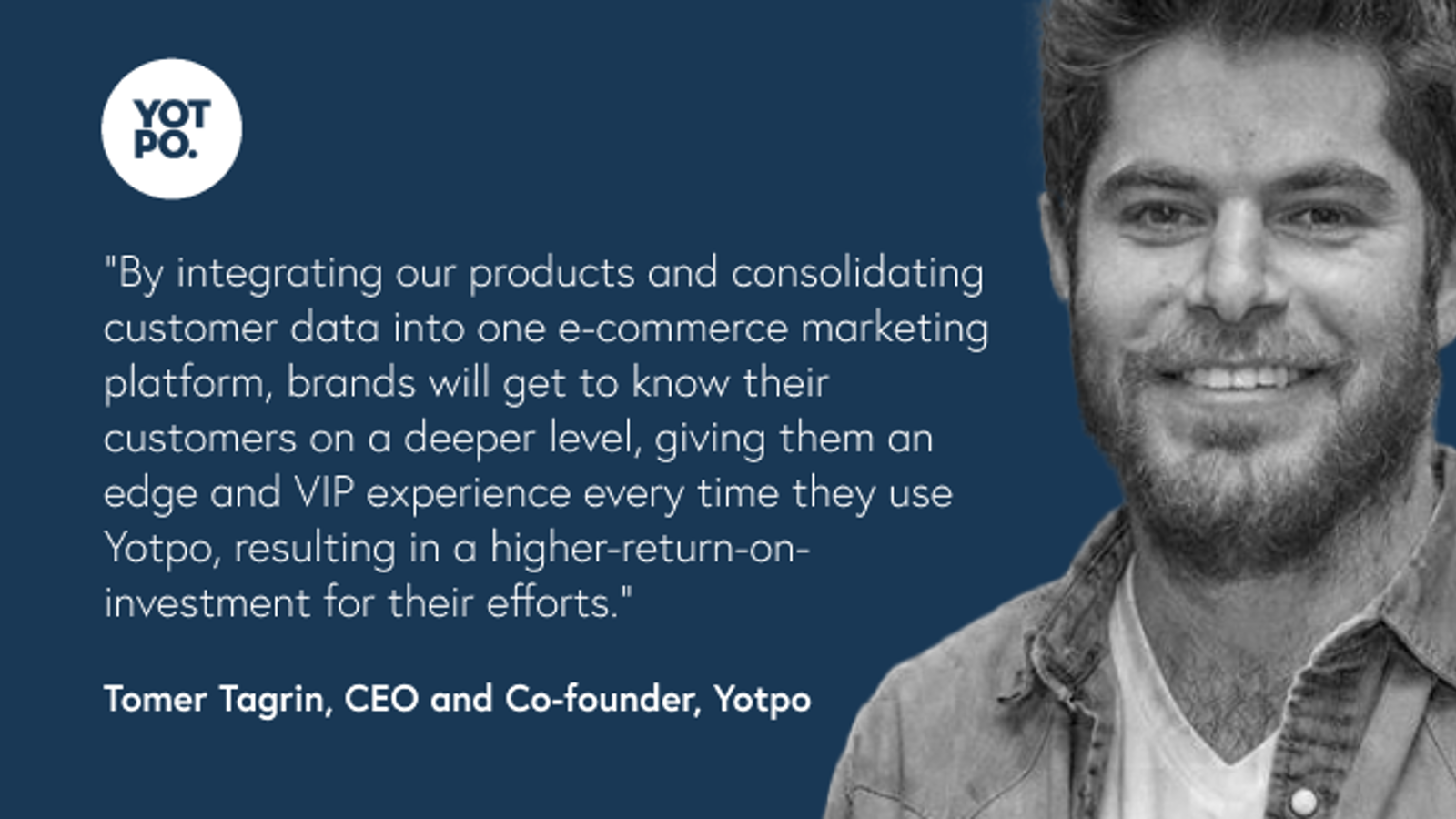 Today, this one-stop-shop approach has paid dividends, with a majority of Yotpo's customers using at least two of its product offerings to run their business. Brands that use two or more Yotpo products have grown 54% faster than those that use only one, further reinforcing the virtuous cycle of growth for Yotpo. 
Yotpo has now crossed the $100 million ARR threshold, driven by levers such as best-in-class net dollar retention and increasing average contract values as customers continually add new product usage to their existing platform adoption. Yotpo now serves over 30,000 customers (beyond the SMB segment) that represent the best in ecommerce, including Patagonia, Revolution Beauty, Brooklinen, and Steve Madden.
Start early on your next act
As we've explored, building organically or making acquisitions are both viable strategies to execute on your Second Act. Whether you choose to build new products in-house or to acquire them, keep in mind that it can take several years for those new product innovations to be viable. The best cloud companies begin experimenting with their Second Act years in advance of their core product slowdown, so we recommend that you keep your Second Act top of mind even if you are still executing on your First Act!
If you're currently building out your next act, we'd love to hear from you. Reach out on Twitter (@NextBigTeng, @theValuesVC, @BessemerVP) to connect.