The Centaur Report
Bessemer explores where the private cloud economy is headed, and uncovers the successful strategies that drove top private cloud companies, such as ServiceTitan, Calendly, and LaunchDarkly, to $100 million ARR.
The recent market pullback has been enough to give any founder or investor some level of pause. But any student of software innovation ought to note that cloud businesses today are still displaying strong fundamentals, despite public valuation multiples having contracted. At Bessemer, we think that growing annual recurring revenue showcases durable growth at scale and is the best performance indicator of public company success.
That's why we introduced the Centaur, a new milestone for cloud businesses that reach $100 million or more in annual recurring revenue. In our research at Bessemer, we've identified approximately 160 private cloud Centaurs in the world, making these companies about seven times more rare than unicorns.
As we celebrate the 2022 Cloud 100 season, we not only recognize the definitive list of the world's top private cloud companies, but also bear witness to what's needed most in today's entrepreneurial ecosystem: resilience. So, what does it take to build cloud businesses that have durable growth at scale, despite stormy market conditions? And how exactly are today's top performing cloud companies reaching the coveted milestone of Centaur status ($100 million+ annual recurring revenue)? In our view, the Centaur milestone is much more meaningful than just a simple valuation metric that doesn't necessarily tell you anything about the health of the business.
In this year's Centaur Report, we not only celebrate the 2022 Cloud 100 companies that have reached $100 million in ARR and beyond, but also showcase the diverse strategies it took to get there.
But first—what's going on in the private cloud market?
After a 13-year bull market in which there was an abundance of capital in the venture ecosystem, private valuation multiples skyrocketed in 2020 and 2021. Some argue that the proliferation of unicorns simply got out of hand—going from 14 a decade ago to over 400 cloud unicorns today. That all changed in a matter of months. 
As interest rates climb, inflation has reached a 40-year high, and the macro headwinds for growing startups have intensified given the state of the public cloud market: As of July 2022, The BVP Nasdaq Emerging Cloud Index dropped approximately 60% from its historical highs of 2021.
However, when we compare today's environment to the dot-com crash of the early 2000s or the Great Recession of 2008, we see that the dynamics of this cloud downturn are tethered more closely to financial market cycles versus the underlying performance of the businesses themselves. At Bessemer, we want to remind cloud leaders that despite what feels like doom-and-gloom, cloud businesses today are still displaying strong fundamentals.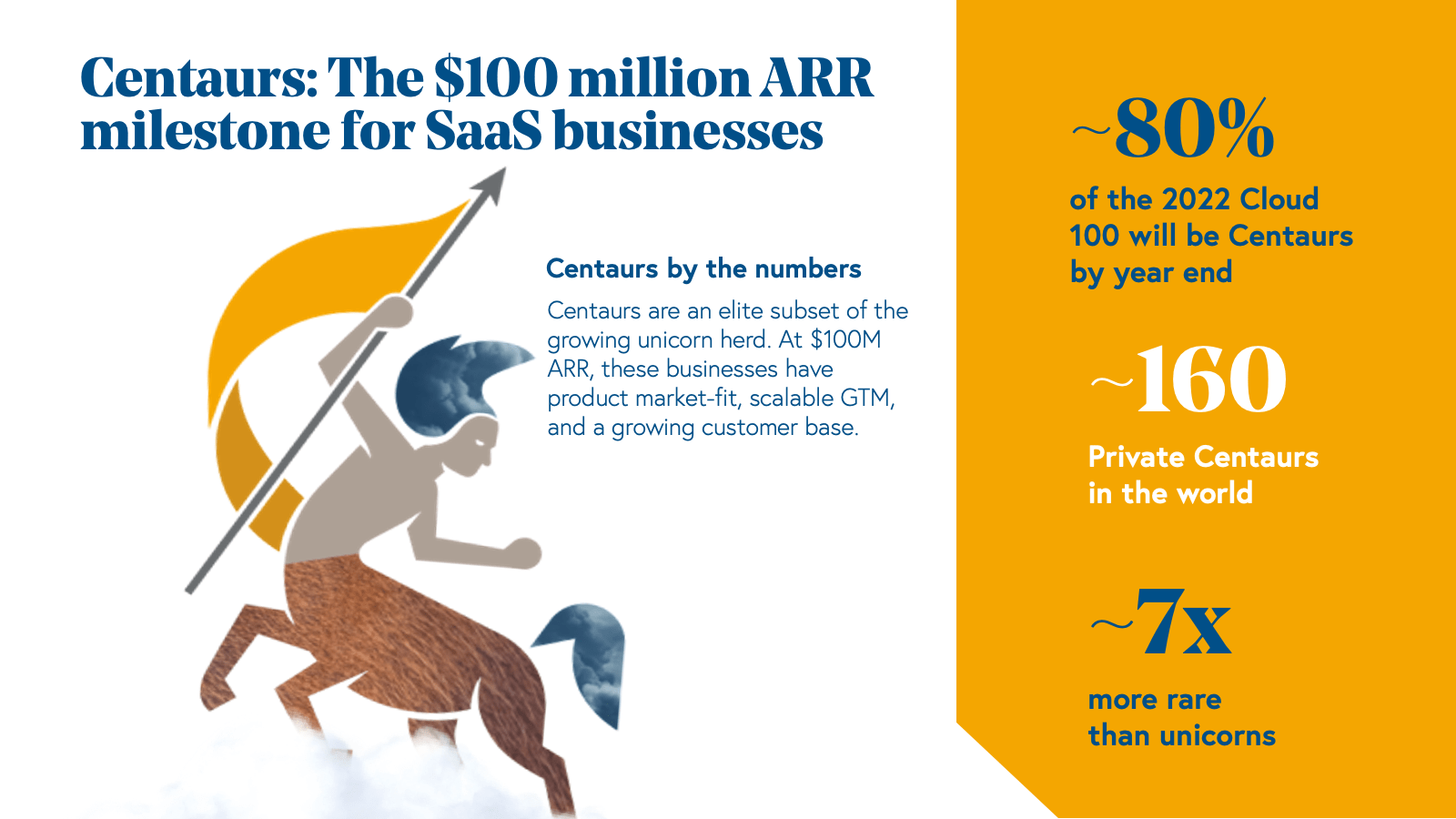 In fact, a majority of this year's Cloud 100 are Centaurs: 70% today, with an additional about 10% expected to hit this milestone by the end of the year. By the end of 2022, we expect over 80% of 2022 Cloud 100 companies to be in the Centaur herd. In addition, these best-in-class private cloud leaders are reaching this milestone faster than ever before, with only an eight year average from founding to $100 million of ARR. 
We have been longtime champions of enduring cloud businesses that have carved unique paths to becoming a Centaur. Companies such as HashiCorp, Zapier, and Toast have all grown their revenue at unprecedented rates and continue to live on in the Centaur Hall of Fame.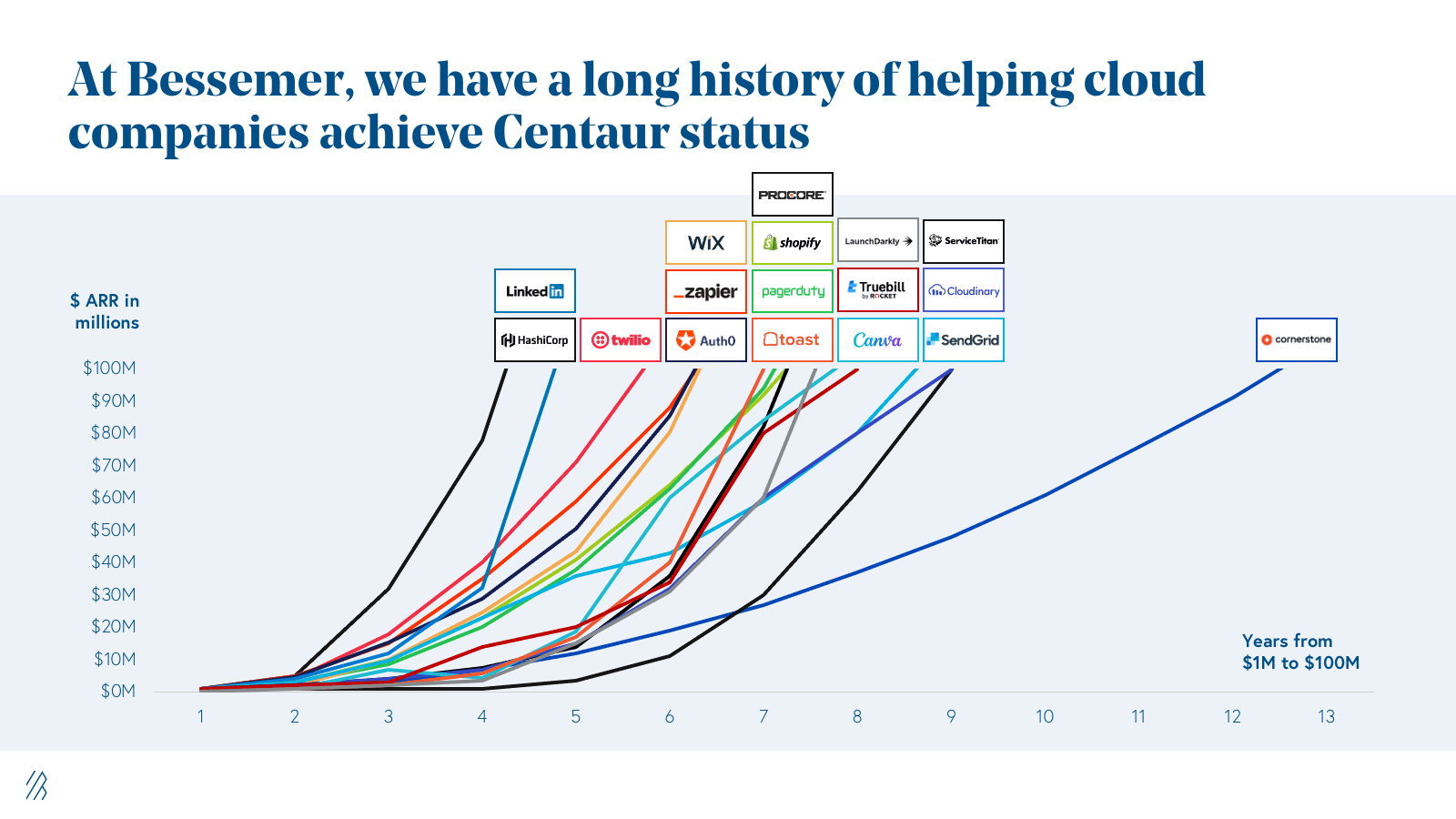 The reality, however, is that there is no one way or even one right way for your company to reach $100 million of ARR. We've seen companies accelerate revenue through a number of strategies, such as expanding their addressable market through new product lines, entering new markets and geographies, introducing product-led growth strategies, layering on enterprise sales, and even selling their products through channels like cloud marketplaces. 
Leaders of The Cloud 100 are living case studies and demonstrate new ways that the cloud business model continues to thrive, even in stormy market conditions.
Before we go on, if you are interested in drilling deeper into the performance of the 2022 Cloud 100 cohort to understand the health of the private cloud economy, explore this year's benchmarks report.

Successful strategies to grow cloud companies to $100M ARR  
As the market turns and fundraising becomes costlier for startups, leaders are tasked with remaining focused on efficient, sustainable growth. How can you continue to generate topline velocity, hire great talent, build inventive go-to-market engines, and introduce new products all while managing your cash runway and demonstrating a path to profitability at scale? It's not easy. 
For a long time, encouraging our founders to focus on efficiency and unit economics felt like the somewhat unpopular opinion inside of the boardroom when many businesses were celebrated based solely on measures like valuation. The former funding market was rewarding startups that were built to raise cash, but not necessarily built to generate any of it. At Bessemer, we were never big fans of the growth-at-all-costs operating model—rather, we always recommend growth at optimal costs. This ethos is consistent across the three case studies we will dive into: ServiceTitan, Calendly, and LaunchDarkly.
Centaur study: How ServiceTitan expanded through new solutions and adjacent verticals
ServiceTitan (#7 on the 2022 Cloud 100) is a standout leader as the go-to vertical software solution for the home and commercial services industry.
After a successful product launch for residential plumbing businesses in 2013, ServiceTitan  recognized the opportunity to expand organically into adjacent verticals, first with heating and cooling (HVAC), and then electrical, as those trades shared many of the same problems that its original market, plumbing, did.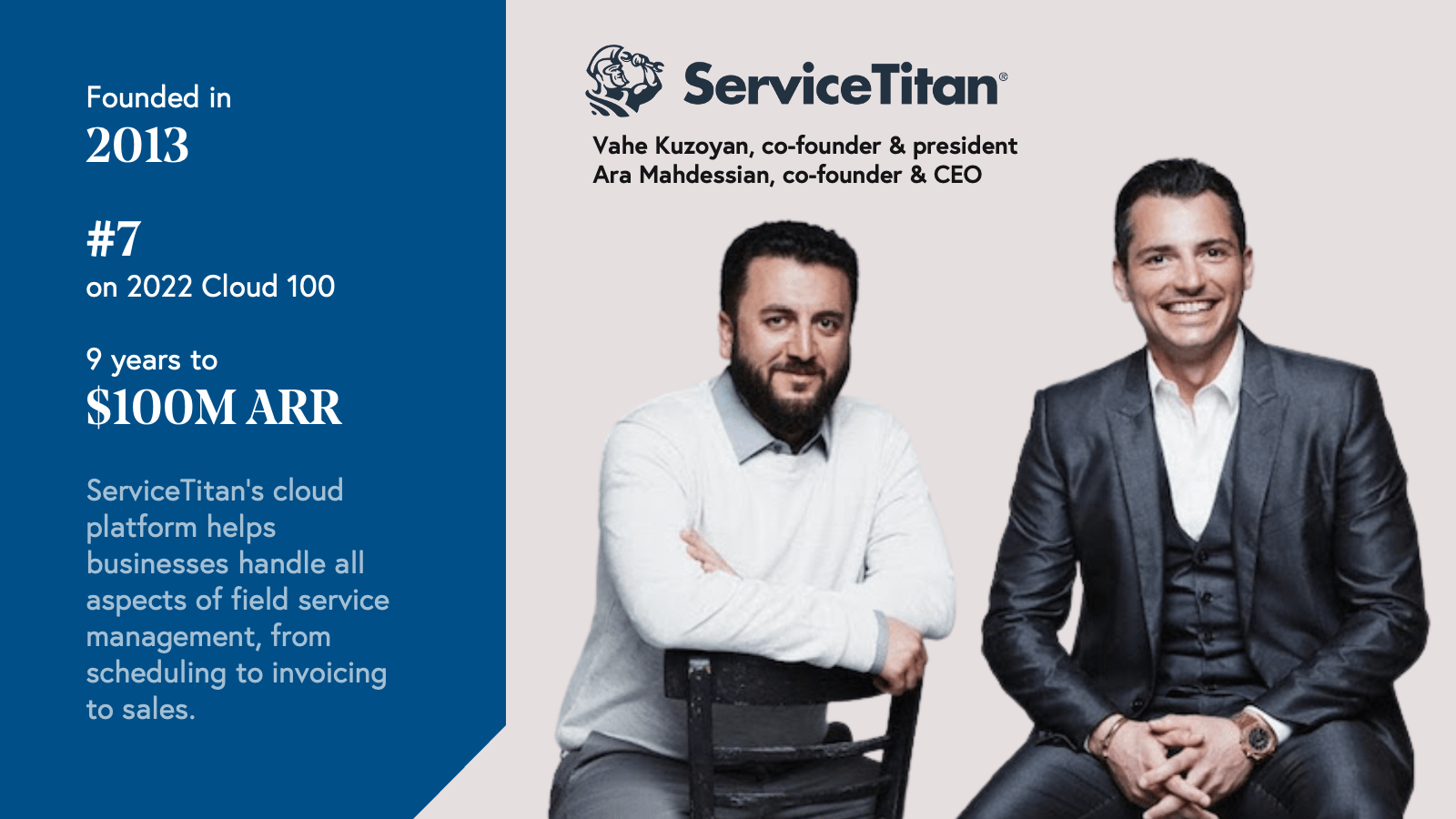 ServiceTitan achieved all of this organic growth via new products and enhancements added to the platform to cater specifically to new trades. It's a great example of a type of "Second Act" known as "leapfrogging." 
There are many different types of Second Acts that cloud businesses can launch, such as adding on CRM tools, payments, lending, or other embedded fintech solutions. Oftentimes, you'll see cloud companies layer several "Next Acts" on top of one another over time to further drive revenue and bolster their market leadership. 
Leveraging its strong, initial reputation within its first verticals, and a track record of referenceable customers, ServiceTitan built a platform that extended capabilities for its customers through many new fintech products, like payments and financing, and "Pro Products," such as marketing, payroll, and most recently Schedule Engine. The team also began expanding to adjacent verticals such as residential water treatment, chimney and garage maintenance, landscaping, pest control, and beyond.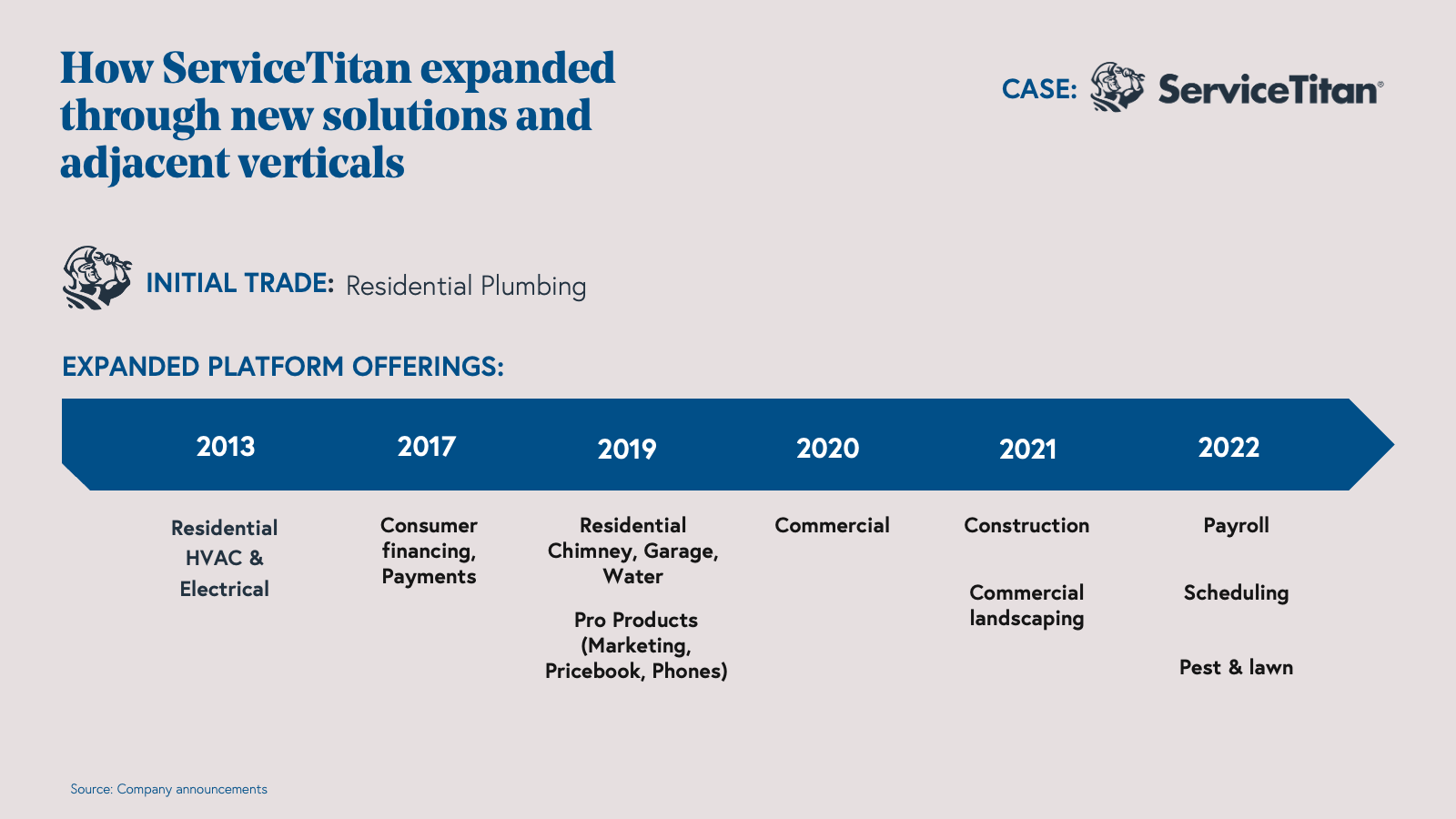 What's important for Cloud 100 companies to remember is that growth-stage businesses that have established a strong reputation in an initial industry can capitalize on that foothold, and the customer trust they've created, to take on additional problems, by building new products, and reaching new customers in adjacent verticals.
Centaur study: How Calendly surpassed $100 million ARR through the power of product-led growth
Not all early stage cloud companies make the decision to raise a ton of venture capital throughout their growth journey. Calendly (#21 on the 2022 Cloud 100), the cloud scheduling company founded by CEO Tope Awotona, is one such example: It achieved Centaur status by leveraging a small seed round and using revenue as fuel for growth.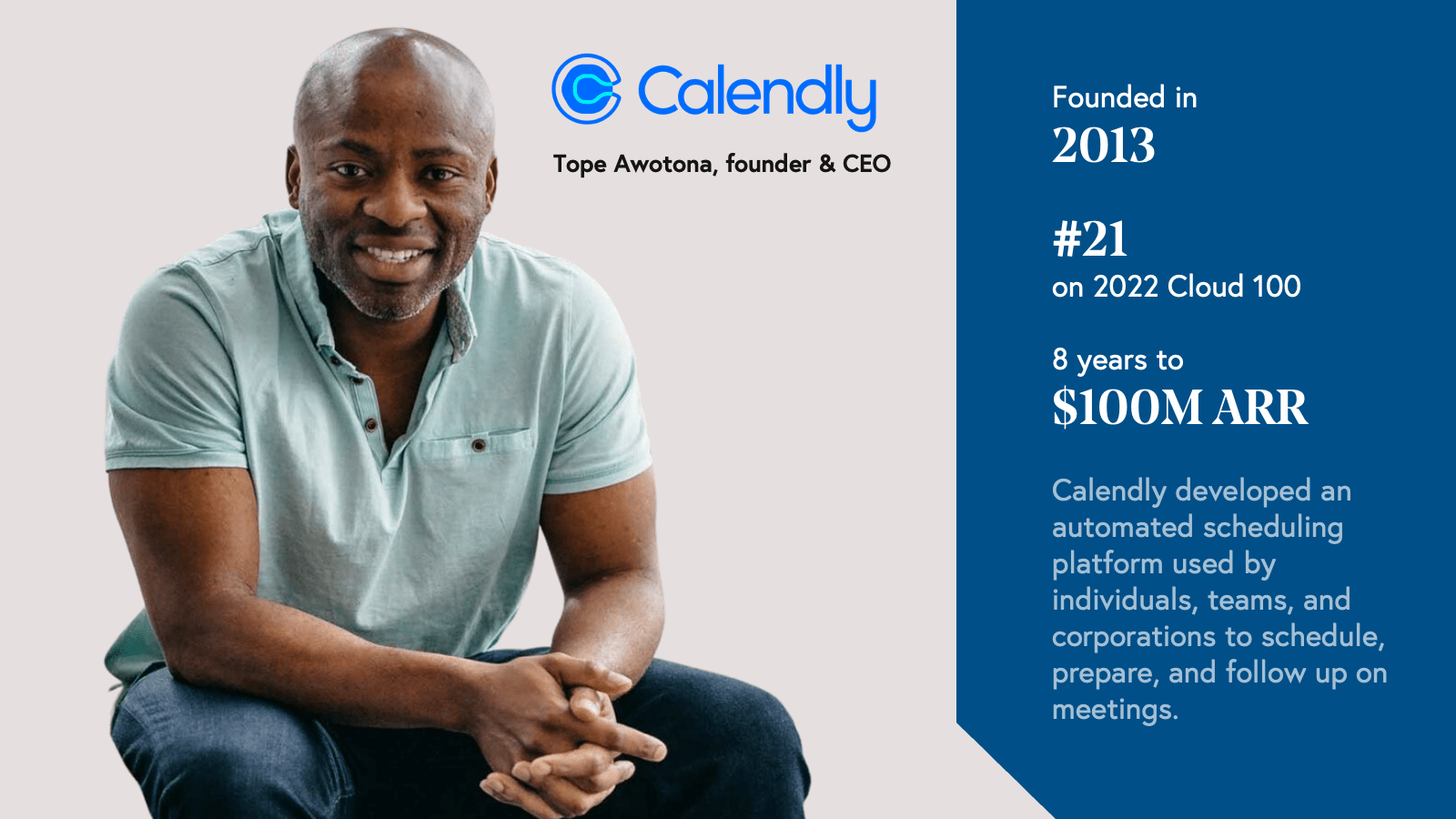 Initially launched in 2013, Calendly was met with skepticism by some who didn't think a scheduling app could become a big business. But Tope and the team proved all of the skeptics wrong. 
By bootstrapping, Tope helped to instill capital efficiency as a core operating principle at his company from the very beginning. This operating principle strives to balance the tradeoffs between revenue growth and profitability. This DNA helped him focus on delivering Calendly's core value prop and encouraged everyone at the company to be customer-obsessed. 
(For insights on how to calculate efficiency for companies with less than $30 million of ARR, see Scaling from $1 to $10 million. And for companies with more than $30 million ARR, see Scaling to $100 million).
Calendly's story is a textbook example of what's possible when four key growth factors are executed in concert.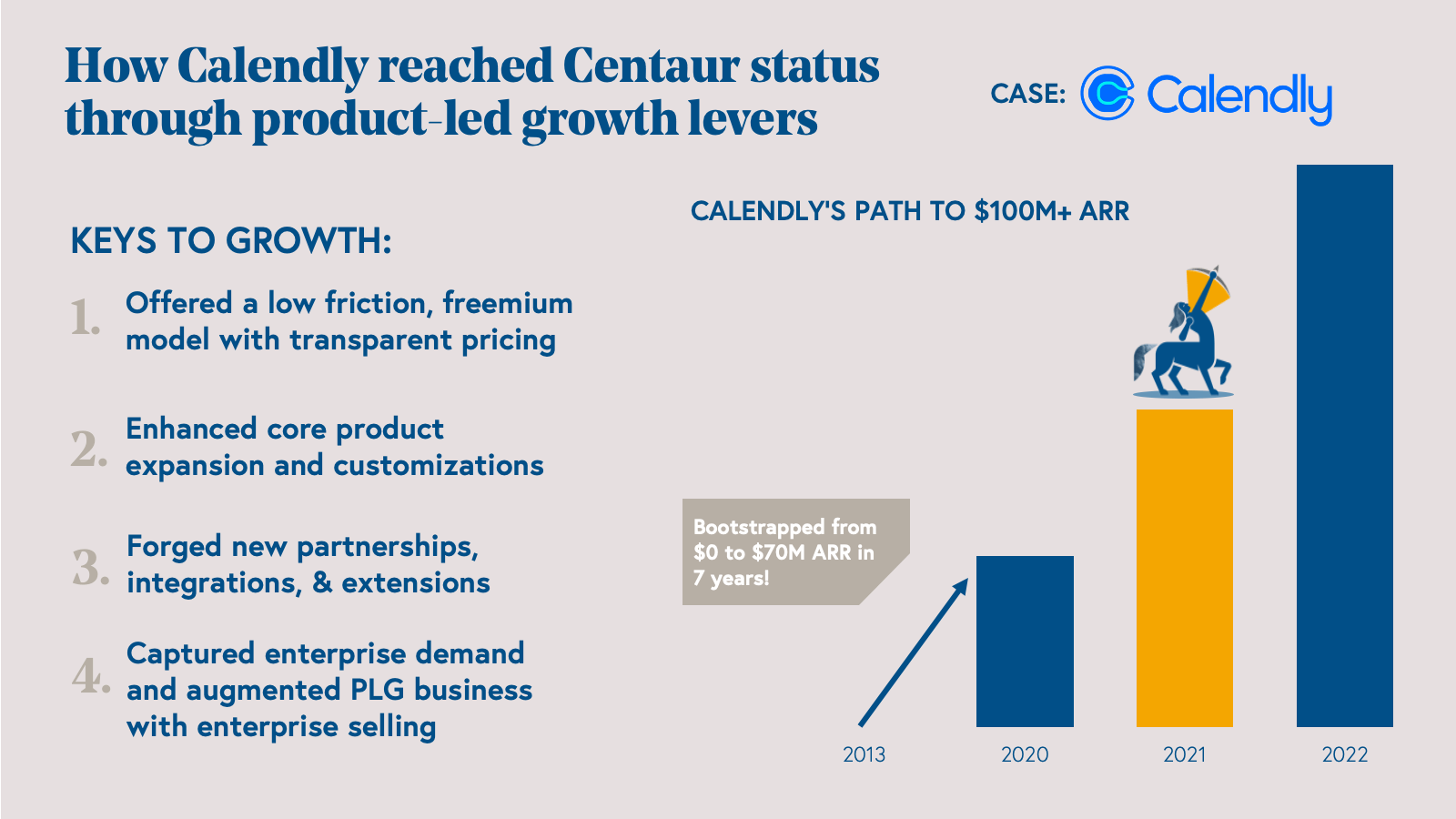 The freemium model—Calendly successfully maintained a healthy balance when it came to offering a great, free-to-use product, while also presenting various avenues for converting users into paying customers who were looking to get even more out of the platform. With this in mind, Calendly demonstrated how valuable it is to maintain transparent pricing and an upsell motion that allows the business to grow with their customers as retention and usage scales overtime. 
Product expansion and customization—Over the years, Calendly has expanded its core scheduling tool into a comprehensive automated platform with advanced meeting features and branded interfaces that deliver more value directly to their customers. Building a platform broadened Calendly's scope and addressable market, which positioned the platform as the go-to destination for all things meeting and scheduling-related.
Partnerships, integrations, and extensions—The team at Calendly began to work with other tech companies whose products naturally fit into the scheduling workflow. It now has integrations with Cloud 100 companies such as Stripe for payments, Zapier for app automation, and Intercom for customer engagement, just to name a few. In building an ecosystem, Calendly also made sure to work nicely with the biggest players around, ensuring interoperability with Google Calendar, Apple iCloud, and the Microsoft Office Suite.
Enterprise GTM—Calendly built a world class enterprise sales team so that the business could move upmarket. Introducing enterprise sales into a product-led growth operation is a natural evolution once a company reaches a particular scale, but it's also an extremely delicate inflection point. Calendly is a great example of a company that understood the timing just right as their enterprise segment, defined as customers who pay one hundred thousand dollars or more annually, has grown tenfold in the last year alone.
So what was the result of all these initiatives? With remote work tailwinds progressing even further due to the lasting effects of the COVID-19 pandemic, Calendly has secured its place as the clear leader in the scheduling market. Before the announcement of their most recent financing in 2021, Calendly grew to $70 million of ARR in seven years, having only raised $550,000 in its seed round. 
Last summer, Calendly reached Centaur status and Tope became a Cloud Giant in the eyes of his peers. Calendly's efficient path to $100 million of ARR serves as a shining example of what happens when a cloud company leverages a stellar freemium product to set the pace of innovation in the market while building an organization that can effectively serve the enterprise.
Centaur study: How LaunchDarkly focused on product leadership, market evangelism, and developer happiness to accelerate revenue to new heights
Celebrating its newly attained Centaur status, LaunchDarkly (#34 on the 2022 Cloud 100) is the world's leading software feature management platform, which achieved Centaur status through a thoughtful combination of product excellence and market evangelism.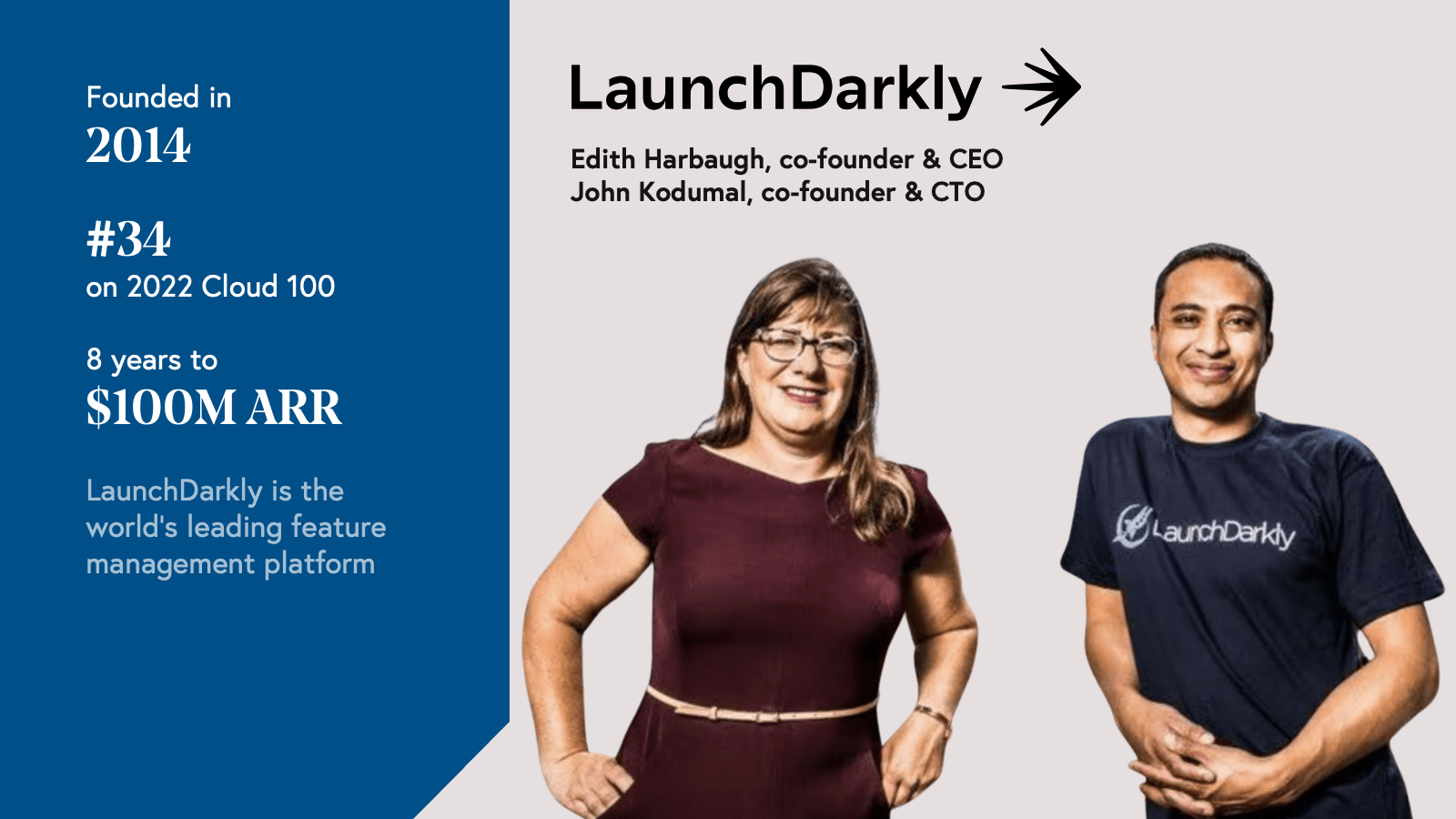 When LaunchDarkly first started in 2014, developers were drawn to its new, easy way to deploy and manage feature flags. At the time, feature flagging was an "aspirational" practice in software development, but was only implemented at large enterprises or companies that could set aside development resources due to the pain of instrumentation, with systems haphazardly designed, error prone, and hard to maintain. 
However, LaunchDarkly transformed the complicated internal systems into an easy-to-use and scalable product platform. They did this by providing a UX that could turn specific product features on-and-off through feature toggles, and in doing so, this methodology allowed for scale, compliance, and lack of latency. Suddenly, feature flagging at scale was possible for organizations of any size. LaunchDarkly used developer word of mouth to characterize feature flagging as a best practice in CI/CD and software development. This practice has led to increased ROI for teams by not maintaining internal systems, increasing developer productivity and happiness, and democratizing development to other teams (including marketing), all while also increasing velocity and decreasing risk.
Feature management became a best practice in software development, and the best tool for feature management was LaunchDarkly.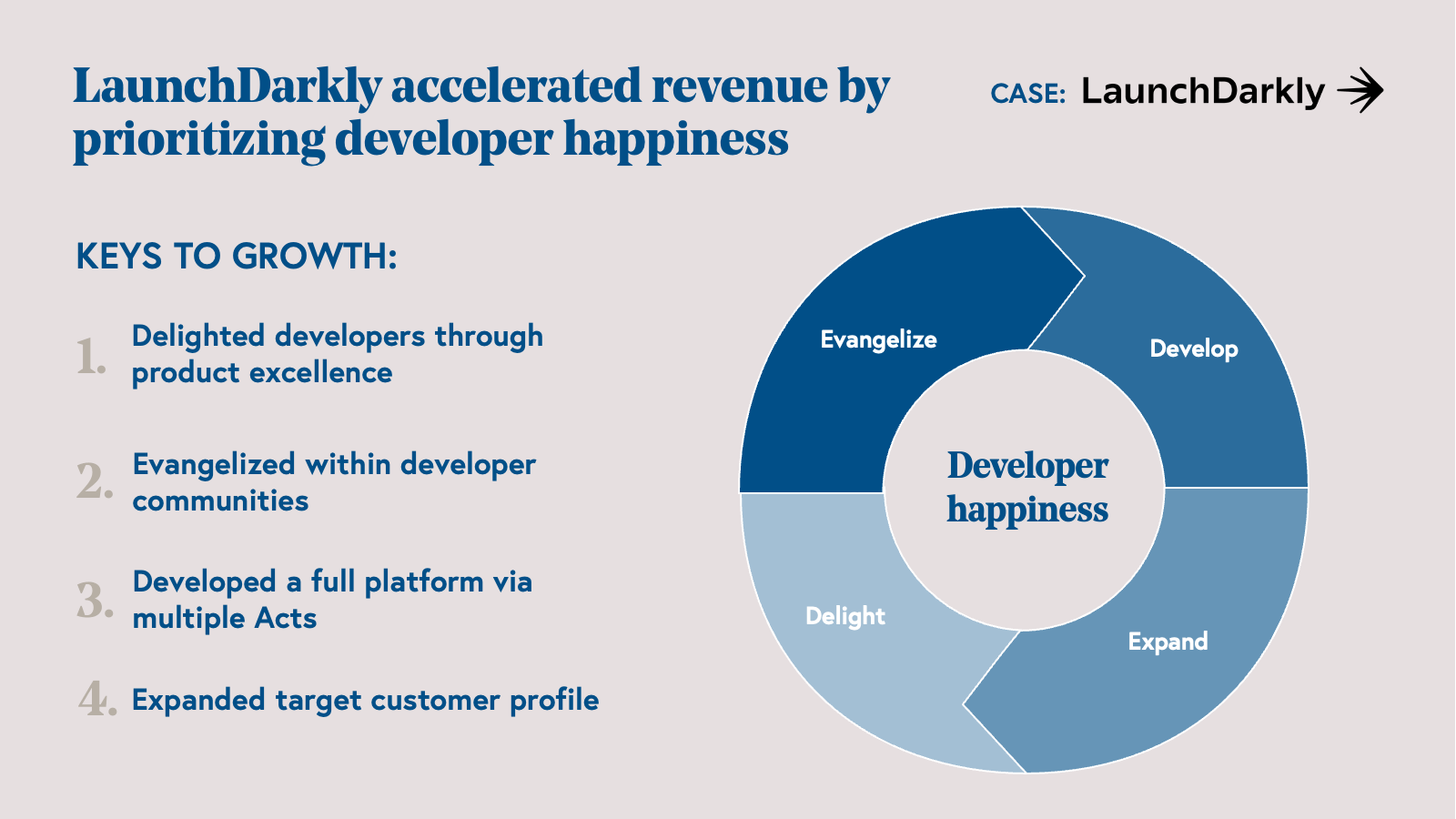 The close tie between product development and market evangelism allowed LaunchDarkly to create a category from what was once only home grown solutions. Its intense focus on customer satisfaction led to quick expansion within its own customer base, and new customer adoption increased in part due to developers switching jobs from one company to another. It expanded its target customer profile from software companies that have development at the core of their competitive advantage, to all companies. 
Today, every company is a software company, and LaunchDarkly's clients include Domino's Pizza, Priceline, TrueCar, IBM, and Atlassian. LaunchDarkly now offers a full platform to its customers, inclusive of experimentation, data insights, and a connectivity suite. 
By illustrating Centaur case studies through ServiceTitan, Calendly, and LaunchDarkly, we hope cloud founders out there see that building your path to $100 million ARR will vary overtime—depending on your market, sales motions, and product architecture, among other factors. 
What's ultimately encouraging to see is that when you do focus on what matters most—customers, revenue, growth, and efficiency—founders will not only get on the path to $100 million of ARR, but also work towards building a category-defining company that can thrive in any macroeconomic environment.
Who are today's Cloud Centaurs?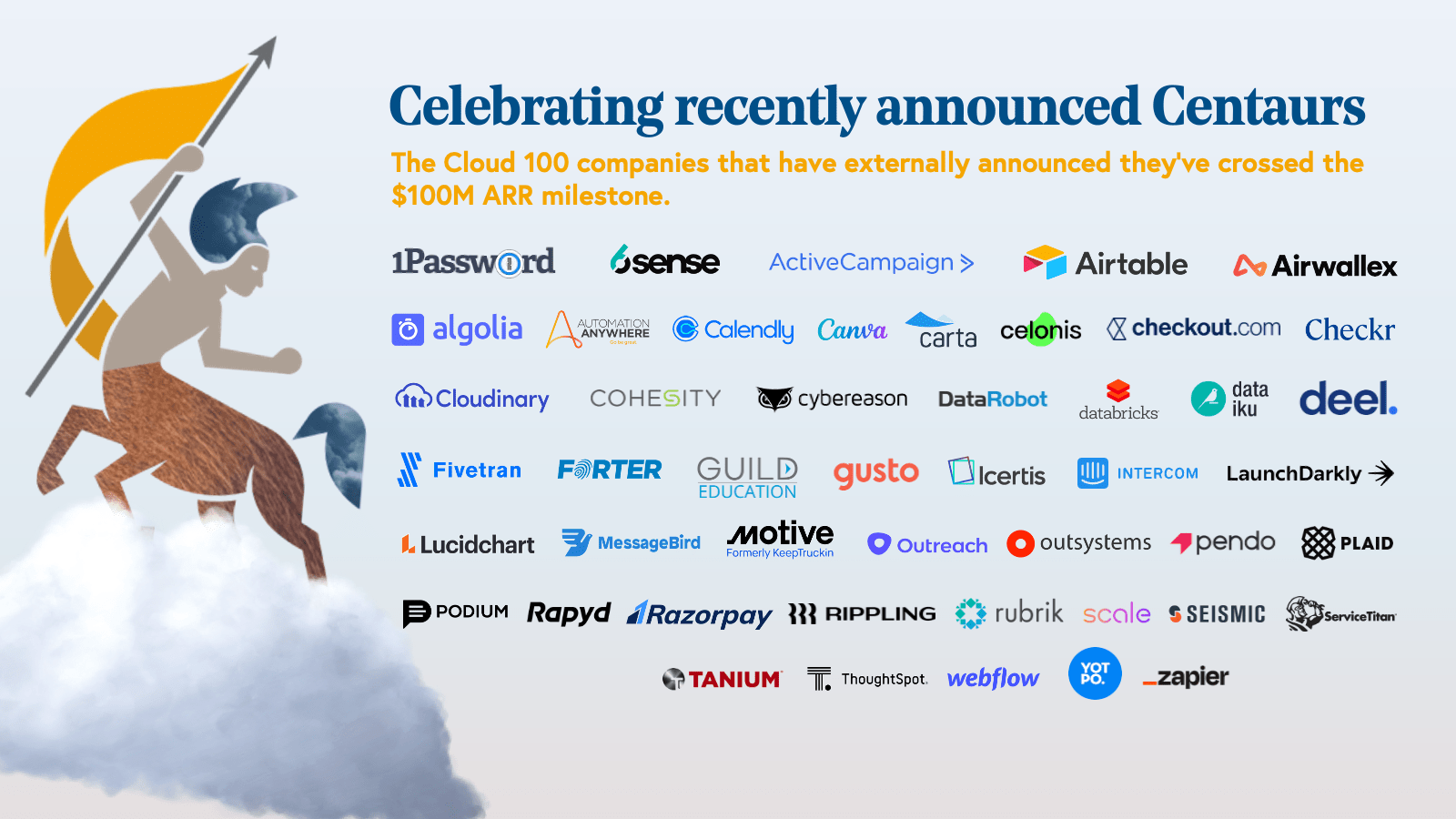 For this year's inaugural Centaur Report, Bessemer recognizes the Cloud 100 companies to join the Centaur ranks! Here we celebrate the 47 Cloud 100 companies that have publicly announced they've crossed the $100 million ARR milestone:
Cloud 100 Centaurs (A-Z)
Congratulations to all those who have reached this milestone! To learn more about how to become a Centaur, dive into our resources at bvp.com/centaur.